Winter 2013 - Snow, Blizzard, Snow Rime , Glaze Ice & Drifts - Page 2
The day was almost over but before we ended the trip we ventured back onto the side roads which were in a lot worse condition with the car sliding keenly with any turn of the steering wheel. We couldn't go any further down that sloping country road as there simply was no traction at all however we didn't need to when we spotted this cool snow drift.
This is a 10mm ultra wide capture of a beautiful snow drift which gives some idea of what conditions must have been like during the night before the snow ploughs cleared this minor road. That entire road must have been covered with substantial snow and the drifting to the L was caused by strong winds carving out these beautiful natural sculptures.
I decided to climb inside the drift for a laugh which you can see on the video clip. I couldn't get my boots all the way through the bottom as it was too dense however even at that the snow was 3.5ft high. Here's an image taken from inside the drift.
Two days later on January 21st Roisin and I where back out in the snow after fresh snow storms covered a good deal of the country. By this stage the Winter weather was a regular feature on the news because of it's disruption to traffic and travel, there was a good ongoing snowfall over Antrim including Belfast where roads were in bad condition and with buses suspending their service and flights at Belfast airport stopped. Another day of weather warnings for snow and ice and another day of chasing after more overnight snow showers over the mountains. We where back on Glenshane navigating the back roads. Here's the Postman faithfully making his deliveries as more snow flurries moved in for the rest of the day.
We drove to the back of the Sperrins outside Dungiven, this is Benbradagh covered in heavy snow taken with the telephoto from the narrow back roads which lead to the base of the mountain.
It was constantly snowing all the time and the wind chill was very bad. This is as far as the car could go before it began spinning on the incline so we parked where we stopped. Roisin was still recovering from the cold earlier so she stayed in the car while I went out to explore, this is a snap taken as I began the decent, I was entering a world of ice and snow.
More rime ice on the mountain road indicative of strong winds and sub zero temps from the snow storms last night
There had been a complete ice storm in this area, clear glaze ice covered everything here, it was on the branches, grass, road, berries, and telegraph poles. This entire tree had been covered with glaze, a slight thaw today removed some of it however there was still plenty of coverage which was very impressive.
This berry is at the early stage of forming its own icicle
I walked my way 1/4 of the way up the mountain along a snow-covered steep incline that was slow going with the deep snow to tread through while snow blew into my face, changing lenses was a nightmare, I can't use a camera with gloves on so off they went and in no time my fingers were red and freezing. It was a harsh world up here with snow and ice everywhere, I don't know how the Sheep put up with it, they must be hardy souls for they seemed indifferent to the storm, although some of them looked like they have been through a war with large lumps of snow and ice clinging to their woolly coats. I managed to get a few shots of the Sheep before they scattered when I approached, they looked cool standing in the snow storm.
There where Sheep everywhere, these two took a good look at me and seemed the more bolder members of the herd and they even stood their ground when I climbed over the fence onto the rough mountain ground. I found many trees covered in ice sheets with quite unusual formations, I have images of these however I have declined from posting them to preserve space.
I went back down the mountain again and meet up with Roisin. We then went to a filling station for some coffee and snacks then went back up Glenshane Pass, it was snowing like crazy and had been doing so all day since we left early in the morning and there were no signs of it stopping, at times there was white-out style scenes when the sky, snow, and road would blend into one. We pulled into a lay by adjacent to the main road to watch the falling snow and passing traffic. It was really blowing hard at this point so I ran outside and took this shot of the car for the memory.
Snow storm on the road ahead of us, it had been doing this for hours and temps were dropping again which meant ice and dangerous road conditions and yet for the amount of hours we spent on this road today we didn't see one single gritter.
Ice Road Truckers style. The visibility was dropping again and the snow was settling on the road so traffic was going at a slow pace. Check out the snow streaks at the side of the road which were forged by cross winds.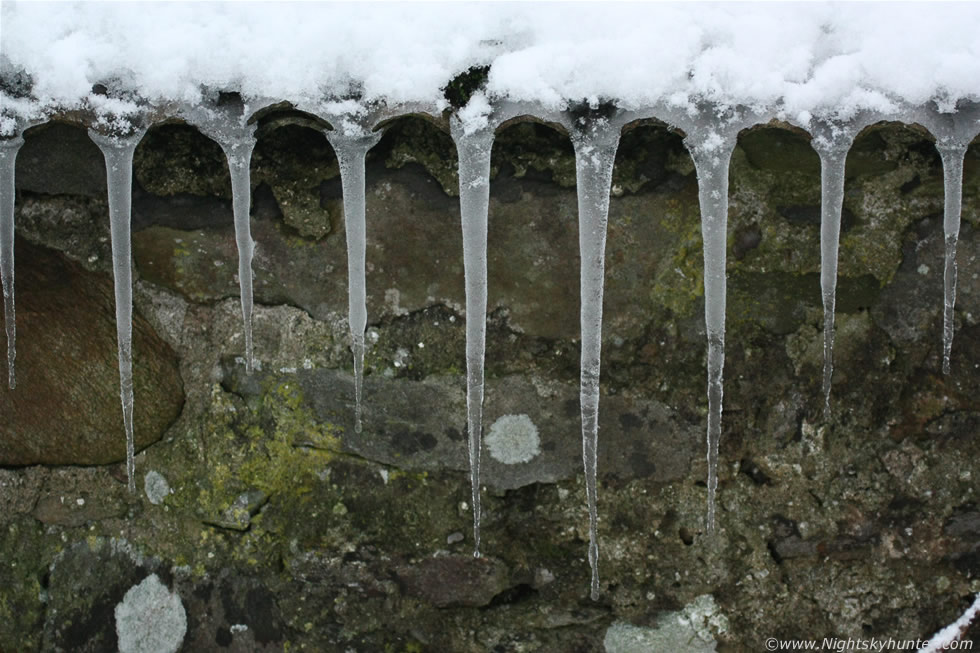 We went for a scenic drive through the minor country roads in fresh territory which was a really relaxing and wonderful time out in nature. Everything was beautiful in the snow, the Cows, Sheep, Horses, barns, and rivers running under stone bridges with snow on the rocks and coating the overhanging trees. I was busy driving through the snow when Roisin spotted a display of icicles so we backed up the car and got out to take images. The icicles where hanging from the roof of an old stone derelict building deep in the country and we estimated them at 1ft in length. They were the first proper icicles we had seen since the severe Winter of 2010 and their presence is usually the product of a significant cold spell. We were chuffed by the display which pretty much made my day, you can see them on the video below.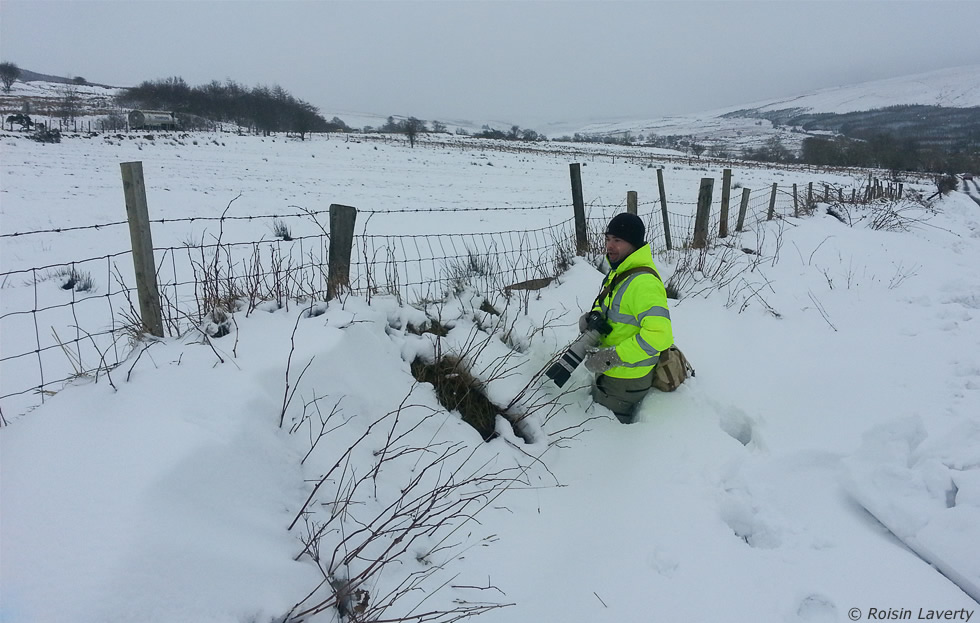 This was the deepest snow I have experienced so far this season. We encountered more untouched snow drifts and I genuinely was trying to navigate through them to get closer to the fence to take images when I suddenly fell through the drift into a ditch. This one was 4 1/2 ft deep and almost up to my waist, I stayed in for Roisin to get an image for the record (she took this one) however when I tried to get out I was stuck and had trouble moving, a passing car stopped and asked if I needed help however I declined and once they were out of view Roisin gave me a helping hand.
Video clip over 13 min's long featuring the snow, snow rime, glaze ice, me climbing into a snow drift and being an eejit then scenes of the beautiful snow covered pine trees within Glenshane forest from Jan 19th where Roisin, Dad, his friend, and I had a fantastic walk and experienced stunning scenes.
Another video clip just over 4 min's long featuring snow scenes near an old building, the icicles, then ice-tree cover on Dungiven mountain and ending with more snow road scenes on Glenshane Pass. I had been out in the snow driving on dangerous roads and taking images for seven days with 2 to 3 trips up Glenshane on each day including several night trips and experienced more wonderful scenes such as an insane icicle display with hundreds of 3ft long x 6" thick icicles along the cliff at Glenshane followed by an unforgettable walk up the mountain again when the sky finally cleared to blue which felt like standing on the ski slopes of the Alps which was an amazing sensation, you can view those image reports in the 2013 section. Even on Jan 28th long after the snow was thought to have melted after rain and warmer temps we still saw snow on the mountains which meant there must have been high elevation snow present for 10 days in total, quite an exciting and potent cold spell indeed and I have to say I really enjoyed my adventures in the snow with Roisin and on my own solo trips. Over the years I have received emails to the site from readers asking why I don't have many snow images, well since then I have decided to post more in the way of Winter/snow chases for those who love the snow just as much as I do. Thanks very much for reading.
Martin McKenna