Wind Turbine Snow Storm & Photogenic Golden Hour Clearance - Feb 11th 2018
The winter of 2017-2018 has been one of the best winters in years for me, it seems we have been getting inundated with recurrent cold spells on and off on a regular basis since November and all of them have produced photogenic results and have been a joy to chase. I documented all of them on camera, video and by drone, I feel like I wake up to snow, go to bed to snow, and if its not snowing I'm looking at charts to forecast the next snow event, these cold spells have created memorable adventures with friends and family and after experiencing a stunning blizzard in January I finally felt satisfied and content. If there was going to be any more snow then I would be more relaxed about it as I already had my fix, however anything else would simply be the icing on the cake, as storm chaser Stephen Locke says ''The Road Never Ends - And The Chase Goes On Forever''.
Then cold spell number six arrived, GFS and other models showed frontal snow on February 10th followed by deep cold unstable air in it's wake overspreading much of the country with -10C uppers for Sunday. Convective snow showers looked to fall all day with temps at freezing or below for daylight hours so it looked good for laying snow and photo opportunities, my Wife Roisin and I decided we would get up early and spend the day winter chasing, after all it would be indecent not to. The frontal passage during the night dropped snow on high ground however it was more of a wet snow event at low levels and with temperatures at +2C at 02.00 it wasn't going to lay, I watched out the window at wet tarmac and decided to save my energy for the morning, with temps lowering to -2C at dawn the winter ante would be raised to the next level, so we were better off getting rest for the main event.
I was still in a deep sleep, Roisin woke early and checked out the window, a dusting of snow was on the garden, nice but no wow factor so she went to bed. She woke once more at 08.30 and got a shock, a remarkable deep layer of snow covered everything, she couldn't believe the difference from earlier, it was then that she woke me up. I had seen that much snow over the last three months that I wasn't rushing to get up, however once I looked out the window I was taken back by what I saw. I was looking at the most beautiful ground level snow fall of winter, it was absolutely stunning, approximately 3 inches of compact snow covered everything as far as the eye could see, the estate, gardens, cars, roof tops, then looking further the entire horizon was all snow, there was no question that Co. Tyrone had one of it's best snowfalls in years. This snow scene was difficult to explain, it was such a wonderful visual treat, even the thin tree branches were packed with snow piled high despite the breeze stirring the trees. We wasted no time, changed into warm clothes, packed provisions, de-iced the windscreen and got the van in action with wheels slipping on compact virgin snow, there's nothing better than starting the day in second gear.
After a stop for coffee we hit the road, the drive from Cookstown to Desertmartin was a remarkable experience, a true winter nirvana, snow all over the main roads, white everywhere, freezing cold, and blue skies, if it was like this here then imagine what it would be like on Glenshane, so we made our way in that direction to see for ourselves. When we arrived on Glenshane it didn't disappoint, however despite having snow it was a far cry from Co. Tyrone, a couple of cm at best and roads were clean and not an issue, the opposite of what we wanted, so we drove on, through Dungiven, then half way to Derry/Londonderry, back tracked, then took back road to Limavady, snow seemed thinner here so we turned around and drove to Benbradagh, however the cloudy grey sky ruined any potential. We spent hours driving, snow everywhere and yet I couldn't seem to find a single photo opportunity, either the sky was cloudy, or light was flat, or I couldn't see any scenes which jumped out, I hadn't used the camera once and after five hours of being out in nature I hadn't taken a single image and I was seriously beginning to doubt myself.
We took the back roads again and made our way to the notorious Birren road over the mountain between Glenshane and Draperstown, now this was more like it, a dodgy road, ice, snow on top, no wet tarmac, a proper winter road, we ascended the first hill then the stepper hill approached, I increased speed to gain momentum and then the van spun out on the road 3/4 of the way to the top, there was no traction at all, we were now enjoying this, at last some action and real winter roads. I applied the hand break and got out for a few images of the sheep in the fields, a few minutes later I heard Roisin shouting ''Martin!!!'', I looked behind me and the van was sliding back down the hill on its own with Roisin inside, I chased after the van down hill with camera in hand, jumped in, and hit the brakes hard, and amazingly the van came to a gradual stop on the hill, that was close, had it picked up any more momentum it would have went to the bottom of the hill into the ditch, well we wanted some action and now we got it.
We were getting hungry so during the early afternoon we decided to take a break and have dinner in a local restaurant, Roisin had the roast beef and I had the turkey and ham which was delicious, a few snacks from the shop after this and we had renewed energy and got back on the road up Glenshane once more. On the high ground over the cattle grid a new snow shower arrived delivering blowing snow which quickly turned into a few minutes of blizzard conditions, white out, road vanishing from sight, we stopped on the road and got footage through the windscreen, my first video taken of the entire day, it was good however nowhere near as severe as the blizzard Conor and I encountered in this same road in January. The road was well covered in snow, temperature -1C, Roisin wanted to drive so I let her take over the van for the rest of the chase, she wanted more winter driving experience so I thought today would be the perfect day to learn, thrown into the deep end. We drove through snow, over ice, all over the back roads, then over Glenshane several times, yet I still had no good images from this long day, a lot of diesel had been used up and I had nothing on camera to show for it and with low light and grey skies back I came VERY close to calling it a day and go back home into the warmth.
However something inside me told me not to give up, we still had an hour of daylight remaining and anything could happen, so we decided to try a new location, I asked Roisin to take the road off the main onto Ranaghan and from there were drove through Tirkane then onto the hills above Garvagh. It was a different world up there, all minor roads covered in slick snow, steep turns on hills, no traction, the scene of the road alone had already made the day, Roisin had never drove on such treacherous roads before and she was doing great, we stopped beside the new wind turbine farm and took in the view. I wanted to get footage of the snow and turbines with the drone but was blustery, I measured 18mph gusts and the light was dropping fast, from the NW a huge cell was coming over the mountain with a black base and wall of snow heading our way, I got back inside to take cover. The plan was to wait for it to pass then get out with the drone in what I hoped would be sunset light. The cell arrived, day turned to night, we got bombarded by a prolonged fall of hail stones which was suddenly followed by thick heavy snow which blew across the road dropping the temperature to -2C, the huge turbines beside us vanished from view. The snow seemed to last forever, it never stopped, we waited so long we were thinking about driving back down and forgetting about the drone flight, the roads were covered in fresh snow and we could barley see a thing and it kept snowing and snowing, we had time to eat a bag of cashew nuts and listen to the radio, despite the great experience of being out on the snow driving it looked like I was going to go home empty handed after all, how long was this snow going to go on for?, with no wifi we had no radar so we had to wait it out, it was going to be dark soon and the light was all but gone.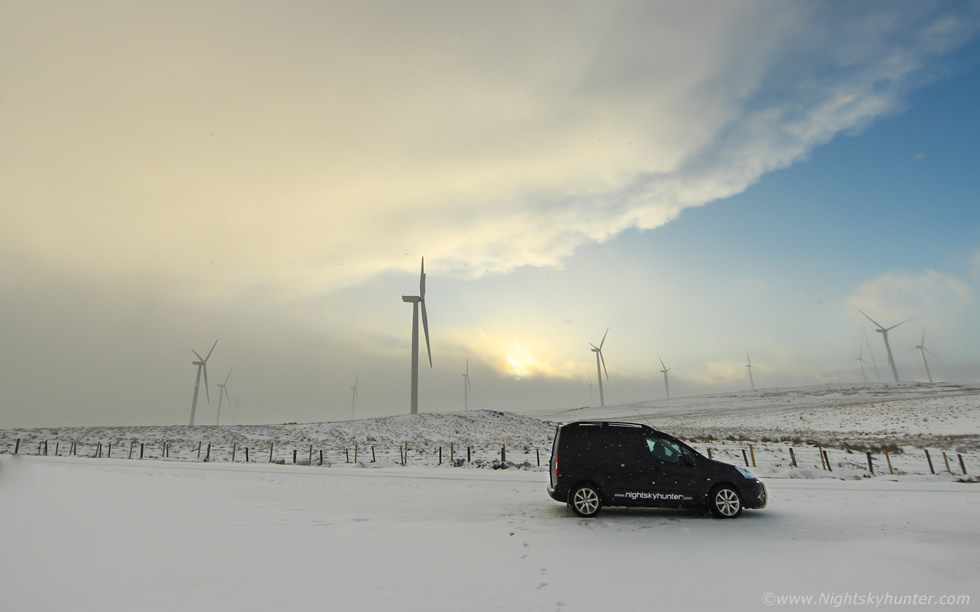 Suddenly after 17.10 UT the dark blowing snow began to brighten and I spotted blue overhead, the shower was clearing rapidly, I got outside into the icy squall to assess the wind, it was too strong for the drone, no flying today, however it quickly became apparent that a DSLR photo opportunity was gradually revealing itself to me, after an entire day on the road it looked like was I going to see something special after all. Here's the van with the snow shower passing from R to L, pristine blue sky in it's wake, sun in process of setting with the large anvil of the cell overhead, check out the ground hugging band of snow behind the turbines, this was blowing snow formed into a horizontal low layer beneath the cell, we had been inside it moments earlier.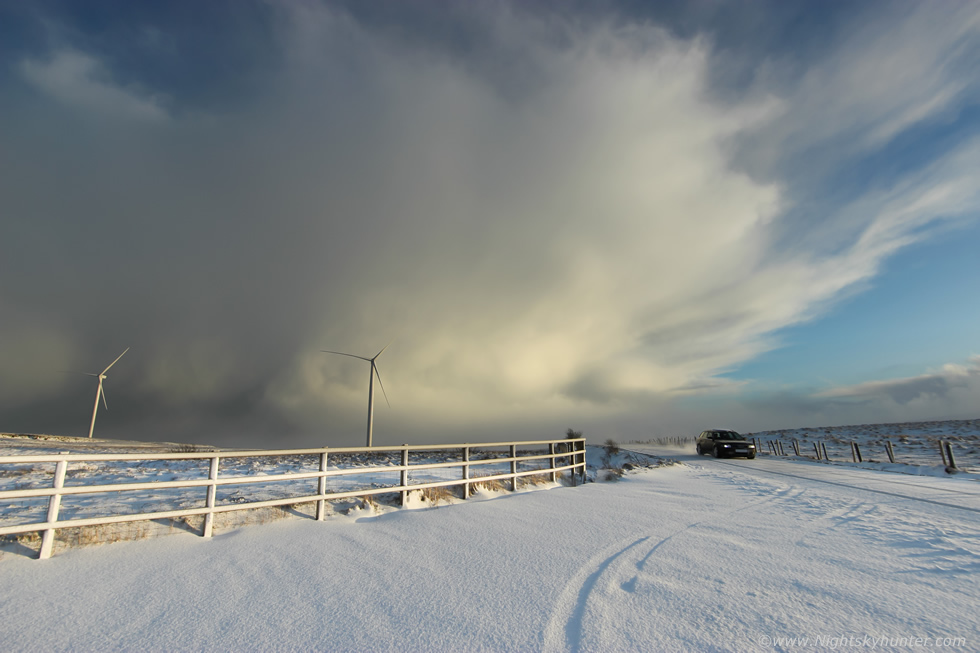 After an entire day of grey and no light an incredible transition unfolded across the winter landscape, low level golden hour light cast it's warm glow across the icy vista bathing the snow, turbines and cell in winter gold, I was in action shooting with the 10mm Samyang, ISO 100, lens stopped down a fraction, the scene was made for wide angles, it was the kind of moment I had been hoping for, however this was even better.
Panning to the SE, the cell was huge, check out how low it was behind the turbines with meaty structure on the flanking area complimented by cold blue and warm gold light.
I yelled to Roisin to look at the sky, ''get out and take images quick!'' I heard Roisin get out onto the crunching snow saying ''wow, this is beautiful'' and her phone was out snapping. I was holding the DSLR looking through the viewfinder click, click, click, previewing exposure, then click again, this was my favourite scene of the day, big anvil on convective snow squall lit by the setting sun over a snow covered foreground and the turbines added great foreground interest, I really liked the sunlit fence on this image.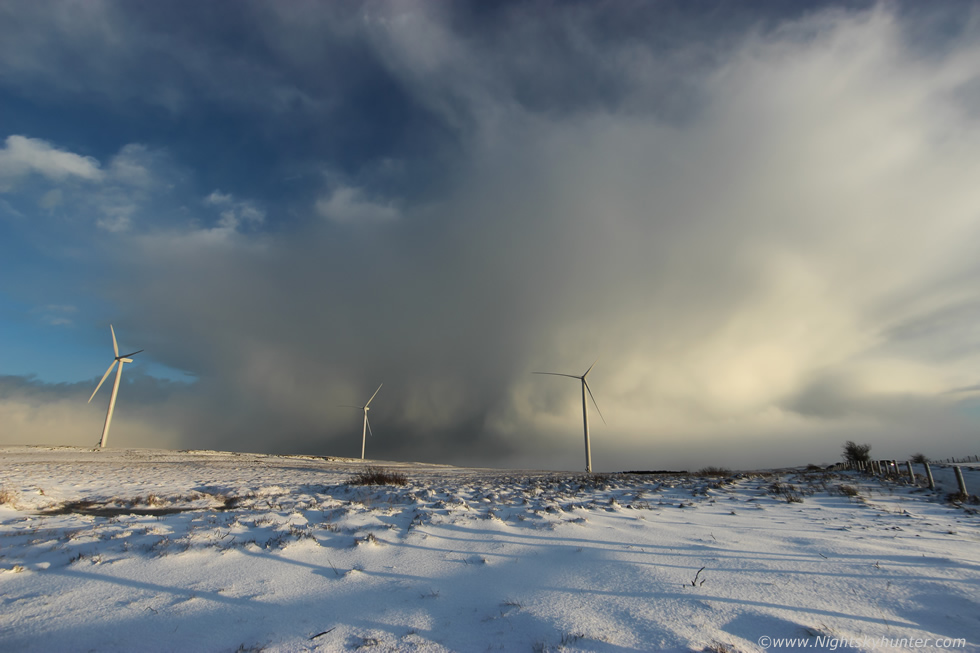 I ran over to get an image without the fence and fell into a ditch deep with snow, the snow was up to my knees and I could feel the unreal cold penetrating my body, in the heat of the moment I had forgotten how cold it was out here as I was distracted by the scene, however this cold blast gave me a quick reminder, I leant on the fence here for another image, I love convective snow scenes, my two favourite subjects in the same frame, storm clouds and snow. In front of that cell was squally 20-30mph winds and a wall of black snow blowing across the sky, on its flank where we now stood was a world of beauty, it really was an epic moment.
It's amazing how we ended up here just on an last minute instinctive decision, had we gave up earlier we would have missed this magical moment, had we went somewhere else we would have missed this cell and this great location, the exposed landscape, flat horizon and turbines made for a perfect combination, ISO up to 200 now.
Roisin was out shooting with her camera, I took a few steps back to record the moment, her coat flapping in the wind with departing cell and very low sun moments from setting, check out the shadows of the turbines cast across the road from the turbines out of frame to the right.
What a sight to end the day, the raw wind chill was brutal out here, my fingers were red and painful just from holding the DSLR for these images, however cold is beautiful, these were the scenes we hunted for and nature rewarded us, we stood upon the crisp snow and watched the cell creep across the countryside then made our way back to the van for a desperate blast of heat. If only I had time lapsed this scene, it would have made for a stunning sequence however getting the still images made me more than happy, a well earned bounty and well worth waiting for.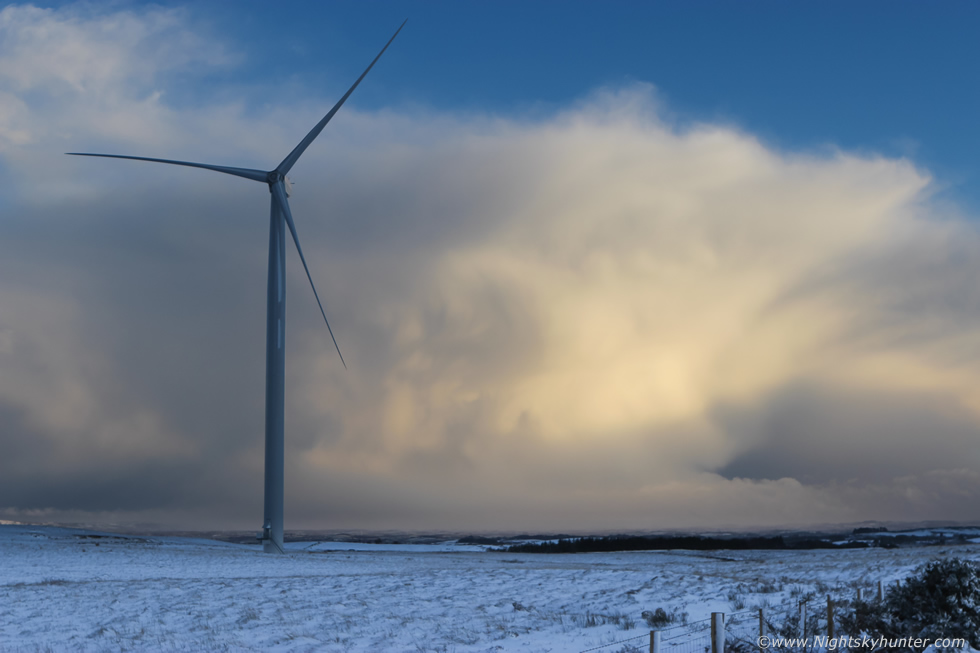 We began driving along the mountain back home to end the day, as we drove I put the window down and changed to the 24-70mm F/2.8 and shot my last image of the cell casting in the last seconds of sunset glow, imagine if this cell had mammatus, perhaps next time. That night we had a deadly drive from Toome, through the back roads of Ballyronan to Moneymore then Cookstown, the psni had warnings out galore, roads were even closed, so our drive at night through snow and narrow hills which were untreated made for a fun experience indeed, by the time we called it a day at midnight we were exhausted.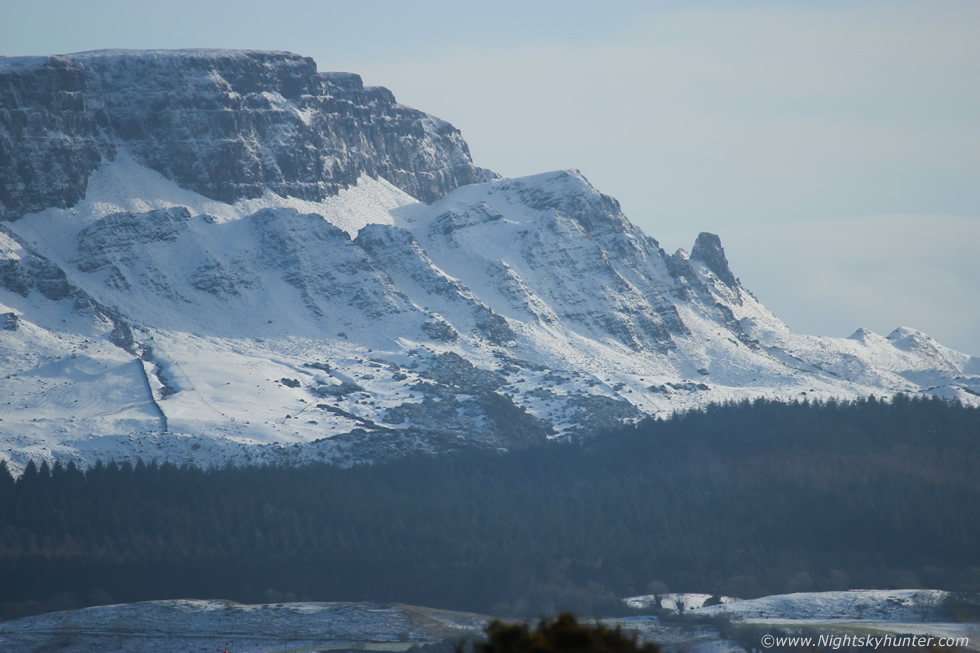 On February 12th we spent the day at the coast, our intentions were not focused on snow as we had plenty the previous day, however the winter scenes yet again stole the show. The moment you crest the hill above Downhill beach was an unforgettable sight, blue skies, bright winter sun, deep blue ocean with lively surf with wind shearing the tops forming spraybows, brilliant white breakers erupting from the tuns, and Donegal and Binevenagh all covered in snow with the blue ocean and Lough Foyle between, the naked eye sight was breathtaking, who needs a holiday when you have scenery like this, I put on the 100-400mm and captured this moment of Binevenagh covered in a winter blanket, absolutely gorgeous.
Short video clip of the Glenshane blowing snow and turbine snow storm clearance filmed with the DSLR at 50mm and 10mm, if only the wind had been lighter, this scene from the higher perspective of the drone would have been sublime. Winter is not over yet, long range models hinting at more cold spells for March and perhaps even early April, if it happens I will be chasing, thanks very much for reading.
Martin McKenna