Various Storm Chases & Day/Night Optics
This image account covers the period from August 21st to September 16th and features a selection of local storm chases along with twilight convection and day/night atmospheric optical phenomena. The weather was very unsettled and active during this period due to low pressure which resulted in more than 8 local chases in four days through Maghera, Tobermore, Magherafelt, and Knockloughrim which was a roller coaster ride of fun, unexpected surprises, bitter disappointment, and even an encounter with an irate farmer. The period did produce an assortment of decent photo opportunities including new lessons learned about the atmosphere and chasing, the most important of these lessons was to trust my instincts.
August 21st
This was one of those surprise days as none of the forecasters were going for storms at all so there wasn't a single convective outlook issued by anyone. There was 200 CAPE in N. Ireland however the instability was never expected to be enough for storms to develop, however I had a different view on this and after studying the charts I was convinced there would be a chance of decent convection and isolated storms during the evening, I thought I was falling victim to wishful thinking and hopecasting so I lost faith in the set-up and went about my day doing other things. During the afternoon I noticed threatening skies to the W where a long chain of dark towers formed over the mountains with heavy precip breaking out so I drove to the countryside and checked out the quality of these clouds from a great vantage point. I was convinced there would be storms so I drove back to town and called at Declan O'Doherty's home for a chat about the potential, Declan had been watching the convection too and agreed that something was cooking, we decided that if anything kicked off later then we would go chasing together.
During the evening I was working on the website when I decided to take a break and check the charts when I noticed large showers on the radar showing red echoes over mid Ulster, they had the signature of storms so I checked the sferics and bingo!, sferics over Lough Neagh, more at the border, and new strikes near the N coast, the updated GFS had upgraded the CAPE to 600 with -1 LI's, RTE caught on to this activity and forecast thunderstorms through the evening. I can't believe I had been sitting at the computer when all of this was going on so I immediately rang Declan, once a summary of the situation was completed we hit the road. We chased through the Knockloughrim area and got a good drenching from heavy showers moving towards was from the SW, a cell appeared near Slieve Gallion and moved in our direction so we drove towards it, punched it's heavy core, and then parked up to watch the back of it. We figured if the Sun broke out behind it we could get treated to a nice atmospheric show.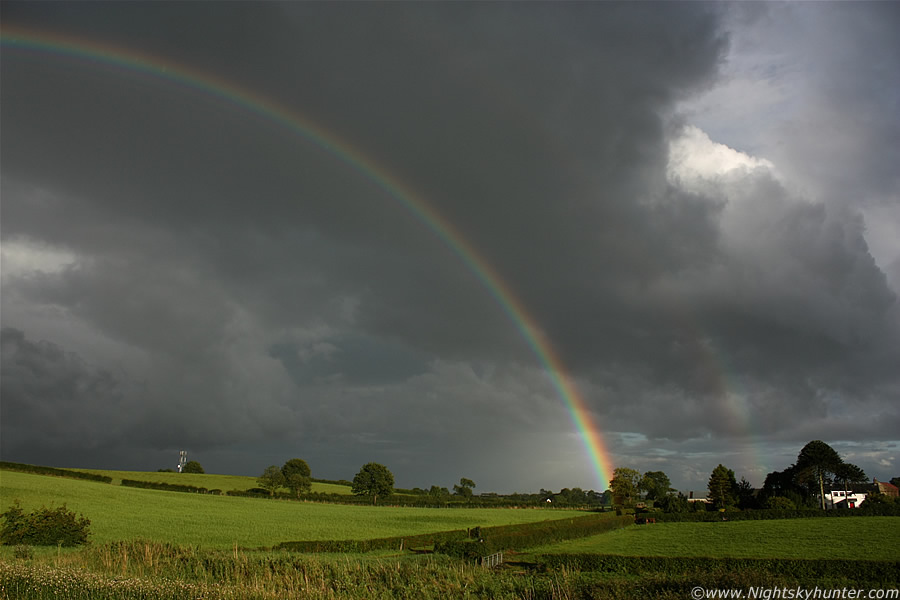 A clearance moved in from the SW while our cell and precip core moved to the NE and the Sun broke through the mid level cloud, the geometry was perfect for a nice late evening rainbow. We changed located again and advanced along the main road then pulled in at a great vantage point overlooking the lush fields. We grabbed the cameras and dashed across the road to the other side to escape from passing cars then got rewarded with this beautiful scene. A stunning complete primary and secondary rainbow formed with remarkable intensity, this was the best bow I had seen in the last two years, just a shame I didn't have a 10mm lens to get the entire show in the frame. This image is looking NE at the R side of the bow, the contrast between sunlit fields and dark storm clouds was picture perfect.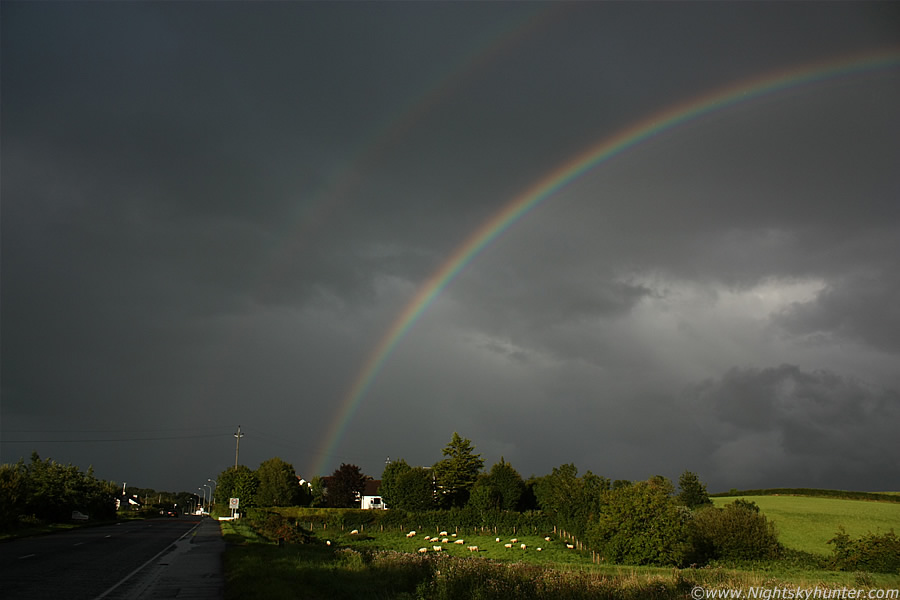 Now the L side of the complete bow with supernumerary arcs on show. It's difficult to describe in words and through images just how wonderful this bow was, both of us were entranced by the spectacle and took many images, I don't know how long it was visible for however it seemed a long time. Watching the environment change from dark and wet to bright and sunny so suddenly was quite a magical experience. We didn't get any thunder from this cell however the bows more than made up for this because we at least got a few photo opps from this short chase and therefore it was a success in my book. The view to the SW was clear so it seemed no more cells would move in and sure enough the radar on Declan's laptop confirmed this, however there where storms at the N coast producing a few more sferics. Before sunset we drove to a high vantage point and watched the Sun sink towards the dark outline of the Sperrins while weak updraught towers tried to shoot skyward, to the N a large anvil graced the skyline which was certainly the culprit cell which was producing those sferics. We soaked up the view then called it a day.
September 7th
High CAPE values in an unstable post-frontal airmass however restrictions being warm air aloft, no convergence, and lack of wind shear so severe weather was unlikely. Heavy showers, pop corn convection, and isolated storms were on the menu for this day. We had just experienced almost 48 hours of continuous rainfall from a slow moving frontal system which swung across Ireland from the Atlantic, rainfall totals for the period were close to record breaking with the radar showing persistent red echoes over the country, not surprisingly the Met Office had a severe weather warning out. The floods which followed were the best I have seen since 2008 with the Moyola River looking very impressive indeed. Any slow moving heavy showers/storms on this day would only add to the flooding problems.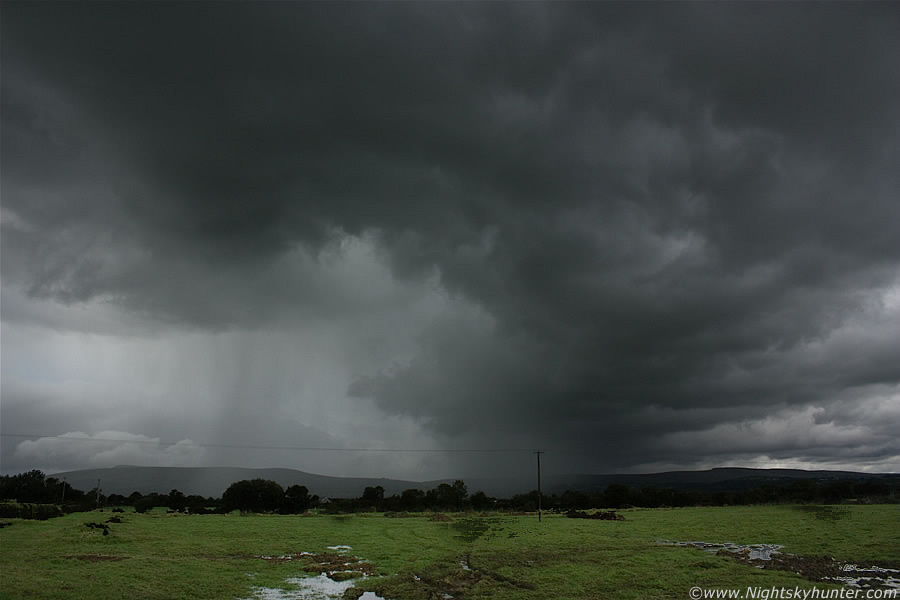 I saw OK convection and menacing skies to the S of Maghera near Slieve Gallion and the radar indicated these were switching on and heading slowly NE so I drove out to intercept those young cells. I was between Maghera and Tobermore and took a country road off the main just before the Moyola River, parked up, and watched with interest. This image is looking W towards the Sperrins, that nasty looking mass of black curling cloud is a huge gust front moving at a Snail's pace to the R, precip was already breaking out and the sight looked good for action. The guster extends far overhead and into the other side of the sky and was turning into quite a monster.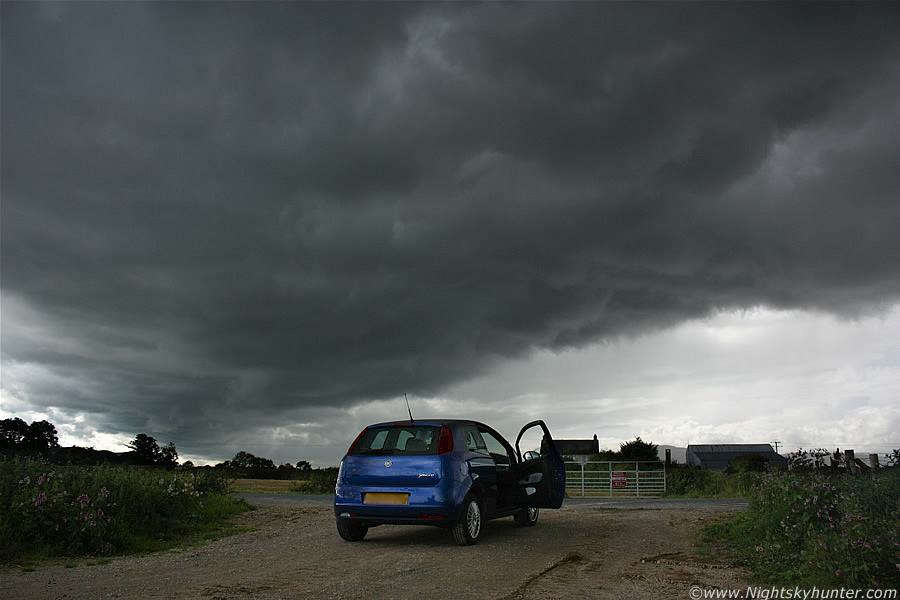 Here's a great row of towers with solid bases on the other side of the sky looking S, these looked capable of funnel formation so they got my attention for a long time, this line merged into the gust front to the W, it was so slow moving that I was able to watch it at my leisure, I text Declan to let him know about this promising base then got out from the car and began taking images to document the scene. You can see that I was parked on a lane which meets a narrow country road, the lane stretched away into the distance behind me, trees blocked the view of where it lead however I assumed it was a house or farm.
A min or so after I took this image a jeep appeared on the lane moving rapidly towards me, it slows down and comes to halt so I walked back to the car with the intention of moving as I assumed I was blocking the road a little. Just as I got in the driver's seat the owner of the jeep got out and literally ran at me, it was obvious from his body language that he assumed I was up to no good and that he had caught me in the act, and sure enough from his paranoid eyes it would have looked like I was trying to get away. I held my ground as he approached, the car door was wide open and he stood inside it which I took to be an aggressive gesture. The guy must have been a farmer and the owner of the lane as he fired questions at me which demanded answers in a rather arrogant tone which I didn't like at all. He asked me what I was doing, I told him I was a storm chaser and of course he didn't believe me (you don't here the word storm chasing alot in N. Ireland), so I pointed out the line of towers now overhead and informed him what they were and how funnel clouds can drop from them, for a fraction of a sec he seemed half interested then he snapped back to his interrogation.
Who was I?, where did I live?, he also wanted to see the images I took with my camera!, I actually had to show him the above captures to back up my story and reason for being here, he seemed to finally believe me and told me that there had been robberies and damage in the area recently which explained his attitude somewhat. I really didn't care for the guy's manners and I felt quite annoyed with myself for being so complacent and nice in return when most others would have reacted differently. He had no rite to know my name, where I lived, and certainly no rite to examine my images, however in the interests of keeping the peace I decided to play it calm and get it over and done with without flared tempers. I didn't like the cold atmosphere even after he left so I decided to change location.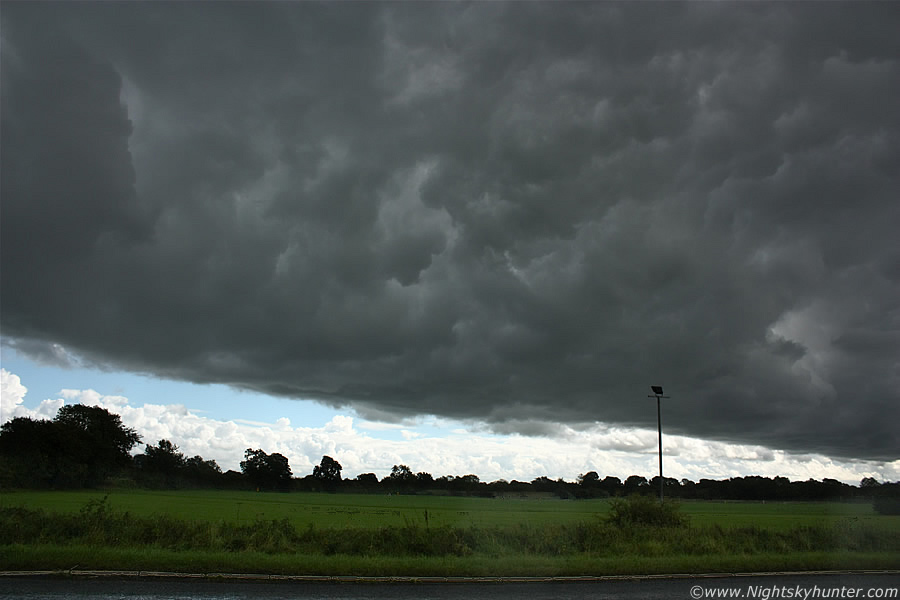 Now parked beside the main road near Tobermore at Moyola bridge, I was waiting on Declan to arrive while enjoying watching this awesome gust front, I say awesome simply because of it's large size and well formed Whale's Mouth under the guster, I literally snapped this image out the open window looking E over the driving range, I had to stay in as large precip drops were splatting hard on the windows and I didn't want the camera drenched, I still managed to get a cheeky drop on the frame to the L of the light stand. This gust front covered an area of sky from Tobermore to Slaughtneill, this 18mm frame doesn't do justice to how vast this bowing cloud was, the Whale's Mouth covered the entire sky from here, to the S, at the zenith, and into the W. I took a short video clip of it while I waited although it's beyond me why I never panned both cameras up inside because the structure there was really impressive. Declan arrived and we chatted about the potential while admiring this guster, we could see large dark updraught towers within the dome getting better by the min. We decided to change to a new location and chase after this cell for a while.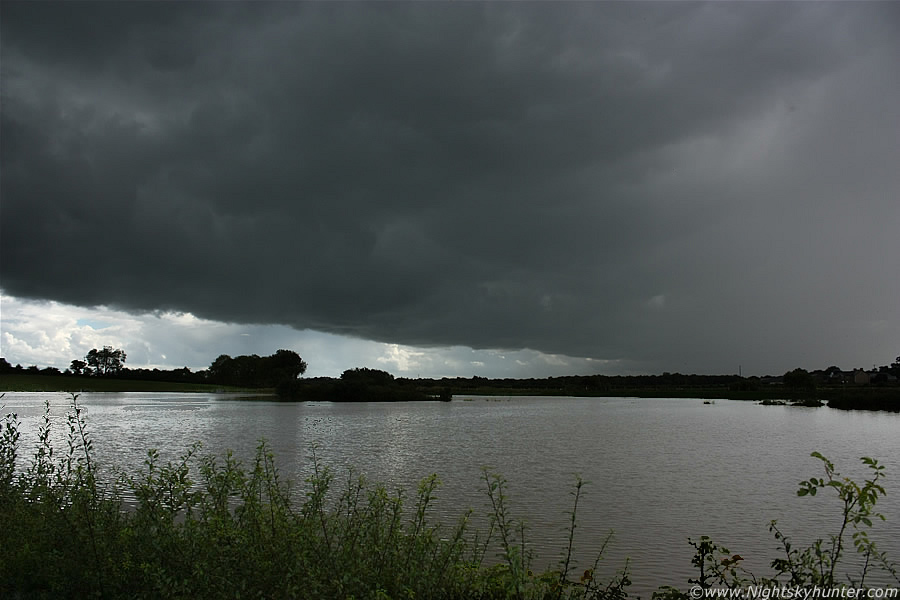 The two of us where in full chase mode as we took the back roads through the countryside heading E while all the while finding ourselves under the gust front, the narrow roads were in poor form due to all the recent rainfall with spot flooding, large puddles, and rivers of water crossing much of the road in the dips, it was fun driving through them with waves of water splashing against the windows with a muffled roar. We where directly under the precip core of this cell and it never seemed to stop raining, at times it was torrential with large icy drops which hit with good force and as we continued on our journey through nature's waterworks display we became more and more impressed by the scenes in the fields beside us so we ended up stopping several times to take images of the flooding. The image above is one example, that's not a lake, it's a flooded field and it covered a huge area on both sides of the road. The gust front is also in the frame for good measure, we where still under it!.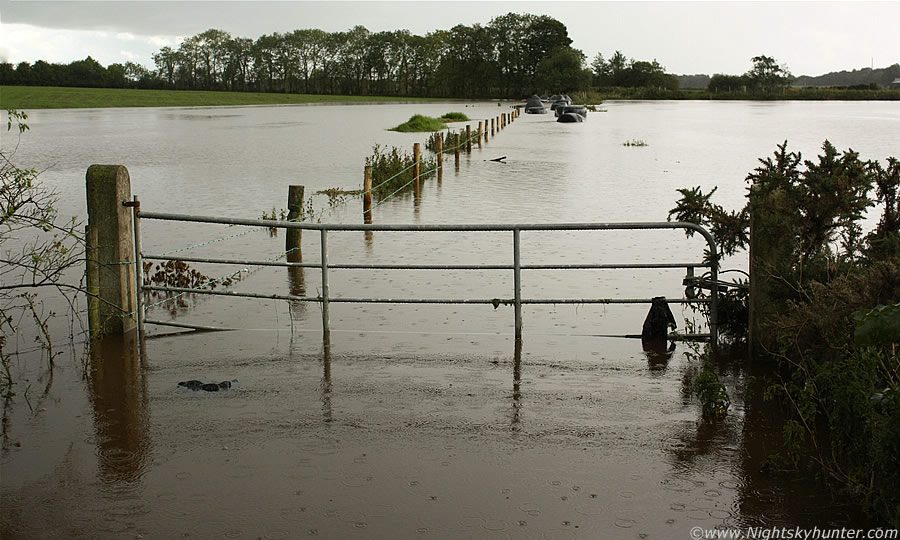 Yet another stop further down the road showing another flooded field where the water level is pretty deep judging by its height in relation to the gate, check out the black bails in the distance, the Moyola must have burst its banks and filled into these fields during the early morning hours. We halted our pursuit on high ground and parked under heavy rain for a long time, eventually the cell passed through and we had a clear view of the sky, the scene was not encouraging with weak towers struggling so we decided to end it there and try again later if the situation improved.
I had just about given up on this day when during the late afternoon the mid level cloud parted revealing a stunning line of cbs and towers on a line across the N to NE sky, I did a quick check online and saw that the forecast had been upgraded, TORRO had issued a convective discussion for tornadoes and large hail, apparently the latest model run had introduced strong shear which wasn't present earlier, this meant storm organisation and severe weather potential, TORRO's box had favoured the E side of NI and that was exactly where that line of cells was. I called around to Declan and together we watched that impressive line, the lead cell to the N was an absolute beauty and clearly the best cb I had seen all year, this thing was huge and glistening a healthy white colour with text book anvil, below it the sky was dark and we gradually felt frustrated that we had missed it, they where just too far away to chase now and a check on the radar showed they passed through Co. Antrim moving N near Ballymena then into Coleraine and the N coast, sferics charts showed active c-g lightning too which made this a bitter pill to swallow since we had missed our chance. These cells exploded up so suddenly that we never would have known anyway until it was too late and with the extensive veil of cloud cover earlier we would never have made a visual either. This was a let down for me because my instincts told me that E NI was the place to be however I ignored them and stayed local.
September 8th
This was one of those surprise days which I didn't expect to produce much. NI was only in a watch box from UKASF for showers and a chance of an isolated storm developing ahead of a frontal system in a low CAPE-high shear environment. The radar was fairly active from mid day onwards and for once mid Ulster seemed to be a good place with radar showing an obvious convergence zone generating shower trains and towers in a S-N orientation over the Sperrins. I wanted to check it out however I had no car until later in the afternoon so I had no choice but to actually walk out to a high country location where I then spent several hours studying that line, after a promising start it was obvious the line was weak and doing nothing but spraying precip on the hills so I headed home. The car arrived soon after this and just in time to see proper towering convection moving in from the S so I did another local chase up Glenshane Pass where I watched the low level base of one cell almost touch the ground with rising inflow which was cool to watch, at one stage the scraps of cloud seemed to be on the mountains however the precip core destroyed the visibility so I headed home.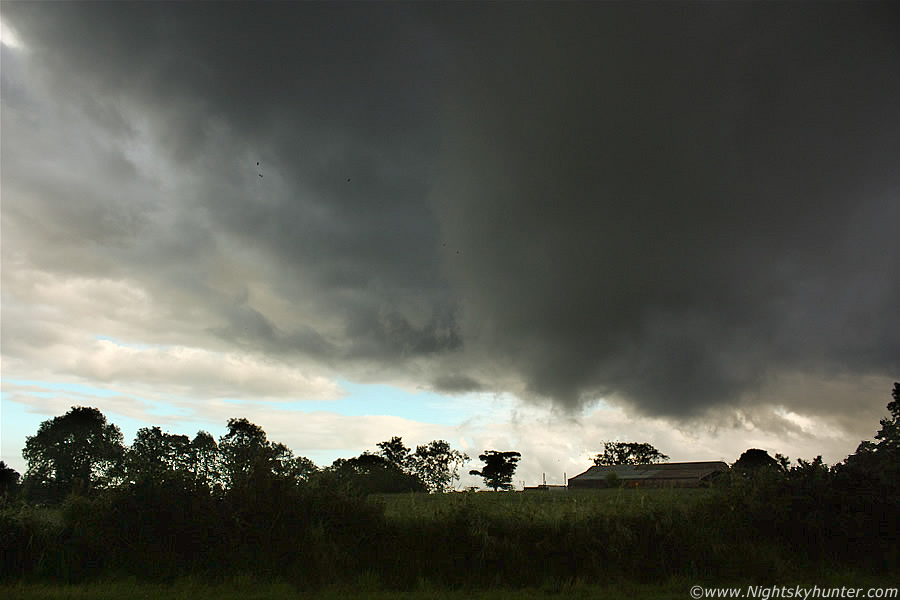 At 19.00 an intense cell suddenly appeared and delivered a darn impressive amount of rain from it's core of torrential intensity and showing red on the radar, I was in my room at the time and glanced out the window and got a shock when I saw the back of the cell to the S, a monster black wall cloud was hanging from the inflow region showing off with obvious churning motion, I couldn't believe what I was seeing considering this set-up today. A wall cloud, or more specifically a rotating wall cloud can drop funnels and tornadoes, and this one was directly over Maghera and it did have rotation, I couldn't get a shot of it through the window due to the angle however I got a brief video clip of it at the bottom of the page. I raced out to the car and drove a short distance N and parked at a gate on a country road in perfect position and watched it advance.
The above image was taken looking E 10 min's later and snapped through the open drivers window (it was still raining) as the wall cloud approached me, it changed shape from a big wedge to this weird barrel, it had great lifting motion and slow rotation, it kind of looks like a fat/bloated funnel here but I wouldn't go as far to call it an actual funnel. You can see the rotating tendrils of scud below the spout and behind the barn twisting in the air. It soon dissipated and the back of the cell passed over my roof, it was then that I saw amazing inflow motion, the clouds and scud where getting sucked up into the back of the cell at rapid speed and churning with impressive motion, it was almost like inflow at the back of a supercell, I have included a clip of this below however it doesn't even come close do doing it justice. I saw another cell after this with meso-like qualities and well separated inflow/outflow regions, there must have been good wind shear this day to get these mad features, had there been stronger CAPE the chances of a tornado would have been good.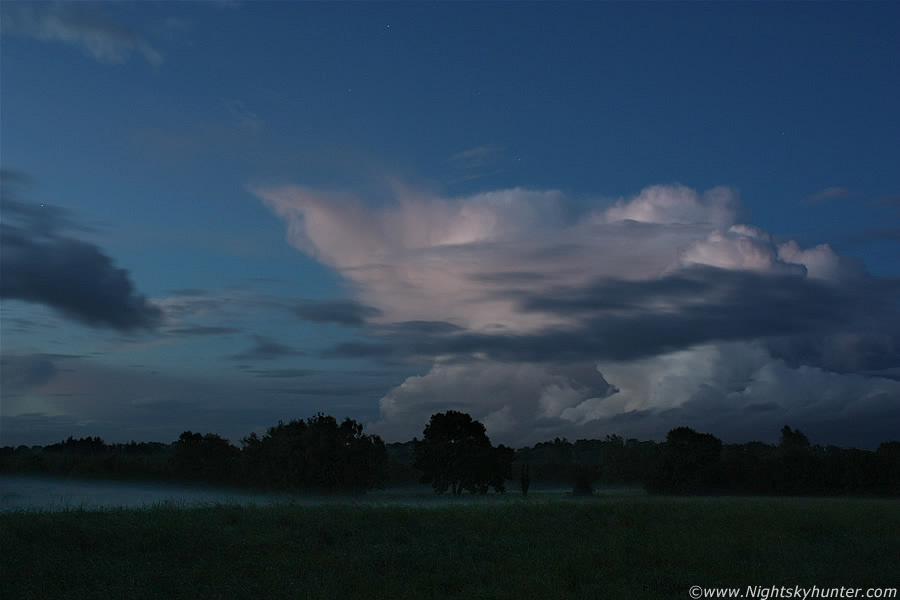 This was after sunset on the same evening, I was back at home again on the computer, it was getting semi dark and I once again looked out the window. To the N over the fields was a stunning solid white cell of huge size sitting in the twilight sky like an abrupt beast, it had the strangest shape ever with a mushroom head. I thought to myself what a stunning twilight photo opportunity so I drove back out the road again to the same location earlier and went into a field to set-up the gear. The cell had drifted a considerable distance away and looked nothing like it's former self with no chances of electrical activity however it still looked beautiful in the twilight sky so I took images for the shear enjoyment of longer shutter speeds. It was twilight, the stars were out and the night felt cool, calm, and quiet as a peaceful atmosphere enveloped me. The brighter twilight sky to the W illuminated the cell into a white colour while scattered sunlight produced the pink effect. In the field was a low bank of fog forming and drifting slowly above the grass with a nice blue colour which added to the scene. This image is 28mm, F/7.1 at 17 sec's, ISO 100. You can see Capella to the far L with Perseus above the cell. On August 9th another cell passed over my home dropping a rotating lowering which came close to spewing a vortex, my Sister and I watched in awe from our back door as it twisted for 10 min's over a built up area, that was very impressive!.
September 11th
This was the biggest day of the week with 1000 CAPE and LI's of -2 in a post frontal airmass and I was rather excited by the possibilities, I discussed the chances on Facebook with Danny Power and Paul Martin and you could feel the excitement building in the air. On the day in question there were doubts on the forums about the storm risk due to warm air aloft, lack of convergence, and shear so it there were concerns to be addressed, however I was game for anything. To cut a long story short during the early afternoon I saw a great looking line of cbs moving in from the W behind Slieve Gallion and the Sperrins, radar showed strong echoes so it seemed a storm was developing fast, the line was still many miles away however the view from Maghera was great with several large anvils blowing down wind to the E with dark blue skies at ground level and new convection/towers forming on the outflow, it seemed the cells were about to crack with sferics soon so I gave chase. The strongest part of the line was under the S section where dark precip curtains fell so I headed in that direction with the intention of positioning in Ballyronan. I had great fun driving along the roads with the video camera held out the window trying to take footage of it, of course I only did this on the quiet roads.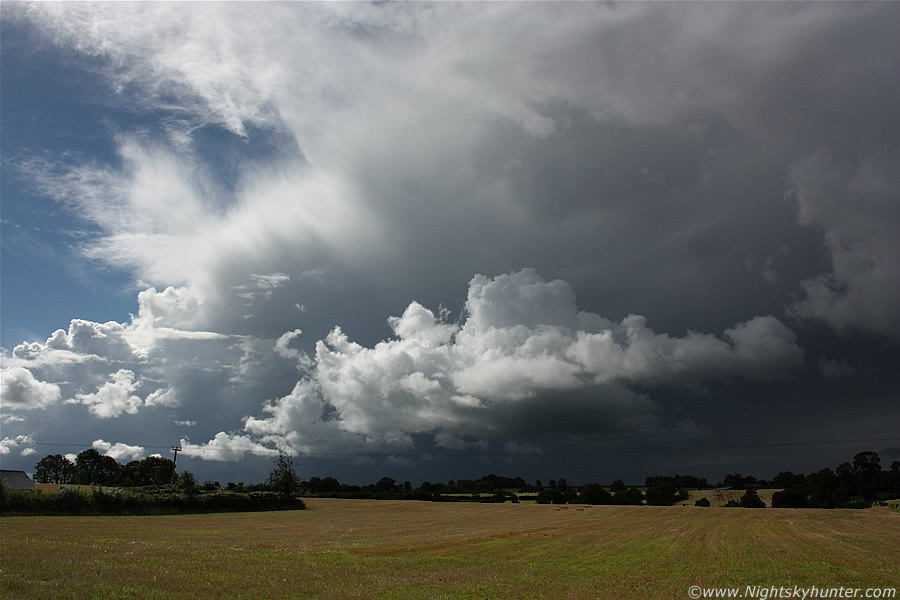 I must have stopped half a dozen times on this quiet country road outside Ballyronan to take images, the above is my favourite showing the line moving directly towards me with big cbs and crisp towers, the anvils where directly overhead here and far above the frame of the image, the storm clouds looked great contrasting against the freshly cut sunlit fields below. The N end of this line extends out of frame to the R for one and a half 18mm frames. I was expecting to see c-gs within the darkness in the distance at any moment, there was mammatus visible higher up on the anvil. I moved further S and intercepted the line perfectly at Ballyronan Marina where I let it pass over me under the heaviest precip, it was like a non-severe squall line with gusty winds blowing but then the cell fell apart over the Lough and I didn't even get a single rumble of thunder, I felt bitterly disappointed and if it wasn't for the above image it would have been a complete waste of fuel.
Big towers went up behind it however they looked mushy and I could tell by reading the sky that it was game over as there was something wrong with the atmosphere. I drove to Magherfelt and visited the shopping center there and chatted with Conor at work for a while then checked out a photography exhibit by the local photography club which my Dad helps run, I had a good chat with him and two other members about photography which was good fun. During the late afternoon I headed home to more mushy towers, I did see better examples to the NE which looked good then I got a text from Declan who was in that area under them, he got on several decent cells, a gust front, and an interesting lowering at the inflow area which could have been a possible funnel cloud. I was glad when the evening came because I just wanted to get the day over with, as far as I was concerned it was a complete disaster, a few storms broke out however they where pulse in nature and probably not photogenic, I felt let down by nature and was in a foul mood all night, I wondered if this was the last good CAPE I would see this year with Autumn nearing (turns out there were better days to come!). This day reinforced my opinion that this has just been a poor year for storms in this country, however that's not to say there were not any great storms this year as there certainly has been, however I missed them!
August 31st
I'm also interested in atmospheric optical phenomena, both day and night, however the latter interest me the greatest because of their more elusive nature and special quality, after all there's nothing better than getting optics from Moon light with stars in the sky so I consider them an elite subject matter. After dark on this evening I was checking the sky from my back door, the last quarter Moon was rising low in the NE and I noticed a flimsy bank of cirrus cloud drifting across the N sky towards the Moon, it was a narrow section of cirrus however it could be just enough to produce a good display so I drove out to the countryside for a better look. As soon as I stopped the car I got rewarded immediately, The Moon was in Taurus near the Pleiades cluster and on either side of the Moon where twin 22 degree Moondogs complete with fragments of a partial halo, pillars above the below the Moon, and even a tail extending from the E dog (L). The dogs had subtle colour visually however the camera brought them up more intense, it looked a cool scene above this country road.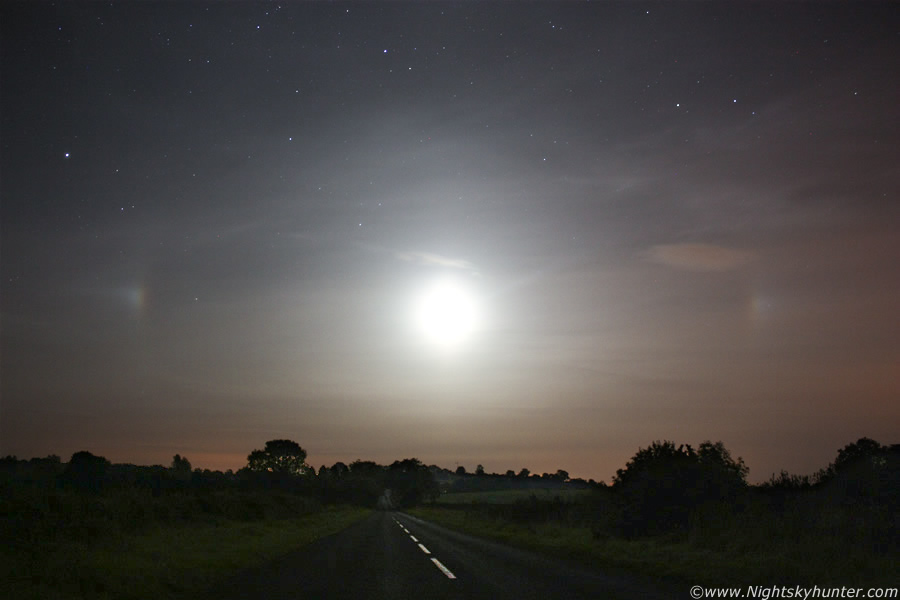 23.58 BST, Auriga to the L, Perseus above centre, and Aries upper R. This was 18mm, 20 sec's at ISO800.
Now isolating the E Moondog, also called a Paraselena. The dog is within Auriga with Capella above, you can make out both pillars a little better in this image taken at the same settings only at 21 sec's. You can see the clear sky to the L so this patch of cirrus was very insubstantial which shows how fleeting these optics can be so you can never rest when you have a good display above you. I was able to watch the display for 15 min's or so which was quite long. I really enjoyed this short session and it put me in the mood for more transient lunar optics, and that's what I devoted myself to on the nights ahead.
September 15th
One of many nights out hunting for nocturnal subjects, we had been experiencing a very unsettled period of weather which coincided with a waxing Moon so I was on the hunt for Moonbows or 'Lunar Rainbows'. The Moon was just after first quarter and there were passing clouds and weak showers however I didn't see any bows. The very best Moonbows require a Moon near full phase however you can catch fainter bows from the weaker phases too, on some occasions these bows can be so faint that they are almost invisible with the naked eye but show up well in an exposure. With a very weak phase your vigilance might just beat the world record Moonbow catch HERE captured by Stephen O'Meara!, this is a challenge I'm currently working on since I used to hold the previous record. To date the faintest Moonbow I've ever caught can be seen HERE, however the finest I've ever seen are HERE.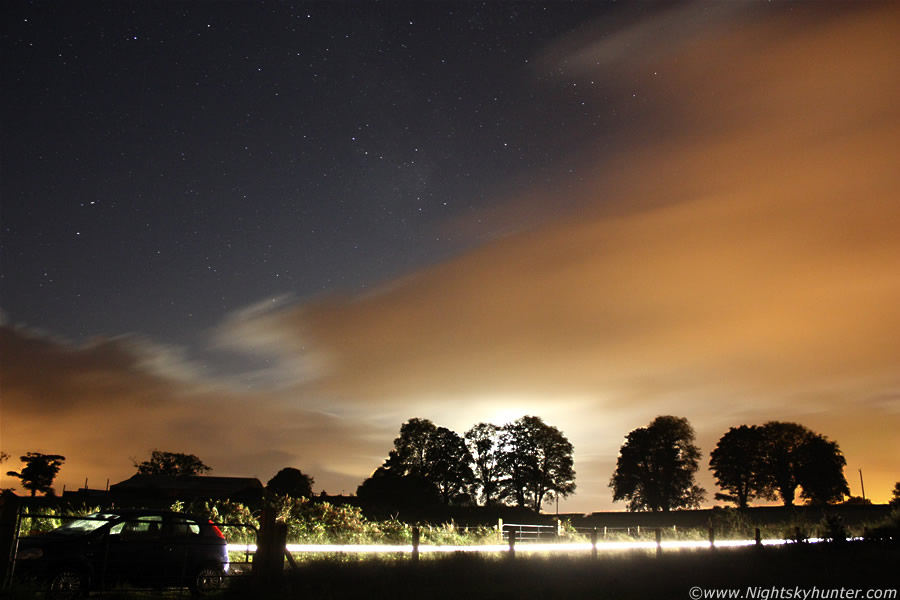 I didn't see any bows this night however there were some cool scenes around, I took this exposure which turned how quite attractive showing clouds drifting across the sky during the exposure with clear sky above, the contrast between warm and cold colours works very well. The white glow behind the tree is from the Moon, also a sneaky car trail as well. The Milky Way can be seen above in Scutum and Aquila with Capricornus to the L.
September 16th
The next night I was committed to catching a Moonbow, the unsettled weather remained and the forecast was going for overnight showers so I was ready and waiting. When the sky got dark I began to have doubts as the sky was crystal clear with no cloud in sight, after a while I checked the radar and saw a cluster of moderate strength showers moving in from the NW and judging by their position they would pass over Maghera, this was my first proper chance all year to catch this elusive phenomena so I immediately drove back out to the country and pulled over. I saw a wall of cloud moving in with precip below which looked rather nasty falling in heavy dark curtains, it was completely clear in the W with brilliant stars and the waxing gibbous Moon was in the S at a perfect position.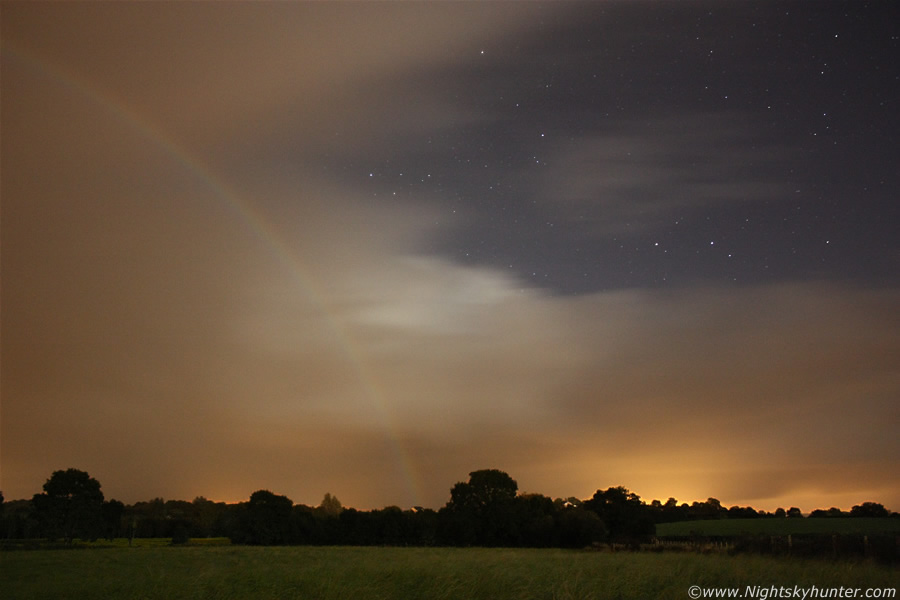 I walked into a soaking wet field with tall grass and mounted the camera on the tripod with my back to the Moon then bingo!, a beautiful Moonbow formed in an instant, I couldn't believe the fortunate timing. The bow was complete with primary and secondary arcs and there was even obvious colours with the naked eye, actually the Moonbow looked absolutely stunning and surprisingly impressive considering the Moon phase. I managed to get six exposures before I had to rush back to the car for shelter, my camera got a complete soaking from the heavy rain however not a single drop made it onto the lens which is remarkable considering the downpour it was fully exposed too. This image is ISO 1600, 18mm at 27 sec's. This is looking W of N at the far R side of the bow, nothing was done to this image so this is natural, the clear sector of sky to the R completes the scene with colour contrasts and the stars of Aries and Pisces. The best Moonbow shots need to have clear sky and stars in the frame, if you have clouds filling the frame then it just doesn't look dramatic, in addition no one will believe it's a Moonbow unless you have the stars in the frame. Catching a Moonbow is difficult enough however catching a stunning bow with stars is even more difficult, however I firmly believe that with dedication there is room for absolutely stunning photography with this amazing phenomena. I will never tire of hunting for these night bows, every one I have seen has been a special sight which I will always cherish. Now for a few video clips covering the period.
Short video clip of the gust front and Whale's Mouth structure near Tobermore on Sept 7th. Wish I had taken more video this day.
Video of various lowerings between Sept 8th and 9th including a wall cloud, fast inflow, and heavy convective sheared-showers from Maghera and Glenshane.
Video from Sept 11th showing the cb line which I recorded at intervals all the way between Maghera and Ballyronan pretty much done with me holding my video camera out the open driver's window.
This is a highlight image slide show I put together featuring various images taken between 2007 and 2010, old and new. These display storms, cool clouds, optics, snow, blizzards, flooding, NLCs, auroras, Moonbows, and even Moondogs, it lasts almost 9 min's. The music is called 'Extended Symphony' by Musicshake.
Martin McKenna