Co. Tyrone Thunderstorms With Over Four Hours Of Thunder! - July 9th 2023
With CAPE values between 1000-1300j/kg and -35c cloud tops this day couldn't be ignored. It was Sunday July 9th and I was preparing for yet another storm chase in what has become my personal best chase season in living memory. Even my favorite 2009 season was being eclipsed by 2023, there simply hasn't been anything like it that I can recall since my first chase in a car in 2007, or even further back when I began photographing storm clouds and atmospherics possibly as far back as 2000, so in my personal opinion based on my experiences only, this is the most thundery Summer in 23 years!
I was up early making preparations and waiting for the 10.45 GFS update to see if any drastic changes had occurred since the previous night, there hadn't been, everything was looking pumped. We had very good instability, cold air aloft, a trough moving in later in the day, strong solar heating and the atmosphere was once again humid with very favourable dew points. The only downside was the lack of any strong shear so the chances of organization was slim and with an even lesser chance of structure, however nothing is cast in stone when decent CAPE values are present, furthermore several SW-NE convergence zones were anticipated which could ramp up activity with a good chance of funnel clouds.
I had already scored seven successful chase days already with the most prolific number of cells I've ever encountered and my personal best storm structure to date so I already felt more than happy, so anything which happened today would simply be icing on the cake. CAPE was widespread however the AROME was more selective showing isolated storms from Fermanagh into Tyrone, Sperrins, and possibly the Lough into Antrim. GFS was more optimistic with the northern Sperrins all the way to the north coast into Donegal so it was tough deciding on target areas, it was six of one or half a dozen of the other. In the end I sided with the AROME hoping its prediction of SW Tyrone into the Sperrins would come to pass. In fact, it showed several strong cells moving rite towards Cookstown/Sperrins by 17.00 and several more into the evening.
Roisin, Rhua and I decided to make a day of it, the plan was to shoot W, wait out, then work back E again later in the day, that would take us over the Sperrins twice which dramatically increased our chances of success. This time we took Roisin's car and she drove today, this was a much welcome change which allowed me to monitor the sky. The late morning was very sunny, warm and humid, yet another classic Summer's day so we began a casual drive W along the Omagh Road, the sky was fairly quiet with a few small towers stirring so it looked like we had time to kill and a cap to break. To pass the time we spent several hours in Omagh town, walking Rhua, enjoying the sunshine, even coffee and lunch in Bob & Berts (they let dogs in) then made our way back to the car. From the middle of town we could see much bigger convection making its presence known, it was possible that storms were trying to form.
We exited the town onto the scenic Omagh road and immediately clocked two areas of interest. Far away to the SW was a line of towers with a good base, then closer to our E/SE was a line of very nice sunlit convection over E Tyrone. We checked radar, the E line was barely showing but it looked lovely visually with several bases and funnel potential, the cell far away to the SW was below the border and in the process of passing over Fermanagh, it had three red cores in a line and looked very interesting but it wasn't sparking, it was already mid afternoon and I was getting worried the cap was holding, maybe this day was going to be a bust. The border cell was moving NE at 10-15mph and would eventually move into our Sperrins target area, perhaps it was the cell the AROME had shown. I decided we would chase the E convection since it was closer, after all, it would be in the direction of home, then we would intercept the second cell later, we where literally between both, it was a sound plan.
I navigated while Roisin drove, I suggested we got onto high ground above the Omagh Road for a better view on the convection, so we took the option for Mountfield and made our way over the top of the Sperrins. The view was spectacular, the kind of place you would imagine tourists gasping in awe with scenes of 'The Quiet Man' in their minds. We chased the convection all across this high ground, Roisin and I were impressed by the view, its at times like this when you realize just how beautiful our country really is, especially when the sun shines. Beautiful sunlit fields, valleys, hills, narrow country roads, sheep, cows, narrow rivers, stone walls and old farm houses, it was glorious chase country, even without any storms it was a joy to be on. Embedded within the deep blue sky was our line of convection, however it seemed we couldn't keep up with it as it moved NE and it also seemed to be weakening.
We pulled over in the middle of nowhere for a break, this wasn't even worth an image however I took this shot anyway to document the day. The towers were small and seemed to struggle under a strong warm nose at the mid levels. This area of interest was game over, however we looked behind us, far away to the SW was our second area of interest which was now a cluster of cells, it looked moderately interesting on radar but still wasn't sparking, the towers looked crisp and encouraging and the long base was well defined but the precip falling seemed weak.
We decided to find a better location to take a break and have a snack. We drove along the gorgeous countryside at Broughderg then pulled into the car park at the Lady Of Wayside chapel, a beautiful area surrounded by top class countryside. We stepped out to stretch our legs, it was very warm and on the grass it was almost stiffing. We ate sandwiches then visited the inside of the chapel to cool down, then back outside for a brew from the flask, it's hard to beat a picnic out in nature. The sky was clear and the sun was intense, especially so on this exposed mountain. I could see the SW cell now over N. Ireland and getting closer, it didn't look that good at all, the towers were a bit lame and precip weak, radar even showed a downward trend so it was weakening. It looked like this day was likely a bust, it was already late afternoon and there was absolutely nothing of interest anywhere in the country, I decided to call it a day, we would just do our own thing for the rest of the evening.
Roisin suggested we have dinner out, a takeaway, it saved us making dinner at home for a change, I was game, she couldn't decide where she wanted to go, we couldn't think of anywhere so Roisin asked where is the nearest town, I said Draperstown, and she said let's try there. We took the back roads past OM Dark Sky Park and Observatory and made our way onto the main road from there. The sky quickly grew overcast which was quite surprising but we didn't think too much of it, then we decided that before eating we would call into the chapel at Straw and visit my Mum's grave which sounded like a good idea, so that's where we ended up. We walked to the grave, we had only arrived perhaps 30 sec's when we heard a rumble of thunder, no way?, was I hearing things? surely the radar was almost dead.
Then more distant rumbles, 100% thunder, deep and angry, they become more frequent and it sounded like something was building in intensity. I found this very pleasing yet uncanny hearing the first thunder of the day, and entirely unexpected, while at Mum's graveside, she loved chasing storms with me and would have most certainly been with me today if she could, it almost felt like a sign from the Universe. Then my phone rang, it was Nigel McFarland asking me if I was getting those storms and where I was, I explained I was hearing thunder now and located near Draperstown, he said radar was impressive with a huge line of red and white cores going all the way from the Sperrins to the border and had already produced 100s of sferics. I was in shock, how the heck did that happen so fast? I saw the radar myself, impressive indeed, and it was the same cell we had been watching to the SW which looked weak and which we had given up on, it must have exploded rapidly, it was already affecting Cookstown and Dungannon and was moving NE in our general direction. I barely had time to pay my respects to Mum and had to leave to get a look at the sky.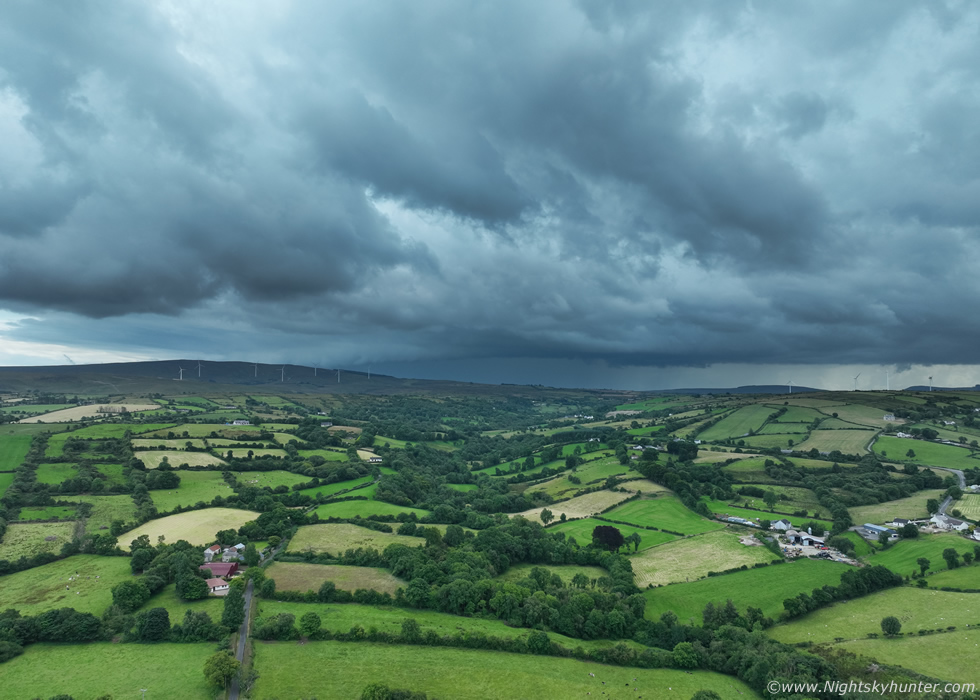 As we walked pack to the car the thunder was getting louder, it was definitely approaching this way, there was no need to move, we would let it come to us. We where parked beside the old Straw boxing club, now abandoned, seeing it again stirred up a lot of memories of good times and intense training sessions when I used to be a regular at the club, I should have taken an image of it. Trees blocked my view of the S/SW horizon so I got the drone in the air for a look, as soon as the drone cleared the trees and a hill the storm came into view. The storm cluster looked like a long line, the E side of which was more intense with a subtle gust front/shelf forming.
I was able to relax on the passenger seat inside the car while controlling the drone, Roisin and I watched the storm in real time via the live screen on the controller. From our view at ground level all we saw were trees and dark clouds, but with the drone everything was in view. We watched the precip core flash with lightning and enjoyed the thunder rolling across the Sperrins, it seemed all the more intimidating from this quiet location. I used up an entire battery here (35-40 min's) taking images and footage, I included a few short segments in the video below. At this moment in time the precip core was over Lough Fea and Moneymore. We watched the gust front advance over the hills towards us while shifting slowly E, there was a lot of lightning, most of it high up hidden within the towers, the rest in the precip core which lit up from time to time with in-cloud bolts. I was hoping a c-g would hit the turbines on the hill however I never saw any ground strikes.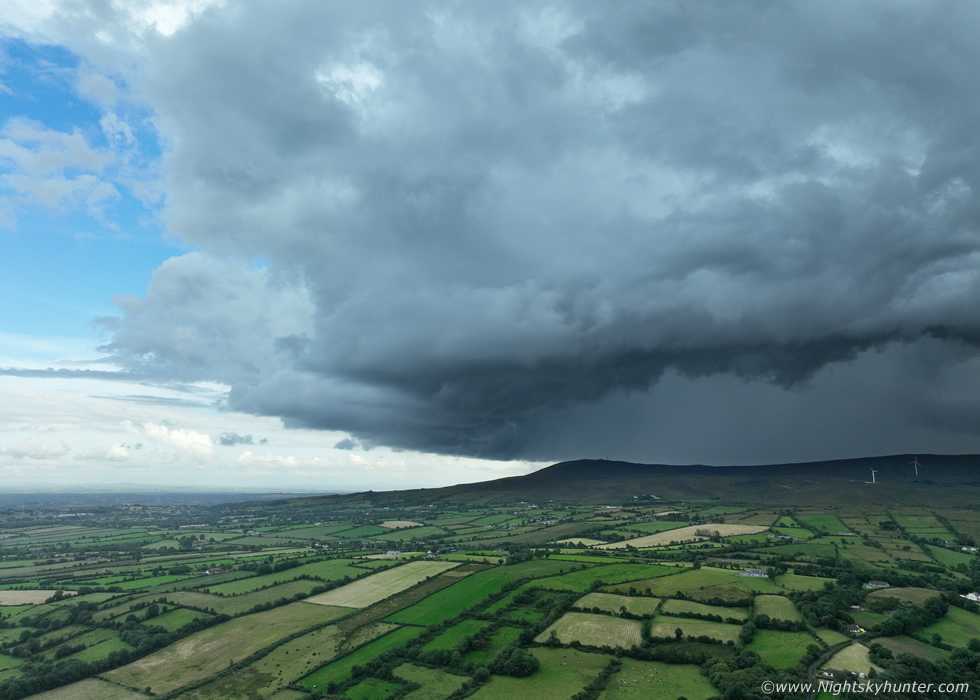 As the storm got closer it became much more impressive with a big gust front along the leading edge which looked alot more substantial on the E side of the cluster, the precip had a faint green-aqua cast with the naked eye, something which doesn't translate well on the images. At this time John Fagan was getting a great storm with almost constant thunder over Dungannon with a beautiful guster, this was the same storm viewed from further NW.
Storm rumbling away loudly with in-cloud lightning flashing through the precip covering a large horizontal area. On a day when no structure was expected this wasn't too bad at all, I will happily take a good guster any time, also I was shocked how long this storm was going for on a day with no shear, factoring in from the time we first heard it and its previous history it had already been producing lightning for 1.5 hours at this point, just goes to show the magic of big CAPE with convergence zones.
Roisin and I were still watching the storm on the drone's screen and enjoying the angry thunder, at one point Roisin described it as scary, on a normal N. Ireland Summer's day I guess it would be but after all the storms we had experienced over Antrim and Mullaghmore this was nothing in comparison, those storms were extremely active thunder producers, but I guess after seeing so much close lightning this season I was becoming desensitized, its not often I can say that, it's not a complaint, its just a tip of the hat to Mother Nature.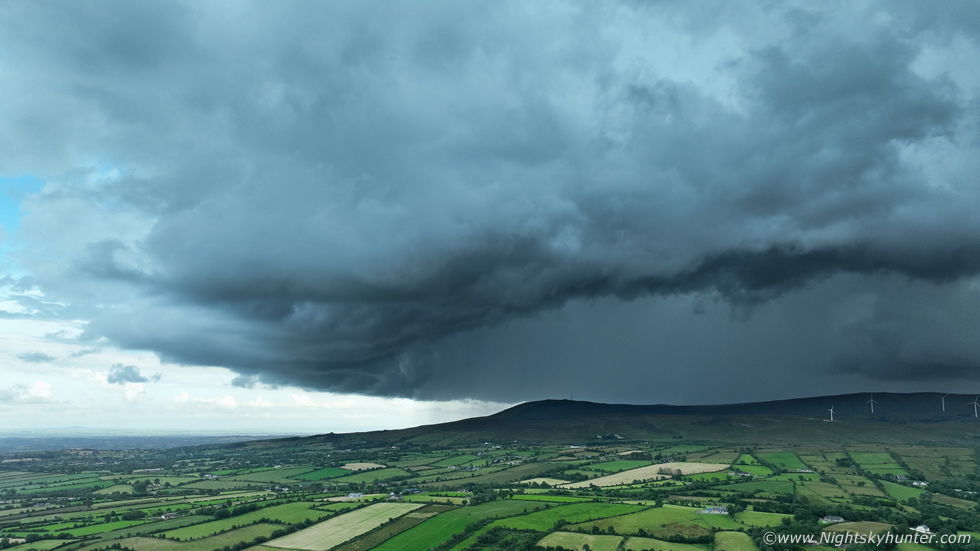 Independence Day over Slieve Gallion, you can make out the famous 'nail' on the mountain which is the large mobile phone mast. The summit of this mountain was where I experienced my very first storm chase in a car back on July 16th 2007 when Conor McDonald and his girlfriend picked me up and took me out for a late afternoon multicell intercept. The lightning was so frequent and dangerous we couldn't get out of the car until the core passed over, when it did I captured my first ever c-g bolts on video and experienced my first mammatus clouds, this single day changed my life forever and I've never looked back since, in 2007 my main camera was a 5MP Fuji Finepix, today I'm using a state of the art drone, if only I had known back then I would be using flying cameras in the future to chase storms. This single moment rekindled all those memories for me.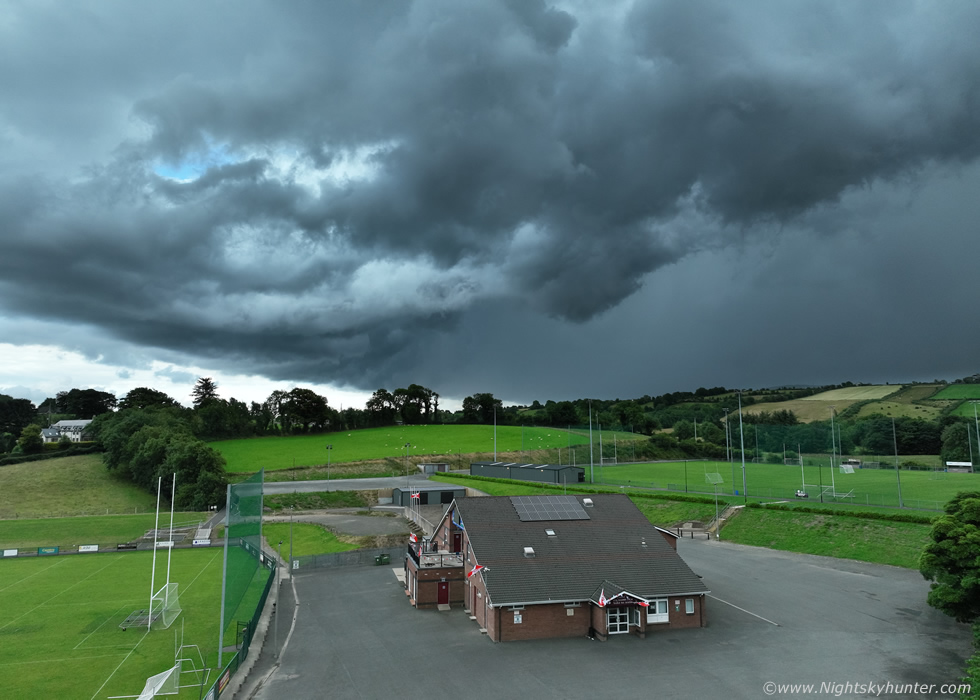 Precip was starting to fall so I lowered the drone somewhat, this is the GAA hall where I had my second ever boxing match many years ago, which I won, there was lightning flashing behind it, I hovered, took this image, then began shooting video, I was hoping to get a c-g over the club, that would have been a knock out image for sure (excuse the pun). All bolts were in-cloud, then as I watched the screen I saw a large looping fast c-g and I yelled with delight, Roisin saw it too, however when I played the footage back the bolt wasn't visible, perhaps it happened between frames, oh well it was fun to witness anyway.
The storm over took us, we lost sight of the structure and we where under rain with thunder so we decided to head into Draperstown and get dinner at a local takeaway. It felt weird standing in the shop waiting on our order while thunder rumbled away outside. After we ate, at another chapel, we checked radar, the current storm as weakening but another big cell was active over SW Tyrone, it was passing near Dungannon and over the Sperrins while all the while propagating E, this was our next target so we hit the road again and headed in the general direction of Cookstown, this way we would be located on the E side of the cell away from the precip and have a better view of the structure.
We stopped in Moneymore and got out to watch the storm which now stretched all across the Sperrins, we could hear very distant thunder, if we stayed were we where it would eventually pass over us but the storm was slow. The leading edge was weakening but the flanking region was back-building with new updraughts, this looked to be the action region, the updraughts were visible and below was a long but weak gust front feature. John Fagan rang me to say he was rite beside the storm which was brushing Dungannon with regular thunder, it was his second storm of the day. After some time watching I became impatient, I wanted to get closer, it was time to bridge the gap and make another move S.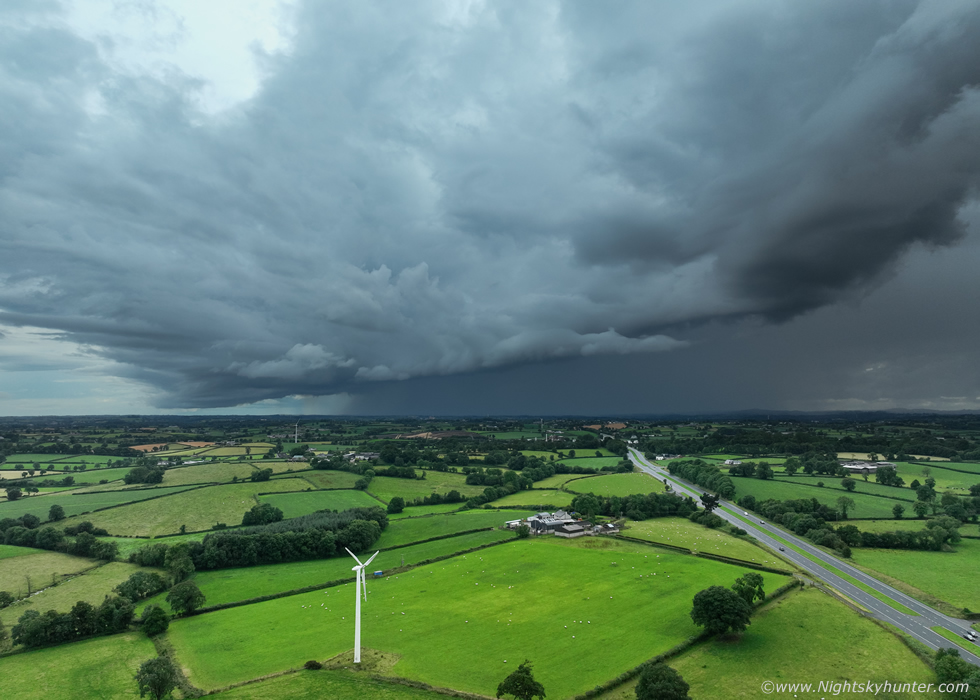 Roisin and I drove along the carriageway just outside Cookstown, I saw a road option to the left and asked Roisin to take it, we pulled into an entrance beside a bus/coach company park, which was closed, I got outside and powered up the drone. Our move was a good decision, we had a nice view of the flanking updraught which now had become a new storm, we could hear rumbles in the distance. This was the view looking W towards Cookstown, the new storm was moving towards us and to the left at the same time (E/NE). This was late evening, the sky was overcast and grey and some mid level cloud hid the tops of the storm however the lower regions were clearly visible. The core was gradually intensifying and it sported a rain free base for a time.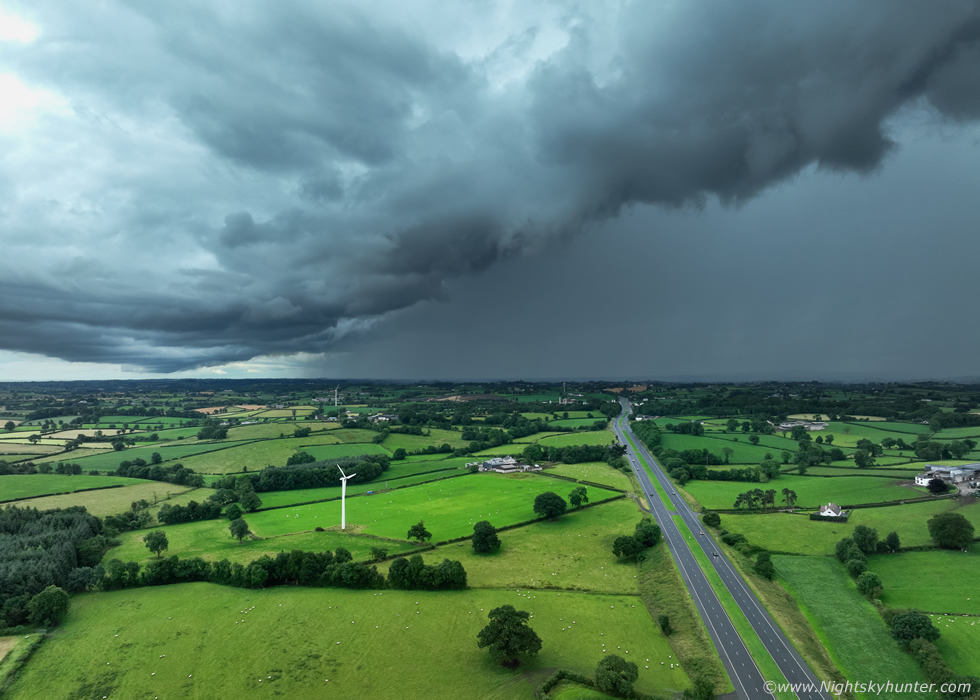 Rapidly developing thunderstorm with a core which was red on radar and forming into a large gust front feature, view looking straight along the carriageway, the storm was directly over Cookstown at this point. I was loving the high unobstructed vantage point of the drone however I was craving some foreground interest, I spotted a single wind turbine below then flew the drone in that direction to experiment with a new composition.
Hovering close beside the wind turbine with storm gust front dominating the sky rumbling with thunder. I took this image then began recording video, I was hoping for a c-g strike which would have looked awesome with the turbine but as was the case earlier much of the lightning was in-cloud. I actually really like this scene, maybe some day I will capture a menacing shelf cloud with wind turbines.
Thunderstorm getting more menacing with gust front better developed, the storm began to surge rapidly L (E) towards Lough Neagh, this seemed to be a trend this day with new cells growing on the NE side of the storms triggered by outflow interactions with convergence.
As part of the gust front passed over us we got a brief view of intricate whale's mouth structure, core now white on radar with thunder getting louder.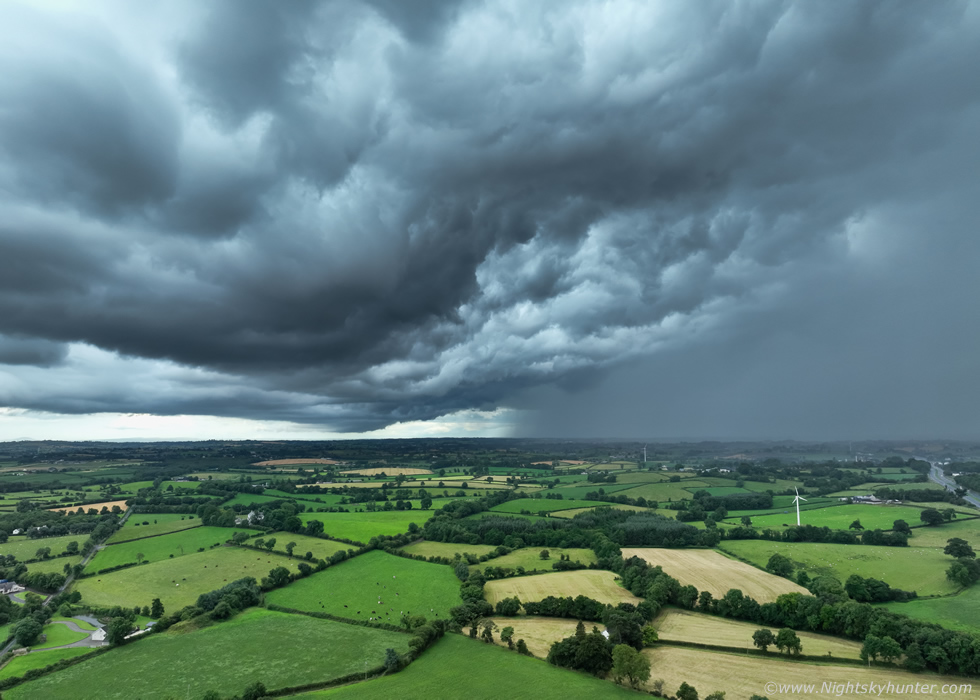 I saw cool images of this storm from further E across Lough Neagh where quite a substantial shelf cloud was captured crossing the lough towards Co. Antrim, this was our view from the side. Since the storm was moving away from us Roisin and I decided to end the chase and head back home. In a way I was glad to get the drone down and packed away as our presence had attracted some attention, a local from a house across the road had been watching our every move and considered us suspicious, he kept driving past us back and fourth in his pick up truck trying to susss us out or even intimidate us but it didn't work, as a drone pilot you must ignore distractions and maintain control of the drone at all times and factor in safety so when a potential situation arises you must ignore everything else and get the drone landed and safe before dealing with any questions or altercations
The guy drove past me again as I landed the drone, he gave a good look and I waved at him politely to indicate I wasn't a threat. I was expecting him to pull in and start asking questions or making false accusations as people usually do but he never approached. I don't blame him for checking us out, perhaps he thought I was taking images of his house or land or perhaps he owned the coach business, I felt like saying I'm shooting the thunderstorm but for some reason people just don't believe you and most are not sky aware, in fact, I don't think he even noticed the storm approaching anyway so he wouldn't have known what I was doing. Anyhow I wasn't breaking any drone laws and my flight was by the book, I packed it away and we headed home with two storms in the bag.
When Roisin and I arrived home I powered up the PC and checked radar, our storm was passing over the Lough and impacting Co. Antrim, we could still hear thunder from it, but what was surprising was the presence of two more storms moving directly towards Cookstown. I looked out a SW facing window and there was our third storm of the day, the time was 20.00. I raced outside, got the drone back in the air and surveyed the skyline, I could hear regular thunder and in-cloud lightning flickered from two areas in the SW and S, however there was no structure, just clouds with heavy precip cores. I went back inside and sat down in the sunroom with Roisin, opened all the windows and turned the tv down, and we just chilled out while listening to the heavy rain and thunder. This seemed to go on for a long time, this was the combined effect of storms three and four being in such close proximity. We heard VERY loud thunder booming and banging to our E/SE, it stood out from all the rest, Owain Rice posted on our facebook page that these were positive c-g strikes.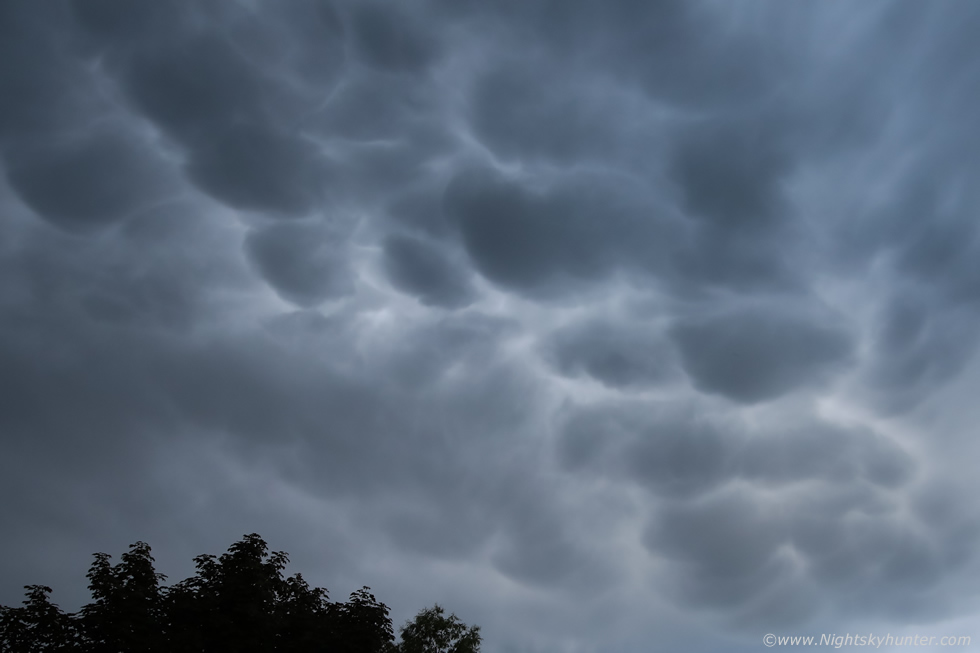 The big red and white cores were impacting Lough Neagh and NE/E Antrim areas, many people in these parts said it was the worst lightning they had seen in years with some people frightened. Roisin's Mother reported that a fuse box and television got destroyed in their neighbour's home which must have taken a direct hit. Meanwhile in Cookstown the rain began to ease then finally stopped, it felt like Roisin and I had been listening to thunder for a long time and it almost seemed normal. By force of habit I walked out into the backyard to check the sky, this is always important to do after a storm has passed for unexpected photo opportunities, if you are familiar with storm structure then you will understand why.
I stepped outside, looked up, and said ''wow'' out loud, much of the visible sky was covered in large mammatus clouds. I yelled to Roisin ''look outside now, mammatus!, get shots with your phone'', Roisin came out and looked up in awe as well. I should state right now that the naked eye view was much more impressive than what the camera captured here, this is 15mm wide angle, and yes the sun was blocked by cloud so the mamamtus were grey but they were nonetheless very striking, especially for a Summer thunderstorm in N. Ireland, this was the view looking directly overhead.
Literally walking around the garden taking random images, this was fairly late and the light was low, I was actually using ISO800 here on full frame, these were dark and moody. I didn't have time to jump in the van and drive out for a better look as they weren't going to hang about for long and the scene was too wide for the drone so I ran across the road into a field for a better view.
Mammatus was covering the E, NE, N, zenith and partial W sectors all at the same time. This image was facing E showing the edge of the thunderstorm anvil. I quickly began shooting a time lapse with the DSLR then a vlog with the phone, all rather rushed and focused with adrenaline more than anything else. The colours of the mammatus varied between battleship grey, to very dark grey, then cast with a subtle blue hour hue on the clear side, the time was just after 21.00.
Then random lightning began flashing below the mammatus from the precip core behind the houses in the form of long pink in-cloud bolts, this marked only the second time in my life in which I had observed mammatus with simultaneous lightning, only this evening was the best and it seemed to last for much longer. As sporadic lightning flashed here another cell over the far side of the lough began flashing too, you can see the towers of that one in the clear sector right of centre behind the houses. As I watched, those towers lit up from within with lightning, it was spectacular with lightning from two sources while mammatus silently put on a spooky show aloft all at the same time. I really wished the sun had came out to light up the display in sunset colours, it would have been spectacular.
The mammatus began to weaken and the Antrim storms drifted further away and the show began to wind down, this moment in time marked over four hours of regular thunder in the Co. Tyrone area this day, possibly a record in recent times. It was a fitting end to what has become the most impressive thunderstorm season I've experienced in my life, for the record this was my 10th thunder day of the Summer and most of those days have been extremely active, either with substantial lightning/thunder activity or by sporting great cloud structures, whatever your tastes this Summer has had it all. This night brought to an end this extraordinary period for me however it didn't stop for others. A few days later elevated thunderstorms broke out over the north of the country which missed me, however NE and N Antrim and coastal areas got treated to the best dusk/night lightning activity in years with damage to property, for it many it was as frightening as it was spectacular, there was even another funnel cloud captured over the Sperrins.
Drone footage of the Slieve Gallion and Tyrone storms followed by vlog of the evening mammatus display. As I write this report at the end of July our Summer has turned full circle, we have lost our big storms and our heat and we are back to the more typical cooler unsettled cloudy and wet Summer we are more used to. May and June have been spectacular months but we are now paying for it with a bad July and August is looking dodgy also, the general mood has been quite Autumnal.
That being said we still have all of August and September for further Summer thunderstorms and I've a feeling the season isn't done with us yet. The nights are slowly getting darker and soon I will be focusing on meteor showers, comet observing and aurora hunting so who knows what wonders are waiting to be captured on camera. Thanks very much for reading and a special thanks to Mother Nature for all the wonderful memories she has made for me this Summer.
Martin McKenna