Sunset Shelf Cloud Approaches Cookstown - September 25th 2020
This night was forecast to be clear so I was busy making preparations for what could be a fun photo shoot. John Fagan and I had planned to meet up at Beaghmore Stone Circles for a moonlit star trail until moonset then concentrate on the Milky Way. I had my camera batteries on the charger and was busy going up and down the stairs sorting things out including locating my thermal trousers which had been stowed away all Summer. There had been a convective outlook issued for this day however the Met Office and AROME model were not going for any activity inland at all, in fact, the day was entirely dry with blue skies with not even a single shower, I simply wasn't expecting anything so my mind was focused on the night sky instead. I happened to glance out the rear facing sun roof window facing E and was immediately captivated by a beautiful sight along the eastern sky. I yelled to Roisin to take a look too, what we saw was a line of convection with updraught tops all lit up with pre-sunset light, the tops were surrounded by blue sky however below the line of convection was an obvious Shelf Cloud, I went to the lap top to consult radar.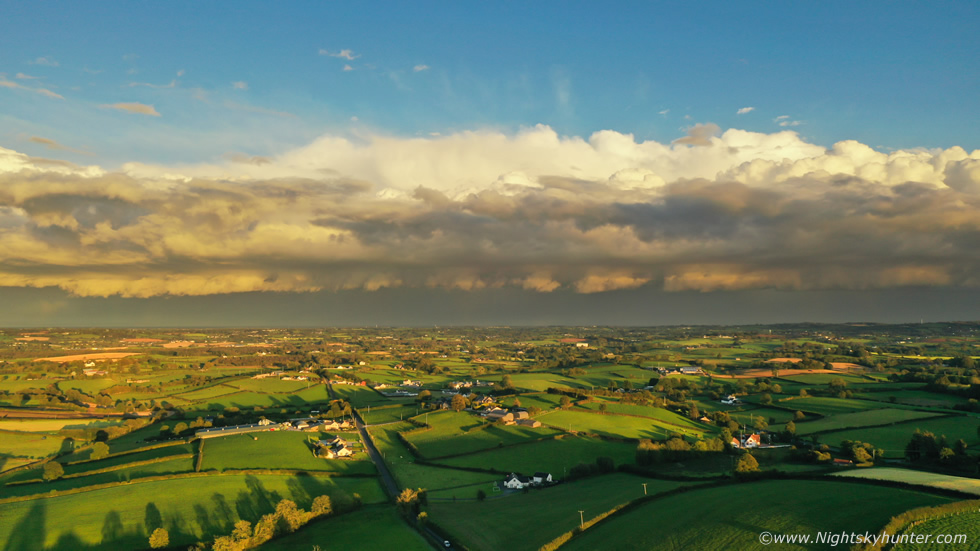 Netweather radar showed an active thunderstorm over the NE of N. Ireland with recent c-g strikes and associated with this storm was a line of red cores extending in a line from N to S along the E side of the country. The line was moving S however as it did so it began to move slightly inland and W due to outflow surging out which had generated the Shelf. I grabbed the Mavic 2 Pro and set-up in a field near the house outside Cookstown, I always have my drone charged and ready for the unexpected for situations like this. The wind was meant to be gusting 20mph from the N this day however during this moment of pre-sunset magic there wasn't a breath of air at all. I settled the drone at 80m altitude and took in the view, the feature extended across a massive area of the E skyline, this is the central portion, clouds moving L to R and towards me at the same time, the light was wonderful.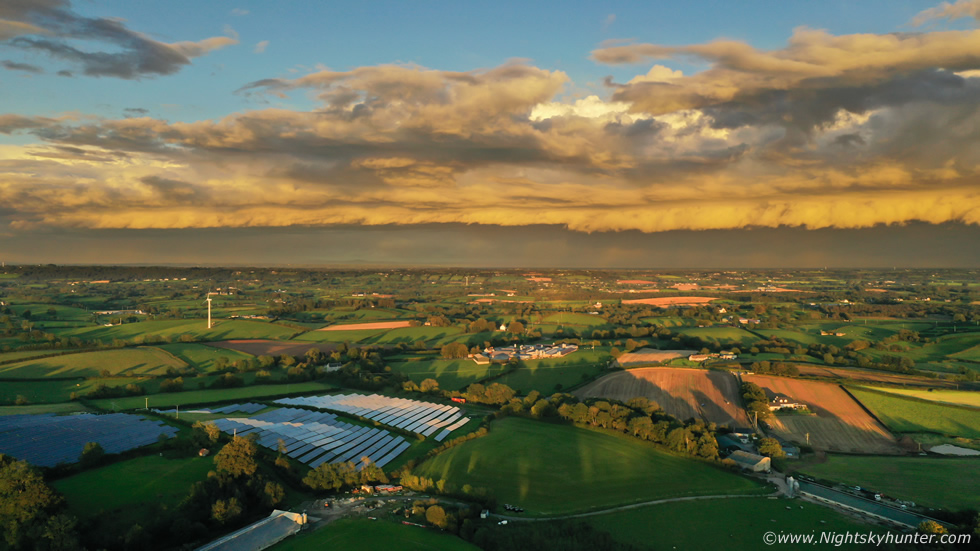 I used up the entire battery taking stills and video clips as the Shelf advanced closer. Check out the long shadows of the trees cast along the lush fields by the low Sun. I had to include the solar panel farm as it presented an unusual foreground interest with the storm. During moments like this I realize how privileged I am to have countryside and a clear E horizon like this so close to my home.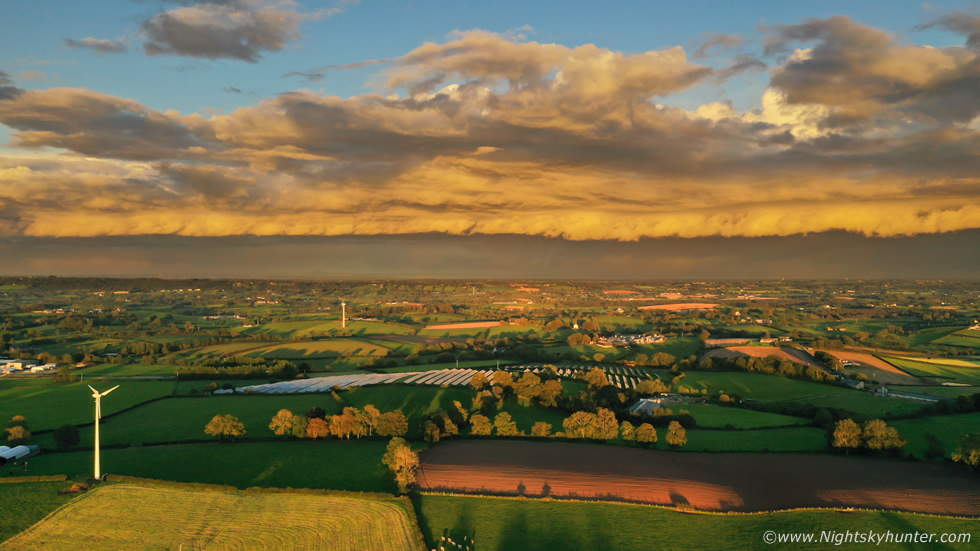 Gorgeous light and sublime countryside to go with the storm clouds, I never had the drone more than 400m distance from me, I was simply taking 20mp stills and filming video moving forward, backward and sideways, the key is always to have the drone moving, even for slow or distant subject matter, keep the movement flowing and it will always be more pleasing to watch. You can see the tops of the towers visible behind the Shelf, these were red on radar and producing good hailstones over that region, the Shelf was currently moving from Co. Antrim into Co. Tyrone, I wonder what the sight would have been like on the shore of Lough Neagh.
What a view, golden hour Shelf Cloud ahead of clear skies with a near first quarter Moon in frame and base of primary rainbow on horizon and well placed farm to add to the mix, imagine a c-g in that scene.
Facing due E at mid section of Shelf Cloud. These are also known as Arcus Clouds and are associated are outflow features which can form along the leading edge of convective showers and thunderstorms, they can appear during Summer or Winter and often have a menacing appearance, you can see chunky 'teeth' along the line, Shelf Clouds can be very dramatic and even more so when the light is good, although I have seen much more impressive Shelf Clouds than this one I've never observed such a structure in golden hour light before and it was this alone which made this Shelf extra special.
Panning to take in the E to SE section, I love this scene with the storm dominating the sky full of threat as it gains on the isolated farm below.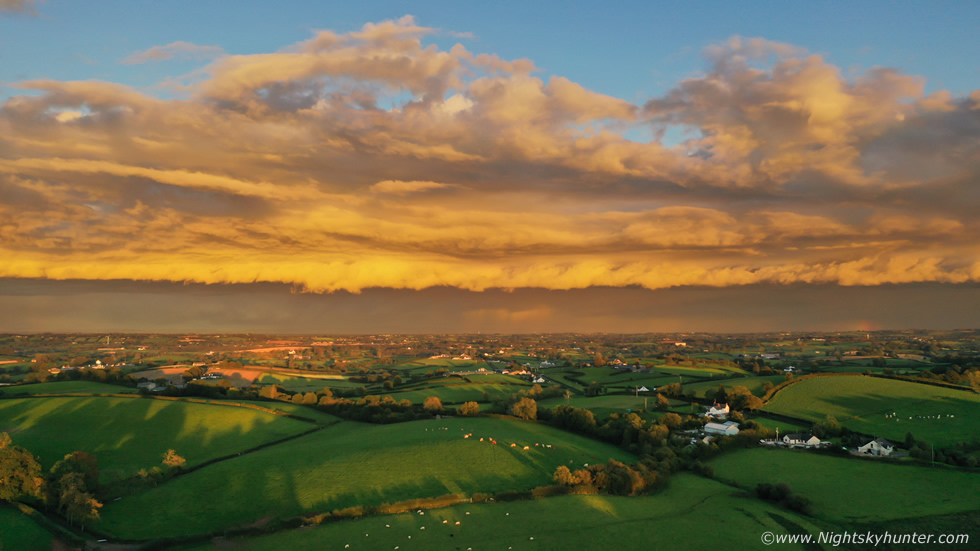 The light became very intense during the last moments before sunset, these colours are not enhanced in any way, all I did was a little touch of contrast and noise reduction, re-size to 980 pixels wide and that's it, pretty much straight off the drone and similar to the naked eye experience. I got comments on social media from other witnesses who saw it approach while driving our out walking their Dogs and they agreed it was spectacular. I landed and got in the van and drove out the carriageway for images with the DSLR, I found a nice field with Cows grazing with the Shelf appearing over the heard, however the Sun dropped below the horizon and the light was gone, it was a short chase but I was already happy, the Mavic 2 Pro had saved the day as always. It has been a very quiet Summer for storms, the last convective skies of note which had impressed me where Mullaghmore and Omagh during June which pretty much made up the season for me with great memories, however this event was an absolute surprise just as Summer begins its transition into Autumn so thanks to Mother Nature for this nice treat.
Full video footage of the sunset Shelf Cloud, this is actually the second Arcus Cloud I have captured by drone this season, I wonder could I push my luck and capture another with snow falling from the core in sunset light?. I then headed out on my photo shoot with John and had a good time shooting star trails on a cold dewy night, on the following night I ended up shooting another star trail and captured a moonbow over the ancient stones at Beaghmore Stone Circles, however I will save that story for the next report, thanks very much for reading.
Martin McKenna