Atlantic Storms Eunice & Franklin With Damaging Winds & Snow Squalls - February 2022
February 2022 has fast become the most dynamically active month of weather for N. Ireland since last Summer thanks to a major change in the pattern with the jet stream taking charge with 200mph winds aloft transporting moisture and numerous deep low pressure systems which have impacted UK and Ireland with notable consequences. Over the course of seven days we have been hit by three Atlantic storms, named Dudley, Eunice and Franklin. Eunice brought the strongest winds to England in over a century with widespread damage and loss of life, southern Ireland was also badly effected with fatalities and further damage. This report focuses on several days of storm chasing with my interests focused on the cold sector of Eunice and convective potential of Franklin.
Some people express surprise when I say that I'm not interested in Atlantic wind storms, after all, I'm supposed to be interested in storms aren't I?, yes however I'm also a storm photographer so I tend to focus on events which are more photogenic. I only take an interest in deep lows when there's a convective element involved or if it brings snow showers or big waves or rare coastal damage scenes. I normally hate the wind, in truth the only wind which gets my attention is blowing snow/blizzards, severe outflow downdraughts from thunderstorms and of course rare tornadic winds. Fortunately these big storms had aspects of my interests to I was ready to chase.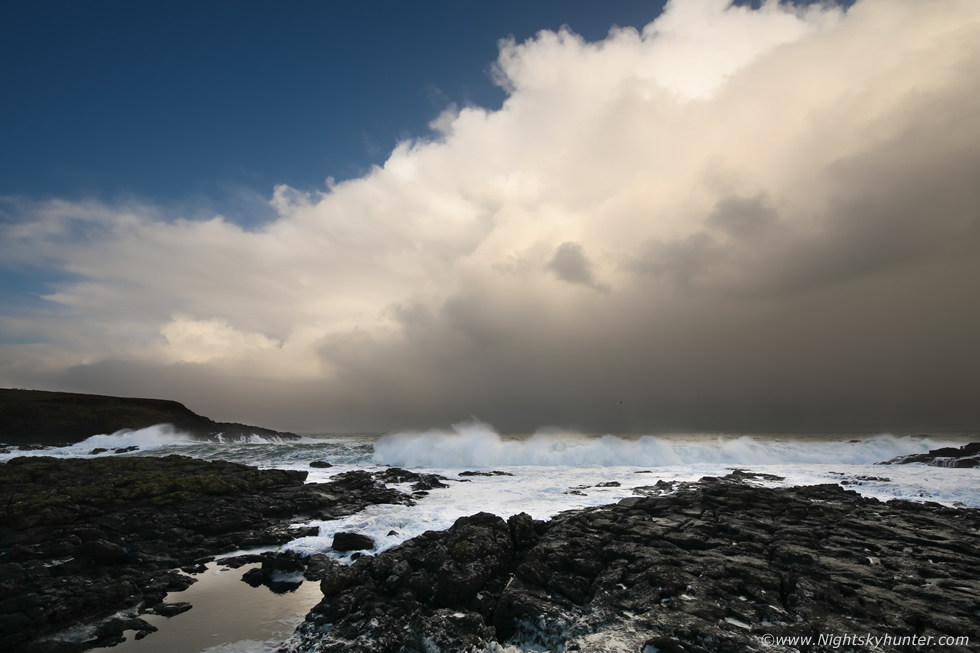 On February 11th I was out on an early morning chase, this was before the triple storm event and the back end of a cold front passage during the night with cold unstable air feeding into the Antrim coast during the hours of darkness and for a few hours during daylight. 100 SBCAPE overlapped with 20 knots shear, not enough for major organization but certainly enough for good single cells and borderline low topped multicells. The charts showed gales with regular gusts in the 40-45mph range so I wasn't intending on using the drone today, however I packed it anyway. I was up at 05.00 UT and hit the road by 05.30 UT, en route I witnessed night time lightning flashing near Scotland, I then made it to Portrush for 07.00 UT, when I arrived at the car park beside Ramore head Nigel McFarland and Colleen Webb where already in position for the morning chase.
It's always special to watch the transition from darkness to morning twilight then to dawn at the coast, we could see the outline of several anvils to the NE and new towering cumulus to the NW making their way towards us. At first light the sea was impressive being highly disturbed with big swells and breakers erupting everywhere, even witnessing this at dawn was a treat. Then a line of convection moved in at sunrise, extending across the sky in classic multicell fashion but with low tops. I went for a walk along the shore and got down onto the rocks, the sea was hammering in with crashing and roaring sounds which was quite thrilling. The convective line arrived and made for a dramatic scene, the cell's outflow gust front spread across the sea invigorating the surf while sea foam sprayed over the rocks. This was 15mm wide angle on full frame, this was my favourite scene from the morning.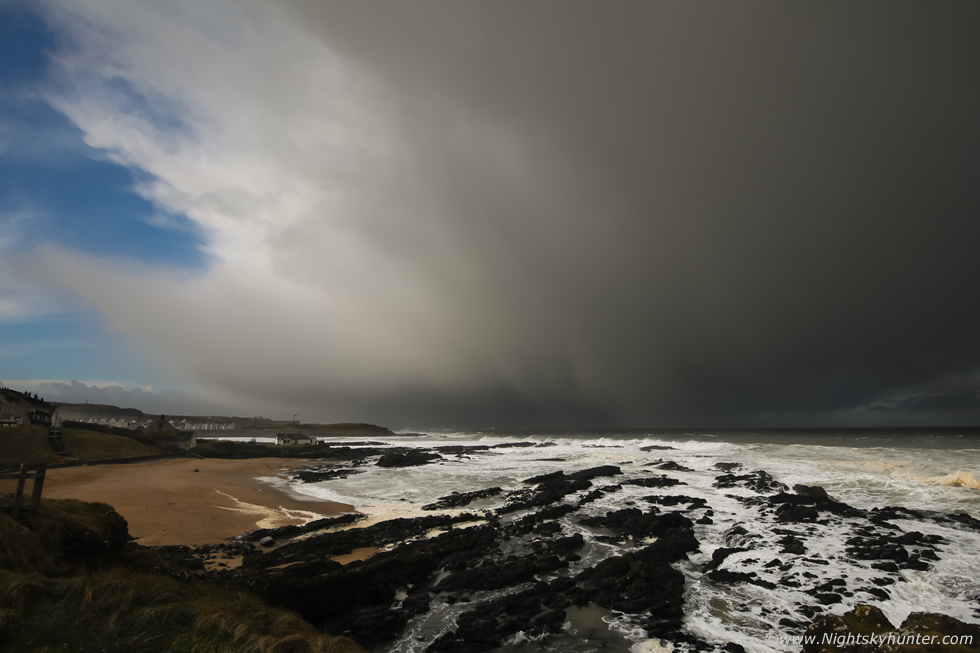 By late morning we changed location to Portballintrae where the sea was spectacular. Huge rolling tubes of green menacing madness cascaded towards shore in an unrelenting fashion, we spent a lot of time shooting those with the long lenses however it was difficult to get a good sense of scale without any surfers on top, the area is too dangerous for surfing anyway, however those big green rollers against the backdrop of Runkerry House made for a great visual view. I didn't want to post any of the wave images as the sky was overcast with poor light at the time. This big hail squall rapidly made its way towards us so I put the 15mm back on to capture it over the shoreline.
After midday we took a break. Colleen went inland to chase then Nigel and I had the rare luxury of going into a cafe near White Park Bay called the Bothy. I don't mind promoting the place, their coffees and hot chocolates are great, so is their food, and they cater for gluten free and dairy free customers so that's a big plus in my book, I look forward to calling in again another time. We sat in the Bothy enjoying our warm brews and the heat while chatting about the weather, photography and drones. Our energy was renewed so we headed back out for round two.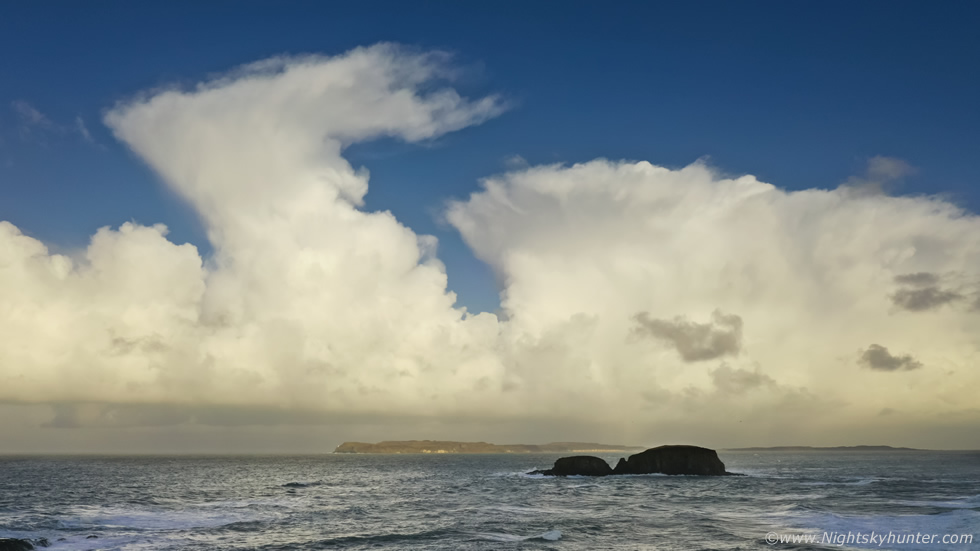 We re-located to an old favourite location at Ballintoy Harbour for a change of scenery and we were glad we did. The sea was very impressive with large white waves exploding over the rocks and deep swells barrelling across the harbour entrance, it was a scene of beautiful chaos and when the sun came out to light up the waves the view was sublime and dynamic. I never took a single image of those waves, I just took it all in, Nigel and I hiked onto the high ground of the rocks to get the best view, Nigel was shooting away getting great images, I wondered could I fly the drone? I took a wind speed reading and was amazed to see that the gusts were only 20mph, no doubt the wind was stronger higher up and further out to sea however it was still well within the parameters of the Mavic 2 Pro. From the top of the stack I did two flights, flying over the harbour, the secret beach, over the stacks, I watched big waves surge below the aerial camera, it was a buzz.
I then drove up to the small car park above the harbour where I met another drone pilot who had a very popular youtube channel. We had a pleasant chat about drones then we both flew together. It was before sunset, convection was trying again with nice towers and a few anvils catching the warm light, I hovered the drone over the sea and took this image towards Sheep Island and Rathlin Island, a nice cb to the right dropping hail, however it was obvious that despite the instability and shear the cells were not sparking or getting as tall as they should have done, a warm nose in the atmosphere was inhibiting vertical development, however that took nothing away from their beauty. I had one last drone flight before sunset which completely made my day, flying over the sea with swells and surf surging over the rocks with the sea stacks back-lit by the sun which made for a very cinematic moment, you can view the footage here.
I then got a phone call at sunset from John Fagan saying the aurora was kicking off, the Bz was -9 and the oval was red, so I had a mad dash home battling rush hour traffic. I arrived home tired and shivery, I had just enough time to top up the charge on the DSLR and get a nice bowl of soup (thanks Roisin) then I was back on the road as darkness fell. I arrived at Beaghmore and immediately saw an array of naked eye beams in the northern sky reaching up as far as Alcor and Mizar, then they vanished. Another outburst was possible so I made my way to the famous stones and got a composition. The outburst happened, just as the cloud moved in, the camera was catching purple-pink beams to the NE in the small gaps then it clouded over completely, what a bummer after clear skies all day and a forecast of clear skies all evening. Those at the north coast got a better show, I should have stayed there, however that's the way things work out with nature, it was time to head home, warm up, and get back on the charts to see if the atmosphere had anything else to offer.
February 18th was my birthday and it was obvious from the charts that it was going to snow, its been a long time since I've got snow for my birthday so this was extra incentive to go out chasing. The set-up was the northern cold sector of Atlantic storm Eunice which hammered the Republic and England that morning and afternoon. Even during the storm's passage in N. Ireland it left an impact, reports varied from nearly calm conditions to some of the most violent gusts experienced in years. The cold front passage was associated with line convection and very strong shear, TORRO had a convective discussion issued for tornadoes and CW had a level 1 for N. Ireland and a level 2 for England. I noted a highly sheared cell embedded within the front with classic eagle wing form similar to supercell characteristics which crossed Co. Armagh into Co. Down, those regions experienced extremely strong squalls and wind driven sleet and rain.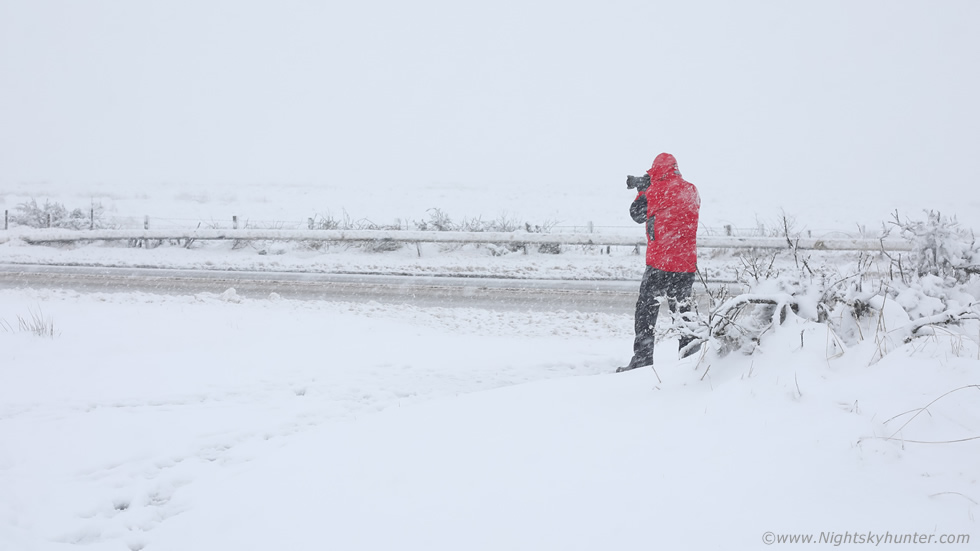 The cold sector had 50-100 SB CAPE with shear and -30c air aloft, the flow was a NWly with gusts between 50 and 70mph, a Met Office yellow warning was issued for snow and blizzards. The cold front crossed during the pre-dawn hours, I was up at 04.00 UT watching radar and was instantly disappointed, the front was weak producing snow mizzle, it didn't even cross the country as forecast and instead moved north and cleared early, I went back to bed. I got up again at 07.00 UT to a dusting of snow, wet slushy snow which was thawing fast, I decided I wasn't going to go out. Then I got a call from Nigel McFarland who was on the road early, he had good snow on Glenshane Pass, 7cm, and radar was showing plenty more snow showers coming in from the NW, so I decided to take a chance on it. I arrived at Glenshane where I met Nigel and Colleen Webb, they both wished me a happy birthday which was very nice, the snow was great and Rhua was out jumping through it like a Rabbit, going out was a good decision after all. We spent the morning capturing traffic scenes on the busy pass, here's Nigel in his element.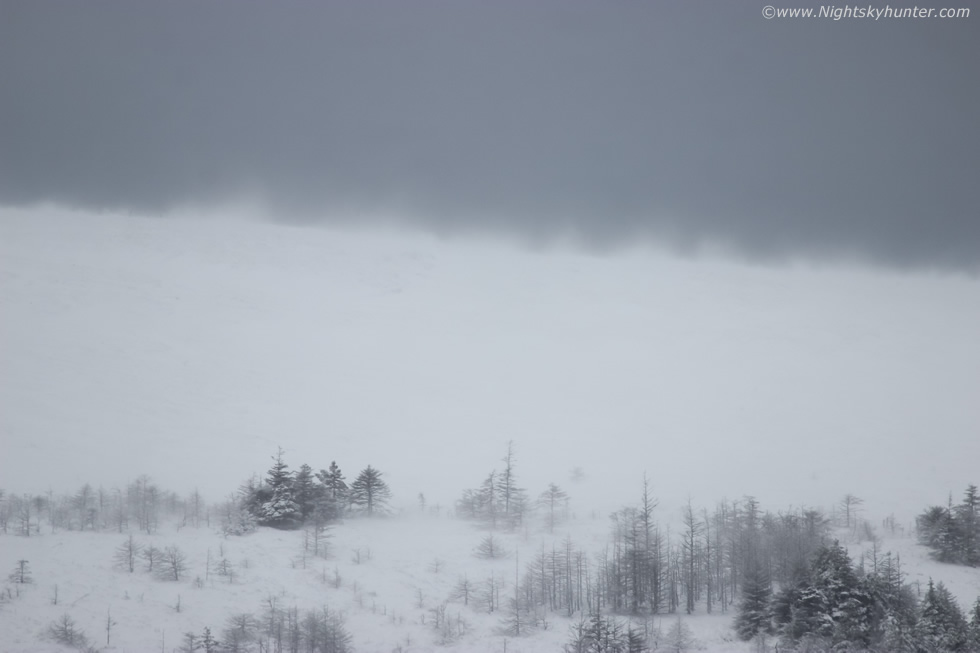 What got my attention was the blowing snow across the summit where clearly there was blizzard conditions in progress, I was leaning out the window with the 100-400mm trying to shoot stills and video while the wind buffeted the van. In the above image those ghostly white forms were snow curtains lofted high by the gusts while blowing R to L across the summit, they were great to watch but difficult to do justice to on camera, I wish I could have made it up there to film but that was impossible.
I was getting hungry so I decided to drive back down the pass to the local filling station for snacks. As I was descending I noticed conditions deteriorating rapidly and I was staring to slide on the incline so I eased back and used the gears to slow the van and kept a safe distance from other cars. I thought nothing more about it until I got back on the road and began the ascent and soon became trapped in tail backs with cars and lorries barely moving all the way to the top. It was slow going and soon the reason became clear, PSNI cars drove past with blue lights flashing, then as I got closer I witnessed a pile up of cars. There must have been half a dozen or more cars smashed, some off the road in the ditch, others dented, and others completely ruined, it was that very same stretch of road I had been on ten minutes earlier. The impression I got was that someone panicked and hit the breaks then other cars crashed into each other as a result as the road was too slippery with not enough breaking distance to come to a safe stop. It was a mess of a scene and I felt sorry for those who had their cars damaged, thankfully I heard there were no serious injuries, but it just goes to show how quickly things can change on the Glenshane Pass.

I met up with Nigel again back on the top of Glenshane and after what seemed like hours of blowing wet snow and dark skies the clouds suddenly cleared and the snowscape was lit up by beautiful sunshine, and amazingly the wind also died down to a stiff breeze, we wasted no time and got our drones in the air. I burned through one battery here flying low over the landscape and stopping for stills, this was a 180 degree pano showing the main road and the River Roe.
This was a region along the flank of the Cairn showing a meandering river coming down the mountain, I don't actually recall imaging this before so here's one for the record. By now I was quite exhausted however the light was still good and the wind was being kind, I still had two batteries left so Nigel and I decided to move further west and and try Benbradagh which more often than not looks spectacular in a blanket of snow.
We picked a back road outside Dungiven to capture aerial views of the northern summit of Benbradagh, I obtained several videos here to serve as an intro and end to the footage I planned on getting during the next stop.
180 degree pano showing the surrounding green fields and snow line to the summit.
We made it half way up Benbradagh and the view was spectacular, I wasted no time getting in the air to obtain footage of the centre and southern summit, it was breezy but more than doable for the drone, this was a very special bonus today for I'd never thought I would have got flying given the wind profiles. On the tablet screen I spotted a distant line of towering cumulus to the NW moving our way, and swiftly too. Instability over the sea was beginning to move its way inland so the clouds were pepping up big time, I could see snow falling from the convection and thought to myself this had potential and was worth watching.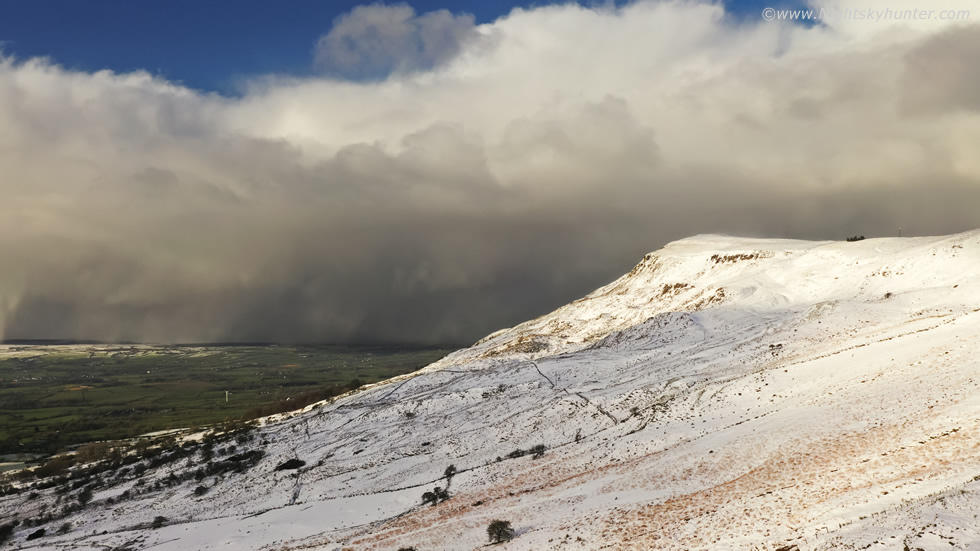 Within a few minutes it was rite on us moving very fast and making a bee line for Benbradagh, even at this range the cell's invisible gust front was already blowing hard and enhancing the background wind. I was loving the structure on the leading edge and that line of falling snow, it looked menacing. The gusts were getting stronger then I realized I was on my last battery and had 30% power remaining, I was only 300m away and 80m high however I knew that the cold temperature and the fight with the wind would eat into the battery life fast, I held on as long as I could.
Panning across the sky to the W/NW, this was like watching a wall of snow blowing in closer by the second. Nigel was already in action with his DSLR shooting stills, he was also flying his drone and had captured a great pano before he landed.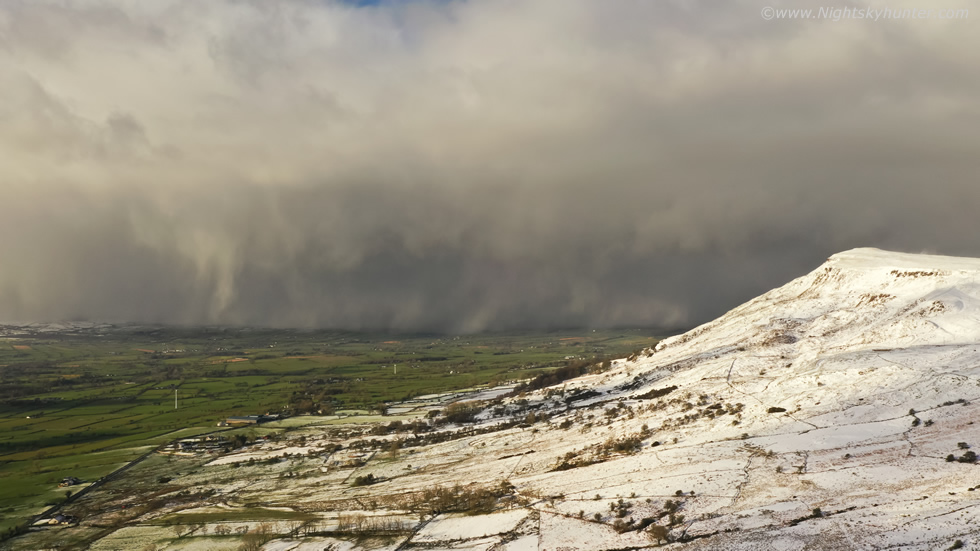 It was now getting in the awesome category, such a cool scene, this is the kind of subject I love, dramatic skies and mean storm clouds, you just know that when this hits you better be under cover. Then the beeping of the low battery warning kicked in at 25%, I held my ground for another few minutes to fire off shots then brought it in to land. Just as id did so the scene became even more epic, I really needed to capture it and I knew the DSLR ground camera would never do it justice. So I wasted no time and put in one of the other batteries I had used early, this one again at 37% charge remaining, it would just be enough for what I needed. The wind on the summit was lifting snow into great swirls, you can just make one of them out in this wide angle scene on the upper right.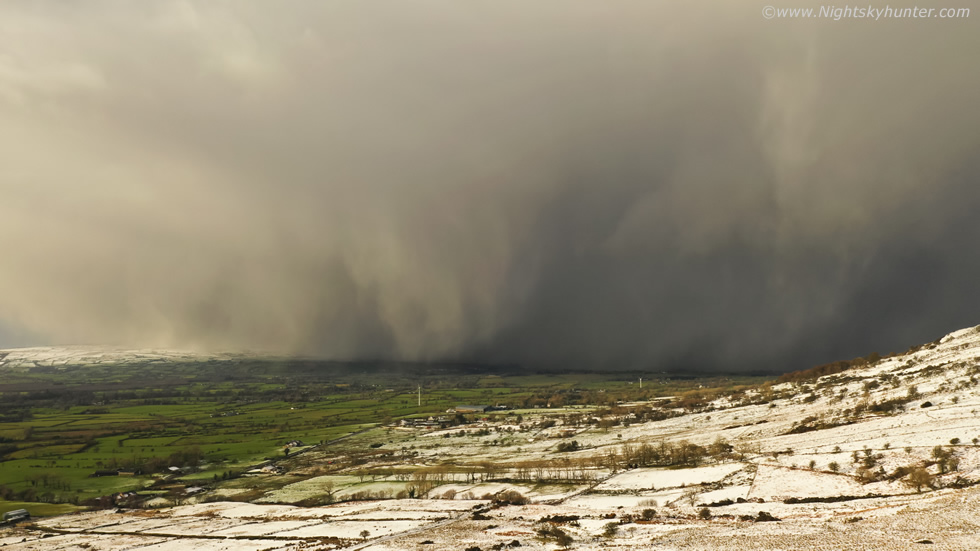 I was feeling mixed emotions, in one hand I was buzzing as I captured this moment however one the other I knew that with every second spent in the air this cell was getting closer and soon my drone would be at risk. These kind of structures are entirely outflow dominant and can produce strong downdraughts and sudden squalls, I trusted my instincts and experience and stayed up a little longer, I had only a few minutes before it was on us.
My favourite scene from this chase, thanks Mother Nature for the birthday present. I began shooting short video sequences and stills, amazingly the Mavic was still holding position despite the squall hitting, the gimbal was tilting over slightly so I had to level the horizon in post.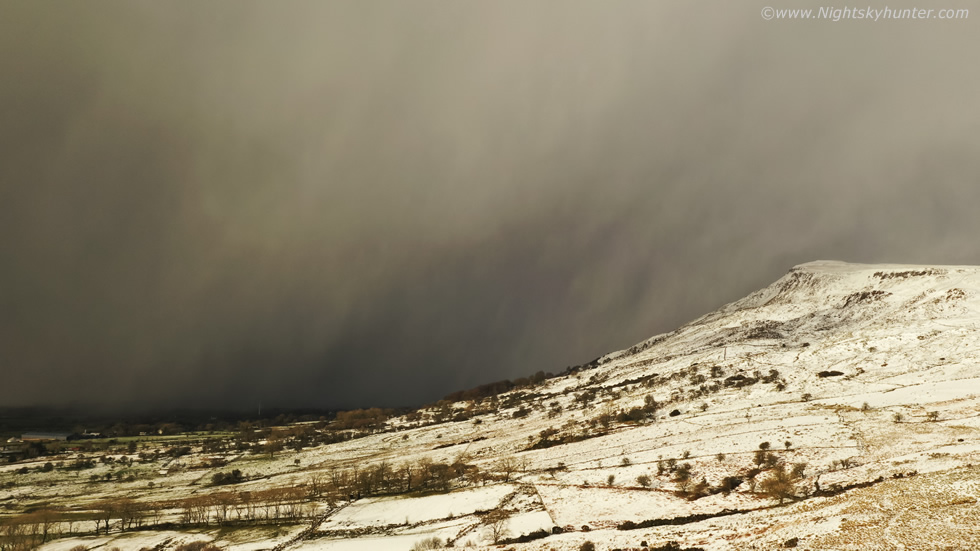 The low battery warning was beeping again, one final image, the difference between the above two images is one minute which shows how fast this was moving in. We observed snow on the summit rising into the air and clearly rotating in notable columns, they came close to becoming snow devils, I grabbed the DSLR and 100-400mm lens to get in close as it was so dramatic looking however just as I got zoomed in the straight line winds from the cell cut through the rotation and flattened the wind field. I just got the drone landed in time and quickly packed it away as the cell hit, first with blowing snow then hail stones. It cleared through quite quickly with blue skies and sunshine returned, the anvil was clearly visible overhead, I was shocked this didn't produce thundersnow. I headed home immediately after this and beat the rush hour traffic, however we had plans later for a night shoot in the snow so it was time to get rested and ready for the next shoot.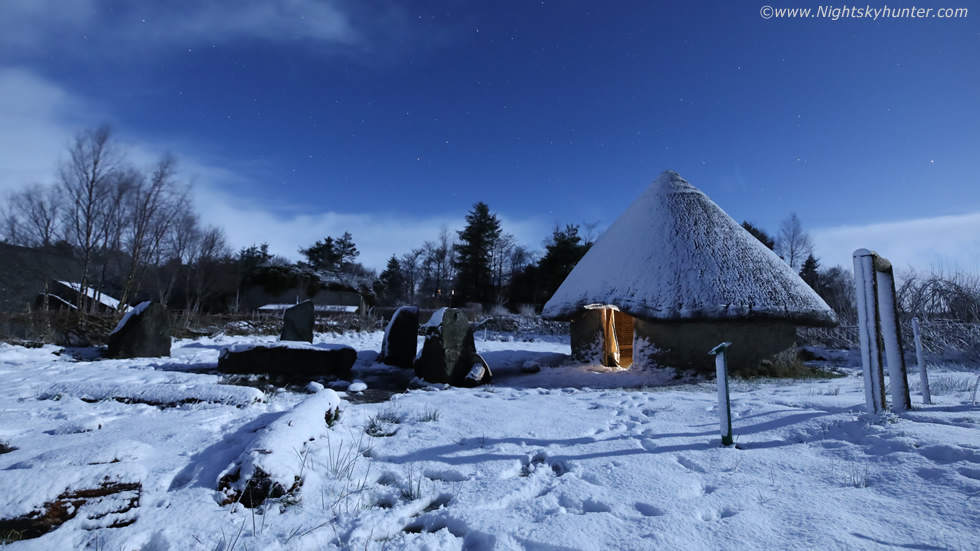 It has been a long time since I've captured any moonlit snow scenes, simply because snowfalls in recent years either were not deep enough, didn't happen under moonlight or it was too cloudy, however this night did have some potential. The moon would be a waning gibbous phase two days after full and would rise at 20.00 UT. All evening snow showers continued to blow across Co. Tyrone and Mid-Ulster with radar showing gaps between showers and sat24 indicated a brief clear window before high level cloud moved in from the Atlantic ahead of the next front. We anticipated that a dense cluster of snow showers would clear for 22.00 UT so John Fagan, Paul Martin and I had agreed to meet for a shoot. We decided to stay local because of the short clear window and chose a cool location out the Omagh road called An Creagan. In the grounds there's a very well made Bronze age settlement mock up within a ring fort, this is designed to look like the real thing and made from similar materials.
We arrived at An Creggan just as the last snow flakes fluttered from the sky and soon clear gaps appeared. The moon shone bright and lit the snow up in its eerie brilliance. There was just enough snow on the hut to make it work however there was some foot prints from earlier which ruined our pristine snow but there was nothing we could do about that. A clearance came in and the game plan was still images and time lapse. Paul set up my head torch inside the hut to give the entrance an inviting warm glow then we began shooting. I was using the Canon 5D Mark IV with 15-30mm F/2.8 Tamron at 15mm, I had the lens stopped down to F/4 and shooting at ISO3200 with 6 second exposures. This was a test exposure with several of the circumpolar constellations on view, Draco at centre and Bootes to the right.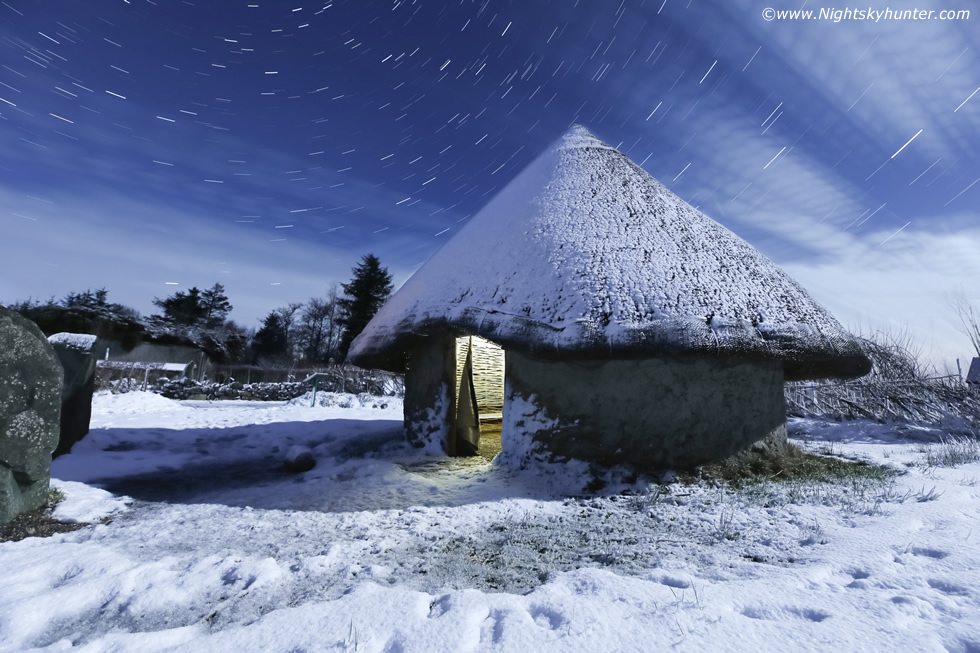 The time lapse sequence turned out quite nice with a mix of passing cloud and stars. At the end the sky cleared again for a short time so we shot a star trail, same settings except I dropped the ISO and extended the shutter somewhat then stacked the images, I got for this final image which I was rather happy with. We stood out in the snow the entire time as the cameras did their thing, it was really freezing, you could feel the heat being drained from your body and out through your boots then the cold breeze seemed to just strip away any remaining heat, however we were in good spirits, chatting away and cracking jokes and wise craics and jumping on the spot. There's something magical about moonlit snow which is difficult to explain, its enchanting, beautiful, surreal and unearthly, bright snow with stars together seems bizarre, this is why we pursue these special moments. At 01.00 UT we called it a night and made our way home, it was a very good shoot.
On Feb 21st/22nd our third named storm designated Franklin was due to hit over a 24 hour period. I had my eye on this one, the models had been showing very strong winds with this system for several days, I suspected it would be a much bigger event for Ireland than Eunice was. At it turned out the Met Office had issued an amber warning for wind and ESTOFEX had issued a rare level 3 warning for the north portion of N. Ireland, the scale only goes to 3 so this was unprecedented, we normally would see a level 3 for Europe for severe thunderstorms with massive hail, but in this case it was severe straight line convective winds and a tornado threat, the tornadoes were possible from any of the cells/showers during the day and overnight. The strongest winds were due to peak at 4am with gales and severe gales being widespread.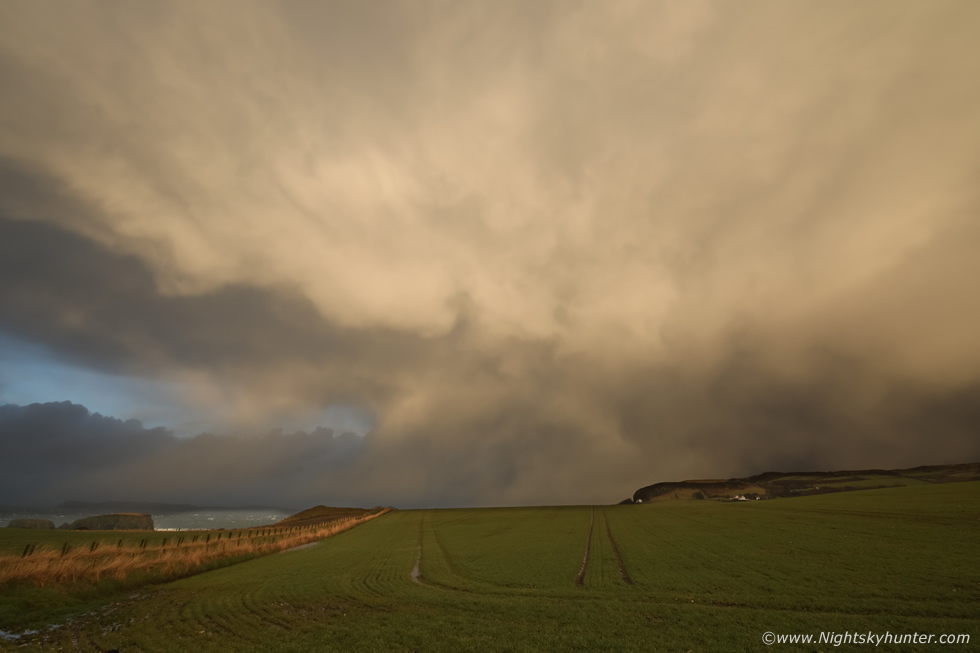 Since I'm not really a wind person I decided to target the daytime convective aspect when the showers would be overlapped with 40 knots deep layer shear. The greater instability would be coming in after dark so my expectations were low but given the shear I couldn't rule out a waterspout or perhaps some cool clouds, so Roisin, Rhua and I headed out for the day. At Portstewart we were greeted with dark skies and big squally showers with an agitated sea, amazingly people walking around the town and along the shore never once looked at the sky or clouds, I was shocked how unobservant people have become, especially those walking with elderly people or with babies in prams. I saw a nasty cell approach, no one saw it coming, the next minute everyone was getting battered by side ways hailstones blowing at 35mph into their faces and they couldn't get shelter, this went on all day.
Roisin and I enjoyed a rare take away at the coast then briefly met up Nigel McFarland and John Fagan on the hill to watch a few anvils moving inland, it was windy and cold but catching up with the guys while out on the chase was an extra bonus. Roisin and I decided to head on around the coast to Ballintoy Harbour, just as we pulled in another nasty hail squall blew through and I noticed a hint of structure on the back edge so we pulled over for a look. The sun lit up the underside of the anvil revealing some structure and subtle mammatus, the light was good so I decided to take it, this is 15mm wide angle. Sheep Island is visible to the far left and you can just make out the numerous white horses on the sea.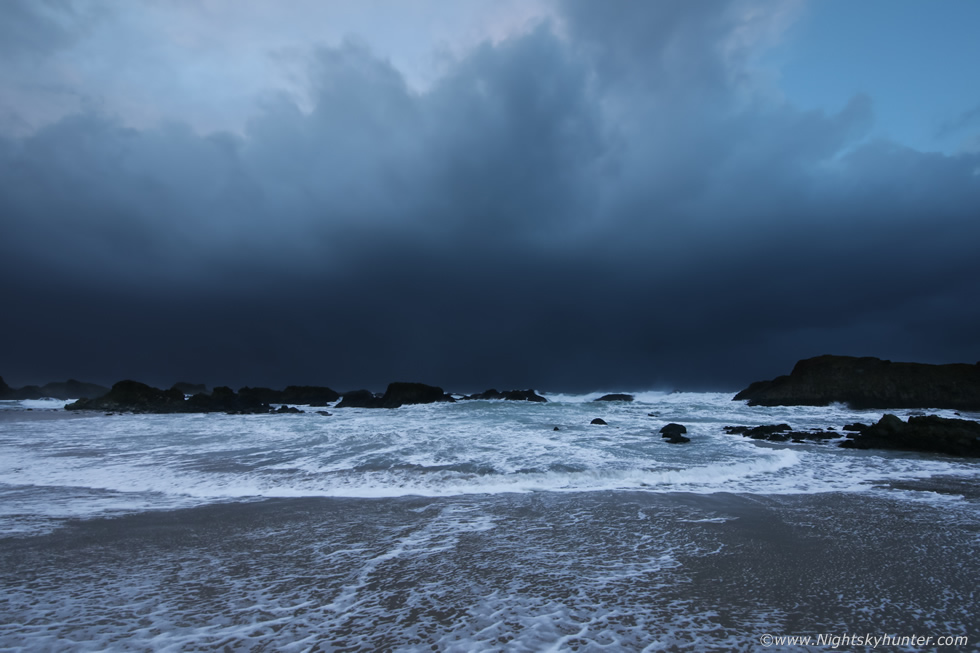 The harbour itself was an impressive scene with constant strong blowing wind, mean dark skies, air borne sea spray, and periodic horizontal hail, it nearly takes your break away when you step outside into it and the car door gets slammed back into you. I took Rhua out with me and walked down to the beach at sea level for ten minutes to enjoy the experience. To my right waves crashed and exploded over the rocks and stacks, it really was just a fun visual experience, I didn't even try shooting the waves. The sky darkened once more as another hail squall moved in, this was my last image of the day at wide angle before taking cover in the car.
That night storm Franklin battered the country, many said it was the worst storm they had experienced in years with structure damage and trees down all over the country by first light combined with flooded roads and rivers which burst their banks thanks to heavy rainfall and snow melt. I agreed, I barley slept at all during the night concerned that a big tree at the side of our house might blow down on the sunroom. Franklin was definitely worthy of the Met Office amber warning, and thanks to these warnings and greater public awareness no lives were lost as far as I know, but was it worth an ESTOFEX level 3?, I don't think so at all.
However all said and done it was an interesting active period of weather with a mix of severe winds, flooding, big seas, convective squalls and snow so there was plenty of action, that I'm truly grateful for. As I write this up in late February high pressure is returning and with it is the bland cloudy weather I despise so much. That being said its nice to get a break and get ready for the next event, the days are getting longer and the sun is getting warmer and with Spring beckoning I look forward to the first inland convection and storm chases of the season.
Drone footage from Glenshane Pass with particular focus on the flank of the Cairn
My favourite part of the day, drone footage of Benbradagh snow cover filmed from several different locations and angles and using four different batteries, the highlight of course being the dramatic snow curtains on the squall behind the summit. Thanks very much for reading.
Martin McKenna