Tsunami Waves From Storm Henry - Portstewart - Feb 1st 2016
There have been a considerable amount of Atlantic storms this season however I decided to skip out on all of them because I didn't feel they were potent enough to justify expenditure or satisfy my personal wow factor level to get me excited about photography, there were a few exceptions such as storm Gertrude however due to personal reasons I had to let this storm go, so I sat back and watched the models in the hope of getting an extremely strong storm which would get my interest. That all changed on Sunday February 1st when a explosive Atlantic depression christened 'Henry' made the media headlines. During the build up to this storm the previous day I had an internal mental debate with myself as to whether or not it would be worth 'chasing' and to be honest I couldn't make my mind up and by evening time I was 80% sure I was going to let the event go, well that was the case until the latest model updates and warnings instantly got my attention. At 02.00 UT on the morning of the 1st Met Office yellow warnings were issued for gales and severe gales inland with ''sustained Hurricane force'' winds over coastal areas of the far W and N. Various weather sources had issued warnings mentioning structural damage and one even addressed wave heights of 50ft, and I quote ''phenomenal sea conditions'' - when I saw those words I got an instant shot of adrenaline because this storm was now a truly serious event with an element of danger and excitement, I said to Roisin how do you feel about chasing storm Henry tomorrow?, after I quoted the warnings Roisin said she would be up for it so it looked like Sunday was going to be spent storm chasing along the Co. Antrim coast.
The next morning the models remained firm on a severe event, no downgrades, this was going to happen and furthermore online forecasters had upgraded their warnings to amber level for the N and NW coasts due to 85 mph gusts with perhaps 90-100mph winds over the open sea. The word 'sustained' really got my attention, these wouldn't be quick blasts of wind which would pass by but rather powerful long duration howling winds capable of lifting people of their feet, damaging structures and aiding with the development of large waves. The situation looked even more promising because peak winds would hit around 14.00 to 17.00 UT during daylight hours and would coincide with high tide dramatically increasing the dramatic state of the sea. An occluded front had passed during the night leaving a cleaner post frontal airmass in it's wake which would offer better light for photography, improved visibility, and with the already agitated sea greatly enhanced by the passage of numerous squally showers, in a nutshell, and for once, it looked like everything was perfect for a severe weather day with a very high degree of confidence. When I informed my Dad about the latest news he too was excited so all three of us would make a day of it so we packed all our camera gear and video cameras, put on several layers of clothes, grabbed a last minute brew then we hit the road north.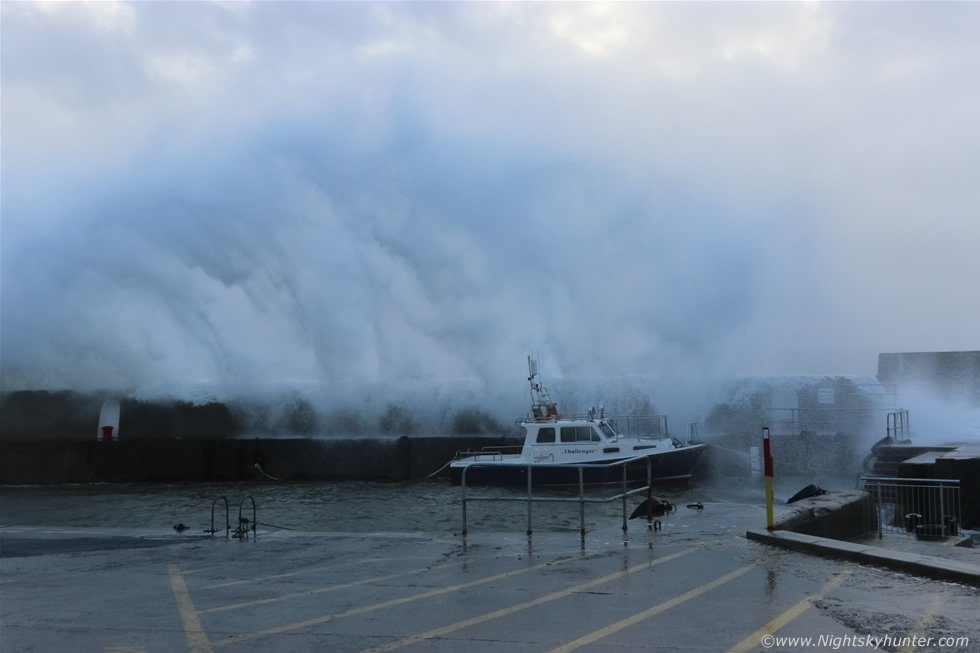 We arrived at the coast by early afternoon and as soon as we spotted the sea we were in an excited state with ''WOWs'' and other excited remarks filling the car, it was clear the storm was already in full force and showing off in a major way and that a spectacular day ahead was a near certainty. Dad parked in Portstewart Harbour where we spent over an hour watching and shooting the action. The sea was very high and at regular intervals it rose above the harbour ground breaching the car park, splashing against our tires and passing under the car. Numerous waves exploded against the harbour walls spraying skyward through the famous blow hole like a vertical jet. As soon as I was out from the car I was immediately having camera problems, my 600D got soaked by a wave and then it just wanted to give up on me, it wasn't the soaking which did it as I dried it quickly but instead it was the battery.
Apparently both batteries in my battery grip where low and almost done, this had never happened to me before ever since I got the camera, soon after this I was getting memory card faults, I tried different cards and it was the same problem, I then borrowed Dad's DSLR and again there was a low battery, I couldn't believe it for just when something impressive was happening I was getting equipment problems which have never happened before. I messed around swapping cards and trying things for a while and got more and more frustrated with time and any images I did get just were not that good, I had rapidly spiraled into a negative mind set and had to get out of it, the gales were also lashing me with cold sea water and spray at the same time and it felt like I was messing things up pretty bad. I needed to get control of the situation so I went back in the car, warmed up, clamed myself down, settled my mind, observed the waves and tried to figure out a pattern when the best appeared, I went back outside to take some Go Pro video however the wide angle view wasn't doing things justice so I went back to the DSLR which had regained some battery power and attached the 50mm F/1.8 lens then I took shelter behind a wall and waited for the best moment. The sea was severe when the sun was out however when a squall arrived the sky turned black and the waves went nuts, this was what I had been waiting for, I heard a massive 'BOOM' and turned quickly to my half left and fired off a selection of images on continuous shooting mode and captured this beast on three frames, I reckon this gigantic wave must have been 40ft or 50ft high at it's peak.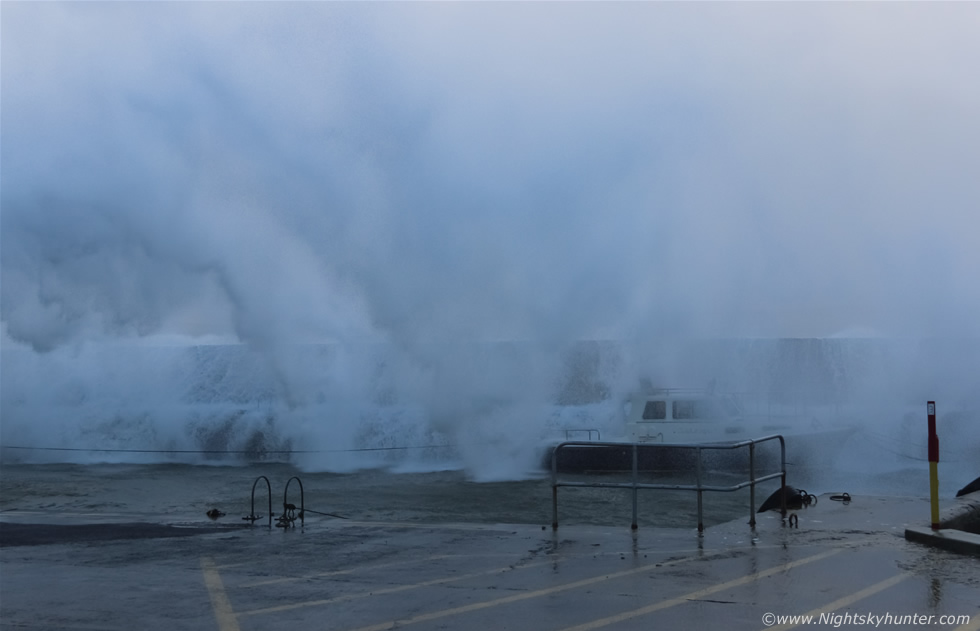 Tones of water crashed down onto the harbour and boats with a thunderous roar, amazingly Dad also captured this very same wave on video at the same time, we also had the dash cam filming through the windscreen and it too caught this monster in action, finally it seemed my luck was back and I was getting in the zone. The very next day this boat sank thanks to the constant battering it took and had to be lifted to the surface using a giant crane which made it onto the news that evening.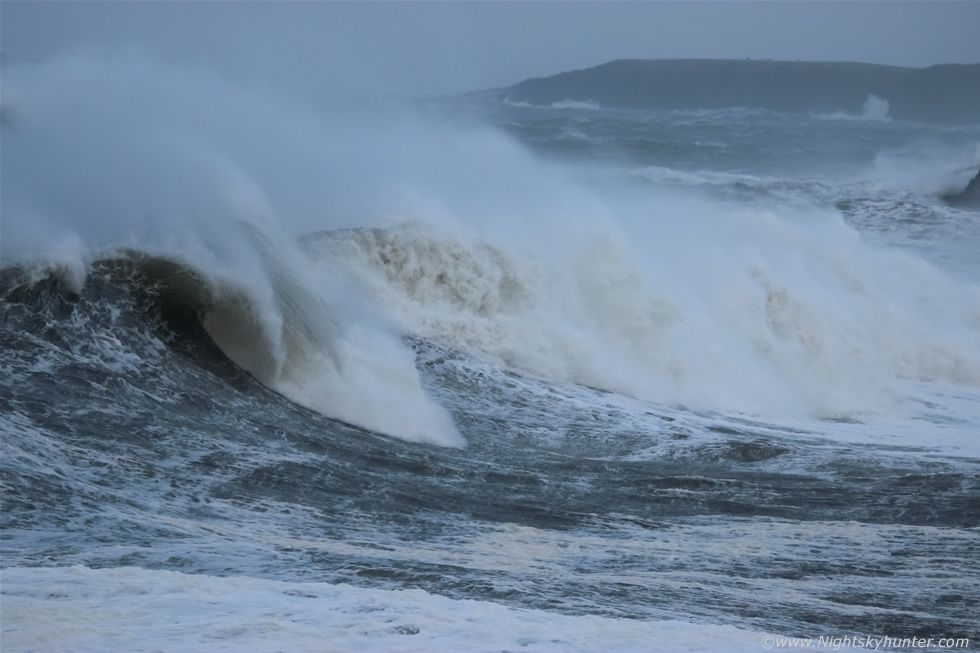 We changed location and drove to the lower shoreline near Ramore Head and stopped at the rails for a look, the sea was absolutely incredible from this location, so good in fact that we never moved to another location for the rest of the day, all three of us were blown away by the beautiful violence of the waves which seemed to be racing in one after the other attacking the shore. When you look at these images you need to appreciate just how large they were however it's difficult to portray size without a sense of scale on the ocean, a surfer would have made these scenes epic however without one you will have to use a little imagination. All of these images were taken with the DSLR with 100-400mm lens so these waves were far out to sea yet to for them to appear this large on the frame must mean that they had to be massive in size.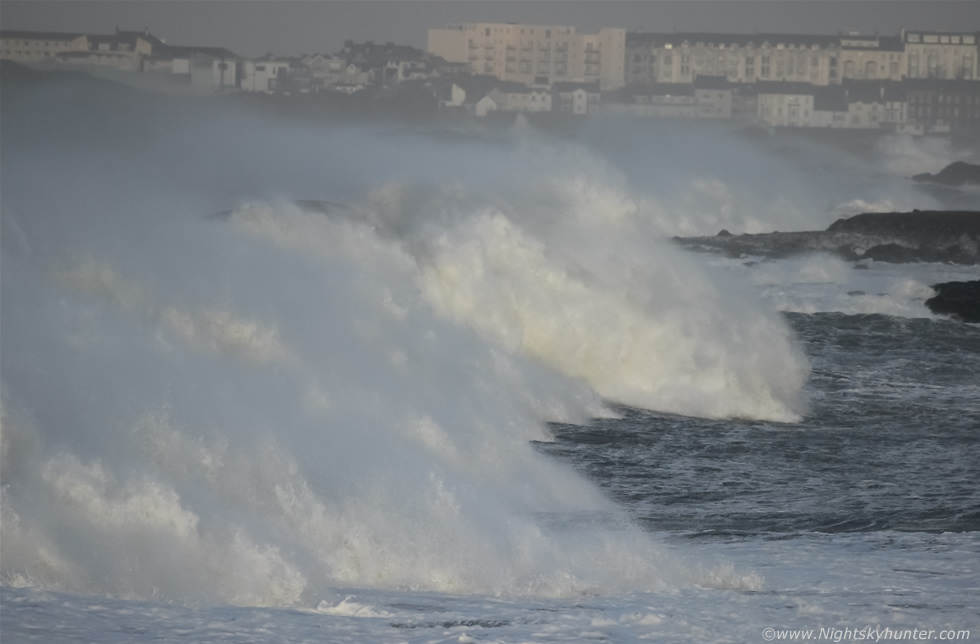 Tsunami of towering white water raging towards shore with Portrush in the distance. The power of these was absolutely ridiculous and watching them gave us all a sense of awe because they were simultaneously frightening and majestic in equal measure.
Imagine floating on the sea in a rowing boat with these ploughing towards you - frightening is not the word
Monsters over one mile away roaring with pride, this was mother nature at her finest, brutal, untamed, scary, yet beautiful and thrilling at the same time, these breakers reminded me of a scene from the movie 'Point Break'.
One of my personal favourites, massive waves with sunlit tops and extreme power, if only there had been a surfer on this one for a sense of scale
I was varying between 100mm and 400mm on continuous shooting as I manually panned and tracked the breakers while choosing my moment to catch the wave at it's most dramatic stage while all the time my battery light was flashing red. Every three or four images would result in the camera shutting down due to lack of power so I would wait a few min's, turn it back on, then get more stills, then it would shut off again and the pattern would repeat so I could make use of what little life was left in the camera, this equipment battle in conjunction with shooting the waves made the event even more exciting, it was all happening.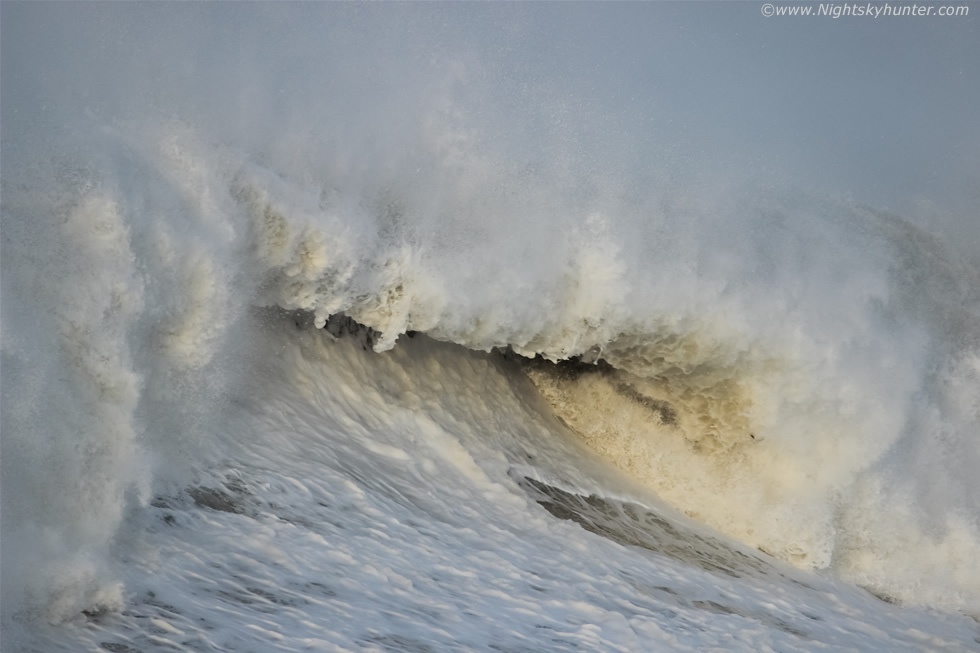 I was in the passenger seat with the window down with lens resting on the window frame shooting whenever I could, this way I got some degree of shelter however at times I had to get out from the car and venture over to the hand rails as the waves crashing in that direction were nothing short of epic. Being outside was unreal with what must have been 70-80mph gusts with continuous unbroken gales between, the Wly flow was nasty blowing cold air straight through my clothing and into my body with nasty wind chill. Trying to stand still to take images was challenging, it felt like I was being constantly pushed into the rails or an unseen hand grabbing the telephoto lens trying to push it sideways, in either case my exposure outside was only brief so most of my time was spent inside the car. The black streak in the above image was a Bird, you would wonder how it ever escaped that wave.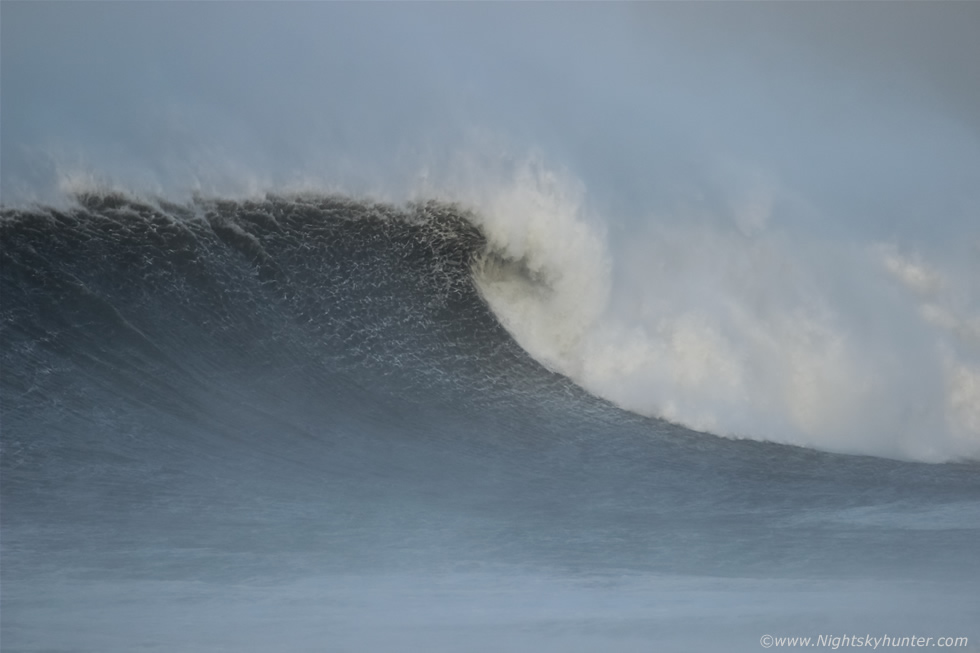 Straight from Hawaii, images don't do this justice, you really had to be here watching the stunning formation and evolution of these mountains of water, at this point I was extremely happy we decided to chase this storm and my luck with the batteries was holding out too, I was shocked the camera still turned on and took images.
Image says it all
By late afternoon the sea was simply violent and in a constant state of chaos, it looked like the coast was getting attacked relentlessly by constant wave trains which never stopped, they were no breaks, a constant barrage of stupendous motion and roaring.
The following reminded me of the white Tsunami in 2004, these massive linear forms would push in at high speed, you couldn't see typical rolls, just a large wall of foaming white water which must have been 20-30ft high itself, this never stopped.
The scene was amazing when a squall arrived, the sky turned dark with a strange thundery blue colour and the waves became even more excited, then as the squall hit the tops of the waves would get violently sheared causing vast sections of spray to blow sideways to the right (E) which covered much of the entire skyline, the naked eye view was so impressive, I simply can't do it justice with words or on camera, this was for me the most impressive Atlantic storm and waves I have seen in years.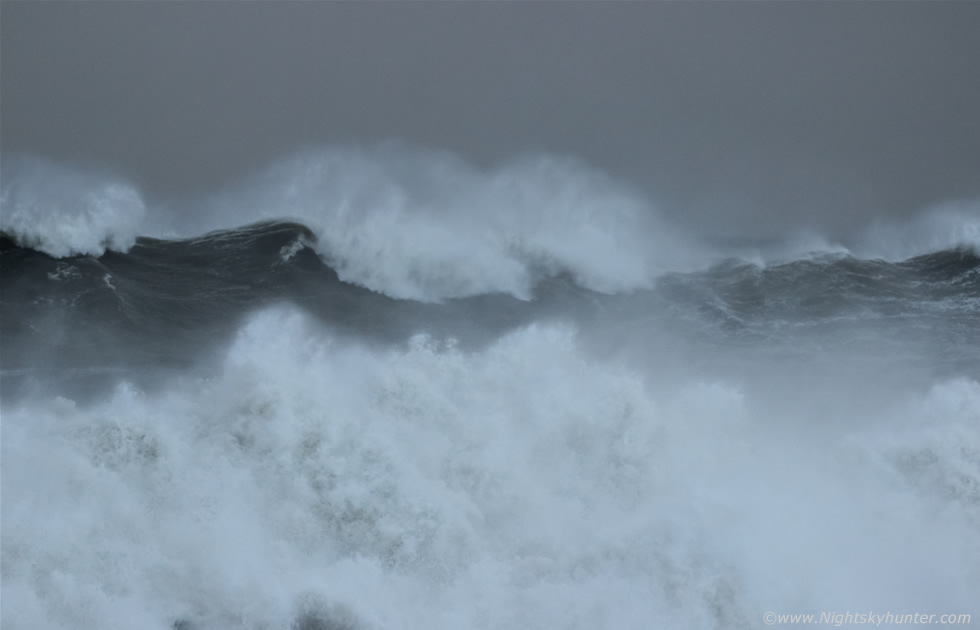 Dusk had arrived and light was falling to a level that wouldn't allow for 400mm hand held shots so we ended the chase with just seconds of power left in the batteries. It had been a fantastic afternoon, Dad was filming with this cameras and Roisin was shooting with her mobile phone and between the three of us we had been using seven different devices to document the storm. We were all on a natural high then suddenly we were hit by thirst, hunger and exhaustion, we had been shooting for hours with high emotions and now when it was over we all felt as flat as my DSLR batteries. However Dad treated us to dinner in Portstewart which gave us all renewed energy and as we ate we had a fine view out the large ocean-facing windows of the majestic waves battering the coastline in the fading light, we simply couldn't take our eyes away rom the scene.
Image slide show featuring a larger selection of my DSLR still images of the Portstewart waves with real time audio recorded at the scene added to enhance the visual experience.
1080p HD video footage of the waves filmed with the DSLR with 50mm and 100-400mm lenses, Dad's camera, and Go Pro which I hope captures the atmosphere of this mighty storm. This turned out to be an excellent weekend for elemental photography, on Saturday we captured rare snow devils on the Sperrins, on Sunday were these massive waves and on Monday we got treated to ultra rare Nacreous Clouds resulting in a satisfying triple barrel success. I have a feeling 2016 is going to be a great year for sky action, thanks very much for reading.
Martin McKenna