Storm Ciara, Power Line Sparks, Winter Thunderstorms & Twilight Cbs - February 2020
The ante has been raised and 2020 is rapidly picking up to be a more interesting year than 2019. The problem with this Winter has been the lack of snow, the other problem as been the distinct lack of deep low pressure systems and convection to chase, we usually get numerous set-ups of this caliber every Winter however for the last few months the skies have been relatively benign, until now. Thanks to a strong jet stream and a conveyor belt of Atlantic storms heading our way we have been treated to our first lively weather of the season, and for some, severe weather made its presence known. This is the kind of set up I like chasing at this time of year, for those who know me I'm not keen on wind storms unless they generate big waves, however I am interested in any convective potential such systems produce, I'm rarely inside when there's any chance of convective skies. This report covers three days of Winter chasing and is centered on the back edge of Storm Ciara and the unstable post-frontal air mass which promised three days of wintry showers, snow, thunderstorms and severe squalls.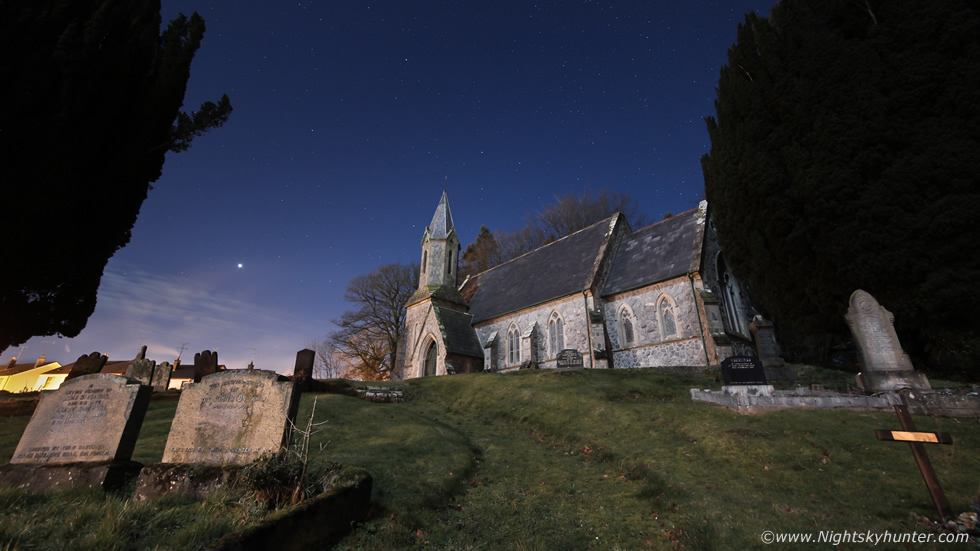 However before Ciara made her presence known I knew my chances of night sky photography would be severely limited when those back to back fronts attacked the country so I made sure to make use of any clear nights which presented themselves, this was one of them. My Mother and I where on our way back from the north coast, I had spent the day drone filming at Binevenagh and it really was such a beautiful mild and sunny day with great light, it had that Spring look to it. While on the way home the sky was beautifully clear inland, Venus was a marvelous sight in the SW like an aircraft light which never moved, I was passing through Swatragh and decided on a sudden hunch to pull in and take a few images of the photogenic church there. The moon was a bright two days after full and lit the location up perfectly, it felt surreal and peaceful here, this was actually the first time I had my Mum and our dog Rhua out on a night shoot with me in years, Mum found it bizarre and slightly scary to be in a graveyard at night, ''welcome to my world'' I said, but once she adjusted to the night I felt sure she understood the buzz from being at locations like this under the stars. 10mm wide angle exposure with planet Venus on the left.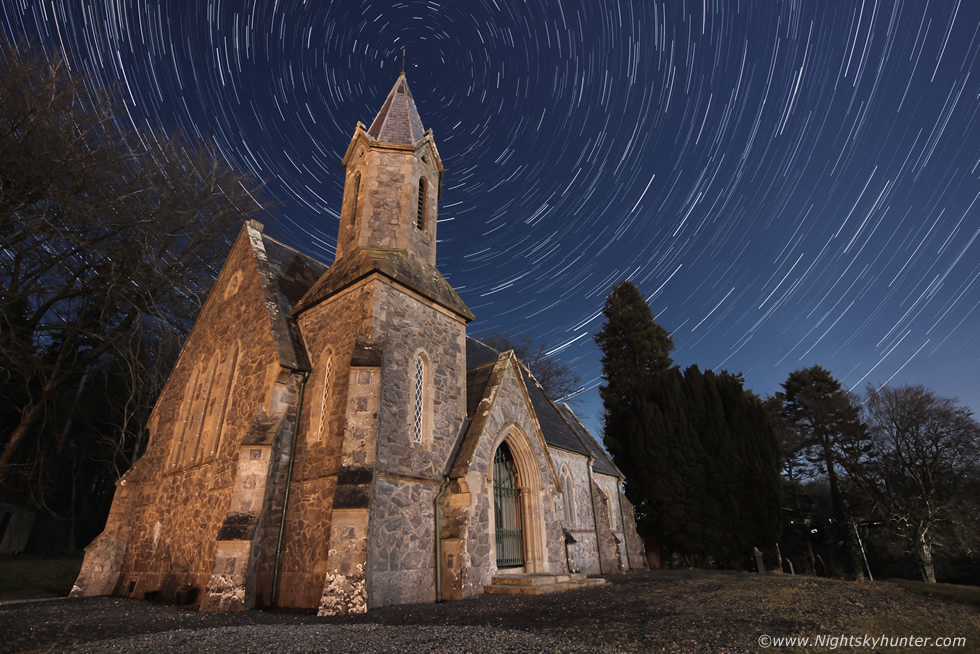 I decided to shoot a short star trail, I couldn't do a long trail as I don't think Mum and Rhua could stick the wait, they where back in the van again getting shelter, the temperature was dropping fast and it was already beginning to freeze. Only think is I couldn't turn on the van heater as the automatic lights would come on and light up the side of the church so we had to sit in the cold and dark, I have to say they handled it very well and were very patient, I used the time to point out Venus and explain about Betelgeuse. Half an hour later I stopped shooting, this was the finished star trail, I was very pleased with the end result.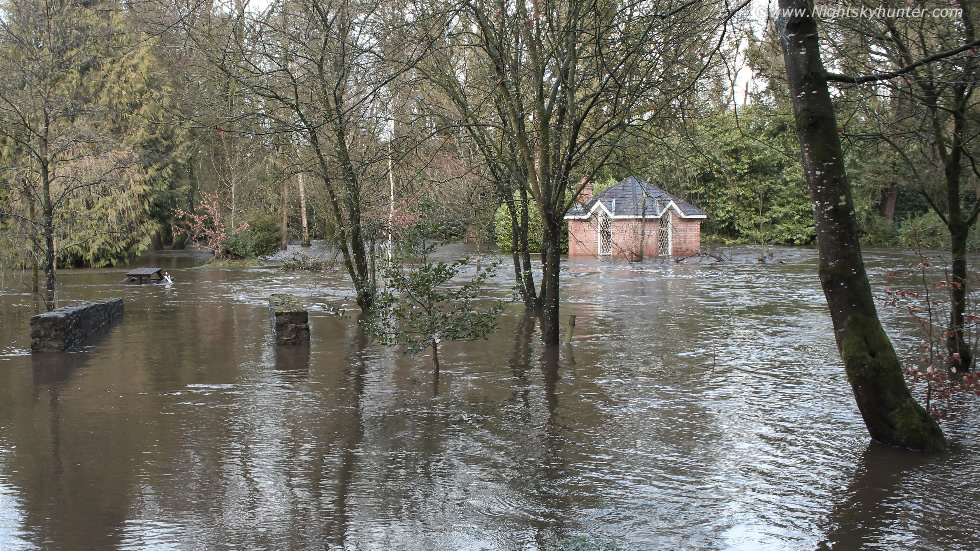 On February 10th storm Ciara arrived, I didn't chase the wind event at the coast as the SWly flow wouldn't produce any big waves, my plan was to wait for the unstable air mass the following day. Meanwhile I monitored activity on radar all day, there were convective elements within the front, a squall line formed over E N. Ireland and crossed the Irish Sea and made landfall over Wales and England, at this stage it was massive and produced severe wind gusts between 80mph and 94mph, there were also LEWP features and bowing segments which produced severe weather. The wind damaged buildings and flattened trees, and even stripped a wind mill off its sails and flooding was widespread. In N. Ireland many places were also flooded by the intense frontal system, however of greater interest where the lines of thunderstorms which formed over Armagh and Down during the afternoon which flattened trees, a radar grab was later posted online showing a hook feature, it's very possible there was a rain wrapped tornado over Armagh which caused the tree damage.
Roisin and I where heading out to dinner when we saw an image posted online of flooding at Tullylagen Manor House Hotel so we decided to check it out on our way to dinner. If you are familiar with this area and road then you will be shocked to see this, normally this is a narrow river, like the kind you would see in a public park meandering harmlessly through the lawns. The river had burst its banks and engulfed the entire area rite up to the side of the road where we parked, this is wide angle.
Closer in at 55mm, deep flood waters made short work of the area, you wouldn't want to fall in there. We had a lovely dinner and warm relaxing night, this was on purpose as I knew I had three days and two nights of busy chasing in cold and windy weather to come and I wanted to get settled and ready for action the following day.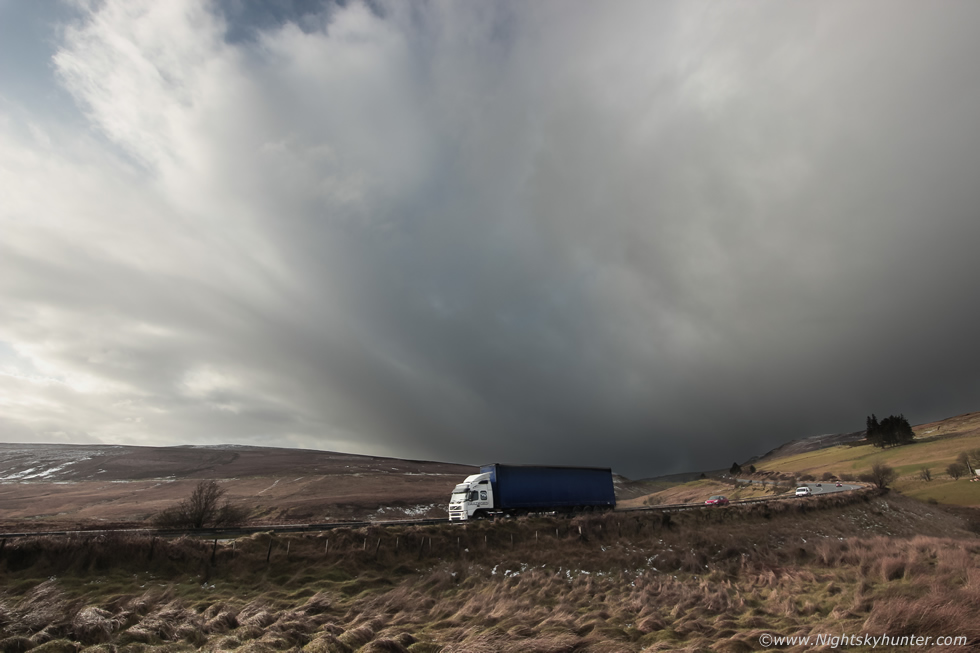 Monday February 11th, up early, checked charts, yellow warnings out from Met Office, moderate CAPE, -50C air aloft, good lapse rates, crazy shear at 50-60 knots and fast SWly flow. Looked like a day of heavy convective snow showers, laying on the hills and due to the high winds there was a risk of blowing snow and thundersnow. My plan was to hit inland for snow showers and convection then when the sun set relocate to the north coast for night sparks. I woke up in Cookstown to a layer of snow, well actually it was more like a good white powder covering the garden and not as deep as I had expected but it was still good to see any white gold this season. I made sure to get well prepared with proper clothing and supplies as I was going to be out day and night in what could be rather nasty conditions. I checked radar, saw cells over the W. Sperrins then soon after reports came in of multiple rumbles of thunder, as it turned out this was thundersnow!, that had kicked off early, it was only 09.30 UT, a very encouraging sign of a good day ahead. I later learned that this thundersnow storm was quite nasty and actually blew a tree to pieces with a powerful c-g strike, an image of the damaged tree appeared on social media later, what a result.
I hit the road with all my provisions and got mentally prepared for a busy period, between Moneymore and Desertmartin a truck driver approached on the opposite side, he was using his phone, suddenly the truck swerved into my lane and we where seconds from a head-on collision, then he adjusted in the last moment and saved us both, what a start to this chase, I was almost killed by a lorry, shook me up for a while too so I had to calm myself down and got my mind back in chase mode once more. I arrived on Glenshane Pass and met up with photographer Nigel McFarland who had been there since sunrise. Despite the regular showers and thunder action there was little in the way of snow to be seen on the roads which was disappointing, after a period of waiting around we figured it just wasn't cold enough, with temps between +1C and +3C the snow was melting and the SWly flow was mild bringing modified well mixed wet snow, not the best for putting layers down without serious cold air, but we just had to deal with it, we figured with colder air would getting deeper later and with dropping temperatures the situation could rapidly change. Above is one of the big cells moving in over Glenshane Pass with upper level anvil cloud well sheared down-wind away from the precip core.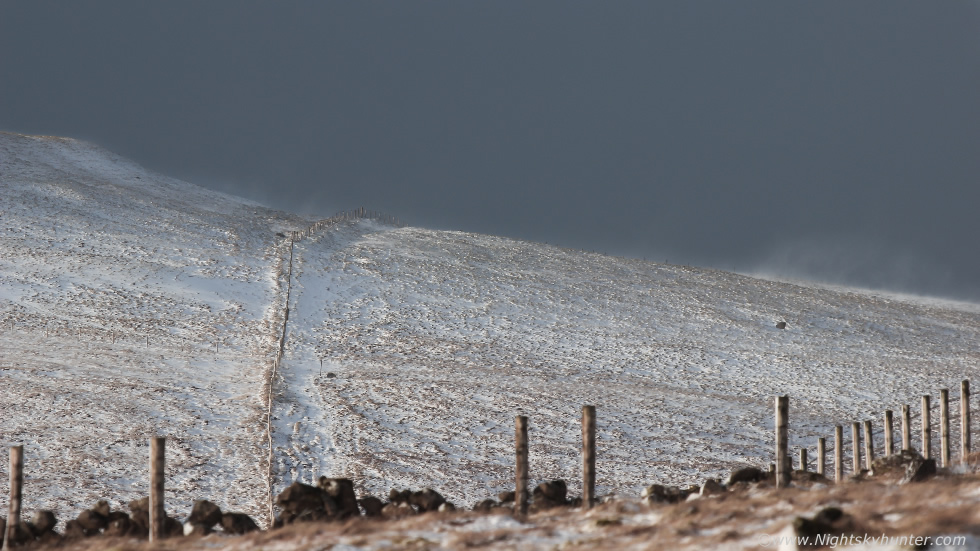 By mid afternoon we drove to the top of Benbradagh outside Dungiven, the road had snow on it and was a little more treacherous but not enough to stop us reaching the highest point on the road. However when we stepped outside we realized this was an entirely different world to the one we had seen on lower ground, at this altitude it was brutal outside with constant wind blowing mixed with strong squalls from passing showers of hail and snow, we spent all the time here in the vans and only went outside for brief sky checks, the wind chill was just raw and not something you would want to be out in for long. My attention was soon drawn to white puffs rising up from the E side of the summit, upon closer examination it was snow being blown across the mountain, I became fascinated and loved it so I reversed to a spot with a better view and began shooting video with the 100-400mm lens. The scene was fantastic, I love blowing snow, during the stronger squalls I was measuring 54mph gusts, the snow was being lifted into the air and carried down the slope at swift speed, I bet it would have been fun standing up there inside it, however I wasn't going to hike 1km up hill in those winds just to see it up close.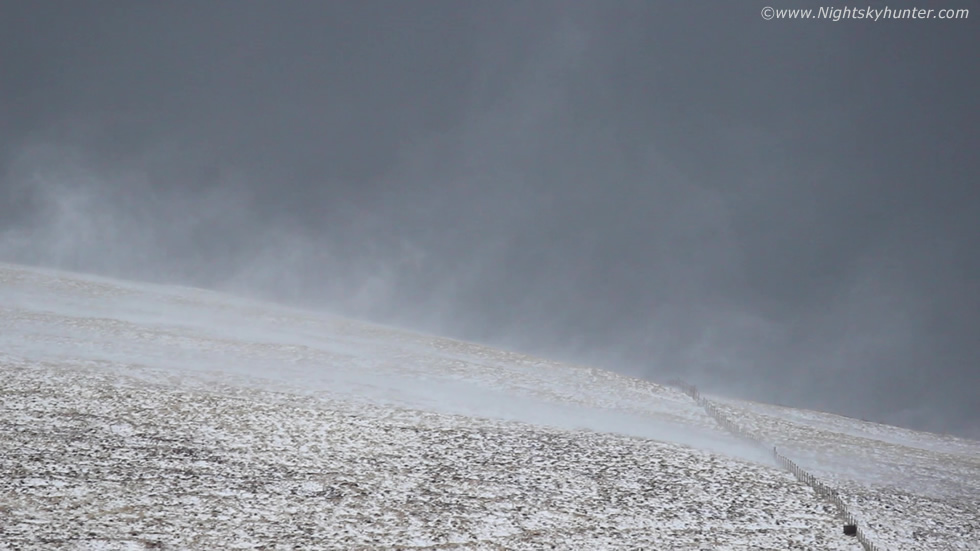 Video grab from the 400mm footage, make sure to check out the footage below, I'm fairly sure I saw several weak snow devils too, there was definitely rotation. We spent the rest of the afternoon here watching the blowing snow and clouds, the sun was getting low so we changed location to phase two of our plan. First we stopped off in Limavady for some much needed chicken goujans then when we felt warm and energized we hit the north coast.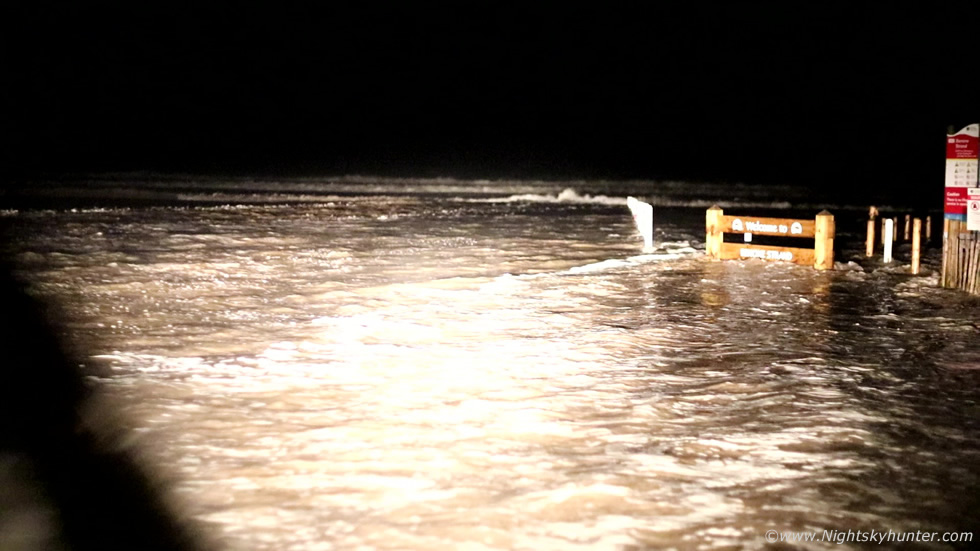 We arrived on Benone Strand, the sea level was already high and high tide would be within the next two hours, with such a deep lower pressure system the risk of sudden tidal/storm surges was high and being at sea level here you can be rest assured of action, we have experienced this before and knew what to expect, however when it happens it always gets the adrenaline going. We are not on the beach here, this is the concrete road beside the Sea Shed Cafe, the ocean came in fast and surrounded our vans, this a video grab, I was shooting hand held footage with the Canon 5D Mark IV and 50mm F/1.8 lens for maximum light and at high ISO.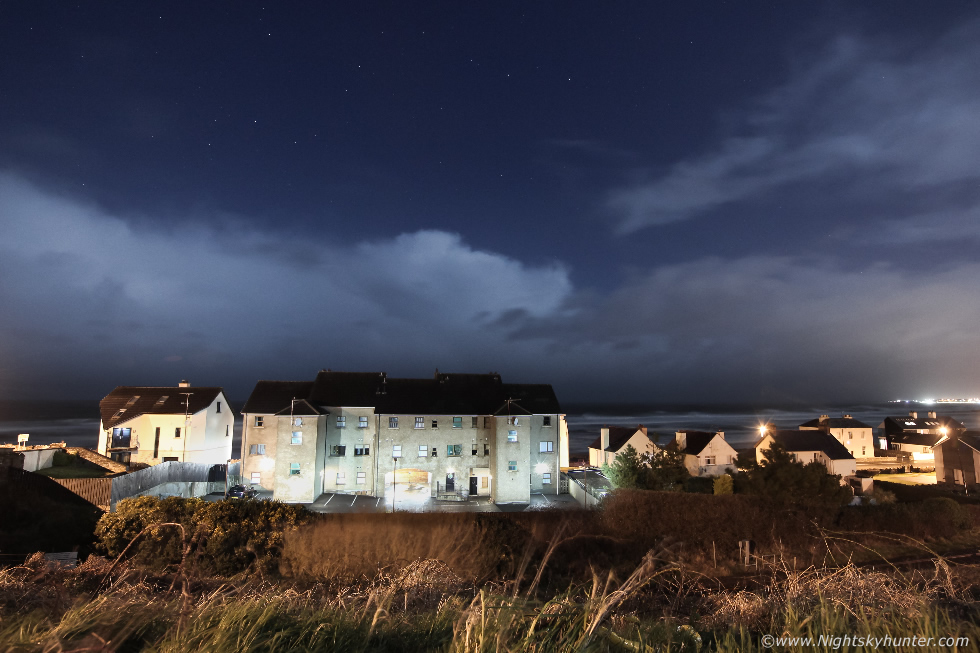 Later in the night we decided to venture away from the dangers of the sea onto higher and drier ground, we positioned ourselves at the look out point above Castlerock. Due to the SW flow there were a lot of showers and cells moving through but also a lot of moisture and cloud which hid the cells from view, in fact, it was cloudy for most of the night which was extremely frustrating, we only glimpsed a few stars once. This was our only break in the clouds and relentless rain, a distant cell could be seen moving at speed from left to right across the ocean, Nigel saw a distant flash of lightning so we began taking exposures. You can see the moonlit anvil top behind the flats, no more sparks and the cloud filled in again, I included this image for the memory.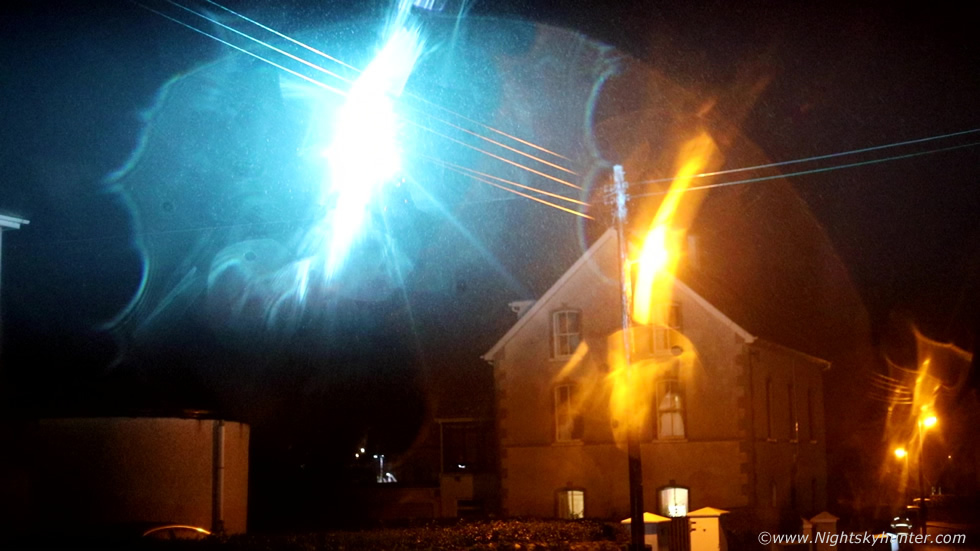 Suddenly we noticed flashes coming from Castlerock town, the flashes looked like silent fireworks exploding down, we soon realized it was connected with the electricity so we drove into town to investigate. At first we couldn't find where it was coming from as the flashing had stopped, we got out and walked the street for a look, then flash and a shower of sparks fell over our vans, we parked on the other side of the road then got the cameras rolling. NIE arrived quickly on the scene and explained that the storm had damaged the old brass housings which held the wires, so once the wind gusted the wires clashed then flashed and showered the place with sparks, some of the locals came out to watch too. I was filming with the 5D again and managed to capture these flashes four times on video, I was recording at 50 frames/second and was able to do slow motion scenes, this is the original flash.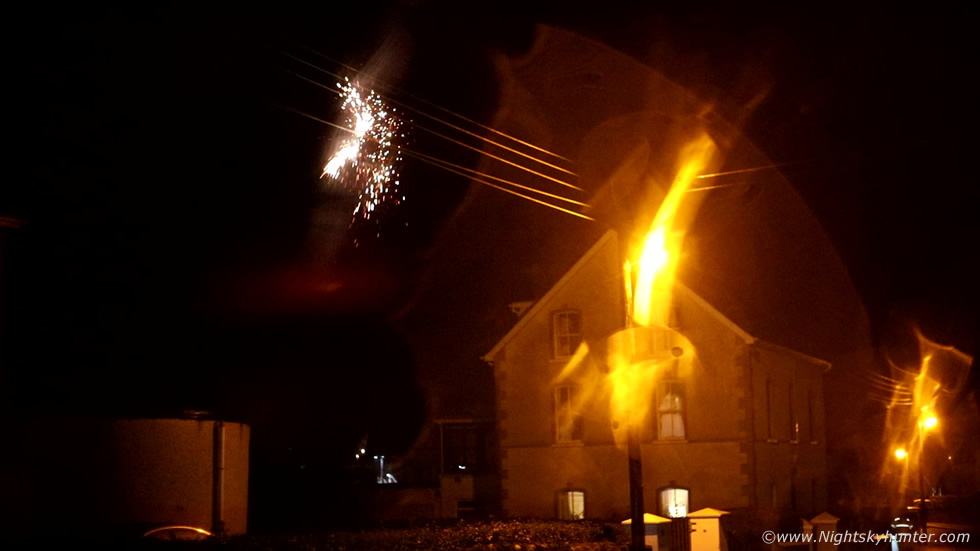 Followed by the sparks, it was pure chance I got them on video to be honest, the footage can be viewed below. We left as we didn't want to get in the way of NIE and soon they had the problem fixed, but for us it presented unexpected storm related content to the chase. We decided to call it a night and would resume chasing the following day as the set up looked even better then.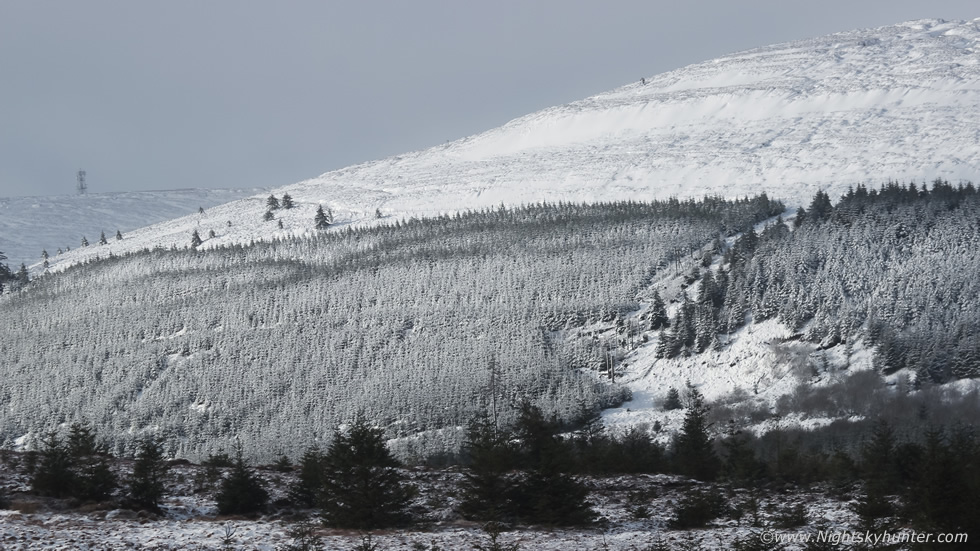 Tuesday February 12th, 400 CAPE, -40C air aloft, 80 knots of deep layer shear, colder air at ground level and several troughs and short waves crossing the country. Convective weather had issued a slight risk, multicell storms and even low topped supercells were possible so it looked to be another day of wintry showers and convection, the plan was the same, inland first then coast later. This time I took my Mum and Rhua out for the day to check out the snow, when we arrived on Glenshane I was pleasantly surprised to see much better snow scenes, this was considerably better than the previous day. We pulled into the Ponderosa car park for a few images, Nigel was there shooting too. This was 300mm into the Sperrins with a nice fresh white coating, the sun came out and lit the white tops intensely, it was a beautiful way to start the day. I re-located to the forest and despite strong wind gusts I got the drone in the air twice to document the landscape and convection, I could see decent cells on the horizon getting closer.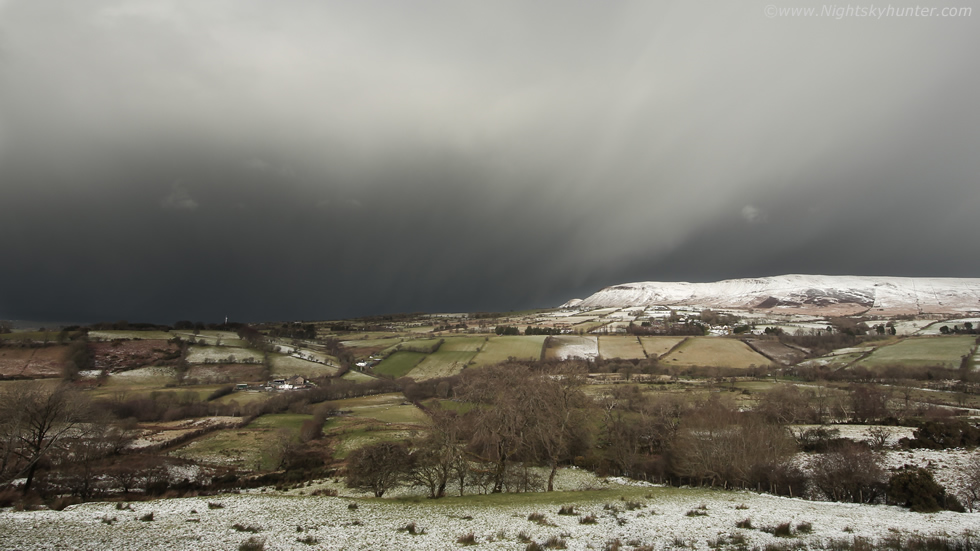 Nigel and I went chasing again further W onto higher terrain towards the Birren road, the journey took us along scene country roads and landscapes, we independently spotted a large cell approaching, it looked so mean we both pulled over twice to document it. Sky turning dark with sweeping curtains of snow covering the countryside from this fast moving cell, that's Benbradagh in the distance with a fresh covering of snow, we where on that very summit the previous day filming the blowing snow.
This was an awesome visual sight, mean dark skies and curtains and bands of heavy snow bombarding the landscape and rapidly getting closer. This was amazing in the flesh, the snow seemed to fall downward and to the right in great swathes at an alarming speed, this wide angle image really doesn't do it justice, I love Winter scenes like this.
The north summit of Benbradagh now getting covered, then it was over us, dense blowing snow and cold outflow winds turning the sky white
We made our way up the Birren road however it was too steep and slippery and I spun out before the top, I took the moment to get this memory image. Nigel made it further with his Winter tyres. After this we made our way to high ground to watch the skies between Dungiven and Limavady then decided to advance further N towards the coast.
On some back country road we encountered a dense grey wall of hail stones approaching, we got outside to shoot it, then suddenly it was on top of us. Hands down best Winter hail shower we have encountered to date, large dry puffy stones flying through the air in the outflow winds, they actually hurt my face, I took this image with my back to the outflow, you can make out the bigger white stones in the air against the field, check out that stone right of centre caught mid fall, keep in mind this was taken with a 10mm lens. No words or images even do this moment justice, but this encounter gave us quite a buzz and substantially raised our excitement levels.
In the clearance which followed we saw the best Winter convection I've ever seen, to the N and NW was a line of new cells going up over the ocean lit brilliant white by the low sun, the updraught towers were solid with sharp edges and very well defined, the towers raised in steps along the flank into a huge cb with perfect anvil, we immediately jumped in the vans and gave chase, we couldn't get there fast enough, we were worried they would move off or the sun would get covered by cloud and we would loose sight of them, we drove at haste across the back roads then finally arrived along the coastal route.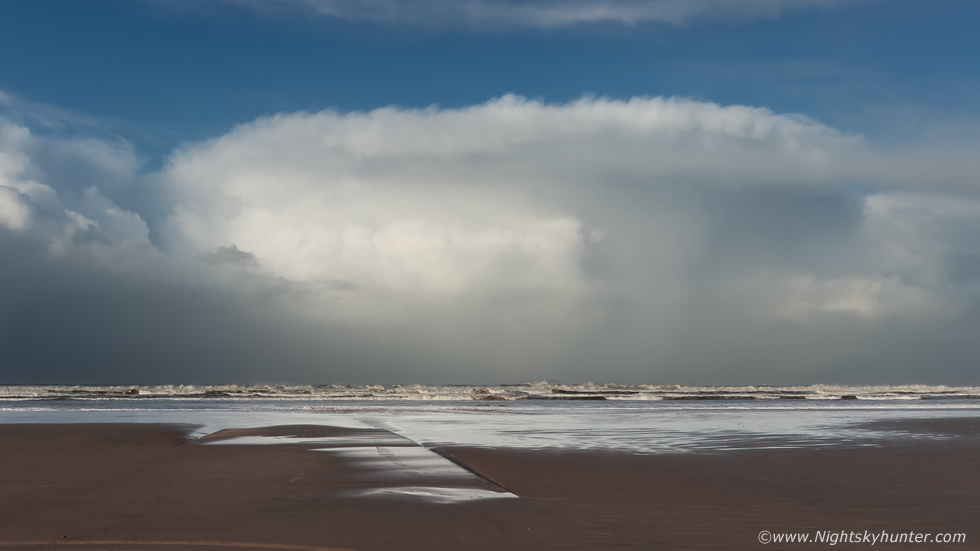 Benone beach was an obvious choice of target area given how good the vantage point was across the ocean horizon for storm spotting. The road to Benone shocked us, it was covered in debris in the form of sea weed, rocks, lumps of concrete and pitted with sporadic holes in the ground. The sea must have come all the way up last night after we had left, what a storm surge that must have been! We arrived on the beach and had a perfect view of our cells, they were now mature and had moved further out to sea, moving left to right in this image. Classic symmetrical anvil, downdraught of hail and snow with flanking towers all lit by the sun. Nigel heard thunder from the area, it was hard to hear over the rumble of the sea but it was 100% thunder, this was technically a thundersnow storm.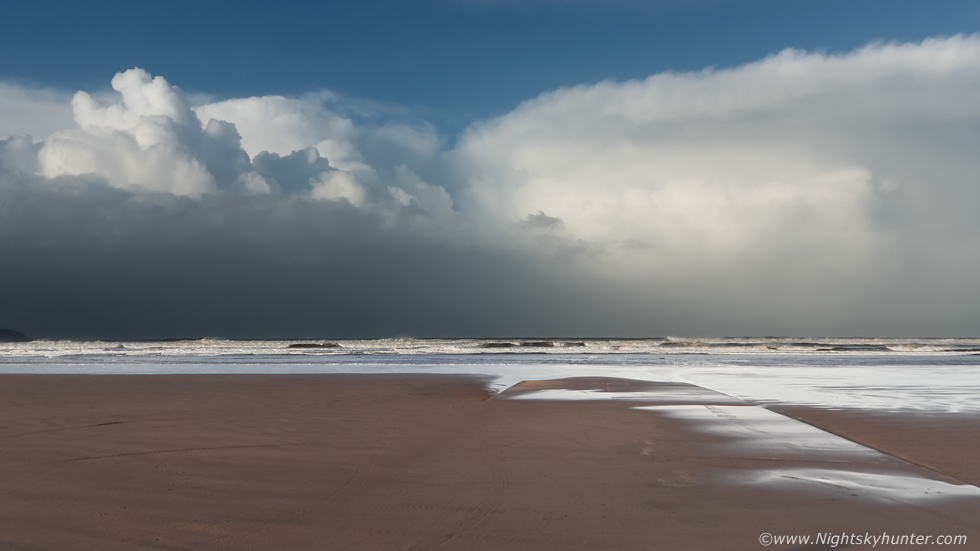 More convection and cbs forming behind the primary cell, I even got the drone up for some low level footage during a brief lull between the bitter squalls. With scenes like this and ocean CAPE of 500-600 J/kg remaining until 19.00 this evening we decided to stay, this was too good, I wasn't going back home when there were scenes like this. We suspect this had to be rumbling with thunder quite a few times, we imagined what it would have been like at night time.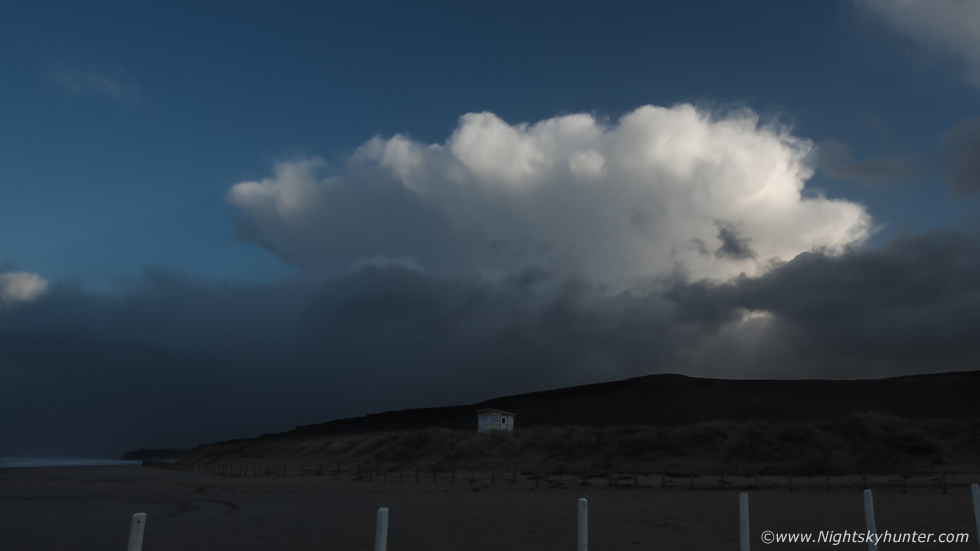 Behind us this beauty formed over Binevenagh, what an impressive cell catching the last light of day, once again look how solid that anvil is, always a good visual sign of strong updraughts within the cell. Nigel headed home on personal errands however we decided to stay for a few more hours yet, we were starving and craving something from a takeaway however the sky was talking so we remained committed. We got hit by many squalls of hail and wet snow then as the tide got higher we changed location and went to Downhill beach where we watched a mammatus display over Mussenden Temple at dusk. The sea was dangerously high here, we couldn't get on the beach at all and one of the roads out was covered in rocks and debris, I decided it was too risky so I reversed out, we needed a view over the sea without getting too close to the edge so we re-located to Castlerock.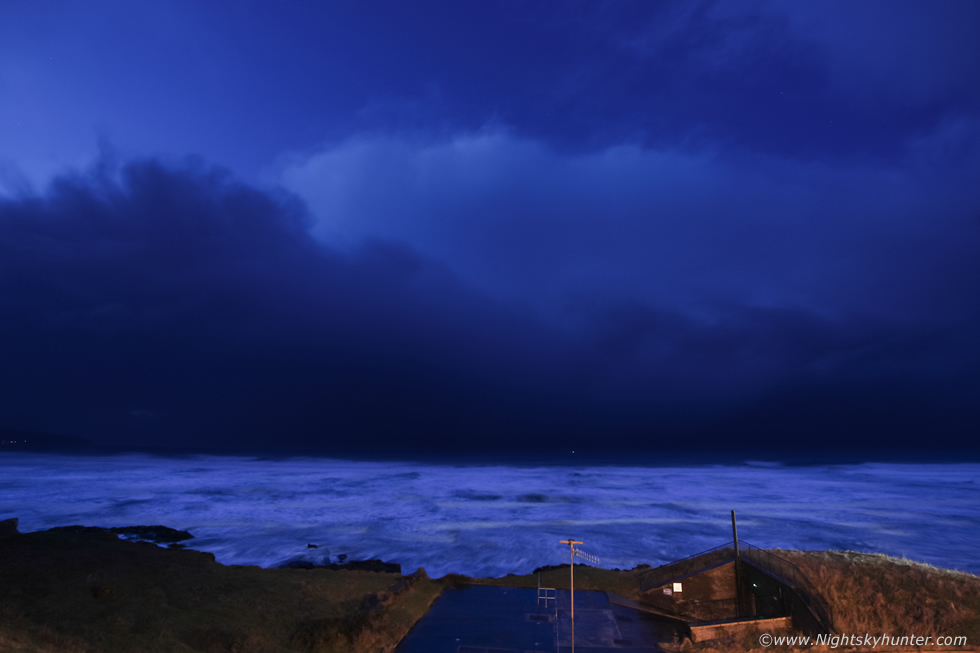 On high ground above Castlerock during evening twilight, this distant cell with huge anvil was crossing the ocean and getting closer, I began taking exposures and even shot a time lapse while putting up with the raw wind whipping the tripod. I went back inside the van for shelter then - FLASH! - the sky below the cell lit up with lightning, a big in-cloud bolt, Owen Anderson had a great view of it from Magilligan and said it was a huge anvil crawler. I felt sure I had it on camera, I was taking 3 sec exposures continuous, I went to the camera and previewed the images with a trembling hand, the lightning was nowhere to be seen, the camera had missed it, darn!, the bolt must have happened between exposures, I wasn't too annoyed, it was great to see and I have this image of the very storm and moody twilight glow on the sea.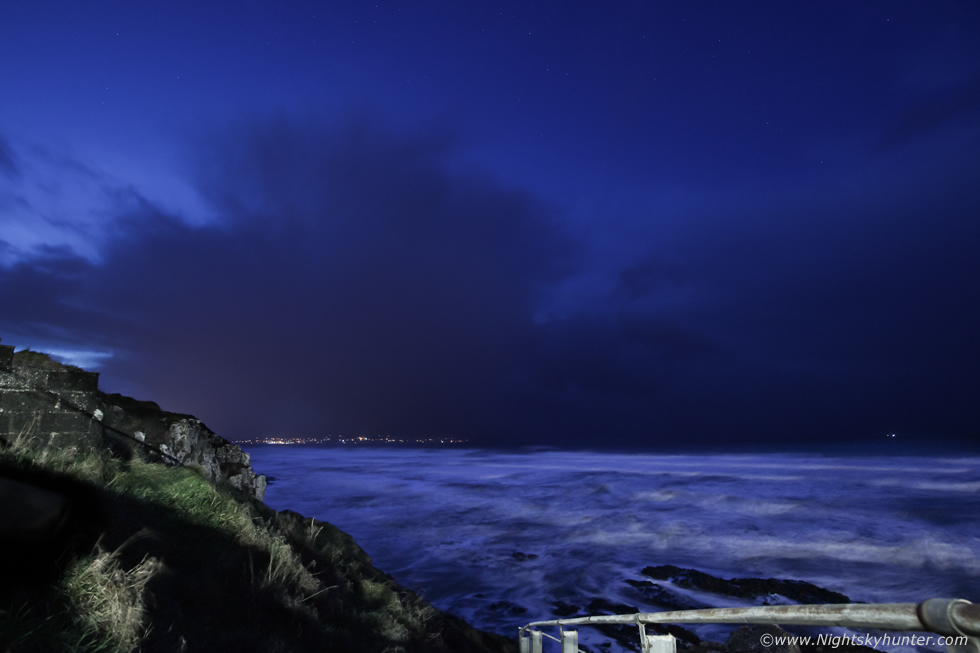 After a barrage of hail the storm passed and I spotted a new cell growing rapidly against the twilight sky with anvil spreading out, its dark form against the twilight made for an intimidating sight. I began shooting another time lapse until the anvil covered the sky. We drove closer to the beach at the car park and the outflow from this cell hit, it was quite an experience, intense prolonged hail stones peppering the place, Castlerock had turned white and accumulations of hail stones had piled up on the promenade which was amazing.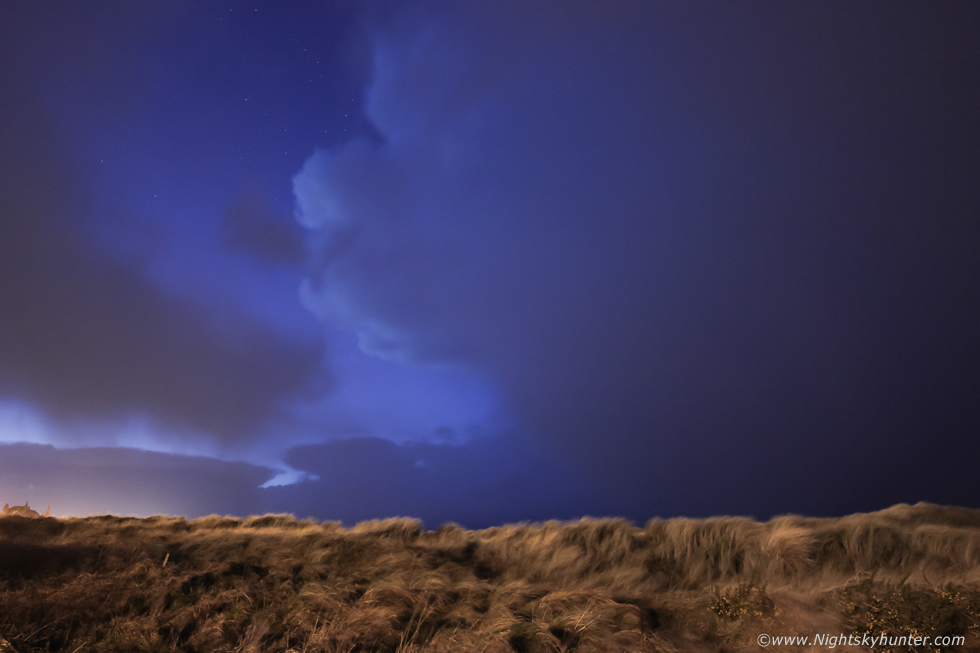 When the hail stopped bouncing and the sky cleared I got a remarkable view of the rear of the cell, this is the back sheared anvil of a huge Cumulonimbus (cb) with solid anvil illuminated by twilight glow, this scene alone made the last two days and nights for me. It was moving fast and light was low so I didn't have much time, luckily my camera was already mounted on the tripod with 10mm lens and cable release in and waiting in back, I grabbed it and was out in a flash. Short exposure, ISO1600 to try and freeze the cell as much as possible, exposure was 5 sec's with aperture at F/2.8 wide open, seeing those first stars of the night beside the anvil made my night and it all looked so cool over the sand dunes and wild grass.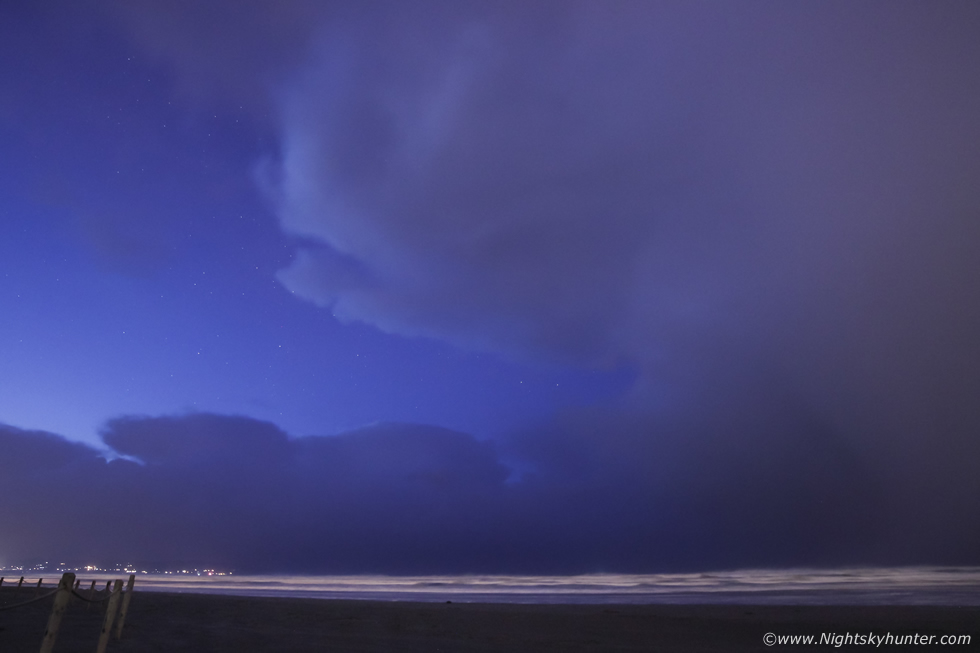 I ran along the wooden footpath like a mad man, I almost slipped and fell, and made it to the beach, I had the entire place to myself, it was a lot darker than it looked here. This is the kind of stuff I hunt for, awesome scene, twilight cbs and stars, this cell was massive, you can see the curtains of hail falling over the sea and even more stars surrounding the anvil and behind was a line of more anvils behind Donegal moving in, this was a 6 sec exposure, I can't get any higher than ISO1600 on my crop sensor as noise gets too crazy so I had to work with these limitations, however I felt I pulled it off just fine. It was at a time like this that I wish I had a fast wide angle lens for my 5D Mark IV, it was in the van but I can only use a 50mm lens with it which is too tight, if I had a wide lens now I could have used very high ISOs and got a brighter cleaner image and frozen the scene even better, and perhaps even a short time lapse (I now have a wide angle lens but more on that another time).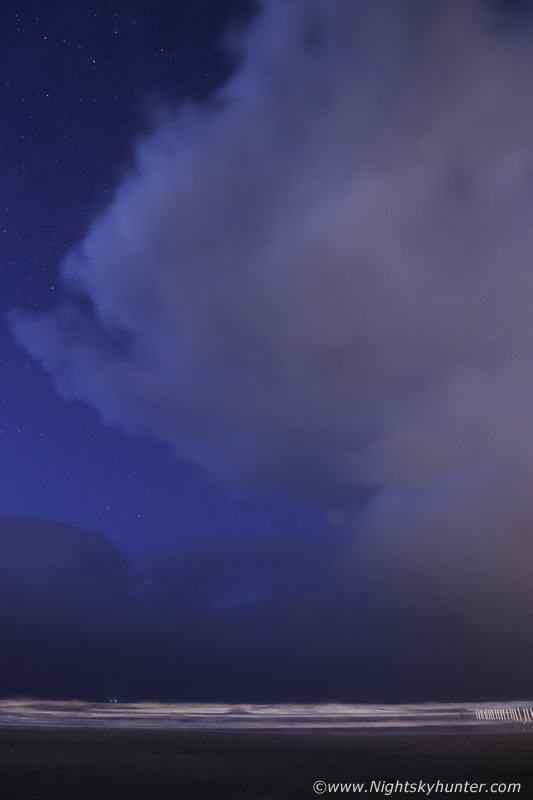 I had to wait for it to move away so I could fit it in the frame, portrait version here. This was a special moment, this huge twilight cell, the beach to myself and the sound of the surf rumbling in this eerie light was just magical, this moment likely has made my Winter.
Exposure of the next cell behind it dropping hail in the direction of Portstewart. These images were the climax of the chase, it really was a great day of hail and convection and with CAPE beginning to wane we called it a night. We got our well deserved takeaway then headed home content, however there was one more day of chasing to come, I wonder would it produce.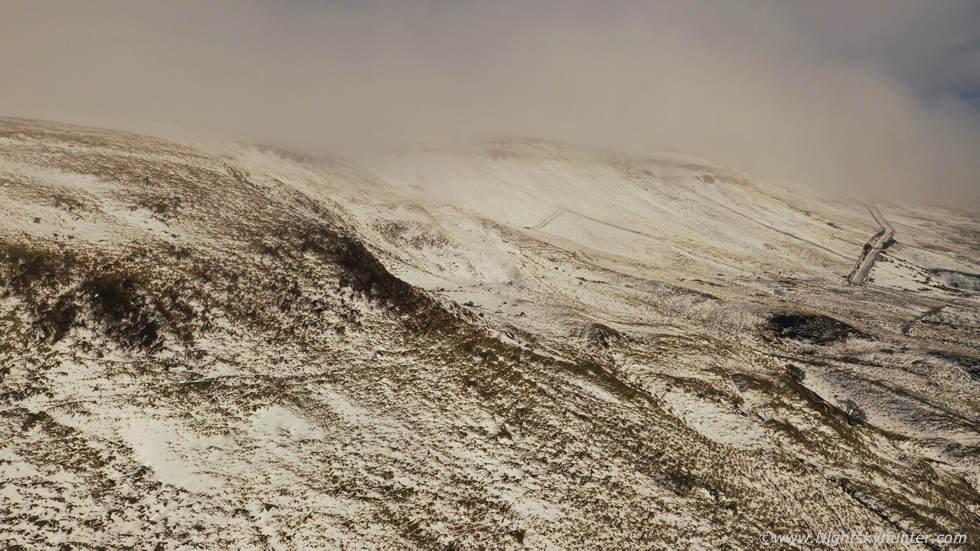 February 13th, day three of chasing and another day of cold air and unstable skies, however this time I was surprised by the snow, there was more of it than I had expected. I took my Mum and Rhua out with me again to check out the scenery, we went for a walk in Glenshane Forest, Rhua absolutely loved it, there was a good 3" of snow, this was her first snow of the 2019-2020 Winter. The light was great today and the wind was light, perfect conditions for drone flying which was in short supply over the last two days due to severe wind gusts so today I planned on making up for it. We hit my old favourite location Benbradagh outside Dungiven. There was enough snow on it to stop us getting up far, the van spun out at the bottom so we parked there and waited for the cloud to clear and light to return. I ended up getting two flights done here from two locations up the mountain focusing my attention on the southern summit, the sunlight filtering through passing cumulus clouds and icy virga created a moody atmosphere on the mountain. I was very happy with the two flights, the footage was very pleasing and I felt happy to have got decent aerial content, I also took several 20mp stills, this is one of them.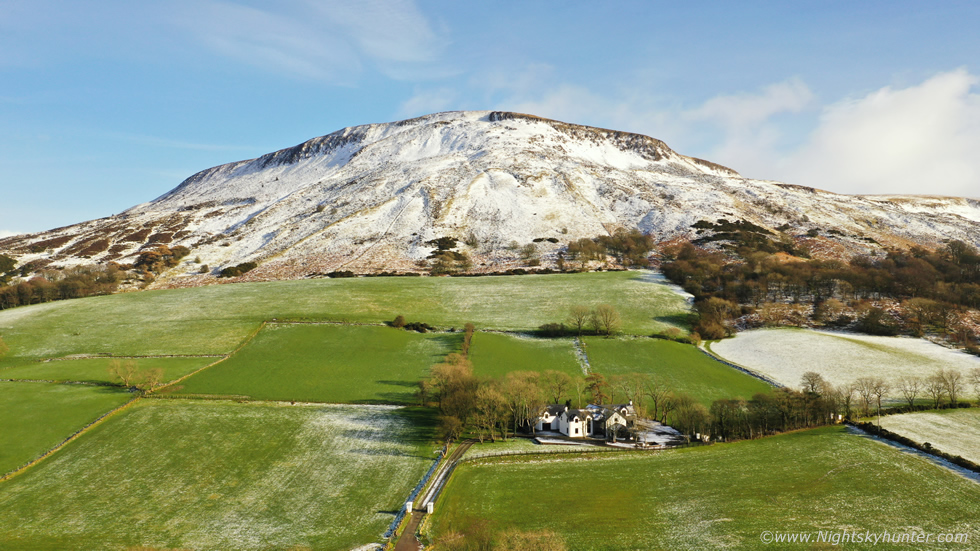 I have never filmed Binevenagh from the north side before and always wanted to do so, I decided with such good light and scenic countryside and calm wind that today would be that day. We got snacks in Dungiven then drive onto a quiet country road to eat, I re-charged all my drone batteries with the car charger including the RC. In order to do this flight while satisfying drone regulations I had to fly/film from four different locations leading up to the mountain. Two flights from a distance taking in this view, another near the base of the mountain and the last over half way up, I had to hike up through snow to get higher for the last part, then I lined them up as best I could to make it look like one long flight. The final video delighted me, the aerial mountain climb was spectacular to do and I admit to feeling a tremendous buzz watching the snow covered summit appear on the tablet screen, what an experience, it's at times like these that I'm so happy I got into drones, one of my main reasons for adding a drone to my kit was for snow scenes and that was four years ago and I'm still doing it, money very well spent indeed. This is a still image from the second flight, I'm sure the owners of that house would love to see this image.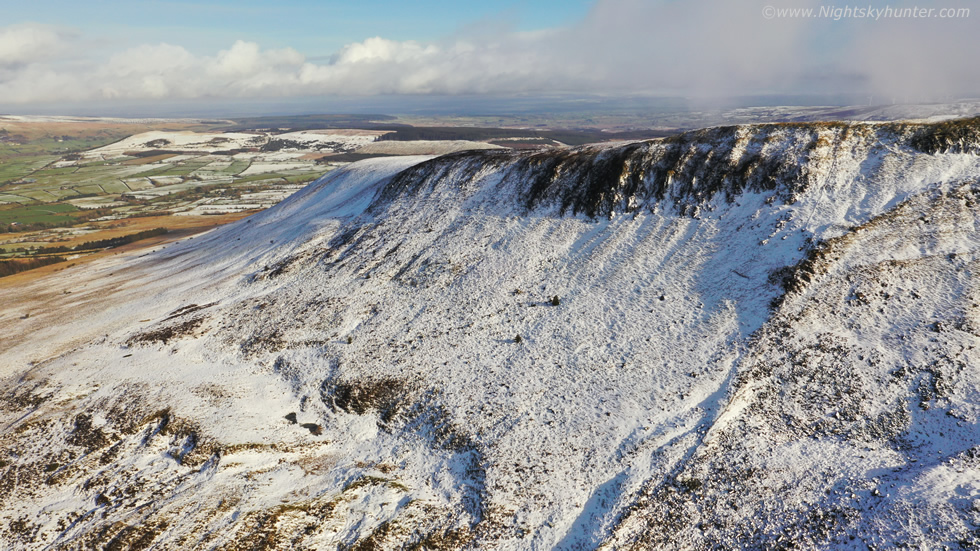 Still capture from the summit, what a view, Benbradagh really is such a dramatic mountain. I made sure to use my air time wisely taking video and stills, I was aware that the battery wouldn't last as long as usual thanks to the cold air and at this altitude the wind was likely stronger due to shear, I was getting wind warnings on the app, but that means nothing as those warnings come up even in 5mph gusts so I passed no remarks, I can tell by the feel of the drone if i'ts windy or not due to resistance on the aircraft, once I got everything I needed I landed with 37% battery, what an outstanding drone the Mavic 2 Pro is, the footage can be viewed below.
It would be a shame not to do a 180 degree panorama, 10x20mp stills stitched together onboard the Mavic, what a view of the entire mountain. The isolated snow on the high terrain actually works here because you get a greater range of colour contrasts for the final image, thank goodness for blue skies.
I was already content with everything today however the scenery was so photogenic and there was still snow on the hills so we decided to stay out longer, anything else would be a bonus. We pulled over onto a back road adjacent to Glenshane Pass, I spotted a nice cell passing over the Sperrins which was worthy of shooting. I jumped into a field for shots. Bright white mammatus on the rear of the cell over snow, always a good thing to witness.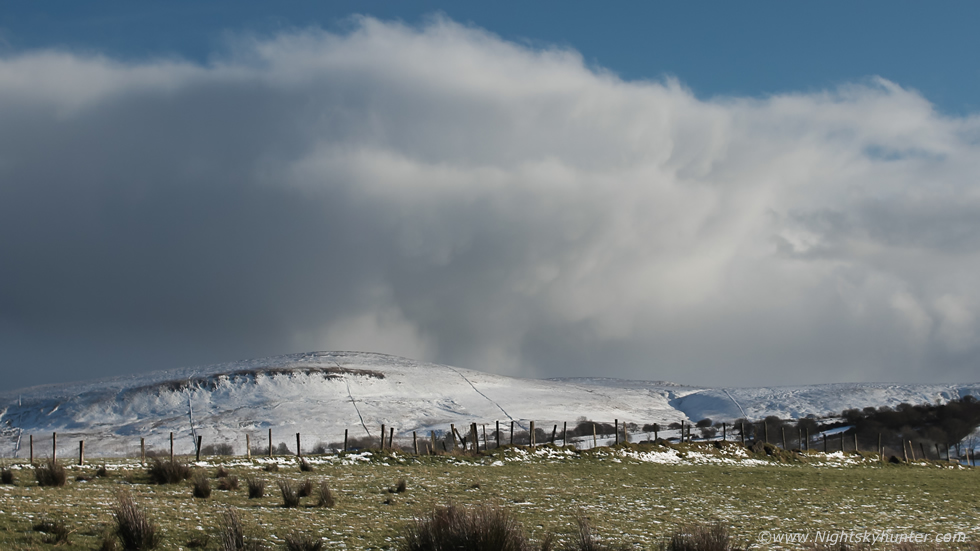 I began shooting a time lapse, then the Farmer and his Son came over, they were moving Sheep from one field to another and took an interest in what I was doing, I explained about how time lapse worked and pointed out the mammatus. They were lovely people, they had been up the mountain in that snow on a quad and on the Birren too, they explained a lorry had been stuck on that road earlier on the Draperstown side, they also told me about the thundersnow near Dungiven a few days ago, they had experienced the entire storm and said it was impressive, I love hearing weather related stories from other people, especially from Farmers who spend so much time outdoors and who have a real connection with the land.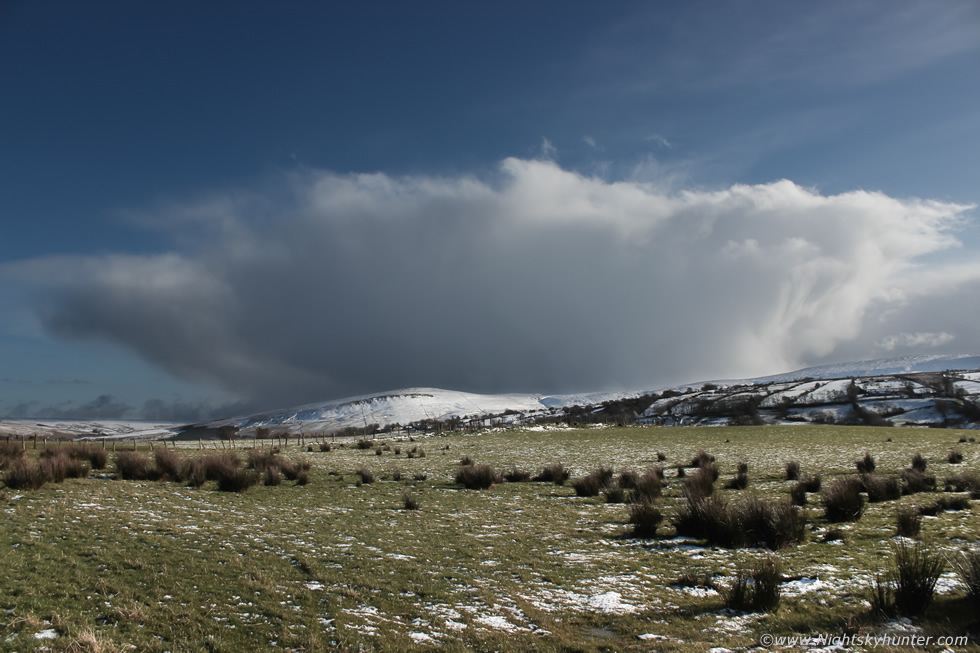 Final image of the day, Winter Cumulonimbus with fresh snow on the Sperrins, what a great sight to end three days of chasing. I promised the farmers I would get a few images of their land however the clouds suddenly came in, the light was gone and it began snowing so I decided I would come back another time when conditions are better.
Compilation video covering three days of chasing featuring ground video, aerial views with day and night still images, pretty much snippets from all three days and two nights to document the chase.
Night footage of the storm damage to power lines in Castlerock filmed with the Canon 5D Mark IV with slow motion scenes
Mavic 2 Pro drone footage of the south summit of Benbradagh in atmospheric light, filmed from several locations along the mountain
My best footage from the three days, drone reveal from outside Dungiven to the north summit of Benbradagh in beautiful light with snow topped mountain surrounded by blue skies and lush countryside. As I type up this report on February 19th the models are once again showing more snow showers so it looks like Winter isn't done yet by a long shot, in fact, there could be more severe surprises in store so keep an eye on the website for updates, thanks very much for reading.
Martin McKenna