Stags In Snow Telephoto Images & Winter Lightning - Jan 29th 2015
I awoke to a Winter wonderland, my home area was covered in a pristine blanket of snow with a remarkable deep blue sky and bright sun making everything radiate with brilliance. I was immediately up, changed and ventured out into the back garden without any consideration for breakfast. Our Dog Rua loves snow and on this morning she was more excited that usual running around in circles barking and chasing falling snow flakes, it was one of those beautiful Winter mornings which conjured up all those emotions and imagery from childhood. The snow crunched underfoot as I walked to the side of the house and glanced to the NW where two large cells were approaching, their sharp white anvils made for quite a sight against the clear blue sky, they would hit soon delivering more snow, this was the kind of day I loved with beautiful snow scenes, fantastic light with on and off snow showers all day long, these conditions made for dynamic light transitions which were ideal for photography so I intended on getting out for the day to take full advantage of it. I sipped a brew in the kitchen while quickly doing the rounds online via the laptop to check the latest model runs. Unstable air was feeding across N. Ireland all day long so we would be getting treated to cold air convection in the form of snow showers and even thunderstorms with a chance of thundersnow, anywhere in the country was at risk with the N and W being prime locations.
This was going to be a busy day of photography, I decided that I would spend daylight hours documenting the snow then when darkness fell I would shoot N to the coast in search of ocean lightning, there wouldn't be much time for rest however I felt full of energy and highly motivated, I love that feeling of being 'in the zone' and today I felt it more so than ever. I checked the water and oil levels in the Berlingo, cleaned the snow off the windows, lights and roof then got my camera gear ready, my Mum wanted to see the sights too and since she didn't feel safe driving on snow I thought I would take her out for the day. It didn't take long getting organised and soon we were mobile, the tires slid a little on the road however I loved the challenge and joy that comes from driving on snow, as a matter of fact I have done so much driving on snow and ice between December and the present that when I go to sleep at night I feel myself drifting from side to side as if I'm still counter steering, the last time I experienced that sensation was during the severe Winter of 2009 and 2010.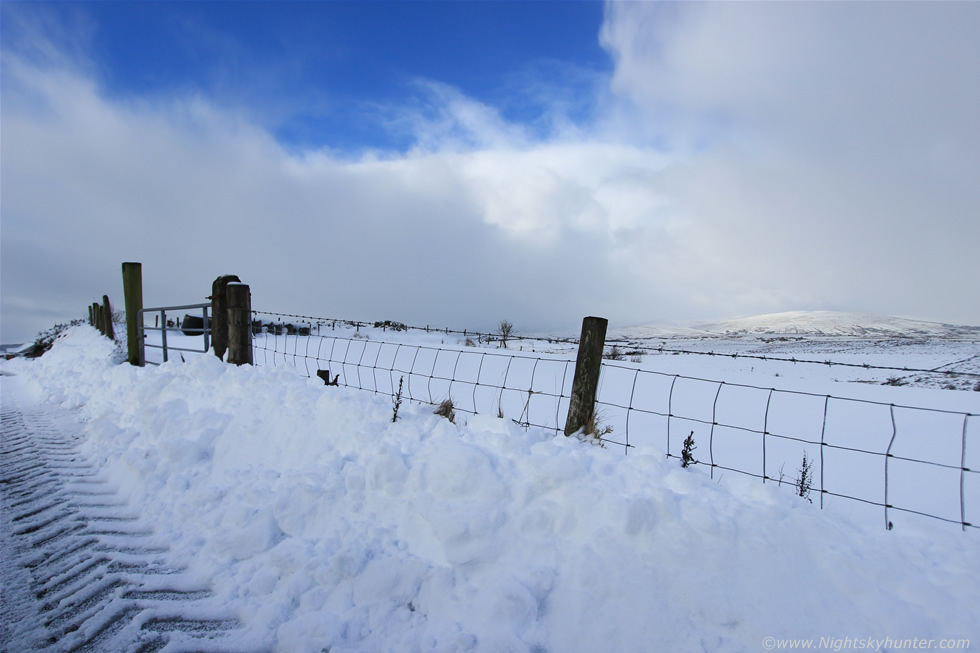 I didn't really have a plan other than finding the deepest snow possible at a location where we wouldn't get trapped so instead of Glenshane I changed tactics and headed towards Draperstown and from there we climbed onto high ground into the countryside until we couldn't get any higher, this area and that of Co. Tyrone looked to be the best locations based on the radar from overnight snow shower activity so I suspected these would make for fruitful hunting grounds, that hunch would soon be vindicated. We drove for miles along narrow roads looking down into deep snow-covered valleys then up to the hills, it was beautiful everywhere we looked and to be honest it was difficult to know where to begin and what to photograph, the trees were wonderful, so were the derelict stone ruins and fields full of Sheep, there was so much on offer, I was after something in particular and didn't know what it was until suddenly I recalled the Sika Deer I had seen on the hills during late December last year (report) which Roisin, my Dad and I happened to stumble across. The sight of those Deer in the snow made the month so I decided that I would give that area another go, after all, the snow was deeper than last time and my Mum had never experienced the Deer before so this could very well pay off so we headed over high ground in that general direction.
The roads had been ploughed however fresh snow had fallen again with drifts at random intervals, I quite honestly don't know how we made it over those roads at all, the only tracks were from a tractor with no evidence of other cars so I wondered if I had chanced my arm this time, it was even worse climbing up the hills, my Mum said I was crazy but I kept the momentum going and made it to the top and once we reached level ground I stopped in the middle of the road for a look at the landscape, driving was fun but I wasn't getting any images out of it and I didn't want to fall into the trap of getting so involved with driving and eyeballing the scenes that I arrived home empty handed. The view was deceiving from inside the van, once I stepped outside I felt that the scene was beautiful only in the visual sense, for it was simply nasty outside with freezing temps and a wind that cut through every layer of clothing, I wondered what the wind chill must have been, I never thought to use my anemometer with built-in temperature reading however I was too cold to use it anyway, my hands were turning red and sore so I wasted no time taking images.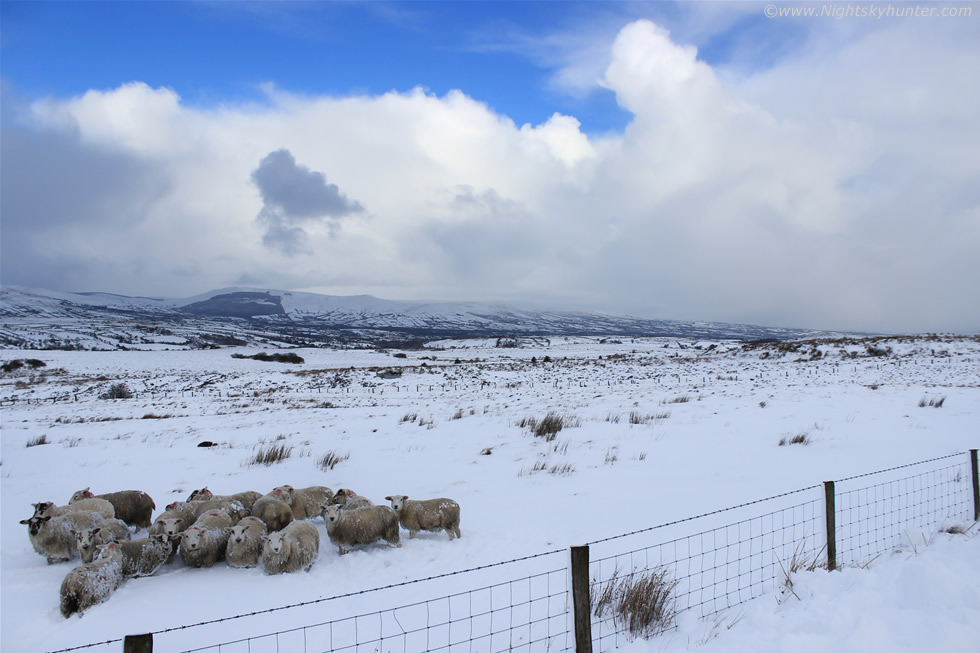 The view was splendid with the blanket of snow covering the entire landscape including the Sperrin mountains and above was a formation of cb anvils and towers growing towards the NW, some of this convection already had a history of lightning. The Sheep looked nice huddled together however that fence was awkward for photography so I slid down the embankment in the snow at the edge of the road and reached the bottom, the snow was up to my knees in places.
The Sheep became curious and slowly walked closer, I stuck the lens through the wire mesh to get a few images, I could have swore I heard a distant rumble of thunder.
The view towards the van with skinny cumulus towers in the distance trying to anvil, it felt brutal out at this altitude, my hands hurt and I shook them to get some life back into them then headed back towards the van to warm up, I would be suffering for any photography today, the heater inside made my fingers feel like they were getting pricked by dozens of needles however my warmth was soon restored and we were back in motion over another steep hill and it was then we encountered the Deer.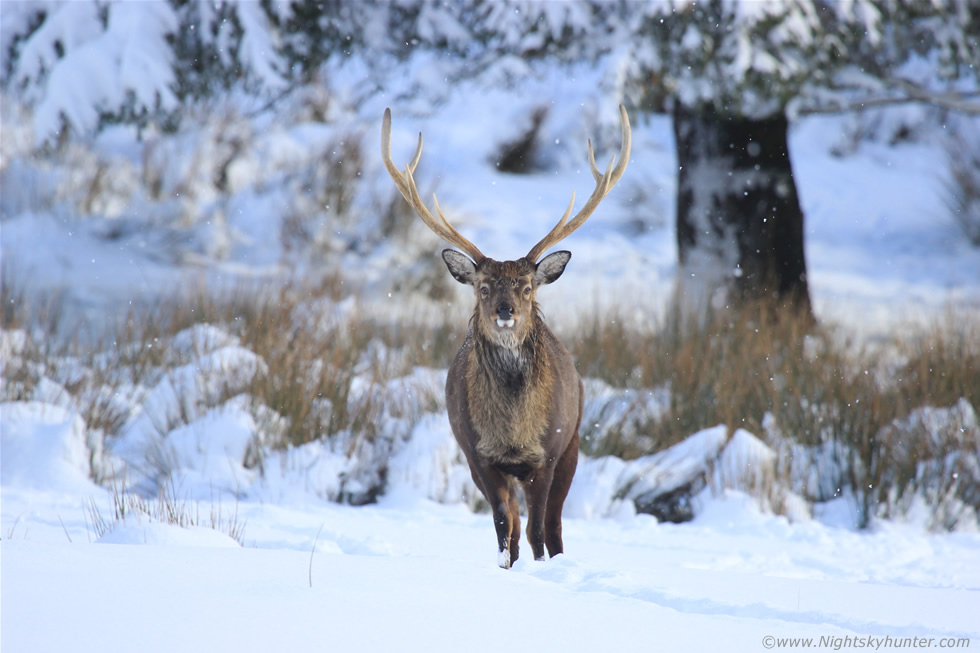 At first I couldn't see anything then I spotted the Deer at the far end of a field hidden within the long grass. I scanned the area then spotted the big Stag staring straight at me, he was also within the long grass practically hidden from view, however his impressive antlers made him easy to spot, he stood in full alert under a massive pine tree with branches covered in thick snow, all the branches were leaning downward under the weight of the snow, I swept the area with the Canon 100-400mm USM lens and as soon as he saw it he stepped out from under the trees and into the clearing, we were blown away, the Stag, the snow, the pine trees, it was like a scene from Canada. The light was perfect and a new flurry of snow began to fall, he starred at me and I starred at him, I began snapping images fighting the cold and shaking hands, the cold metal of this lens can be torture in Winter weather.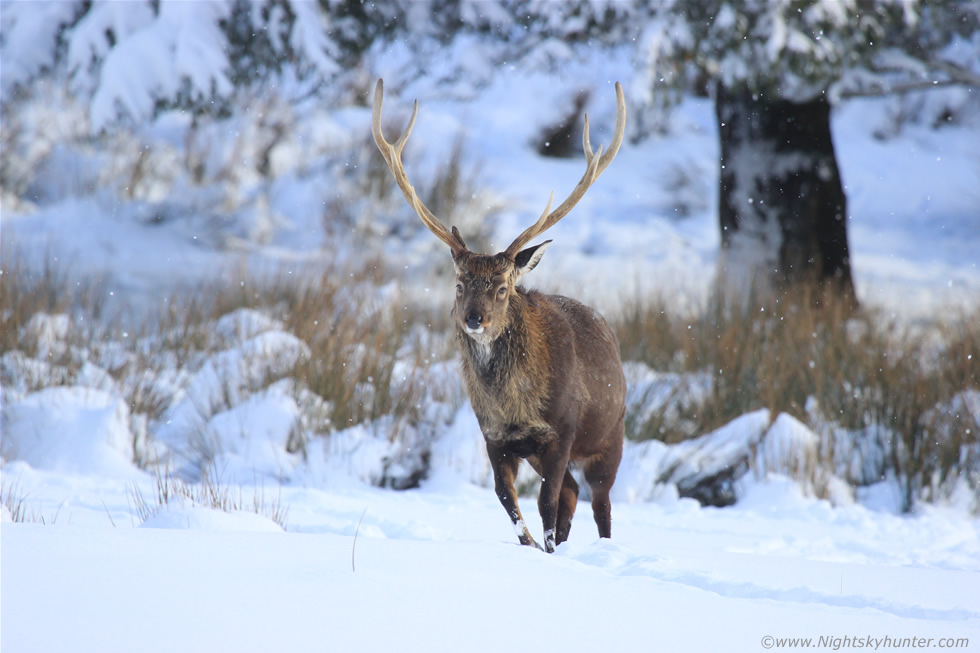 It was clear that he was in charge of the herd, he began walking towards me for a better look while I was snapping away on continuous shooting mode. This was pretty much an epic Winter scene rite now with the beautiful Stag walking through the deep snow with golden antlers and brown fur with those wonderful tones of blue on the snow, it was him that I had come to see and now he was putting on a show.
One of my personal favourite images from the day. I was loving this, the falling snow made the scene extremely festive looking, my breathing was fogging up the LCD screen and viewfinder, I had to keep wiping it clean. This lens was perfect, the shallow depth of field was remarkable with the aperture wide open at F/5.6 at 400mm, that way when the subject is in focus any background scenes get blurred thereby reducing any distracting elements, with this shallow depth of field the Stag seemed to jump out of the image and was clearly the centre of attention, I tracked him as he moved from R to L with the long lens resting on my left arm for support, the good light allowed me to get away with a fast shutter speed of 800/sec at ISO400.
He became comfortable with me then decided to drift away to do his own thing, he made for an impressive sight proudly walking through the snow with those majestic antlers.
To my right beyond the FOV where tiny ponies with long black hair ''neaghhing'' while in the distance a group of timid Foe where hiding behind the long grass and taking shelter under the trees. I took a couple of quick video clips through the 400mm lens however it was a nightmare to keep the camera steady in the cold but I got several clips worth keeping for the memory.
The sky darkened as a new snow storm began to fall with vigor over the Deer, no doubt it was that earlier convection we had spotted to the NW which had now made its way in. The Stag was showing off again, he arched his mighty head backwards and let out a strange call.
Crop from another image, check out those teeth. Mum was loving the experience, she had never seen Deer in the snow before in her life in this country.
A young Stag suddenly appeared on the scene, I had no idea where he came from, he simply appeared in view and despite being second in command he was bold and already exercising his dominance, he was also a beauty. Two Foe can be seen in the background in the grass.
Heavy snow storm now with low visibility, big flakes were slapping my face and stinging my eyes, luckily the long dew shield on the 100-400mm kept the lens protected and the wind was at my back so I stuck it out for a while longer.
This guy was posing away for me and I made the most of it, my hands were red once again and began to tremble in the bitter wind chill.
Deep crop from another capture showing the face of the younger Stag. What a privilege to witness a scene like this in N. Ireland, from this point on it didn't matter what else happened in the month of January, this was without question the highlight of the month for me as far as Winter photography goes.
The big Stag appeared back on the scene again, for big animals they moved with such grace and stealth which was rather shocking, they were rather quiet in general and if you were not scanning the fields you wouldn't even know they where there, never mind hear them - my kind of company.
He came close enough to fill the frame at 300mm, I reckon he had accepted me for I could no longer sense any hostility, there was peace and acceptance between us and the atmosphere was pleasant.
Deep crop showing the beautiful colour tones on his fur, his white 'beard' and the snow starting to accumulate on his head and antlers. The light was gone and the temps were nasty, my hands were in agony, vivid red and shaking, I knew I already had the best images I could get in great light so I retreated back to the van, the temp difference fogged over my lens and sensor in an instant, however I wasn't concerned, I already had 60-70 still images to take with me of this amazing experience. We drove on through a Winter wonderland with beautiful snow scenes everywhere passing fields with families sledging down steep slopes then we made our way to the outside of Cookstown and decided to check out the old and haunted plantation home known as Lissan House.
I had never seen this house in the snow before so I had to tick this one off my list. The drive took us through a mile of forest which rapidly became very interesting, on the road in front of us was what looked like chunks of ice impacting the ground and shattering to pieces, a non stop barrage of ice, they were also banging off the roof of the van making a very loud din...din...din and I was getting worried that the body work was going to get dented, it was like driving through golf ball hail from a supercell thunderstorm, however the source was less dramatic than that but just as interesting. Snow accumulations on the tall pine trees far above us had turned to solid ice and now the ice being stirred by the wind was dropping a great distance onto the road below, it was quite exciting to drive through to be honest, once we cleared the ice bombardment we encountered downed trees blocking the road so I had to go out and drag them off before we were able to get any further. We arrived at Lissan House and it looked as beautiful as ever and sublime in the snow, however I couldn't do any photography as several cars parked outside had ruined the potential however we got out for a walk anyway and much to our surprise we were called into the house by property manager Dr. Neil Watt who was in the process of refurbishing the house for the Spring opening, the old pipes had frozen and burst flooding the ground floor but they were getting it sorted, well we ended up having a splendid time thanks to Dr. Watt who gave us a free tour of the entire house, this place really was amazing, you can still sense the history within the walls, the view through the huge windows from the ballroom over looking the forest, river and old ice house all covered in snow was simply breathtaking, I urge anyone to check out Lissan House during the Spring and Summer for it really is a wonderful house and grounds to visit.
We arrived back just before sunset and I quickly fired up my laptop to check out the bigger picture in the hope that phase two of my plan was feasible, it was. The charts showed a nice cluster of c-g sferics from strikes over the N and NW coast of N. Ireland and a quick glance at the updated 16.45 GFS run continued the theme of the morning run with a couple of hundred CAPE over that very area of the ocean with freezing air aloft then the unstable air would turn stable once again before 22.00 so there were several hours of potential yet. The strikes from earlier were during daylight however soon the light would drop with the setting sun and that's when any future lightning could be much more dramatic and photogenic. As I changed into a new set of dry clothes I kept refreshing the sferics charts and at random new red dots were appearing so there where still active storms over the ocean ripe for picking and SAT24 showed a large trough to the N and a line of well formed cells running in tandem along its W side so there was no question regarding the presence of cells and as I watched the animation my adrenaline began to pump. There would be no time for dinner, I have always been a believer that holding back for such comforts will often cost you in the form of missed photo opportunities so I never hesitate when there's sky action brewing up, there's always time to eat later, but having said I needed some kind of internal fuel so I quickly filled two flasks with hot water, a mug, tea bags, sugar and filled my canteen with water, grabbed my gear then headed back out to the waiting Berlingo which hadn't even had time to cool down since its previous adventure.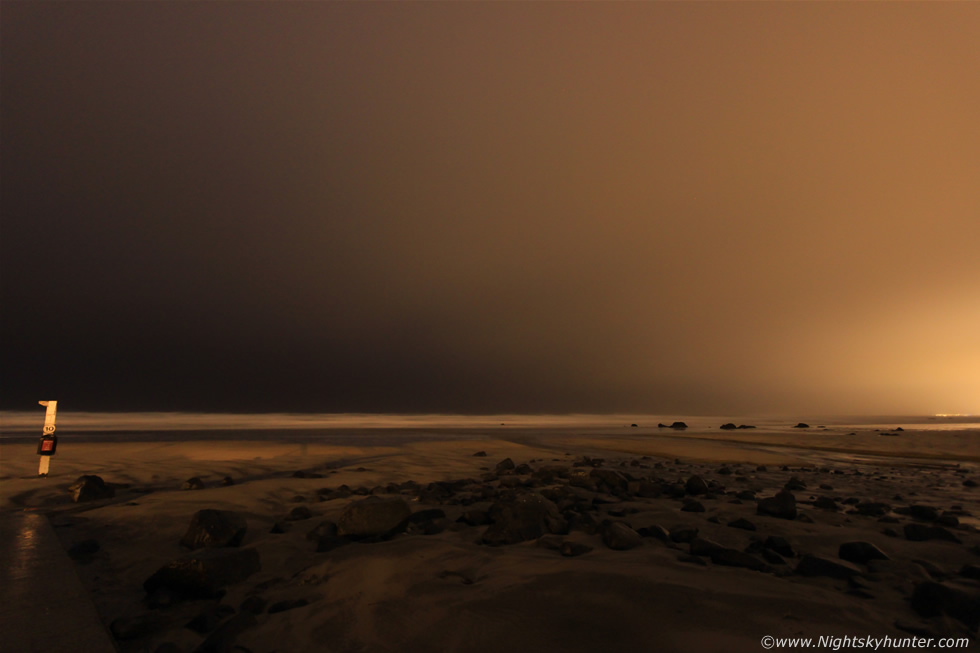 The roads were pretty decent compared to recent adventures with temps at +1 degree C complimented by sporadic sleet and hail showers and despite some slippery moments on untreated sections of road the going was good. While on the dark coastal road approaching Castlerock I saw a big flash of blue lightning to the N and during that brief event I could see a storm tower lit from within, it must have been over 100 miles distant. I arrived at Downhill beach and parked on the concrete slipway as any further would have been risky due to the advancing tide and wet sand. From this point on I can only recall a fast paced and crazy night in the weather, there were storms happening however the conditions were nasty outside for long exposure photography and at times it was even borderline severe, there was no one else here only me which accentuated the feeling of isolation and I wondered why I was the only one mad enough to be out here, with all the activity I half expected to meet other photographers however none were to be seen or perhaps they had chose a different location. The van shook and rocked in the strong winds and the prolific cloud cover shocked me, I only saw one star and planet Jupiter then the sky was overcast and in the darkness it was impossible to tell where the cells were until lightning revealed their location.
I was getting constantly blasted by rain, sleet and hail stones in conjunction with strong squalls of wind. I set up my video camera on the dash with its mini tripod and let it film through the windscreen to the N while I made numerous attempts out in the elements between the showers. The sand was blowing across the beach towards me from the ocean, the winds had veered from Wly to NWly so everything was attacking from the sea, grains of sand and sea foam side-swiped me and my tripod was shaking in the wind, it was one of those nights when if something could go wrong then it did and it was the smaller stuff that was most annoying like getting the camera strap caught around the hand break when I was getting out which almost pulled the camera out of my hand which could have broke it, then my new cable release vanished, I did a search and found it laying on the wet sand, I dried it and blew the sand off and used it but it began to play up and sand was getting into the port, it was all a mess. I took shelter during a hail storm and once it passed I got back out holding the camera with cable release dangling when a gust of wind slammed the van door shut rite onto the housing of the cable release cracking the plastic, I couldn't believe it, I tried more exposures however the cable release had malfunctioned so I replaced it with an old one which had given me trouble in the past so it was fast becoming one of those nights. I persevered and took shelter behind the van and took a short 10mm exposure facing N, I simply wanted to see if I could pick up a hint of storm structure in the darkness invisible to my eye and check to see if my horizon was level, above is that test exposure.
I started a new exposure then turned away to change the angle of the video camera on the dash when suddenly night time was turned into day, a massive bolt of lightning lit up the sea reflecting off my face, I vividly recall the inside of the van along with the beach and cliffs blazing into view then suddenly plunged back into darkness. I stopped my exposure then took out my mobile phone and activated the built-in voice recorder and managed to catch a long lasting rumble of angry thunder shatter the familiar sounds of the beach, it seemed to echo several times too, that was pretty cool to experience. I checked my camera and previewed the last exposure, I had caught that bolt in the frame!!!, however the image was completely overexposed, I wasn't expecting the bolt hence why the ISO was at 1600 however had I been using ISO 100 this would have been an epic image indeed, oh well at least I had a record of it so that made it a technical success, compare the two images to see the difference, you can really visualize the flash. A solar Astronomer from Armagh Observatory said the image looked like it was taken from planet Mars - it certainly does.
There was a lull in the activity and my energy was waning so I drove back into Castlerock and ordered a spicy chicken burger, I received a text from Paul Martin who informed me that he was watching the lightning from a hill outside Omagh in severe conditions, he had counted 10 flashes already, I then raced back to the beach and enjoyed my buger with a flask of tea. The sky brightened and in the moonlight I saw several spectacular cells approach from the direction of Donegal then head straight for me, a massive anvil was over the ocean and a train of huge towers arrived over Downhill beach, these were rock solid and as good as anything on a Summer's day, I was shouting ''holy s**t'' into the wind in amazement, but my goodness they were moving fast on that NWly flow, too fast, even at 3200 ISO they were blurring in the short exposures I was taking so I stopped shooting and just enjoyed the naked eye view, the towers passed directly over my head with their hard billowing updraughts lit white by the moon against a backdrop of deep blue moonlit sky and stars then they were gone inland. The winds eased after this and I sensed the storms were done, it was 22.00 UT and the CAPE was gone, I text Paul for a radar update and he confirmed no new lightning so I called it a night and headed home and was back inside a warm house for 23.00 UT. I had witnessed six flashes of lightning and heard two rumbles of thunder and combining that with the stunning experience of watching those Stags in the snow earlier I felt safe calling this an extremely successful day of photography with non stop day and night action, I had earned my sleep and that night I glowed on the inside thinking about what a great adventure it had been.
Short video clip showing the Stags in the snow. On two occasions you can hear the Ponies calling then the relaxing muffled sound of the falling snow flurry over those wonderful Stags. Thanks very much for reading.
Martin McKenna