Huge Multicell Thunderstorm With 40 knots Shear Impacts The Sperrins - May 16th 2022
This turned out to be a great day producing one of the biggest inland multicell thunderstorms over Mid-Ulster in years, at least as far as land coverage and people affected is concerned, many got to either observe the menacing storm clouds or experience a barrage of consistent lightning, however more on this chase in a moment, first a very pleasant night shoot from earlier in the month.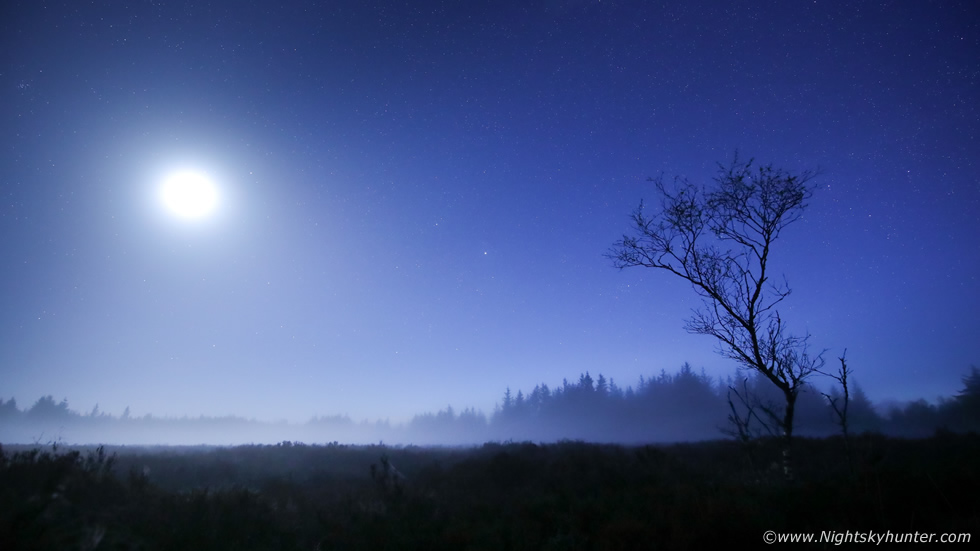 On May 7th the forecast was clear so a last minute photo shoot was arranged. Paul Martin and I met at An Creagan on the Cookstown-Omagh road, we were shocked at how bright the sky was at this late hour, the twilight was lingering to well past 23.00 LT, despite the shock we were delighted to see it as this meant Summer, thunderstorms and Noctilucent Clouds were fast approaching. As twilight waned into astronomical darkness the waxing crescent moon became the focal point for our shoot, why? the moon was illuminating banks of mist which seemed to glow over the ancient bog land so we wasted no time in shooting this unexpected photo opportunity.
Paul and I crossed the eerie bog using the board walk, which itself was slippery from the dense moisture in the area, humidity was in the high 80s even at night here and the breeze had died away completely. We attached hand warmers to our camera lenses to combat dew formation then made our way deep over the bog land. To the naked eye the scene was rather stunning but difficult to convey with the camera, it reminded me of glowing fog on the old black and white Hammer Horror movie sets which used to be on Channel Four when I was younger. We walked through the mist, the atmosphere was dead silent and creepy due to the atmospherics, we could have heard a dog barking from ten miles away, or so it seemed. We found this isolated tree which wanted our attention so it became our focal point, tree at rule of thirds, moon at rule of thirds, mist glowing brightly below, 15mm wide angle, I began shooting a time lapse.
This was a difficult scene to shoot due to the large amount of dynamic range, newbies might say why did you overexpose the moon? surely the crescent phase and earthshine can't be seen? If I exposed for the crescent I simply wouldn't have picked up any stars or the moonlit mist at all, so the image was exposed for these elements. We must have spent a good hour here shooting this then moved on to other areas of the bog land. There was no high expectations on this night however we ended up really enjoying this unplanned local shoot. I was happy with the image, it evokes peace, tranquility, calm and a sense of otherworldliness. Auriga with Capella is at centre with Cassiopeia to the right of the tree. We are looking forward to NLCs glowing near Capella in the near future.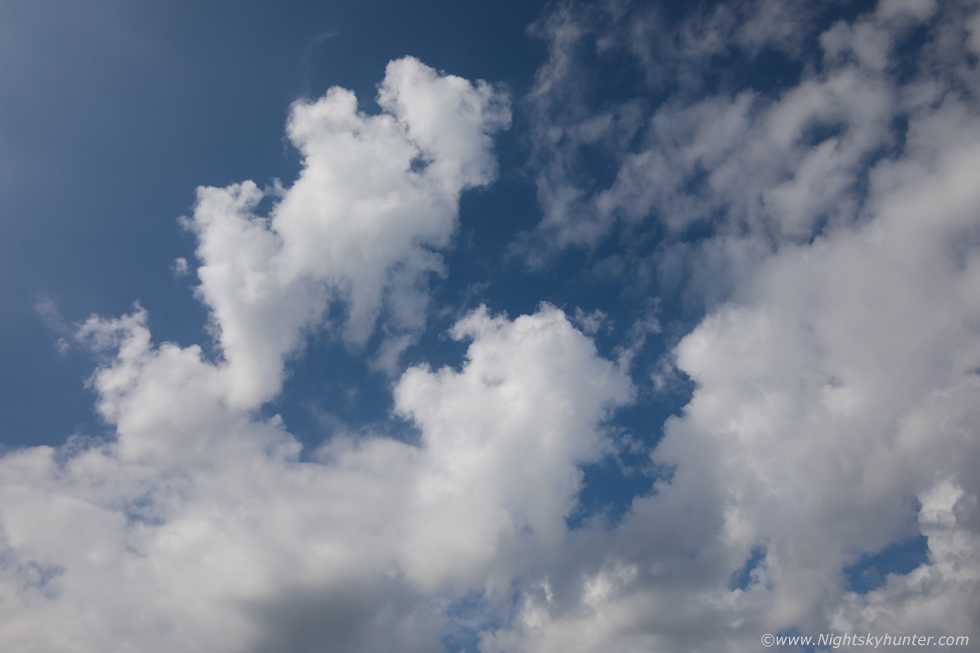 By mid month we were expecting an extended period of high pressure however that quickly changed with a more unsettled theme with warm unstable air being advected north over Ireland and UK with effects from Atlantic fronts and troughs from the W, these are ideal conditions for thunderstorms. On the 15th a plume set-up was to bring overnight rain to N. Ireland with a risk of thunderstorms, this is an elevated storm mode where cells form far above the boundary layer at the mid levels, if they can break the mid level inversion then dangerous and active lightning storms can result. Personally I considered the air aloft too warm so the convection would be capped and I turned out to be correct so all we got was overnight rain, however the skies were still talking and produced interesting clouds for would-be storm watchers.
I was on the road at 05.45 LT on May 15th, radar revealed red cores over the E side of Lough Neagh, they where moving NW rapidly so I gave chase. I got a visual on an elevated line with strong cores heading my way so I ended up chasing them all the way from Cookstown to the north coast, I briefly stopped in Tobermore, Garvagh and Articlave for images, the sky looked like it could rumble at any moment but never did, this is one of the earliest warm season storm chases I've ever done. Once the rain passed the sun came out I met up with chaser Colleen Webb, we observed interesting skyscapes from late morning into early afternoon.
The above image shows Altocumulus Castellanus (ACCAS), these are clouds which form at mid levels (Alto) of the atmosphere and are a visual warning of instability at that level. They take the form of short towers or castles, or simply white vertical tufts of cloud, they are not often seen in our skies, maybe once or twice a year at most, they look small but they are actually taller than they look due to their great distance above us. If conditions are favorable those castles can grow taller and evolve into larger towers or Cbs and can become extremely electrified, some of the worst night lightning storms you have experienced in this country likely came from these forming clouds associated with a Spanish plume, its amazing to think that destroyed buildings, fires, animal and human fatalities from lightning can all begin from these harmless looking clouds. The castles in this image have a cotton wool appearance, these are classified as Altocumulus Castellanus Floccus. We didn't get storms this day however the following day we got a real treat, but this time it was surface based storms, my favourite kind!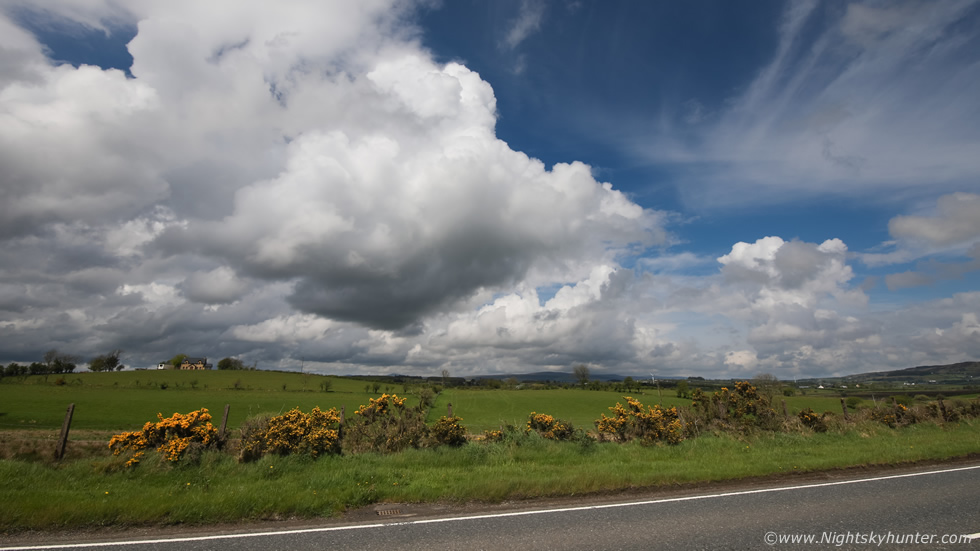 May 16th quickly upgraded into the best storm potential of the season. Behind an overnight frontal system a very moisture-rich Sly flow would advect north across Ireland and N. Ireland bringing with it almost 1000j/kg of CAPE and a Lifted Index of -4. If solar heating could take place behind the front, and satellite imagery showed a major clearance from the SW, then temps could reach 20 degrees C, if this happened then the cap would break and thunderstorms would rapidly form, forecaster Tony Gilbert predicted that cloud tops over N. Ireland would reach 30,000ft. A look at the models showed CAPE remaining well into the evening time with deep layer shear at 30 knots during mid afternoon then increasing to 40 knots by late afternoon. This would be enough for very well organized thunderstorms, storm mode would be multicellular with even supercellular traits with striking updraught/downdraught separation.
The AROME suggested that Mid-Ulster would be the target area, in particular the Sperrins with activity moving slowly E approaching the Lough Neagh basin. My plan was to target the initiation in Co. Tyrone then follow the action to Lough Neagh or N into the Sperrins if needed. The Met Office had issued a yellow warning for thunderstorms (first of the year) and ESTOFEX actually had their higher risk lightning box around N. Ireland. The moment I woke up and stepped outside the back door I knew there was going to be strong thunderstorms this day. By late morning the front had passed however it was still cloudy, soon pockets of sunshine began to open up and within an hour I noticed a remarkable change. The flat horizontal grey clouds were rapidly lifting into a vertical aspect at an alarming rate and soon I could see nice white towers, many of them, and they were leaning over with shear. Furthermore the atmosphere felt warm and humid and clamy, when I did a quick shopping trip down Cookstown street shop owners were commenting on how 'close' it felt, the sky was talking big time and I sensed we would soon be in action.
By 13.00 radar revealed random showers below the border making their N towards N. Ireland, they would be moving upward into a region of greater instability and dew points over a long land track, this was exactly the kind of set-up I had been waiting for. I noticed a few showers drift over the border and based on their path they would intersect the Cookstown-Omagh road, one of my favourite local storm chasing areas. I already had the van packed and the camera and drone were charged, it was chase time. My dog Rhua came along for the chase too, I secured her into the passenger seat and drove through Cookstown and out into the open countryside of Co. Tyrone.
It was a serene beautiful day with blue skies, warm sunshine, and white convection bubbling up everywhere, they looked a little capped yet however I knew this would break in due course, it was just a matter of time, the van was reading 18 degrees C and temps were climbing. I was getting phone calls from Jonathan Bingham, Conor McDonald, Nigel McFarland and John Fagan, all of whom were liking what they saw from their own locations, we all knew it was just a waiting game. I pulled over onto a grass verge at the side of the road not far past the entrance to Beaghmore just shy of An Creagan. I shot convection then caught some rays and soon noticed an area of precip approach from the S, in the distance it didn't look very special, just like a weak shower however I kept a close eye on it.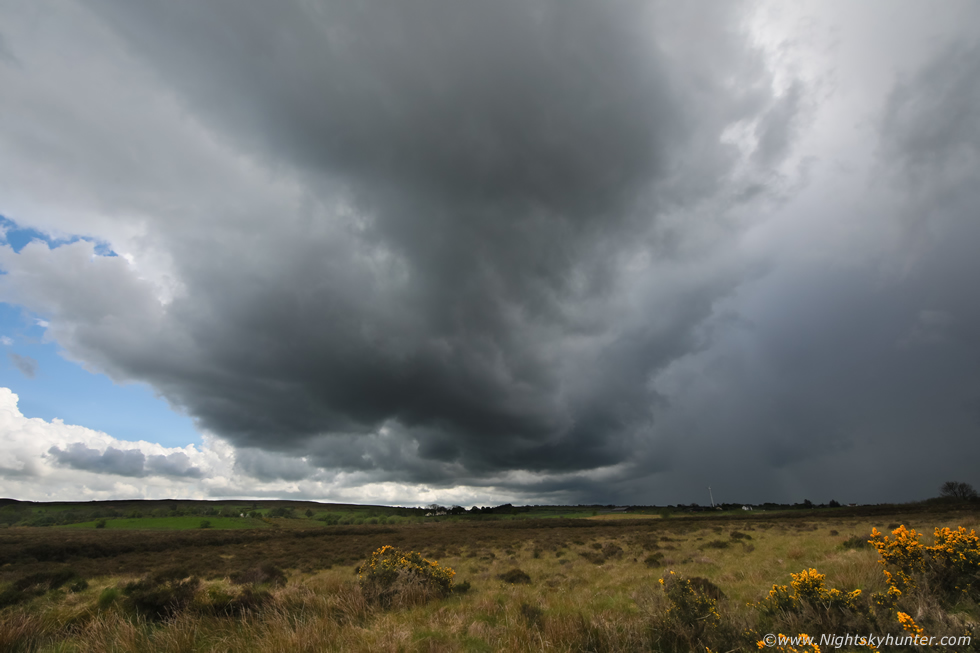 20 min's later that light shower had evolved into this. This was now a nice discrete cell, through gaps in the passing clouds aloft I could see it had a huge updraught tower above me. To the left is the dark and somewhat rounded updraught base and to the right is the precip core. Note that the precip is extremely well vented away from the base due to very strong speed shear, the breeze was about 9 knots at the surface however the updraught in the first 0-6km of the atmosphere was experiencing 30-35 knots and increasing all the time. Then the leading edge began to slowly rotate, John rang me again and I began to get animated over the phone, I explained I was seeing a sheared updraught and rotation, he had just come back from work and said he could see the back edge of the cell and that it was massive. This image is 15mm on full frame, motion R to L.
Precip began to fall on me and was obscuring the view so I got back in the van and drove a few miles down the road to clear the rain and pulled over again. A quick glance behind me and I saw the nice cell had gone, however it had grown larger and was now a more outflow dominant cell, I could see a hint of a line forming, so far no thunder and nothing impressive to look at, then the rain hit again, this time much heavier and clearly convective so I drove E once more. It took me longer this time to drive out of the precip but when I did and looked in the wing mirrors I was shocked at how much the cell had matured, it was now a massive line with a growing shelf cloud/gust front and the clouds were getting very dark and heavy, this was looking photogenic, I needed images fast.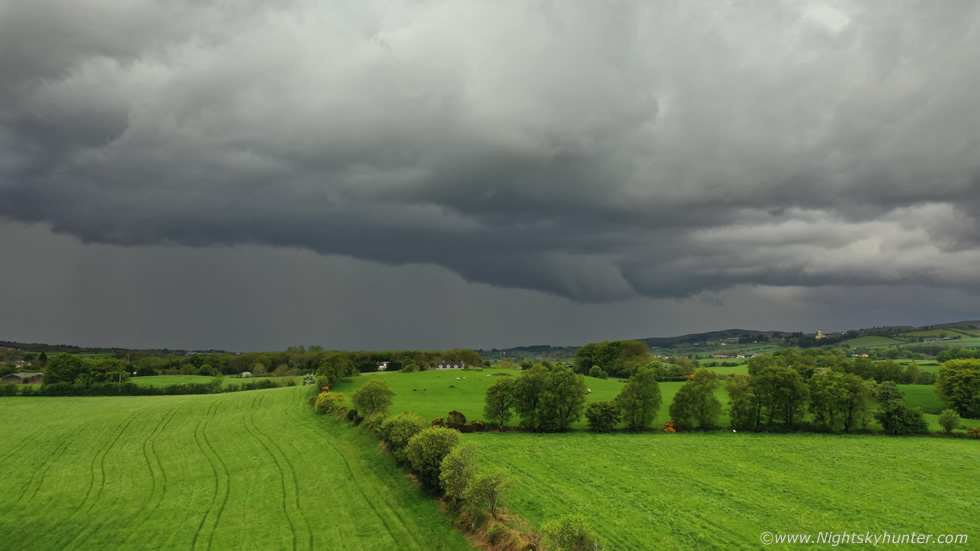 I chased E again and made well sure I was out of any precip into the dry air then pulled over at the lay by in Kildress, the view behind me was very impressive, I knew this was a big storm. I took advantage of the dry air to get the Mavic 2 Pro in the air, what follows are my favourite storm structure scenes of the day. The multicell line covered the entire skyline behind me so I had to pan the drone around to shoot various sections of the storm which was now rumbling away.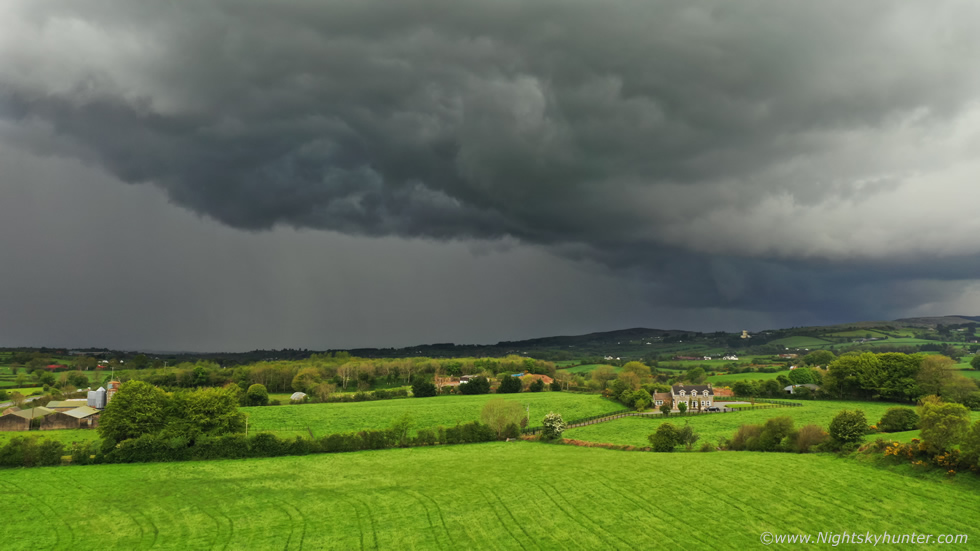 My phone was going crazy, I was getting updates on radar and sferics and ground reports from my mates who were filling me in with the latest which was very decent of them, at one point I had to stop answering the phone, not only because I was flying but because I was in the zone, this storm was looking fantastic and I knew I had limited time to get images before it was on me. Nice gust front structure, by now the storm was lit up like mad with lightning, it was causing flooding and many were getting close range c-gs. Visually and on radar, this was the largest thunderstorm to affect the Sperrins in years, locals and drivers passing this area all remarked on how menacing the storm clouds looked.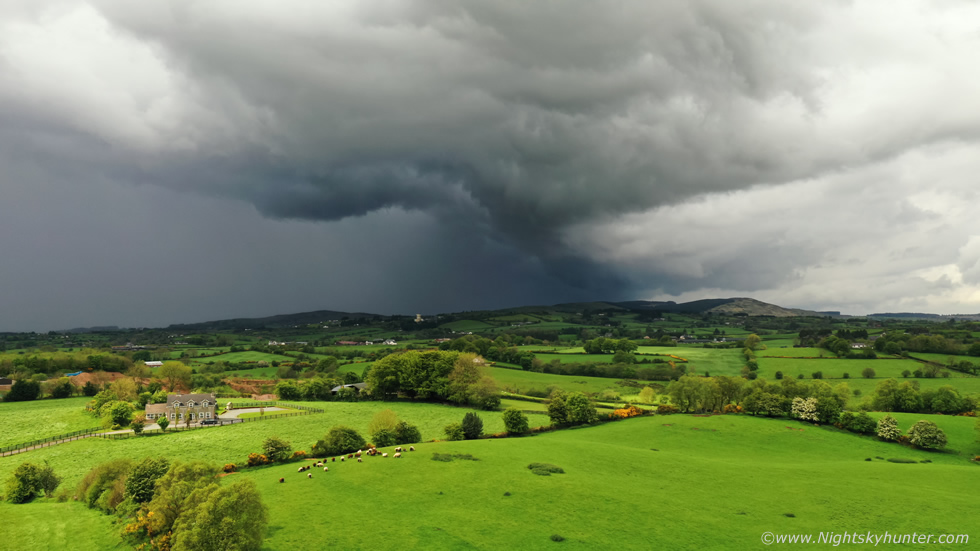 This was my favourite image, nature did all the work here, the mean storm clouds contrasted perfectly with the lush sunlit fields in this area, I love the country farm house surrounded by vibrant green fields with the big storm looming close by, I wonder if the owners of the house have seen this image. At this moment in time the storm had knocked out the power in Dungiven and was causing flash flooding, on radar it extended all the way across N. Ireland in a N-S line, even below the border, and was packed with red and white cores with very active sferics. I was loving this moment, this is the type of experience I live for and yearn to experience every Summer, a beautiful thunderstorm over the countryside in warm t-shirt weather, for me this is Heaven. I had a nice drone flight skimming across the fields towards the storm, it was a thrilling experience.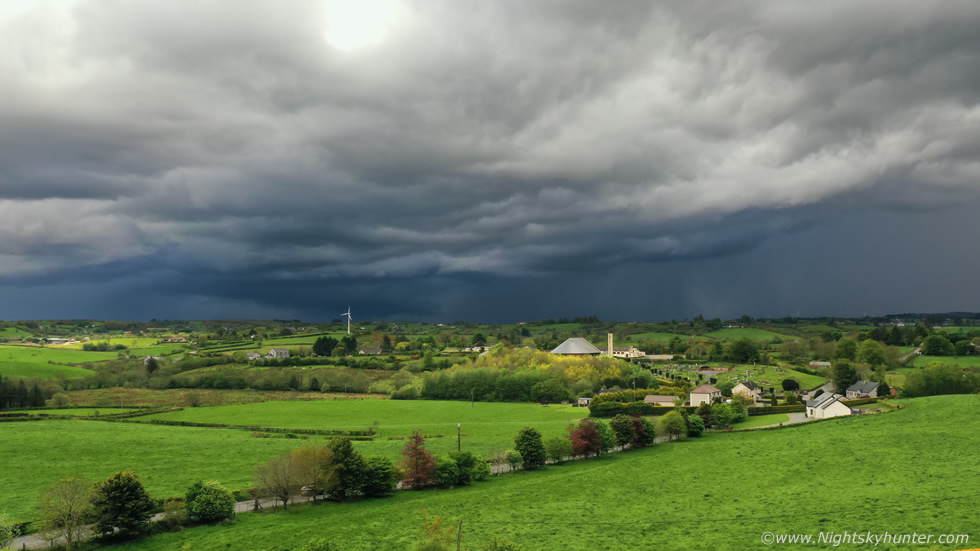 Panning the drone to show the S section of this huge line. I could see a big lowering under that area and vivid hail streaks falling through the precip wall.
I had to shoot a few more images of this scene when I had the chance, I've been flying drones for 5 and 1/2 years now and I've come to the conclusion that they are superb tools for storm photography, especially the dramatic wide angle scenes, the big 1 inch sensor on this drone has remarkable dynamic range and sharpness and the auto exposure is bang on every time. More importantly is the ability to get free from obstructions to get the image I need. There's nothing worse than seeing great storm clouds then trying to get scenic images with the DSLR when there are trees, houses, power cables and poles in the way causing a cluttered image. With a drone you can fly straight above all of those and capture the moment, they really show their prowess during times like this.

180 degree drone pano covering a massive extent of the sky, the high res version is extremely cool. The storm was actually very close here so after taking the pano I landed the drone and packed it away. I could feel the outflow from the storm blowing across the land stirring the long grass in the fields, it felt like Summer.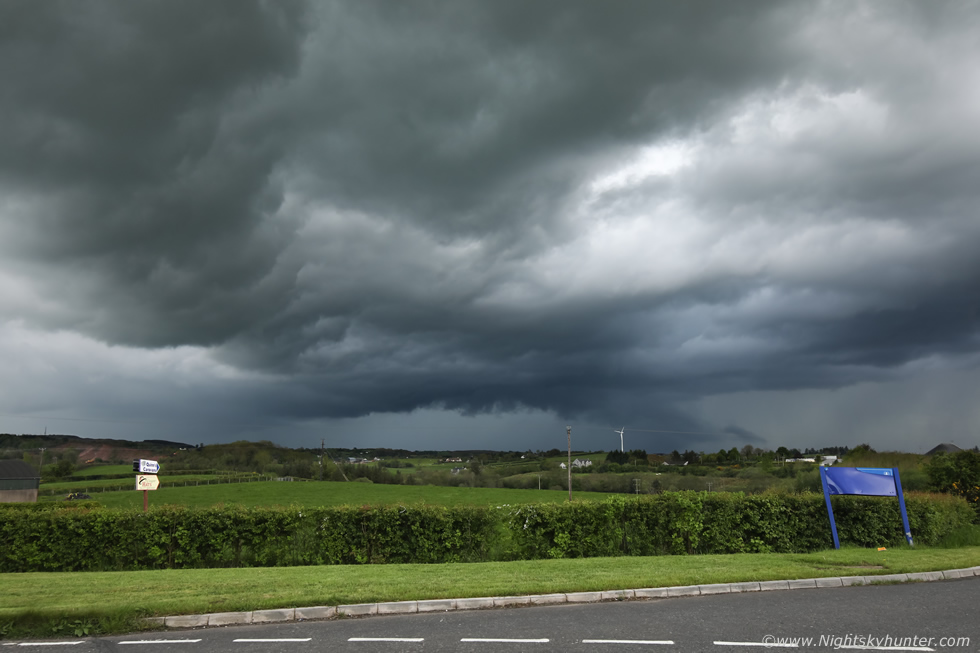 Turning 100 degrees to my left to capture the S end of the line which was no becoming the dominant storm in the multicell cluster, in these set-ups one or more cells can co-exist together at different stages of the storm life cycle, some cells might be mature, others decaying, and yet others intensifying within the line at any given time, this why you will see the precip cores constantly evolving with intensity shifting from one end to the other. This was 15mm on full frame, I was really liking the structure, again captured from Kildress, that lowering of cloud is not outflow, for a period of time it was lifting up unto the base as inflow as the storm fed off the low level moisture. What impressed me most was that the storm's precip core had a very obvious and beautiful aqua marine-green hue, I've only seen this once before back on a huge shelf cloud at Ballyronna in 2009 and never seen it to this level since, until now. Others on social media also reported this green tinge, however it doesn't translate as well on camera as it did with the eye. The green cores are often seen in storms in the USA, it's thought the colour arises from the refraction of sunlight through hail and large water droplets from certain sun elevations.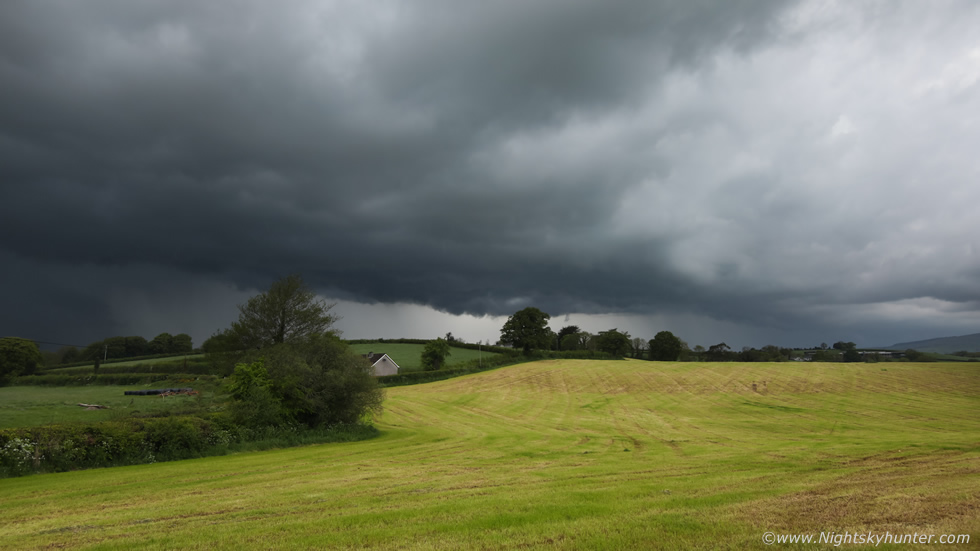 The rain hit me once more and I drove E again towards Cookstown to escape it, I was already happy with the structure shots so anything else now was a bonus. Conor McDonald rang me from Maghera, he was buzzing, he informed me the storm had amazing whale's mouth structure with dramatic swirling motions under the gust front, he was in the dry area to the NE of the storm and suggested I made my way to his area. I liked the sound of Conor's tone, he doesn't get excited by storms easily and he was clearly loving this one so I decided to make my way to Maghera. I stopped outside Cookstown on Lissan road for one more capture, it was already raining on me here from a wall of precip out of frame to the left, I couldn't find a good view due to trees and hills and it was too wet for the drone so I just stepped into this field and shot three rapid fire images, I heard thunder rumbling away.
I took the back road past Lough Fea and ended up within the core, torrential rainfall, difficult to see at times, and the rain hammering on the van roof was so loud I couldn't hear the voice of anyone who rang me, among all this audio madness were booms from thunder. Pink c-g lightning struck the countryside, at times I could see awesome structure, the whale's mouth under the enormous gust front was remarkable with tight solid structure, my view of course was blocked by hills and trees and it was still pouring on me, then my Go Pro had an SD card error so I couldn't get any video of this action so I just kept driving hoping I could emerge from the core and get another look at the cloud structure soon. Nigel rang, he was in his element, he had chased E to Coleraine and beyond to keep outside the core and was reporting amazing lightning, he actually described it as frightened, he ended up filming close range lightning for over an hour. Conor rang again, he had moved to Tobermore and I wasn't far away so we arranged to meet there, he was still chasing the storm and making his play close to the core to get close lightning.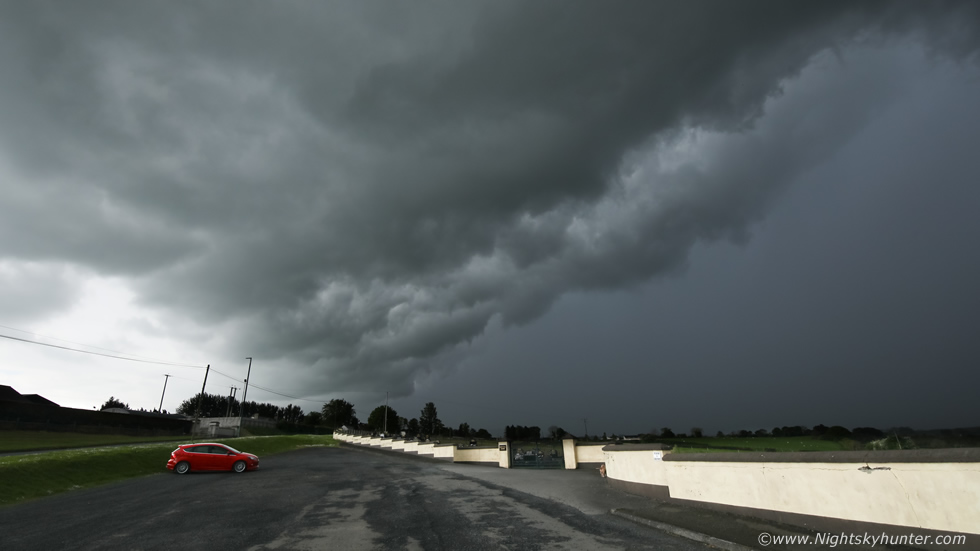 I met Conor at the church car park in Tobermore, we where just outside the extremely close range core and knew we only had min's before it was on us again so there wasn't much time for images or looking for foreground. Core rumbling over the grave yard, Conor was shooting stills and had his drone in the air, then the precip hit and we moved on, I followed Conor to our next position.
We arrived on Glenshane Pass and took a narrow back road and pulled over for images. I reckon this is probably the best whale's mouth I've ever seen, it's difficult to describe, the undulating textures and the turmoil of the swirling motion overhead was just amazing. 15mm wide angle on full frame, there was even a hint of blue tones within the core.
Portrait image, I never thought at the time but I should have took a bunch of these for a pano to show how massive this was. We couldn't stay long as we where literally parked outside someone's house and I could sense eyes on us, so we turned and chased a little further E to get away from the core once more, the storm was moving S to N but also edging E at the same time.
We passed Maghera then pulled over outside Gulladuff for our last look at this mighty storm, by now it was obviously on a downward trend and was outflow dominant however it was still producing random thunder. Conor and I both got our drones in the air for images, this was the tail-end-charlie cell with Slieve Gallion under the core.
The other side looked mean and after one more rumble it died as cold air and declining instability took its tole, it had been producing lightning from 14.00 to after 18.00 LT. For the first time all day I was able to relax and finally get a drink of water and eat a snack as the previous couple of hours had been hectic and intense, it was nice to be able to watch the storm in the evening sunshine and chat about the chase with Conor, it was a nice moment.
At 18.30 I saw more cells to the SW, they were less sheared however their updraughts were still decent so I decided to make my way back to Cookstown and intercept them at some point. Outside Moneymore I pulled off the road and watched another thunderstorm. It didn't have much structure, or at least if it did it was hidden by cloud and it looked high based, however it was angry, it produced quite a few rumbles over Slieve Gallion, I watched it for half an hour then headed back home.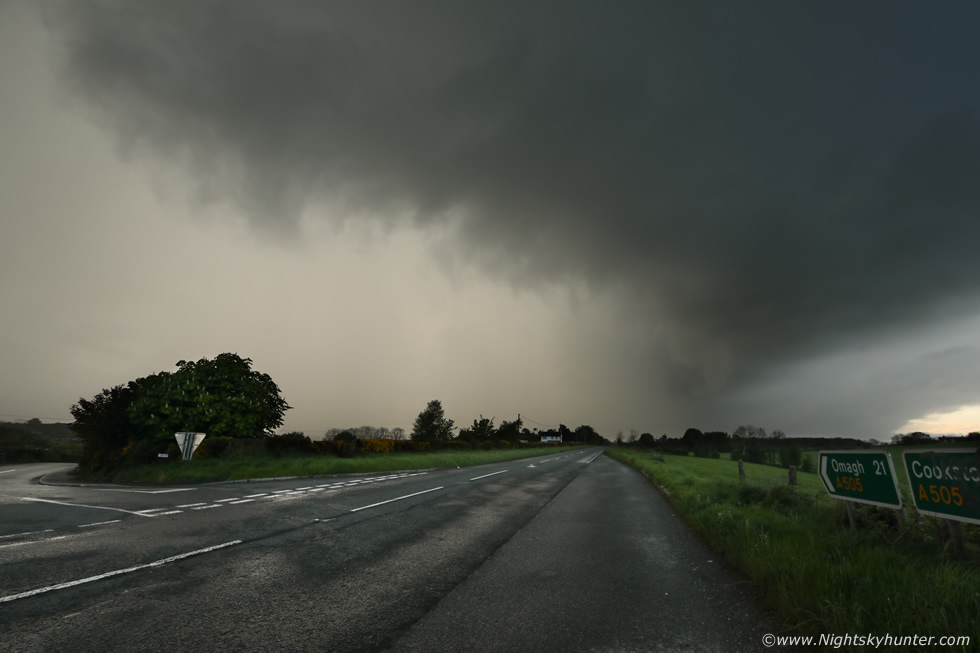 I enjoyed a nice dinner and was intending on winding down for the day when I checked radar and saw another cell with a red core moving along the Cookstown-Omagh road again, it was 20.00 LT so I was shocked there was a storm still active so late so I went back out for another chase. I was back at Kildress again and saw a mean dark sky approaching, when it cleared the hills I could see it was a gust front, I only got a few images before the rain hit and when it did it was a complete deluge. I could hear no thunder so I drove W to get to the back end of it hoping for structure, I ended up at Beaghmore Stone Circles where Rhua and I walked around the ancient stones and watched the sun set, it was a pleasant end to a great day's chasing.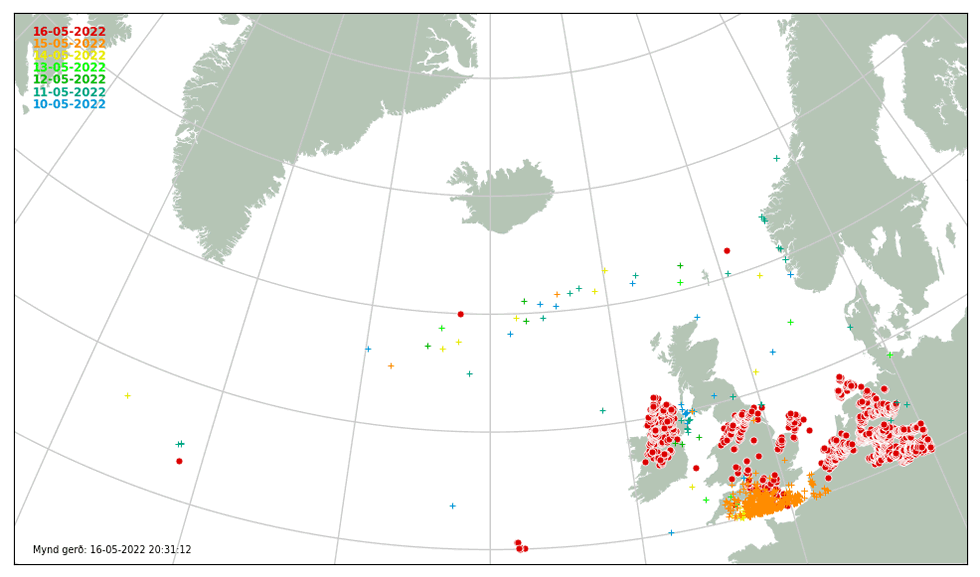 C-g lightning plots from ATD sferics showing the activity from the Sperrins storm and several other storms too, keep in mind these are just cloud to ground strikes, they don't show the in-cloud bolts so you could double or triple this number. This turned out to be the best and biggest thunderstorm across the Sperrins and Mid-Ulster region in years, the parameters were great and all the ingredients came together to produce a memorable day. If nothing else happens in May then I already consider this month a success. I'm now eager to see what June, July and August will produce.
---
The following isn't storm related however it's something I wanted to include in this report as part of my fond memories of May. Roisin and I drove to Monaghan to meet famous Astronomers David Asher and Miruna Popescu, both had worked at Armagh Observatory in N. Ireland. Miruna is a solar physicist and David is a world expert on meteor streams and the orbits of asteroids and comets. Why was this meeting extra special for us? many years ago, thanks to the work of John C. McConnell and David Asher, an asteroid was named after me, or to be more specific one of David's asteroid discovery's was named in my honor, mainly due to my dedication to visual comet hunting and astronomical observation, the asteroid is called 42531 McKenna. I also met Miruna during one of her excellent talks at the EAAS (now NIAAS), I'd seldom seen them in person since, I also wanted Roisin to meet them both, and this day was when the universe conspired to make that happen.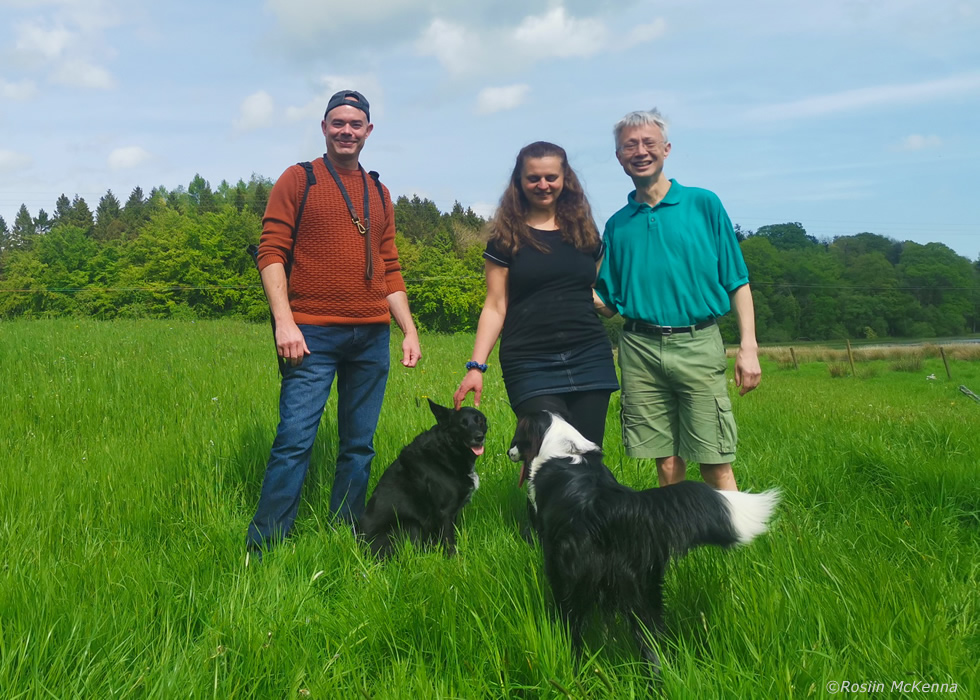 Roisin and I had a great walk through a forest park with all of our dogs, we had a great catch up and it wasn't long before astronomical subjects were discussed. Miruna talked about the 11 year solar cycle, the 22 year magnetic cycle, solar flares and CMEs. David and I chatted about great comets, the NEO threat, the Tunguska event, the Taurid meteoroid complex and its threat to Earth, fireballs, gravitational resonance and long period comets, NEOWISE and of course the orbit and future of 42531 McKenna. It was surreal walking through the forest on a warm Sunday afternoon with people walking past us as we discussed these fascinating fields. Thanks to Roisin for taking these images.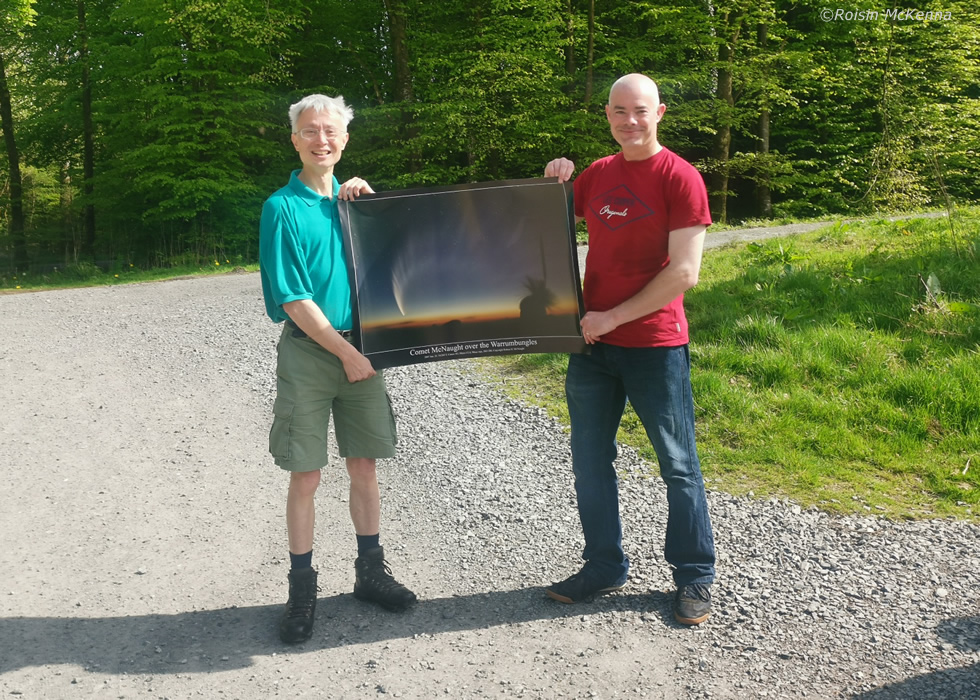 David presented me with a stunning A1 poster of great comet McNaught taken by the comet's discoverer Rob McNaught himself, I also asked David and Miruna to sign the print too which they kindly did, I look forward to getting it framed and on the wall, this poster now has tremendous sentimental value to me. Thanks to David, Miruna, John C Mc Connell and my supportive Wife Roisin for such a great memory and for re-visiting a time in my life that I was very proud of, and I still am, to this very day.
Vlog and chase video of the May 16th storm, the highlight for me was the drone footage of the gust front over the sunlit fields near Kildress. The storm and NLC season is currently under way and I look forward to seeing what wonders nature has to offer during the months ahead. Thanks very much for reading.
Martin McKenna