Beautiful Snowfall - Sperrin Mountains, Dungiven - Jan 22nd 2013
Day five of the current severe Winter weather outbreak across N. Ireland and on my second drive up Glenshane Pass of the day entering a world of wild Winter beauty. For five days I had been driving through snow on the Sperrin Mountains navigating over snow and ice and spending entire days in search of photo opportunities and documenting this sudden severe event. It had been snowing constantly the previous day and during the early hours of the 22nd temps were expected to drop to - 10 and -11 degrees C under clearing skies however it stayed cloudy over N. Ireland yet again so I prepared for another day of low light snow photography under very trying conditions. This was expected to be the most severe day of the current cold spell with yet more warnings for snow and ice and I had seen plenty of both on my previous 12 trips up Glenshane Pass. On this particular day I had no specific idea what I was looking for so I drove up the mountain scanning roads, trees, and hills for something different and I got rewarded almost immediately by the most insane display of massive icicles I had ever seen in my life however that was earlier in the day and you can read all about it on that specific image report. I went back home to lower ground, warmed up with tea and food then went back up the mountain again during the afternoon, this time my destination was the rear of the majestic Sperrin Mountains in Dungiven where I had observed a blizzard and ice storm back on day one, I was hoping for something special so those mountains became the focus point of my day.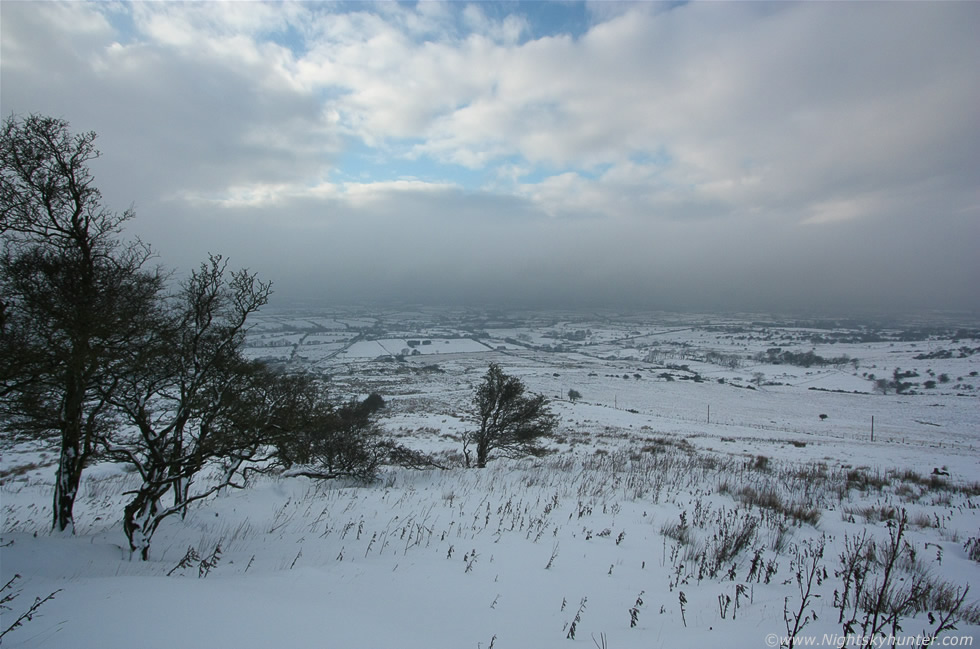 When I arrived the narrow country road which would lead me to the mountain was impassable due to the snow and once my front wheels began spinning I parked at the road side at the bottom with just enough space to avoid getting stuck in the deeper snow near the ditch with just enough room for a passing tractor. The view was impressive even under the dark grey overcast sky and the peaks beyond looked intimidating to say the least. However I was committed to a tough adventure and I was under no illusion it would be very hard work and taxing on my legs and lungs however it would be a good excuse to get some fresh air and exercise and perhaps present me with a photo opportunity. Roisin and I had walked up this mountain several times during the Summer in hot sunshine and back then I had said that I wanted to climb this mountain when we get a proper snowfall as I was certain the view would be amazing so that had been on my mind the entire time and was one of the goals I had wanted to tick off my list and with the current cold spell reaching its climax I knew this would be the perfect moment.
I was kitted out in numerous layers of clothing and was ready for my 'Arctic expedition' including water supplies and my camera bag with all my lenses and cleaning gear so I was ready for anything. The climb was up a constant steep gradient with dramatic bends which twisted and turned as I climbed in elevation, I stopped many times for images as there was plenty to see such as trees with snow shaped like something from a fairy tale and grazing herds of Sheep and Rabbits, I was on the look out for a Fox however the Sheep seemed to dominate the hills here. The environment was absolutely still with the only sound being my foot steps crunching through the thick snow and it became apparent that I had been the only one here as I was walking in virgin snow as there wasn't a single track anywhere, I don't know if that made me feel better or not, either previous prints had been covered with another layer of snow or no one else was mad enough to go up here, I decided it was a good thing because I felt like the entire mountain was mine to explore and I was loving every minute of it. I stopped 3/4 of the way to the top sweating and panting so I took a break to take in the view and get hydrated. I sensed a change was happening so I got the camera out and ready, the above is a 10mm wide image looking down from the mountain across the lower slopes,the mid level cloud began to break, pockets of blue sky opened, and feeble sunlight began to reveal itself.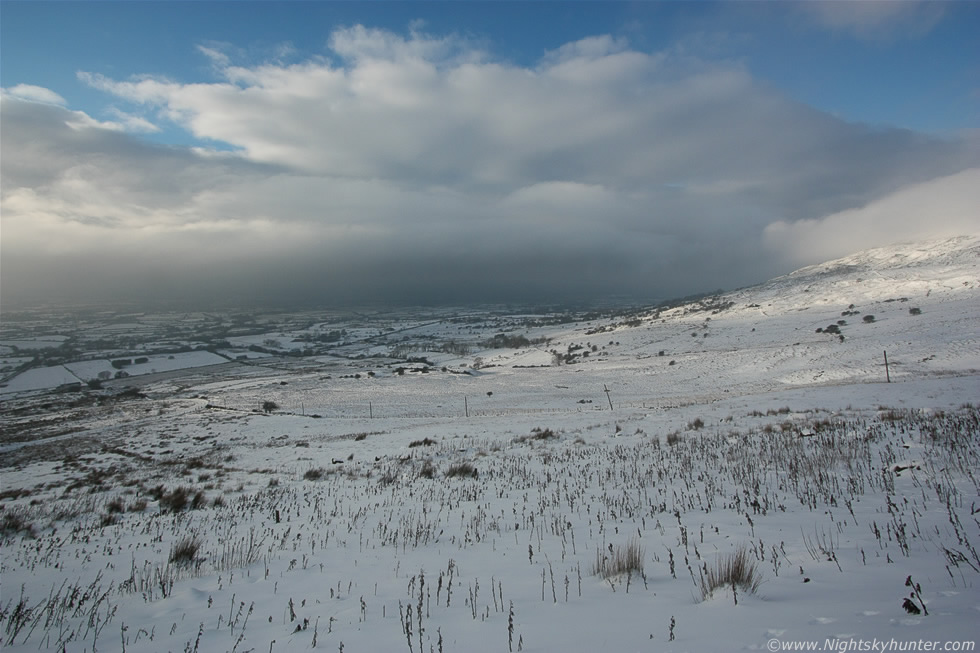 The clearing sky revealed this menacing dark formation of cloud advancing towards the mountain from L to R, it was a convective snow shower which had been moving in from the E and it looked great towering over the skyline.
The sun came out in all it's glory and transformed the landscape into a scene of great beauty which thrilled me, the long arduous hike had finally paid off, it felt like the sky was showing off to reward me for my effort, had I been on lower ground it wouldn't have been the same, this substantial elevation in crisp clean air is what made all the difference and the timing of the sun's appearance couldn't have been better. It was a fantastic naturally contrasty scene with dark clouds producing snow flurries, brilliant sunlit deep snow, pure blue sky aloft which had obvious aquamarine tones, and an intense white fog bank blowing over the Summit of the mountain. This scene alone made my day and I can tell you it felt great for the soul. The mountain at image centre is Benbradagh on the far north side of the Sperrins.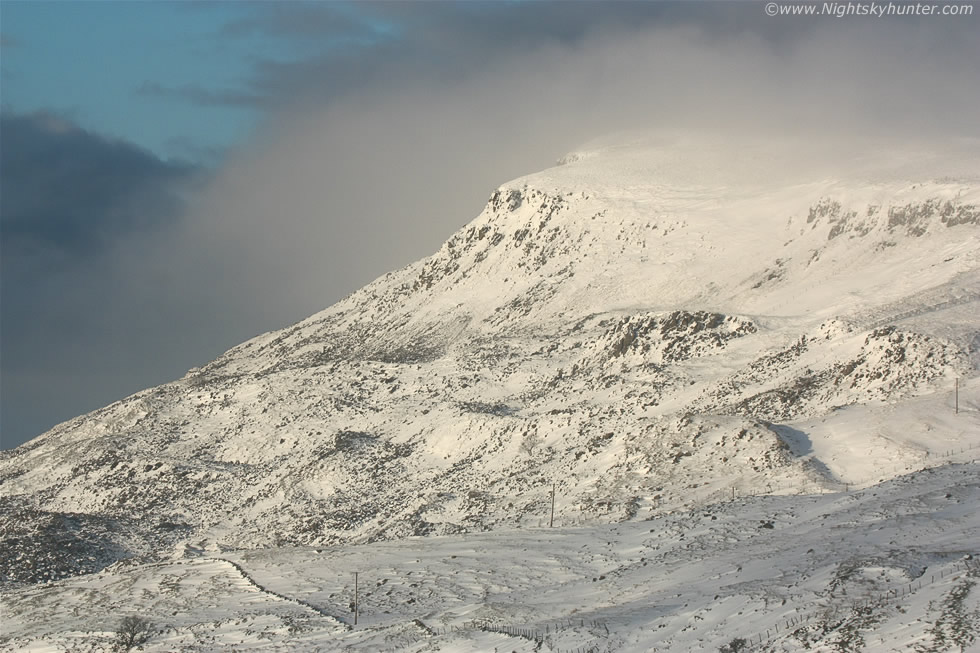 400mm telephoto capture of the summit of Benbradagh with full sunshine lighting the peak like lights from heaven itself, talk about perfect light, nature truly can be amazing when you are at the rite place at the rite time. I spent five days in this area under clouds and snow showers until this opportunity came. Note the freezing fog blowing across the crown of the summit, you can make out a partial fog bow within it, the curved red band marks the outer edge of the bow.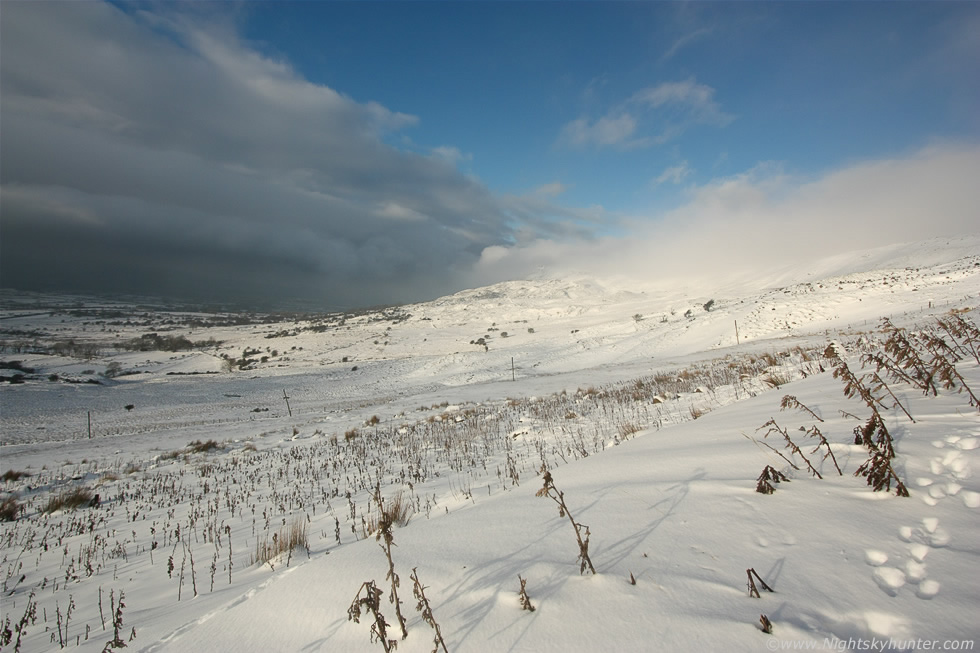 Back to another shot of this amazing view. I should make it clear to readers who know very little about camera lenses that this was taken with a 10mm lens, that means this is an extreme ultra wide angle capture taking in 107 degrees (214 moon diameters) of sky which is huge, as a result distant objects get pushed further away and look smaller however that's a small price to pay to be able to fit in the entire landscape, mountain, sky and clouds all at the same time. The mountain was much larger with the naked eye and the slope of snow in the foreground was very steep, my camera was sticking through a square aperture within a wire fence at the side of the mountain, those brown grass stalks close to the bottom mark the top of the mountain beside the fence and the region beyond that sloped down in a very steep gradient, if I had slipped it would have been a long drop down the mountain.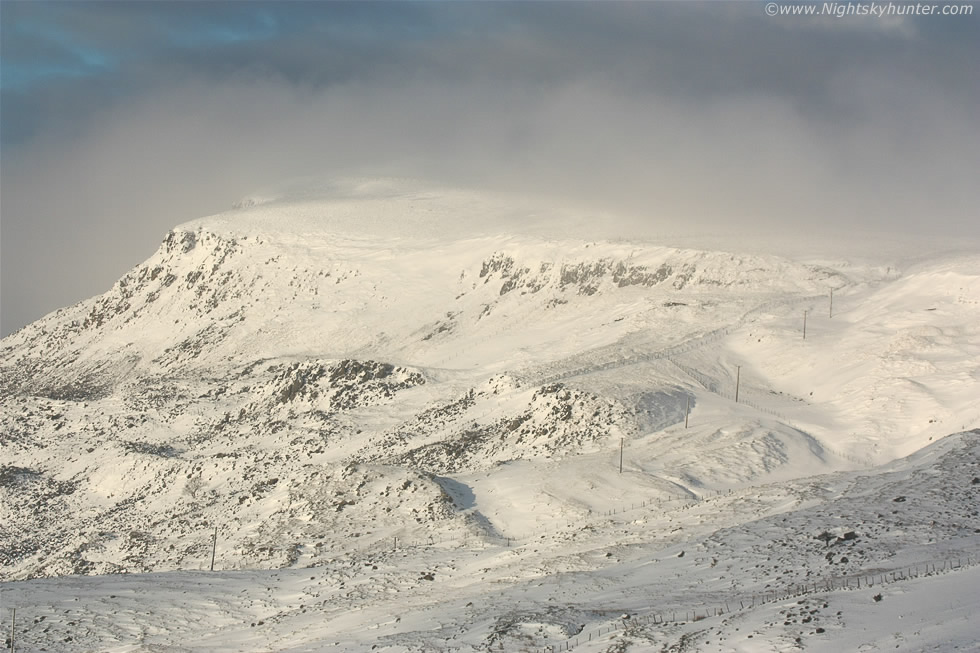 The Canon 100-400mm was back on, during this shoot I was constantly changing lenses to accommodate various aspects of the scene, I was alternating between the 100-400, 18-55 and 10-22 over and over and my hands were freezing, especially with the 100-400 which is a heavy lens made of strong metal, it chills your hands to the core even with gloves on. This looked like a ski slope from another country, the mountain looked exceptional in all it's snowy glory, deep snow is evident down the slopes and blowing snow and fog over the peak looked amazing when kissed by the sun.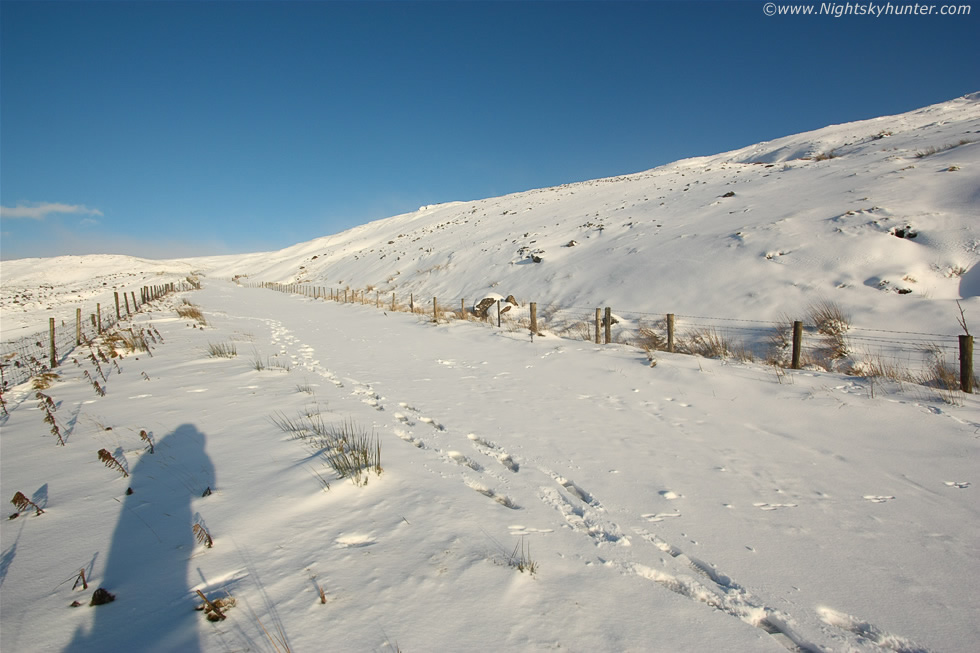 At this point I was utterly blown away. Images and video do not convey the intense beauty and emotional impact from being on a mountain covered in snow lit by bright sunshine with a sharply contrasting blue sky surrounding you, it was difficult to believe this was N. Ireland, it looked more like the Alps!. The above image was facing up the mountain road to my half right from where the first images where taken. You can see my long shadow pointing in the anti-solar direction, those are my foot prints in the snow, they lead up to the spot near that fence where I took those wide angle images from.
Benbradagh translated from Irish means 'The Treacherous Peak' and his 465 m (1525 ft) high. This region of the Sperrins is considered to be an area of outstanding natural beauty.
I was sweating under all my layers of clothes, my breath freezing into a cloud of white crystals when I breathed out, my ankles and calf muscles were aching and I was bitterly cold, however when looking at this Winter wonderland all those complaints faded to nothing when taking in such an awesome spectacle. Thank goodness I had this 10mm lens for optics like it were born for scenes like this.
Benbradagh is without question the most beautiful mountain along the Sperrins, I was half expecting to see snow boarders and skiers questing down those vast snow slopes.
These were among the finest Winter landscape scenes I have ever experienced in N. Ireland so far. This was to my R zoomed in at 400mm at the very top of the mountain ridge where great detail in the rocks and snow fields can be seen. Huge snow drifts smoothed into wonderful sculptures by the strong winds on the ridge can be seen, they are a considerable distance away, this was a 400mm lens on a 1.6x crop sensor DSLR which would be similar to a 640mm lens, at that scale those drifts could easily be anywhere between 6 and 10ft high. The blue sky behind was an experience I shall never forget. The foot prints from Sheep can be seen descending the mountain.
The view straight ahead of me, I was on my way back when I turned around and snapped this one for the memory, again those are my tracks, you can see what I mean with that steep drop down the mountain by the fence on the L where I was earlier.
Last image of the session to end what I can only describe as an epic experience for soon after this the clouds rolled in and the light was gone for good and it began snowing again so I had this exceptional clear window for perhaps 20 min's to take in the Winter majesty. It was near sunset and the mountain was getting eerie and dark so I began my descent feeling a very happy man. When I got back in the car a break opened once more above the peak to reveal a dark blue sky and pearly white gibbous moon which seemed like nature's way of saying farewell until the next time.
Here's a short video clip of the moment which I hope does the scene some justice, if anything it shows just how deep blue the sky was, no polarizer was needed, this was nature's filter and it was so impressive that I have been reliving these scenes over and over in my mind when I go to sleep at night! Thanks very much for reading.
Martin McKenna