Early Winter, Snow BBQ, Sunset & Snow Deer - Dec 27th & 29th 2014
Finally after a long wait of model watching we got our first taste of Winter weather before 2014 came to an end. I was hoping for a white Christmas however we got the next best thing in the form of a multi-day snow shower set-up over the Christmas holidays. The set-up was never severe as far as snowfall amounts go and those living at sea level would most certainly not have a chance of laying snow however for those who live on the hills and mountains of the north and west it looked like they were going to get their first real taste of Winter. December 27th produced for us and I have to admit to being rather surprised at the standard of snowfall given the set-up, there where scattered showers overnight and due to cloud cover and other activities over the festive period I had no idea if there was anything decent had fallen. That all changed during daylight hours when Roisin and I where driving down the hill towards Cookstown main street when I happened to glance in the wing mirror and glimpsed a Winter wonderland behind us. The entire Sperrin mountains were covered in a beautiful pure white blanket of snow, the scene was breathtaking after what seemed like such a long wait to get a decent snow fall event, the mountain almost seemed to be showing off its new make-over and was begging for attention, it wouldn't have long to wait.
We pulled off the main street and just as the van came a stop heavy snow began to fall over Cookstown street, big joyous flakes danced through the air, I knew the forecast was for a harsh frost after dark so that snow on the mountain wasn't going anywhere, I felt that all too familiar magnetic pull from mother nature and already knew the moment I saw those white mountains that we would be up in the snow within a matter of hours. Text messages and phone calls were rapidly exchanged and responses swiftly arrived, Paul Martin and Conor were already up for snow photography and an adventure so we had arranged to meet that night, all four of us would head up into the mountains together. This wasn't just a photo shoot, it would be a night to remember, this was going to be fun so Roisin and I pushed the boat out a little further and decided we were going to have a BBQ in the snow!. This was something we have always wanted to do over the Winter period, in fact, we had talked at length about how we were going to do an all-night Geminid meteor watch with a BBQ going and music playing, however for various reasons that night never came to pass so this was our chance to make good on our word, only this time it would be more special for we would be having a BBQ in the snow, we couldn't wait and I felt as giddy as a child at the thought if it.
Luck was on our side, Dad had several portable BBQs in the garage which were still wrapped in cellophane and hence protected from the damp, we grabbed two of those, some charcoal, lighter fluid, Roisin sorted out the plates and cutlery then we gave the butchers a visit in Cookstown street and grabbed half a dozen top of the range beef burgers and sausages with baps. We got everything organised, drove swiftly back to Maghera as the sun set behind the hills, I glanced out the window while driving back north and noticed that the most significant snow accumulation was on the back end of the Sperrins, and more specifically Slieve Gallion which seemed to glow in the dusk landscape. In Maghera Roisin and I had just enough time to make two flasks of tea, a frying pan, gas stove then changed into warm clothes. Paul Martin had just arrived from Omagh so while we waited on Conor to get ready we took a drive up Glenshane Pass for a little photography, we parked in the lay by and took test images with my new Tokina 11-16mm F/2.8 lens which I just got as a Christmas present, however much to my surprise the lens was defective, the lens simply would not focus to infinity and even when using live view at 10x the stars would still not focus to fine points of light, I was disappointed by this however I would not let it ruin my night, I would return the lens but for tonight I would resort back to my old faithful Canon 10-22mm F/3.5 lens. After some preliminary photography in the snow Conor rang so I went back to Maghera to collect him then returned to the lay by on Glenshane Pass to reunite with Paul, much to my greatest respect and amusement Paul was actually standing within an icy river taking exposures, I loved his dedication!
We brain-stormed, where would we go for the BBQ?, we all agreed that we were starving and couldn't wait to get it lit however the BBQ needed to be at a location where we could spend hours doing photography while the meat cooked. There was only a dusting of snow on Glenshane so we needed to get to the deepest snow we could find and soon, our minds homed in on Slieve Gallion, that was the place to be, however would we make it up the mountain?, it was a treacherous road at the best of times however with ice and snow it could be very dangerous and we might not even make it, however we liked a challenge and our stomachs were rumbling so we decided that Slieve Gallion was were we would be cooking. We where just about to leave when Roisin did a final check of the supplies and realised that the BBQ meat wasn't there, I was responsible for bringing it, I had everything else in the van except the meat itself, I laughed nervously about the incident however no one was in a joking mood with cold and hunger brewing up inside us all, I couldn't believe I had forgot the most important aspect of the night, I could only think of one positive thing to say and that was better to find out now than when we are on the mountain itself. 15 min's later we where in Maghera then our two vehicles drove south one behind the other into the night.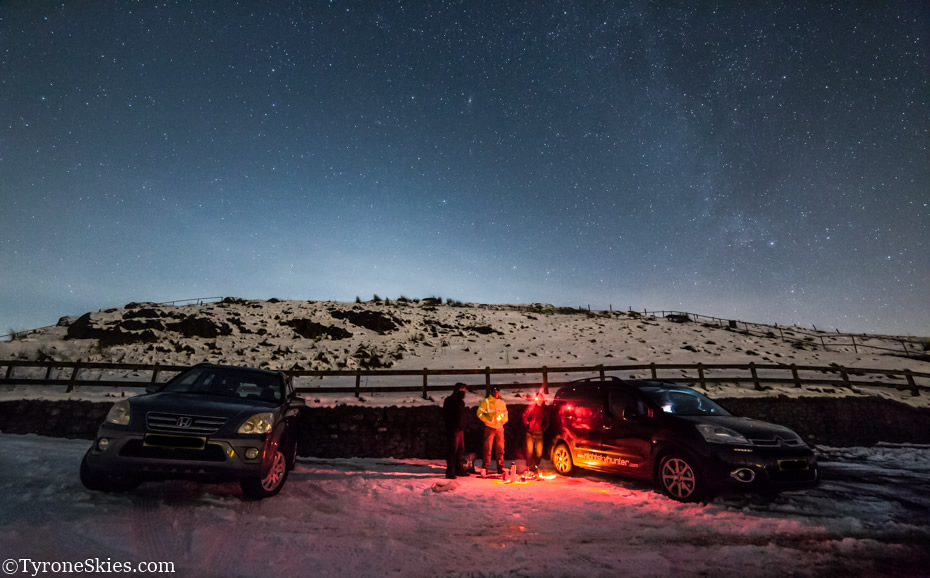 Roisin, Conor and I where in the Berlingo and Paul was in his new 4x4, we took the road to Desertmartin and began our drive through back roads which were sparkling like diamonds with a severe frost and unseen areas of black ice, several times I felt the wheels spin and as we began our gradual climb I began to get concerned that not only would we not make it to the mountain car park but we could both end up sliding off the road in a serious accident. The road was absolutely atrocious as we climbed up the base of Slieve Gallion, the mountain roads began to narrow and twist, we crossed frost-coated cattle grids, patches of snow and ice then encountered very challenging conditions, roads with a steep incline which bent sharply uphill with ice and snow, on one side of the mountain road was a ditch where our vehicles could get stuck for the night, on the other side was a steep drop down the mountain. It's beyond me how we managed to make it up this crazy road in these conditions, no one else would have been mad enough, we got the speed up, chose the correct gear and kept the momentum going with a confident attitude, no sudden steering motions or breaking, then amazingly we made it to the picnic area in a layer of snow, I think we all let out a sigh of relief and began to breath again, the things we do sometimes for photography. We got both BBQs lit on the snow and used the van and 4x4 for shelter, however this was when the adventure really began, the BBQs lit then faded out so then began a battle to keep them lit, if they died out then we would be starving on the mountain and that simply wasn't going to happen. We kept each others spirits up and got plenty of lighter fuel and charcoal on the trays and after a lot of coaxing the BBQs lit to utter perfection. Here's a nice memory image which Paul took showing us with the BBQ flames with the Milky Way and M31 visible over the snow covered mountain.
The mountain was a nasty place, freezing cold with a bitter wind which we could not seek shelter from, it was constant exposure to cold and wind however the glow of the BBQ warmed our hearts and souls and the chat was good. There were a lot of laughs and jokes and outright hysterical laughter as we watched the charcoals glow red on a bed of mountain snow, once they turned grey the meat was placed on the grill and the cooking commenced, life didn't get any better than this. As the meat sizzled Paul took out this binos and the three of us took turns hunting down comet C/2014 Q2 Lovejoy which on this particular night was low in the south within Lepus the celestial 'Hare' and sure enough within 30 sec's or so we found it between strips of cloud as a large fuzzy green circular haze with a hint of green, this was our first sighting of the comet. As the smell of the meat reached our noses we quickly got the tripods set up and took several exposures of the comet with the 50mm F/1.8 lenses and captured it well over the snowy hills. The moon was at first quarter phase and the stars scintillated slowly in the freezing air. Then the moment of truth arrived - the BBQ was ready - we all devoured the burgers, they were lovely and Roisin even said it was one of the nicest burgers she ever tasted. Brew was poured from the flasks then the sausages were ate then Roisin produced some of her home made vegetable soup which Paul heated it up with his saucepan on the gas stove, the hot soup was then served in mugs in true cup-a-soup style. More tea was consumed and I opened up a box of Thorntons chocolate for desert. Despite the cold we were all smiling and laughing, we had just had a BBQ in the snow up a mountain in severe conditions, not that many people do that in this country for fun, it was now ticked off our list, what a great memory it was!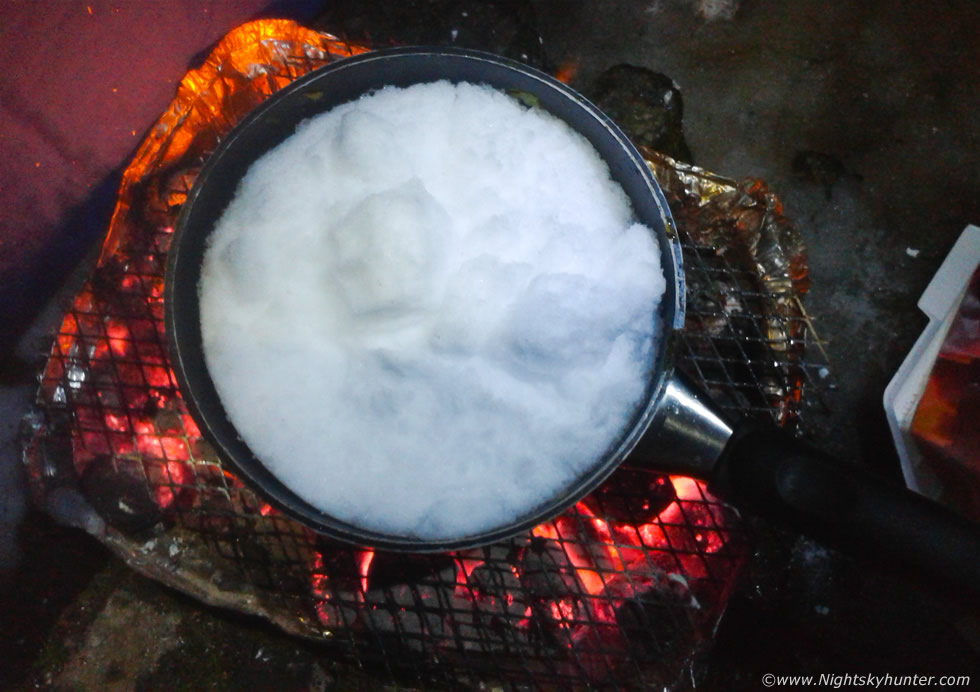 Both my flasks were empty and due to the severe cold we all craved another hot brew, Paul had the stove ready however we had no water left, Conor solved the problem by walking to the side of the mountain and scooping up a saucepan full of fresh snow, now that was a great idea!, so we watched and laughed at the thought of boiling snow to drink, but it worked and was another item ticked off the list, the first time we ever had a 'snow brew'. When the snow melted in the pan it produced a small amount of water compared to its original mass, Conor found a lump of snow the size of a huge boulder and set it on the pan, we all laughed at its huge bulk in comparison to the size of the saucepan, Paul joked that when melted it probably would full four cups lol, I took this image with my mobile phone. We were all in top form with Winter jokes doing the rounds such as ''that BBQ was 'snow' joke'' or ''there is a real 'flurry' of snow jokes going about tonight'' and so on. The charcoals burned hot for a long time afterward while we got to work with photography. Conor and Paul built a snowman on the road complete with arms, eyes, nose, smile and Roisin wrapped her good tartan scarf around the snowman's neck to complete the scene. We captured comet Lovejoy over the snowman and did a short star trail around him too (another first) however I will not post the images on here.
We all began to voice our concerns about the road back down the mountain which was a drive none of us were looking forward too. We got up by divine intervention now we had to re-do it all again only this time downhill along perilous bends over snow and ice, this was going to be a problem, the temperature had dropped significantly since we had first arrived so the conditions would be even worse and judging by those twisting roads there was a chance we could loose a car or even cause injury. We remained positive and decided to tackle it with confidence, we began the descent with both cars well separated in case of an incident, we edged slowly down hill over the ice in first gear letting the engine/clutch do all the work, I hardly used the break at all and the few times I did I just gently tapped it, no sudden breaking, no sudden steering, when I could I let the wheels drive over snow and crunchy snow which aided with traction, it was very slow going which demanded 100% concentration however we made it to the bottom of the mountain safely, now that was an adventure in itself, on the positive side some new Winter driving experience had been gained. Paul went home to Omagh and we headed back to Maghera over glistening untreated roads and were back at the reasonable time of 01.30. What a night of snow, ice, BBQs, burgers and snow brews all under the stars with a comet watching over us - a night to remember.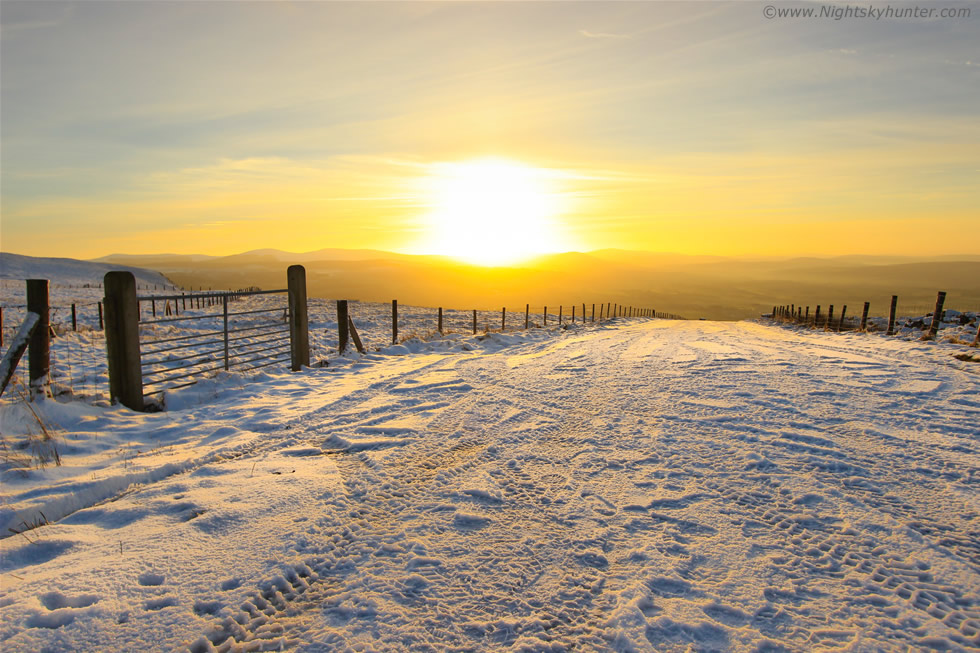 The following day - January 28th - Roisin and I got up early and decided to go for a walk in the snow. While on the road we discussed where the best place would be to hike and Slieve Gallion was the obvious answer however after last night's escapade and dangerous roads we decided to let it pass and head W over the Sperrins to check out our old favourite mountain 'Benbradagh'. As we entered Dungiven I stole a glance out the driver's window and glimpsed the mountain between the trees and traffic, it looked impressive as always however there looked to just be a dusting of snow on the upper half, it didn't look that good and I almost turned around to try somewhere else but decided to stay with Benbradagh to see what it had to offer, besides, Roisin wanted a good walk too so there was nowhere else in the local area as physically demanding than this mountain. We could only drive so far up the road until the van began to spin so we pulled over on a snow bank where there was some grip and left the van facing downhill to save us trouble later when the temperature dropped. We then began our hike up hill, this mountain is very unforgiving, as soon as you start walking you are climbing at a very rapid rate and suddenly you are thrown into the deep end of hard physical exercise before your body even gets a chance to warm up. We had to take regular breaks to center ourselves and catch our second wind, we ascended further over ice and a dusting of snow and at certain points the mountain took our breath away - and I mean that in a physical manner - this was tough going, we had to catch our breath then continue on while our legs and backs ached with the effort.
Then we reached the snow line and in an instant the mountain was an outstanding Winter wonderland, we were astonished because from ground level it looked like a dusting however now we where standing in 4" of pristine snow with 6" near the edge of the trail, this was a beautiful snow fall and it blanketed everything all around us, I was blown away and overjoyed by the view, I was so glad we had made the effort to go up here otherwise we would have missed this sublime visual experience. The view was so spectacular that we forgot all about the physical demands, it was as if we had earned our rite of passage and the mountain granted us access, from here on it got easier thanks to the scenery which elevated our minds above everything else and soon I had the camera out snapping away not knowing where to point first. The sky was clear with a bright Winter sun casting warm yellow and gold hues onto the snow with blue skies so the light was simply spectacular. The snow itself was also covered in an extensive blanket of hoar frost, we could see millions of needle-shaped ice crystals covering everything and each one glinted in the sunlight, we felt like we were walking over a mountain of diamonds. Roisin and I were in our element, we walked a little, stopped, took images and video then continued walking. Eventually we made it to the top of the first mountain and stopped at the gate to catch our breath and take in the view, the above image captures this very moment. The golden-yellow sun was slowly dropping towards the distant Sperrins while blue shadows were cast across the white snow, the atmosphere was still and silent with the exception of the crunching of our boots in the snow. The only other sound was the call of a Buzzard somewhere in the distance then back to silence, standing here on top gave us a fabulous sense of accomplishment - this was heaven.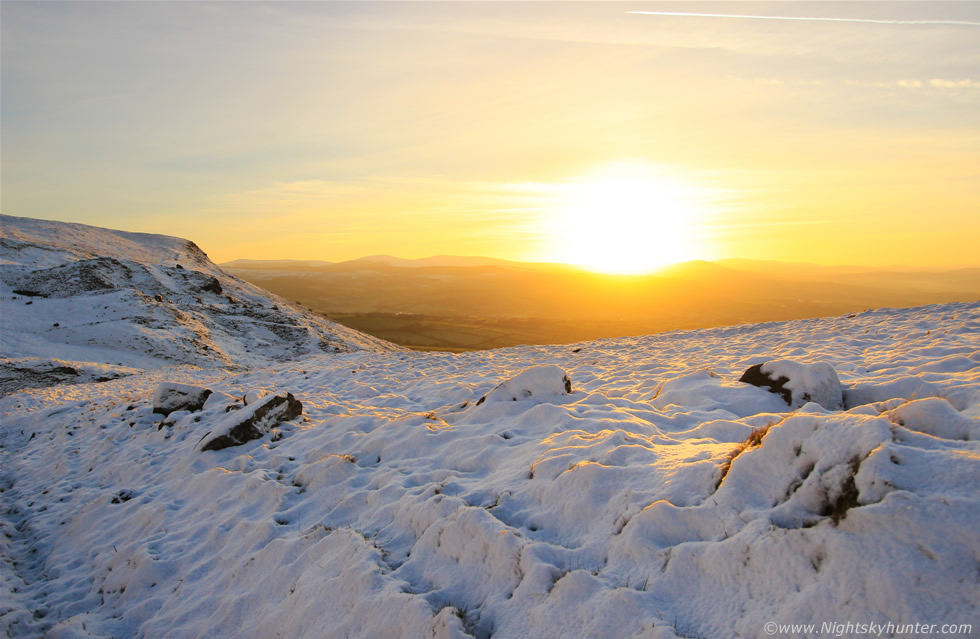 The temperature was dropping fast as the sun lowered and our breath turned into milky clouds so we began our descent back down again. Benbradagh was not done with its beauty yet however, the setting sun was transforming the place into a photographic wonder, the light was utter perfection, I stuck the camera with wide angle lens through the mesh wire of the fence to get this image, it felt like nature was rewarding us for our efforts.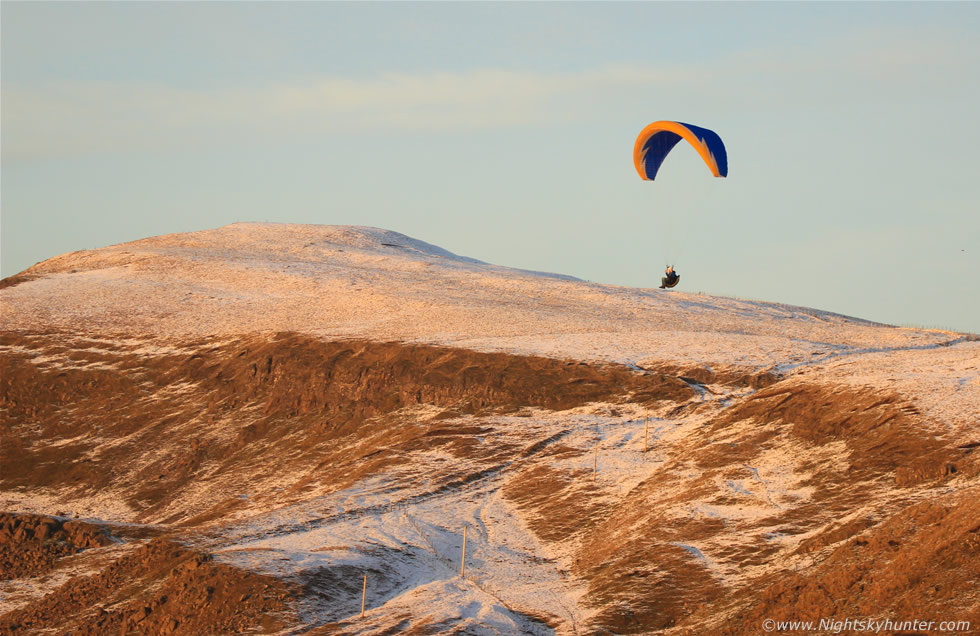 We continued down the mountain and bumped into a group of American tourists who were also hiking up the mountain, then a group of young men carrying what looked like a tent in a ruck sack went over the fence to the edge of the mountain, I thought that's going to be a rough night up there, rather you than me. We walked down more then on an instinct I turned around and looked back up, it wasn't a tent at all, it was a paraglider, the man I saw had just jumped off the snow-covered peak and was flying over the mountain, I had just enough time to attach the Canon 100-400mm lens and snap several images of him with the mountain in the distance with the snow all lit into warm colours by the setting sun. I took video of the paraglider with the 400mm lens and captured him landing at the base of the mountain followed by a yell from his mates above who were no doubt filming the whole thing for youtube, you can see this section on my own video below. Roisin and I made it back to the van exhausted, our muscles ached and we shivered in the freezing air, we drove back to Maghera to get changed and something to eat then began our drive to Cookstown as we where staying over at my Dad's house this night. The drive all the way there was a dangerous experience, the roads were covered in a severe frost with black ice and freezing fog and the van temp was reading -5 degrees C at only 20.30 UT in the evening, this was going to be the most severe night of Winter!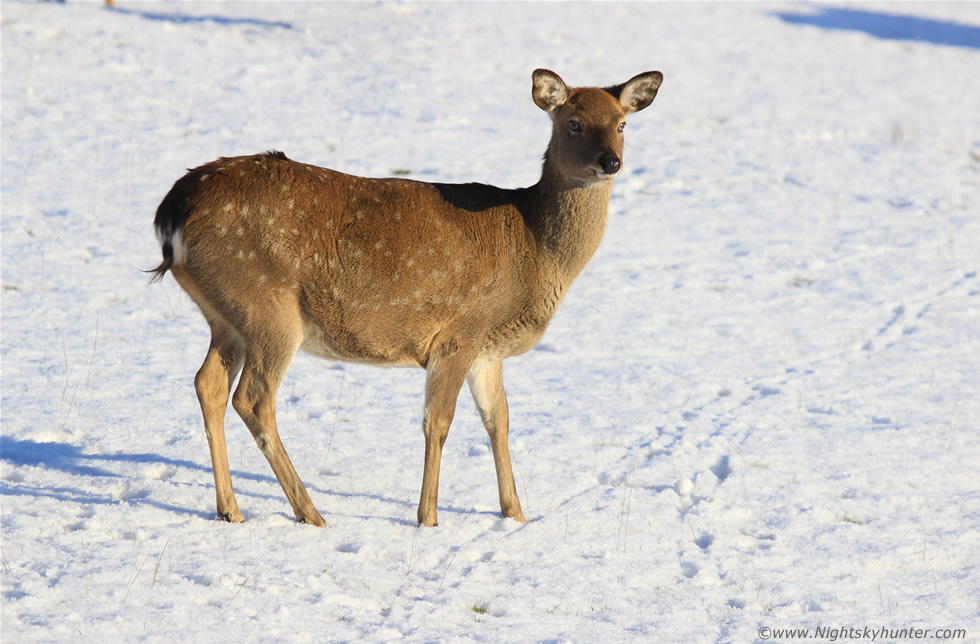 I hardly slept all night in Cookstown at the thought of the photo opportunities which awaited us the next morning. Dad had already agreed with Roisin and I that we would go out the following day for a hike in the snow and make a photo shoot out of it. I woke up at 08.00 and was out the back before the sun rose, Dad's garden was covered in hoar frost, little needles of ice resting on everything, the frost covered the leaves, trees, roof tiles and car roof so I did some early morning photography before I even had anything to eat or drink. I checked online and the latest data confirmed my suspicions, last night was the coldest night of the year when temps dropped to -8.8 degrees C in Katesbridge in Co. Down. The forecast for today was just as encouraging with temps expected to remain around freezing all day long so it looked like there would be great Winter scenes to shoot, the snow would be frozen over night and the freezing fog would form more hoar frost so it was just a matter of finding some cool scenes. By late morning we all had a hot bowl of Roisin's delicious homemade vegetable soup then got ready. Dad took us out in his Kia Sportage then the three of us took the back roads outside Cookstown and up into the hills in search of photo opps.
Just like the previous day there was nothing but ice at ground level and only the hills and mountains had a good layer of snow so we decided to head straight for the best area of snow we could find and that was on the back end of the Sperrins once again on the S side of Slieve Gallion. We instantly crossed from dry roads into white and were thrown into scenes from Narnia, from this elevation we were surrounded by white, our world had become a place of ice and snow, it didn't seem like the back roads of Cookstown, it looked more like Europa. The Kia's front wheels spun on snow as we negotiated those steep white mountain roads, we stopped and exited the car to check out the scenes and sure enough hoar frost could be seen covering the entire road and even on the snow itself, these were the largest hoar frost crystals I had ever seen and each one reflected and refracted the sunlight into a spectacular show. Snow covered the fields, houses, fence posts and trees, and the sun was bright with blue skies, we were lucky for the second day in a row to get perfect light like this. We drove uphill more as the Kia struggled but Dad encouraged it on then we looked to the right while driving at a 35 degree angle when we spotted a field full of Deer in the snow.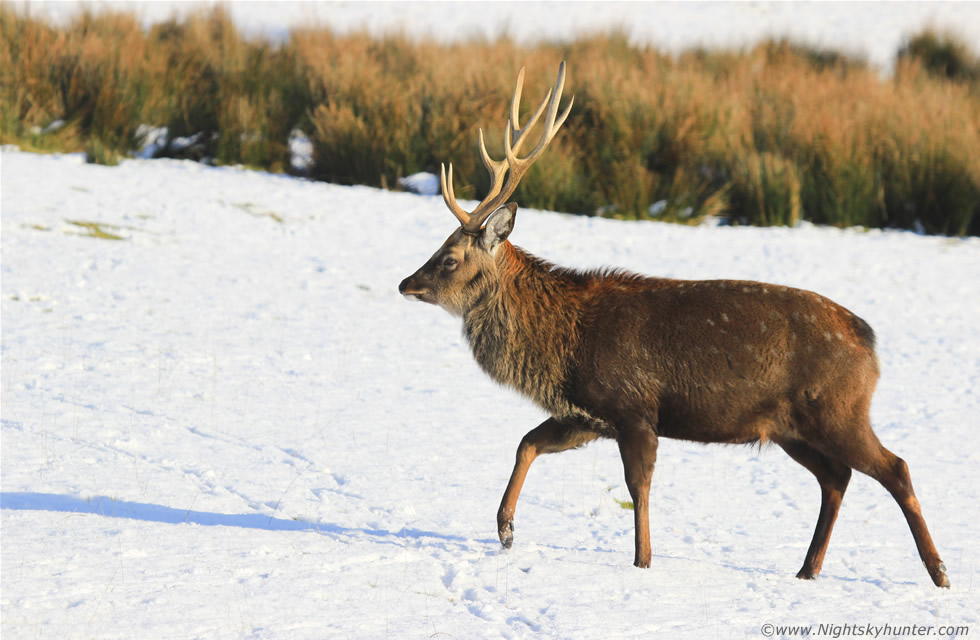 We all got excited and within sec's the car came to halt and we were out with the cameras. It's rare enough to see Deer in N. Ireland as it is however to see them in the mountain in snow was extremely rare indeed, in fact, it's exceptional, we couldn 't believe our luck, none of us were expecting this today. Dad informed us that this was Sam Bell's Deer, he farmed them here. I think I broke my personal record for removing the Canon 10-22mm lens and adding the Canon 100-400mm USM lens, then I began taking images. The light was perfect, the snow couldn't have been more white and pure and the sunlight illuminated the Deer to perfection. The field in front of us was full of them, perhaps a dozen Deer and Stags, the latter were the most impressive with their giant antlers.
They were not shy by any means and quite used to being in the proximity to people however at the same time they were smart and very observant, this guy was sizing me up as I took images through the 400mm lens, I could feel his eyes watching me straight through the viewfinder.
Then as if the scene wasn't spectacular enough these two Stags decided to stare at each other and lowered their heads and it was clear from the body language they were going to charge one another, I had never seen this before, I got the camera turned in time as their antlers clashed with a loud noise.
The impact and fight only lasted for 10 sec's or so however I was lucky enough to have got a few images fired off capturing this fleeting event. This is a 400mm frame with no crop at all. The warm colour of the low sun turned their coats and antlers into gold over the snow.
These are crops from wider images in the 300mm zoom range. I couldn't believe I was witnessing this, I never expected to get treated to such a wonderful experience when we left home that morning, my hands were shaking slightly from the cold and excitement complimented by that sudden rush one gets when witnessing something cool and trying to get the best images they can without messing it up, I think I did alright here with just seconds to react.
Check out the expression in the eyes, I don't know about you but the Stag on the left looked stronger. The two Stags separated then peace was restored in the field and everything was in harmony once again. A group of Deer and Stags grazed and ate carrots while watching us keenly to see what our intentions were while behind us in another field wherema herd of baby Deer.
Suddenly a 4x4 pulled up beside us, it turned out to be Sam Bell the owner who was a very nice gentleman indeed who chatted away to us about the Deer and his business, he even informed us that he was getting Bison in too, now that is something I want to see. Dad and Sam ended up finding out that they knew each other from younger day adventures so the atmosphere was good. I took a few short video clips which you can see below.
This one encounter made the day for us all, I still can't over seeing Deer in snow, it was like being in another country entirely, I can't think of any better way to end 2014 than with a scene like this.
We drove around the back roads and heard gun shots, we came to a halt at the side of the road and spotted a hunter in action, he was after Ducks on a nearby pond, I put down the window and got a few images of him at 400mm, this is cropped in deeply, you could say I was shooting the shooter. Hunting is part of life around here however I would like to say that I don't support any sport which results in the injury or death of animals, I love animals and think they should be left in peace.
We drove to the high ground which looked down on Lough Fea and the three of us had a wonderful walk along the snow-covered country roads with fields and mountains all around us covered in snow, life doesn't get any better than this, there really is something special and addictive about being out in snow, the physical and visual aspect seems to settle the mind and pure the soul, one can't beat breathing in crisp polar air while crunching through snow, the countryside is beautiful and everything is good, perhaps it reminds us all of being Children and that's why we yearn for it so much, perhaps it's in my family, my Dad loves snow too and always likes to get out in it, I recall doing alot of that when I was younger and thought nothing of it back then so perhaps it really is in my blood and that's the reason why I obsess over it so much every Winter.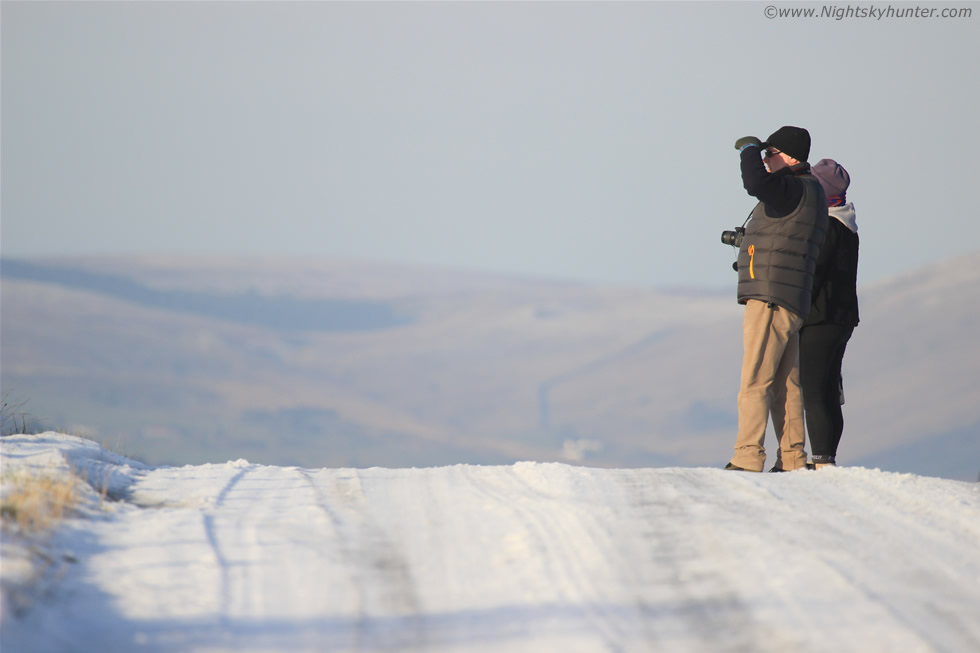 We got back to the car to change location however the Kia was stuck, the car was on a slight incline and without any momentum it would not move forward, the front wheels just spun through the snow then hit ice, so we came up with the idea of taking a large section of carpet which we used to line the boot then placed that under the drive wheels, well the tire got grip and moved forward, then I moved the carpet in front again while taking turns with each wheel then eventually we made it out into flat compacted snow, that was close, I could feel the sweat dripping from me from the effort.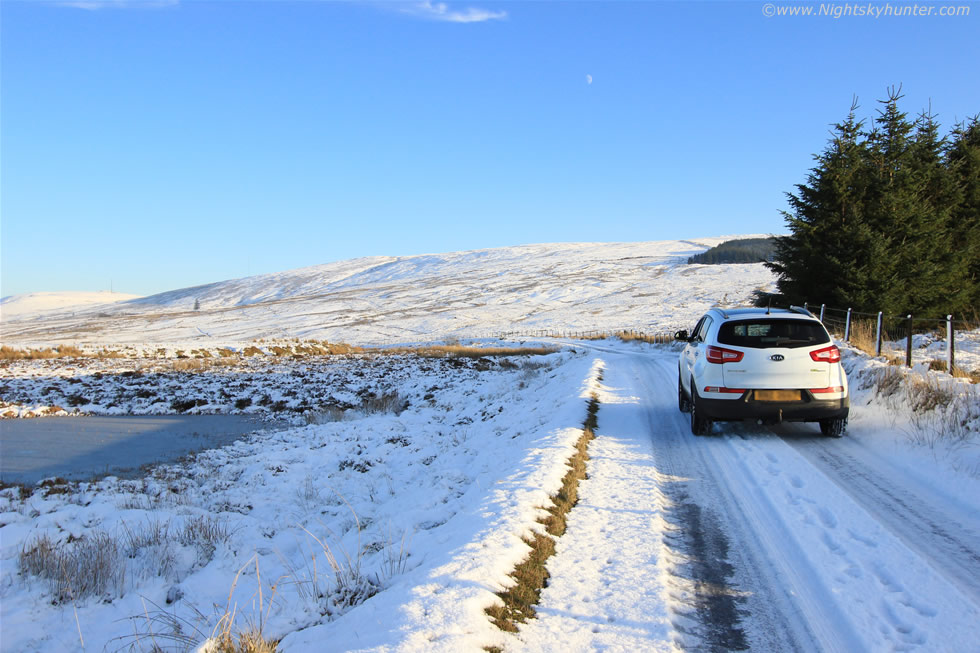 We spent the rest of the afternoon driving on the crazy back roads behind Slieve Gallion, these were roads with snow on top of solid ice and from the looks of the area we were the only car which had drove over them, no one else would take the risk and after some spinning we decided not to chance our luck any further then got out for more images. The ponds here were frozen solid and the mountains were still and surrounded by blue skies with a first quarter moon aloft, scenic was not the word. We ended the day with a walk around Lough fea which itself was covered over 3/4 with a sheet of thin ice and the banks and walkway adjacent to it were covered in snow and the largest accumulations of hoar frost I have ever seen. At sunset we called it a day, what more could we have asked for?, fresh air, snow, ice, hoar frost, Deer and hours of photography completed. We went back to Cookstown to change and warm up then Dad treated us all to dinner in a local restaurant which was a fantastic way to end the day, I can tell you we slept well that night - aided a somewhat by a well deserved hot whiskey and movie.
Video footage of the walk up Benbradagh, the paraglider landing, the drive up the mountain near Cookstown and ending with the amazing Deer in the snow. Thanks very much for reading.
Martin McKenna