LATEST SKY EVENTS
Updated July 23rd 2020
Comet NEOWISE Update -
July 23rd
A memory image from my most recent sighting of NEOWISE last weekend when Roisin and I drove to the north coast to enjoy the comet together, there's a story behind this trip which I will save for the report. This was us leaning on the wall at Dunluce Castle looking up at NEOWISE, I could still trace the dust tail for 15 degrees with the naked eye within the paws of the Great Bear, below a subtle NLC display was forming above the horizon.
(Above) C/2020 F3 NEOWISE chart showing the comet's position each night within Ursa Major until July 31st. Credit: Royal Astronomical Society
The comet is currently circumpolar meaning it is visible all night long for those at mid northern latitudes, NEOWISE is located low in the northern sky near the paws of Ursa Major the Great Bear. If you are not sure where north is go outside on the next clear night, you can't miss two bright 'stars' in the sky, one beside the other, these are planets Jupiter (right) and Saturn (left), they dominate the southern sky and are unmissable. If you are facing these then turn around 180 degrees and look behind you towards the brighter twilight sky, this is north. Look carefully, the comet looks like a fuzzy star, as the sky darkens and your eyes adjust you will see a tail extending straight up from that fuzzy star, this is the dust tail which looks like a transparent beam, some describe the sight as similar to an exclamation mark.
NEOWISE makes its closest approach to the Earth on July 23rd, it's also leaving the warmth of the Sun so the comet is slowly fading every night. That being said it is still a naked eye object and absolutely gorgeous in binoculars, through telescopes and easy to photograph with even short exposures, in fact, the comet stands up to photography very well as it's still well condensed and bright with twin tails. Catch it while you can as it won't be back again for 8,600 years!
A Comet From The Graveyard -
July 10th
Amazingly I got treated to my fifth night in a row observing C/2020 F3 NEOWISE despite a dire cloud forecast. I met up with Paul Martin and his partner Tracy Sharkey at an old church outside Omagh. We dodged clouds and despite hazy skies and poor transparency we could see the comet with the naked eye no problem. It made for a gorgeous sight as it emerged as a slanted shaft of light through a layer of high level cloud then suddenly revealed itself as a golden coma with tail. Using the 50mm F/1.8 lens I captured this image of the comet framed by the dark outline of the old trees at the rear of the silent graveyard, the sunset afterglow in the sky gave the scene an almost African safari look, you can view a time lapse here. The comet rose higher into the pre-dawn sky and seemed to get better with each passing minute, I estimated its brightness as slighter brighter than mag +2.0 or similar to Polaris, I was also shocked to see a curved dust tail for 10 degrees in length (20 full moon diameters) with the naked eye.
N. Ireland has since turned very cloudy and it looks like we could have a week of overcast nights, our next chance of clear gaps could be the following weekend. I can't complain, these where the finest five nights under the stars I have experienced in a very long time. The comet is still visible and fading gradually, it will still be an obvious naked eye object with a growing tail so make sure to see it before it retreats back into the outer solar system, this is a long period comet which won't return to our skies for another 6,800 years. You can find NEOWISE low in the northern sky far to the lower left of Capella within the lesser known constellation of Lynx near the paws of the great Bear. In CCD images the comet exhibits more than 12 degrees of dust tail with synchronic banding and an ion tail over 20 degrees long with knots and streamers. The cloudy nights are giving me a chance to rest and recover but rest assured I will be back out on the next clear night for another look.
* If you are interested in the visual observation of bright and faint comets in binoculars and telescopes then why not purchase my comet ebook here
A Golden Comet Before Dawn! -
July 11th
July 10th/11th, fourth night in a row in the presence of nature's finest spectacle. I met up with John Fagan and captured NEOWISE in bright twilight before midnight then it clouded over. We went to Beaghmore and waited, clouds covered the northern sky low down and it looked like we were going to miss the show, suddenly breaks appeared behind passing cumulus then the celestial stage opened and the comet rose into view. It was a gorgeous sight in the pre-dawn twilight, a wonderful golden naked eye comet with a gold tail 5 degrees long (10 apparent full moon diameters), I got this image of the comet rising over a tree top at Beaghmore stone circles using the 100-400mm lens on a static tripod. The tail is even longer in the images, vivid yellow-gold and curved along its upper most section, a hint of a long and straight ion tail can also be discerned, the view in the telescope was jaw dropping, this was the most beautiful comet I've ever seen!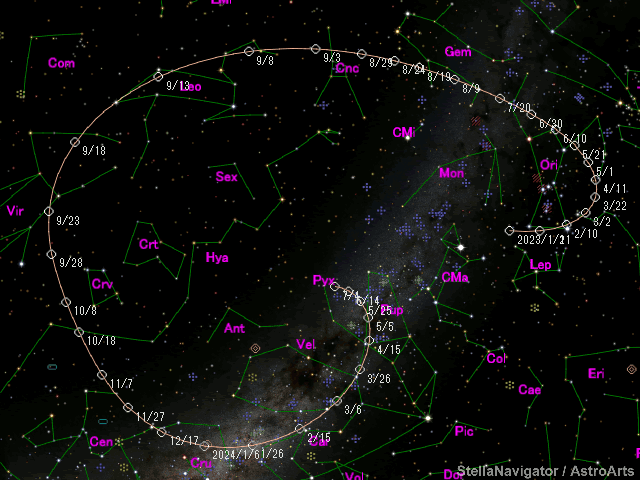 To find NEOWISE look low to the N around midnight, the comet is located within Auriga to the far lower left of the bright golden star Capella, the comet will be visible in the twilight, it might help to use binoculars first to spot the comet, but once you find it you will see it with the naked eye as the sky darkens, it will look like a stationary streak of light with a star-like head. The best time to see the comet is between 01.00 and 02.30 BST during the darkest part of the night (UK skies), the comet will also be rising higher into the NE sky before dawn when it will be as its most spectacular, the golden tail will be visible with the naked eye, again a simple pair of binoculars or a telescope will provide an unforgettable view. The comet remains visible until near 04.00 BST until the twilight sky washes it from view, make the most of any clear night to see this rare event, a naked eye comet is a very rare phenomena indeed. The chart above show's the comet's track from night to night among the stars, credit: Sky & Telescope Magazine.
Comet NEOWISE With Search Light Beam Tail -
July 9th
I've been fortunate to have been treated to a wonderful sight for the third night in a row, however on this night my sighting was fleeting, but those few minutes produced one of my finest comet memories to date. I drove outside Cookstown and waited, the sky was mostly clear however shower clouds hugged the low NE and it looked like it was game over, I walked back to the van and was about to pack away the gear when an instinct told me to wait, so I did. The clouds hinted of breaking, then suddenly with the naked eye I saw a search light beam extending upward from behind a bank of black clouds into the twilight sky, it was the tail of C/2020 F3 NEOWISE, I couldn't believe it!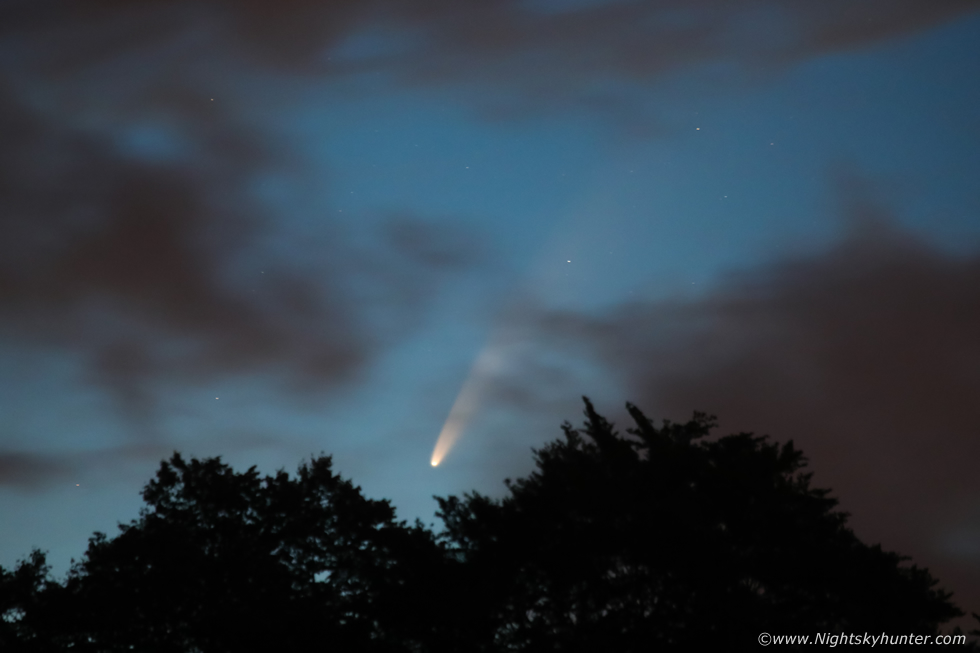 The clouds parted further then the comet rose tail-first above the tree tops in full splendor. The entire comet was visible to the naked eye and looked to shine with a golden hue, what a sight it was in the pre-dawn sky, I managed to get this image with the 400mm lens and a few minutes later the clouds closed in once more, but what a sight it was. NEOWISE had changed since my previous sighting last night, it looked brighter and the tail was longer, this comet is getting better every night as it climbs further away from the sun and into a dark region of sky, I estimated the naked eye tail at 5 degrees or longer and the coma looked to be in the mag +1.5 range, this was a beauty!
NEOWISE is the best comet I have witnessed since Hale-Bopp in 1997, and that's a big statement, this is a one in ten or even twenty year event so please get outside and observe it now. CCD images are now showing a dust tail 10 degrees long and the latest measures indicate a large nucleus inside the coma at 5km in diameter which is releasing ten tonnes of water per second!
Beautiful Comet C/2020 F3 NEOWISE -
NEWS
Sorry for the lack of updates, I have been busy documenting a wonderful comet in our skies called C/2020 F3 NEOWISE, this comet rounded the sun and surged in magnitude and is now visible in our skies low in the N to NE all night long. Long story shot, I have been battling clouds every night then finally on July 7th/8th I got rewarded with clear skies, I drove to the Co. Antrim coast and made my first observation of the comet, it was a beautiful sight, naked eye with tail 2 degrees long and visible over the ocean horizon against a bed of orange sunset afterglow. Brian Fullerton and I observed and photographed the comet all night, it truly was a very rare sight. This is my first 'proper' naked eye comet since McNaught in 2007, if you missed that one then Hale-Bopp would have been the last in 1997. This is us pointing at the comet at Ballintoy harbour with NLCs forming below. I took many exposures this night and got a nice time lapse sequence too.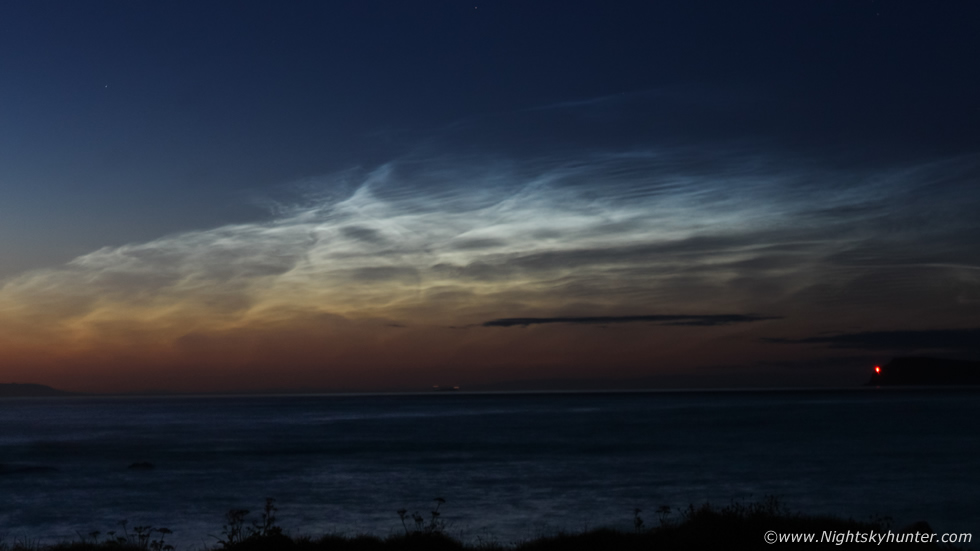 While the comet stole the show it wasn't the only thing happening in the sky, to the right of NEOWISE to the NE was this epic NLC display, without question sporting the best structure I have seen during the 2020 season with remarkable large scale whirls like caves along a celestial coastline. By the time I got back home it was 04.10 BST.
July 8th/9th, second clear night in a row, but only just, this turned into a storm chase, only I was chasing a large sector instead of clouds, in a mad dash NW I found a clearance and pulled over on a dark country road outside Drumsurn, the sky would soon cloud over, I had perhaps 30 min's remaining, however those 30 min's were unforgettable. With the naked eye I could see NEOWISE with tail glowing gold and embedded within a gorgeous type 3.5 NLC display, seeing both phenomena together and knowing the connection between both made this a very special moment. I shot a time lapse with two cameras, one at 50mm and another at 400mm which I hope to render soon. The view in the 8" telescope was breathtaking, a golden comet with yellow tail extending beyond the frame with vivid NLC bands and waves moving in real time across the field over the tail, the inner coma was highly condensed at DC:9 with an irregular false nucleus with two or three extensions which may have been jets or fountains, the telescopic view looked like the renditions I had seen in books of great comets from the past. The above image is 400mm and cropped within the NLCs, it then clouded over and began to rain, what an amazing two nights this has been!
I will be out shooting the comet on any further clear nights and will be doing a detailed image report on the website to document this rare phenomena. I will do an update soon about the comet and where to find it, however in the meantime check out the real time finder chart on Heavensabove.com
Night Lightning Over Scotland, Sperrins Storm Chase, Horseshoe Vortex, Suspect Wall Cloud & Funnel Cloud - June 25th & 26th -
CHASE REPORT
Chase report covering two days of action beginning on June 25th when I drove to Cushendun at night to watch lightning from elevated storms and a likely supercell over Scotland in the company of Nigel McFarland and Colleen Webb. The following day brought big CAPE and this time I had a wonderful solo chase from west to north from Co. Tyrone, through the Sperrins and across beautiful countryside as I tracked a sheared thunderstorm which produced a rare Horseshoe Vortex, a suspect wall cloud, a funnel cloud then two more storm intercepts on the way home, what began as a look at the sky ended in an eight hour chase with three storms. One page report with 17 images and 1 video clip. - REPORT.
Impressive Co. Tyrone Thunderstorms & Omagh Updraught Beast -
CHASE REPORT
June 15th 2020, second day in a row of big thunderstorms across N. Ireland with high CAPE, strong shear and convergence which produced an outbreak of HP storms. I chased all day through Co. Tyrone and intercepted 7 storms, encountered intense cores and flash flooding then two more storms on the way home. The climax was the amazing sheared storm near Omagh which I watched from Pigeon Top with Paul Martin, this storm had the largest updraught plume I have ever experienced in my entire life with rock solid clouds and explosive formation. The storm itself had an intense core with rain foot and huge back rain free base with rotation and possible RFD slot with supercellular traits, an amazing day. One page report with 20 images and 2 video clips. - REPORT.
Intense Multicell Thunderstorms At Mullaghmore Co. Sligo -
CHASE REPORT
June 14th 2020, lock down restrictions lifted which coincided with the first big thunderstorm outbreak of the season. 1300 CAPE, strong humidity and solar heating, sea breeze convergence zone and 40 knots DLS in the west would fire intense organized thunderstorms. Models indicated the best potential would be in a target area between Omagh & Sligo. This was an historic chase day as five car loads of us chased west in a coordinated storm chase with Nigel McFarland, Paul Martin, John Fagan & Colleen Webb. We got treated to eight storms, the most explosive convection I've ever seen and climaxing with a fantastic photogenic multicell storm with shelf cloud over the fields at Mullaghmore accompanied by two hours of thunder. What a fantastic day with 13.5 hours spent on the road. One page report with 23 images and 2 videos. - REPORT.
Complex Sun Halo Displays During Lock Down! -
NEW REPORT
Its lock down during the Covid-19 pandemic here in N. Ireland and we have been experiencing our finest period of weather for a very long time. Strong high pressure brought back to back days of sunshine, blue skies, warm temps and no rain for two weeks which also presented me with many clear nights during which I have been tracking three comets as they moved among the stars from night to night. If this wasn't good enough I experienced two days in a row of complex sun halo displays with sundogs, UTA, CZA, parry arcs, supralateral arc and even a full 360 degree parhelic circle. These were among my finest halo captures to date due to so many forms being present during a single apparition, what a wonderful period this was. One page report with 21 images and 3 video clips. - REPORT.
Zodiacal Light, Planet Venus, Comet Observing & Faint Aurora - Beaghmore Stones Circles & Ballintoy Harbour -
NEW REPORT
Detailed image report documenting three back to back nights of superb clear skies to observe and shoot the Zodiacal Light, planet Venus and hunt down Comet C/2019 Y4 ATLAS by telescope. I spent the first two nights at Beaghmore Stone Circles where we met lovely people and observed through my 8" telescope. On the third night Roisin and I went to Ballintoy on the north coast and documented the ZL with John Fagan, Paul Martin and Tracy Sharkey where we got treated to amazing skies and even a faint aurora display. These were three memorable and special nights before the Covid-19 lock down arrived. One page report with 18 images and 1 video clip. - REPORT.
N. Ireland Storm Chasing Image Reports -
Archive
Astronomy is not the only subject I'm interested in, check out my N. Ireland Storm Chasing section and view the chase reports and images which detail not only storms but other phenomena such as a moonbows, noctilucent clouds, aurora displays and exciting nature related photo shoots.
Martin McKenna