LATEST SKY EVENTS
Updated November 10th 2020
Benone Beach Intense Hail Shower & Rare Reflection Rainbow -
NEW REPORT
After a quiet Autumn my long wait for convection was finally over on November 4th 2020 with an unstable NWly cold air mass flow bringing over 100j/kg of CAPE and a risk of convective showers and ocean thunderstorms. I spent the day chasing at the north coast where I got rewarded with a photogenic cell with gust front which delivered an intense hail shower over Benone beach. Later in the day I witnessed a beautiful sunset rainbow featuring a rare reflection rainbow between the primary and secondary arcs. One page report with 17 images and 1 video clip. - REPORT.
Bar Mouth Storm Surge & Large Swells Captured By Drone -
NEW REPORT
October 28th 2020 turned into an unexpected filming session when a deep low pressure system generated active sea conditions at the north coast of N. Ireland. After a tip-off from a mate I arrived at Castlerock Beach two hours before sunset where I experienced a wonderful stormy seascape with trains of large waves, swells and a high storm surge which impacted both piers at the famous Bar Mouth. Due to rare conditions rarely seen with large waves - no rain and no wind - I was able to obtain dramatic drone footage of the spectacle in great light just in time before the next frontal system arrived. One page report with 9 images and 1 video clip. - REPORT.
Davagh Forest Milky Way & Autumn Trees -
UPDATE
October 14th, I teamed up with John Fagan for a mid week photo shoot with the intention of shooting a time lapse of planet Mars. John and I met at Davagh Forest and set up the gear beside the new OM Dark Sky Park and Observatory. We ended up shooting a successful time lapse of Mars rising over the tree tops of the forest, we used our 50mm F/1.8 lenses and managed to get plenty of frames for a decent lapse taking seven second exposures, this is one of the images. On this night Mars was at opposition which meant it was directly opposite the Sun and hence visible for much of the night and well placed on the meridian during the early hours when it would be highest in the sky, this is now a great time to photograph and observe Mars as the planet is still fairly close to Earth. I have been enjoying observing the planet periodically through the 8" telescope admiring various dark surface markings, the south polar cap, limb haze and Martian clouds. You can view the time lapse here.
I set up the 5D on top of the stone bridge over the river close to the observatory to capture the Milky Way setting in the west. The red lights from the observatory illuminated the trees in this long exposure creating a fantastic Autumn-like effect which got me engrossed so I ended up taking quite a few images of this cool scene. That's the Milky Way in Aquila into Scutum with bright star Altair on the left.
Portrait version showing Cygnus, Lyra, Aquila, Scutum and northern Sagittarius with planet Jupiter visible in the lower left. I got my Irix lens fixed (see last report), after a manual calibration the lens seems to be performing very well, the stars are crisp and more like points of light and actually performing better than when I got the lens new. I have a few more images from this location which I might feature in a report in due course.
I've also been doing a lot of aerial filming with the Mavic 2 Pro, this is a 180 degree aerial pano taken over the Sperrins at Moneyneany, the Sun burst through a slow moving Cumulus and fanned sun beams onto this summit which made for a great moment, it really made my day. I have more photo shoots and observing sessions in mind so stay tuned for updates.
Milky Way Over Fairy Tree & Beaghmore Stone Circles Moonbow -
NEW REPORT
New report documenting three night shoots in Co. Tyrone on September 23rd, 24th and 25th 2020. During this period I was rewarded with superb transparent skies with stars below mag +6 and even the Gegenschein on view. After moonset I shot the Milky Way and star trails over a recently discovered fairy tree, the same location also spawned our first aurora display of the current season. On the third night I was treated to a gorgeous moonbow arching over the famous standing stones at Beaghmore Stone Circles which made my night. I chat a little about moonbow formation and current focusing issues with the Irix Blackstone 15mm F/2.4 lens. One page report with 11 images. - REPORT.
Sunset Shelf Cloud Approaches Cookstown -
NEW REPORT
September 25th 2020, a convective outlook had been issued for parts of Ireland & N. Ireland however models indicated nothing inland so instead I got prepared for a night shoot. I glanced out the window and observed this wonderful sight. A thunderstorm to the NE of the country had generated a line of convective hail showers & along the leading edge was a long Shelf Cloud. The structure looked dramatic in the beautiful golden hour light just before sunset, I captured the scene using the Mavic 2 Pro as the Shelf posed over a lush country foreground with fields and a local farm. One page report with 7 images and 1 video clip. - REPORT.
An Creagan Milky Way & Quarry Nightscapes & Star Trails

-

NEW REPORT

Report documenting four nights in Co. Tyrone on Aug 24th, Aug 29th, Sept 6th & Sept 19th 2020 covering superb clear skies and vivid Milky Way scenes over the 10,000 year old bog lands at An Creagan visitor's centre on the Omagh Road. Then an unusual subject matter when I visited a local quarry on three different nights with various photographers under bright moonlight then dark skies shooting nightscapes, star trails and time lapse over the alien-looking quarry machinery which made for a most unusual subject matter. One page report with 20 images and 1 time lapse video. - REPORT.
Comet C/2020 F3 NEOWISE From Northern Ireland -
NEW SPECIAL REPORT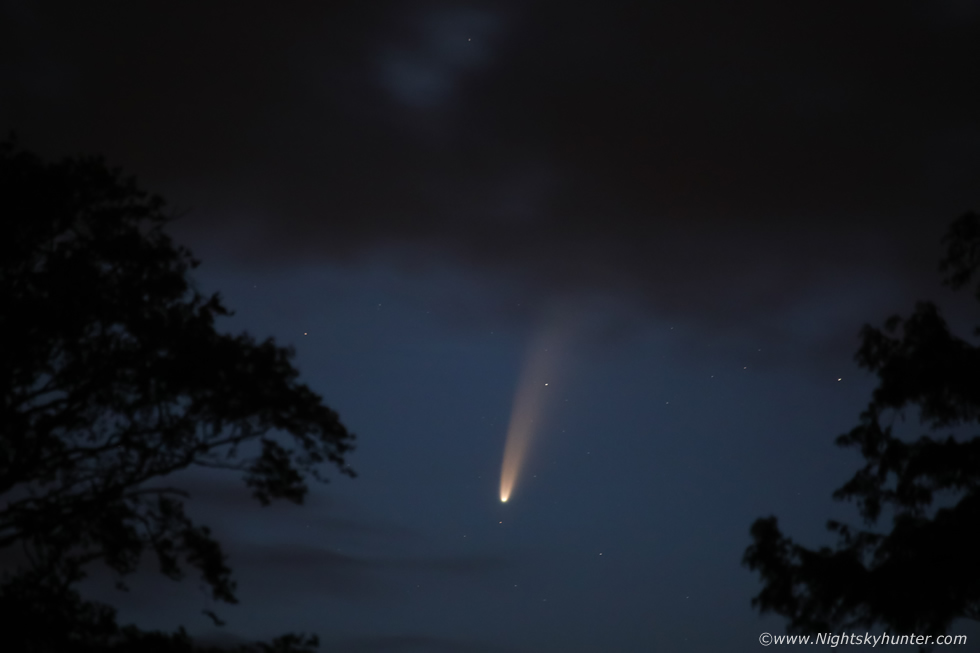 Two page comet chasing report covering nine nights observing and shooting comet C/2020 F3 NEOWISE from various locations in N. Ireland from June 11th to June 28th 2020. NEOWISE surprised the world when it suddenly surged in brightness during perihelion passage then emerged into the northern circumpolar sky as the brightest naked eye comet since Hale-Bopp 23 years ago. NEOWISE astonished me with its rapidly changing form and tail displays, the comet was notable for it's striking gold DC:9 coma and sweeping golden dust tail perched in the Summer twilight sky, the telescopic view of the coma looked similar to renditions of great comet Donati. I observed a search light beam tail of 20 degrees with the naked eye and during one unforgettable night I watched this golden comet embedded within a complex electric blue NLC display which was a dream come true. I documented the comet from Ballintoy Harbour, Dunluce Castle, Cookstown, Beaghmore Stone Circles, near a fairy tree and from inside a graveyard near Omagh, my final sighting of this rare visitor was over the tree tops at Davagh Forest. From a visual perspective this ranks as one of the most beautiful sights I've ever seen in nature. Two page report with 41 images & 1 video clip - PAGE 1, PAGE 2.
Night Lightning Over Scotland, Sperrins Storm Chase, Horseshoe Vortex, Suspect Wall Cloud & Funnel Cloud - June 25th & 26th -
CHASE REPORT
Chase report covering two days of action beginning on June 25th when I drove to Cushendun at night to watch lightning from elevated storms and a likely supercell over Scotland in the company of Nigel McFarland and Colleen Webb. The following day brought big CAPE and this time I had a wonderful solo chase from west to north from Co. Tyrone, through the Sperrins and across beautiful countryside as I tracked a sheared thunderstorm which produced a rare Horseshoe Vortex, a suspect wall cloud, a funnel cloud then two more storm intercepts on the way home, what began as a look at the sky ended in an eight hour chase with three storms. One page report with 17 images and 1 video clip. - REPORT.
Impressive Co. Tyrone Thunderstorms & Omagh Updraught Beast -
CHASE REPORT
June 15th 2020, second day in a row of big thunderstorms across N. Ireland with high CAPE, strong shear and convergence which produced an outbreak of HP storms. I chased all day through Co. Tyrone and intercepted 7 storms, encountered intense cores and flash flooding then two more storms on the way home. The climax was the amazing sheared storm near Omagh which I watched from Pigeon Top with Paul Martin, this storm had the largest updraught plume I have ever experienced in my entire life with rock solid clouds and explosive formation. The storm itself had an intense core with rain foot and huge back rain free base with rotation and possible RFD slot with supercellular traits, an amazing day. One page report with 20 images and 2 video clips. - REPORT.
Intense Multicell Thunderstorms At Mullaghmore Co. Sligo -
CHASE REPORT
June 14th 2020, lock down restrictions lifted which coincided with the first big thunderstorm outbreak of the season. 1300 CAPE, strong humidity and solar heating, sea breeze convergence zone and 40 knots DLS in the west would fire intense organized thunderstorms. Models indicated the best potential would be in a target area between Omagh & Sligo. This was an historic chase day as five car loads of us chased west in a coordinated storm chase with Nigel McFarland, Paul Martin, John Fagan & Colleen Webb. We got treated to eight storms, the most explosive convection I've ever seen and climaxing with a fantastic photogenic multicell storm with shelf cloud over the fields at Mullaghmore accompanied by two hours of thunder. What a fantastic day with 13.5 hours spent on the road. One page report with 23 images and 2 videos. - REPORT.
N. Ireland Storm Chasing Image Reports -
Archive
Astronomy is not the only subject I'm interested in, check out my N. Ireland Storm Chasing section and view the chase reports and images which detail not only storms but other phenomena such as a moonbows, noctilucent clouds, aurora displays and exciting nature related photo shoots.
Martin McKenna