LATEST SKY EVENTS
Updated January 14th 2021
Various Images From 2020 -
NEW REPORT
Last image report of the year showcasing a selection of miscellaneous images captured from Spring to Winter 2020 covering night shoots to snow adventures. Included is comet C/2020 F3 NEOWISE, star trails, meteor watches, the close approach of planet Mars, north coast night shoots, Milky Way, Churches, NLCs and the great conjunction between Jupiter and Saturn. One page report with 32 images. - REPORT.
'ENTROPY' - 2020 Storm & Night Sky End Of Year Video Presentation -
NEW
That's that time of year again when I release my end of year video presentation documenting all my best video, drone and time lapse sequences of thunderstorms, weather and night sky scenes captured from Ireland and Northern Ireland during the course of 2020. Also featured are scenes of sand storms, winter landscapes, atmospheric optics displays and of course comet C/2020 F3 NEOWISE which was the highlight of the year, especially when embedded within Noctilucent Clouds. Despite being a challenging year with periods of quiet weather it was still an exceptional year for me due to the apparition of the comet and great memories such as the Spring time complex halo displays and our storm chases to Mullaghmore in Sligo and Omagh. The video is quite long so watching with a brew of sorts would be recommended. Thanks very much for watching and I hope you enjoy the presentation. Best watched at 1080p HD on youtube.
Comet C/2020 F3 NEOWISE From Northern Ireland -
NEW SPECIAL REPORT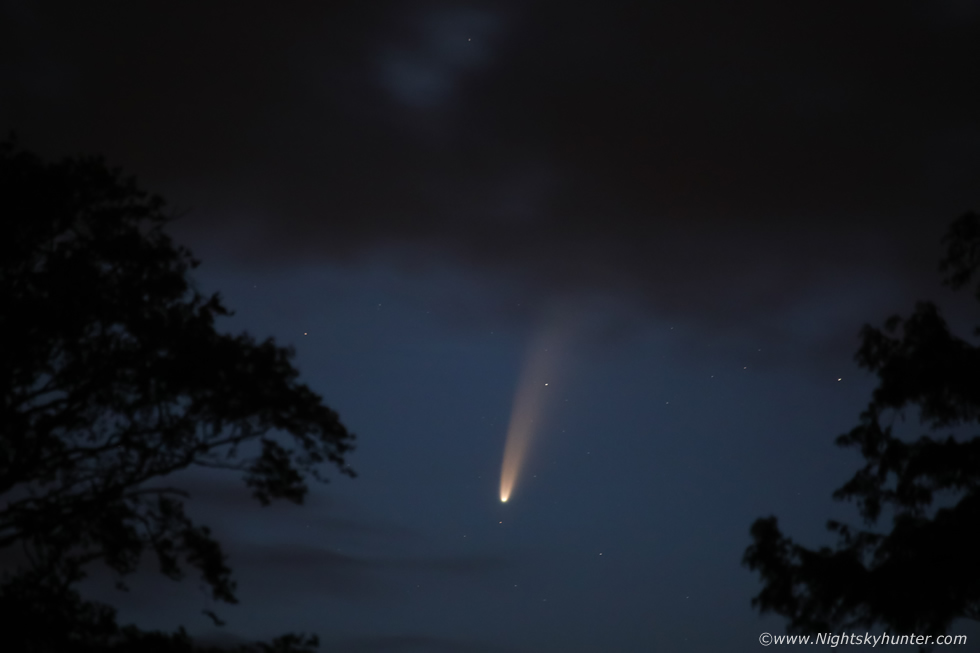 Two page comet chasing report covering nine nights observing and shooting comet C/2020 F3 NEOWISE from various locations in N. Ireland from June 11th to June 28th 2020. NEOWISE surprised the world when it suddenly surged in brightness during perihelion passage then emerged into the northern circumpolar sky as the brightest naked eye comet since Hale-Bopp 23 years ago. NEOWISE astonished me with its rapidly changing form and tail displays, the comet was notable for it's striking gold DC:9 coma and sweeping golden dust tail perched in the Summer twilight sky, the telescopic view of the coma looked similar to renditions of great comet Donati. I observed a search light beam tail of 20 degrees with the naked eye and during one unforgettable night I watched this golden comet embedded within a complex electric blue NLC display which was a dream come true. I documented the comet from Ballintoy Harbour, Dunluce Castle, Cookstown, Beaghmore Stone Circles, near a fairy tree and from inside a graveyard near Omagh, my final sighting of this rare visitor was over the tree tops at Davagh Forest. From a visual perspective this ranks as one of the most beautiful sights I've ever seen in nature. Two page report with 41 images & 1 video clip - PAGE 1, PAGE 2.
N. Ireland Storm Chasing Image Reports -
Archive
Astronomy is not the only subject I'm interested in, check out my N. Ireland Storm Chasing section and view the chase reports and images which detail not only storms but other phenomena such as a moonbows, noctilucent clouds, aurora displays and exciting nature related photo shoots.
Martin McKenna