LATEST SKY EVENTS
Updated May 13th 2021
Two Funnel Clouds Near Maghera -
May 12th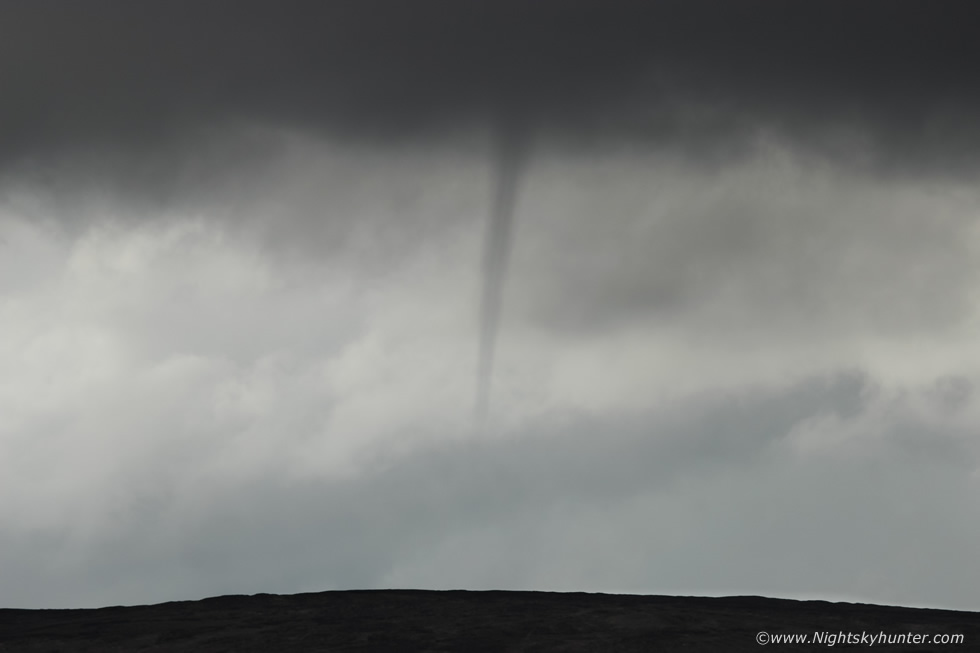 TORRO had issued a convective discussion for storms and convergence zone funnel clouds on May 12th, this was actually one of my favorite set-ups for hunting vortex phenomena in N. Ireland. Low to moderate CAPE and a very slack flow, virtually dead calm, however any convergence zones could produce a funnel cloud. I left Cookstown during midday and the sky was talking big time with dark clouds and low bases over the Sperrins which stretched all the way to near Maghera which was where I was headed. Soon after images appeared on social media of a funnel cloud over Fintona in Co. Tyrone, I was delighted to hear the report but gutted I had missed it, I assumed that was my chance gone for the day. I attended some chores which ended abruptly as heavy rain hit so I waited for it to pass then drove out to the countryside where a line of nice towers with a well formed base where building to the east in the Ballymena/Ballymoney area. I must have spent an hour watching those bases for funnels but no joy, it seemed my chances were gone.
Later I took my Mother and our Dog Rhua out for a walk, we drove to Slaughtneill football pitch outside of town where I could see interesting dark clouds building over the mountain, rising motion was evident and soon my instincts were telling me something could happen. I looked to the west, then turned to the east, then back to the west again and there was a striking funnel cloud!, it had happened that fast. I was immediately struck by its well defined form, it was pure straight and looked unnatural, almost alien. Adrenaline pumped through me as panic struck, these things tend to vanish fast, I grabbed the camera from the van and got two images at 18mm, then noticed it as still there and getting even more dramatic so I took a risk and changed to the 100-400mm lens and ended up getting a large number of good images. The funnel hung over the summit of Cairntogher for five minutes as it rotated in clear view, it couldn't have been more than a few miles away from us.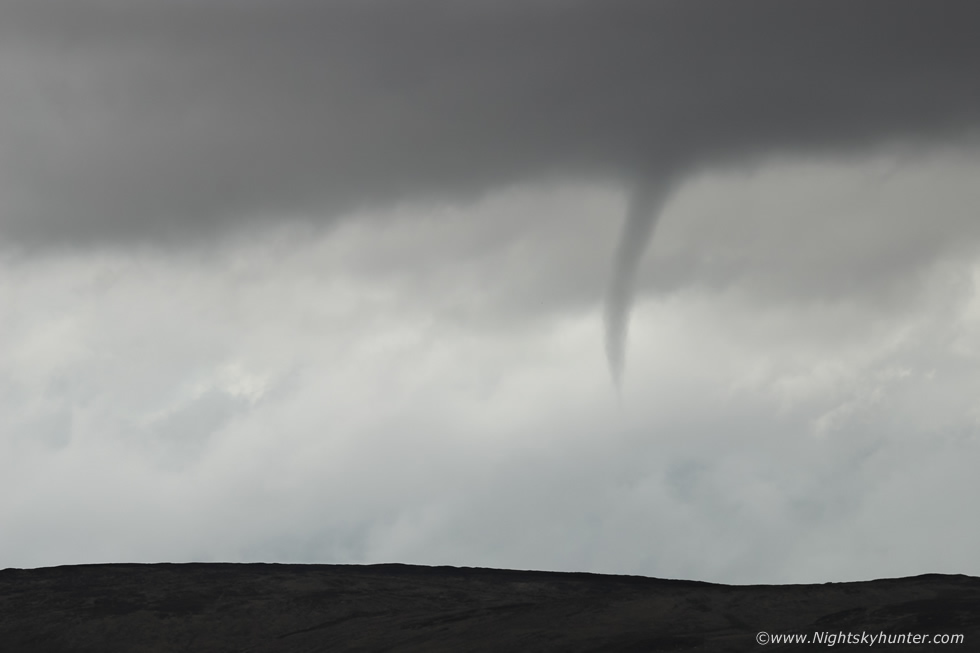 It then morphed into a graceful curve, I was buzzing with excitement, I had been hunting for a funnel this year with great tenacity and suddenly here it was when I least expected it, however the show was far from over. The first funnel formed at 17.40, then at 18.10 another funnel cloud formed over the same mountain slightly to the south of the first, I couldn't believe it. Even though this funnel was less dramatic and visibility and contrast were reduced as I was shooting images through rain it was still a legitimate funnel. I honestly couldn't believe our luck, two beautiful funnel clouds within half an hour near my home town. This was Mum's first funnel sighting with me since her previous in 2009 at Ballyronan. I still have a lot of images to go through including editing the second funnel, I will upload all of these recent chases onto a new web site report in the near future.
Storm Chasing -
May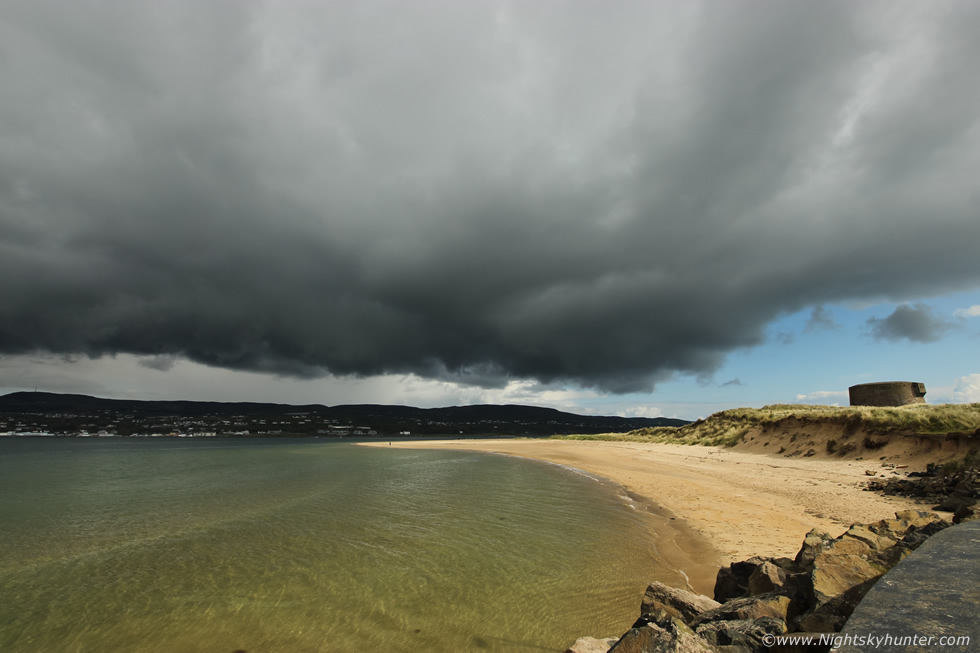 May has turned out to be a very active month for unstable weather, in fact, at the time of writing there have been numerous days of convective showers and thunderstorms, a time of year which I had been eagerly anticipating. I will save the full account for a future web site report however in a nut shell I have been chasing on three days. On May 1st a sea breeze convergence zone generated a line of convective showers over Lough Foyle, despite the low tops the towers were quite solid and were full of life for so early in the morning. A low dark base formed with two areas of rotation, the eastern most area was churning and rotating for a full 30 min's which was quite astonishing. The is a 10mm wide angle image of the cell and base while it was spinning, I actually have a time lapse showing part of this rotation which I'm rather pleased with. The cell produced two brief short-lived funnel clouds, they were not photogenic and had poor contrast against the background sky however they were funnels all the same, these go on record as the earliest funnels I have ever witnessed, just after 10.30 in the morning.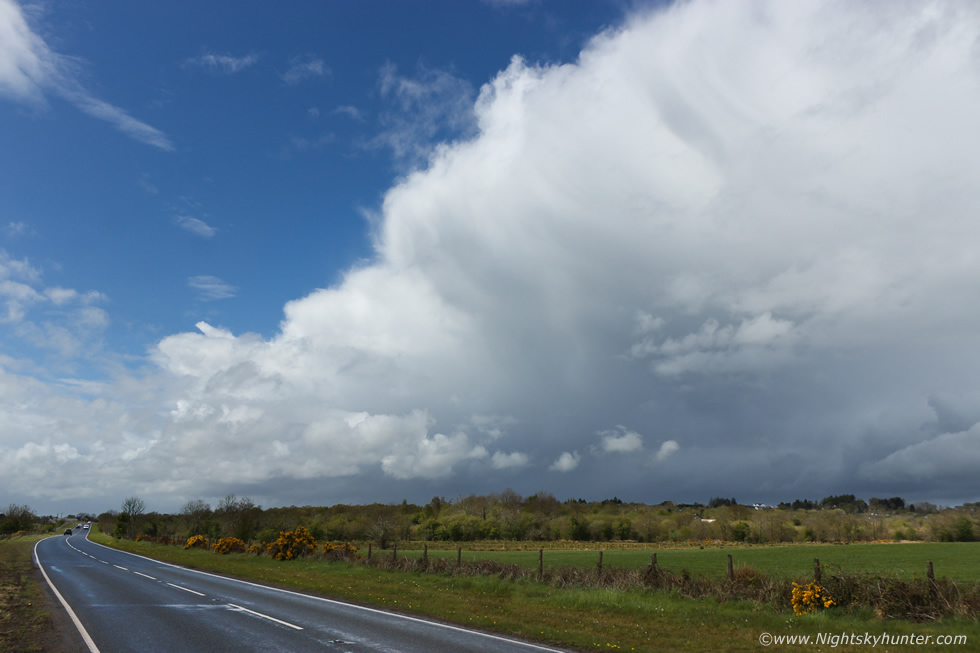 Sunday May 9th was the first proper chase day of the season with very interesting synoptics. Low to moderate CAPE with 50 knots of deep layer shear, organized thunderstorms were possible and the outlook mentioned storms with supercellular traits and even a risk of tornadoes. The forecast was exciting however there were issues which concerned me such as only marginally cool air aloft, saturation issues with the skew-t and surface winds of 15-20mph, however I couldn't pass up this first chance of the year, after all, for once it was a warm sector set-up with a Sly flow. By the early afternoon cells fired when the sun broke out, I pulled over just outside Omagh and got treated to what would be my best catch of the day. This cell was massive in length extending across much of the Sperrins, the anvil was sheared dramatically down-wind in an environment with 40-50 knots of deep layer shear, this is the type of bulk shear which produces tornadoes in the USA. The actual radar at this time showed a dramatic sheared Eagle-wing profile and hint of a brief meso. The cell was so fast moving that by the time I switched over lenses it was already moving out of sight.
I then teamed up with Paul Martin and Nigel McFarland and we chased into Co. Donegal. From a quiet vantage point in the countryside we watched several thunderstorms however it was not a pleasant experience. The cells were all grey and covered with low cloud so no structure was visible at all and there was no light, it turned into a cloud and rain fest, we did see a nice low level rainbow which was the best sight of the day, despite no photogenic prizes it was still a good chase and road trip which we enjoyed very much.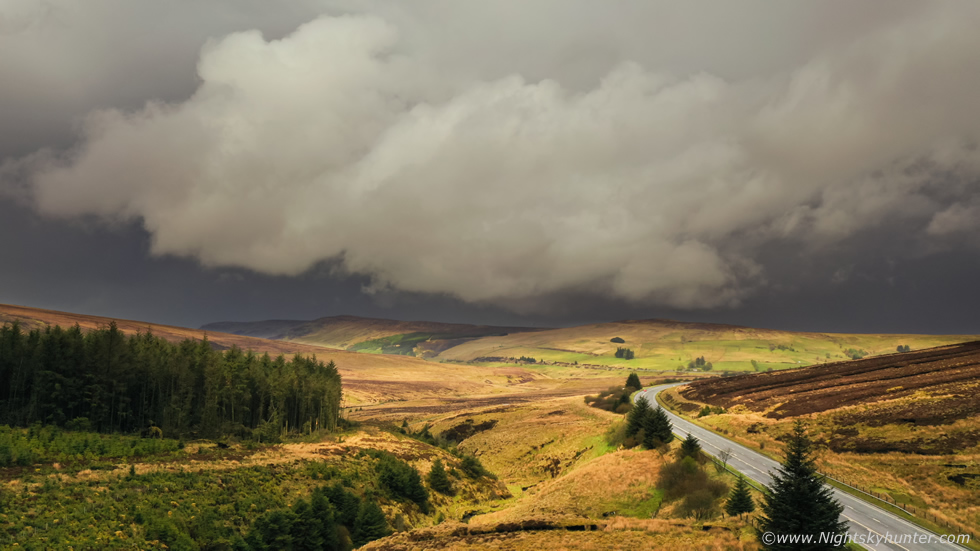 May 10th was another storm day, this time closer to home with the midlands most favored with moderate CAPE but this time there was no shear at all so this would be a day of pulse type thunderstorms. By the early afternoon I was at the bottom of Glenshane Pass and a cell arrived, the precip core from it was the strongest I had encountered all year to date, it was like driving at high speed in torrential rainfall with the rain battering the windscreen in wind-driven torrents, however I was parked absolutely still, the radar showed a white core at this time. I drove to higher ground and the storm cell cleared then I got the drone up for an aerial image of its atmospheric departure. The dark precip core was already on the other side of the mountain with big cloud tags and Cumulus forming on the rear of the core while rain evaporated from the road like steam, the sun broke out and lit up the countryside in warm light for a nice moment.
This would be the only image I got all day, despite chasing and spotting for hours I never saw a decent thing all afternoon despite several thunderstorms popping up. The lack of shear resulted in messy cells and the moisture was such that visibility was once again hampered by low cloud. The models are showing another couple of days of convective potential and perhaps again over the weekend or the following week so stay tuned for future updates.
Broughderg & Beaghmore Night Shoots & More -
NEW REPORT
Detailed report covering a range of night shoots in April 2021 - Astronomical telescopic observations, Zodiacal Light, Nova V1405 Cass and Asteroid 4 Vesta. First official meet up and night shoot of the year with mates shooting nightscapes and star trails at the Crucifixion scene and Lady of Wayside chapel in Broughderg as well as the Milky Way with mag +8 Nova over Beaghmore Stone Circles. This report also documents deep sky and comet observing with the 10" F/5 Reflector including the first convective skies and lowering of the Spring season. One page report with 19 images. - REPORT.
Night Sky Hunting -
April 14th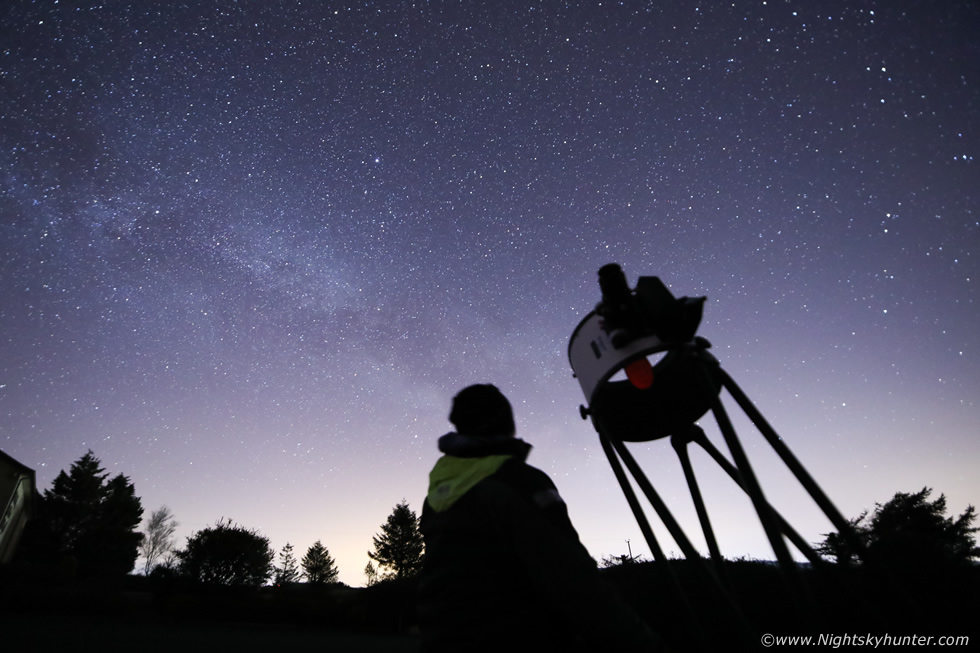 We have been getting treated to a great selection of clear nights of recent and I have been taking advantage of this blessing from nature by undertaking a lot of visual observations with the 10" F/5 reflector. Getting away from town lights, street lamps and obstructing houses at the backyard has been absolute bliss. There's nothing better than driving out to a country location and setting up your telescope under truly dark skies. I have been observing Messier objects and even picked up several galaxies from the NGC catalogue which I have never even noticed before from years ago with my old 16" reflector. I have been throwing myself into the realm of galaxies recently and have tracked down two new comets so my telescope has now earned its wings. There have been special moments such as seeing a tail-less comet against the Milky Way background, observing island universes with edge-on spiral arms which had been interacting with one another, spying upon variable stars and a Nova then observing Messier 81 with the naked eye. I will be featuring these sessions and recent photo shoots in a new report soon but in the meantime here's a quote from a quick write up I did for social media...
Solo observing session from Broughderg in the Sperrins last night 00.50-03.30 UT using the 10" F/5 reflector. - The sky last night was quite superb away from bright light sources. I spent the pre-dawn hours observing my old favourite deep sky objects then tracking down two new comets for the growing collection (75 comets now in the bag). The session got off to a great start when an amber-coloured mag +2 meteor lazily streaked across the sky for five seconds with fragments falling in its wake as it broke into pieces, it originated from the north between Uma and Auriga.
I observed a wide range of Messier objects but also added several new NGC galaxies to my collection which I never noticed before, even from back in the days of the 16" telescope. Tonight it seemed galaxies were popping out from the sky into the telescopic field. My all time favourites are M81 and M82 however I'm currently very fond of the view of NGC4656, NGC4631 & NGC4627 in the Coma Berenices/Canes Venatici border. This huge edge-one spiral is impressive with its pointed spiral arms with embedded structure in the form of knots and dark sectors of galactic dust lanes. Two foreground stars near the nucleus gave the impression of supernovae. The other galaxy in the same field is unlike any other galaxy with the tip of its spiral arm up-turned like a hook. Some call it the Hockey Stick galaxy but to me it looked more like a fishing lure. This hooked deformation is the result of tidal forces when both these galaxies interacted with one another in the remote past.
I also hunted down comet C/2020 R4 ATLAS, in fact, this was my main reason for driving to a dark site. I found the comet between Aquila and Serpens Cauda, despite its bright magnitude of +9.5 to +10.0 it was not an easy object, it certainly required dark skies and patience to find visually. In the field it looked like an elliptical haze with no tail sporting a very subtle condensation at centre, the overall coma was diffuse at DC: 3. I could detect a green hue from the gas-rich coma, the comet looked tranquil against a sea of stars within the Milky Way.
I hunted down faint comet C/2020 T2 Palomar in Canes Venatici at mag +12. It was easy to find near the zenith away from any extinction and sported a compact oval coma with bright central condensation and a DC of 6. Incidentally the faint globular cluster NGC5053 in the same field as M53 looked exactly like a newly discovered comet with a large diffuse coma at low powers. This would make for a great test object for future comet observers. Higher power revealed stars within betraying its cluster origin.
I then searched for new comets low in the N and NW then had a look at the western section of the Veil Nebula. With the naked eye I observed RCrB, TCrb, Chi Cygni and M81 which looked like a min version of the Gegenschein. I ended the session before dawn with this image of the telescope and I admiring the rising Milky Way before the glow of dawn. A fantastic observing night under wonderful dark skies.
N. Ireland Storm Chasing Image Reports -
Archive
Astronomy is not the only subject I'm interested in, check out my N. Ireland Storm Chasing section and view the chase reports and images which detail not only storms but other phenomena such as a moonbows, noctilucent clouds, aurora displays and exciting nature related photo shoots.
Martin McKenna