LATEST SKY EVENTS
Updated December 6th 2019
Update -
December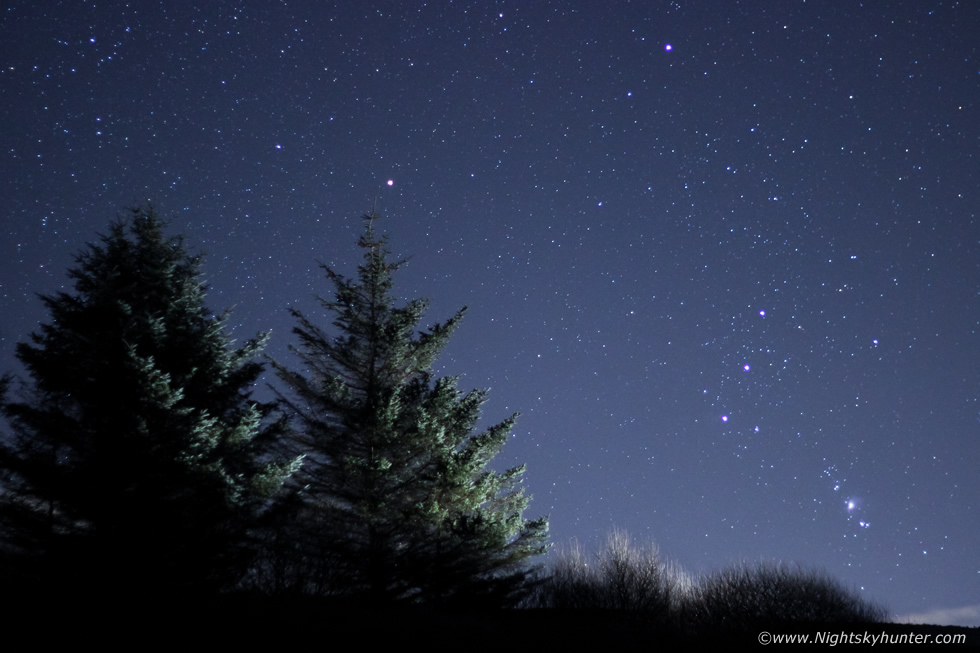 Quick update. There have been a considerable amount of cloudy nights during November and early December however I still managed to get out on several shoots during that period. These were mainly time lapse shoots however I took a few still exposures as well. This was within the Sperrins, Orion rising over forest trees with Belt and Sword and of course the famous Orion Nebula (M42), quite a festive scene, a layer of snow would have been perfect. A brief cold interlude brought a series of nice clear frosty evenings last weekend which arrived perfectly to see the moon and triple planet conjunction, I shot the line-up from a field in Drumsurn however the image isn't worth sharing. Venus, Jupiter and Saturn are still visible in the evening sky this month, Venus in particular looks like a golden star in the twilight sky low on the SW horizon making for a nice 'Christmas Star'. On one of those fine evenings I shot a time lapse of the Christmas lights and traffic trails in Cookstown main street, check out the video...
The Geminid meteor shower peaks December 13th-14th however a near full moon will wash out many meteors and reduce the count, however if you can brave the cold I heartily recommend doing a watch because this meteor shower is famous for random fireballs which are always worth seeing. There's a slight risk of a cold spell affecting UK and Ireland later next week and perhaps the following weekend too however there's still uncertainty if it will happen. If it does there could be severe frosts and scattered wintry showers, some of which will be of snow. Several ocean CAPE events have been showing up on the models too so I might make a play on one of those soon including any Winter photo opportunities which come my way.
Have you noticed strange sunsets lately? there has been a striking increase in beautiful sunset afterglows of late, these mainly due to a volcanic eruption in the Pacific Ocean, however other things are happening within the Stratosphere. Decreasing temperatures and ozone depletion have been generating rare Nacreous Clouds or Polar Stratospheric Clouds (PSCs) from northern latitudes such as Norway. In recent days sightings have also been seen from the UK! these are among the rarest cloud types to witness from this country so keep an eye out for them before and after sunset/sunrise on the days ahead. I will update again soon.
Cookstown Christmas Lights -
UPDATE
The festive feeling is in the air. Last Sunday was a cold, calm and foggy day, Roisin and I decided to wait until darkness then have a little fun taking images of the Christmas lights in Cookstown main street. We ended up spending a good 40 min's starting from one end of the town then moving to the other, the best view was of course from the hill near TIME. The street was extremely busy with traffic so I couldn't get the 'middle of the road' view I wanted, so we shot the lights from the side. I was shooting with the 18-55mm and 24-70mm lenses. I stopped the lens down for good depth of focus and used short to moderate exposures, naturally this picked up car trails.
The light fog in the air helped generate an atmospheric mood. I was happy with the test images, all I need now is a good layer of snow and shoot later in the night when there's less traffic on the roads, hope you like how these turned out.
Mid-Ulster Fog Inversion -
UPDATE
November has brought with it some interesting weather phenomena over the last two weeks. The highlight of which was this interesting fog inversion which formed over the Mid-Ulster area by mid afternoon and which remained until nightfall. I was in Cookstown this day where it was sunny and clear, I never seen a hint of fog. However, it wasn't until I began my drive home to Maghera that I suddenly encountered the inversion, the countryside was covered in dense fog from Desertmartin to Maghera and beyond, I suspected it had originated from Lough Neagh. When I got home I decided to hunt for a photo opportunity, one of the ways to do that was to get above and look down on the inversion, the view is more often than not impressive, and on occasion even spectacular. I drove to the top of Glenshane Pass and I got above it, the fog was below us but the bank was too far away for the drone, so I took back roads and got to the edge of it in the clearance, got the van into a field and got the drone up, this was somewhere in the Maghera-Tirkane-Ranaghan area.
Fantastic view at sunset during last light, the sky was clouding over with high level cloud ahead of the next front, I had got in the air just in time, the view from the drone is always amazing, looking down on fog gives the impression of a deep cotton wool blanket. This is facing SW with the back side of Slieve Gallion in view, the distant turbines are near Lough Fea.
The farm houses looked dramatic surrounded by ghostly wisps of meandering fog. I have a full video of this event on my youtube channel which will be viewable from Sunday evening (24th) onwards.
'Wild Ireland' Bears & Wolves -
NEW REPORT
I have always wanted to photograph Bears, I never thought it would happen unless I flew to Canada, however a dream suddenly came true when 'Wild Ireland' appeared on the television news. An animal sanctuary located in Burnfoot within Co. Donegal featuring rescued animals by Solicitor and Zoologist Killian McLaughlin. Roisin and I spent four hours at Wild Ireland on November 5th 2019 and had a wonderful time. This report features imagery of the three Brown Bears and Wolf Pack which was a dream come true for me. I will be visiting this place again in the future but for now these images document my first look at these marvelous animals. One page report with 24 images. - REPORT.
Various Imagery - Nightscapes & Convection 2019 -
REPORT
A new report featuring a selection of random imagery taken during 2019 which didn't make entry into my recent updates but which deserve showcasing. This is a combination of convective and nightscape scenes featured in no particular order, however all of which bring back fine memories which I wanted to document. This report includes stars & star trails from a Co. Tyrone church, An-Creagans mock up Bronze-age settlement, Swatragh church, Davagh forest and daytime ground and aerial scenes of north coast convection and inland storms and rainbows including robust updraughts over Belfast. One page report with 21 images and 2 video clips. - REPORT.
Return To Fanad Head Lighthouse - Aerial & Time Lapse Shoot -
NEW REPORT
It has been too long, on September 20th 2019 it was time for a return visit to the iconic Fanad Head Lighthouse on the north coast of Co. Donegal along the Wild Atlantic Way with Paul Martin and Nigel McFarland. We arrived just in time to enjoy the location during golden hour during which time I filmed the lighthouse by drone, we then got treated to a glorious volcanic sunset afterglow with fanning crepuscular rays. At nightfall I shot time lapse with two cameras and captured the lighthouse from darkness through moonrise. After a much needed BBQ we then documented the derelict custom buildings in moonlight while battling strong gusts of wind which made for a memorable night under the superb skies of Donegal. One page report with 16 images and 3 video clips. - REPORT.
Shelf Cloud On Co. Tyrone Squall Line With Funnel Cloud & Strong Rotation -
REPORT
June 29th brought the convective event of the summer when unstable air overlapping 80 knots of deep layer shear triggered an organized evening thunderstorm over the west of NI. On a hunch and after detailed personal forecasting Paul Martin and I chased into Co. Fermanagh and intercepted a rapid moving squall line which traversed NE across much of the country. We battled traffic and torrential rain to stay ahead of the system and got rewarded with an embedded funnel cloud and strong long-lived rotation over the Omagh road, followed by thunder, and climaxing with a beautiful late evening shelf cloud over the countryside to the west of Lough Neagh which made for our most exciting chase in years. One page report with 26 images and 1 video clip. - REPORT.
N. Ireland Storm Chasing Image Reports -
Archive
Astronomy is not the only subject I'm interested in, check out my N. Ireland Storm Chasing section and view the chase reports and images which detail not only storms but other phenomena such as a moonbows, noctilucent clouds, aurora displays and exciting nature related photo shoots.
Martin McKenna