LATEST SKY EVENTS
Updated June 20th 2018
Drone View Of Hot Air Balloons Over Maghera -
REPORT
Two days of chasing hot air balloons around the countryside outside Maghera on May 28th and 29th 2018 as part of the 20th anniversary of the Sperrins Balloon Festival. Warm humid high pressure days complimented by formations of majestic hot air balloons, this report documents two days of chasing along back roads with other photographers to document the event and capture drone footage in the process. On page report with 4 images & 2 aerial video clips. - REPORT.
Noctilucent Clouds -
June 19th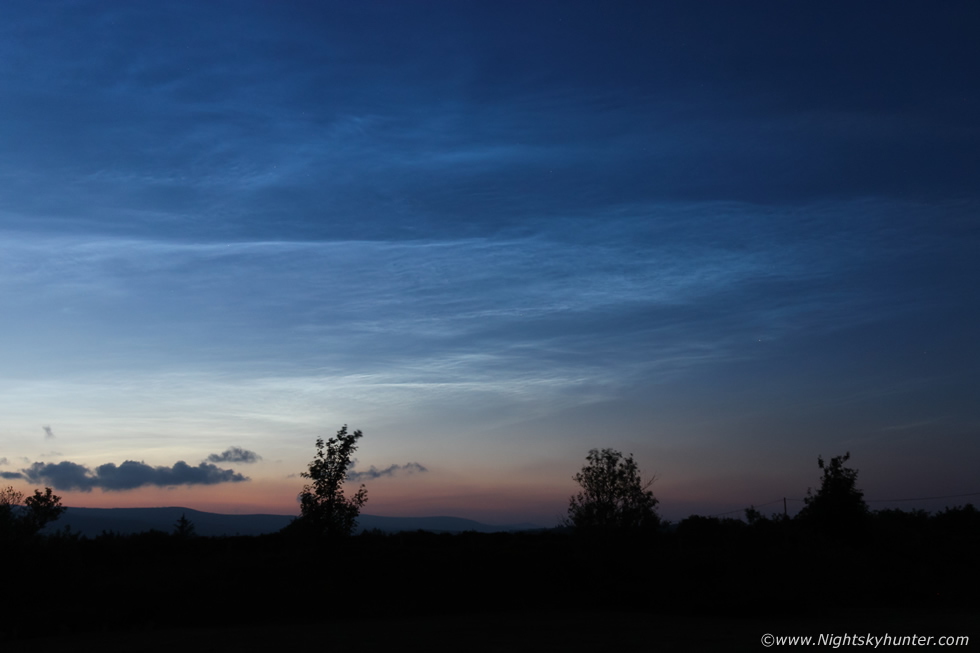 I have just observed my first NLC display of the 2018 season last night from Maghera. I have been either clouded or fogged out for the earlier displays but this time we had short window of semi clear skies before thicker cloud moved in. Social media was full of excited reports of a huge display, as soon as the clouds parted I saw them at 23.30 UT, there was no question it was a serious display, I drove out the road and got set-up in a local field. I measured the display at 35 degrees high, however those who had clear skies earlier were getting NLC near the zenith. Here it stretched from the NW to NE for 140 degrees and was overall type 4 brightness, however the vivid banding above the solar point was type 5, to see these standing out so well against such a bright background sky speaks volumes for it's brilliance. This is 10mm wide angle, the high banding was to the left of centre so I instead concentrated on the NE section, although fainter it boasted the best structure in the sky.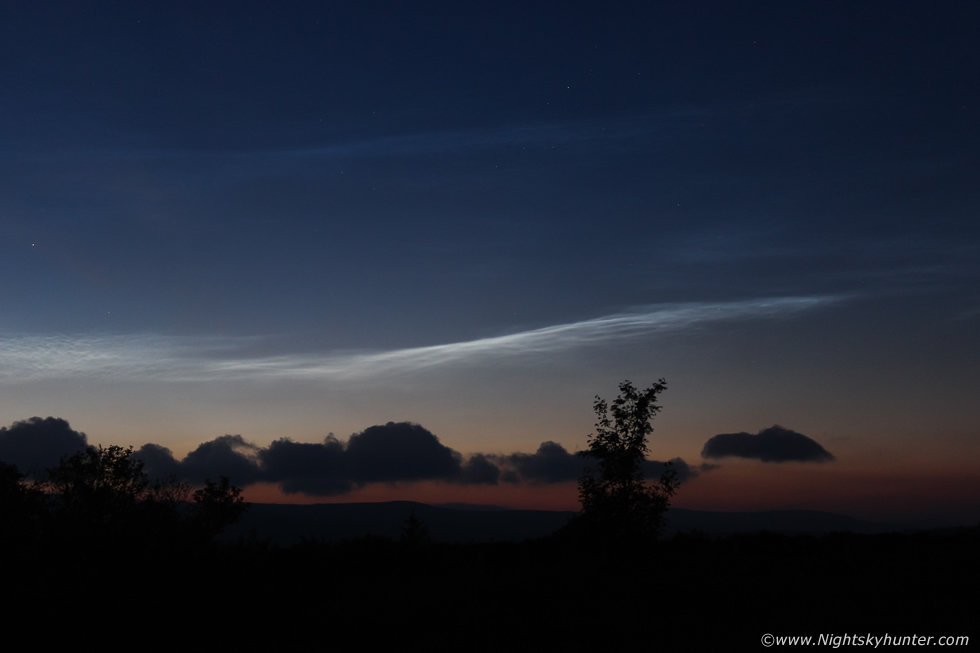 Using the 50mm F/1.8 lens, stunning structure here, a complex cauldron of NLC structure all on show, there was cloud coming in behind me and I knew this would be my only chance of the night so I began shooting time Lapse. What amazed me was the motion of the NLCs, they were blurring in just a 2 second exposure which made the images look blurred or soft, last time I experienced NLC motion like this was during the epic 2009 season.
A crop from one of the 50mm frames with various NLC structures annotated, make sure to check out my NLC Article on how to observe and identify NLCs if you are new to the hobby. With solar minimum on the way and the Summer solstice approaching I'm anticipating more massive displays with exceptional structure so stay tuned any clear night from now on.
High Pressure Thunderstorm Outbreak Report -
NEW
New report documenting a remarkable period of high pressure hot weather which lasted for four weeks and ended up in a thunderstorm outbreak over a week long in the W of N. Ireland. I chased on June 7th, 8th and 9th and succeeded in intercepting storms on all three days. Highlights include a funnel cloud over Omagh, standing on the Sperrins between two close range thunderstorms and bagging another funnel from Glenshane. All days were hot and humid, I chased many miles and ended up on roads I have never been on before in my life surrounded by beautiful countryside. This report showcases images from these chases and my efforts to capture time lapse of storms. One page report with 19 images, 1 Vlog & 1 time lapse video. - REPORT.
Benbradagh Thunderstorm Beast Report -
NEW
June 1st 2018, 1000 CAPE, LIs -4, high humidity and heat in the midst of a wonderful four week HP heat wave. I began my chase at Benbradagh outside Dungiven as a base of operations and ended up getting two thunderstorms. The main storm turned out to be the most prolific daylight thunder/lightning producer I have ever experienced. Due to the slack flow storm motion was the slowest I have encountered and from a sunny vantage point on the mountain we watched the entire life cycle of this intense thunderstorm which had solid updraughts and mean structure. The storm produced constant thunder for over 1 hour in close proximity while we watched in awe under sunshine which made for a memorable storm experience. Also a storm at Desertmartin and big convection spotting on the Sperrins on June 2nd. One page report with 15 images, 1 Vlog & 2 time lapse videos. - REPORT.
The 2018 Noctilucent Cloud Season -
ARTICLE
The 2018 Noctilucent Cloud (NLC) season will soon be underway with the first early season sightings possible any night. NLCs form within the Earth's atmosphere some 82km high in the frigid mesosphere and appear to suddenly 'switch on' during northern hemisphere Summer. The season runs from late May to early August. NLCs can range from faint glows to magnificent highly structured luminous cloud formations, prolific apparitions tend to occur around solar minimum so this season does have high expectations. Check out the following article I wrote for my site several years ago. Learn how to identify and observe these mysterious night shining clouds, can you tell the difference between a veil?, or a wave?, or perhaps a lacunosus hole?, I have used a selection of my own imagery captured over the years with annotations to help understand NLC structure and brightness, I hope you find it of use, I wish you clear skies and a spectacular season - ARTICLE
Surprise Thunderstorm At Swatragh Wind Turbines & Cap Bust Report -
NEW
On May 11th 2018 a strong cold front crossed the country bringing heavy rainfall associated with a broken squall line which produced rotation over Co. Tyrone. That evening the front cleared leaving low end instability in it's wake. Unknown to me at the time a cell had evolved and crossed the Sperrins, aided by convergence, wind shear and orographic lift a thunderstorm erupted to life to the W of Dungiven, I got tipped off within min's by my mates, checked radar, then raced out the road. I intercepted the storm on the hills above Swatragh in the form of a large and impressive shelf cloud which crept over the local wind turbines in the late evening light, this surprise storm presented me with the first structure event of 2018, one page report with 8 images. - REPORT.
New Nightskyhunter facebook Page -
NEWS
I have created a new facebook page dedicated entirely to this website, I'm currently transitioning from my private page to a new public page which will feature links to all my site updates, reports, forecasts and also showcase my night sky and storm photography, drone videos and time lapse cinematography. If you already follow me then please like and follow my new page and spread the word, thanks very much for - Nightskyhunter Facebook Page
N. Ireland Storm Chasing Image Reports
Astronomy is not the only subject I'm interested in. One other such area is severe weather which will be playing a major role on nightskyhunter from now on in conjunction with my other astronomical pursuits. Check out my new N. Ireland Storm Chasing section and view the chase reports and images which detail not only storms but other phenomena such as a moonbows, noctilucent clouds and aurora displays.
Martin McKenna