LATEST SKY EVENTS
Updated September 10th 2020
An Creagan Milky Way & Quarry Nightscapes & Star Trails

-

NEW REPORT

Report documenting four nights in Co. Tyrone on Aug 24th, Aug 29th, Sept 6th & Sept 19th 2020 covering superb clear skies and vivid Milky Way scenes over the 10,000 year old bog lands at An Creagan visitor's centre on the Omagh Road. Then an unusual subject matter when I visited a local quarry on three different nights with various photographers under bright moonlight then dark skies shooting nightscapes, star trails and time lapse over the alien-looking quarry machinery which made for a most unusual subject matter. One page report with 20 images and 1 time lapse video. - REPORT.
Moonlit Sunflower Field & Scare Crow Fun -
NEW REPORT
On September 5th and 6th 2020 I spent two nights in a sunflower field shooting nightscapes, something I have always wanted to do. I spotted the field on the Omagh road outside Cookstown in Co. Tyrone quite by chance and followed this up with a daylight visit which resulted in permission from the owners for a night shoot. The first night was a solo experience and the second was with two other photographers. The brilliant light from the waning full moon illuminated the yellow flowers perfectly, I shot time lapse, stills and even short star trails which resulted in a subtle moonbow over the field, a really fun and unexpected shoot. One page report with 13 images and 1 video clip. - REPORT.
Comet C/2020 F3 NEOWISE From Northern Ireland -
NEW SPECIAL REPORT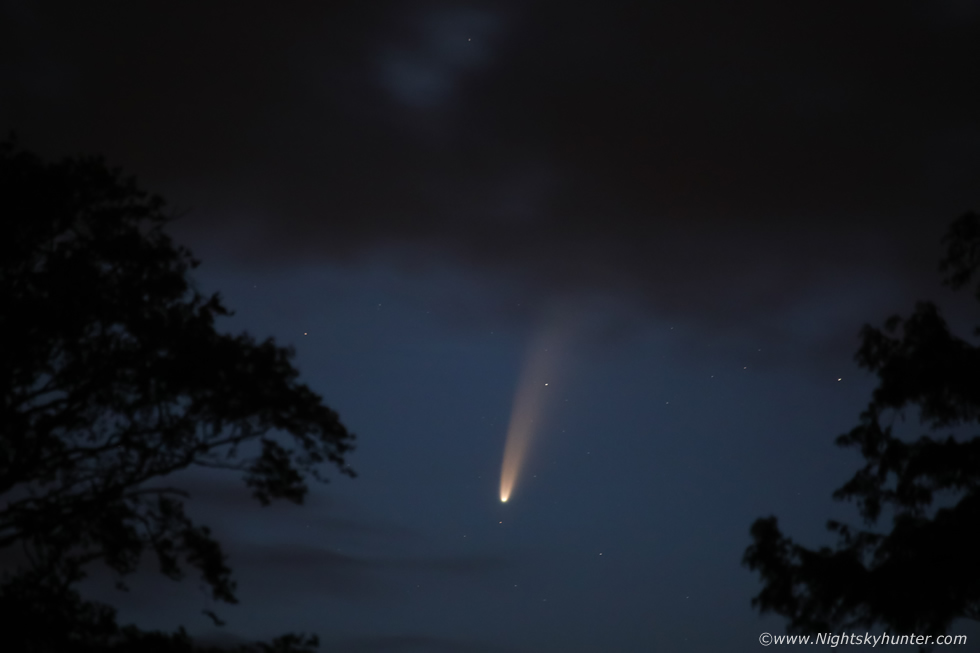 Two page comet chasing report covering nine nights observing and shooting comet C/2020 F3 NEOWISE from various locations in N. Ireland from June 11th to June 28th 2020. NEOWISE surprised the world when it suddenly surged in brightness during perihelion passage then emerged into the northern circumpolar sky as the brightest naked eye comet since Hale-Bopp 23 years ago. NEOWISE astonished me with its rapidly changing form and tail displays, the comet was notable for it's striking gold DC:9 coma and sweeping golden dust tail perched in the Summer twilight sky, the telescopic view of the coma looked similar to renditions of great comet Donati. I observed a search light beam tail of 20 degrees with the naked eye and during one unforgettable night I watched this golden comet embedded within a complex electric blue NLC display which was a dream come true. I documented the comet from Ballintoy Harbour, Dunluce Castle, Cookstown, Beaghmore Stone Circles, near a fairy tree and from inside a graveyard near Omagh, my final sighting of this rare visitor was over the tree tops at Davagh Forest. From a visual perspective this ranks as one of the most beautiful sights I've ever seen in nature. Two page report with 41 images & 1 video clip - PAGE 1, PAGE 2.
Night Lightning Over Scotland, Sperrins Storm Chase, Horseshoe Vortex, Suspect Wall Cloud & Funnel Cloud - June 25th & 26th -
CHASE REPORT
Chase report covering two days of action beginning on June 25th when I drove to Cushendun at night to watch lightning from elevated storms and a likely supercell over Scotland in the company of Nigel McFarland and Colleen Webb. The following day brought big CAPE and this time I had a wonderful solo chase from west to north from Co. Tyrone, through the Sperrins and across beautiful countryside as I tracked a sheared thunderstorm which produced a rare Horseshoe Vortex, a suspect wall cloud, a funnel cloud then two more storm intercepts on the way home, what began as a look at the sky ended in an eight hour chase with three storms. One page report with 17 images and 1 video clip. - REPORT.
Impressive Co. Tyrone Thunderstorms & Omagh Updraught Beast -
CHASE REPORT
June 15th 2020, second day in a row of big thunderstorms across N. Ireland with high CAPE, strong shear and convergence which produced an outbreak of HP storms. I chased all day through Co. Tyrone and intercepted 7 storms, encountered intense cores and flash flooding then two more storms on the way home. The climax was the amazing sheared storm near Omagh which I watched from Pigeon Top with Paul Martin, this storm had the largest updraught plume I have ever experienced in my entire life with rock solid clouds and explosive formation. The storm itself had an intense core with rain foot and huge back rain free base with rotation and possible RFD slot with supercellular traits, an amazing day. One page report with 20 images and 2 video clips. - REPORT.
Intense Multicell Thunderstorms At Mullaghmore Co. Sligo -
CHASE REPORT
June 14th 2020, lock down restrictions lifted which coincided with the first big thunderstorm outbreak of the season. 1300 CAPE, strong humidity and solar heating, sea breeze convergence zone and 40 knots DLS in the west would fire intense organized thunderstorms. Models indicated the best potential would be in a target area between Omagh & Sligo. This was an historic chase day as five car loads of us chased west in a coordinated storm chase with Nigel McFarland, Paul Martin, John Fagan & Colleen Webb. We got treated to eight storms, the most explosive convection I've ever seen and climaxing with a fantastic photogenic multicell storm with shelf cloud over the fields at Mullaghmore accompanied by two hours of thunder. What a fantastic day with 13.5 hours spent on the road. One page report with 23 images and 2 videos. - REPORT.
Complex Sun Halo Displays During Lock Down! -
NEW REPORT
Its lock down during the Covid-19 pandemic here in N. Ireland and we have been experiencing our finest period of weather for a very long time. Strong high pressure brought back to back days of sunshine, blue skies, warm temps and no rain for two weeks which also presented me with many clear nights during which I have been tracking three comets as they moved among the stars from night to night. If this wasn't good enough I experienced two days in a row of complex sun halo displays with sundogs, UTA, CZA, parry arcs, supralateral arc and even a full 360 degree parhelic circle. These were among my finest halo captures to date due to so many forms being present during a single apparition, what a wonderful period this was. One page report with 21 images and 3 video clips. - REPORT.
N. Ireland Storm Chasing Image Reports -
Archive
Astronomy is not the only subject I'm interested in, check out my N. Ireland Storm Chasing section and view the chase reports and images which detail not only storms but other phenomena such as a moonbows, noctilucent clouds, aurora displays and exciting nature related photo shoots.
Martin McKenna