LATEST SKY EVENTS
Updated September 23rd 2018
Dunservick Moonlit Waterfall Shoot -
Sept 21st
I had a great photo shoot at the north coast last night (Sept 21st/22nd) with John Fagan. We spent much of the night at Dunservick waterfall where we shot long exposures and time lapse sequences. The moon was three days from full and fairly low in the south which provided us with sufficient light for the waterfall and seascape while passing showers and stars completed the scene. We where standing on rocks almost in the middle of the waterfall for this one.
It was an incredible sensation standing here with this moonlit waterfall while water rushed past us under a canopy of stars, utter tranquility. An aurora manifested during the middle of the night, you can see it in the sky here blending in with the lunar opposition glow.
This angle was very photogenic, this was a long 40 sec exposure using moonlight and a quick sweep from the head torch with showers forming in the distance. Large swells surged up and down near the waterfall, they were dramatic and frightening to watch however we where well out of harms way.
Just near moonset we captured this distant moonbow, this was auto white balance to bring out the colours better. We saw four other stunning close moonbows however they were not in our time lapse position but they were remarkable visually. My photography is available to purchase as a print, canvas or to license as a digital file, please email me for a purchase.
Fire & Ice - N. Ireland Storm & Stars Image Compilation -
NEW
A selection of images from 2017 and 2018 showcasing various storm and night sky phenomena from N. Ireland captured by DSLR and drone. Winter snow, ice, storm clouds, convection, funnel clouds, moonbows, wild fires, star trails, moonlit landscapes and much more. Hope you enjoy it, best viewed at 1080p. Images from this display can be found here...
2017 chases
http://www.nightskyhunter.com/Storm%20Chasing%202017.html
2018 chases
http://www.nightskyhunter.com/Storm%20Chasing%202018.html
Prints and canvas of DSLR photography can be purchased or the digital file licensed, please message me for more, thanks for watching
Funnel Cloud Over Binevenagh & Possible Touch Down -
REPORT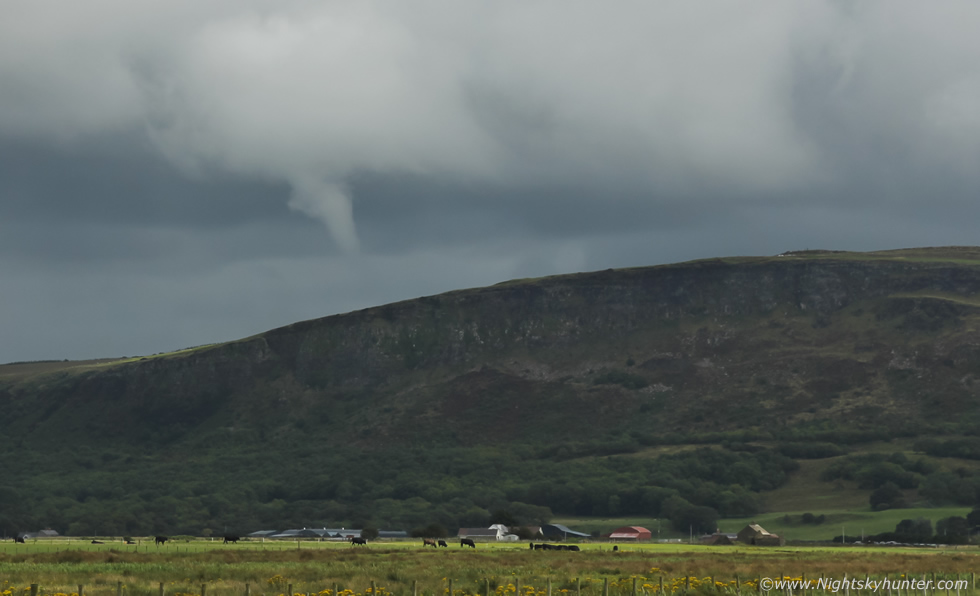 On August 25th 2018 I was driving along the north coast under showers, my intention was to seek clear skies for aerial filming that afternoon. Once I passed under the core and made a turn onto the Point Road I was astonished to observe an unexpected funnel cloud clearly visible from the flanking area of the cell. I pulled over and made a dash for my camera, this beautiful white funnel cloud rotated and changed shape over the dramatic sunlit countryside against a backdrop of Binevenagh Mountain for 10 min's. During the latter stages of it's apparition the vortex took on the form of a long rope, at which stage it was very close to the summit of Binevenagh. There's a possibility this may have briefly touched down, details of this surprise visitor can be read in the report along with thoughts on how it formed in such a weak set-up along with funnel spotting tips and lessons learned. One page report with 12 images and 1 video clip. - REPORT.
Moonbow Hunting & Moonlit Convection At Swatragh Wind Turbines -
REPORT
On August 24th 2018 I spent a pleasant night hunting for lunar rainbows or 'moonbows' at the wind turbines above Swatragh with John Fagan. It was a night of heavy showers with clear periods from an unstable NWly flow due to a post frontal maritime air mass. The set up presented a rare opportunity to catch moonbows from a waxing gibbous moon two days from full thanks to the low ecliptic angle which meant the moon stayed below 42 degrees in altitude all night long at this phase. We ended up observing nine different moonbows throughout the night, several of which had various colours visible to the naked eye. Here are several of the better bows, however it was the moonlit convective cloudscapes which really made the night for us. One page report with 13 images and 1 time lapse video. - REPORT.
Ballintoy Perseid Meteor Watch & Late Season NLCs Report -
NEW
The 2018 Perseid Meteor Shower looked to be clouded out for the peak so two clear nights were arranged for a watch during the build up to maximum. On Aug 8th/9th three of us undertook a nightly vigil at Ballintoy under superb clear skies where we had a BBQ and encountered 56 Perseids, a mag -6 fireball and were surprised by a pre-dawn late season NLC display, in fact, this was the latest NLCs I have ever observed in my life. On Aug 10th/11th six of us teamed up for another watch at Ballintoy two days before maximum, after another BBQ inside a bat cave we spent the night sky watching from the 50 million year old Ballintoy stacks under a vibrant Milky Way where we observed 134 Perseids, this report documents both these nights with star trail imagery. One page report with 10 images and 1 time lapse video. - REPORT.
Dramatic Golden Hour Peat Wild Fire Near Rasharkin -
REPORT
July 4th 2018, N. Ireland still in the middle of a heat wave and drought conditions. My mate Conor McDonald called around for a chat during the evening, we casually looked to the east and were shocked to see a massive gorse fire in the distance. We gave chase from Maghera, got a sudden tire blow out on the back roads, raced to get it replaced, then made our way through Kilrea when we spotted the fire up close outside Rasharkin originating from peat land. We found a field, launched the drone and flew out to get an aerial perspective on what was going on. The drone view was absolutely incredible with the lowering sun shining through a quivering wall of ascending smoke, the filtered sunshine through the smoke and golden hour light generated a dramatic yellow and orange fiery vista which left us awestruck. This was a short and entirely unexpected last minute shoot, one page report with 4 images and 1 video clip. - REPORT.
Historic Glenshane Pass Three Day Gorse Fire
-

REPORT
N. Ireland is in the midst of a long heat wave with hot sunny days and a new June record max temp of 30.8C on June 27th. This same morning I got a phone call from a mate tipping me off to a gorse fire on Glenshane Pass, I drove up for a look, the fire soon turned into an historic event for this area and raged for two nights and three days. I spent all three days documenting the event on camera and by drone. Due to multiple fires on the mountain fire crews had to be dropped off by helicopter to battle the flames, the chopper against the late evening smoke plumes looked like a scene from a war movie. This report documents all three days, a fire sunset, the forest itself on fire on day 2 and an aftermath trip on day 3 to document the widespread damage. Two page report with 41 images and 4 video clips. - PAGE 1 & PAGE 2
N. Ireland Storm Chasing Image Reports
Astronomy is not the only subject I'm interested in. One other such area is severe weather which will be playing a major role on nightskyhunter from now on in conjunction with my other astronomical pursuits. Check out my new N. Ireland Storm Chasing section and view the chase reports and images which detail not only storms but other phenomena such as a moonbows, noctilucent clouds and aurora displays.
Martin McKenna