LATEST SKY EVENTS
Updated May 23rd 2013
Evening Sky Triangular Planet Conjunction -
NEWS
Sunset is a special time of day. Low-hanging clouds glow vivid red and orange as the background sky turns cobalt blue. The first stars pop out in the heavenly dome overhead, eliciting wishes from backyard sky watchers. The sunset of May 26th will be extra special. On that date, Venus, Jupiter and Mercury will gather in the fading twilight to form a bright triangle only three degrees wide.
Triple conjunctions of planets are fairly rare. The last time it happened was in May 2011, and it won't happen again until October 2015. This triple is especially good because it involves the three brightest planets in May's night sky: #1, Venus; #2, Jupiter; and #3, Mercury. The triangle will be visible even in places with heavy urban light pollution. The best time to look is about 30 to 60 minutes after sunset. The three planets will be hugging the horizon, so a clear view of the western sky is essential. Let Venus be your guide. It pops out of the fading twilight long before the others. As soon as you locate Venus, look in that direction using binoculars. If your binoculars are typical, all three planets will fit in the eyepiece simultaneously. As the twilight continues to fade, set the optics aside; eventually the triangle will become visible to the naked eye.
You don't have to wait until May 26th to enjoy the show, however. The planets start gathering weeks earlier. Dates of special interest include:
May 23rd, when Jupiter and Venus converge to less than 5 degrees apart, close enough for simultaneous binocular viewing;
May 24th, when Mercury passes Venus less than 2 degrees away, giving shape to the triangle that reaches maximum compactness two nights later on May 26th.
The triangle begins to disperse on May 27th, but even then the show is not over. On May 28th, Venus passes Jupiter at a distance of 1 degree, forming a truly spectacular pair.
From beginning to end, the three naked-eye planets will be close enough to fit inside the field of ordinary binoculars from May 23rd until early June. May 26th is just the best among many very good nights. Step outside, face west, and observe the planets. It's a beautiful way to end the day. Credit: Dr. Tony Philips via NASA
Oklahoma EF-5 Tornado Tragedy -
NEWS
I'm sure everyone by now has heard about the devastating Oklahoma killer tornado which has taken so many lives including those of Women and Children in what is one of the worst tornado incidents in US history. Site investigators have already confirmed that this monster tornado was an EF-5 (Enhanced Fujita) which is the most violent class of tornado you can get with wind speeds in the 200+mph range. There have been bigger and even stronger tornadoes in the past within Tornado Alley however this one was lethal because it was a long-lived event which had a long damage track and it passed through a populated area where warning times were short. I would just like to say that my heart goes out to the families of the victims and I hope that the area can recover and that the survivors find peace and get their lives and homes returned back to normal as soon as possible, I'm kind of stuck for words on this as something as violent and on such a vast scale as this tornado is beyond logical thought which numbs the senses.
If you read my comet Pan-STARRS report (below) you will know about my English photographer friends Peter Scott and Steve Lansdell who came over from England to hunt the comet with me at the coast here, well these guys where storm chasing in Oklahoma when this event happened, the above image and the video below was taken by Peter, both guys have been seeing tornadoes every day since they have arrived in the US with this beast being the worst they have ever seen, I'm glad to say they chased this storm from a safe distance and were not hurt however things could easily have been different so I'm delighted they are safe and sound, however the sights and sounds they experienced this day will no doubt stay with them forever, here's a quick message from Steve sent to me this morning...
''Hello fellow Storm Chaser, well what can I say 3 days 7 Tornados and that thing yesterday, very mixed emotions as a chaser yeh it was huge, monstrous, a beast, and the first time ever I heard the devil roar! Dave Ewoldt said it was the loudest Tornado he had ever heard and at one point he was a little frightened that we had left it too late to move! Debris was falling from the sky we all got covered in bits of ..... well who knows what, also our cameras got covered in crap! It was scary man we must have had eyes like dinner plates! We of course have amazing video Peter is going to put some up watch out for it. The TV is full of reports this morning some terrible stories coming out of here I am feeling so sad for all those lives lost yesterday, we don't have to live with these threats these are real life and death possibilities that these people live with daily, the Oklahoma people are grouping together and getting what needs to be done, done, they are picking up as we did yesterday people's photos of kids and family they go in a centre where people can look for precious memories, so much to say will have to post another time''
The video taken by English storm chaser Peter Scott in Oklahoma
Another impressive video of the Oklahoma EF-5 tornado from tornadovideos.net
Nightskyhunter Images Published In Ijmet -
NEWS
Got a nice surprise in the post this morning in the form of the March/April edition of Ijmet - The International Journal of Meteorology here in the UK. Two of my 2013 Winter images were published as covers which was a very nice treat. The front cover shows the image of the Dungiven 20ft deep snow drift after the major March blizzard and on the back cover is one of the massive icicles on Glenshane Pass which was 4ft long and 4" in diameter. These images coincide with a write up on the UK/Ireland 2013 Winter. You can read the image reports for these two events in the 2013 section. I snapped these two images quickly today in the car, you can see my video camera attached to a suction mount on the windscreen during a test shoot today driving in the heavy rainfall, if it doesn't fall off in the tests I might use it for future storm chases.
This edition of Ijmet is a very interesting read and features a section on the probable supercell thunderstorms over England in 1997 which dropped massive damaging hailstones, also a nice selection on historic tornado records in Ireland and UK going back hundreds of years. I was delighted to read about two damaging tornadoes which passed through Belfast as well as a tornado which touched down on Staffordstown Road which stayed on the ground until Randalstown with a damage track 6-7 miles long, interesting because this area is not far from my home and an area I would be chasing near anyway, it would be nice to catch a modern day tornado in that area. You can get Ijmet through the TORRO website if you wish to subscribe.
Hunting Comet Pan-STARRS From N. Ireland Report Online -
NEW
Large report which begins with some of my early comet memories followed by the discovery and massive build up to the 2013 C/2011 L4 Pan-STARRS comet apparition. This report documents the hardships as I battled against cold and cloudy skies in search of this exciting new visitor which took me from Cookstown to Glenshane Pass and from frustration and sadness to spectacular thrills as the hunt climaxed with two unforgettable nights shooting this beautiful comet over the Co. Antrim coast with the amazing Pan-STARRS and M31 close conjunction showing off over the Giant's Causeway and Dunluce Castle. 34 images & 1 video clip - REPORT.
Belfast Mammatus & Hail Storms -
May 13th
I was in Belfast over the weekend and during my stay I got treated to some nice episodic bouts of convective weather which kept me entertained for several days. Two days stood out with unstable skies in the 200-400 CAPE range and negative lifted index with cold air aloft and unseasonal cool NWly flows which produced showers and scattered thunderstorms. This was taken before 13.00 on Saturday May 11th from South Belfast showing a large anvil with small mammatus attached underneath, when I say small they only appear that way because they were captured with the ultra wide 10mm lens, this anvil was attached to one of many strong hail showers which passed through the area this day.
Monday May 13th produced the most intense hail storms of the period, all day it was a case of bright sunshine interrupted by very intense rain and hail showers and some of which packed a punch with squally winds which I heard were strong enough to affect traffic on the motorway. At one stage there where roofers working on this roof to the right who were oblivious to the sky and what was coming in until they heard my camera's shutter clicking within the garden below, they then looked at me and where the camera was pointing and then skyward and I heard one saying to the other ''f**k look at that sky'',they then took shelter just in time because a squall of hail battered the place. The above was taken yet again from South Belfast just after another nasty hail storm showing a very nice mammatus display under the anvil of the shower/cell which was then moving away to the E (R). This display was the best I have seen for some time with large udders in the E to N sky sectors all contrasting against a clear blue sky. The neighbours came out to see what the fuss was about and they enjoyed the show too, I was quickly talking over the hedge explaining what mammatus were.
The rear end of another cell, this time in the evening facing E as it crept away after dumping another core of rain and hail stones. The hail was followed by a nice rainbow, some mammatus, and this nice feature which caught my interest for a while, I got quite a few images of it too, it looked like a funnel cloud however it was caused by a sunlit hail curtain or a combination of that and collapsing mammatus sacks, or at least I think this was the cause, looked cool though!. A good example of what a funnel is not. However there was a funnel cloud report from Lisburn earlier in the afternoon.
Video clip of the South Belfast mammatus, hail stones, and more mammatus with that interesting feature.
Co. Antrim Hail Storms! -
May 9th
As forecast during the previous update we got some nasty weather during Wed night into Thurs morning with very heavy rain and gales in the 50-60 knot range. There was a chance of storms during the afternoon and I was ready for action, I knew today had potential despite the low end CAPE values because the frontal cloud at the back of the rain band was turning rapidly convective when the sun came out, this and the moisture and shear combined with the low scuddy bases lifting vertical with inflow motion were all good signs for later development. A mass of showers formed below the border then moved NE into N. Ireland producing thunder and lightning to the S and SE of Lough Neagh. Visually from Maghera I could see towers and an anvil to the S and SE in the distance with convection bubbling up all around so I headed out for an observing session. Ended up on a back road on Glenshane Pass where the warmth and humidity were quite potent. This large dark lowering had my attention for a while, it wasn't rotating however it was lifting and looked substantial with a slightly rounded shape, it looked great over the sunlit fields with the cows.
I went back home to check radar and see the latest. Reports were coming in on twitter of crazy hail storms in parts of Co. Antrim with some roads turning white like a layer of snow, there was a particularly intense hail event over the M2 motorway outside Belfast which someone got on video. One excited spotter reported hail stones the size of golf balls which has yet to be confirmed, these hail showers turned out to be the main event of the day. I went chasing again and headed into Co. Antrim and worked my way around the roads outside Ballymena, Randalstown, Portglenone and Toome. A large cell in Antrim had a very black line of precip under the base which looked very nasty so I drove along the roads trying to find a place to pull over and shoot the storm structure however with nowhere to pull in I missed my chance and ended up core punching the cell, just as I was leaving Randalstown I went through the most intense sector of the precip where a nasty hail storm hit on the motorway with a high speed deluge of hard ice hitting the windscreen forcing me to slow down, that was quite a cool experience, I drove out from it then hit another hail curtain from the same cell min's later however I couldn't get any video as I was driving. I then made my way out of the core and headed back west and in the rearview I could see the cell taking on a more impressive structure so I pulled over for the last shots of the day. This was from Toome looking east from the park and ride bus car park near the roundabout, here's the gust front on that hail producing cell as it got closer taken at 10mm ultra wide angle with the dark hail core in the distance.
The 212 Belfast to Derry/L.Derry bus shot through as I took the shot, it had no doubt been in that core earlier.
Portrait shot, this is so wide that the top of the frame is overhead and the car wheel was near my boots. The countryside is looking beautiful recently with rich green fields, flowers, even the Dandelions look vibrant with their contrasting yellow colours. Quite an interesting day of weather and hopefully the start of much more to come.
The 2013 Noctilucent Cloud Season -
News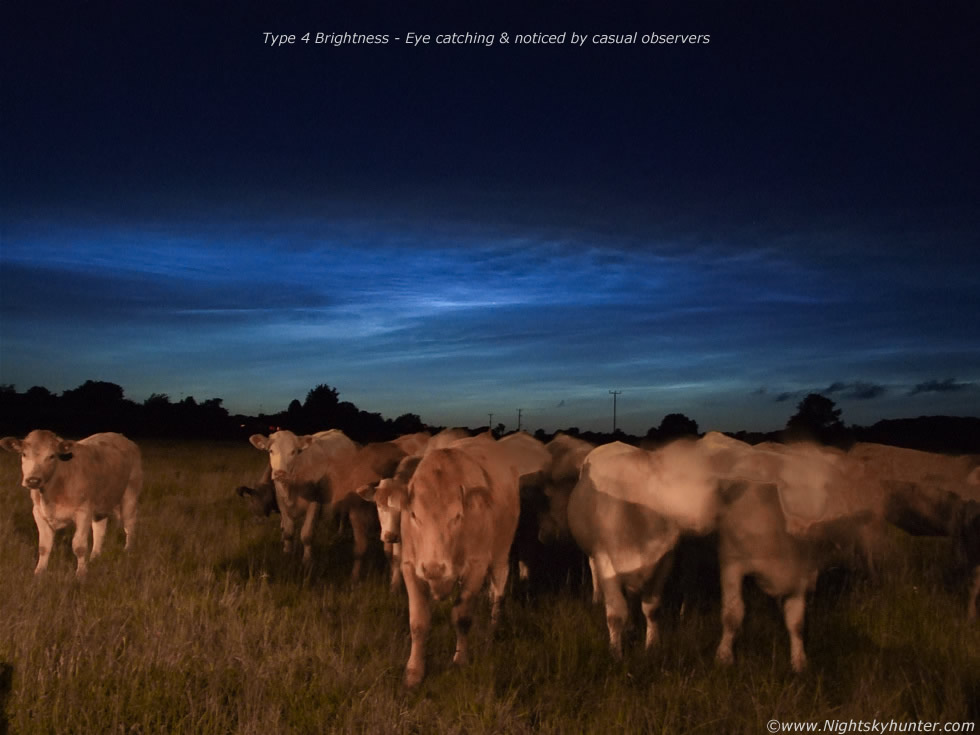 The 2013 Noctilucent Cloud season is fast approaching. The typical NLC season starts from late May until mid August so the new season will be starting soon with sightings most likely starting in June. These amazing electric blue clouds are visible to anyone who lives within the mid northern latitude range and can be seen on bright Summer nights against the twilight sky at dusk or before dawn anywhere along the NW to NE horizon. NLCs are still mysterious and of great scientific interest, however not only are they important for atmospheric research but they are also absolutely beautiful. These clouds appear to actually glow, in fact, they are illuminated from below by the sun while other clouds are still in darkness, this is because NLCs form 82km high within the Mesosphere literally on the edge of space, they are often seen glowing blue and pearly white colours however a mix of green, gold, orange, purple and other tones are often seen. Structures can range from simple mist-like veils to outstanding complex forms consisting of bands, whirls, and knots which at times can resemble skeletal structures or bizarre alien-like forms.
NLCs are also extremely photogenic and an excellent subject to pursue on these twilight nights when true darkness is gone, get in the habit of scanning the sky with the naked eye each night before going to bed and if the sun is between 6 and 16 degrees below the horizon you might just be lucky enough to see these mysterious clouds forming. They cannot be predicted in advance which only adds to there allure and there activity levels are connected with the solar cycle, 2009 was an amazing season, 2012 was rather poor so who knows what will happen this season?, the only way to find out is to watch the skies and on here and I will keep you updated with any recent news. In the meantime here's an article I made for the sight all about the history of NLCs, this is meant to be an educational primer to learn the various structures and brightness values to tune your eyes and mind for the next display, I hope you find it of some help.
Comet Lemmon Heading Into Pre-Dawn Skies -
Watch
(above) Comet Lemmon captured by Michael Mattiazzo
Comet C/2011 L4 Pan-STARRS is now leaving the inner solar system and while we wait for C/2012 S1 ISON - which could be the comet of the century later this year - we do have another comet to keep us entertained for early morning risers. C/2012 F6 Lemmon was only visible from the southern hemisphere for months when it became a naked eye object and although the comet is slowly fading it is still being reported at around mag +6.0 which makes it a binocular object, a fine telescopic target, and another photo opportunity. Recent CCD images during April show a dust tail in conjunction with a very complex and dramatic ion tail with streamers, knots, and many disconnection events.
(above) chart showing Lemmon's progress from May to Nov 2013 from Seiichi Yoshida
During May comet Lemmon moves N and becomes a pre-dawn target as it treks from Pisces into Pegasus, in fact, it spends the entire month of May moving near the eastern edge of the great square of Pegasus which will make for a handy stellar landmark and by June - while fading fast - it too passes close to the W of M31 just like Pan-STARRS did earlier this month. Enjoy hunting down comet Lemmon, study it's coma and trace it's ghostly tail during that magic hour before sunrise when the stars are always at their very best. I wish you the very best of luck.
Nightskyhunter Stock Gallery -
Update
I have been busy with many things and have also been working away on the Nightskyhunter stock gallery. I am doing all of this by hand and not using any scripts so this is slow and hard work however it is also very rewarding and the gallery is beginning to take shape. Just wanted to let you know I have added more images to the thunderstorm, funnel cloud, shelf cloud, moon, and comet galleries and I have alot more work to do. All images here are for sale as photo prints of professional quality at any size so drop me an email if you are interested.
The above image is one of the latest entries to the gallery, it shows one of the most spectacular explosive updraughts associated with any thunderstorm I have seen in years in perfect sunlight captured from Glenshane Road, check out the rock hard towers, the leaning from wind shear and the rain free base, quite an epic scene and a day of fantastic multicell storms which I will never forget. Nature is quiet at the moment, there are no storms and high pressure may return for May so I will be watching with interest for any changes to this situation. NLC season starts in late May and early June so hopefully this will be a good season, I can't wait to get shooting these amazing electric blue clouds!
Historic N. Ireland Spring Blizzard Image Report Online -
NEW
Historic extreme Winter weather event across N. Ireland during March 2013 when stalling Atlantic frontal systems encountered freezing air from Europe which resulted in 36-48hrs of continuous snowfall with gales producing blizzard conditions which produced the worst snow storm for 50 years with power lines disabled, ice storms, blizzards, massive snow drifts & the death of over 10,000 Sheep and Lambs. This report covers the amazing blowing snow on Glenshane Pass then the aftermath at Dungiven, Lough Fea and the Sperrins where I encountered incredible 20ft deep snow drifts, deep ploughed snow on the roads, and icicle displays. One page report with 31 images & 3 video clips. - REPORT.
NSH Picture Of The Day -

May 23rd
''Jupiter at top, Venus in the middle and Mercury low right, Canon EOS 60D and Canon IS 18-200'', captured by Francesc Pruneda on May 21st 2013 from Spain, this conjunction will get more beautiful as the nights go on. Source: Spaceweather.com Conjunction Gallery
N. Ireland Storm Chasing Image Reports
Astronomy is not the only subject I am interested in. One other such area is severe weather which will be playing a major role on nightskyhunter from now on in conjunction with my other astronomical pursuits. Check out my new N. Ireland Storm Chasing section and view the chase reports and images which detail not only storms but other phenomena such as a moonbows, noctilucent clouds and aurora displays.
Martin McKenna