LATEST SKY EVENTS
Updated July 16th 2019
Mussenden Temple Noctilucent Cloud Display -
REPORT
On June 27th 2019 I decided to take a gamble and head to the north coast in the hope of capturing an NLC display over the famous foreground this place has to offer, after all, it would be the last clear night for a while. I left earlier and teamed up with Nigel McFarland, we documented a pleasant summer sunset from Binevenagh by drone, soon after we got shocked by a striking NLC display at the zenith in twilight. This faded however a new display rapidly formed which became one of the most photogenic of the season. We shot the NLCs over Mussenden Temple and Downhill Estate until dawn and I acquired my finest NLC time-lapse sequences to date which made for a great summer memory. One page report with 13 images and 2 video clips. - REPORT.
Shelf Cloud On Co. Tyrone Squall Line With Funnel Cloud & Strong Rotation -
REPORT
June 29th brought the convective event of the summer when unstable air overlapping 80 knots of deep layer shear triggered an organized evening thunderstorm over the west of NI. On a hunch and after detailed personal forecasting Paul Martin and I chased into Co. Fermanagh and intercepted a rapid moving squall line which traversed NE across much of the country. We battled traffic and torrential rain to stay ahead of the system and got rewarded with an embedded funnel cloud and strong long-lived rotation over the Omagh road, followed by thunder, and climaxing with a beautiful late evening shelf cloud over the countryside to the west of Lough Neagh which made for our most exciting chase in years. One page report with 26 images and 1 video clip. - REPORT.
Cookstown Type 5 Noctilucent Cloud Storm -
NEW REPORT
This report begins with a local chase on June 13th to intercept a gust front near Toome, progresses to a lament about recent storm busts in the 2019 chase season, then climaxes with the most spectacular NLC display I have seen since 2019. I documented the entire show from a road side near Cookstown where I watched in awe as an extensive type 5 display dominated the northern sky, illuminating objects, sporting real time motion, and unearthly structure with bizarre shapes and motion. A truly unforgettable night in the middle of the most active NLC season for over a decade. One page report with 15 images and 3 video clips. - REPORT.
Beautiful Cell From Maghera -
NEW REPORT
After a long drought the 2019 Summer storm season finally relented with a day of 600 CAPE and a risk of pulse storms. The odds were not great due to a lack of shear, cooler temps and cloud cover concerns with rain bands potentially killing the day. After a mid afternoon bust chase in Tyrone I returned home to be greeted by better solar heating and taller late evening towers. Radar showed a line of storms approaching Lough Neagh so I raced out the road, I battled frustrating roads and finally intercepted the line of cells S of Ballyonan, I followed them N through Gulladuff with nice gust front structure then finally I got treated to a beautiful late evening show from the Maghera countryside with sunlit cell sporting mammatus which I time-lapse departing into the distance at sunset. Also includes a missed funnel on camera and beautiful coastal sunset. One page report with 20 images and 2 video clips. - REPORT.
Portstewart Fireworks Display By Done -
NEW REPORT
I have always wanted to film a fireworks display by drone however I always put off the event for various reasons due to weather or drone regulations. However after hearing about the Portstewart NW200 fireworks display on May 17th 2019 I finally decided I would tick it off my bucket list. The location and take off point satisfied all CAA regulations and I would be flying over the ocean which would be extra atmospheric. At 22.30 the fireworks erupted into life and from the rocks on the sea shore I launched my Phantom 3 Advanced and commenced aerial filming. The flight was a complete success, I was thrilled and satisfied with the experience in equal measure. Read more about how I went about the filming and my course of action pre-flight on the report. One page report with 4 stills and 1 video clip. - REPORT.
The 2019 Noctilucent Cloud Season -
NEWS
The 2019 Noctilucent Cloud (NLC) season has arrived with the first sightings likely on any given night over the next week (time of writing on May 21st). The typical NLC season in the northern hemisphere runs from late May to mid August with the most spectacular displays visible on the weeks either side of the Summer Solstice. NLCs are a only visible when the sun is located between 6 and 16 degrees below the horizon coinciding with freezing/cooling air within the Mesosphere where NLCs reside, this only happens during the Summer months when gravity waves and Mesospheric cooling takes place. Your location needs to be bright enough to have twilight visible for much of the night but not too bright at more northern latitudes where NLCs will be invisible in a sky which is too bright, but also not too dark further south where NLCs will be low and not lit by sunlight, this goldilocks zone resides for observers at mid northern latitudes were viewing conditions are perfect for NLC visibility.
The dedicated NLC observer or first time NLC hunter should begin a nightly check of their NW to N horizon during twilight after sunset and again to the N or NE before sunrise where NLCs could be lurking above the horizon waiting to be seen. As the season progresses displays should become brighter, more complex, and hopefully more frequent with NLCs revealing their presence at any stage during the short Summer nights, particularly during June and July when extensive displays may be visible all night long. Faint or delicate displays will need an experienced eye to catch, however complex displays can be spotted by even the most unattentive of observers and it's these displays which are the prize catch for any NLC hunter. Displays of this magnitude can reach type 4 or 5 brightness and literally dominate the sky while casting shadows on the ground. Displays of this caliber often exhibit electric blue colours and sport complex structures known as bands and herringbone which can give the impression of skeletal or net-like forms billowing across the horizon, if you are fortunate enough to witness such a display you will never forget the first visual impression.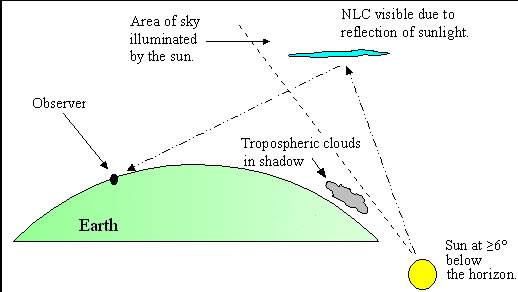 NLCs are understood to be connected with the solar cycle which waxes and wanes approximately every 11 years with NLC frequency most prevalent around solar minimum, it's for this reason that confidence is good that the 2019 season should deliver a bounty of complex displays. These mysterious night shinning clouds are composted of meteoritic material which descend into the Earth's upper atmosphere, specifically these particles are of cometary origin and hence at least 4 billions years old, these particles are smaller in size than the particles within cigarette smoke, they become encased in ice crystals and descend to the upper Mesosphere where they become illuminated at night by the low Summer sun, when you witness NLCs you are observing celestial cloud structures with material as old as the solar system itself. Make sure to check out my instructional NLC article below which touches on their origins and which goes into detail on NLC observation...
http://www.nightskyhunter.com/Noctilucent%20Clouds.html
I hope you have a great NLC season and capture your finest images of these magnificent alien clouds.
N. Ireland Storm Chasing Image Reports -
Archive
Astronomy is not the only subject I'm interested in, check out my N. Ireland Storm Chasing section and view the chase reports and images which detail not only storms but other phenomena such as a moonbows, noctilucent clouds, aurora displays and exciting nature related photo shoots.
Martin McKenna