LATEST SKY EVENTS
Updated March 16th 2019
Storm Gareth High Precip Thunderstorms & Benone Storm Surge -
REPORT
March 12th 2019 introduced a deep low pressure system named storm Gareth which would bring 80mph winds to the coast, high seas, and convective potential in a strongly sheared set-up with tornado potential. I spend 12 hours on location at the north coast where we got treated to non stop squally showers, ocean thunderstorms with active c-g rates and a dramatic cell before sunset. When darkness fell sporadic lightning flashes lit up the sky however the highlight of the event was a dramatic storm surge on Benone beach when the sea suddenly covered the beach and propagated across the concrete road like a tsunami. One page report with 13 images and 1 video clip. - REPORT.
Severe Thunderstorm Outflow Event At Benone Beach -
REPORT
March 10th 2019 provided me with a chase day I couldn't ignore with decent instability for so early in the season with -40C upper air in the wake of a cold front. It would be a day of convection, hail and snow showers with a risk of thunderstorms. I chased to the north coast as a base of operations and hooked up with John fagan on Benone beach. By mid afternoon a large thunderstorm fired over Donegal then made its way to our position, as it overtook us the storm turned severe delivering a spectacular downdraught at 58.6mph with a barrage of hailstones and sand flying across the beach at high speed engulfing a fisherman who braved the onslaught, by definition this was a severe thunderstorm and a thrilling encounter. One page report with 9 images and 1 video clip. - REPORT.
Church & Severe Thunderstorm Outflow At Benone Beach -
March 10th
On Thursday night I hooked up with Paul Martin, we decided to head out on a photo shoot as the forecast promised us a good clear night. We were planning on Donegal however satellite imagery confirmed high level cloud arriving on the west coast earlier than anticipated, however inland did look to stay clear for longer so we changed our plans and decided on a local shoot. We found this beautiful isolated church in Co. Tyrone which got our attention, not only did it look photogenic and accompanied by spooky trees but it was located well away from any street lights with dark skies and an abundance of stars on view. That situaton is a rare commodity indeed, the dark structure was also lit from within by a green security light which greatly aided with its mood. We stayed here and took exposures until 03.00, we also shot a star trail and short time lapse before the high level cloud moved in. I have a few more images to edit and post later.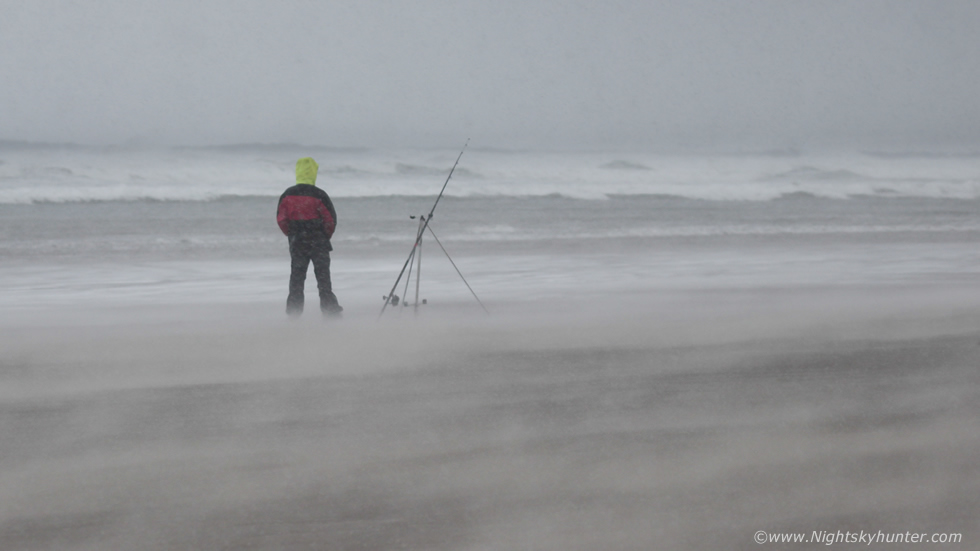 Sunday March 10th was a chase day with 200+ CAPE with high res models showing LIs of -3, a day of wintry showers and a chance of thunderstorms and thundersnow. I decided to chase to the north coast as the instability would remain there longer. I arrived at Benone beach and met up with chaser John Fagan where we watched the skies, a big cell came into view over Donegal, it produced c-g lightning and then passed over Benone beach. We suddenly got impacted by severe outflow winds from the cell, a barrage of wind driven hailstones and sand blew across the beach at high speed like a sliver river of ice and sand particles which engulfed a fisherman, you have to see this on the video below.
Wind readings confirmed a prolonged gust of 58mph at this time which made this a severe thunderstorm by definition. Check out the video to view the entire encounter, it sure was a thrilling experience to catch on camera. I will do an image report this week on this exciting chase.
Gortin Glen & Seven Sisters Aerial Winter Scenes -
NEW REPORT
On February 2nd 2019 a cancelled night shoot turned into an early morning Winter shoot. Three friends and I spent 8 hours exploring the Sperrins in Co. Tyrone after a cluster of overnight snow showers had passed through leaving a beautiful sunny Winter's day in their wake. We spent much of the day obtaining drone imagery and aerial footage of the beautiful scenes on this area had to offer. The adventure began in the -3C snow-covered Beaghmore Stone Circles then relocated to Gortin Glen lakes, the stunning Gortin Forest route, then climaxing with beautiful ice patterns on the frozen Seven Sisters lakes on the Omagh road during Golden Hour. One page report with 15 images and 3 video clips. - REPORT.
Winter Cumulonimbus Time-Lapse Shoot At Benone Beach -
NEW REPORT
January 16th was my first storm chase of 2019 thanks to the arrival of unstable Arctic air with CAPE and wind shear increasing from 20 to 60 knots throughout the period which would generate convective showers of hail and snow with coastal areas indicating the greatest potential. I spent the entire day and night at the north coast with photographer Nigel McFarland shooting Winter cbs, DSLR time-lapse sequences & even drone footage of convection. After dark we captured sheared moonlit cells, time-lapse and even a surprise military flare exercise. We spent 12 hours on location and I acquired 2700 DSLR images to render. One page report with 16 images and 2 video clips. - REPORT.
Beautiful Winter Scenes At Binevenagh & Aerial Snow Photography -
NEW REPORT
A surprise phone call from a mate alerted me to a good snowfall event on the morning of January 30th 2019 so I dedicated this day to aerial snowscapes with the Mavic 2 Pro. I spent the day filming snow scenes at Swatragh wind farm and Mussenden Temple however it was the Magilligan area which offered the greatest show surrounded by widespread snow to sea level reminding me of scenes from 2010. The highlight of the day was the spectacular Binevenagh mountain covered in deep snow complimented by polar blue skies and perfect sunshine which I documented by drone. This mountain provided me with epic scenes and my finest Winter reveal aerial footage to date, I captured panos and video footage making this an unforgettable snow shoot. One page report with 15 images and 3 video clips. - REPORT
Dramatic Thundersnow Gust Front Approaches Benbradagh -
NEW REPORT
January 22nd 2019 brought a much anticipated episode of Winter action to the hills of N. Ireland when an unstable air mass advected across the country bringing convective hail and snow showers. I drove to Benbradagh mountain near Dungiven where a fresh snowfall had taken place and for the next hour I got treated to sunshine and glorious blue skies which I documented by obtaining aerial video and imagery using the drone. Suddenly the sky darkened announcing the arrival of a huge cell with a sheared anvil that began moving rapidly in my direction. As the cell advanced it formed a spectacular shelf cloud almost touching the ground which provided the best Winter storm structure I have ever experienced. The cell impacted the area with frozen pea-sized hailstones, snow and rare thundersnow which made for a thrilling experience. One page report with 16 images and 3 videos. - REPORT.
Hunting Celestial Wraiths - An Observing Guide To Comets -
EBOOK
Welcome to the first ever ebook from Nightskyhunter. This book is aimed at the amateur astronomy enthusiast who is interested in observing comets with the assumption that the reader already has some basic knowledge of the night sky and is competent with observing through binoculars and telescopes. Through 'Hunting Celestial Wraiths - An Observing Guide To Comets' my aim is to cover many of the most important and interesting aspects of the visual comet observing spectrum with the intention of allowing the reader to choose which level of skill he or she may wish to invest within this fascinating field with the information and confidence to take things to the next level and provide valuable cometary observations which could be of scientific value.
The book is complimented with many of my own comet sketches including detailed extracts from my observing logs showcasing many comet observing sessions over the years which is the heart and soul of the book. It is my hope that these sessions will make you feel you are looking through the eyepiece with me. The book is 119 pages with 28463 words and 4.050KB in size and available as a pdf document which costs £5.99. I can accept payments through paypal or direct transfer, simply EMAIL ME if would like to make a purchase, thanks very much. - READ MORE.
N. Ireland Storm Chasing Image Reports
Astronomy is not the only subject I'm interested in. One other such area is severe weather which will be playing a major role on nightskyhunter from now on in conjunction with my other astronomical pursuits. Check out my new N. Ireland Storm Chasing section and view the chase reports and images which detail not only storms but other phenomena such as a moonbows, noctilucent clouds and aurora displays.
Martin McKenna