LATEST SKY EVENTS
Updated August 18th 2018
Comet 21P/Giacobini-Zinner Visible In Binoculars -
WATCH
(Above) 21P captured on Aug 13th by Michael Jager, click to enlarge.
Comet 21P/Giacobini-Zinner (history) is currently a bright object well placed in the evening sky which I urge you to observe in the near future. This short period comet with a double barrled name has brightened considerably and will continue to do so over the next month when it should put on a fine show for anyone curious about the sky, for those who have never observed a comet before then this will be a great opportunity to do so.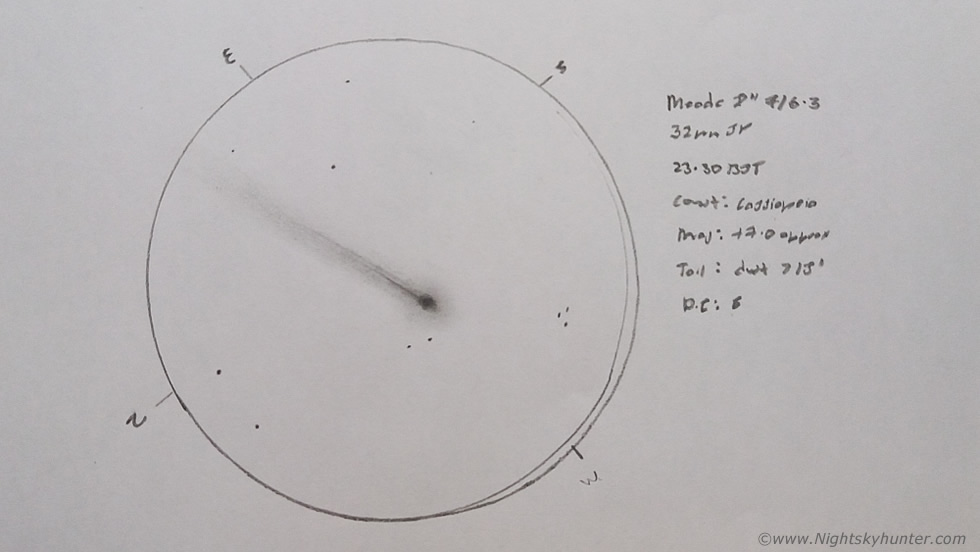 On the night of Aug 16th/17th I decided to track down the comet from my back garden in Maghera, an area which is affected to some degree by light pollution. Using my old Meade 8" F/6.3 S. Cassegrain I began sweeping the circumpolar sky below Cassiopiea and suddenly 'found' the comet among a sea of stars. I was astonished by how bright the comet was, in fact, it seemed to jump out from the field of view in dramatic fashion, especially in comparison to M31, M32 and M110 which I had been observing previously. The comet displayed a moderately condensed elliptical coma (D.C 6) with a very bright central condensation with star like false nucleus, the inner coma had a parabolic profile with a bright white dust tail extending in the solar direction for over 15 arc min's, both the tail and coma were of high surface brightness, during moments of good seeing I observed a spine extending from the central condensation into the tail with subtle features inside the coma in the anti-solar direction which may have been jets. I also picked up the comet in the 24x70mm binos and estimated the magnitude at +7.0 making this an object visible in even 7x50 or 10x50 binos, above is a rough sketch of the comet as seen through the low power 32mm eyepiece via the 8". The comet looked like a miniature version of C/2002 C1 Ikeya-Zhang, my impression was that 21P is a very healthy dust-rich comet with a bright future.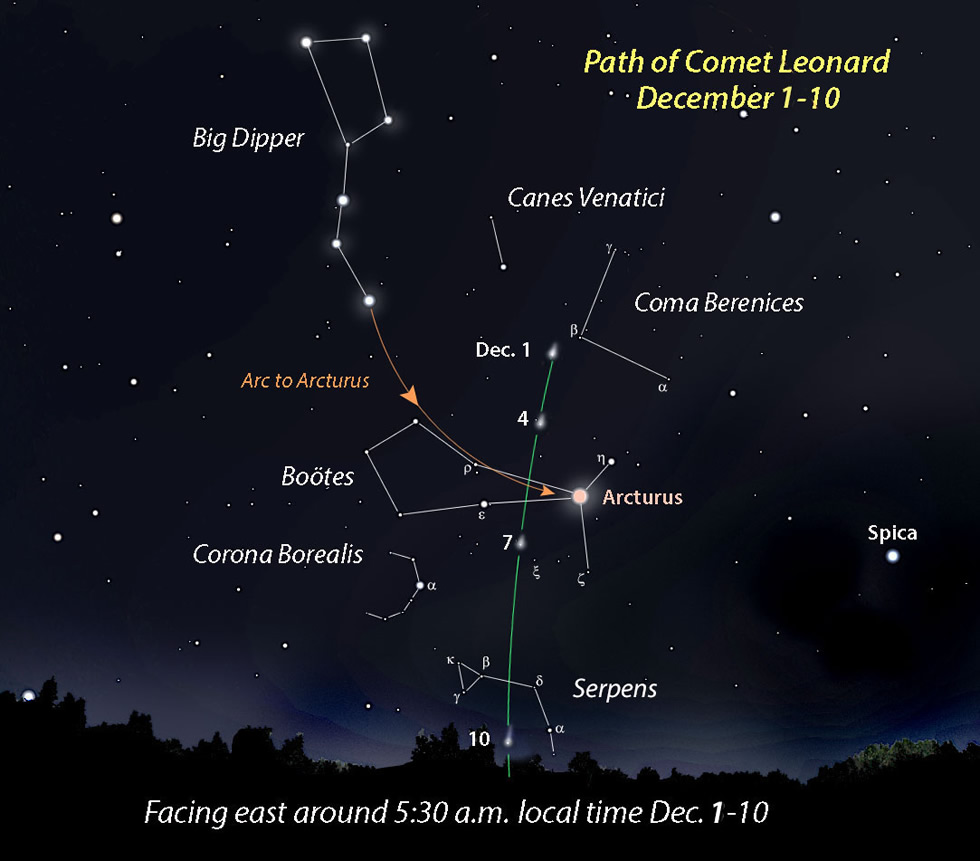 (Above) Finder chart August 1st to August 22nd, thanks to Comet Watch for their excellent visibility charts.
21P is well placed in the evening sky after dark to the NE among the circumpolar stars, during mid to late August it can be found between the constellations of Cassiopeia and Perseus, in fact, on the nights ahead the comet treks to the E then SE of the famous Double Cluster making for an easy guide post for those hunting with binoculars.
(Above) Finder chart August 22nd to September 8th, thanks to Comet Watch for their excellent visibility charts. More finder charts from HeavensAbove, Seiichi Yoshida & Skyhound.
From late Aug into early Sept the comet will pass to the east of Perseus then enters Auriga by months end, on Sept 3rd the comet will be located approximately 1 degree (two full moon diameters) from the brilliant naked eye star Capella. 21P will make its closest pass to Earth on Sept 10th/11th, if the current rate of brightening continues then a peak magnitude of +6.0 could be reached, if so then Giacobini-Zinner will be an easy catch in small telescopes and binoculars and for those with dark skies and trained eyes it may even be a faint naked eye object. Comets are unpredictable, they can suddenly fade or could flare up in outburst so I encourage you to track this exciting new visitor in case of an unexpected surprise.
Comet Observing
At the time of writing (Aug 18th) there will be a waxing crescent moon in the evening sky, the moon is brightening each night so the best time for proper comet observing will be after moonset when the sky is thrust into darkness once more. As the moon sets later each evening you will eventually be setting your alarm for the pre-dawn sky until the gibbous moon becomes too bright for further observation. The period after the next full moon by months end will be the time to watch, here the moon will have waned bringing dark skies back in the evening just as the comet enters Auriga, by then it may have brightened by 1 or more magnitudes and approaching it's peak brightness.
However if the moon is in the sky do not be put off from comet hunting, 21P will remain in the lunar opposition point so the sky will be slightly darker there in comparison to the region to the south closer to the moon, bright moonlight can also help with high power observations of the inner coma allowing only the brightest features to stand out, famous observer Stephen James O'Meara often used this technique to observe and sketch jets and fountains of dust radiating outward from the false nucleus on very active comets. The following links are to articles I wrote many years ago when I first started this website, they are aimed mainly towards visual comet observing, however much of the content still holds true for today so why not check them out...
http://www.nightskyhunter.com/An%20Observing%20Guide%20To%20Comets.html - An Observing Guide To Comets
http://www.nightskyhunter.com/Visual%20Comet%20Hunting.html - Visual Comet Hunting
http://www.nightskyhunter.com/Comet%20Hunting%20-%20A%20Primer.html - Chasing Tails
http://www.nightskyhunter.com/Comet%20Sketch%20Gallery.html - Comet Sketches
Ballintoy Perseid Meteor Watch & Late Season NLCs Report -
NEW
The 2018 Perseid Meteor Shower looked to be clouded out for the peak so two clear nights were arranged for a watch during the build up to maximum. On Aug 8th/9th three of us undertook a nightly vigil at Ballintoy under superb clear skies where we had a BBQ and encountered 56 Perseids, a mag -6 fireball and were surprised by a pre-dawn late season NLC display, in fact, this was the latest NLCs I have ever observed in my life. On Aug 10th/11th six of us teamed up for another watch at Ballintoy two days before maximum, after another BBQ inside a bat cave we spent the night sky watching from the 50 million year old Ballintoy stacks under a vibrant Milky Way where we observed 134 Perseids, this report documents both these nights with star trail imagery. One page report with 10 images and 1 time lapse video. - REPORT.
Ballintoy Perseid Meteor Watch -
August 10th
On August 10th/11th the forecast presented us with another surprise clear night just two days before the maximum of the Perseid meteor shower and a dusk to dawn watch commenced back at Ballintoy Harbour. Present was Conor McDonald, Paul Martin, John Fagan, Glenn Miles, Jim Crawford and myself. During dusk we had a great BBQ, brews and warm apple pie inside the Ballintoy cave in the company of Bats, then as twilight commenced we hiked around the coastline to the famous stacks and arch shaped rock formations and a watch began. The night was clear, dark, with transparency at 9/10 and moderate seeing, the Milky Way was absolutely superb like a glowing cloud while brilliant Mars dominated the SE sky. I took a few images to document the area, this was one of the rock formations as astronomical darkness revealed the first stars of the night, we used a red light to illuminate the rocks.
Perseus and Cassiopeia aloft with the Double Cluster between, the Perseid radiant was in this region of sky, all of us had picked out positions and began shooting either still images or continuous exposures for time lapse or star trails, the tide was out which allowed us to get close to the rock formations.
The sea grew so calm we could see the stacks reflecting upon the water, we had music playing and so much laughter our sides hurt, we all monitored the sky and shout out when a meteor was witnessed so an accurate count could be kept, we only counted Perseids and ignored non members, they were currently eight minor showers active also. After an entire night we observed a total of 134 Perseids, of which two were border line fireballs. This is a star trail made from the patrol images, two faint Perseids can be seen to the right with two brighter satellites above the stack. We made it home for 05.00, a very successful night and another wonderful memory under the Heavens.
Perseid Meteor Shower & Rare Late Season NLCs -
August 9th
The 2018 Perseid Meteor Shower peaks on August 12th/13th Sunday/Monday with an expected ZHR of 80-90 meteors per hour. Please keep in mind that the zenithal hourly rate means the amount of meteors expected per hour ff the radiant was at the zenith under a transparent dark sky with naked eye stars visible to magnitude +6.5, so the actually hourly count will be less than this. That being said rates are good with the Perseids being one of the finest of the annual meteor showers. Perseids are swift entering our atmosphere at some 72km/sec and as their name suggests they originate from the constellation of Perseus which rises in the E at night fall. Rates should increase as the radiant climbs in altitude during the night with better activity anticipated during the hours before dawn.
You don't need fancy equipment, the dark adapted unaided eye is the perfect tool, wrap up warm, find a dark location away from town lights and simply look up and watch. If the night of maximum looks cloudy then don't give up as productive watches can still be undertaken for several nights either side of the peak. Do be on the look out for Perseid fireballs, a fireball is any meteor brighter than planet Venus which has a maximum magnitude of -4.7, with dark moonless nights for this year's spectacle there's no better reason than ever to be out under the stars enjoying the wonders of the universe.
After a very long period of cloudy nights the weather finally relented on Aug 8th/9th with the Met Office promising a night of 'long clear spells' and a watch was quickly organized. I met up with John Fagan, Nigel McFarland and Jim Crawford at Ballintoy harbour on the north coast where a dusk to dawn watch commenced. The sky was marvelous and completely clear the entire time, during twilight we enjoyed a much welcomed BBQ then set up for the night. We ended up observing 56 Perseids along with 8 non shower members, of which two were Perseid fireballs. One such fireball peaked at magnitude -6 within Ursa Major leaving a long twin ion train in it's wake among the stars for five seconds. We all shot patrol images for the rest of night, above is a star trail made from these images at 10mm wide angle, that's a mast with life ring on top with Sheep Island in the distance and the light trail from a passing cruise ship which looked stunning below the stars.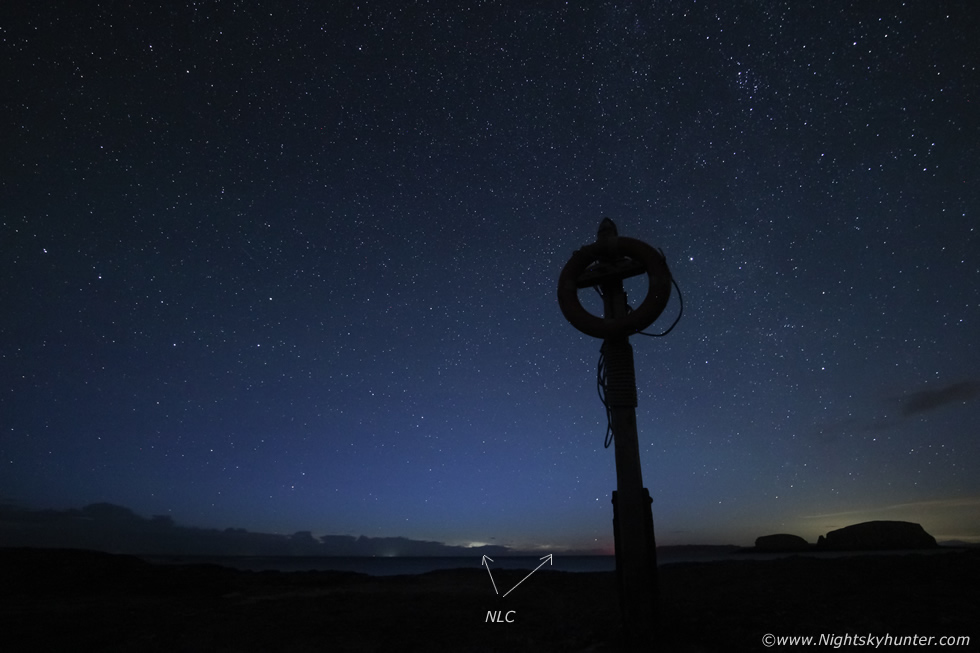 Before dawn we spotted an intense localized glow above a bank of convective cloud, within min's we identified the glow as a low level display of NLCs!, this was one of the wide stills showing the NLCs appearing, I measured their height at 2 degrees above the ocean horizon or 4 full moon diameters.
I switched to the 50mm lens for a closer look, structures were clearly visible in the form of bands, knots and small scale whirls, the brightness was type 3 and the display began growing in height while spreading in azimuth.
NLC star trail, the first time I have done this, mainly because I've rarely seen NLC against such a dark background before, in fact, this is the latest NLC display I have ever observed in my life and for this reason it became the talking point of the night and a subject of great interest among us.
This is a very rare sight, NLCs this late in the season with stars Castor and Pollux on the right, something I have never captured in my life before, another rare box ticked.
Second NLC star trail just before dawn, the red light on the right is from a light house on Rathlin Island. I made it home and in bed for 05.00, it was a very satisfying night with great company and unexpected surprises from nature. If the weather relents I plan on watching for several more nights this weekend.
Dramatic Golden Hour Peat Wild Fire Near Rasharkin -
REPORT
July 4th 2018, N. Ireland still in the middle of a heat wave and drought conditions. My mate Conor McDonald called around for a chat during the evening, we casually looked to the east and were shocked to see a massive gorse fire in the distance. We gave chase from Maghera, got a sudden tire blow out on the back roads, raced to get it replaced, then made our way through Kilrea when we spotted the fire up close outside Rasharkin originating from peat land. We found a field, launched the drone and flew out to get an aerial perspective on what was going on. The drone view was absolutely incredible with the lowering sun shining through a quivering wall of ascending smoke, the filtered sunshine through the smoke and golden hour light generated a dramatic yellow and orange fiery vista which left us awestruck. This was a short and entirely unexpected last minute shoot, one page report with 4 images and 1 video clip. - REPORT.
Historic Glenshane Pass Three Day Gorse Fire
-

REPORT
N. Ireland is in the midst of a long heat wave with hot sunny days and a new June record max temp of 30.8C on June 27th. This same morning I got a phone call from a mate tipping me off to a gorse fire on Glenshane Pass, I drove up for a look, the fire soon turned into an historic event for this area and raged for two nights and three days. I spent all three days documenting the event on camera and by drone. Due to multiple fires on the mountain fire crews had to be dropped off by helicopter to battle the flames, the chopper against the late evening smoke plumes looked like a scene from a war movie. This report documents all three days, a fire sunset, the forest itself on fire on day 2 and an aftermath trip on day 3 to document the widespread damage. Two page report with 41 images and 4 video clips. - PAGE 1 & PAGE 2
Benbradagh Thunderstorm Beast -

REPORT
June 1st 2018, 1000 CAPE, LIs -4, high humidity and heat in the midst of a wonderful four week HP heat wave. I began my chase at Benbradagh outside Dungiven as a base of operations and ended up getting two thunderstorms. The main storm turned out to be the most prolific daylight thunder/lightning producer I have ever experienced. Due to the slack flow storm motion was the slowest I have encountered and from a sunny vantage point on the mountain we watched the entire life cycle of this intense thunderstorm which had solid updraughts and mean structure. The storm produced constant thunder for over 1 hour in close proximity while we watched in awe under sunshine which made for a memorable storm experience. Also a storm at Desertmartin and big convection spotting on the Sperrins on June 2nd. One page report with 15 images, 1 Vlog & 2 time lapse videos. - REPORT.
Drone View Of Hot Air Balloons Over Maghera -
REPORT
Two days of chasing hot air balloons around the countryside outside Maghera on May 28th and 29th 2018 as part of the 20th anniversary of the Sperrins Balloon Festival. Warm humid high pressure days complimented by formations of majestic hot air balloons, this report documents two days of chasing along back roads with other photographers to document the event and capture drone footage in the process. On page report with 4 images & 2 aerial video clips. - REPORT.
New Nightskyhunter facebook Page -
NEWS
I have created a new facebook page dedicated entirely to this website, I'm currently transitioning from my private page to a new public page which will feature links to all my site updates, reports, forecasts and also showcase my night sky and storm photography, drone videos and time lapse cinematography. If you already follow me then please like and follow my new page and spread the word, thanks very much for - Nightskyhunter Facebook Page
N. Ireland Storm Chasing Image Reports
Astronomy is not the only subject I'm interested in. One other such area is severe weather which will be playing a major role on nightskyhunter from now on in conjunction with my other astronomical pursuits. Check out my new N. Ireland Storm Chasing section and view the chase reports and images which detail not only storms but other phenomena such as a moonbows, noctilucent clouds and aurora displays.
Martin McKenna