LATEST SKY EVENTS
Updated May 22nd 2018
The 2018 Noctilucent Cloud Season -
ARTICLE
The 2018 Noctilucent Cloud (NLC) season will soon be underway with the first early season sightings possible any night. NLCs form within the Earth's atmosphere some 82km high in the frigid mesosphere and appear to suddenly 'switch on' during northern hemisphere Summer. The season runs from late May to early August. NLCs can range from faint glows to magnificent highly structured luminous cloud formations, prolific apparitions tend to occur around solar minimum so this season does have high expectations. Check out the following article I wrote for my site several years ago. Learn how to identify and observe these mysterious night shining clouds, can you tell the difference between a veil?, or a wave?, or perhaps a lacunosus hole?, I have used a selection of my own imagery captured over the years with annotations to help understand NLC structure and brightness, I hope you find it of use, I wish you clear skies and a spectacular season - ARTICLE
Surprise Thunderstorm At Swatragh Wind Turbines & Cap Bust Report -
NEW
On May 11th 2018 a strong cold front crossed the country bringing heavy rainfall associated with a broken squall line which produced rotation over Co. Tyrone. That evening the front cleared leaving low end instability in it's wake. Unknown to me at the time a cell had evolved and crossed the Sperrins, aided by convergence, wind shear and orographic lift a thunderstorm erupted to life to the W of Dungiven, I got tipped off within min's by my mates, checked radar, then raced out the road. I intercepted the storm on the hills above Swatragh in the form of a large and impressive shelf cloud which crept over the local wind turbines in the late evening light, this surprise storm presented me with the first structure event of 2018, one page report with 8 images. - REPORT.
Ballintoy Star Trails -
May 4th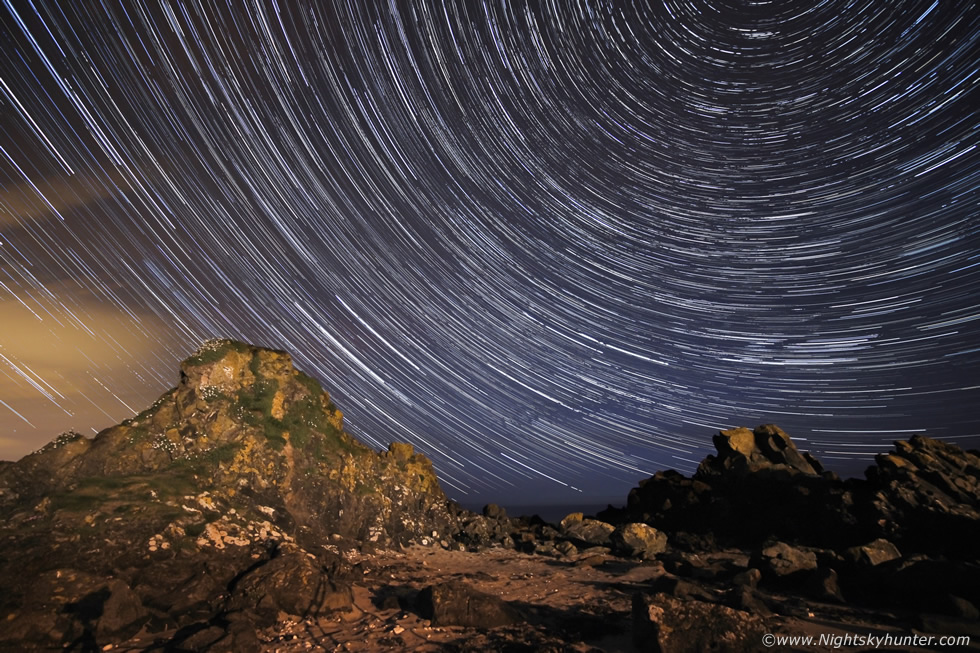 I had a busy day and good photo shoot on Friday night May 4th. I spent the entire day drone filming along the north coast on a gorgeous sunny day then made my way back home for late afternoon. I thought I was finished for the day until John Fagan got in contact asking if I was up for a photo shoot the same night, I decided I may as well and hit the coast for the second time this day despite feeling exhausted. The forecast was for a mix of cloud and clear skies so I didn't have high expectations of getting a decent sky however I was just glad to he heading out on a new unexpected night shoot. I arrived at Ballintoy at 23.30 and only then was the twilight merging into astronomical darkness, I met John and together we made our way to the rocks and stacks near the shore adjacent to the main beach. There was more cloud than clear skies however suddenly the sky cleared to a degree we never had expected so we got set up and began shooting a time lapse sequence with the circumpolar stars setting over the rock formations. It was a gorgeous mild night and as the cameras clicked away we chatted about all things storm, sky, and photography related. DSLR with 10mm lens, ISO1600, 25 sec exposures continuous shooting, we shot this scene for 1.5 hours, this is a stack from a selection of those frames when the sky was more clear. The two bright trails near the rocks on the left are from Castor and Pollux in Gemini, the gap between the rocks has the trail of Capella and the brighter grouping of stars to the right is Perseus where the recent dwarf nova erupted.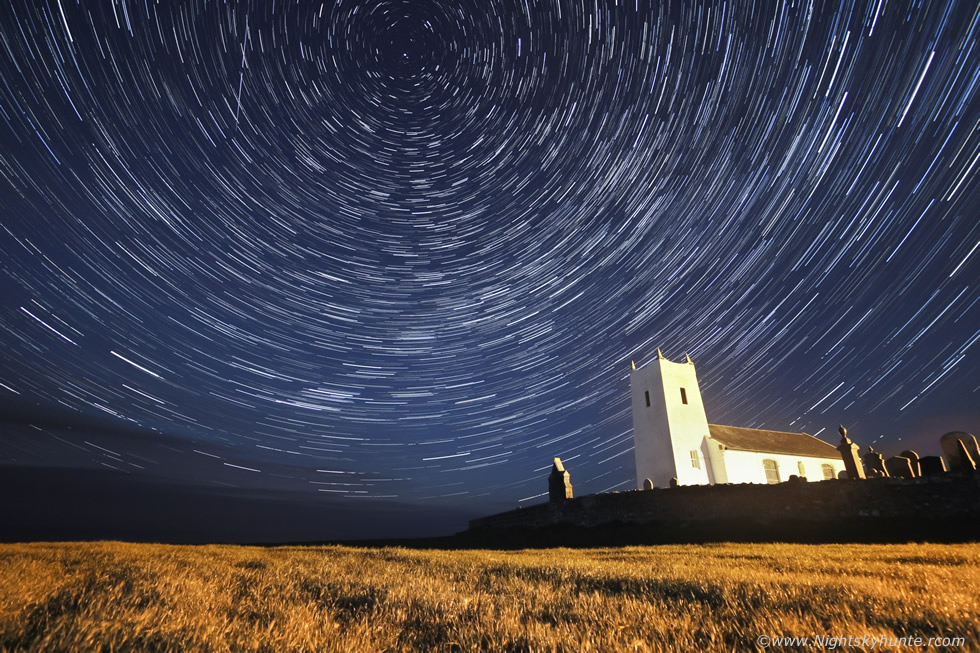 We relocated to the old church and began a second time lapse, the moon was rising in the east adding a nice glow to the sky so we tailored our exposures for this and reduced the shutter speed to 20 sec's. The sky was perfectly clear, silent, mild, shutter's clicking in the middle of the field while Jupiter blazed in the east with the moon while occasional iridium flares lit up the sky. This is another star trail from the shoot, by 02.00 UT we decided to call it a night. A great shoot, clear skies, good company, and peace. I hope to get more night shoots in soon, by late May we lose true darkness at this latitude with twilight lasting all night long, however this will also be the start of the NLC season which I'm very much looking forward to.
Rare Dwarf Nova In Perseus -
May 3rd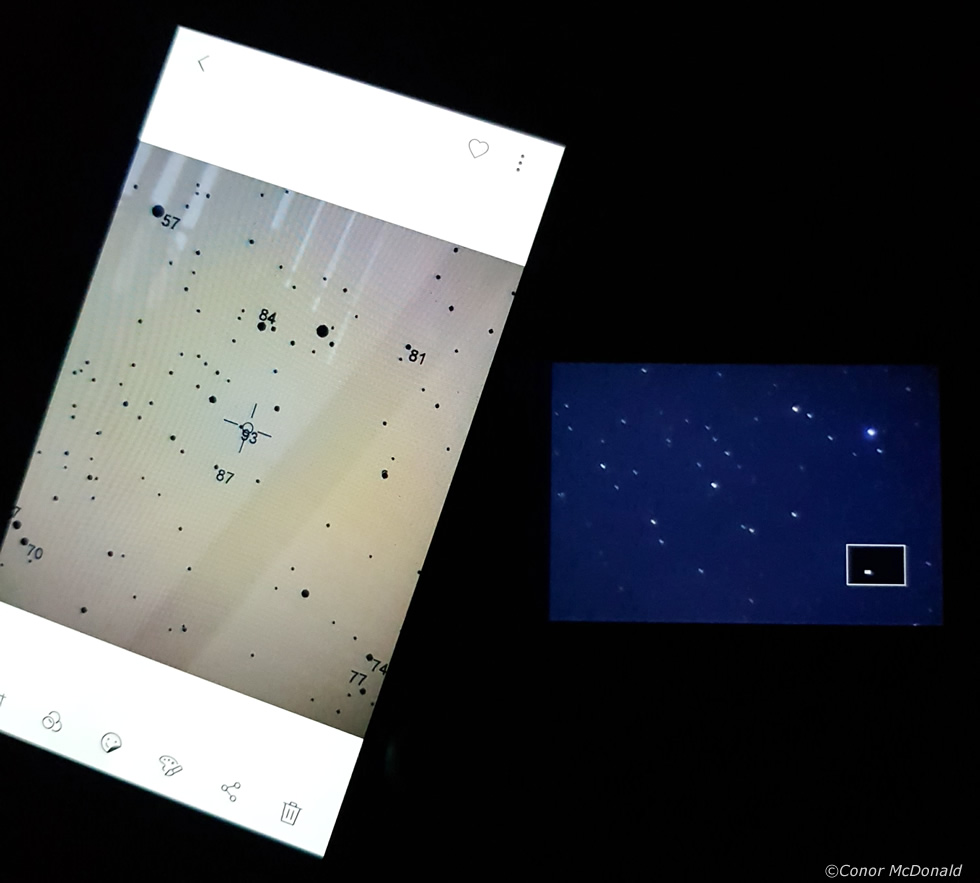 On April 29th a rare dwarf nova was discovered in the constellation of Perseus by Yuji Nakamura who captured the erupting star at mag +6.2 making the nova a technical naked eye object (had the moon not been present). Follow up spectra confirmed the star as a true dwarf nova. I didn't get any alert emails to my inbox informing me of the event however a day later John C. McConnell tipped me of to the event after he had successfully photographed the newcomer from his home in Maghaberry, N. Ireland. The Nova was starting to fade each night, it dropped to mag +7 some 24 hours after discovery then below mag +8 on May 1st. On the night of May 2nd it looked like we would have a clear window before the sky would cloud over later in the night so Conor McDonald and I drove to the countryside outside Maghera with the intention of hunting down this exciting and rare event. I plotted the star's position on my trusty old sky atlas 2000 - which was full of pencil plots from numerous comets I had been tracking over the years - then arrived on location as twilight merged into darkness.
The sky was clear and dark with over an hour before moonrise, Capella could be seen to the NW with the stars of Perseus to the right, the new star was located invisible to the naked eye somewhere in between. I took a single 8 sec exposure with the 50mm F/1.8 lens, then we compared the image on the LCD screen to an online star chart, we soon found Nova Persei V392. Above is a mobile phone capture Conor took live on location showing the star field on my camera with the star chart held beside it, you can clearly identify the nova.
Single 8 sec exposure with 50mm lens cropped slightly, the red markers show the nova in relation to surrounding stars. Bright star Capella and 'The Kids' can be seen on the left hand side.
Deep crop, based on the surrounding stars for comparison we estimated the nova to be mag +8.6 or fainter making the star a binocular object. When one imagines the actual scene of a binary star system with a dense white dwarf star transferring material from it's larger companion star then erupting in brightness it really makes this single star a very exciting find indeed. It was very satisfying to catch this star in the act, and even more thrilling is the fact that this is a 10,000 to 1 million year event for a recurrent dwarf nova. More information including a star chart can be viewed on the Sky & Telescope link below...
http://www.skyandtelescope.com/astronomy-news/observing-news/dwarf-nova-v392-persei-goes-nova-now-binocular-bright/
Although the nova appears to be on a downward trend no one really knows for sure what it will do, the star could fade, it could settle around mag +9 or it flare up in brightness once more, even surpassing the discovery magnitude, so keep watching this mysterious star as it could take us all by surprise yet again.
New Nightskyhunter facebook Page -
NEWS
I have created a new facebook page dedicated entirely to this website, I'm currently transitioning from my private page to a new public page which will feature links to all my site updates, reports, forecasts and also showcase my night sky and storm photography, drone videos and time lapse cinematography. If you already follow me then please like and follow my new page and spread the word, thanks very much for - Nightskyhunter Facebook Page
N. Ireland Storm Chasing Image Reports
Astronomy is not the only subject I'm interested in. One other such area is severe weather which will be playing a major role on nightskyhunter from now on in conjunction with my other astronomical pursuits. Check out my new N. Ireland Storm Chasing section and view the chase reports and images which detail not only storms but other phenomena such as a moonbows, noctilucent clouds and aurora displays.
Martin McKenna