RRS Sir David Attenborough Polar Research Vessel Visits Portrush - Feb 15th 2021
Anyone who follows me on youtube or via social media will know that I have a keen interest in ships. In particular I enjoy filming ocean vessels by drone which visit the north coast of N. Ireland. The majority of these tend to be general cargo vessels, bulk carriers, tankers and fishing vessels, other classes of ship would be considered rare here. One such vessel is the RRS Sir David Attenborough which at the time of writing is the most advanced Polar research vessel in the world made famous by the fact that it's named after the naturalist and television presenter of the same name. I was aware that this vessel existed as it had appeared on the news the previous year and I remembered thinking at the time how cool it would be to film her with the drone however I never expected that such an opportunity would ever come my way, these kind of vessels just don't operate in these parts.
Throughout the start of 2021 I happened to be monitoring the ship tracking web sites and noticed that her AIS had appeared in the Irish Sea. According to the basic information on the ships icon she was conducting sea trials. I checked in on her position every night and noticed that she seemed to be operating along the west side of the UK coastline, in particular the Irish Sea and North Channel. I stayed optimistic however the reality was that I might never see her in my life time, but perhaps in future years she might appear off the coast of Larne, because on occasion off-shore supply vessels do visit the Port of Larne to replenish their supplies, maybe some day that could happen, but it likely never would, so I forgot all about her.
On February 14th I had left my phone in the kitchen, something I rarely do, I was re-watching all the seasons of '24' with Roisin. A few hours later I returned to the phone to find out I had a missed call and text message from a mate telling me to get on messenger now. I did, and was amazed to see a post which had just been doing the rounds on Facebook and Twitter that the Sir David Attenborough would be visible along the Northern Ireland coast on the morning of the 15th. The information wasn't very specific however it did say that she would be operating off Benone Beach at 08.00, followed by Castlerock, then would visit Portrush in the afternoon. I also learned that one of the crew on board within the control bridge was a local man from Coleraine which made her visit even more remarkable. The vessel was made in 2020 and in 2021 is currently doing trials, very soon she will be heading to the Arctic and Antarctic to undertake months of scientific research.
My mate and I decided this was of paramount importance and there was no question we simply had to capture her with the drones, this literally was a rare visitor and a once in a life time opportunity. I charged the Mavic 2 Pro then began studying the weather models, much to our frustration the very early morning turned dry however by 8am rain would come in then it would clear by the early afternoon. The wind looked dodgy too, a strong Sly off the land and the forecasts were contracting each other. Furthermore she had already set sail from the Scottish islands and was heading for the north coast during the night. We made a plan, get there as early as possible, assess the weather conditions on location and see if we could fly, perhaps we would get a break in the rain but at least the afternoon looked better, but how long would she hang around for? and how far off shore would she be operating?
I set my alarm for 06.00 UT, I went to bed at midnight but struggled to sleep due to the excitement, yes I actually do get wound up by ships just as much as I do by thunderstorms and comets. I eventually drifted off to sleep then I awoke before the alarm even went off. I had breakfast then hit the road by 06.30 UT under complete darkness and low cloud cover, this stage of the morning was supposed to be dry however spits of rain were already hitting the windscreen, I didn't like the vibes I was getting about the weather however I was determined to stick it out. When I set my sights on something I do get very tenacious and will do my absolute best to get it, I was in this for the long run. I arrived at Benone beach at 07.30 and my mate was there too. We parked side by side and scanned the semi dark horizon and sure enough we spotted her white bridge in the distance, it was game on and now a waiting game to see what she would do. I watched her in the 25x70mm binoculars and our excitement increased as she got closer. It was very windy at Benone and we could see rain fast approaching so we needed her to get as close as possible. She suddenly slowed down to a crawl and was only doing 1-3 knots and she never came close to shore. We waited and waited but she kept her distance, the web site showed a range of 8km off shore, way too far out and the weather was getting worse by the minute. She started moving east along the coast so we got back on the road and chased her.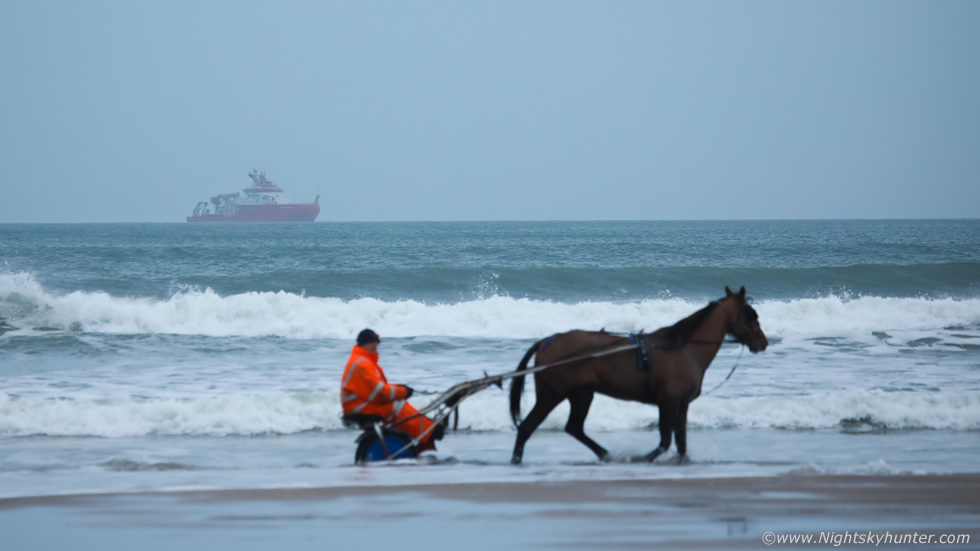 We pulled onto Downhill Beach where I snapped this 400mm image of her in the first light of dawn, however she was still 7-8km out. I was now getting worried, maybe she would never get any closer at all, in fact, when we had watched her on the web sites in the past she was always far from shore so she would very likely do the same thing again, it was looking increasingly unlikely we were not going to get her by drone, that would have been very disappointing indeed. The rain arrived, very heavy, and lasted for quite some time, the front looked to be much worse and slower moving than what the television forecast had shown so we sat and watched out the windscreens while eating snacks to keep our energy levels high. After a long period of sitting in rain and loosing hope she began to sail further east towards Portrush, the rain was expected to clear by late morning or early afternoon, but the big questions remained, would she wait around until then? and would she come closer to shore?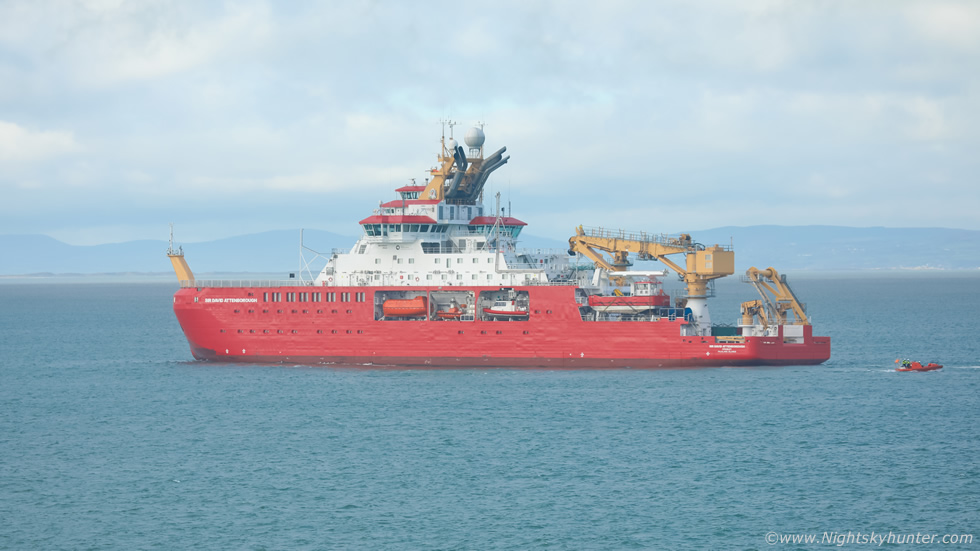 We drove to Portrush and lost sight of her for a while in the built up area but once we pulled up along the coastline we suddenly saw her and were blown away by the change in our fortune. Not only had she dropped anchor but she had stopped where the cruise ships drop anchor which is very close off-shore, we couldn't believe our luck. We got into position however it was still raining drizzle for a very long time so we took shelter between rocks and waited it out under the elements. The rain never seemed to end and although we were celebrating the fact that she was perfectly positioned well within visual line of sight we didn't want to celebrate too early, it was still raining and she could leave at any minute again. An anxious period followed waiting in the rain, we occasionally took still images with the DSLRs to get a record just in case but in our hearts we wanted the aerial perspective. The dark sky began to brighten and sections of better light began to break through the low level Nimbostratus, I snapped this image during that moment.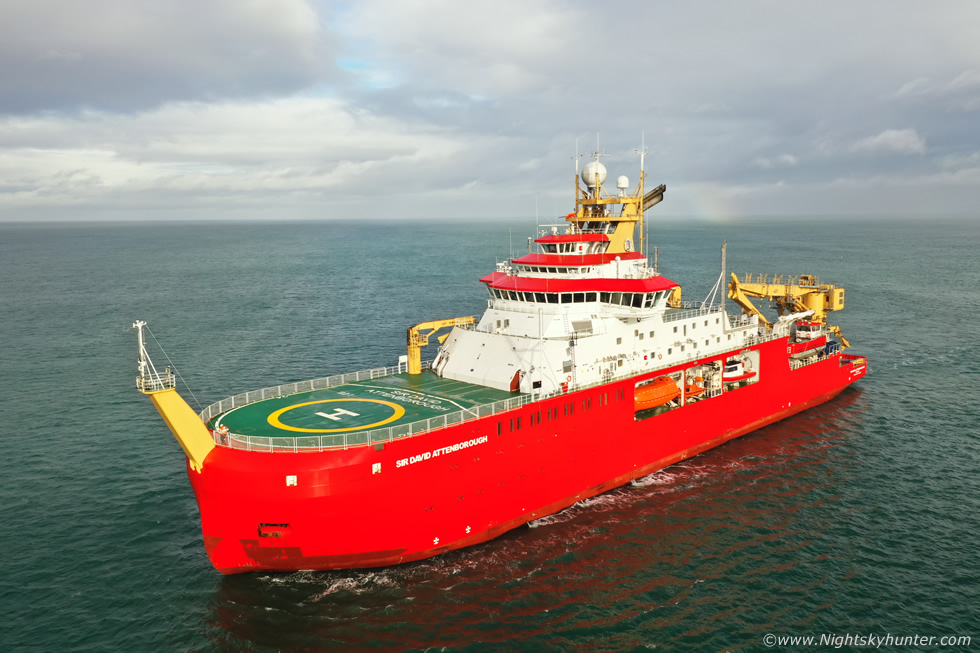 After what seemed like an eternity the rain began to ease and the ocean and ship grew brighter. Rain drops were still falling from the sky so we waited for them to ease, but suddenly she lifted her anchor and it looked like she was going to leave, we got the drones prepared and ready for take off, then it became clear she wasn't moving, in fact, she was practicing maintaining her position using her thrusters, this was good news for us. The wind was 15mph but gusting to 19mph however the sky was getting brighter and the front had passed, it was time to fly. I have filmed hundreds of ships with the drone but I have to admit as I flew out across the open expense of water at Portrush Bay towards this rare red super ship it gave me a feeling I haven't felt very often. Once I approached her I switched off any emotions and concentrated on the flight and photography. Here are a few statistics...
Size: 129m x 24m
Gross Tonnage: 15,000
Endurance: 60 days
The light was much better than I had expected, even though the front was clearing the forecast was for grey skies for the rest of the day so this was another unexpected bonus. Light is everything for filming, however it's a luxury I don't always get with ships so I was delighted with what I was now seeing. I filmed segments of video and hovered for aerial still images. I usually begin fairly low then with time I increase altitude to show a different perspective.
Range: 19,000 nautical miles at 13 knots, more than enough to circle the entire Antarctic continent.
She also features bow and stern thrusters for dynamic positioning in challenging conditions.
She has the ability to launch and recover aerial and robotic systems.
She has a crew of 30 with accommodation for up to 60 scientists.
Facing the bow
Looking back towards Portrush and the Skerries
Stern and port side showing complexity. She's the first British Polar research vessel to feature a moon pool - a vertical shaft inside the vessel - open to both the air and sea where scientific equipment can be deployed and recovered through the centre. She boasts a selection of cranes...
Main crane: 50t at 18m (port side), 20t at 33m (starboard side)
Provision crane on helideck: 8t at 16m
Starboard deck service crane: 8t at 8m, 5t at 16m and 2t at 21m
Port deck service crane: 5t at 16m
Port and starboard side science cranes: 3t at 16m and 5t at 10m
There was a guy on a paddle board doing circles around the ship which I managed to capture on the video which added a great sense of scale. I was very pleased with the footage so I brought the drone back. I was content however my own mission wasn't over yet, we heard from a friend she was due to leave at 14.00 UT, I prefer filming ships on the move so I decided I would try again later in the hope of achieving that goal.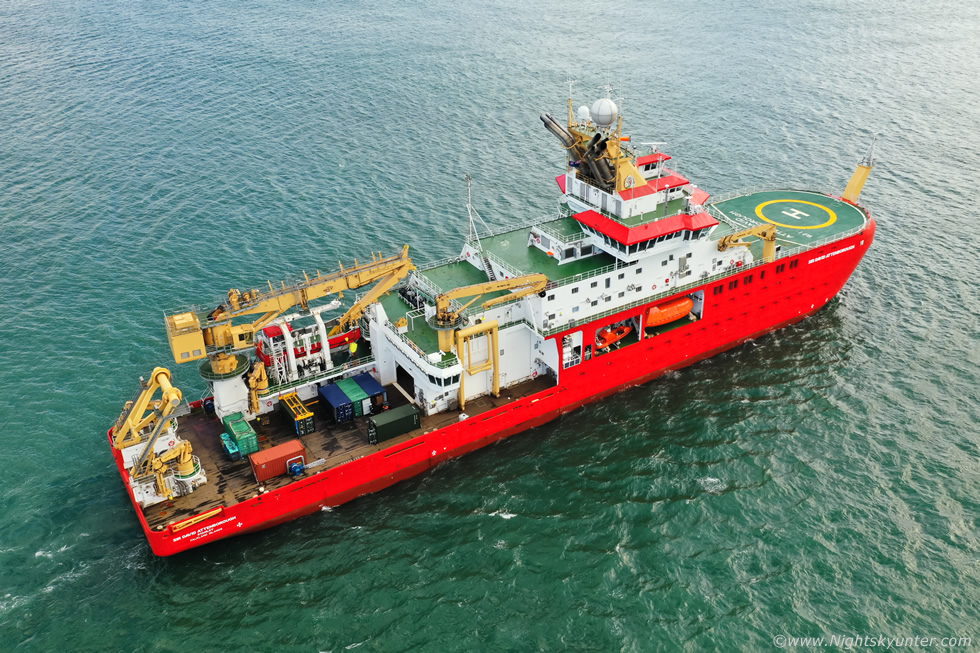 I went back to the van to recharge my batteries and remote controller and get a few snacks and warm up. At 13.30 UT we headed back to our strategic position to see what was happening. She was still doing tests and at one stage we heard her horn. By this stage quite a few onlookers had arrived to admire the new visitor, it was great to see families and children all out watching fascinated by this ship which was now all over social media. When 14.00 UT came she was still there and showed no signs of leaving, she had two smaller boats lowered which were doing various maneuvers on the sea, these two craft are named Terror and Erebus. I did a second flight, the wind was 8mph in calm periods but with regular gusts to 23.7mph and one particular strong gust registered at 27mph. These were no problem to the Mavic 2 Pro, during this flight I filmed her again and took another selection of aerial images from an increased height.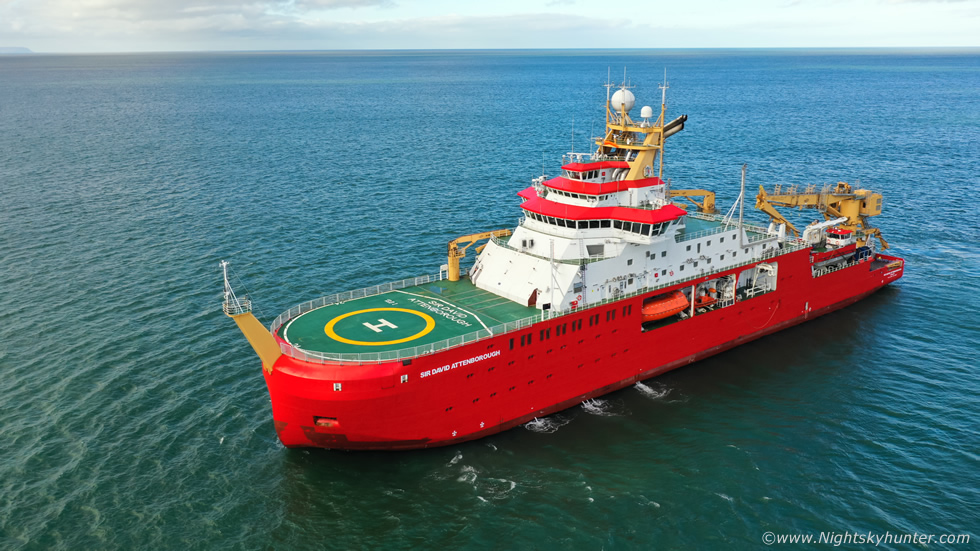 She can support two small helicopters on her landing deck, these are mainly for dropping crew and supplies onto the ice sheets where the ship can't get near. You can see at least three thrusters in operation in this image, it would be a similar scene on the far side and at times we observed another at her stern too, all of these were working in unison to keep the vessel steady. Her bow is of interesting design, bulky at the top but sharp at the bottom, she's an ice breaker, the most prominent section of the ice breaking bulbous bow was hidden unseen below the water.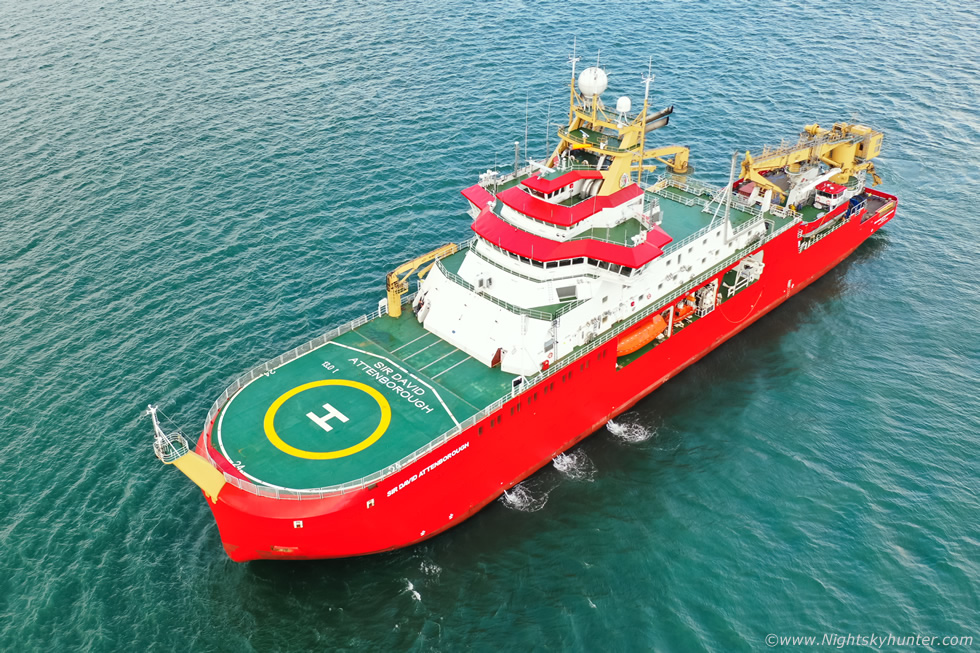 A couple of interesting facts, her hand rails and deck are heated within so that ice cannot form on these services, I'm sure the crew will be grateful for that. There are also several audio recordings by Sir David Attenborough himself which can be played via the vessel's tannoy system inside adding to the experience for visitors. In fact, if you check out the British Antarctic Survey youtube channel you can watch Sir David himself give a speed before launching this vessel into the sea.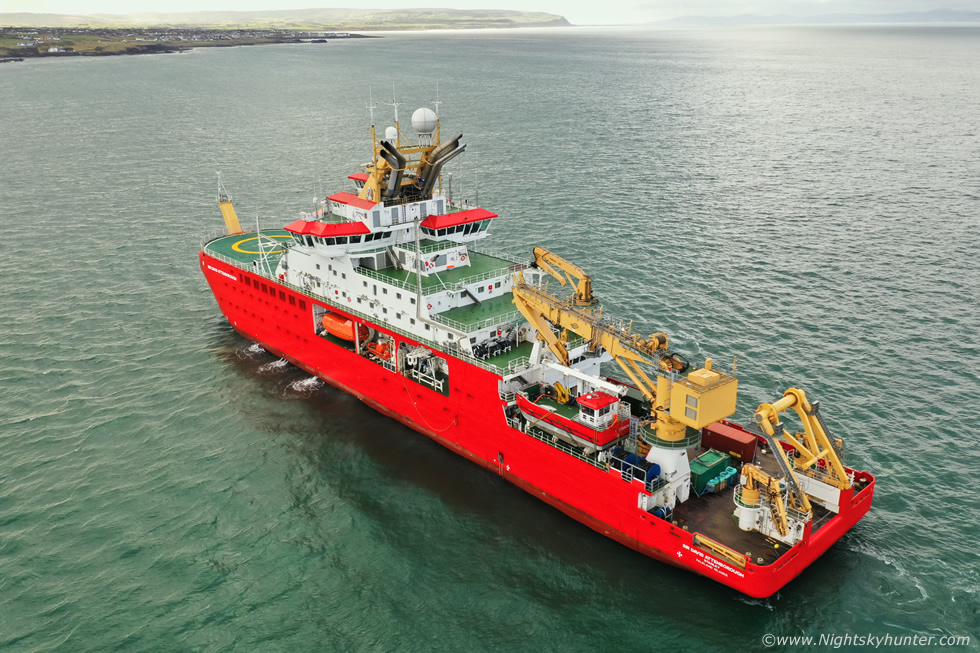 I brought the drone back to shore, replaced the used battery with a fresh battery then waited for the moment I was anticipating. When it happened I was slightly caught off guard, I logically assumed that she wouldn't move until the Erebus boat had returned, this makes sense with all the cruise ship visits I had observed in the past. The Erebus was near the Skerries and very far away so I figured her departure time was wrong, it was almost 15.00 UT and she looked to be staying a while. Suddenly she began to move, subtle at first, then she gradually picked up speed and turned to the NE to sail towards the outer Skerries, it was obvious she was going to collect the Erebus there.
I had the drone in the air and chased her out, flying low across the ocean, the sun broke out just in time and transformed the entire scene, the timing couldn't have been more perfect. Her vivid white bridge and red hull contrasted beautifully against the emerald green sea. I trekked her outbound journey, did a wrap around her bow then repositioned the drone at a high view facing her starboard side, from there a forklift could be seen moving and a crew member doing 'pull-ups' from a shipping container. I then did one more bow wrap then let her pass the drone. I was absolutely delighted with the light and the flight, it was everything I had hoped for and more. As I packed the drone away I looked up and watched her glorious form sail by the Skerries against a backdrop of families and photographers in vivid colour all watching her, it was a great farewell visual memory to cherish. In order to appreciate this wonderful vessel I invite you to watch the two videos below.
First video is a combination of two flights showing her in a stationary position on the bay using her thrusters.
Third flight, and my personal favourite, showing her on the move outbound from Portrush in great afternoon sunshine and looking her best, this was the flight which made my day. The 06.00 UT rise, the waiting for hours, chasing her around the coast, being lashed by rain and wind for this very moment when all the elements came together for a perfect day. I wish the Sir David Attenborough the very best of luck on her voyages and no doubt in the future science will benefit from her research and new discoveries. Thanks very much for reading.
Martin McKenna