Glenshane Road Shelf Cloud & T-Storm - July 7th
With almost 1000 CAPE, LIs of -3, and a series of convergence zones it looked like July 7th had the potential to be an interesting day across N. Ireland with a very slack and unstable Sly flow in a post-frontal air mass associated with an unseasonal deep Atlantic low pressure system which would be affecting much of the country. The Met Office had issued a yellow warning for slow moving heavy showers with a risk of flooding and Skywarn UK issued a severe thunderstorm watch during the late morning so I was getting rather excited, I also had that good feeling inside when I first looked out my window early in the day and saw decent towers developing with that healthy appearance which silently screamed 'afternoon thunderstorms' to those who knew how to read the sky. The good thing about this set-up was that moderate to high CAPE (by UK standards) would already be over central regions of the country by late morning and would stay there well into the late evening which is always good to see, furthermore the sun had been heating the ground strongly all morning so the atmosphere was getting primed for storms later when an active shower trough crossed the region so it was just a matter of watching and waiting for good convection to fire.
By mid day there was decent towering cu development with interesting inflow motion evident from the animated scud tags which rose in their vertical dance under the dark bases of updraughts which seemed to get taller and more numerous as time passed and soon I was finding myself looking at the sky in anticipation of something happening. The towers already looked capable of producing lightning and one slow mover in particular caught my eye as it lazily drifted to the N of Maghera so I decided it warranted closer inspection so I met up with Declan O'Doherty and together we parked in the countryside and got eyes on the sky.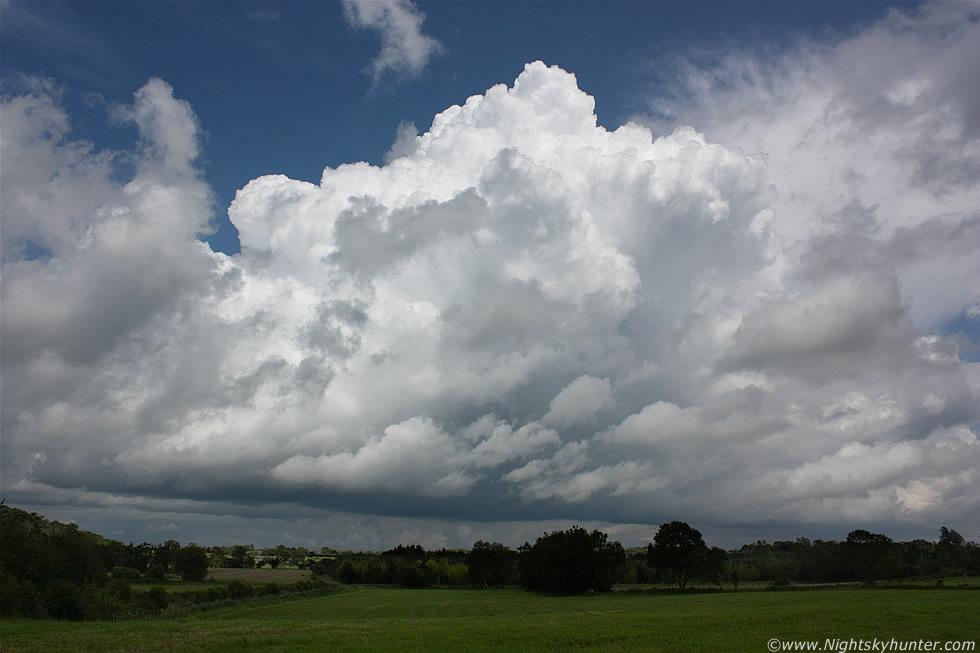 We spent the next hour and a half standing in this beautiful field with the sun burning the back of our necks as we watched the evolution of a very nice 'dry cell' which did its best to flirt and tease us with promises of thunder and funnel clouds which it never produced, however it was far from disappointing as the cell looked beautiful as it transformed through a wide spectrum of shapes and heights like a Calvus multicell which refused point black to produce any precip it all. The cell was mainly a collection of explosive updraughts which regularly came into view when they erupted high enough to appear from behind the fragments of mid level cloud playing peek a boo. At any one time there where 3 or 4 tall towers with expanding mushroom-shaped heads with brief pileus caps then the main tower would weaken and drop while a new tower exploded up from the rear of the cell to become the main attraction and this cyclic process would continue for the entire time we watched. The cell was so slow moving that we just stayed in this one field watching and daring it to produce a cold air vortex. A rumble of thunder boomed behind us over the Sperrins as more cells arrived, this time with anvils, however we paid them little heed because we felt devoted to this young cell in front of us and didn't want to be unfaithful since we had spent so much time with it on this glorious sunny convective morning. The above image is looking N, at one stage the base was over those fields with tower tops directly overhead so this was very big, however it was a considerable distance away when I took this image because it was the only time I could fit it in the frame with any foreground so keep in mind that those towers were much taller than they appear here and all were expanding in an impressive manner.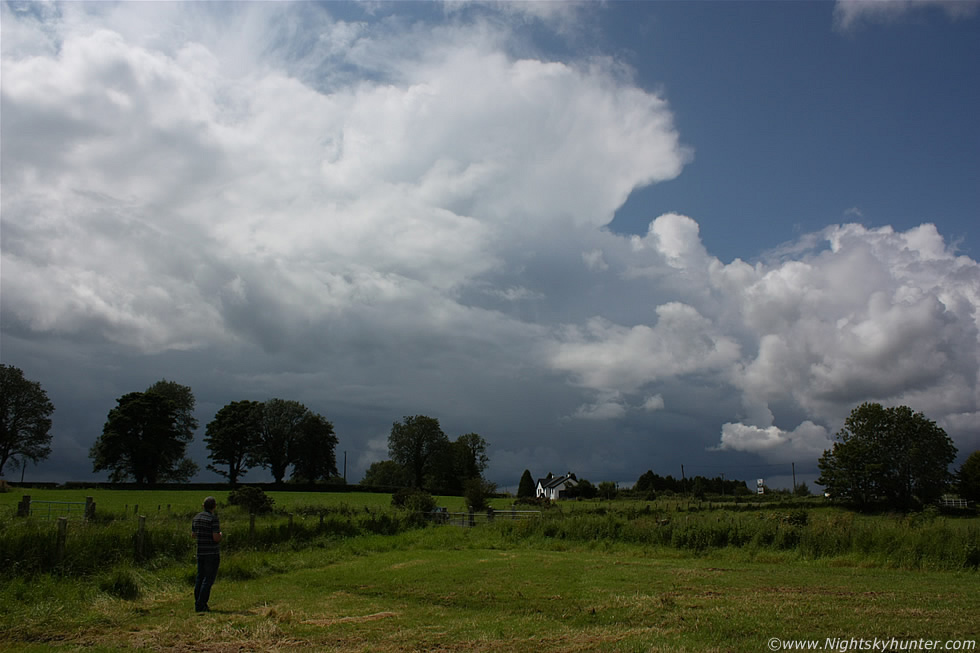 Recall the cell we were covering, now imagine turning around 180 degrees to the L and looking S-SW towards the Sperrins and this was the view in that direction. We counted 3 cells in this general area slowly moving N with fresh anvils, in this image you can see Declan watching the scene and wondering, like I was wondering, if we should quickly move position incase that cell with the anvil had a nice gust front on it. A second rumble of thunder from that very cell almost tempted us however we remained where we where and just trusted our instincts. We focused our attention back to our old faithful cell to the N and watched it vanish behind cloud until we could see it no more, it didn't produce anything for us despite our devotion however we were far from disappointed as it's always a thrill to be treated to good sunlit convection no matter what it does. Our instincts were correct as the cell with the dark base behind those trees turned outflow dominant and as it came into view we were treated to nothing more than a shower with a messy dark outflow boundary with threatening lumps of scud rising over a farm. New convection was developing everywhere however we had an appointment in Magherafelt at 14.30 and it was almost 14.00 so we reluctantly decided to leave the convection here and begin our drive, we were actually excited because we would be heading S into the more unstable air so if anything fired within the next 30 min's we would be able to catch it from the road.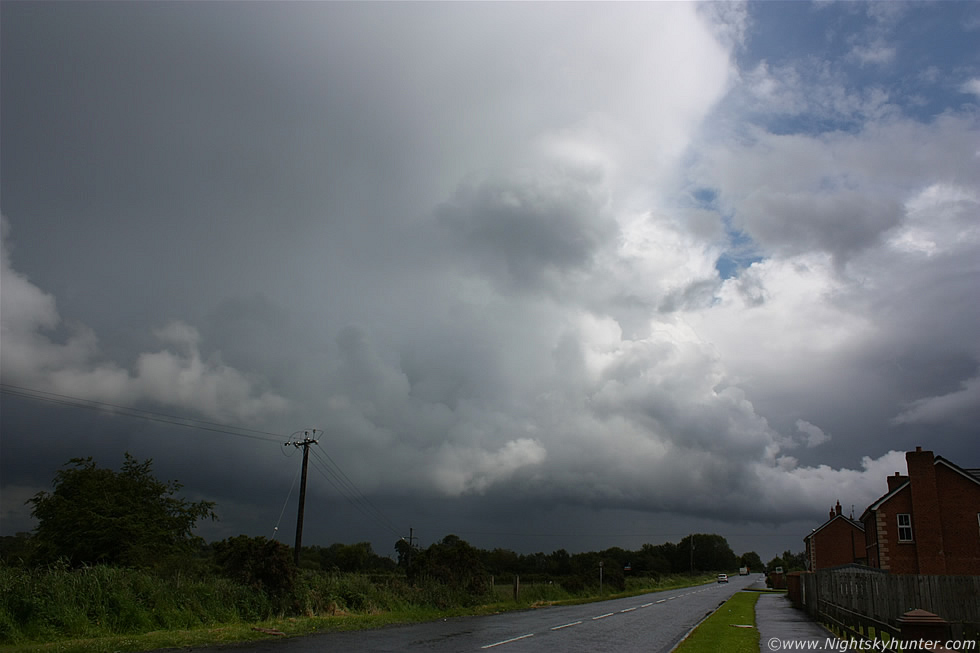 I quickly stopped at my house first to grab a few things and stole a very quick look at the radar which showed an active group of showers and young storms over central N. Ireland moving N with red echoes (indicating powerful precip cores) with c-g lightning sferics near Lough Neagh with the culprit storm moving N so things couldn't have been more perfect as we would be meeting it head-on when we got back on the road. Before I got behind the wheel of the car I looked to the S in the direction from which it would be coming and got a severe shock, the storm was already here!, the anvil projected downrange from the precip area in the direction of travel and was already over Maghera covering the countryside in a shadow like the arrival of the alien spaceships in 'Independence Day', the anvil was huge and quite solid on it's leading edge and reminded me of the rounded brim on a very thick hat. The base of the cell was pure evil with a black angry mass of cloud moving towards us which looked like it meant serious business so I raced back to Declan's house and pointed out the cell to him in a very excited fashion and when he saw it he fully understood, without any further study, that this was a major cell and we needed to chase it immediately, and that's exactly what we did. We had just pulled out from our housing estate when we spotted another cell directly in front of us crossing the skyline to the E so we quickly pulled over to take a few images. In this image the cell is moving R to L, the anvil was big on this too and extended far above the frame, in fact so high that I couldn't get it into the 18mm vertical frame. So there we where with this cell in front and the other storm to our RHS advancing so we needed to make a very fast decision so we ignored the above and drove off down the road to intercept the major cell while the clock ticked for our appointment in Magherafelt.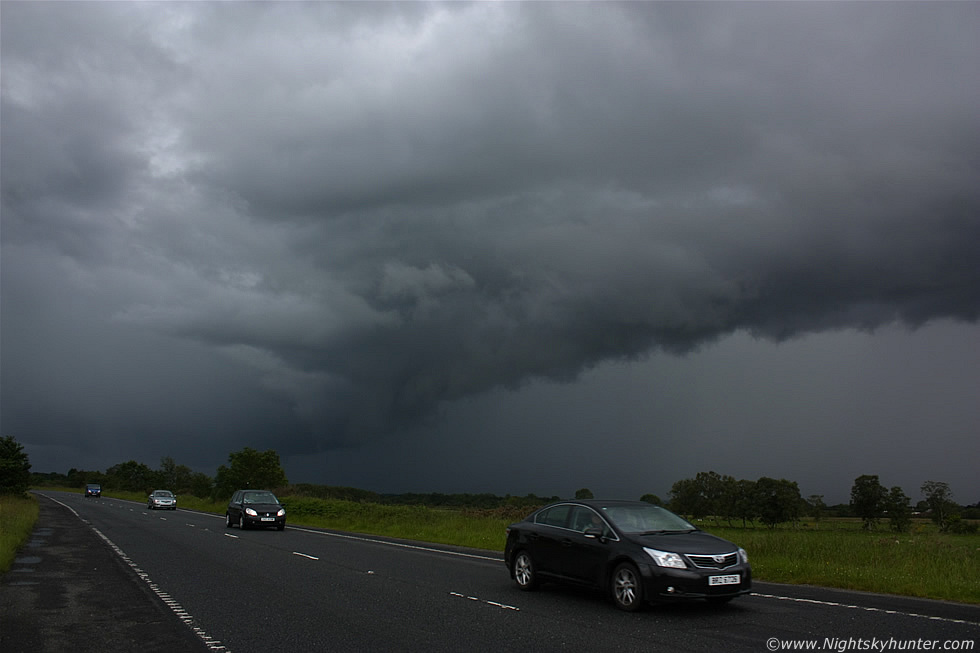 As we drove over the high ground on Station Road we got a good view of the storm heading our way and when our brain's took in what we saw we went into a state of major excitement followed by that all too familiar feeling of adrenaline, anticipation, and the passing of time with that strong rush of wanting to be in a better position to get an image because through the windscreen was a stunning shelf cloud almost as black as night with brilliant colourful sunlit fields contrasting in the foreground which would have made for a stunning photo opportunity so we couldn't wait to get stopped and out of the cameras. However this was not possible as houses and telegraph poles obstructed the view and besides, we couldn't pull over on this road in a built-up area so we had no choice but to drive on with the realisation that the shelf could soon over take us and we would miss our chance completely so we were getting quite agitated, when we got stuck behind a slow moving tractor with trailer stacked with hay I almost thought we had lost our chance but we didn't give up and got through the town quicker than expected and entered the countryside and eventually onto the main Glenshane Road and headed S. The view through the windscreen and driver's window was stunning with a massive shelf cloud almost as black as coal with clouds so solid and thick that it seemed we could have thrown a rock at them and it would bounce back. We where going to miss our chance if we didn't get pulled off this road as the shelf was about to pass over so we had no choice but to pull over onto the hard shoulder at moderate speed while the car slid 6ft across the gravel to a stop and we got out to get what images we could with just a few min's to spare.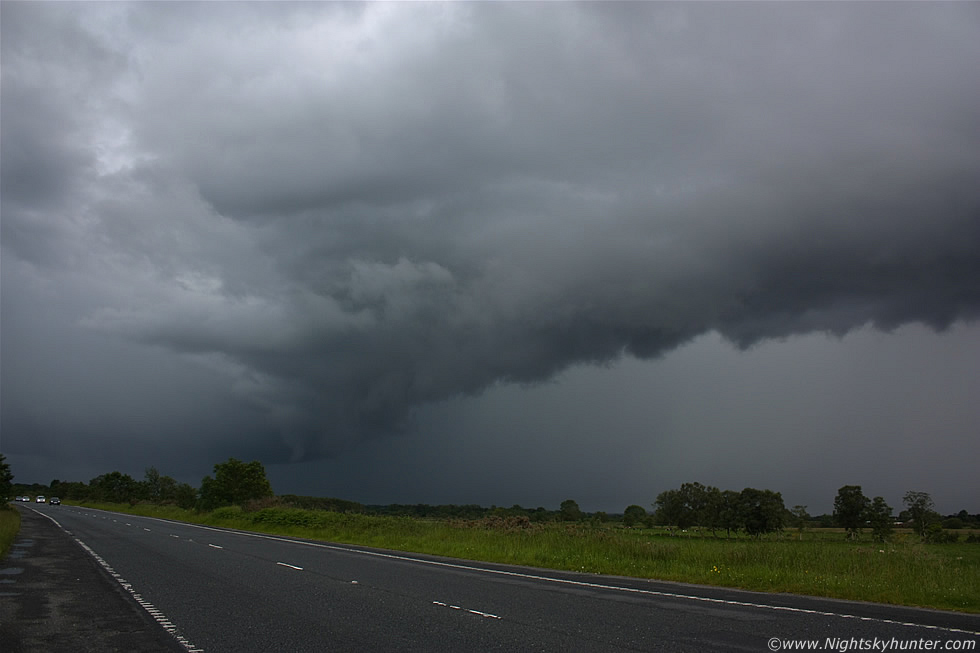 These images were rapidly taken from our hard shoulder observation point looking S across the Glenshane Road at the front of this big multicell thunderstorm, in these images the gust front/shelf cloud can be seen which was moving straight towards the camera, however images simply don't do this scene justice as the cloud structure was really chunky and dynamic and so dark it was impossible to capture accurately on camera without underexposing the scene however I settled on this exposure which hints a little of the darkness while still showing the structure quite well at 18mm, however in a perfect world a 10mm lens would have been the best tool for the job. The black shelf cloud looked so menacing like the mouth and teeth of a vast monster in the atmosphere with jaws wide open eating everything in it's path, it looked so cool over the busy road with many cars and trucks rushing past at high speed with lights on. In the images you can even see a hint of green in the precip core behind the shelf, this was probably the coolest shelf cloud I had seen since June 2009 so I was very impressed with it, this is the E side of the guster, the W section extends far out of frame to the RHS. Declan and I got into combat mode and began taking still images and what video footage we could while traffic shot past me at close range which was bordering on dangerous. Lightning flashed within the precip and we could hear thunder as the storm neared.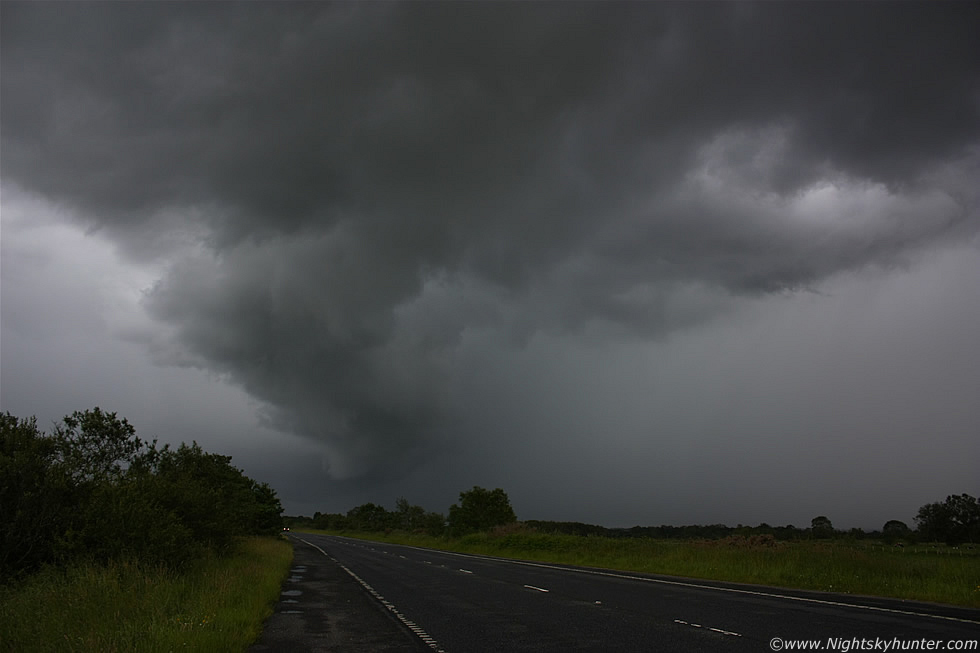 Time was not our friend as the shelf was already over our heads and crossing the road with that heavy precip core looking extremely nasty with more lightning/thunder while the clock ticked, we had to be in Magherafelt within 15 min's so we had to document this as quick as we could.
This is zoomed in a little to 34mm showing the cloud structure under the E side of the shelf, at times it looked like there where several brief funnels/vorticies forming on the shelf and disappearing again, I have alot of images showing these features however I'm only using a few for this report.
Dramatic wide angle scene showing the shelf cloud with intense precip core with mid afternoon traffic below, imagine periodic flashes from c-g strikes embedded within the core, which was red on radar, followed by deep rumbles and you have a good idea of what it was like to witness, only darken the mental image until the clouds look black and you will have an accurate representation. Unknown to us at this time the storm was causing alot of problems across a large area of the country under that core.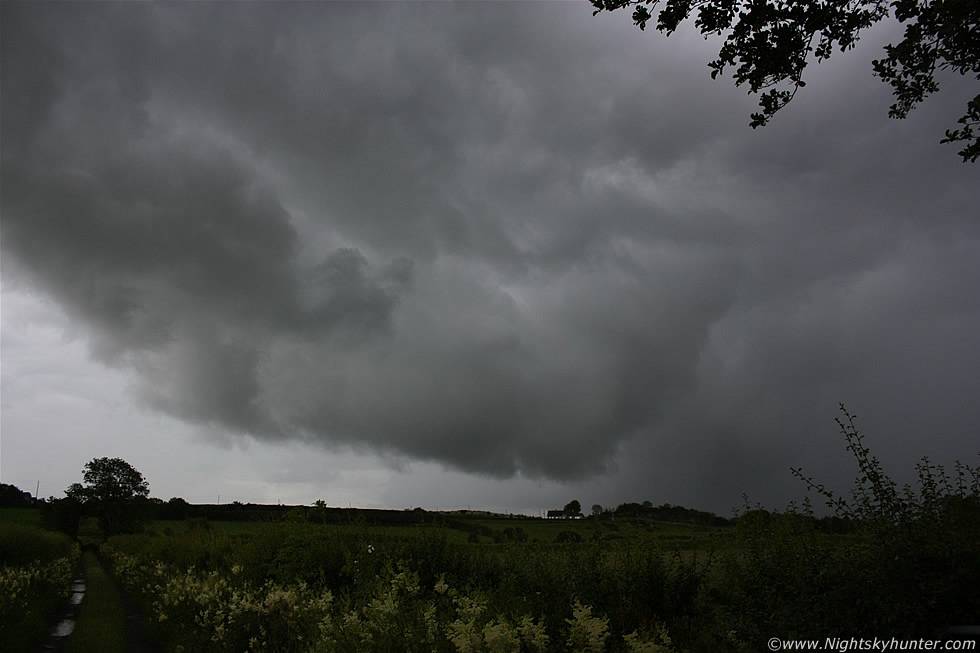 A stunning display of whale's mouth structure suddenly appeared at the zenith as the shelf swept over our heads and we found ourselves starring up wide eyed into its incredible black and silvery-grey high contrast cloud forms. The precip was starting to spray us at this stage so we where already in the danger zone from lightning so I ran down a lane and took one last still image showing the back side of the shelf moving into the distance over the fields before we were engulfed by the core, we got back in the car and drove to Magherafelt through the heavy precip which flooded the roads and knocked out the power in town, even the shops and petrol stations had no electric so we got a few snacks, made our appointment with time to spare, then headed back N and spent the rest of the afternoon on the high ground of Knockloughrim watching more cells however it was game over at this stage due to large areas of precip and cloud cover which killed the storms, it turned into an evening of lashing rainfall so we called it a day around 16.00 BST.
Short video clip of the shelf cloud approaching with whale's mouth, however the field of view in this video camera is only 32mm which is too small to show storm structure so it doesn't do the scene justice at all. Also the auto exposure made the shelf too bright so you cannot see the black clouds and cool structure, however it was all that I got with the short time available. As it turned out this was the best storm in the country that day which was significant enough to get coverage in the television and newspapers since it knocked out the power in 40,000 homes with areas of Magherafelt, Cookstown, and Toome most affected so it was a successful day for us and another good chase completed in what's turning out to be a very good year for storms in N. Ireland, thanks for reading.
Martin McKenna