Severe Squall Lines Hits N. Ireland - March 7th 09
Saturday March 7th 2009 is a date I will never forget because it was on this night that I got to experience, first hand, a serious severe weather event from Maghera. This report is my own account of what happened, but included are reports from others who witnessed this amazing weather throughout N. Ireland. The day itself was dull and grey with patchy drizzle due to the passage of a harmless warm front which swept across Ireland during daylight hours. Behind it, and yet to make landfall, was an intense cold front driven by a low pressure system also over the Atlantic Ocean which was expected to enter the west coast at nightfall. There was an underestimated convective outlook issued for Sat/Sun but nothing really severe was predicted so I wasn't expecting any 'interesting' weather until Sunday afternoon. During the early evening as dusk gradually gave way to darkness I was spending some time on the internet doing research into past severe weather events in N. Ireland. After one hour or so of staring at the monitor my eyes and mind began to get tired.
To be quite frank, I was getting a little bored. I noticed during this period that the lights in my room began to flicker a few times which got my attention, however this happens on a regular basis every time the shower is being used, probably faulty electrics. Something about this flickering though was different and my instincts told me there was lightning around. To satisfy my curiosity I checked the online Sferics charts to see if my instincts were correct. They were!, sferics had been plotted to the W of the country and I began to feel a sense of excitement. Scattered sferics over western coastal areas is a common sight during the Winter months but considering the time of year, that we where moving towards Spring, I felt that this was the beginning of something interesting. To back this up I checked the online radar and immediately got a shock. The cold front had indeed made landfall but it was so fast moving (W to E) that it was already almost half way across the country, and it was this system woich had produced the lightning. The unstable cold air at the front was undercutting the warmer air it encountered and lifted the stable warm air violently up causing convection, this is one form of lifting mechanism which generates thunderstorms. This was a text book example of nasty cold front.
What was even more impressive than the sferics was the colour of the radar returns. On the leading edge of the cold front a slightly curved vertical line, running N-S, had formed sporting extremely intense returns. The radar is colour coded to show the intensity of the rainfall which is why it's great for locating storms. Blue is very light drizzle, green and yellow are moderate rainfall, red is torrential, and white is at the top of the scales. This vertical line was thick with red echoes and when the time sequence was played there where even white echoes between the red. It was obvious from the shape that convective cells had not only formed, but they had organized into a straight line of storms called a squall line. Squall lines not only produce severe weather but can also look visually stunning and threatening in appearance. From the radar alone I reckoned the line would have had a stunning highly structured shelf cloud (also known as a Gust Front or Outflow Boundary) along its leading edge which would have been amazing to photograph. Double checking the radar it was obvious that this thing was moving extremely fast to the east and seemed to be getting even stronger, and it would soon impact my location. I began to get excited.
I immediately informed my family that something big was coming in, actually I told them a squall line was going to hit with intense rain and possibly lightning with it but the uninterested response I got confirmed that they didn't take it seriously. They were surprised by the lightning but paid no attention to the approaching squall. This is because I'm always talking about weather events, which very often don't occur as forecast, so they assumed that nothing was going to happen. I grabbed by camera because I had a feeling I might need it. I opened my east facing back door and looked out at the sky. The time was just before 20.00 UT, it was very black overhead and it was already raining heavily so my premature plans about going out to the country and taking exposures of the squall had to be abandoned. However, I was already too late. I had been standing there for perhaps 20 sec's before all hell let loose without any warning at all. Suddenly the wind increased dramatically to gale force which was impressive enough and it seemed to be getting stronger, I thought I could hear something behind me on the other side of the house, then there was a short pause which was followed by an almighty ROOOAARRR!!!!!!!, a sound that was so sudden, and so deep and angry, that I thought I could feel the noise. Then, by looking below the street lights in my estate I saw the rain and hail, which was now absolutely torrential, blasting across the sky completely horizontal at incredible speed, and I mean horizontal, and just when I thought it couldn't possibly get worse, it did.
That deep roar seemed to peak at a frightening volume, which was followed by a sound like pepple-dash being blasted against the windows at the other side of the house, that was the hail smacking the glass at phenomenal speed. This was followed by a horrific blast of wind with such awesome force and violence that I couldn't believe what I was seeing. It was then that the house began to shake violently!!!, I could actually feel it shaking and it was at this frightening moment in time that I genuinely believed a tornado was about to hit our house, after all, powerful tornadoes in the UK have formed from cold fronts in the past. I thought of my family in the west-facing room and yelled ''get down!!!'' because I was expecting either the windows to shatter or the roof to get ripped off at any moment. It really was that bad. The wind squall I could see out the back door was absolutely horrific, in a brief flash of recognition it reminded me of video footage I had seen showing the severe winds from a Rear Flank Dowdraught (RFD) or the outer winds of a Mesocyclone, both of which are produced by Supercells. I have experienced severe wind storms on previous years because we get them every Winter, I had also experienced winds on the top of Slieve Gallion which must have been gusting over 70mph, I couldn't stand up in those, but this squall line made those experiences look like a Summer's breeze in comparison. The squall suddenly past on and the wind eased as quickly as it had arrived. The entire event must have lasted only one min or so but it was the most extreme raw power I have ever experienced before in N. Ireland in my life. Luckily I had recorded the entire thing on video using my digital camera and had some kind of record to treasure.
However the show wasn't over yet. Suddenly extremely bright blue strobes of lightning lit up the entire sky to my east. I could see everything around me when they pulsed. I counted 4-5 flashes and distant rumbles of thunder which was fabulous to watch. This was my first night time thunderstorm of 2009, and what a way to get it!. The squall line continued moving east getting further away from me but I was still on such a high with the adrenalin pumping through me that I couldn't think straight. My first thought was ''holy sh**t, I've just been under a severe squall line with seen a thunderstorm'', I was exhilarated by the experience then I thought I should report this to the Ukweatherworld forum because this was a serious event which needed immediate attention. Before I did this though I thought I would inform my friend, astronomer John McConnell, who lives further east in Maghaberry, that a squall line would soon hit him. I typed out a text message which read ''watch out! we just got hit by horrific winds & torrential rain from severe cold front! I thought a tornado was hitting!'' but the signal was dead due to the weather so I kept resending until it eventually got through. John got the message then he wanted to warn his brother who experienced a tornado from a similar event a few years ago, but it was too late. He got the squall line and storm and so did John. Soon after we were on the phone discussing the event and both of us were suitably stunned by what we had seen. John thought it was a tornado approaching too and told me how he was tempted to find the strongest part of the house in case it collapsed. We discussed the wind speed and both agreed that it must have easily exceeded 80mph!. We were in no disillusion that a severe and rare event had taken place and that a tornado very likely could have formed from it somewhere.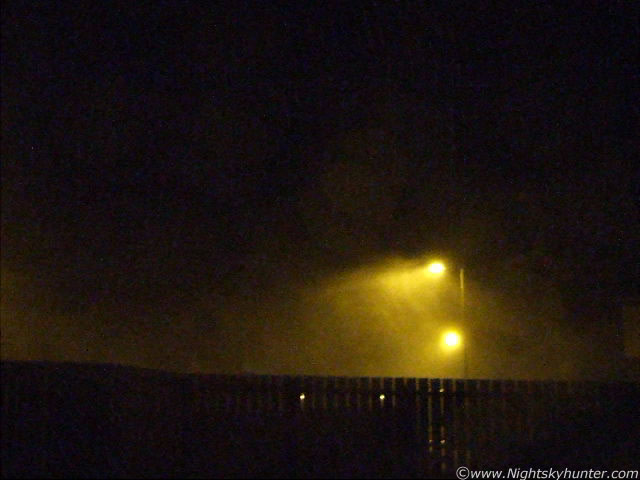 (Above) Video grab during the strongest point of the squall impact as violent winds blow rain and hail horizontal from R to L across the estate.
(Above) Another video grab showing a bright double flash of blue lightning in the E as the squall moves away.
I have to say that even now as I write these words days after the impact, I'm still buzzing from the event. If I'm to be honest there was a time when I was quite frightened, but more than this, I was amazed to witness mother nature at her finest so I was thrilled beyond words to get a taste of some proper severe weather. I was highly impressed but I was also aware of the consequences of this event. I was certain there had to be damage done somewhere. I posted my excited report soon after on several forums and my own 'sky events' page and asked for others who experienced the event to get in contact with me. I was not disappointed, my inbox was filled with emails from people from all over N. Ireland who wanted to share their own experiences. Below is a sample of these emails, including others posted on our forum...
''Hello Martin, I'm Colleen and I'm highly interested in weather, I go onto your website every day to look for the latest conditions. I'm interested in thunderstorms etc. But last night's unexpected squall line was unreal. It did scare the s**t out of me at first, but I grew to like it. I watched and read your update of it and you seemed to get it worse in Maghera, as down here in Portglenone we did get strong winds, heavy rain, thunder and lightning, but it was more severe in Maghera''...Colleen, Portglenone.
''Hello Martin, I'm just dropping you a line about the unusual weather event tonight. In fact, I had intended to drop you a line before visiting the weather forum where I see the information is already starting to flow in. I was in a friend's house in Ballyronan when we heard what sounded like a massive explosion overhead. We immediately turned off the house lights in the hope of catching sight of some lightning. We weren't to be disappointed. In total we saw two blue coloured flashes to the east. It's not possible to say if the lightning occurred over Lough Neagh or over the County Antrim shoreline beyond. These flashes were accompanied by distant rumbles of thunder. The thunder was followed by intense rainfall – it was literally falling horizontally. While there were gusts of wind it really didn't seem all that noteworthy. It wasn't until I made my way home in the direction of Toome that I realized the full extent of what had taken place. At various points the road was covered with debris blown from trees and hedges. It was obvious the area had been hit by violent gusts. Just outside Ballyronan the road was partially blocked with a fallen branch. When I returned home flower pots were strewn across the yard''...Connla Young.
''The squall came through my location at approx 8 pm last night. Very strong winds for a time and several very bright and long flashes of overhead lightning with loud cracking thunder. Absolutely superb night time thunderstorm for early March. I can't remember the last time we had a night time storm so early in the year''...Greg Lloyd, Ballinderry''.
''Thanks for the text warning Martin! Gosh it was rough here for about five minutes or so around 20:20UT. I saw two good flashes of lightning with the crack of thunder at the same time as the first one, it must have been overhead. My Brother saw a couple of flashes about five minutes before me with thunder as well, he's about five miles west of me. He was getting worried in case it was another tornado, in fact it was very similar to the one which produced the tornado that hit him a few years back. At one stage I was looking for the strongest place in the house, it was terrible''...John McConnell, Maghaberry, N. Ireland.
''Hi Martin, was just standing outside there after reading the convective forecast you issued, torrential rain, big wind gusts, then a crazy bolt of lightning out of the blue, it was like a set of spiders legs covering the sky, excellent stuff, pity I didn't have my camera at hand!, hopefully there's more to come. It actually sounded and felt worse than when I was in Florida on June 10th 2008, and we had to be evacuated into toilets at Sea World's water park due to a radar induced tornado in the area''...Scott from Lisburn
''Martin, I think I experienced something very similar to you at around 8.26pm in Newtownabbey. We where sat watching tv and I was having a look at the rainfall radar. The wind had picked up and the rain was getting so hard we decided to turn the tv down to have a listen. Then all of a sudden the roar that came down the chimney was unbelievable. I ran to the front door to look out and as I opened it the rain almost hurt as it hit me in the face. It was almost a struggle to stop the front door from blowing backwards and my brother then came running in as the wind came through the door rattling the blinds all over the house. It only lasted a few min's and all is quiet here now. For a moment I also imagined a tornado was about to hit. Really cool stuff. It was something I have never experienced before. It was like a roar that just got harder and harder almost like a train. Everyone in my house was in shock. The recent radar would be great to see. I'm actually just in from having a look around my house as I thought my driving instructor sign had blown off''...Stuart from Newtownabbey
''Got similar here. Did not hear thunder or see lightning but we did have the power knocked off''...Brian B from outside Coleraine, near North coast.
''It hit here at 8.20 pm, an easy jet on final approach to land had to abort, I was listening to it unfold on my scanner and the hairs where standing on the back of my neck! I opened the window and the wind was howling. This was a super cell passing overhead, they were still tracking it on radar and warning aircraft over the Irish sea to be aware of this nasty cell, wind shear, and gusts leading to turbulence. The wind has now died down and there was lightning strikes during it as well. I have them on my camcorder! The wind gusts where the strongest I have felt, along with the lighting it was a wild weather event''...Jonathan Bingham, killead, N. Ireland.

''Martin, I have archived radar images every 5 minutes 2000-2020. 2015 shows some exceptionally heavy precip - almost off the scale! All show >70mm/hr echoes along a thin and obviously intense line-echo, with wave features. Not surprising to see what you report given these''... Convective expert John Mason from Wales, UK.
''We had the tail end of this here, some serious downpours too and very squally winds, this was flagged up very well on lightning wiz for 0z forecast anyway with yellow supercell parameters and tornado params too just on the radar here you could see quite a few wrap ups actually''...Paul Downes, Mullingar, Ireland.

''The station at Clougthfern, NewtonAbbey recorded a 92 kph (~25 m/s) gust at the CF passage. It looks like a pronounced bowing segment formed over NI''...David Waghorn, Catford, SE London.
''Hey mate, just letting you know our smoking area in work in Belfast was ripped out of the ground during Saturday's storm. Was pretty bad here. My mates Mother text her as she had heard there had been a tornado in Crumlin but have not had this confirmed, think it was a rumour but exciting though!!!''...Chris Tennyson, Crumlin.
''Report of possible tornado at Ballyclare, Co Antrim, N. Ireland around 20.00 GMT on the 7th March 2009. Damage to trees on a farm near the town, but no damage to buildings. Location of farm w.r.t the town not known. IMHO likely to have been SLW damage. There was a gust to 74kt (87mph) at Donaghadee Harbour between 20.00 and 21.00UTC, this given the weight of rain or hail with the wind would have been sufficient to damage trees. Severe winds lasted for around 30 seconds with a noise like an express train''...Ukweatherworld.
Now for a bit of information about the video. I must make it clear that the video only shows the tip of the ice berg of what really happened. The squall line arrived from the W which is behind me. I was standing in my back door surrounded by walls on all sides with the exception of the open back door which faces east. So I was looking down-range so to speak in the direction the squall was moving. This is why you cannot sense the loud roaring sound or the sensation of the house shaking, which occurred at the moment the camera began to shake. So in a nut shell the video doesn't convey just how powerful this event was and what it was like to experience. If I had went outside and turned around to face the squall it would have been much worse, I didn't do that for fear of destroying the camera, getting hit by airborne debris, or more likely, getting knocked flat to the ground. It was dangerous out there. Having said that I'm glad I have at least some evidence of this rare event. Also, please ignore my excited shouting and vernacular on the clip, I don't normally talk like that but it was a natural reaction to the event.
It was interesting to note that the high resolution radar images showed an S-shaped line or bowing segment also known as a line echo wave pattern. To quote wikipedia...
''The best indication of the presence of severe weather along a squall line is its morphing into a line echo wave pattern, or LEWP. A LEWP is a special configuration in a line of convective storms that indicates the presence of a low pressure area and the possibility of damaging winds, large hail, and tornadoes. At each kink along the LEWP is a mesoscale low pressure area. In response to very strong outflow southwest of the mesoscale low, a portion of the line bulges outward forming a bow echo. Behind this bulge lies the mesoscale high pressure area''.
The radar images from 20.00 UT onwards do show that severe weather was happening, this backed up the visual sight of severe gusts, hail, and lightning. It also shows that a real tornado event was either about to happen, or had already happened somewhere and has not been reported. The most powerful tornadoes in Ireland and UK tend to form from intense cold fronts like this one. There have been two reports of damage so far but it's unclear yet at the time of writing if these where tornadic or SLW damage. It's worth mentioning that the lightning wizard convective maps which I had looked at earlier in the day did show the supercell and tornado parameters over much of Ireland. Here are a few informative links on Squall lines which are worth reading...
http://www.crh.noaa.gov/sgf/?n=spotter_squall_lines
http://ww2010.atmos.uiuc.edu/(Gh)/guides/mtr/svr/modl/line/squall.rxml
http://www.tpub.com/content/aerographer/14312/css/14312_122.htm
http://en.wikipedia.org/wiki/Squall_line
Hopefully this will be the start of a very active storm season to come. I will update this page if I get any further info on this event. Thanks for reading.
Martin McKenna