Historic N. Ireland Extreme Blizzard! - Spring 2013
It's official, March 2013 was the coldest in fifty years according to newly released figures from the Met Office and for parts of the UK and N. Ireland it went out with a bang. Here in N. Ireland we have just had an historic extreme blizzard which has gone down on record as the worst snow storm ever experienced here since 1962. The blizzard made international news and was a breaking story on television here on a daily basis, this storm produced the biggest snowfalls, terrific driving conditions, massive drifts, an ice storm, at least several people died and at least 10,000, yes I didn't spell that wrong, that's ten thousand Sheep and Lambs killed by the drifts and freezing conditions. As I type this report a week to the day in which the event began to unfold it is still a major talking point on the news and will be for some time to come. However in contrast to what some conspiracy voices have been saying this event was very well forecasted and we knew about its dangerous potential at least one week in advance.
During the time running up to this event I wasn't paying as much attention to the weather as normal because my eyes were fixed on trying to see comet C/2011 L4 Pan-STARRS so when I did check the charts it was for cloud cover reasons. All that changed when I glanced upon a new topic within one of the Irish weather forums which immediately got my attention due to the level of excitement from the members, then I checked the charts myself, there was no question a significant snow event was likely and as the days advanced the pattern became locked and it was just a matter of, not if we would get snow, but how much. The synoptic set-up was a typical snow producer for Ireland however what was not so typical was the very strong ridge of high pressure to the NE which seemed to stay stationary in place and as a result a bitter deep cold Ely flow of freezing air from Europe was advected towards UK and Ireland. Further to the SW a series of frontal systems was approaching from the milder Atlantic and as the fronts surged NE they collided with the cold air which in conjunction with the rich moisture from the ocean allowed for the perfect ingredients for a snow storm.
This was due to happen on Thurs night, March 21st, however as the front moved further NE towards Scotland its forward advance was blocked by the ridge of high pressure then the front would back upon itself and stall directly over N. Ireland, this was expected to happen on Fri evening and lasting into Saturday night before finally easing by Sun morning. This would result in some areas of N. Ireland getting 36 to 48 hours of constant snowfall. Add to this the very strong Ely winds which would become gale force in places and we had the perfect recipe for a major blizzard. The Met Office had issued a yellow warning well in advance then 24 hours prior to the main event it was upgraded to an amber warning which is the second highest you can get, it simply meant 'be prepared' and the text below the risk map highlighted the risk of blizzards, freezing conditions, dangerous roads, snow drifts and power disruption. The television forecast warned viewers not to travel at all if it could be avoided. The danger areas where over the mountains of the Sperrins and along the entire Antrim area which was highlighted to be most at risk due to longer snowfall periods and stronger winds.
It snowed all night during Thurs with strong gusts of wind periodically hitting the house, some where strong enough to force our attic door up and down again with a loud bang which is always a decent indication of good wind strength in my house. This went on all night and the lights flicked on and off for hours on end then suddenly the street lights went out and the neigbhourhood was plunged into darkness which is something I haven't seen for a very long time. Amazingly the power in the house was on but the regular flickers threatened to end that luxury soon. I lit several candles in my room and did my last check on the weather models before blowing out the candles and drifting off to sleep while the wind howled outside with the wet splat of large snow flakes hitting the window until I fell into sleepsville. I awoke early in the morning in anticipation of some amazing scenes however when I looked out the window into the back garden I was disappointed, there was a good white dusting on the ground but nothing major however I suspected the mountains could offer much more so after more monitoring of reports and radar I decided to get out and try. I drove up the legendary Glenshane Pass for what seemed like the hundredth time this Winter and my first impressions were not good, yes there was snow on the ground however it just looked like an inch or two at most and at that moment in time I began to think that perhaps this event was going to be a damp squib and I cursed myself for having wasted petrol (a business expense) with nothing to show for it, that means no new memories, visual scenes, and most importantly no photography, in fact, I didn't even take the camera out from it's bag once as I was so unimpressed.
Within half an hour of my arrival nature had presented me with a large plate with fork and knife and was making me eat my words!. The frontal system was now backing over N. Ireland again and stalling and with it came a big increase in Ely winds which stirred the mountain snow scene from ordinary into extremely interesting in sec's. I got off the main road and pulled over on the narrow road beyond the cattle grid and watched, fascinated, as the snow began to stir, at first just a little but soon it was so lively and dynamic that I was quickly reaching for my still camera and video camera. As the car got buffeted in the wind the view outside the windscreen was like a scene from some American road movie with snow blowing across the roads and marsh as if it was alive. I was entertained by constantly blowing white 'snakes' swirling and twisting as they swept across the road in a majestic manner with gentle rhythm and in the stronger gusts the blowing turned into a film or shroud of white like the coma surrounding a comet.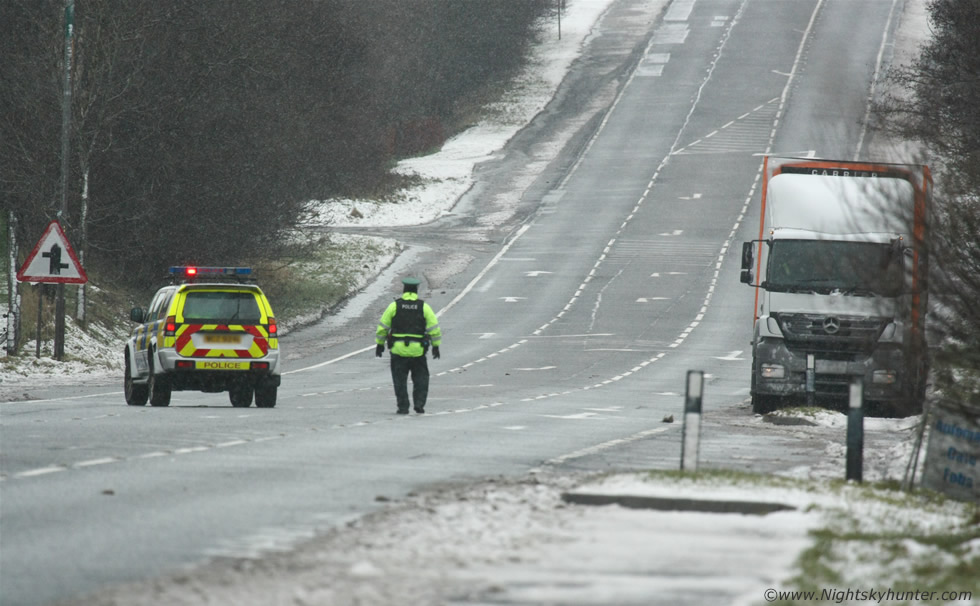 I decided to drive home to warm up and as I descended the mountain road I had a feeling that this place could be shut down soon as the gusts of wind where strong enough to try and blow my car off the road and with a truck driving up my rear bumper the entire way down the mountain in such conditions I felt this was fast turning into a dangerous place. Back at home I reported on twitter that the roads were bad and that there could be trouble there later, half an hour after I posted this I heard that Glenshane Pass had been closed so I went back up again to see what happened. The police were turning traffic away at the bottom of the mountain so it was indeed closed but just to be sure I had a chat with the policeman on duty who said it was weather related, I got permission to take a few images then returned home. I later heard an unconfirmed report that a truck had blown over on it's side up the mountain which backed up my earlier thoughts on the situation, had I stayed where I was for another half an hour I would probably have seen it happen.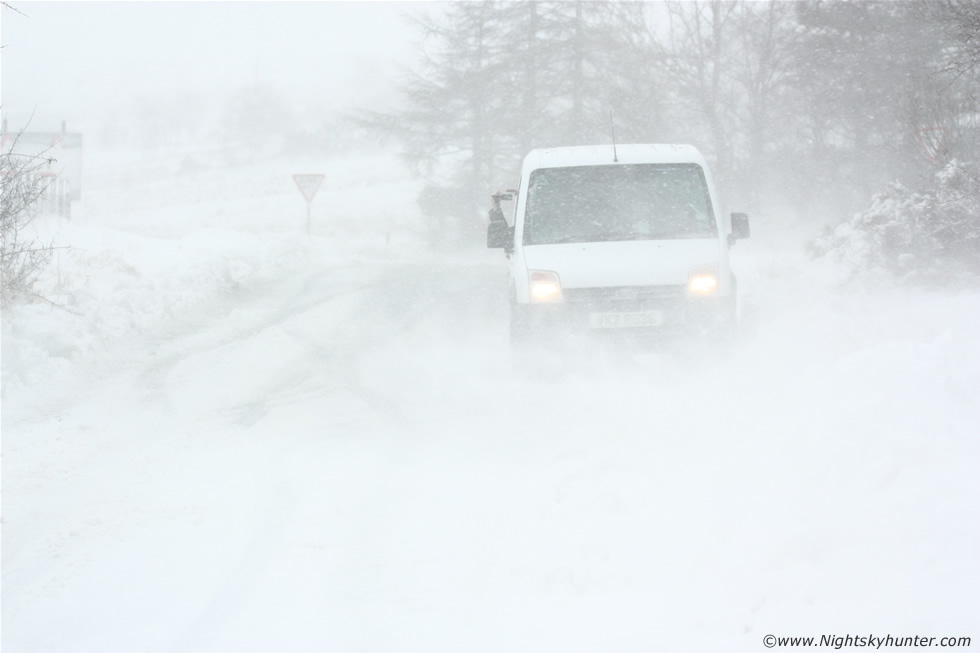 Got a phone call from Dad, we had lunch then decided to go on a photo shoot up Glenshane Pass, I was heading to Belfast for the weekend and had intended on catching the next possible bus because I suspected if I left it any later I may not get there at all due to the conditions which were going down hill rapidly, the airport had already suspended flights however the buses where still going despite slow movement on the motorways, I was informed there was an hour and half cue into Belfast earlier in the morning so I was anxious about getting there as soon as possible as the main snow event was unfolding and it would only get worse from there. A check on the time table showed that we had a good hour before the bus arrived so we got the camera gear ready and began our trip back up Glenshane Pass.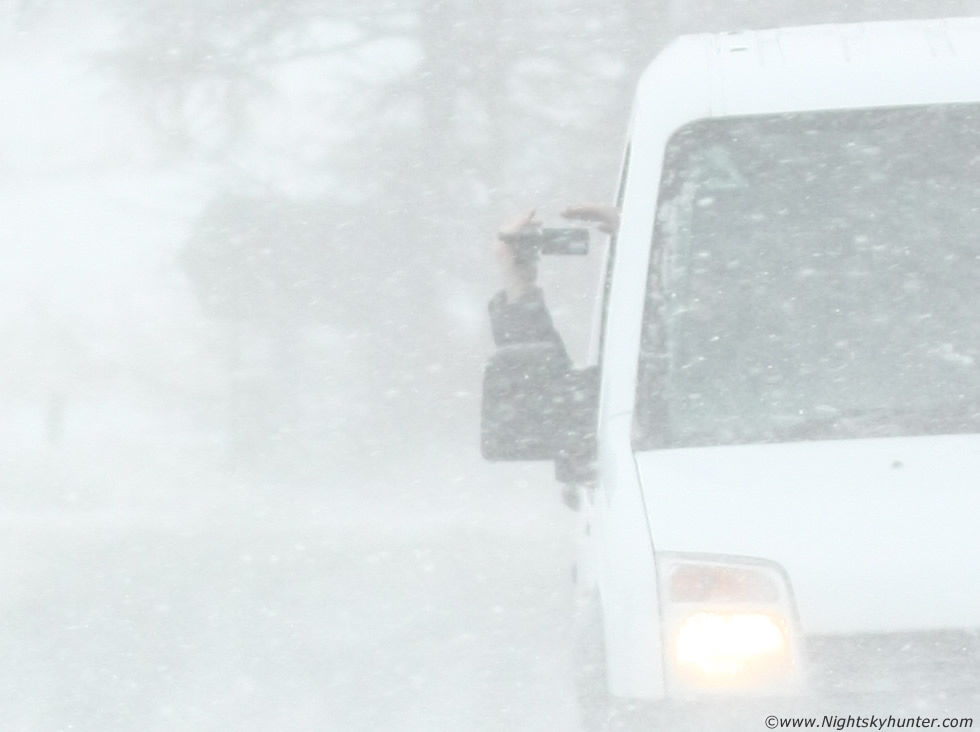 We found a country road adjacent to the main Glenshane Road and the 20 min's spent here I shall never forget, hands down one of my personal finest Winter memories from this year and from all time. The blowing snow was absolutely unreal, great blowing veils of white would whip down the mountain, over the fields, and across the road at high speed and standing in it felt like being in a sand blaster. The instant I got out from the van to get a few shots I felt like I was vulnerable and under constant attack, the sensation of thousands of ice crystals blasting my skin and into my eyes was sore and disorientating. At times I couldn't actually see at all and could also see nothing through the camera viewfinder as my world had just turned white, I recall shooting ''arrgrggg'hh'' in desperation as I tried to get images. I would return to the van, wipe the lens, then get back out and try again, I had to get some images of this spectacular dynamic severe weather moment or I would never forgive myself so with the 100-400mm lens on I went back out yet again, side stepped down the country road slipping and sliding and turned around to face the van as waves of airborne snow blew across the road at high velocity, the view I had looking back towards Dad's van was unforgettable, at times the van vanished from view and even the front of my telephoto lens vanished into a cloud of white, this is one of several images showing that view. You can see Dad's arm out the side of the window getting footage of me using the video camera however the footage didn't work out as snow hit the lens within sec's however I still used it anyway for the memories, the cropped image shows my Dad up close in action.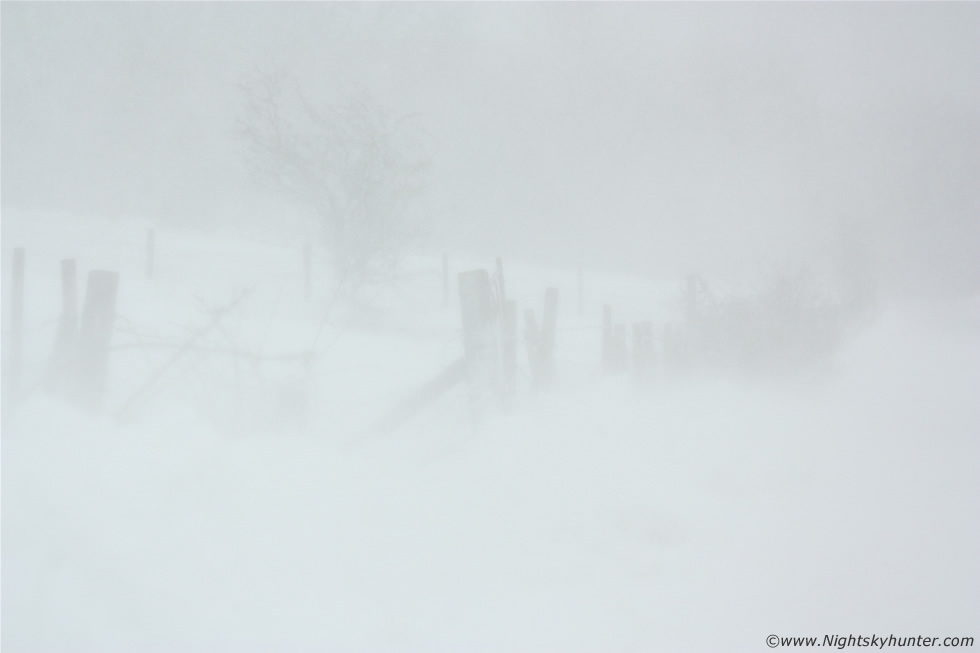 Same area with my back to the van looking in front of me, that's a fence and a road, this image fairly accurately documents the visibility, that white film over the scene is a bank of snow blowing from L to R then it hit me and the camera with a roar of wind with another battering by ice crystals and I couldn't see a thing so I got down low and got back to the van again, thank goodness I had a lens hood on otherwise I would have got no images at all, these two images, and several others on my computer, are very cherished memories for me of spectacular Winter weather. This event alone was on par with the extreme Glenshane Blizzard I experienced with a mate at night time during March 2010, however this differed by having several aspects of the event visible in daytime so some attempt at photography could be made which is a very rare thing to get. The scary thing was that this was the storm brewing up and in the hours ahead it would get much worse and keep snowing for another 24-36 hours after this, I said to my Dad that nature was warning us and that the country would be crazy by the following morning, my Dad agreed.
We tried out another area however the van got stuck in the snow due to its small wheels and after a good bit of revving and pushing we finally got it free from the snow and began our way back down the mountain and just in time to get my bus, that was an exciting shoot with Dad I have to say. The bus drive to Belfast was slow going and the passengers where anxious about making it, I asked the driver and he said he didn't know what state it was in as this was his first trip to the city that day so we didn't know what to expect. The motorway wasn't too bad as it was a combination of snow and slush, more of the latter, however with dropping temps it would soon freeze becoming very dangerous, I saw a car crashed into the barrier at the side of the road at a crazy angle, no doubt the driver had lost control in the snow and came off the road. I was glad to get into the city safe and sound despite snow falling and a lot of sirens so something was going on. During Fri night into Sat the full force of the snow storm hit and the power in Belfast went out completely which was a significant event in itself as this hardly ever happens there, then the digital television signal went off which is something I had never experienced before either.
On Sat afternoon the full impact of the storm struck home when the first news reports aired. Power lines had come down overnight due to strong winds and snow/ice accumulations on the wires, as a result 30,000 homes went without electricity and in some remote areas they had no power or heat at all for four days. NIE were prepared and doing a great job however even they where struggling to get through the snow, reports from over the Glens of Antrim indicated snow drifts between 14ft and 24ft in height and so large that even 4x4s and tractors couldn't get to those worst affected, even snow ploughs were trapped. Snow was reported up to the window sill of some homes and others houses where almost completely covered. The worst scenes on television showed a major livestock crisis with scenes of dead Sheep buried in deep drifts, some where half alive when rescued, and the Spring Lambs didn't have a chance in such extreme conditions, it was very upsetting watching the footage and the stress of farmers was very evident, both financially and emotionally. At the time of writing figures indicate that over 10,000 Sheep had been killed by the weather making this the worst snow storm to hit here since the 1960s. Even as I type this a week later there is still snow on the mountains and Sheep bodies being recovered. In South Belfast there was a layer of snow on the ground so I got some photography done however the real action was to the north of the City, not far at all from where I was, these cars where buried in drifts over their roof tops!, it was unbelievable footage. The surviving Sheep couldn't eat as farmers couldn't reach them so an Irish Army helicopter took to the skies and dropped food on the hills as well as rescuing a few elderly people from isolated snow-covered homes. The Mourne Mountain Rescue team was called out to trek for miles across drifts to reach vulnerable people. The entire event was unreal and was on the news in many parts of the world.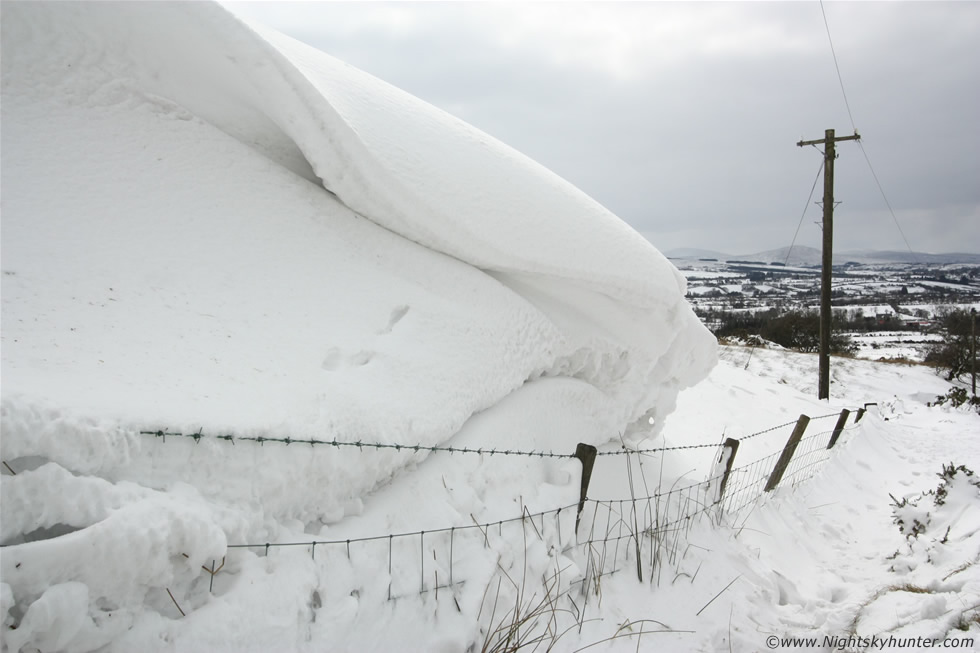 I got back home from Belfast to Maghera on Tues, that's six days after the snow first began falling and was in the zone for a photo shoot, I just hoped there was something left to photograph after the main event, I ended up doing an all-day shoot over the Sperrins at Glenshane Pass, Benbradagh in Dungiven, Draperstown and Lough Fea and the surrounding area. My first area of interest was the top of Glenshane Pass where the scenes were dramatic enough to keep me shooting for half an hour in the cold due to the impressive smooth wind swept drifts which covered the mountains and cliff face down to the main road, these drifts were packed with icicles behind the snow walls and in one area there was a great formation of rime ice about 10ft square which was the largest example of this kind of ice I had ever seen. I then moved onto the western side of the Sperrins and parked the car at the bottom of Benbradagh as it was impossible to get any further by car because of the snow. I hiked up the steep trail and instantly got rewarded with the most impressive snow drifts I have ever seen in my life. The above image and the others below were taken with the Canon 10-22mm ultra wide angle lens which has a tendency to make subjects look smaller and further away than reality, but even so you can appreciate how massive this monster snow drift was.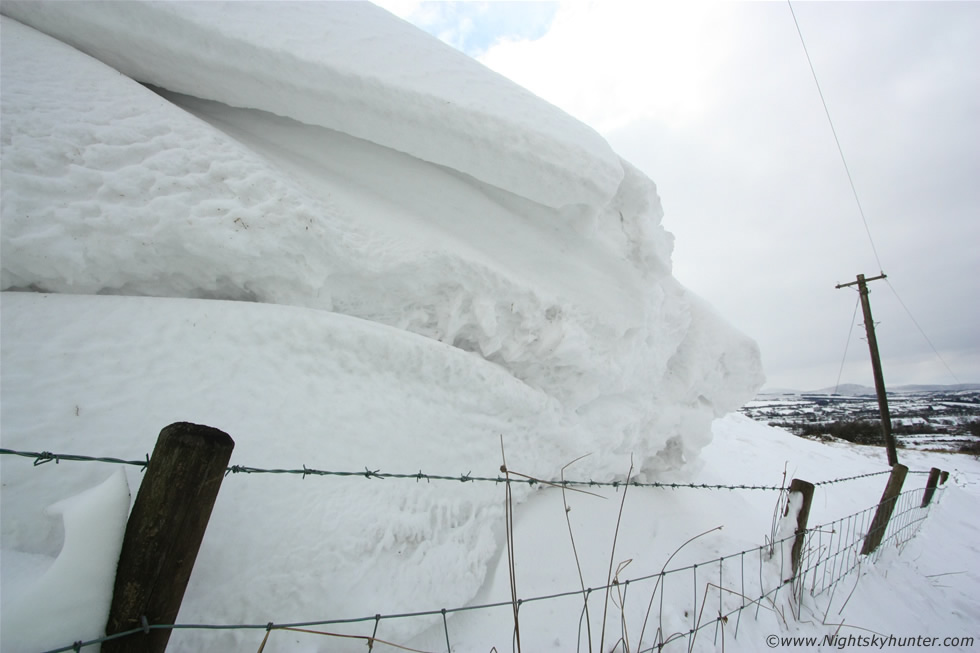 From knowing the area well from previous visits I estimated the depth of this drift to be 20ft which is enormous. I got into the ditch beside the wire fence for these images while crouched on my knees in the snow and cold to get up close and personal with this drift. The layers and folds on top of the formation looked incredible and in sections there were places where rime rice was forming on top of the snow. I have never experienced anything like this in my life before!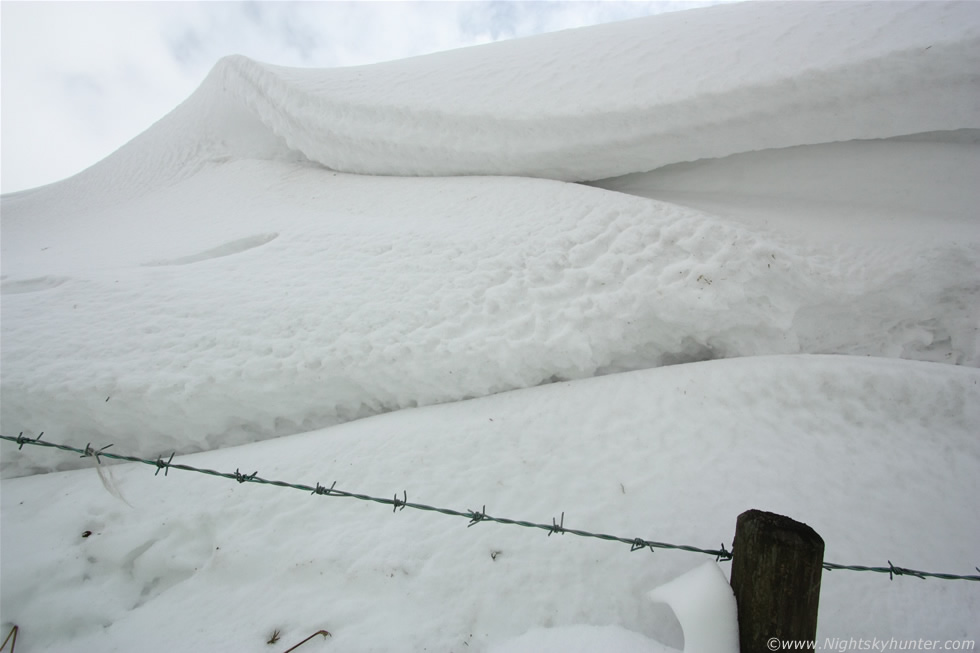 This was the view in front of my face at 10mm super wide angle. It was actually quite intimidating standing this close to the drift as there was an enhanced sensation of feeling panicky or anxiety because I could really sense the weight of the snow and the apprehension of tons of snow collapsing on top of me and getting suffocated. This is no exaggeration and really demands being here to appreciate that feeling, this vast area of deep snow had blown down the steep slope of this mountain and had come to a halt against this wire fence. In places the fence was leaning strongly towards me with overhanging snow above the fence propagating towards the narrow road where I stood and it looked on the verge of breaking and spilling onto the path, in fact, a farmer had wedged in a wooden post between the ditch and fence to help support the bulk of the snow.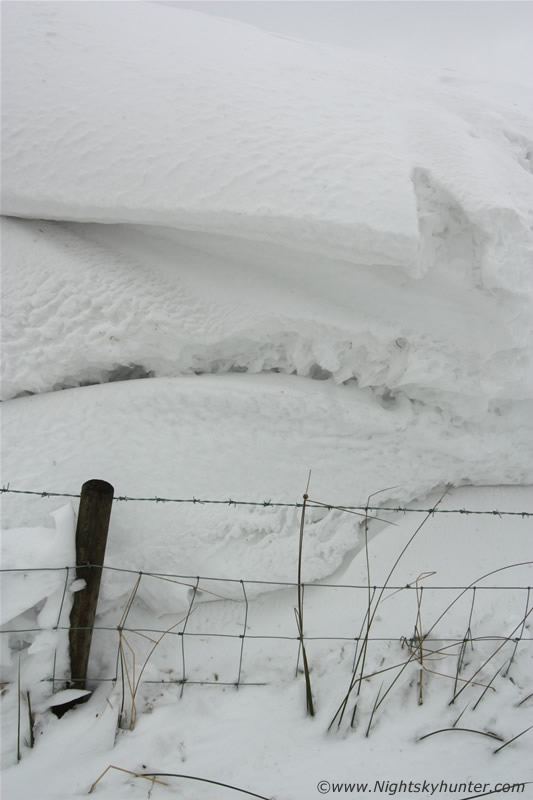 There could have been Sheep buried under this for all I knew however I was glad to see a great number of Sheep in the field behind me which was a great relief. I never ever thought I would be experiencing Winter scenes like this in my life.
Backing up a little to get more in with the 10mm with a field of view of 107 degrees across. I still can't believe I have seen this happen in N. Ireland.
Crazy scene, and remember this was over five days after the blizzard struck so I could only imagine what it must have been like the following day, I sure would love to have been here on Saturday and Sunday morning.
This is me standing on the 'lower' section of that drift, beneath my boots is the top of a wire fence!!!, to the left is a field and to my right is the mountain road where some of the drift had made it over, I was laughing away to myself when I took this.
This was snapped from 3/4 way up the drift which was an exhausting hike in itself. I saw some tracks on the slope of this drift from a few locals and perhaps from a farmer looking for Sheep so I assumed it was safe enough to climb upon, I made sure to follow in their footsteps just in case. From this location the foot steps stopped and retreated but I continued on a for a little more then my instincts told me to stop as I was sinking into deeper virgin snow and I had the terrible sensation of falling into a 20ft snow drift so I immediately turned around and walked back down again. The view was great on top of this however I was delighted to get to the bottom again.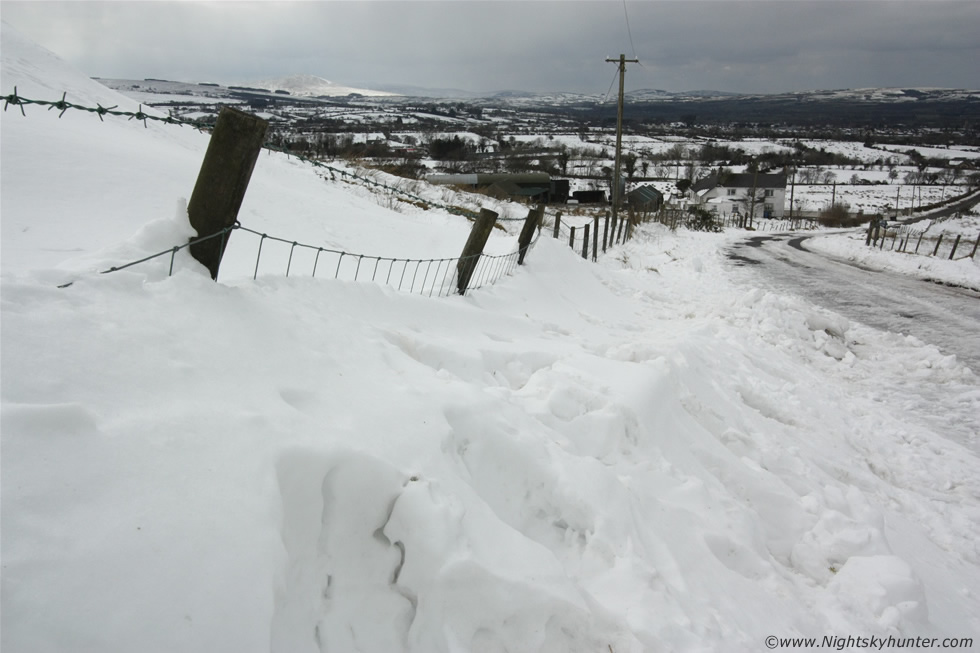 Bottom of the drift, you can just about see my blue car to the right of the fence post on the right side of the narrow road. The top of Benbradagh looked incredible with huge overhanging formations of thick snow over the peak and around the top called cornices, these are extremely dangerous to hill walkers as they can cause local avalanches and can kill walkers who often mistake them for solid ground and end up falling through them to their end far below, I had never seen such impressive snow cornices before as there was this day and it's beyond me why I didn't get the zoom lens out to shoot them. I was talking to a farmer on a tractor who made it half way up and he told me the drifts were amazing on top and he wished me luck with a cheeky smile if I was going to try it on foot. I declined from doing so as I wanted to check out other locations so I made it back to the car to warm up my freezing red hands.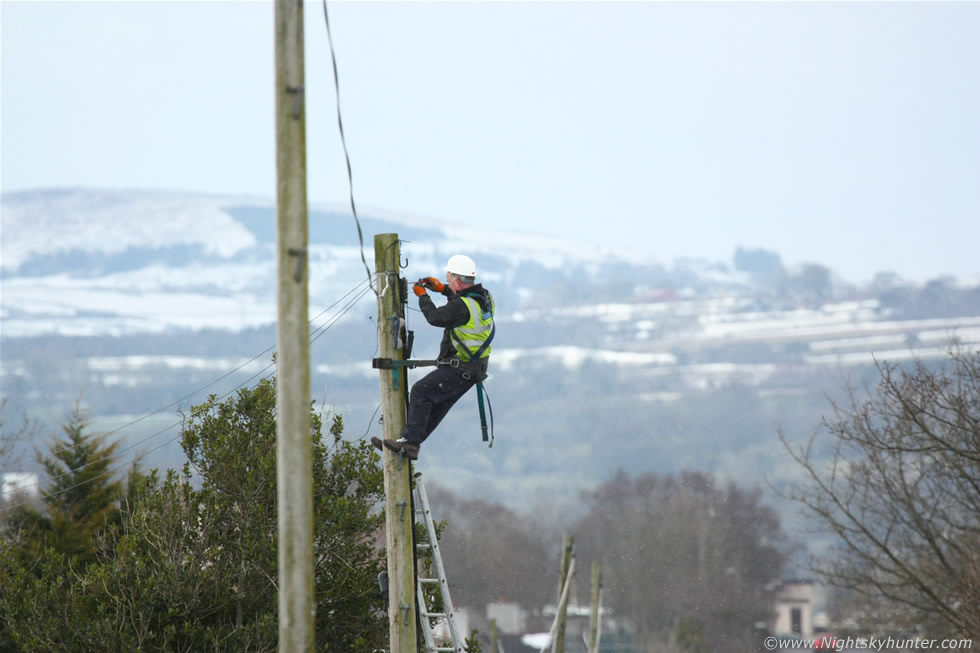 At the bottom of the mountain this line repair man was in action in the middle of a light snow flurry. Full respect to these guys who have been out in force during this period of exceptional weather at all hours of the day and night in extreme conditions fixing power and phone lines.
Deep crop
Next stop was Lough Fea in the Sperrins near Draperstown where there was still a good bit of snow on the ground in places. I went for a walk around the Lough and kept seeing sunlight flashing like a glint of a diamond at various locations in the distance so I walked closer and saw exactly what was causing the phenomena. The circumference of the Lough was covered at irregular intervals by beautiful formations of clear icicles hanging from the marsh into the water. They where hard to get at to photograph which involved navigating across some dangerous snow-covered ground to get a decent angle however in the end the 100-400mm zoom was needed to get in close for safety reasons.
This Winter has definitely been the season for icicles as I have never seen such a beautiful wide range of specimens before which is a testament to the episodic periods of severe weather we have been getting in this country.
These icicles where actually dipping into the Lough which was something I have never seen before either. I would love to have been up close to these filling the frame for some really dramatic imagery however that would have involved walking through the cold water of the Lough itself.
These icicles were in the 2ft range and were caused by melting snow from above refreezing in conjunction with splashing water from the constantly moving Lough below, anywhere you get several nights of snow with freezing temps and a source of moving water is an excellent location to look for icicle displays. Our drinking water comes from this isolated mountain top lake and the place is legendary for it's extremes during the Winter, during 2009 the entire Lough froze solid to the point that not only where people walking on the ice but someone actually drove across it in a car!.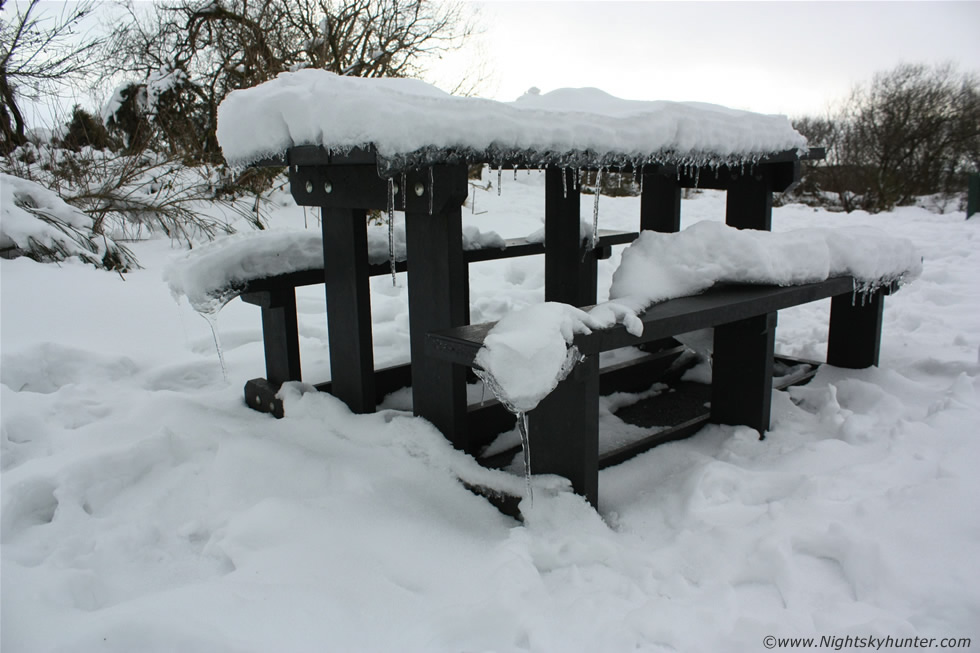 Back on the shore again near the picnic area, this 'Summer Seat' just had to be photographed because in one single frame the scene summed up our entire Spring weather. I then drove back onto the roads and instead of going in the direction of Draperstown I turned off to the right onto a steep road which took me to the top of the Sperrins where yet more amazing scenes were waiting for me. The roads were very narrow and only suitable for one car at a time and flanking both sides of the road where huge drifts of snow which had been cleared by the plough, some of these walls of snow where up to the height of the window and a few of the larger ones where roof height and I was loving every minute of it.
I thought this made for a great N. Ireland tourist board advertising image. During a normal Spring people would be hiking across these hills in bright sunshine and sweating in the heat, however to experience something like this was pure insanity.
The only place I found to park, you can see the fluffy head of my Dog 'Rua' in the passenger seat of the car watching me. The landscape in every direction looked like the Arctic.
Standing on top of the ploughed snow for this image of the junction
This was taller than me!
Now standing on that huge wall of snow, I don't know what it is but I can never stay on the ground and always want to be climbing up on things or jumping over wire fences and gates. The view of the snowy landscape and the Sperrin Mountains from here was beautiful.
Back on the road and turning to my left showing the western wall of snow extending down this narrow country road.
Standing on yet another large snow drift looking south, five days earlier this would have been even more crazy, I'm sure the fresh snow after the blizzard must have been near the roof of the house, I drove along the narrow road looking at the isolated houses and some still had drifts on one side of their property which covered the entire side of their homes and over the roof easily 14ft high.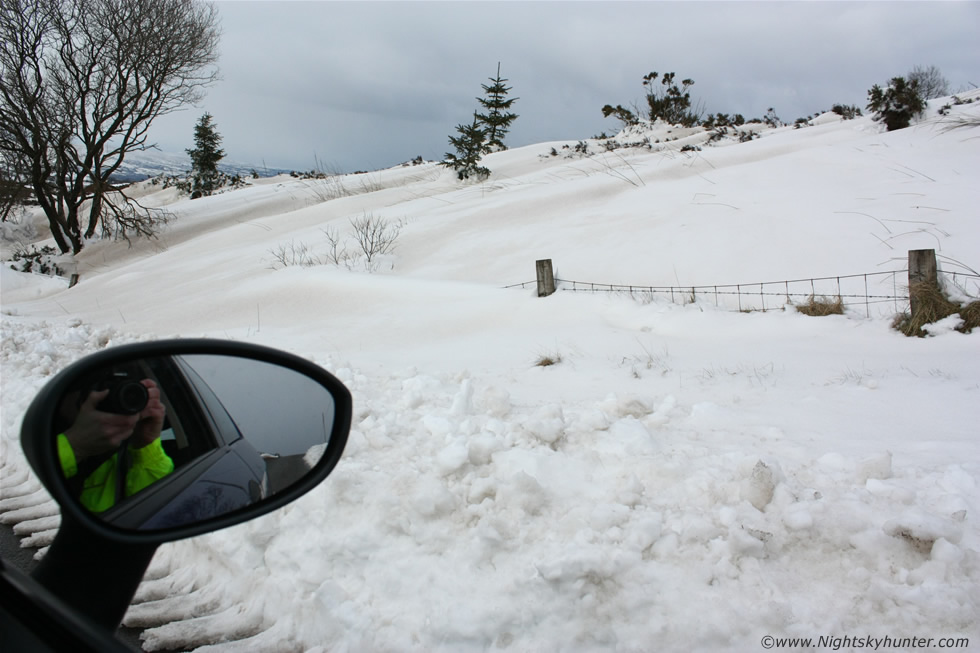 Driving slowly back down the mountain now, for miles there where snow drifts going over the fences, this one was interesting because it was tinged a brown-orange colour due to sand blown from a nearby quarry and getting mixed into the white snow. I saw two epic photo scenes on the way down this mountain and I never got images of either of them which I have always regretted. The first was when I slowly drove passed the entrance to the quarry, I stopped the car for a quick look and was amazed to see icicles everywhere within the grounds, the large three story high machine with conveyor belt which brought in all the rocks and sand had large clear icicles hanging from the metal cross beams at three different levels including some of the large diggers in the yard, the view was incredible however I had no chance of any images as the yard was full of workers and machines so I had to let it go. The other scene was on the left side of the steep curving road where passing trucks hitting a large puddle had splashed the roadside hedge with muddy water which had turned to ice, the entire hedge and road was covered in a complex network of brown icicles and glaze ice which was jaw dropping, there was nowhere to pull over on this narrow road and there where cars and trucks behind me so I had to let it go too.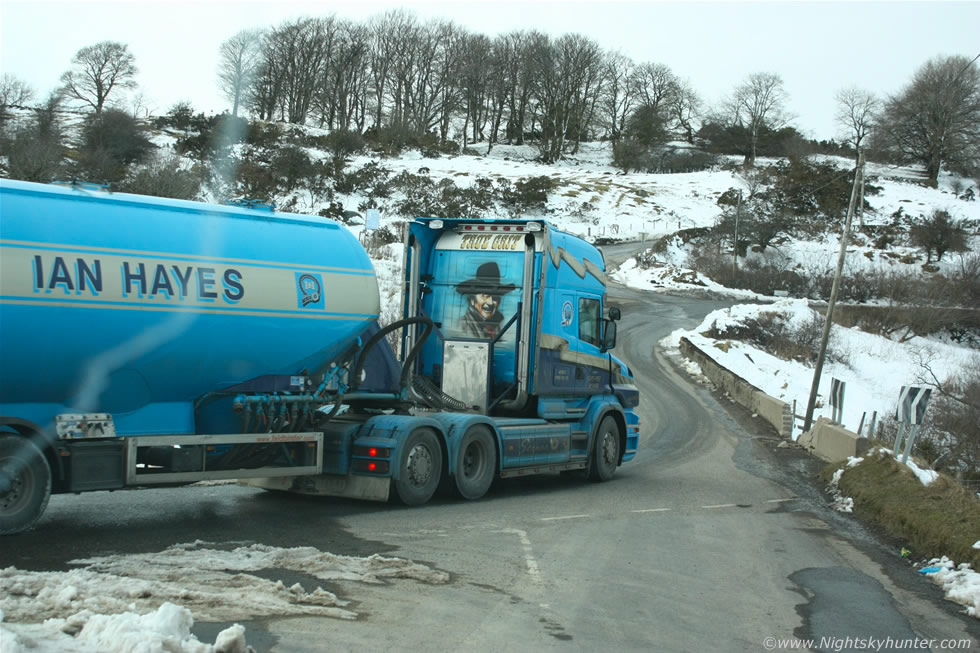 Stopping at a junction at the bottom of a very steep road. This area had been very busy all day with trucks passing from the quarry and other sites which made driving a little nerve wrecking on the narrow roads, many of these roads had large drops on one side down into a deep valley or into rivers so one had to be sharp when meeting a lorry on the road. This one caught my attention though so I got a few snaps of it through the windscreen while waiting at the junction.
Crop showing the rear of the cab, fantastic art work of John Wayne from the movie 'True Grit'
The following day, March 27th, I was back on Glenshane Pass for another day of Winter photography. There was a thaw on and all the icicles had gone however there was still plenty of snow on the ground, I didn't get many decent photo opportunities to take home except for this scene which rather pleased me. Dark storm clouds where brewing in the distance and heading towards me with precip curtains of snow falling in the distance. As the convective mass approached the sun broke out and brightly lit up all the snow around me which created great contrast against the black clouds, there was a light snow flurry at the time and you can see some of the falling snow catching the sun in mid air with the shower's gust front in the background making for quite a cool scene.
Video clip on Glenshane Pass from Friday showing the blowing snow during the early part of the day then the full-on blizzard later in the afternoon when I was with my Dad, as you can see the footage was ruined by snow blowing onto the lens at high speed but even so during brief glimpses you can get an idea what the conditions were like, you can hear me saying ''I can't see'' at one point. My Dad took some of this footage, check out the 2nd and 3rd images down in this report and you can see my Dad's hand with video camera filming from the van.
Another short clip taken on the 26th showing the massive snow drift near Dungiven. I really wish I had taken more footage of these scenes however I think that due to the cold weather I decided to stay with taking still images so that I would have a record to post on the site and I'm glad I did. What a crazy period of severe Winter weather.
Turn your volume up, darken the room, and sit back and relax with a mug of warm tea. I put together this youtube slideshow featuring the majority of the images I have taken from my numerous Winter chases & adventures into one clip all in the correct order from January to April documenting this episodic severe Winter weather outbreak across N. Ireland. Images taken from Glenshane Pass, Sperrins, Maghera, Dungiven, Lough Fea, Belfast and the Co. Antrim coast featuring Blizzards, snow storms, drifts, icicles, glaze ice, rime, Winter squalls, Winter convection and thundersnow cells and much more. I hope you enjoy the presentation.
As I type this on April 8th - two weeks after the blizzard first struck - there are still patches of snow in the mountains with blocks of snow and drifts several ft high and only recently Roisin and I where walking in 6" of snow on Glenshane Pass which is shocking because it indicates just how cold it has been for that entire period and today the wind is still coming from a cold easterly direction. I think everyone is wondering when we will get warm weather this year?, the models are indicating a warmer trend on the days ahead and perhaps in the near future we may get our first thunderstorms of the year. Thanks very much for reading.
Martin McKenna