Severe Multicell Storms, Glenshane - May 9th 2011
On May 9th 2011 a major outbreak of thunderstorms broke out across N. Ireland, in fact this turned out to be the best day of storm action I had seen for years. I had been watching the potential for days in advance and as the target day neared and the GFS model run maintained its highly unstable theme I began to get a good feeling so I made this day a priority chase. I made sure I had everything at the ready in advance as I had suspected from the previous week that this had the potential to be a significant thunderstorm day so I felt very focused and motivated. The set-up was excellent with 1000-1200 CAPE, LIs of -4 with good solar insolation and troughing in conjunction with a warm unstable Sly flow. There was amble vertical shear for updraught/downdraught separation which meant organised multicell storms and even a slight risk of mesocyclones. Skywarn UK issued a severe thunderstorm watch and TORRO's Paul Knightley released a convective discussion for bowing segments, severe wind gusts, and tornadoes...
THREATS

Isolated tornadoes; wind gusts to 50mph; hail to 1cm diameter; CG lightning

SYNOPSIS

Large upper low to the west of the UK is pretty much vertically stacked with surface low. Numerous vorticity maxima are rotating around the system within the well-mixed returning polar maritime airmass. Deep layer shear is generally fairly low, especially across Eire/N Ireland /20-25 knots/. However, low-level shear is reasonable /15-20 knots/ across much of the risk area, hence a chance of tornadoes. Multicells and bowing structures are possible, with a small chance of brief supercell-type structures.
I was up early on the target day and did my usual routine on potential chase days which involved checking the latest model runs, sferics, radar, and weather forums for the very latest data. The great thing about today was that the high CAPE would move over N. Ireland very early in the day and remain over the country well into the late evening hours so the atmosphere was ripe for multiple storms all day long so I made sure the car had sufficient fuel and my camera gear and lenses were ready along with a good supply of water as one can get very easily dehydrated driving all day in a warm car. The morning was grey and cool however it wasn't long before the clouds broke and solar heating got to work, latest radar showed strong showers breaking out over the Republic of Ireland and moving N with weak showers rapidly forming randomly over Ulster so things were happening fast. I got a phone call from BBC Newsline Weather presenter Jackie McCann who wanted to do a recorded interview with me while storm chasing for a radio programme so we made preliminary arrangements to meet during the afternoon which sounded exciting.
I met up with Declan O'Doherty, another storm chaser from Maghera, and had a chat about the set-up which involved spending more time looking at charts and radar. I would be chasing 'blind' today which meant that I had no access to internet while on the road and hence I wouldn't be able to see the bigger picture so I would have to rely on old fashioned instincts and visual observing. This could be a problem during peak storm time when Jackie McCann arrived as I needed more specific data to increase the chances of getting on a storm however any concerns I had quickly faded as Declan very kindly offered to monitor the situation for me and text me with the latest cell positions which would prove to be invaluable later. I went back home, had a quick lunch, and thought about a chase plan, I was considering Antrim, then opted for the N coast, however I felt a strong urge to drive to Derry but something told me to remain neutral and trust my instincts so I stayed in my home area and let nature do its thing. I ended up getting rewarded alot sooner than I expected, the sky was very dark to the S however with all the mid level cloud it was difficult to tell if there was anything decent within it or not, that was until a clear gap yawned open and revealed the L edge of a rock solid anvil with solid ridges along the edge of the thunderhead, I couldn't believe how good it looked for 12.00 in the day!.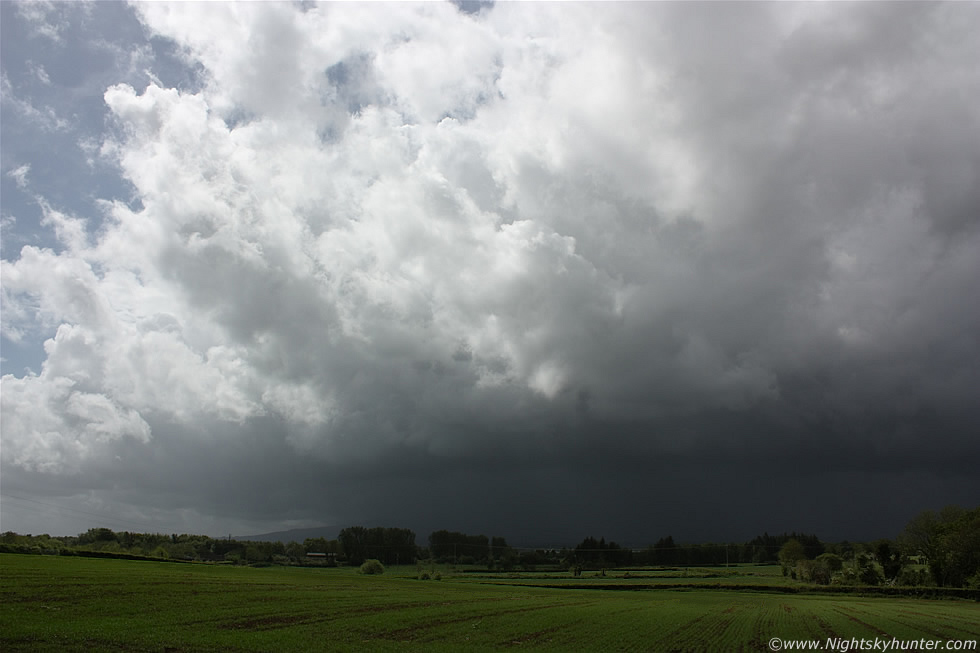 I got the gear quickly in the car and drove off in pursuit of the cell, it was due S of Maghera and heading for the W side of town so I reckoned a good intercept location would be at Glenshane Pass so I rapidly drove in that direction. The drive should have been short however I got stuck behind the slowest driver in the world and wasted valuable time dragging behind his pathetically slow car which really got on my nerves because out the windscreen I could see my chances of shooting that amazing anvil vanish as cloud moved in to obscure the upper portion of the cell. The traffic was busy but eventually I overtook the human snail and arrived at my target area, I pulled off the main road on the W side near the bus shelter where I had a good view to the S and SW across lush fields. The above image shows the growing storm, moving R to L and towards me at the same time. The LHS sported many crisp updraught towers with the solid anvil I had spotted earlier hidden behind cloud to the upper RHS. A rumble of thunder cracked the air and I smiled with delight, I knew that this was going to be a good day.
Same cell six min's later with gust front and whale's mouth visible to the LHS under the shelf, the light was very nice for this time of the day with the sun illuminating the lush green colour of the fields in the foreground which contrasted sharpley with the threatening clouds aloft. The L side of this cell was over Slieve Gallion with the R side far out of frame over my R shoulder making a beeline for the main road. It was fun watching the storm approach accompanied by angry rumbles, I took plenty of images and video hoping to catch a bolt however the task was too difficult as the lightning was sporadic, when the first drops of precip arrived I got back in the car and watched for close range strikes.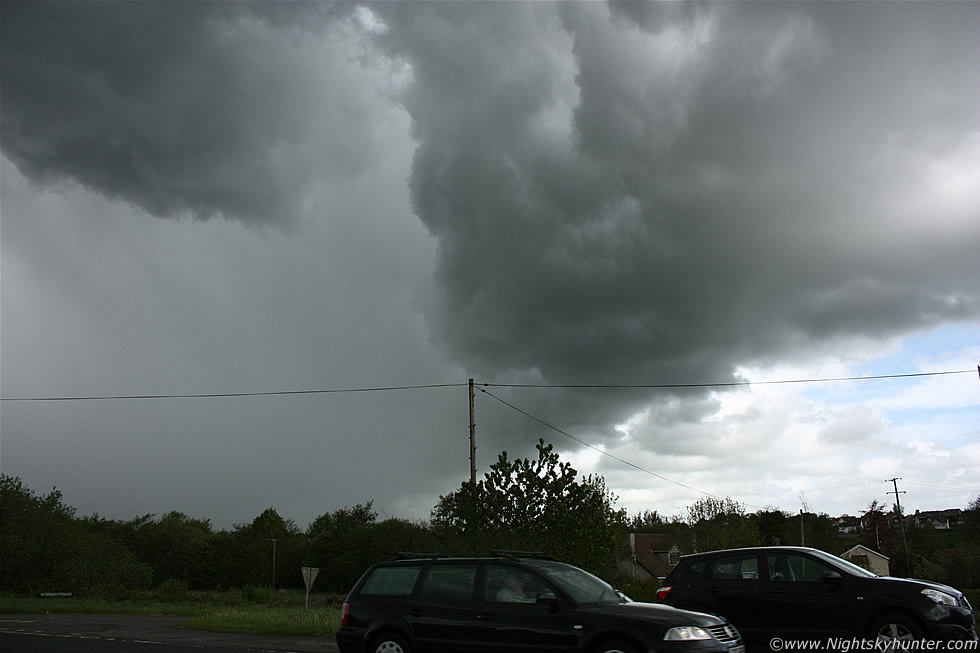 I was sitting in my car watching out the windscreen when I saw a stunning pink-coloured cloud to ground (c-g) bolt strike the main Glenshane Road in front of me which was absolutely spectacular!. The photogenic highlight of this storm was the impressive whale's mouth structure under the gust front, in fact this one almost took my breath away as the entire windscreen was filled with the evil-looking clouds, I watched in awe as they passed over my car, I could feel the electricity in the air and had that uneasy feeling that a bolt was about to strike the car at any moment. I put down the driver's window and took this shot showing the E side of the gust front passing over the road.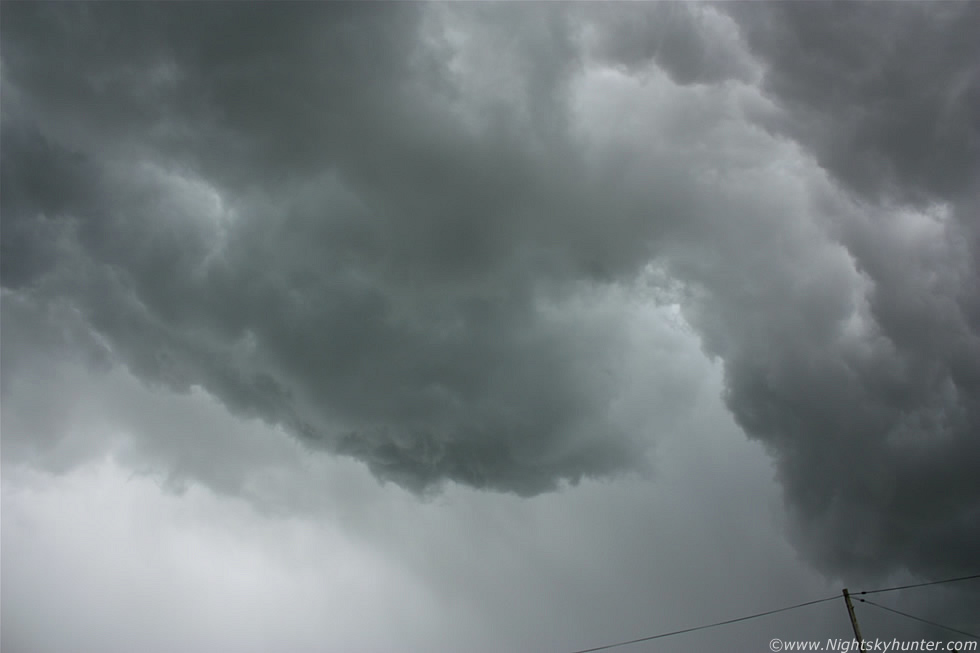 I was now leaning out the window and looking almost directly overhead at those menacing solid clouds under the gust front. I could see a tinge of green colour within the whale's mouth-precip core interface which is quite rare to see in this country. This was at 18mm wide angle so you can appreciate how large this area was, I would have needed a 10mm lens to get it all in as the sculptured structure spanned much of the entire sky.
I took a risk and went outside for a better look. I was struck by how solid these clouds were and by the rapid curling/lifting motion. The motion was somewhere between rotating and churning and for a time I thought a funnel cloud was going to form directly over those parked cars. The storm produced another rumble them passed away to the N towards Swatragh/Garvagh with mammatus visible on the rear of the anvil, I was tempted to chase after it but I decided to let it go and stay inland where the greatest CAPE was present.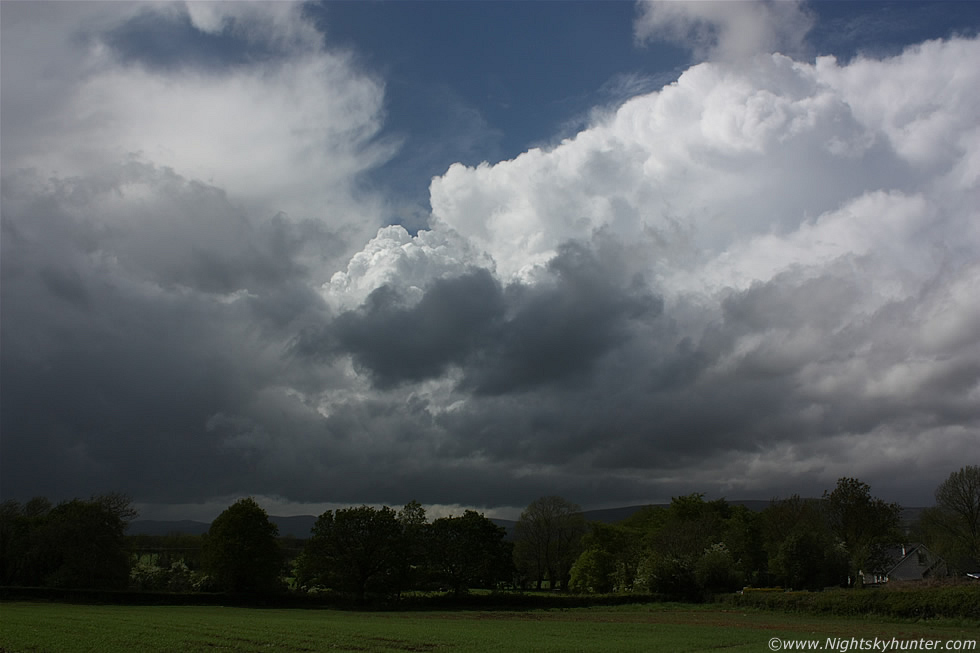 I drove back to town and called in with Declan again to chat about the storm and gather intel on the latest developments. Convection was firing in a big way and as we chatted outside his home we saw the top of another large cell to the W heading for Glenshane, it announced it's arrival with a rumble of thunder so I got back in the car and returned to my same location on Glenshane for round two. This was the view from the road side looking W where a line of cells can be seen moving from L to R. The rear cell was a spent storm however a new powerful cell exploded to life on the old cell's outflow which acted as a mini cold front lifting the warm air ahead of it and hence invigorating new cell formation, the result is the large white cell visible to the RHS. The central updraught tower and flanking area looked beautiful with crisp tops and updraughts that were exploding upwards and expanding in real time, I knew when I was watching this process that I was seeing the first day of REAL convection in N. Ireland this year. I kept an eye on the rain free base (RFB) for funnel clouds and had the 100-400mm zoom lens close to hand incase anything dropped out.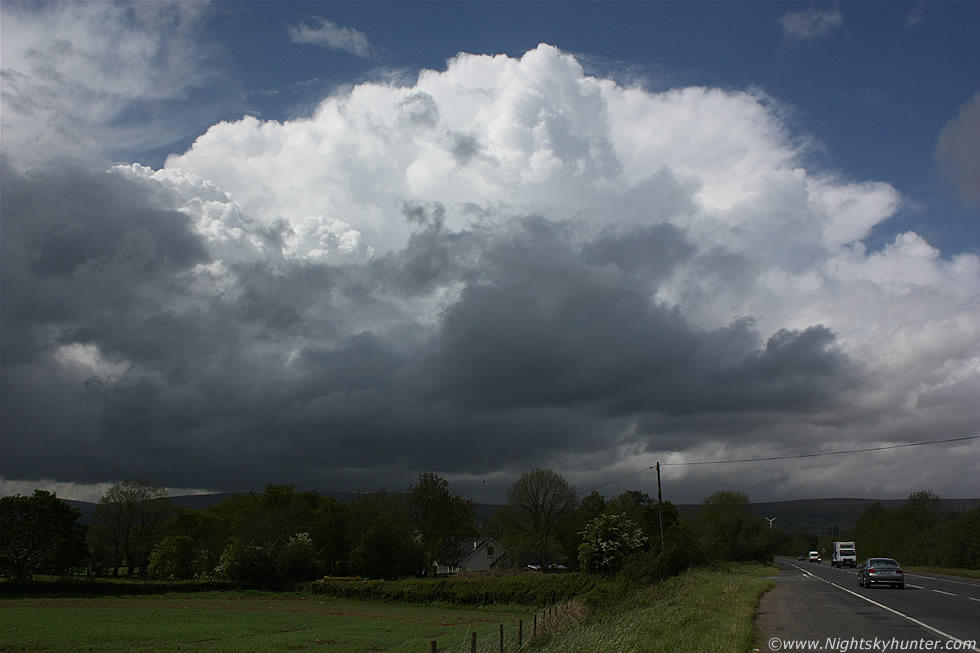 Same cell, still many miles away, moving L to R and away from me over the Sperrins, it was probably located to the W of Dungiven and heading N in the general direction of Derry. You can see that this was a young multicell storm with the main anvil beginning to spread out with flanking line of towers feeding into the rear of the cell to the LHS. Those towers at the rear would eventually become the cell's new primary updraught ensuring a longer life cycle with a greater chance of severe weather, especially so in a sheared environment. This cell soon produced c-g sferics as it advanced to the N, I enjoyed standing out in the warm sunshine watching it's majestic form sail proudly over the mountains, eventually it would give some other lucky observer a great show. I was seriously considering following it however the flow was very fast this day so the cells where covering alot of ground real quick and considering the poor road network here and the busy Monday traffic I decided to let it go and went back into town to top up on fuel.
I got a text from Declan informing me of another major cell heading my way which had exploded to life below the border and now crossing the southern counties of N. Ireland, passing to the W of Lough Neagh, and heading for the general Maghera/Glenshane area so it was game on again so I drove back to Glenshane for the third time this day and pulled over at my usual spot which was fast becoming an old favourite, it seemed everything was happening here today so there was no need to drive any further because nature was doing all the work. The storms today were forming in trains which meant that after one storm/cell had passed through then another wouldn't be far behind it. Storm trains are a storm chasers dream come true because one can park at a strategic position and let the storms pass by you at whatever distance and angle you wish, and on a day with fast moving cells like today this was the best policy and it was exactly what I did for the rest of the chase.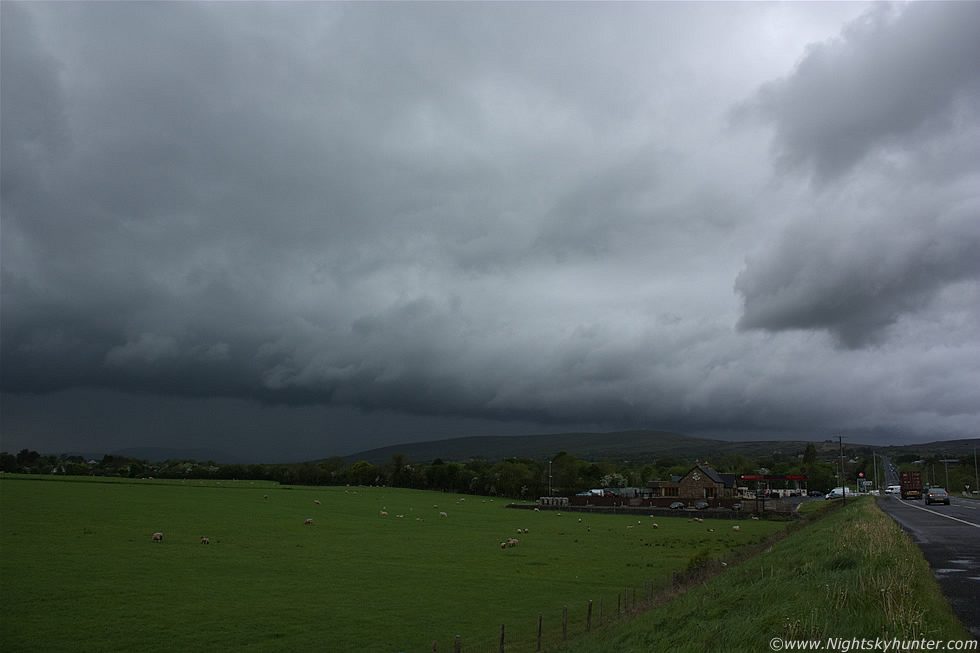 I got a call from Jackie McCann, she was on her way from Belfast so she would be meeting me within one hour or so depending on traffic, I could hear thunder booming in the distance to my S during the call and I informed her that the second storm of the day was approaching Glenshane Pass, she sounded genuinely excited by the prospect and hoped there would still be action here when she arrived. I drove a little further W on the main road and pulled over on the shoulder close to Oakleaf filling station/restaurant and watched as the next storm moved into view, this one looked like a monster filling the entire skyline from NW to SW with a long gust front extending across the entire length of the multicell outflow boundary. A brief clear gap appeared to the SW and I got a glimpse of structure which indicated the possible presence of a mesocyclone (rotating updraught) which is the main characteristic of supercell thunderstorms. I attached my video camera to my new suction window mount and attached the mount to the driver's side mirror and let the camera record the advancing storm which gave me plenty of freedom to concentrate on still images. I could see pink flashes of lightning from within that heavy precip line getting closer.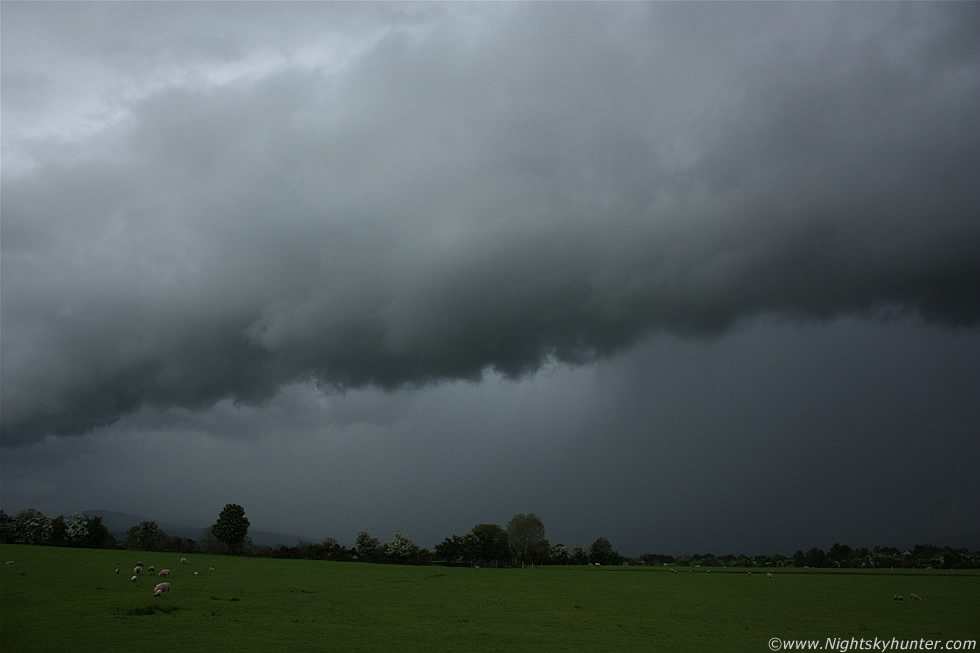 This looked like armageddon, the S side of the gust front/shelf cloud looked really impressive with the solid cloud structure adding an extra level of menace to the scene. It was amazing how dark it got for this time of the afternoon and the flashes of pink lightning and thunder really added to the magic of the atmosphere. The storm was almost upon me so I got what images I could before the main core reached me, I was at risk of being hit by lightning so I wanted to take cover as soon as possible, and a car was the safest place to be.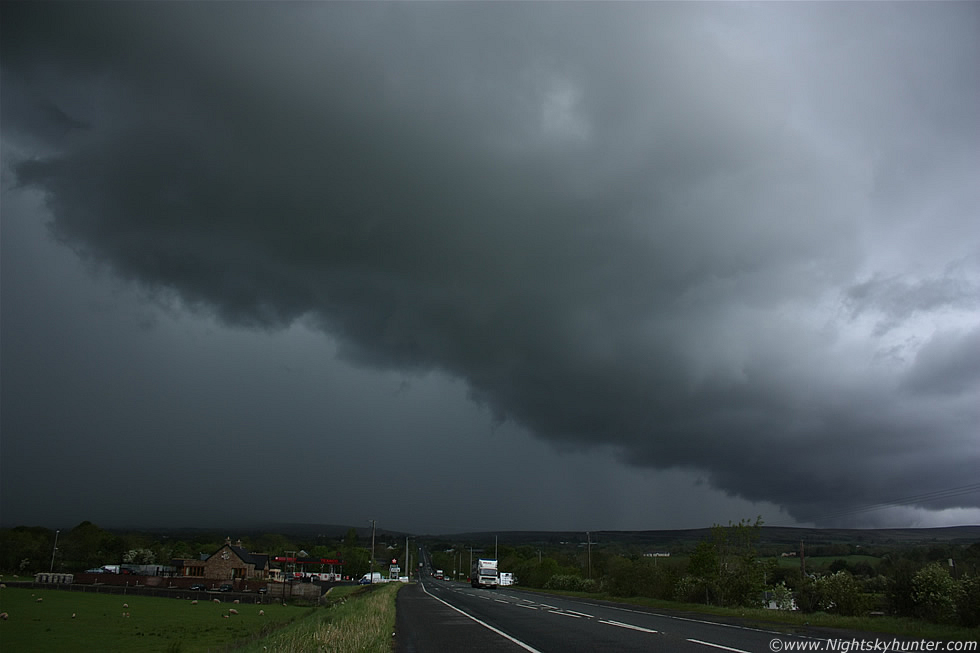 This storm was huge, check out the size of that gust front as it came racing across the Glenshane Road at high speed, this is 18mm again, yet I can only capture the N (R) side of the structure, the rest extended far out of frame to the LHS and would require at least three 18mm frames to show the entire guster in all its glory. Visually I could see a notable green tinge within the intense precip curtain, that's the second storm this day to show that unique colour. This strong multicell storm had been moving across the country for many tens of miles and had been producing alot of c-g lightning, I couldn't see the individual bolts since they were embedded within the precip however I did see periodic pink flashes and hear distant rumbles of thunder which gave the impression of a threatening animal with huge chest cavity moving in for the kill. I love watching these big outflow features on storms, they always look very impressive and promise a nasty time when they hit. Since gust fronts/shelf clouds are outflow features you can be guaranteed there will be heavy rain or hail and strong wind gusts which are often accompanied by thunder and lightning, they mean business and are a good visual indicator of imminent trouble.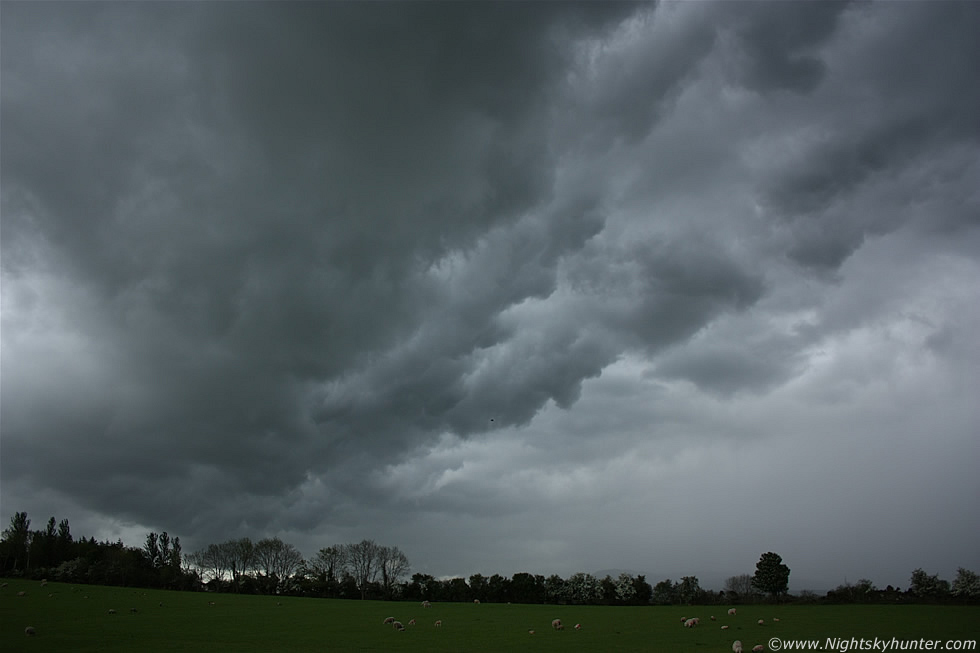 Turning 90 degrees to my L to capture the S section of the gust front with more dramatic whales's mouth structure under the guster, moving R to L. Advice: if you see whale's mouth overhead then your'e about to get hammered!.
Quickly turning 180 degrees back to my R to shoot the N section of the gust front just before it swallowed me up, the lightning had stopped now so this was turning into an outflow dominant beast. This side of the guster looked really mean and it was moving with intent too, in fact it was the fastest moving feature I have seen this year, visually it could be seen pushing across the sky similar to a 4x speed time lapse video.
Pointing the camera directly overhead at 18mm wide angle to record the remarkable whale's mouth as it 'rolled' across the zenith, direction of motion is bottom to top in this image. The underside of these gust fronts are so turbulent and dramatic and to the untrained eye it may seem likely that a tornado could form, and although funnels and weak tornadoes can form in this area they are more likely at the rear of the storm behind the rain when the wind and rain suddenly ease as the core passes through, this is because tornadoes are inflow features.
Last shot of this storm before I got soaked as the gust front passed over me with that amazing whale's mouth covering the sky in a mega arch all around me, it was like standing in a cave made from dark agitated clouds boiling everywhere. In this image the storm is moving from L to R with a very intense precip core racing down the mountain to lower ground, that core was red on radar and dumping a serious amount of water, then the precip hit, the temp dropped like a stone, and cool gusts of wind disturbed the trees as the afternoon turned to dusk in an instant. I got back in the car and let it pass over me then decided to park up at Oakleaf filling station and get a few supplies as my energy levels were running low, a drink and a packet of after eight chocolates gave me that much needed energy boost.
Jackie rang me, she was on Glenshane Pass so I gave her my location and within five min's we had met each other in the car park. Jackie McCann is one of the television weather presenters for BBC Newsline, N. Ireland so it was fantastic to be able to meet her in person and actually go storm chasing together. Jackie wanted to do a recorded interview with me for a BBC radio programme so her plan was to document the chase and periodically ask me questions and record my real time comments and reactions to the chase which sounded like a cool idea. She had a portable microphone with her which she used to gather sound clips which would be used for the progamme to help listeners visualize what was going on. Jackie made a few recordings of the car engine, the traffic, and the light drops of rain hitting the window then she began a series of introductory questions about myself, once that was done we were free to chase so I decided to drive to the very top of Glenshane Pass and parked at the roadside W of the cattle grid and waited to assess the situation. It was sunny with blue skies in Belfast where Jackie had come from so she was impressed by how dark the sky was here in the centre of the country.
After seeing two good storms I was hoping my luck would hold and that nature would present me with another, that way Jackie would have a much more fun time and get the material she wanted for the programme. The visual sky at this time was unimpressive with messy outflow clouds and blue sky appearing from the S, at that time it didn't look inspiring however on a big day like this all that could change in 15 min's so we stayed here. I text Declan for an update and he replied with very helpful information, the previous storm I had seen had split in two, one core went over Maghera and the other further W which looked amazing on radar, however there was another major storm to the S heading our way, ETA at 30 min's tops. After a while Jackie and I spotted the sky darkening to the S and within a break I glimpsed a rock solid anvil which looked like it meant serious business, at a glance I knew this would be one of the best storms of the day so we slowly edged forward over the cattle grid and watched that anvil to gauge its direction, at the same time young updraught towers where exploding up over the main road and looked capable of funnel clouds so we kept an eye on those bases for a period until I decided what we would do next.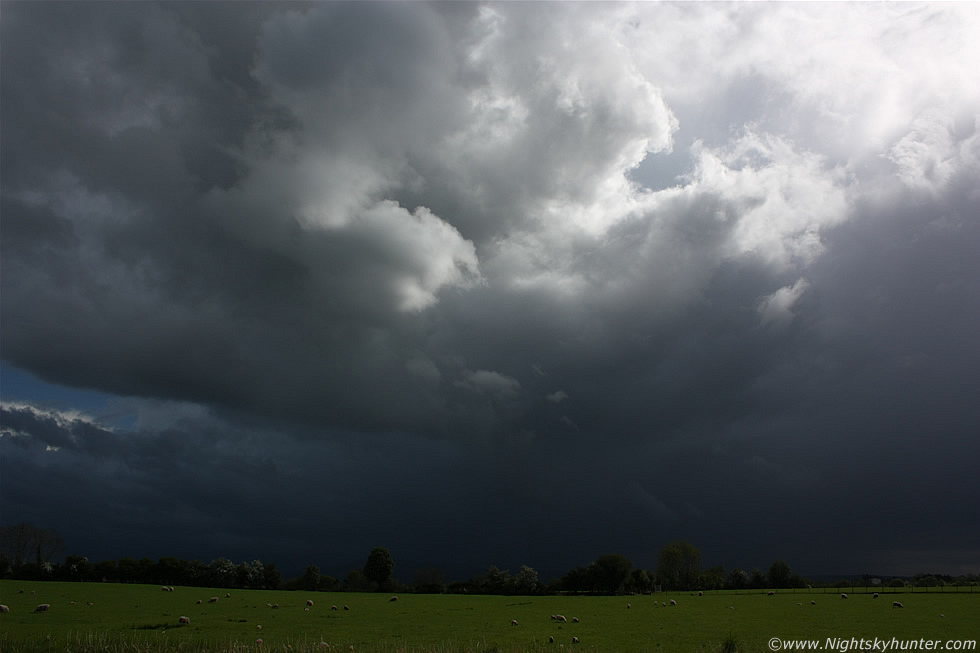 It was game on, that anvil was moving closer so I quickly left the exit on the mountain top and drove E down the steep hill on Glenshane Pass then when I reached flat ground at the bottom I pulled over on the hard shoulder to the N side of the road which gave us a perfect view towards the storm. The above image shows the exact scene through my open window looking S towards Slieve Gallion which was completely invisible due to the torrential precip falling from this massive multicell storm. The contrast between the dark storm clouds and bright fields with grazing Sheep was amazing, it was even more surreal when the darkness would suddenly light up from within by a pink flash of lightning and soon we could here thunder rumbling. Jackie took advantage of the situation to record our chat about the sky however the noise of passing traffic on this busy road almost drowned us out.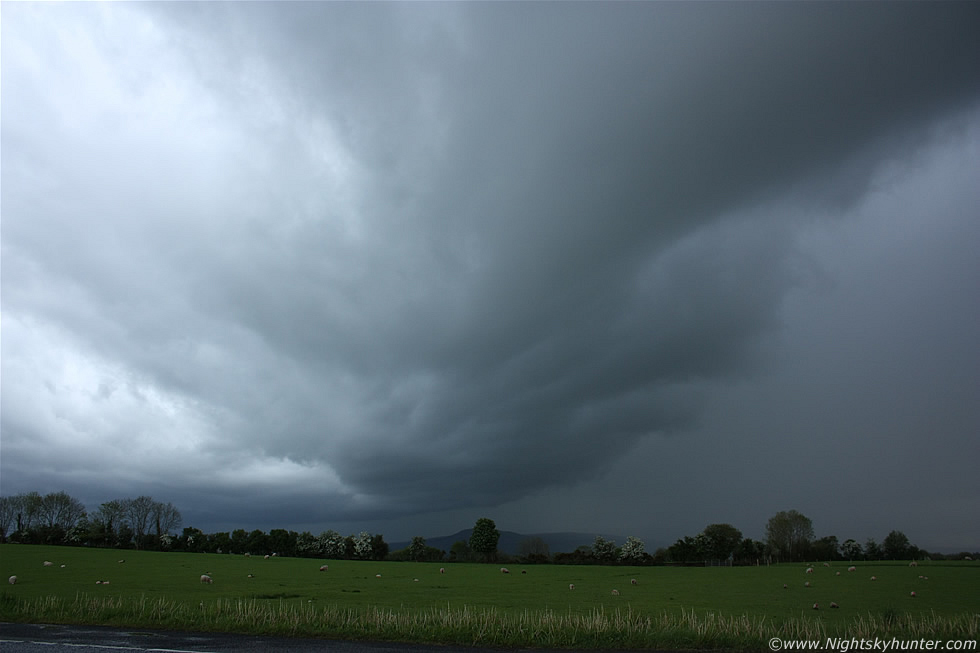 Still parked on the shoulder, at first the storm was just a dark mess but as it got closer the first signs of structure became visible when this very pronounced sloping outflow feature appeared which was actually a bowing gust front on the leading edge of the storm. Bowing segments are visible on radar and can indicate areas where severe weather is likely happening such as severe wind gusts, microbursts, and even possible tornadoes. In the image the storm is moving R to L and getting closer to us, pink lightning was hitting down behind those trees to the LHS and at image centre.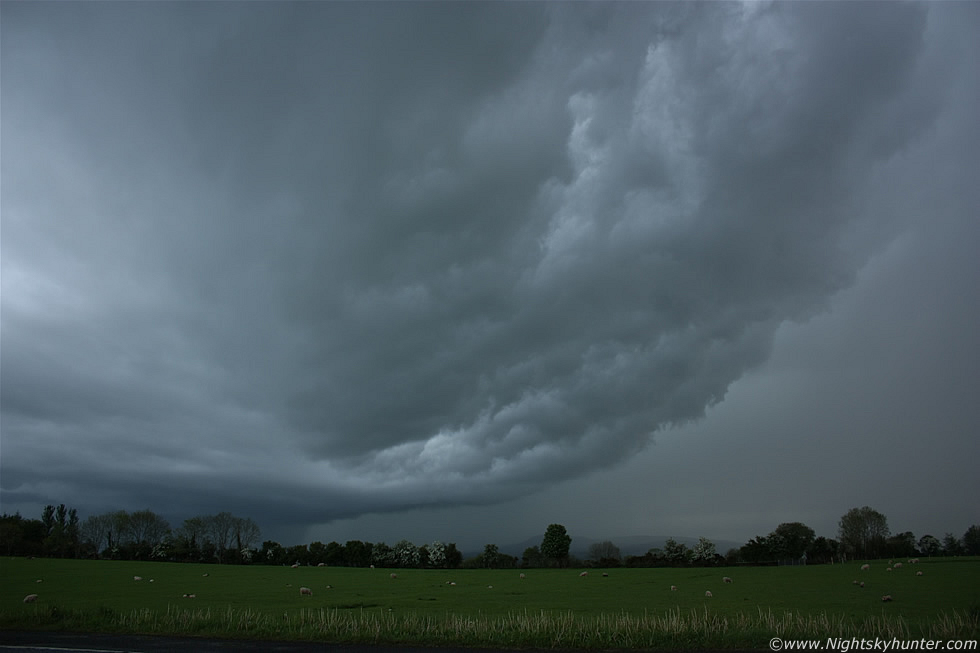 Storm now closer and showing whale's mouth structure under that bowing gust front. The R cell seemed to be outflow dominant however the L cell embedded with the structure behind those trees seemed to be the real deal with a high frequency of lightning strikes. Jackie and I saw pink c-gs, i-cs, with multiple flashes at the same time so it was a very active storm and we were both very impressed with what we had seen so far.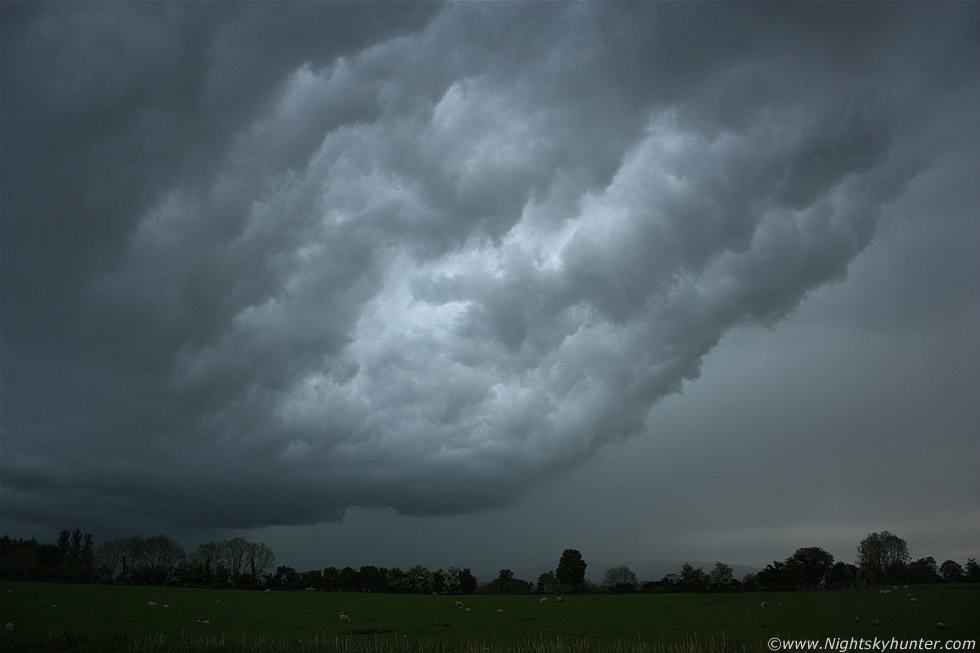 Another image of the whale's mouth structure, check out how dark the country was at 16.00 BST. The lightning continued to flash and the thunder could be heard much more easily above the noise of the traffic, the rain had now started falling on the car which meant we where well inside the lightning danger zone. I got a quick call from Declan who was smack bang under the storm in Maghera looking directly up into the black towers, he said the lightning was amazing. I had deliberately positioned Jackie and I further N and E so that way we could enjoy the storm structure and observe the lightning away from the precip.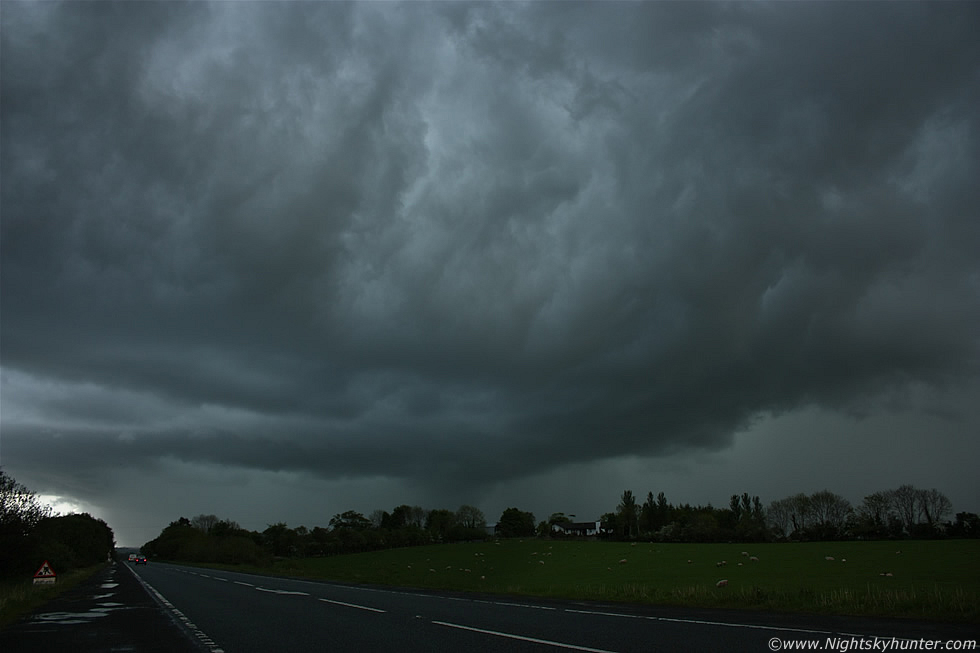 I was leaning out the driver's window to get these last two shots with big rain drops hitting my face. The storm now had a very strong dark green colour, you can see it on the images however it was more vivid visually, a green colour is often a sign of large hail and can be an indicator of a severe storm, the colour is rare in this country however it's fairly common in other countries which experience major thunderstorms like the US so seeing green today for the third time was a real treat. In this image the storm is moving R to L and away from us which was exactly what we had predicted. The precip core on the leading edge (L) had that circular look to it and even from here we could see dark curtains of hail blowing across the sky and falling onto the road, it was obvious this was a high precipitation core (HP).
I decided to forget about structure and have some good fun with this storm, Jackie had only intended to spend half an hour with me however we had already been chasing for one and a half hours so things were going good, I decided to end the day in more dramatic style so I chased after the leading edge of the storm and drove into the HP region, this is what storm chasers call 'core punching'. Well, what an experience this turned out to be, even I was shocked by how bad this core was, it was an absolute torrential deluge of rain and large hail stones which bounced off the road and car window back into the air with sharps cracks, the precip was so bad I could hardly see out the window, then the road flooded with torrents of water spraying all over the road and trying to pull the car off the road, at one stage I lost sight of the white road markings under a deep pool of water. The hail stones intensified and made so much noise that we couldn't hear each other speak, I was shouting at the top of my voice and at one stage it got so bad that my ears actually hurt!, and while all this was happening the sky overhead would light up bright pink with close range lightning bolts, it was the best core punch I had experienced since July 2006 so it really made an impression on me, Jackie was clearly very impressed and excited by the experience. As we exited the core we could see the roadside covered with a blanket of white hail stones which looked like a layer of snow.
We finally made it through the core and I parked at an old favourite location on high ground outside Knockloughrim where we watched the retreating storm from a nice quiet country location as thunder rolled over the hills and the pink lightning continued to do its thing as we watched with delight. Jackie got several good sound recordings of the thunder and she ended the interview there. It had been a major success and nature really had put on a good show for us. I dropped Jackie off at Glenshane again and drove back home for a quick dinner and to check the radar and sferics. I was blown away, aside from the far E the entire country was covered in lightning from many massive multicell storms, central and W areas in particular had got it really bad (where I was), it was the most impressive c-g sferics chart I had seen in years so it was obvious that this was a major thunderstorm outbreak.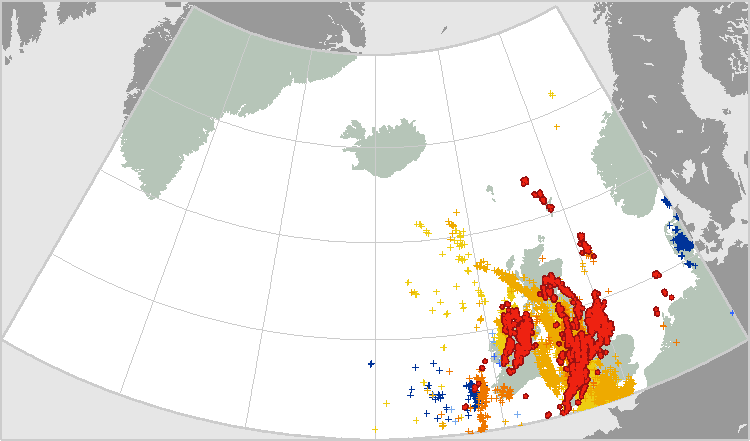 Below are several video clips I took showing three different storms, these are mostly structure videos as I never seem to be able to catch much lightning on camera, this is mostly because I spend more time taking still images then anything else.
Storm no. 1 on Glenshane Pass with stunning whale's mouth structure on show near the end
Storm no. 2 on Glenshane Pass, multicell with giant gust front and spectacular whale's mouth
Storm no. 3 on Glenshane Pass with Jackie McCann from BBC Newsline showing a severe multicell storm, core punch, and thunder/lightning.
Another major multicell storm dominated much of the country during evening hours when it trekked over Lough Neagh and along the W side of Antrim heading NE, most who witnessed this storm said it was the worst they had seen in years with almost continuous thunder with 'banging' sounds. I could see lightning from my house lighting up the entire E skyline so I drove around to Declan's home and together with his Son Daniel the three of us went on a relaxed local chase through the Maghera countryside, we stopped at several locations and watched the lightning put on a great show, I tried to get a still image of a bolt however it was too difficult, even on continuous shooting mode the odds were stacked against me so the three of us just sat in the car watching the sky strobing pink and enjoyed the visual show, this was the fourth storm we had seen this day, and the second severe storm so I was more than pleased with the performance. I later heard unconfirmed reports of golf ball sized hail stones and saw images of a nice funnel cloud captured over Coleraine. 2011 is fast becoming an exceptional year, the first few months produced great aurora activity, then April was the driest on record with the worst gorse fires in living memory and now May has turned into a very unsettled thundery month with many thunderstorms over both UK and Ireland including elevated night time storms called Spanish Plumes, I wonder what else is in store?, whatever the case I have a feeling 2011 is going to be a big year for storms!. Thanks for reading.
Martin McKenna