Record Breaking Heatwave, Sunsets, Intense Thunderstorms & Rare Wet Microburst - July 2021
What an amazing period of Summer weather this has been, N. Ireland broke three of it's highest temperature records within a single week making this an historic period for hot weather. We already had weeks of dry weather with only a sporadic shower or storm to bring much needed rain, but for most people they hadn't seen rain for weeks on end which is exceptional for this country. The landscape has been dry, gardens scorched, fields looked orange and arid, dust covered everything and water supplies were running low with lakes shrinking in size, it has been more like a desert climate than an Atlantic one. From mid July things really heated up and with strong high pressure anchored over us, unbroken clear skies, and no wind at all, it looked like we were in for some serious weather, this report documents these awesome days and the photogenic treats which made this a memorable time.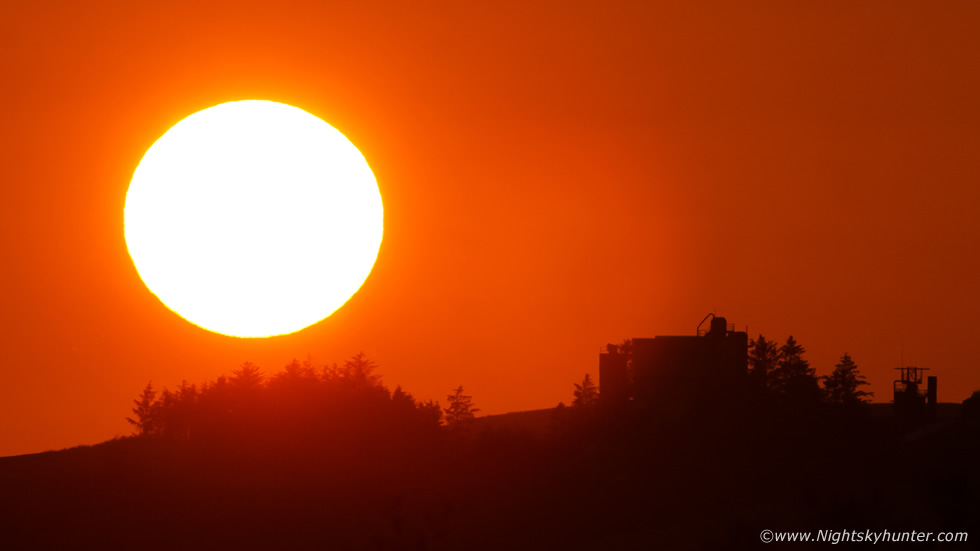 July 17th was an historic day, that morning I checked the Met Office website and was shocked to see that an extreme heat advisory had been issued warning of severe temperatures with potential damage to health and infrastructure, this was an official amber warning, something I've never witnessed before in my life. Models indicated temperatures reaching the high twenties with potential to reach 30 degrees C. The temperature during the afternoon was intense and relentless with strong sunshine, clear skies and humid air, it was nearly impossible to do anything without feeling heavy and tired, it was a shock to the system but I was loving it. By early evening news came in all over social media that Co. Down reached 30.1 degrees C, a new record for N. Ireland beating the old record back in 1910, we were living in extraordinary times, this was history in the making.
I decided I had to shoot the sunset on the hottest day on record to look back on so that evening I took my Dog Rhua out for a drive and short walk, we drove out the Omagh road and had a nice walk through the shaded trees to keep cool, even at 21.00 it was still 21 degrees C with not even a breeze. I still had some time to kill until sunset at approximately 21.45 BST so I parked at the church in Kildress in the middle of the countryside. It was a gorgeous evening, no one around at all, just the sound of cattle munching grass in the fields nearby. I pulled up a deck chair onto the grass on the hill and sat down facing the warm rays of the evening sun. I began re-reading 'The Man Who Chased The Storm' all about the life of storm chaser Tim Samaras, I got lost within the pages describing thunderstorms and the passion of chasing and hoped that another chance of storms would come my way in the near future. Then fifteen minutes before sunset I grabbed the DSLR and 100-400mm lens and began shooting the solar disk as it set towards the slope of the Sperrrins in the NW. The heat haze created this desert-like orange glow which gave the impression of an African sunset. Once it set below the horizon I still felt warm in a t-shirt, I was really loving this weather and judging by the forecast there was no chance of it ending soon.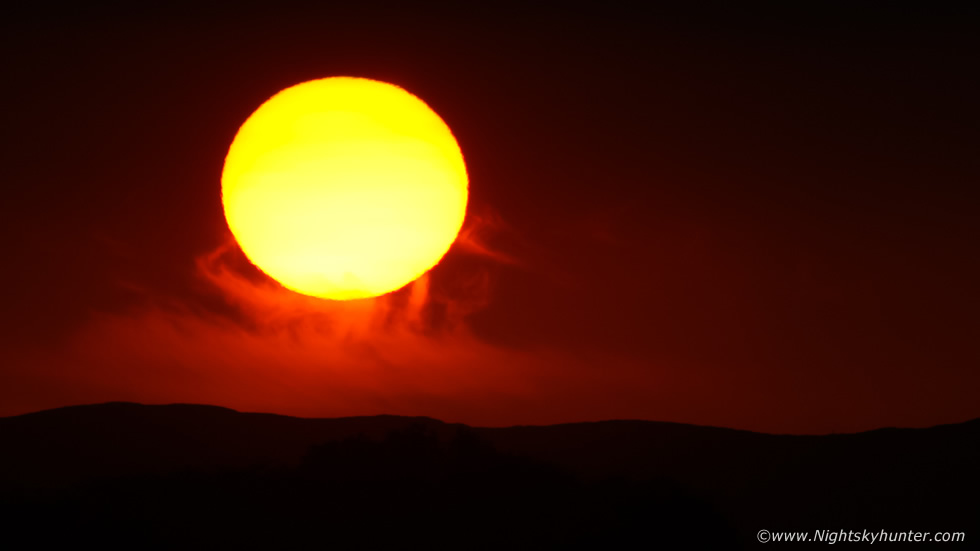 Every day the weather was perfection, it was a dream come true for many, although some were complaining about the weather being too hot, I was thriving in it, even up at 06.00 to let Rhua out and I was warm in a t-shirt and looking at clear skies with a climbing warm sun which promised another scorcher of a day to come. The Met Office amber heat advisory was valid for the remainder of the week and today (July 19th) there was chat that the recent record could be beat, surely we couldn't get any hotter? Roisin and I spent the day having a BBQ, Roisin's family and Sister called around too so we spent the late afternoon eating burgers, sausages and Chinese chicken with fresh salad which was lovely. I recalled struggling as I stood over the BBQ, the severe temperature combined with the heat of the charcoals was almost unbearable, furthermore our backyard is like a heat trap on a normal warm day due to paving slaps which trap and release the heat so this really did feel like being in an outdoor sauna which was unreal. By the evening time we found out that the temperature had been beat once again with Co. Tyrone reaching 31.2 degrees C.
I wanted to document the sunset again, Roisin's Nephew Jude decided to spend a couple of nights with us so Jude and I went for a walk to watch the sunset on this remarkable record breaking day. We walked to the top of Tullyhogue ring fort outside Cookstown, Jude had always wanted to do join me for a photo shoot so this would be his chance. Jude was a great help carrying my tripod for me as I carried the camera bag and 100-400mm lens with water supplies to the top of the fort. The view from the fort was stunning with a perfect flat horizon across the Sperrins. As the sun began to slowly sink into the heat haze it turned spectacular. The dense haze acted like a natural filter dimming the sun's intense glare allowing the disk of the sun to be captured, we could also see the disk fairly comfortably with the naked eye, people out walking had stopped to watch the spectacle, some taking selfies with their mobile phones. What got my attention was one cluster of cirrus cloud into which the sun seemed to sink, the wisps of cloud turned vivid red and looked like tongues of fire, it looked like Heaven or perhaps Hell?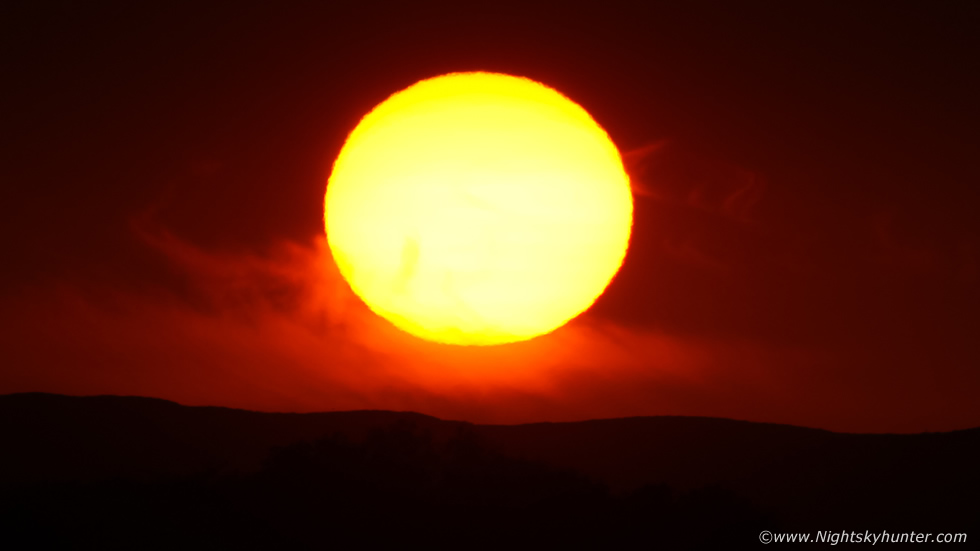 The red wisps looked like great plumes of fire erupting from the edge of the disk not dissimilar to prominences on the sun as seen through a Hydrogen Alpha solar telescope. The scene seemed to radiate heat, my arms were still sweating in the humid hear at near 22.00 at night, this is what Summer memories are made of. I have shot sunsets many times in my life but never have I captured scenes like this with those red plumes, I consider these to be my best solar dusk sunset images to date.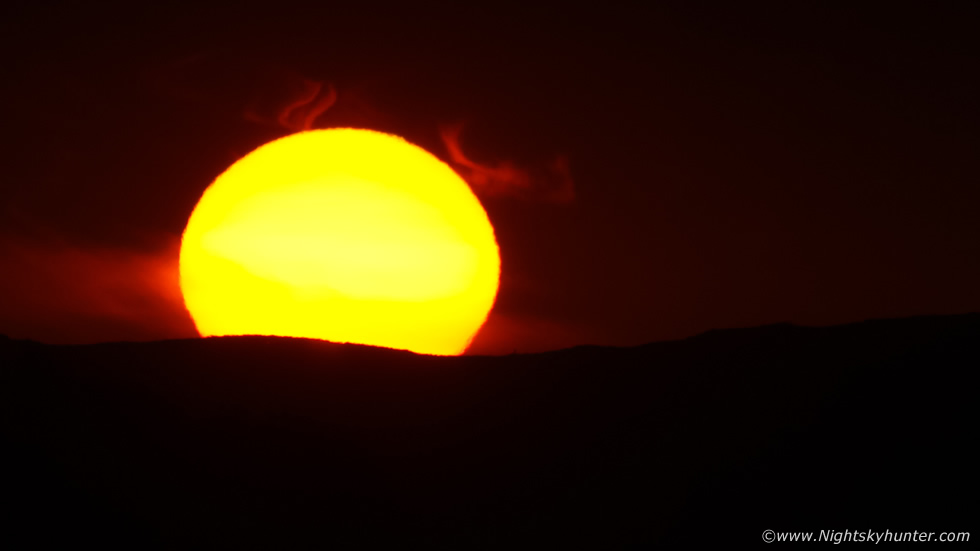 Jude was loving it, he had never deliberately watched a sunset before so this was a special moment for him and I was glad he was there with me to watch it. I was actually shooting a DSLR time lapse with the 100-400mm of this entire event and couldn't wait to get home to render it, however when I did I noticed that the final time lapse was moving around all over the place bouncing which meant my tripod was wobbling with each shutter click, it never done this before so I figured the clamps had been loose and the heavy lens exaggerated this imperfection, I wasn't that annoyed as I was more than happy with the still images but decided I would try again the following day.
On July 20th Roisin, Rhua, Jude and I went to Co. Armagh for the day, we walked around the cathedral, had coffees and lunch, checked the observatory and planetarium however by mid afternoon we couldn't stick any serious walking. The heat was remarkable and seemed amplified with all the tarmac roads and concrete footpaths and buildings, 29 degrees C within an urban heat island was absolutely stifling hot, sweat dripped from our pores, we were soaked in sweat, the air was humid and heavy and the sun beamed down on us as if we were lost in the Sahara, it was an unbelievable experience but Rhua was struggling so we decided to head back home. After dinner and a rest Roisin, Rhua, Jude and I went back to Tullyhogue Fort and we all watched the sunset together. These wasn't as much haze this time however the orange disk could be seen with the naked eye, it was a great experience watching it all together laying in the grass. Others were doing the same, word must have got around about this location as families and Children had come up to watch the sunset, that's something you don't see often in this country either. I shot another time lapse but it too was ruined by a shaky mount, I had come to the conclusion that my old tripod had seen better days and was now unable to support the heavy lens so I would just keep it for the wide angle lenses. It was time to head back home, I needed to charge all the batteries and get the gear ready as the following day could be a chase day.
July 21st looked to have the best potential of the year for thunderstorms across N. Ireland. Models indicated yet another roasting high pressure day with talk of the heat record being under threat yet again. GFS indicated 1400j/kg of CAPE with a Lifted Index of -4, unlike previous days which were strongly capped with no precip modeled there was good precip showing by all models. There would be no wind shear at all so storms would be of the pulse type once again however with all that heat and high instability if a storm did form it could be very strong. The big problem was the cap, with such strong high pressure the atmosphere could keep a warm lid across the mid levels all day leaving us with more sunshine and dry weather, but I noted -30 C air aloft which meant very good lapse rates. Furthermore with surface convergence and intense solar heating it was possible the cap might break so this day certainly warranted watching. My own target area was the midlands and Sperrins with possible targets from Fermanagh to Omagh, Donegal, but more likely along Glenshane, Dungiven and anywhere along higher ground were orographic lift would aid with convection. Convective Weather had issued a slight risk over these areas and TORRO had issued a convective discussion for thunderstorms with a risk of funnels and tornadoes.
Instead of soaking up the sun I spent the morning prepping all my gear, cameras, drone and water supplies all packed into the van, I made sure the engine was topped up with water and oil and had plenty of diesel, that way I was ready to go at a moments notice. All cameras were fully charged, daytime settings selected in advance, cable releases correctly sorted, spare batteries for these, sensors and all lenses were cleaned. I was carrying my old tripod to the van, the one which was shaking during the sunset shoots and it fell from my hands onto the drive way, the head was completely snapped off, the tripod was now done so I was left with only one decent tripod which meant I could only shoot time lapse with one camera now. I applied sun cream then instead of spending the morning soaking up sunshine I monitored radar and social media. Radar was completely dry, I got a text message from a mate near Swatragh reporting big Cumulus clouds over the Sperrins, I looked out the window and could see a notable tower to my NW from Cookstown against an otherwise clear sky, John Fagan could also see it from Dungannon. It looked as if the Sperrins was aiding with lift, there was nothing else in the entire sky of note except that area, could this be the focus point for storms?, it was still early in the day and the towers still looked capped so I held back, I didn't want to get suckered into driving NE then miss big storms later to the SW near my home area so I waited for more intel.
Suddenly the radar showed a blue-green signature over Glenshane Pass between Maghera and Dungiven, it was growing rapidly and seemed to be moving slowly NE, I was actually shocked to see precip so soon, was the cap breaking?. I was chatting with Nigel McFarland, John Fagan, Colleen Webb and Paul Martin as we were all storm fanatics, the chat was getting updated every few minutes as the pace increased, I had a strong instinct something was happening. The radar refreshed and showed a red core expanding in size N of Maghera, what do do, go for it? or wait for later storms? what if there was no storms later and this was the event of the day?, all my instincts were saying go go go, then Nigel came on reporting thunder from Limavady, I asked if he was joking, he said ''no'' and ''definitely thunder'', this was all I needed to hear, it was chase time. Jude was still staying with us so I asked if he wanted to come along to look for storms ''for an hour or so'' and he jumped at the chance. We left Cookstown in a hurry, we were in full combat mode, as we entered the carriageway we could see the storm through the windscreen in front of us, it was to our 11 o clock position over the Sperrins and was clearly the biggest Cumulonimbus I had seen all year, in fact, it was stunning.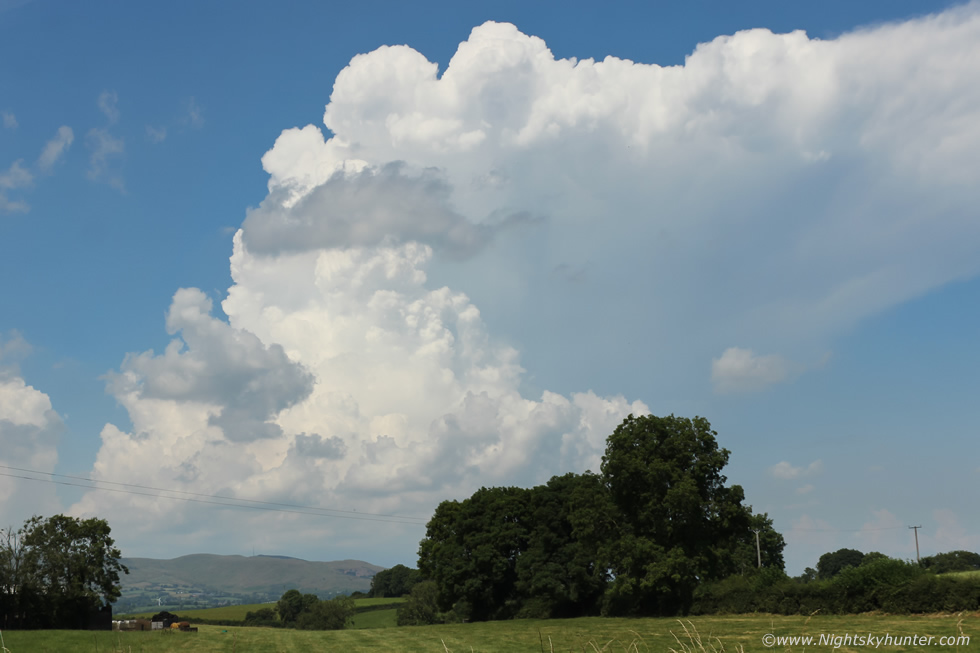 I had to make a quick stop at the new Go filling station adjacent to the carriageway, from what I saw in the sky I knew this was going to be a busy day of action so I topped up with more diesel and grabbed a bar of chocolate for Jude and I to keep our sugar levels up, of course there was a slow person standing in the cue in front of me taking ages to find his wallet and card, I was beside myself mad looking away, the best storm of the year was maturing rite now and I still had 25-30 minutes of driving to do to get under it. Then just as the guy was about to leave the till he changed his mind and ordered an ice cream, I had to compose myself, then eventually I paid and was literally running across the yard to the van, I said to Jude at this moment in time we are likely the only people in the country chasing storms.
I drove along a little further and decided I couldn't wait, I wanted an image of this, so I took the turn off onto Muff road and parked on a grass verge and got my first DSLR image of the day. It's difficult to describe how beautiful and awe inspiring this cell was to the naked eye, images don't do it justice at all, this thing was truly massive in size, the updraught and flanking towers were like bombs erupting, it was expanding rapidly in real time and climbing in height like the smoke plume from a volcano, this was what 1400j/kg of CAPE looks like being released all at once. You can tell the caliber of a storm by making note of visual cues without even being near it, if the anvil is fuzzy then its very weak, if the towers are soft with slow billowing then they too are weak. The updraughts on this storm were rock hard with crisp tops, also check out the interface between the primary updraught and anvil, that region is solid too, there was no doubting this was a very strong thunderstorm. I so wanted to shoot a time lapse of this epic scene but I wanted to get closer to the action, just to hear thunder again or feel rain on my skin from this relentless heat would be a nice experience, also I wanted Jude to hear thunder and get close to the action for his first chase experience, so we hit the road.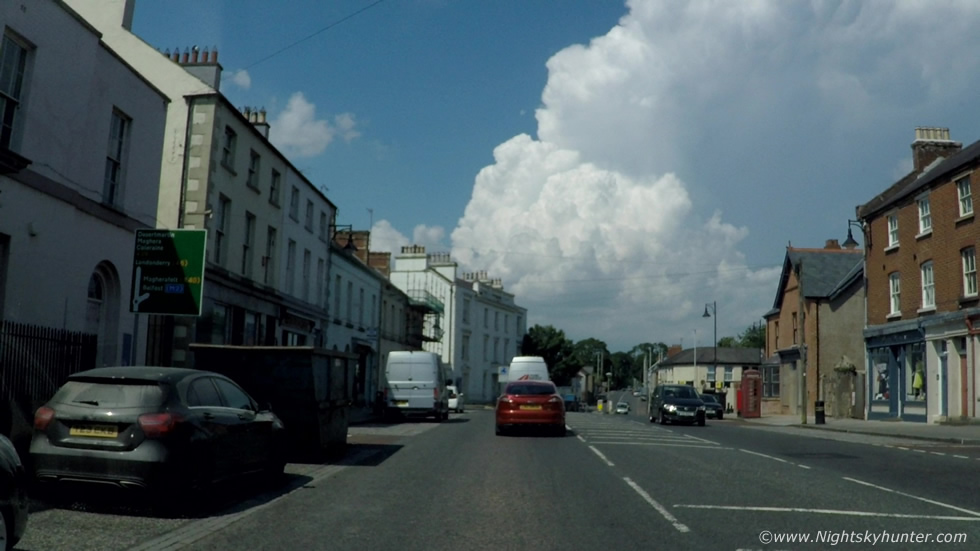 From this point on I was recording footage using my Go Pro Hero 4 Silver, I had to change to medium FOV to take in the entire scene. We where passing through Moneymore, it was difficult concentrating on traffic with that convection exploding in front of us. Nigel rang, I had him on loud speaker via hands free, he began giving me an update on the situation, this would be the first of many calls from Nigel, he couldn't chase this day so he monitored the action at home on radar and would keep me updated all day which was very decent of him and the intel really kept our chase focused. He said the storm had white and purple cores on radar and was to the W of Swatragh and the core was growing bigger all the time, he could also hear regular thunder in that direction.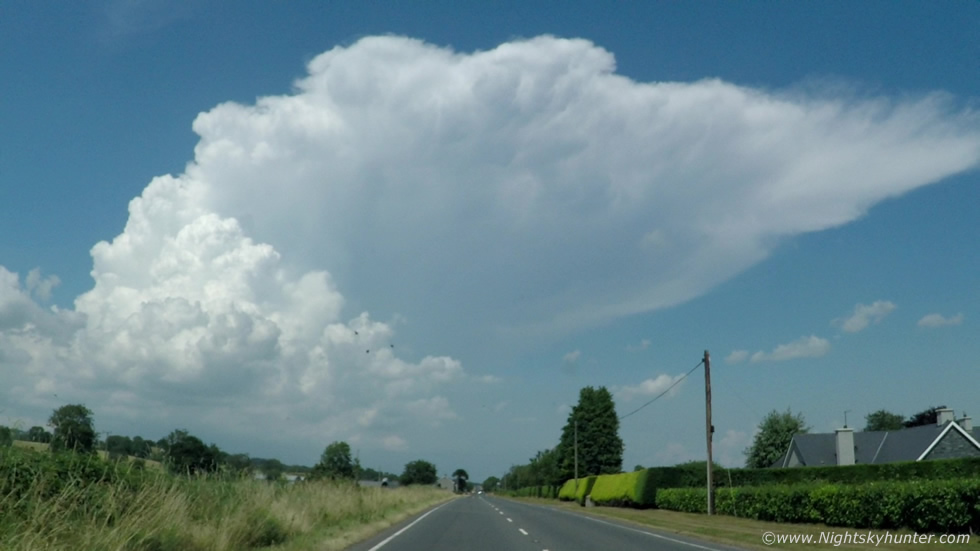 These are all stills from the Go Pro, we where outside Desertmartin and gaining ground, the storm looked amazing dead ahead, what made the visual experience so surreal was that it was the only storm in the country, the sky was blue everywhere with just a few Cumulus, this was the grand show and we where chasing it. I got a call from Astronomer Jonathan Bingham asking if I was seeing what he was seeing, he was looking at this very storm from SE of Lough Neagh and was taking images for me, he was amazed at the size of it. I think Jude was a little taken back by all the random phone calls coming in reporting intel and commenting on the storm, he likely never heard such excited chatter about the weather before.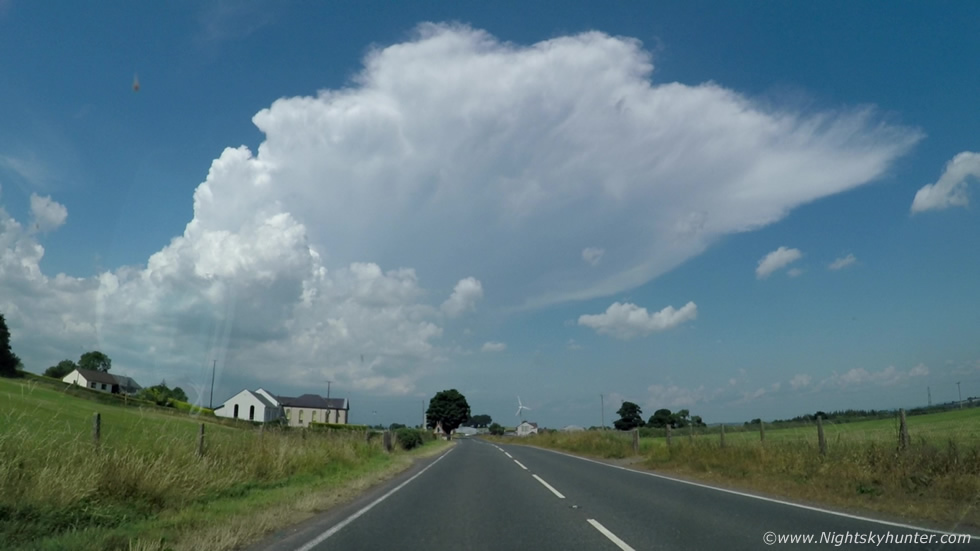 Paul Martin text with an update, he said it had produced 100 cloud to ground lightning strikes within the last 30 minutes and the amount of in-cloud bolts must have been double or triple that figure. Another chaser, Owain Rice, from Co. Down could see the anvil clearly and using radar estimated its distance at 50 miles away and given its angular size in the sky he made a rough estimate that the storm must be 36,000ft or 11km in height! It was challenging chasing in what could be yet again the hottest day on record, even with the air con on full and windows down driving at 60mph it was hot, stifling, and humid, we were sweating profusely and the atmosphere itself felt like soup, it's no wonder this storm was thriving on all this atmospheric food.
We arrived in Swatragh then took a turn off to the left and made our way to high ground within the Sperrins, the road was bone dry yet at one precise spot on the road it was raining hard, Jude was amazed at how well defined that wall of rain was, there was no transition, just dry, then a wall of rain and hail. The windscreen got battered and we yelled with delight, we were in the core. We pulled over on high ground at Corlacky Hill Wind Farm, heard a rumble of thunder and sat under the intense core. We ran outside and stood under the rain, it was the best feeling, hot and humid to cool and refreshing, the temp dropped from 28 C to 15C then when the core passed us it rose back again to 28C within minutes, that's how hot it was. The storm was dying, the core was weakening and an orphan anvil detached aloft, but we were far from disappointed, in fact, we could see more towers and a dark base moving towards us behind the turbines and it looked like another storm was brewing in the exact same area as the first so we stayed put.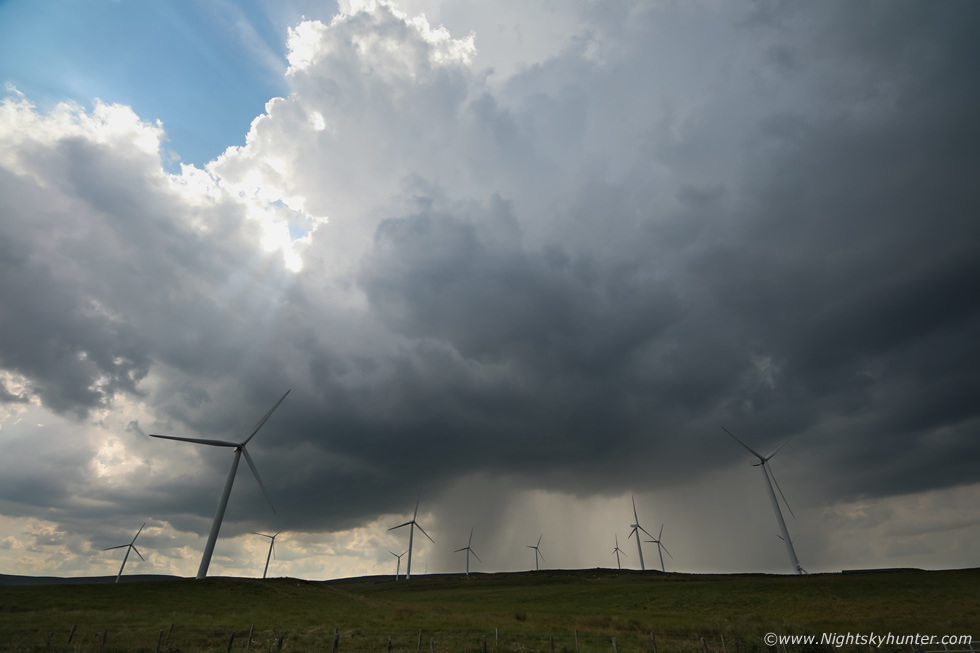 A call from Nigel confirmed cell number two near Dungiven which was moving our way with a red core which grew from nothing within one radar update. This was the second storm, precip was breaking out as we watched a new thunderstorm come to life, this was 15mm on full frame, the top of the updraught plume and first stage of the anvil spreading out were directly at our zenith then thunder began to rumble.
Vertical aspect with 15mm on full frame, thunder was rumbling regular now as the base darkened and sun beams fanned from behind the flanking updraught, we were literally experiencing this storm transition into its mature phase.
There's nothing better than watching a good thunderstorm over the plains of the Sperrins. Jude was sitting on a fence taking in the view as thunder boomed every few seconds, we could actually sense the storm strengthen as the gap between rumbles decreased and the sky became heavier and darker.
I set up the Canon 600D with 10mm lens and began shooting a time lapse of the storm using the only working tripod I had then Jude and I climbed over that gate and ran into the field to get closer to the action. This is one of the wide angle frames from the time lapse, at this stage the storm was fully mature and spectacular and the most active thunder producer I had experienced all year. The rounded base was impressive and the precip core was extremely well defined, even though all the lightning was in-cloud there was always a chance of a rogue c-g so I was hoping one of those turbines would get struck.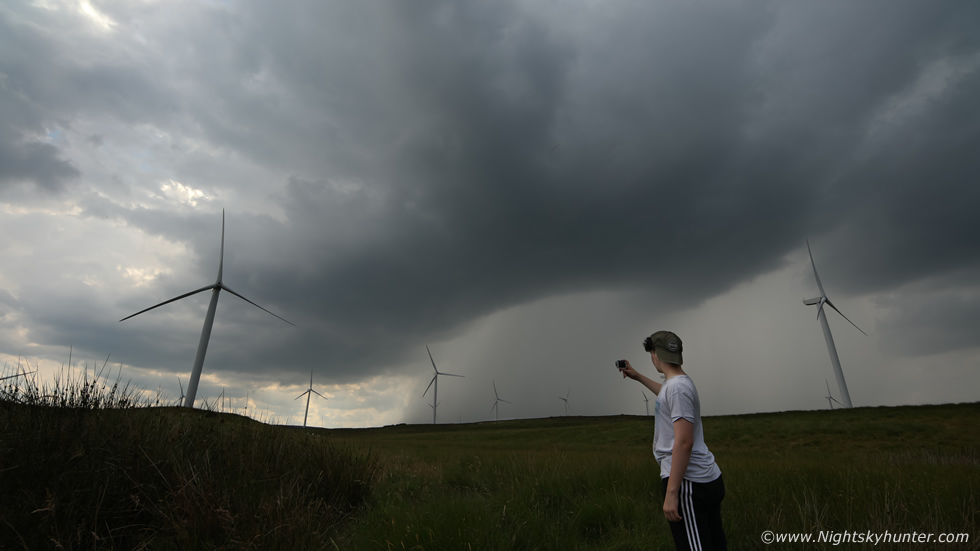 Jude had never chased a storm before in his life, yet here he was under the most active thunderstorm of the year in N. Ireland filming B-roll with the Go Pro, he seemed to be adjusting to chasing life very well. I did have to let him know that he was in danger here and to stay away from the turbines just in case, all the bolts where high overhead inside the tall updraught with the thunder descending to ground level from what seemed a great distance.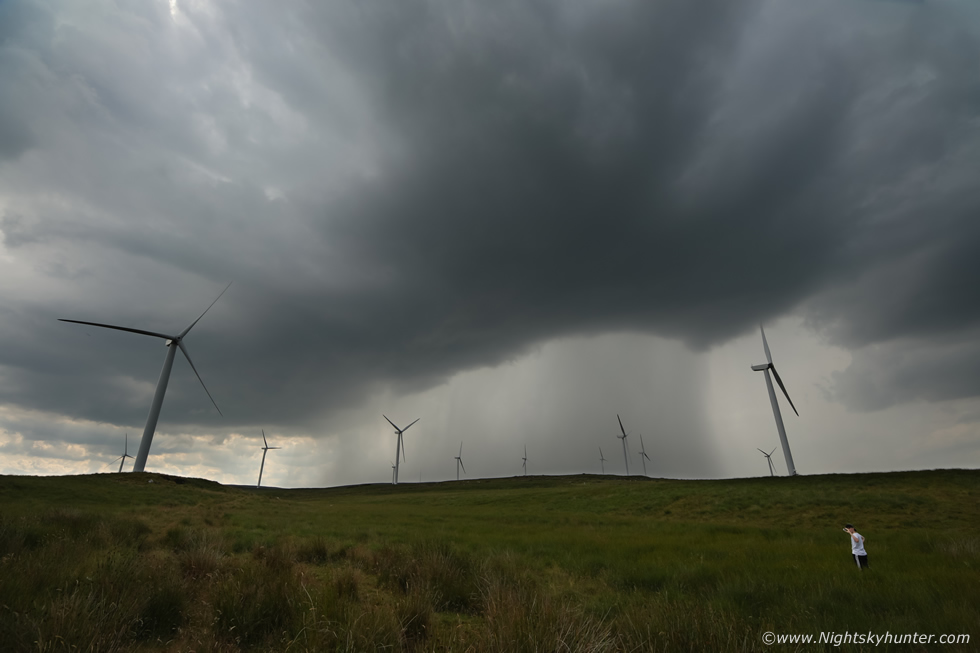 As for myself I was back in my happy place standing in a field in the middle of nowhere watching a thunderstorm and experiencing everything up close and personal, I could have sat in a chair and watched this all day. There was non-stop constant thunder, rumble after rumble after rumble. Then something strange happened, up to this point the storm was moving at a snail's pace, just slowly creeping along, the precip core was stationary with no discernable motion then suddenly to the lower left of the core Jude and I witnessed a large section of precip blowing sideways to the left away from the core at very high speed behind the turbines, Jude was impressed, it looked to have formed a rain foot to me suggestive of strong outflow winds along the surface but we where so close to the storm we couldn't see the big picture, then I recalled I was shooting time lapse from the other camera beside the van.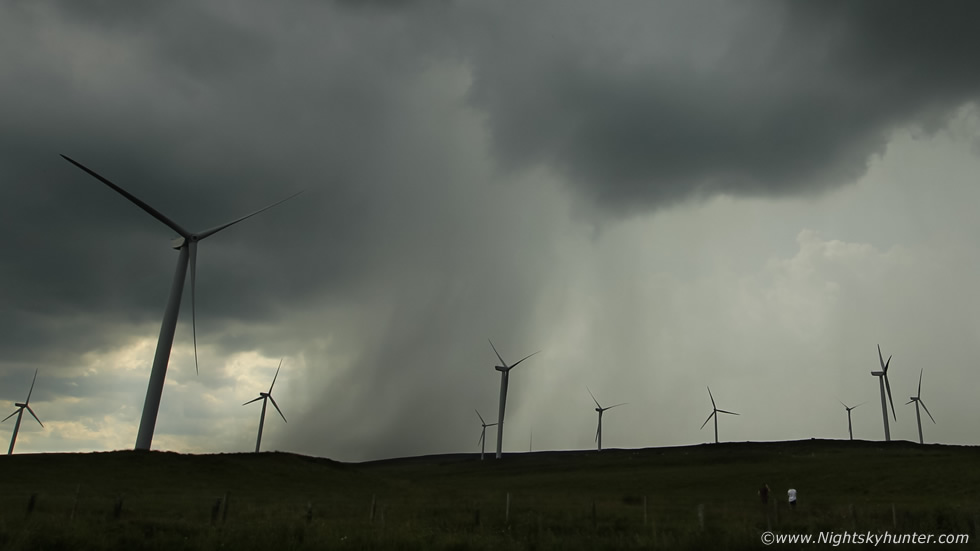 I was glad I was shooting that time lapse for I had captured a very rare wet microburst!, above is a crop showing rain bombing to Earth and blasting to the left like a waterfall from the storm. On the time lapse you can see an area of light in the storm base then suddenly heavy rain falls and moves sideways across the surface like a cold front on steroids and as it does so the wind turbines change direction and increase speed at that exact moment.
When a thunderstorm has a strong updraught it will suspend rain drops and hail high within it's tower, but when either the rising air weakens or the weight of the rain or hail becomes too great to be suspended aloft then precip can suddenly fall back through the base to the surface, this downburst is a microburst, a dry microburst has no rain but the sudden gust of wind is present, a wet microburst has rain or hail. This outflow spreads across the surface, years ago such events brought down many airplanes during take off and landing as the sudden shift in wind shear created hazardous weather which caught pilots off guard. The process was then understood by meteorologists and pilots have since been trained to react to the shift in shear. Microbursts are often seen in big thunderstorms over the desert and during the American Moonsoon season, I had never known such a thing to happen here, so I consider this a rare event captured on camera.
After almost an hour of constant thunder the storm died so we drove to lower ground and back under relentless sunshine and heat, we needed a break so we so stopped off in Maghera for a drink, we observed towers going up over the town and I said to Jude that looks like another storm forming. In the meantime we went to Cooper's Cafe and the owner James sorted us out with a hot chocolate (yea I know) and a tray bake and we walked back to the van at Crawford's car park. Sporadic thunder began to rumble as the storm grew and slowly slipped away N towards Swatragh once again, we listened to it while eating then when we were done we hit the road once more and were lured out after our third storm of the day. This one died a quick death for some reason so we kept driving NE into the countryside and pulled over to watch new towers and bases forming, it was now the hottest part of the day, we where parked on some random road deep in the countryside, the landscape was beautiful with vibrant fields, crops, photogenic trees and a derelict house. We studied a map and decided to head into Clady as a new base to watch for developments and get refreshments.
Jude and I treated ourselves to an ice lolly and sweets to keep the sugar levels up then a downpour opened up over us, it wasn't thundery but Nigel rang to say another cell had fired to the west and was slowly moving our way and if we moved to an open space we might see it. Colleen Webb also arrived on location, she had just finished work and was straight out ready to chase. We needed a good location which offered an open view of the sky, Colleen said she knew of such a spot, this was her area so we decided to follow Colleen which turned out to be a great decision.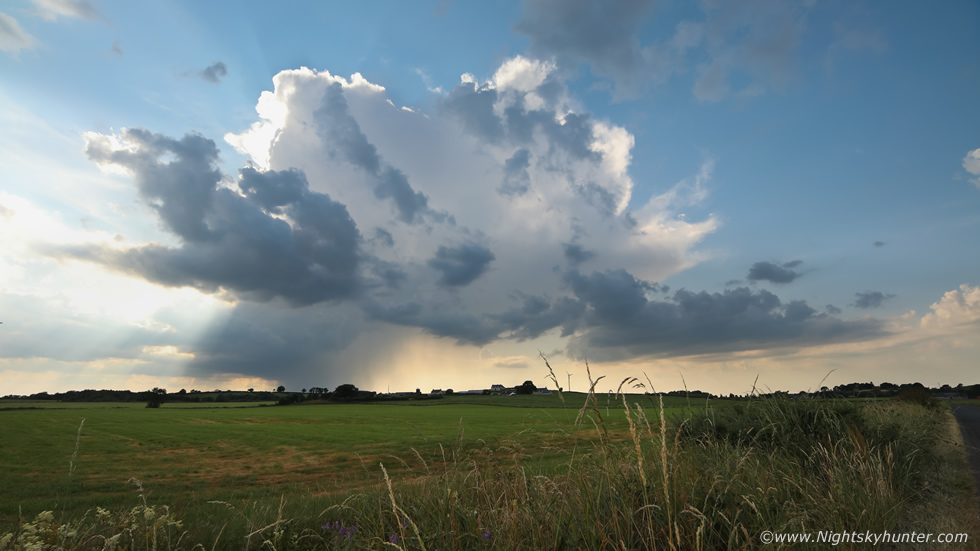 We parked on Eden road outside Clady, a long straight country road with vast fields either side, the view to the W was perfect, we got out and said how cool it would be if a storm came into view over these fields. Nigel confirmed a new cell erupting over Glenshane Pass, we looked to the W and as cloud cleared the area we could see the Glenshane storm. It was a beautiful sight, you really had to be here to appreciate this moment, our fourth storm of the day exploding upward across the sky, we where a fair distance away yet the storm took up a vast area of the landscape. Rumbles echoed across the fields, Colleen was delighted to have her first storm so soon after work. It was a very atmospheric scene but also of high dynamic range to shoot due to the storm's proximity to the sun with bright and dark areas and contrasting colours. This was 15mm wide angle with the full frame so this is a huge FOV and that distant storm was growing in height and the anvil was spreading out by the minute.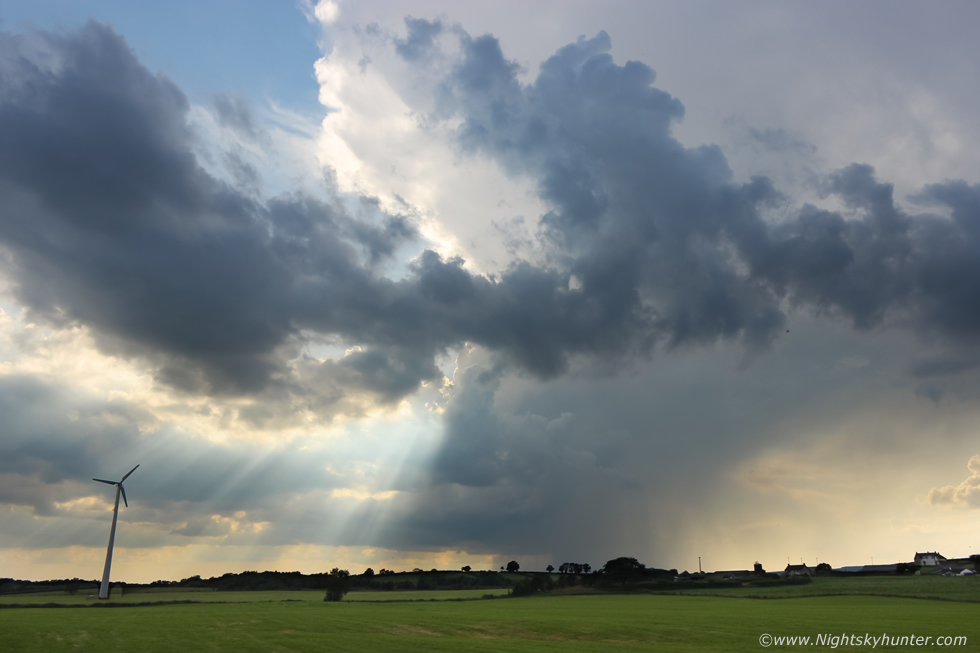 We had quite a photogenic spot with the flat fields and this solitary wind turbine to compliment the scene as the giant storm broke through the heat haze. Crepuscular rays fanned down from the edge of the anvil. Watching the rays splice through the cloud and dance across the fields as thunder rumbled was a great experience. This actually looks a little like an LP supercell, the narrow tilted updraught base, the precip seemingly vented forward, a hint of a vault, however there was no shear to support that caliber of storm, this was a chance alignment which gave this impression. We could see the updraught billowing upward on the flanking region feeding upward into the main tower.
I shot another time lapse at 15mm, we also filmed a short vlog and Jude did filming with the Go Pro, we were getting strange looks from passing cars, what were these three strange people up to staring at the clouds with cameras in hand. This storm was producing constant thunder, at times we stood in silence and listened to the booms. Cows grazed behind us as the thunderstorm announced its anger from a distance, there was no wind, just dead calm heat at 19.30 in the evening, this was bliss, we were all in our element. John Fagan text me to say a the temperature record had been broken yet again with 31.3 degrees C in Co. Armagh, astonishing stuff.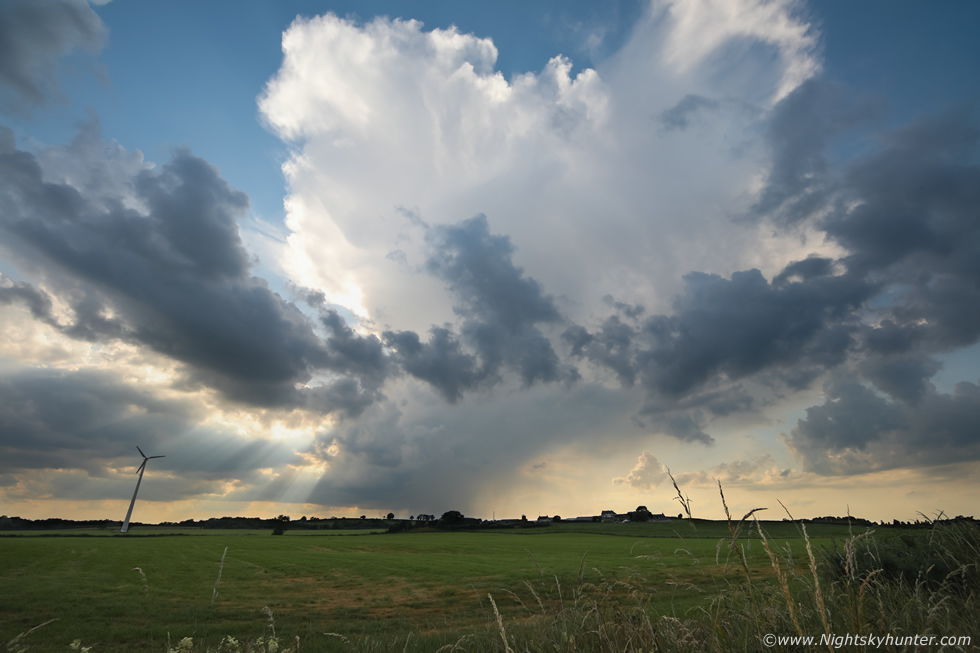 This storm was so big that it's updraught base was over Glenshane Pass while the anvil was crossing our zenith near Clady, the big white anvil was a gorgeous sight against the blue sky. After 45 minutes of back to back thunder the cell weakened, another cell formed behind it and yet another cell formed adjacent to this one rite over this field with more thunder, it wasn't photogenic but we had close range thunder with more in-cloud bolts, this was thunderstorm number six. The core hit us so we decided to punch through it and head W to see what was left of the other cell behind the Glenshane storm, the roads were flooded then we emerged into sunshine in Maghera but there was nothing to be seen to the W. The storm we had left was still rumbling to the E so Colleen chased back in that direction. I decided to call it a day, it was 20.00 BST and we were starving so Jude and I returned to Cookstown and had a nice dinner with Roisin.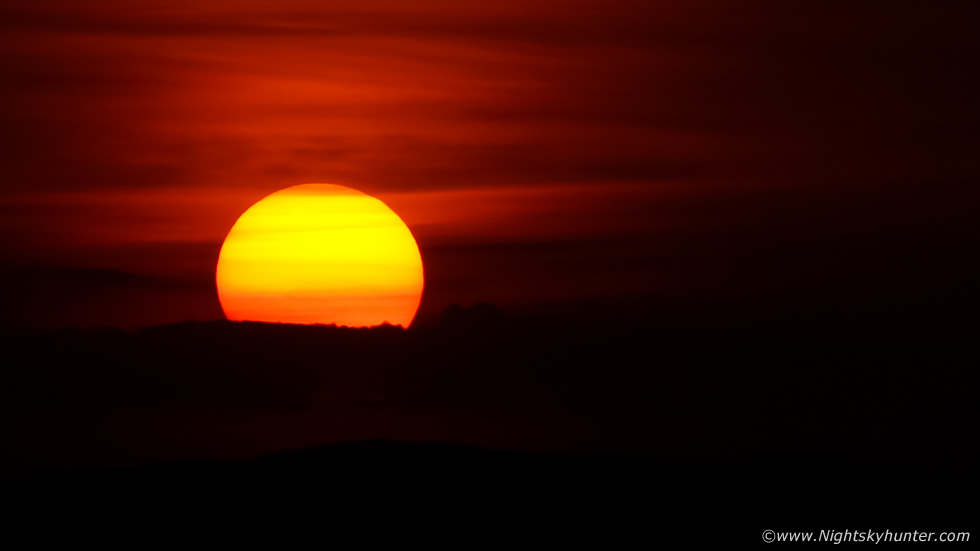 I was tired after 6.5 hours of driving in intense heat and humidity but I was still buzzing from the chase and flowing so once again I decided to shoot the setting sun on the hottest day ever since records began. This was the view from Tullyhogue Fort, this time I was on my own with Rhua, it was the prefect end to a perfect day.
July 24th presented us with another chase day but this would be a risky one as the parameters were good but the odds of getting a storm to form were low, but we decided to chase anyway and have a nice road trip. Models only showed over 800 CAPE along the W coast, target areas where Donegal, W. Fermanagh and Sligo, no shear again but intense heating was expected along with sea breeze convergence zones, we where under a slight risk and decided to make a play on it. My attitude was even if no storms fired then there would still be a chance of funnel clouds, but even if that didn't happen it would be a good day on the road having an adventure with Roisin.
We packed a cooler box, brought a dozen bottles of water which we had put in the freezer beforehand and snacks. We drove W into blue skies and scorching heat once again, half way out the Omagh Road I spotted a huge cloud of dust over the fields but couldn't see what was causing it, I even suspected large dust devil activity so I pulled over and put the drone up. Turned out to be a tractor spreading, however the view of the field and landscape summed up this entire heat wave, the place was arid, bone dry, dusty, the fields were orange and burnt, this really was an unique event. We continued on and the further W we drove the more agitated the sky became, flat fleecy Cumulus changed into small Towering Cumulus, the atmosphere was responding to the heat.
We stopped in Belleek at The Lemon Tree cafe and had lunch outside over looking the River Erne. In all honesty I'm not just saying this but the chicken goujons were the best I've ever tasted in my life, they really went down a treat. When the owner came out to take our order he recalled our last visit from three or four years ago, this amazed me that he still recalled us as recently we had been talking about him. Years ago when we went storm chasing to Fermanagh or Sligo we would stop of at The Lemon Tree for lunch, they also had wifi and back then I would bring in my lap top to connect to the internet and check the latest radar, he got so used to this strange routine that anytime we called in he would always say ''there must be a chance of storms today if you are here'' and this time he said the exact same thing, ''there must be storms'', fair play to him for remembering us.
We checked radar and there wasn't a drop of precip anywhere in the country, so on instinct we drove to Ballyshannon direction and spotted decent updraught towers to the NW so we went through town and made our way into Co. Donegal and ended up on Rossnowlagh beach. The placed was packed and the sand was full of Jellyfish. We parked and set up a chair and blanket on the sand and used the van's shadow to cool us down but that didn't make much difference, I honestly think this was among the hottest days I've ever experienced, the sun was burning everything and the sand was roasting, it really was astonishing. Meanwhile we had picked the perfect spot for a storm, we had found our sea breeze convergence zone where wind from two directions meet to create lift. A line of Towering Cumulus bubbled up for hours on the exact same boundary over Donegal Bay, but the atmosphere was strongly capped. We watched and waited and I time lapsed the entire process which was fascinating to observe. Updraught after updraught boiled upward gained greater height during prime solar heating but the capping inversion at the mid levels was too much and the towers couldn't break through.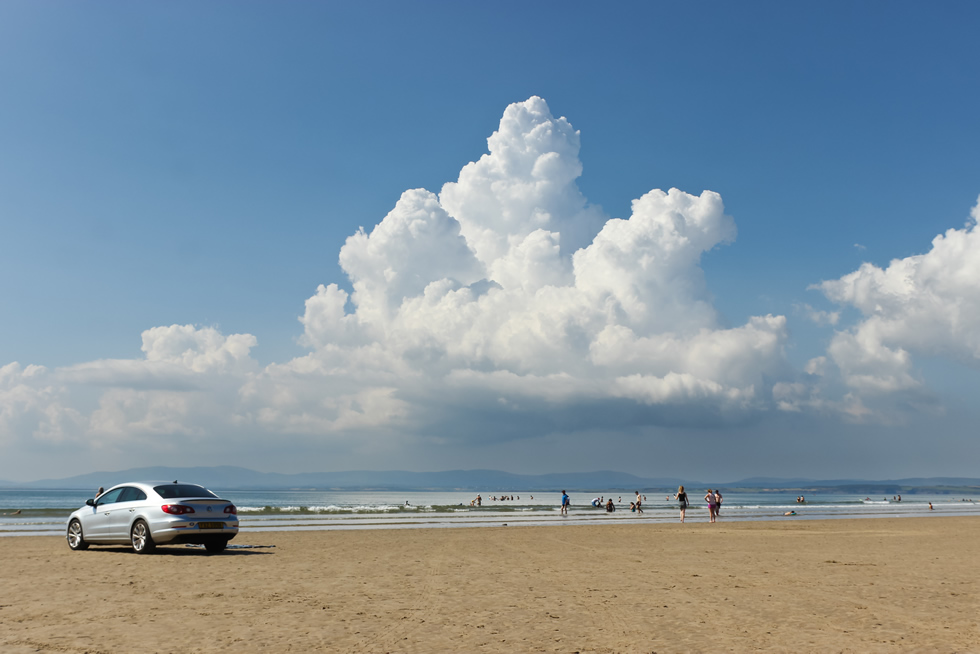 Honestly, if the cap had broke we would have experienced several stunning thunderstorms rite over the sea in full sunshine, but it wasn't meant to be. We were far from disappointed, it had been a fun trip and I did acquire nice time lapse of these capped towers to have for the collection. We visited my Dad and his partner in Belleek, had dinner then drove home through late evening sunshine passing two gorse fires on the way and made it back for 21.30. If nothing else happens this Summer I will look fondly back on this exciting week of severe temperatures, perfect Summer weather, thunderstorms, road trips and microbursts. It also proved something else, that pulse storms with no shear can still produce great events in the presence of high CAPE or in convergence zones.
DSLR time lapse of the Swatragh wind turbine thunderstorm with wet microburst, shot at 10mm wide angle on crop sensor Canon 600D, these three sequences range from wide angle to semi wide then a deep crop.
Full time lapse of the evening thunderstorm over Glenshane captured from Eden Road outside Clady with nice base, warm light and beautiful anvil growing so large it extended beyond the 15mm wide angle field on the full frame Canon 5D Mark IV.
Time lapse of our chase to Donegal on July 24th showing Towering Cumulus making repeated attempts to break through a strong cap over Donegal Bay on a sea breeze convergence zone. This was shot with the 600D and 18-55mm lens over a very long time.
Full chase video covering the main storms of the day featuring DSLR time lapse cinematography, Go Pro footage, phone footage and filming by Jude including the wet microburst, if you listen carefully you should hear the regular thunder rumbling high above within the updraught in these clips. I'm still buzzing from writing up this report and hope Summer can still bring us a few more chase days soon, thanks very much for reading.
Martin McKenna