Portstewart NW200 Fireworks Display By Drone - May 17th 2019
I have photographed many fireworks displays over the years however I have always wanted to capture a display on video from the air by drone. I decided I would add it to my list and this year I would finally do something about it, I fancied the challenge and was excited by the prospect of filming something unique, dramatic and transient which ticks all the boxes for my interests. The problem was that I had to ignore many fireworks displays over the last few years for aerial filming, either because of wind or rain, other priorities or simply that many displays took place within busy towns and cities were large crowds accumulate. The CAA drone regulations make it clear a hobbyist cannot fly their drone closer than 150m from a congested area, an area is classified as congested if it includes 1000 persons or more so this ruled out quite a few displays for me.
What I needed was a location where I could approach from outside a congested area, even better would be an area where my drone would not be flying over people from a safety aspect, better still the display would be near or over a lake or the ocean which would leave me free from any danger. As luck would have it I was informed of the NW200 fireworks display which was to take place in Portstewart on May 17th 2019 at 22.30 local time. After a site evaluation I was more then content that this would be a good opportunity to undertake my first aerial fireworks mission. The display would be launched from inside the college at the corner of town by Nemesis Pyrotechnics, I found a location down range which I could fly from which was outside a congested area and which was fairly near the display and allowed me good visual line of sight of the drone. Furthermore my drone would be over the ocean during filming so all my safety boxes were checked, the weather forecast gave dry conditions and only a light Nly breeze so everything looked perfect.
I arrived outside Portstewart in the late afternoon, I was very early which was a deliberate act on my part, this way I could find a parking space before the crowds descended later. I had hours to kill so I had dinner then walked into town and back to my launch site for one final evaluation, I was happy with everything, now it was just a waiting game. During this waiting period I visualized my intentions, how I was going to film, my settings and how I would deal with an unexpected situation, what were the dangers?, the only danger was to the drone itself. If by some chance it malfunctioned it would crash into the sea and would be gone forever, this was something I was mentally prepared for but which I didn't expect to happen. A cold battery could cause the drone to auto land in the sea too so I made a mental note to keep my batteries extra warm in the van to combat this failsafe option. I decided the only real danger was from other drone users, in years past there have been as many as four or five drones in the air at the same time, many of which were unknown to each pilot, however I was launching from a different location than they would and my angle of approach would differ, furthermore drones can be seen due to their lights which makes spotting them much easier at night so the risk could be mitigated by careful observation of the skies. I also decided not to use my Mavic 2 Pro, instead I brought along my trusty Phantom 3 Advanced which had served me well for over three years of flying, in some ways this drone would be easier to use, it had infinity focus and the wide field of the camera would take in more action and provide more drama for close in shots to the fireworks if I dared to do so.
By 23.00 it was getting darker, I met photographer Nigel Mcfarland and together we descended to the shore line level with the sea and found a selection of suitable rocks to set-up our gear. Nigel would be shooting stills with his DSLR while I would do the aerial filming. The final half hour was a time of equipment checks and intense focus. Crowds had arrived and even a selection of boats had made their way over from the Bar Mouth lit up in the twilight to watch the show from the perspective of the sea which others don't get to experience. I wrapped my battery in a warm scarf and kept it in my pocket, I had the props on and checked the camera, gimbal and airframe, the drone was ready and so was I. The sky was atmospheric and the wind had dropped to dead calm, there was no count down, suddenly the display erupted into life. I deliberately didn't take off immediately, I figured the display would last 10-15 min's at most, the mid point usually has lesser fireworks however the largest were between the middle and end so I kept my composure, resisted the temptation to fly and used the time to double check everywhere as the dark sea lit up around from the reflections of the display, thunderous booms echoed off the rocks and college walls. After two minutes I powered up, checked battery temperature and voltage, my frame rate was 50 frames/sec, white balance sunny, video settings on auto, turned off the red arm lights so they didn't cause glare in the camera, I then hand launched into the vast night and rapidly took the drone up to a respectable height.
The next ten minutes seemed to go in so fast, I was so intent on filming, from watching my tablet screen and scanning the skies that I had no time to take in the display myself, the screen became my world. I decided I would keep the drone moving smoothly while filming to add extra dimension and interest to the footage, from here on instinct took over, it felt an honor to watch this display from the vantage point of a bird which no one else gets to experience, all I could see were the lights of Portstewart with explosions of light going up of various colours, combinations and sizes, it really was a great visual experience, here are a few still frames from the footage.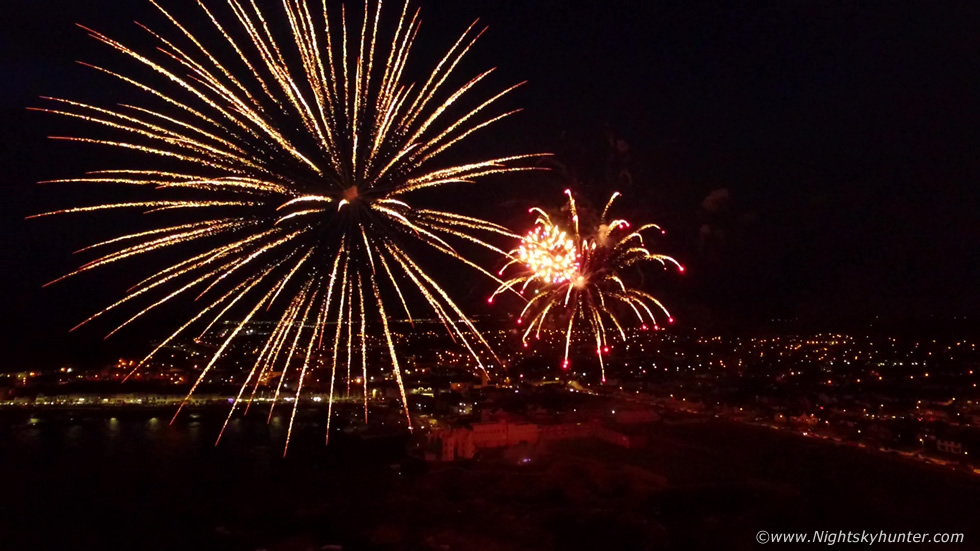 This became the highlight of the show, all the fireworks exploded within the same general area and with a similar flight path. However one misbehaved and shot out at an angle far from the others and erupted in spectacular fashion which filled the frame of the wide angle camera, it made for a striking moment as the drone slowly advanced forward, this moment made my night and completely justified the flight, make sure to watch the video below. To some this might look dangerously close to the drone, however in truth it wasn't at all, this was simply a trick of perspective, I could see the drone visually when this happened and it was nowhere near the firework explosion, but I was glad it happened for good cinematic content.
A random frame from the footage showing another aspect of the show, this was in the middle of a combination of fireworks of different height and colour, the speed and movement was spectacular to watch.
I was adapting to the experience quite quickly and honestly felt within my element, I shot various video sequences with the drone slowly moving forward, then backwards, and moving in left and right wraps using the yaw controls as the fireworks erupted in the sky. The auto video settings were doing a good job, the ISO was 1600 which normally is very noisy with this drone but due to the black surroundings this noise was not evident.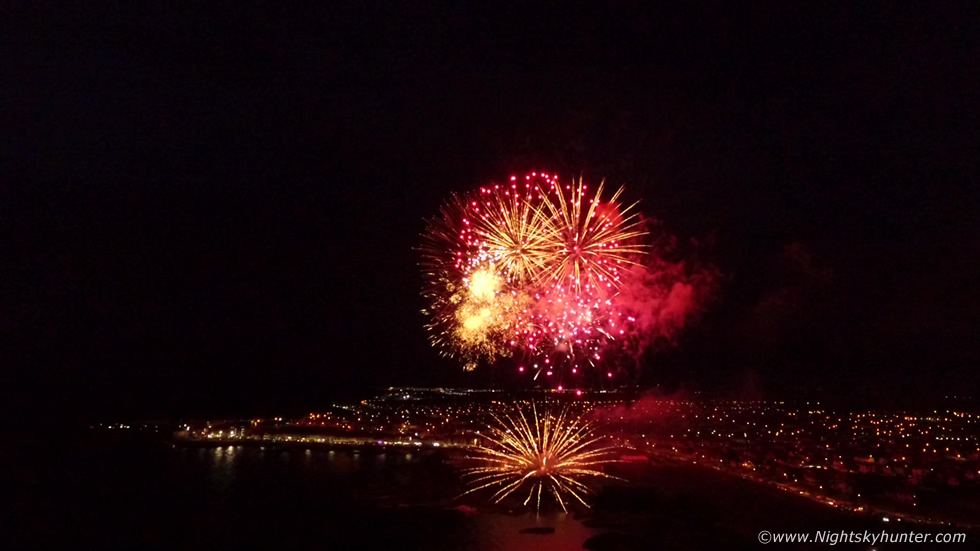 This was during the climax of the event, then suddenly the coast was plunged into darkness and silence descended, then the crowed roared and applauded and the show was over. I switched the red lights back on, I still had 34% battery remaining so all was good, I brought the Phantom in low across the sea and hand caught it while standing on a large rock near the water edge within darkness, the phantom had done a great job and had proved itself yet again. The filming was a success, I was happy and content with the results, if I had to do it again I think I would get slightly closer next time to fill the frame more but that being said I felt satisfied and thrilled by the chase. The flight complied with all CAA regulations too, 225m from congested area, max altitude 116m, max distance 400m and within visual line of sight due to green lights on rear of drone and spotter assisted thanks to Nigel.
Full drone footage of the Portstewart NW200 fireworks display, for best results please watch at 1080p HD opened on youtube itself, open fully and view from a dark room. I hope you enjoyed the report and the footage, with luck I will get another aerial filming session completed this year, thanks for watching.
Martin McKenna