Portrush International Airshow - September 8th 2012
This was my fourth year attending the Portrush International Airshow and this year I had two new companions with me to share the experience with in the form of my girlfriend Roisin - who had never been to an airshow before - and a Canon 100-400mm USM IS lens in conjunction with my Canon 450D so I hoped to get some sharp telephoto action shots to take back. The airshow was on Saturday and Sunday however we had no trouble choosing the former because the weather would be best that day and the famous Red Arrows where expected to put on a world class display at 17.00 so I was very excited about that as well as seeing Roisin's reaction when they arrived. Traffic was always a problem every year, this year the promoters anticipated 100,000 visitors over both days so we had no delusions about queues and mentally prepared ourselves for what we might encounter. We left very early in the morning and much to our surprise we didn't meet any queues or even a hint that something different was happening this day, in fact, the roads looked nothing out of the ordinary which was great for us. Once we made it to Portrush the traffic situation had changed considerably and it soon became apparent that we had made a very good decision by leaving early, we managed to find a parking spot near Dunluce Center however it required patience and a level head to get as there where hardly any spaces left at all and some of the drivers were simply arrogant beyond belief and almost driving us off the road just so they could past, I wondered if they thought Lady Ga Ga was to make an appearance such was the urgency of their driving...mmmm, we managed to get parked on a high grass embankment off the road and in good time too because if we had left home even 10 min's later we wouldn't have got parked at all. With driving pressures all gone it was time to get out on foot, relax, and have a fun day.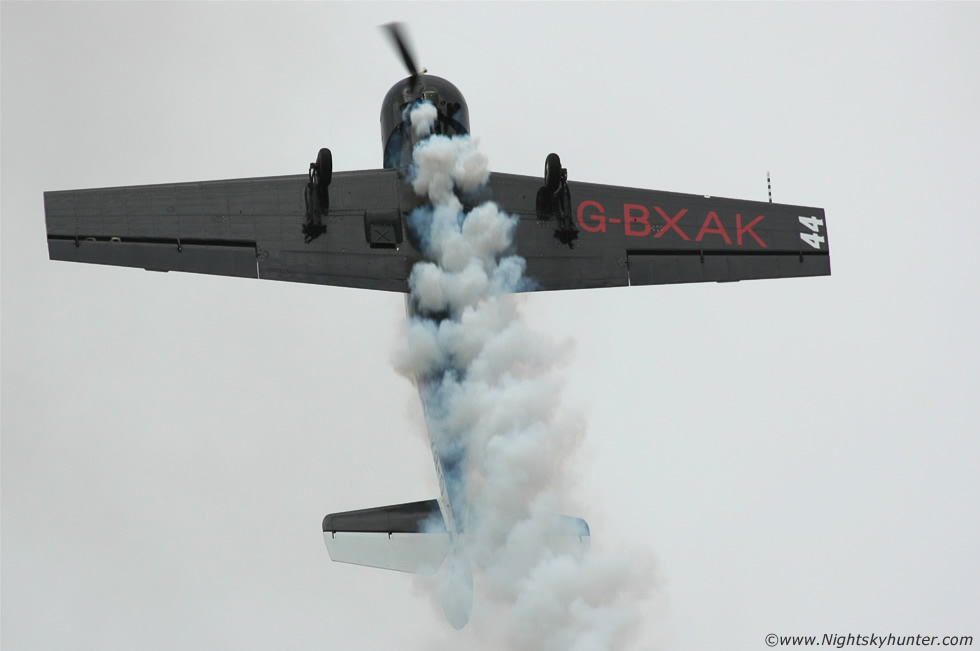 There was a big crowd with just the correct numbers to be able to walk around with some degree of comfort so we spent some time checking out the stalls and the military jeeps while enjoying a nice coffee, I had my usual Latte and Roisin had her Americano which went down a treat while we scanned around us and took everything in. The airshow started at 11.00 and from then on it was a fun but busy time as we navigated through a crowd which was getting more congested by the minute so we secured a spot near the rails looking across the beach and ocean where all the action would take place. Photography-wise I was mentally prepared and very focused on what I was doing but had great difficulty trying to find that sweet spot between shutter, ISO, and aperture. You can only do so much with settings however if you haven't got the light to work with then there isn't alot you can do and this was the case for the majority of the day.
The weather was nice and warm with a SWly gentle wind which was coming in from behind us from land to ocean and due to the layout of the coastline the greater part of that wind was sheltered so we ended up having a calm enough day which was fantastic. The only downside was the complete overcast grey sky which made every image look flat and undramatic and just when I had my settings worked out hazy sunshine would break through or else the aircraft would climb or fall from a brighter region of sky into a darker region, this constant changing made photography a real challenge, however all being said that's what made it fun too, you can learn alot from working in light like this. There was alot of single engine planes doing stunts, my favourites were the smoke producers which looked so much more dramatic like this one which at times would seem to stall high in the sky then fall to Earth while twisting in corkscrew fashion with crazy smoke effect patterns. I broke the rules of aircraft photography by shooting the underside of the planes, although in my defense the aircraft seemed to show more of their bellies than anything else so I took what I could get. Roisin really enjoyed all the older world war-style single engine and bi-planes, the pilot of the latter had his scarf blowing behind him in the open cockpit which was amusing to watch and put a smile on our faces as it reminded us of all those old war movies we had watched growing up.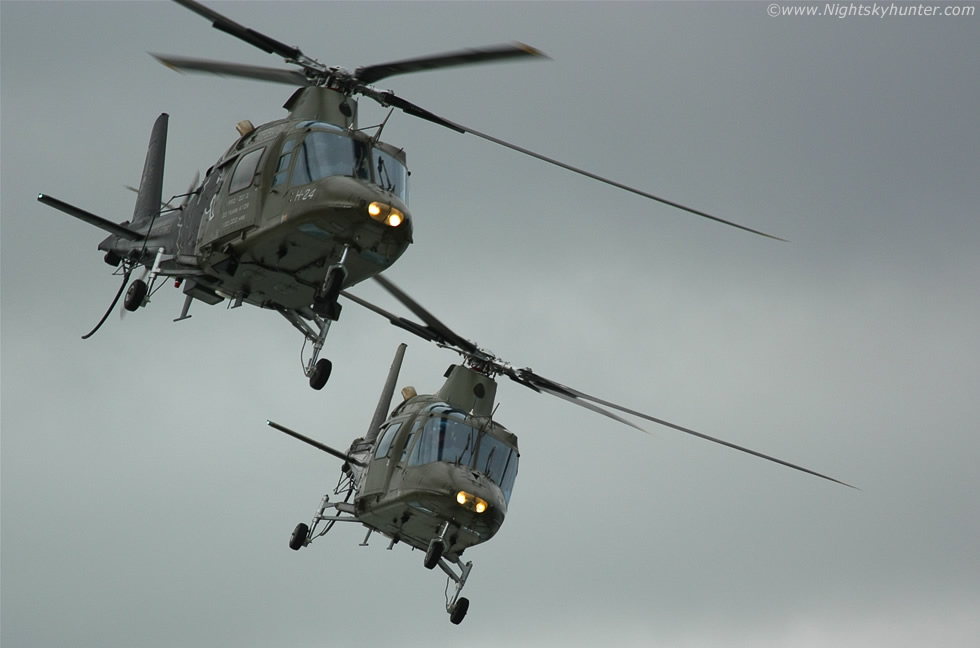 Later we had two aircraft from the James Bond movies and more single engine planes however one of the highlights for me were these two Belgian Air force choppers which performed nice smooth maneuvers over the ocean and which came quite close to the crowd too so fair play to them. I'm a natural fan of choppers, especially the military choppers after growing up watching Airwolf and Blue Thunder on television every Saturday afternoon so I'm always pleased to see anything big with a rotar. The dark grey sky actually aided this image because it caught the choppers in their real natural working environment making for a nice moody scene.
Swooping down low over the crowd. Aircraft photography can be difficult and especially so with choppers because you want to have a fast enough shutter speed to freeze the aircraft body but slow enough to show some degree of motion blur on both the main rotar and tail rotar, it really is a delicate balance and I would have liked a little more blur on the main rotator here.
My favourite chopper capture of the day, this is a crop from a 400mm frame showing great detail in the fuselage with motion blur on both rotars and fabulous atmospheric effects from the exhaust which really captivates the heat and power of the twin engines.
Another interesting event was the beach assault by the Royal Marine Commandoes. This display is on every year however I always enjoy it as it presents a few good photo opportunities, especially if you are standing close to the action. The situation was that Pirates armed with weapons where holding innocent people hostage on the beach so the Marines arrived by boat and made their way from sea to land where they engaged the Pirates in a mock gun battle. Here's a shot showing one of the inflatable boats battling with the waves while the Commandoes got ready to bail out.
Treading deep water as they made their way towards shore with weapons at the ready as the boats headed back out to deeper water to get 'cover' from small arms fire.
Looking the part with assault rifle butts in shoulder and barrels lined up and ready for engagement with the enemy. As a civilian this makes for a very rare opportunity to be able to photograph soliders in action, it's hard to believe that there was a time when scenes like this where happening for real in this country every day and night!
A deep crop from a 400mm frame showing one of the Commandoes on the beach, at this stage they were engaging with the pirates in a gun battle with blank bullets. I like this one because of the shell caught in mid air after being ejected from the mechanism.
There was alot of gun fire and Roisin was enjoying it as much as I was, it was entertaining stuff and a nice change of scene between aircraft performances. I normally don't photograph the back of people however I rather liked this scene with the Commando charging through the sea with big splashes of water, he has his magazine in one hand running while in mid-magazine change before putting down more mock fire towards the W side of the beach, the Pirates surrendered and the hostages were rescued so it was a good day for everyone.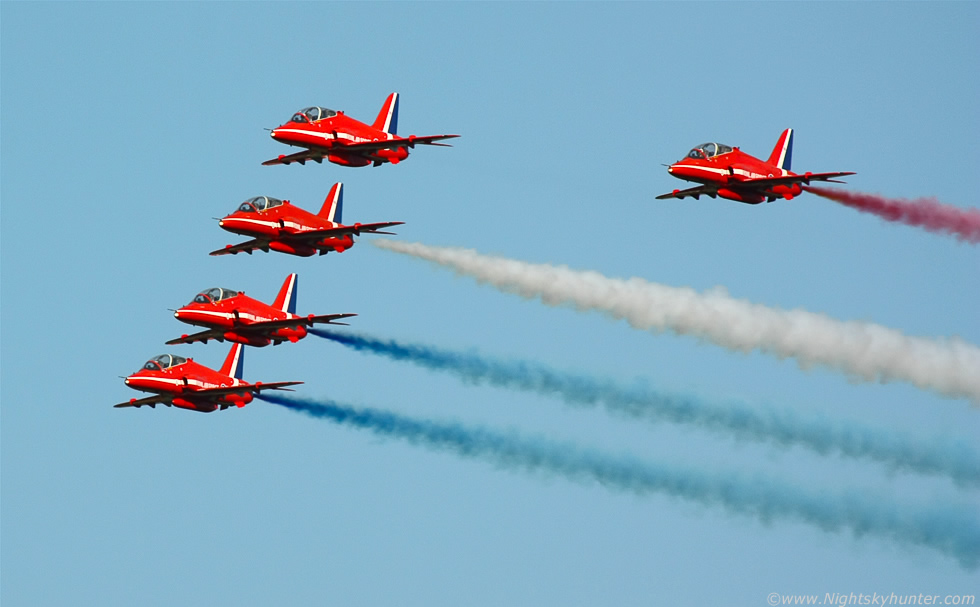 The day was busy and hours of tracking and shooting aircraft moving all over the sky with the heavy lens was taking its tole as my shoulders and neck began to ache so we decided to take a break and change location as it would soon be time for the Red Arrows. We began walking E through the crowd with the intention of getting to Ramore Head however the crowd was so dense it was like walking through a river with the current flowing against you so we decided to change plans and walk W and ended up finding a great location near Black Rocks on high ground on top of a cliff with rough grass which provided us with a much needed natural seat. We were watching the skies intently because the grey cloud was starting to break with sunshine and generous gaps of clear blue sky - talk about perfect timing - now we had a blue background which was perfect for photography offering greater contrast and colour, I just hoped it would hold out until the Red Arrows appeared. They abruptly arrived from the S behind the crowd while soaring over the buildings making a beeline for the sea, I had my settings worked out in advance and turned around and snapped and tracked them, these would be my best images of the day and my best Red Arrows images to date, however little did I know it then but something was wrong, the first clue was the smaller number of jets compared to usual however I didn't pay it much heed and just enjoyed the epic show which was about to unfold.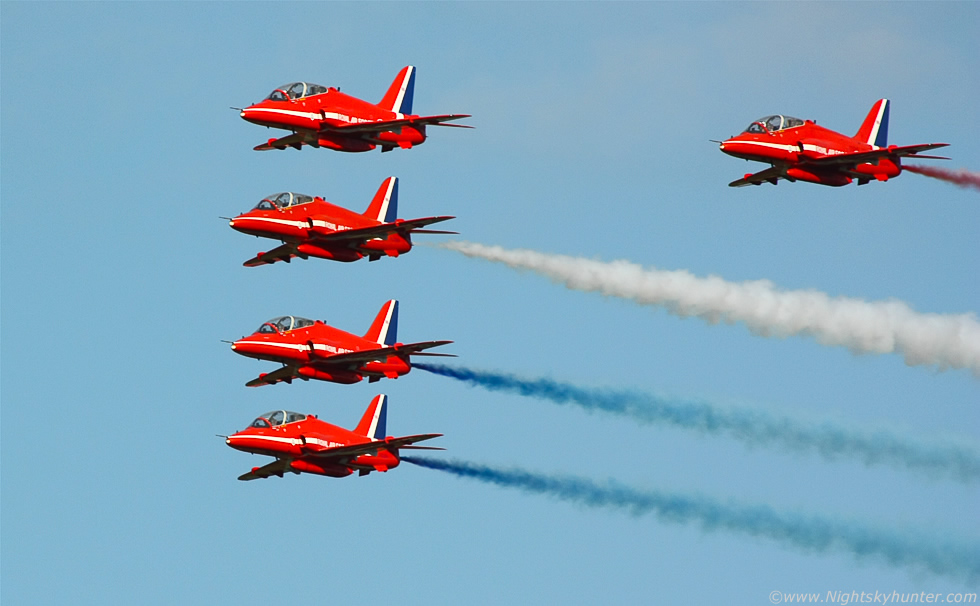 Talk about perfect conditions against a blue sky in the late afternoon sunshine, I couldn't have asked for better, the last time I saw blue sky sections with the Reds was back in 2008 but each display ever since was overcast so I consider it rare enough to get these photogenic conditions.
One of my favourite images from the day, just a pity the nose was cut off the lead jet
It's a very delicate balance between aircraft and background sky, the exposure has to be just rite, make an error and the sky can get blown out very easily destroying the scene, luckily I got the balance sorted because I had been taking alot of images of the single engine planes before this which where also passing through segments of blue sky so I managed to find the sweet spot just in time, however it took a lot of images and constant attention to the camera and sky to work it out.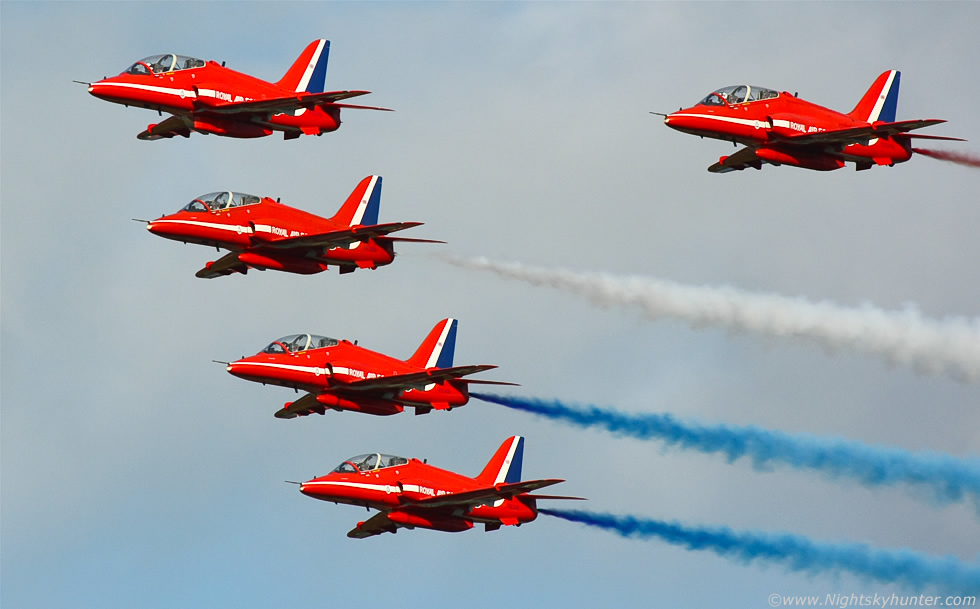 The entire display passed over the ocean, two Reds broke away and the rest headed out to see, we thought they would come back however they vanished over the horizon and never returned, it was obvious at this point that something had gone wrong, the announcer was explaining things but for some reason we couldn't make out a word he was saying so we had no idea what had happened. We later found out that one Red had a fuel pump problem and another had a bird strike so both had to head back to base accompanied by the other jets for safety, it was disappointing however it was also a great decision on their part because after loosing two Red Pilots to accidents within a year they were better leaving nothing to chance and playing it safe, thankfully none of the pilots got hurt which was a very close call indeed!.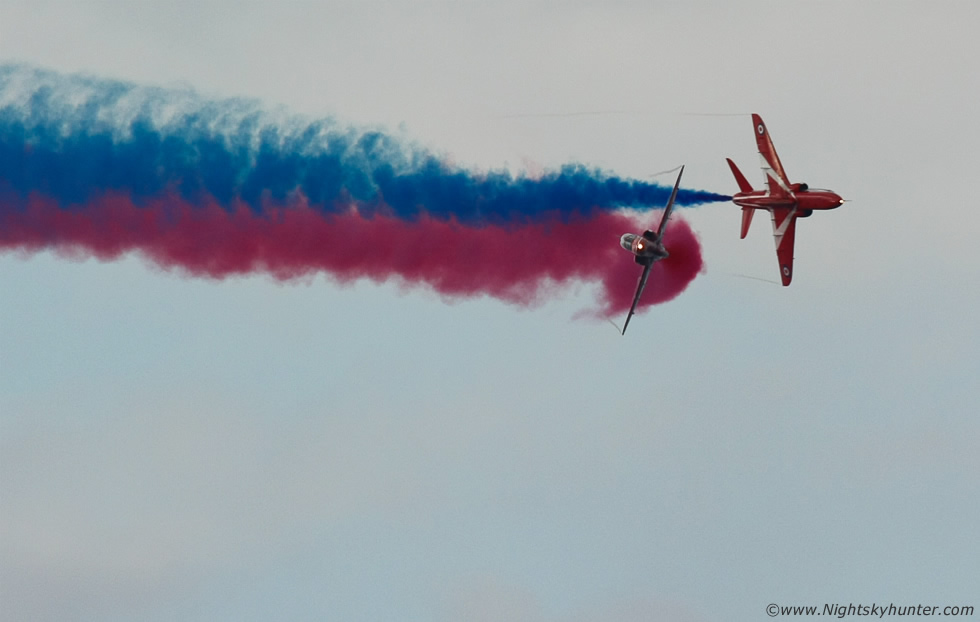 Amazingly two of the Reds stayed behind and put on a short but dramatic show for the crowd miles away over the sea. This act alone shows the character of these pilots, not only had they been suddenly split up and had two incidents which could have lead to disaster, as if that wasn't nerve breaking enough they decide to stay and put on a two man show for the crowd anyway!, these pilots truly are amazing, highly skilled, brave, and always thinking of their fans. They performed a series of head-on passes playing chicken which really got our adrenaline pumping, especially when the roar from the engines reached the beach, this time I heard the announcer, he said the Reds were flying at 850mph.
I have to say that even with just two jets they still looked amazing. Later the Red Arrows officially apologised to Portrush Airshow and explained what happened and ended by saying that they hoped to make up for it next year with a 'great show for Portrush', I can't wait to see that!.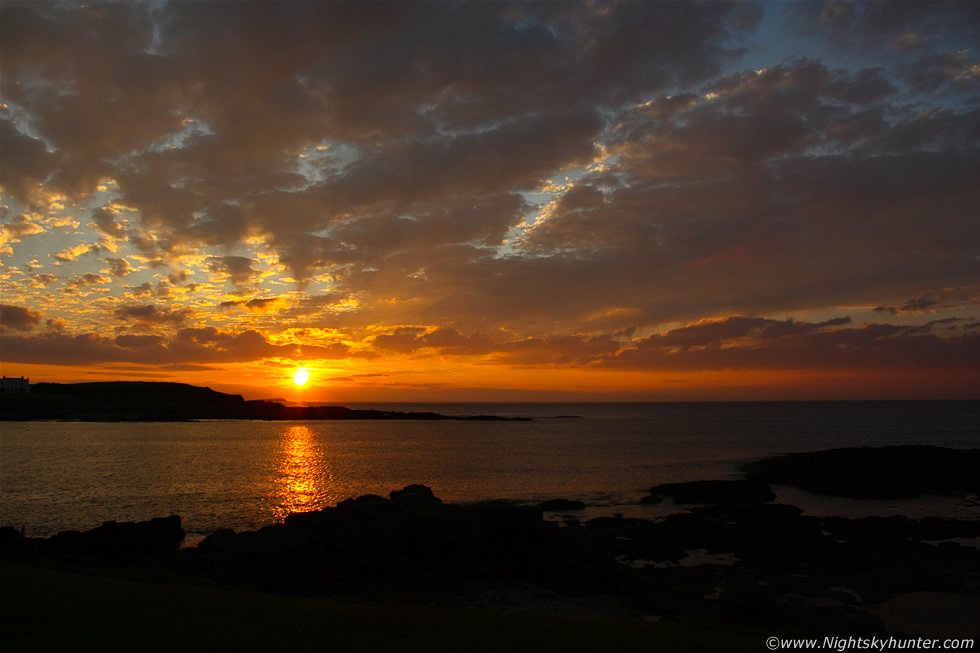 The crowd began to make their way back to their cars and so did we, however with cars parked at both ends we had to sit and wait for their owners to return before we could get out, it was a gorgeous sunny evening however so we both just rested and enjoyed it. We had no intention of going home yet as the roads would be chaos with all that traffic so we decided to hang about at the coast for the rest of the evening. Originally we were going to attend the dusk pyrotechnics display which involved aircraft issuing flares and fireworks from their wingtips against the twilight sky and all performing to music followed by an evening concert. That sounded great however we were both hungry and tired from standing around all day so decided to give it a miss. We got a nice takeaway in Bushmills then ate it at a secluded location in Portballintrae which was a treat and after all the hustle and bustle of the crowds it was great to be in peace once again out in nature. Just after we finished eating this beautiful ocean sunset unfolded with golden glitter path on the sea and orange solar disk with warm alto cumulus clouds above with clear blue breaks between and soft sun rays fanning across the clouds, this was the view at 18mm.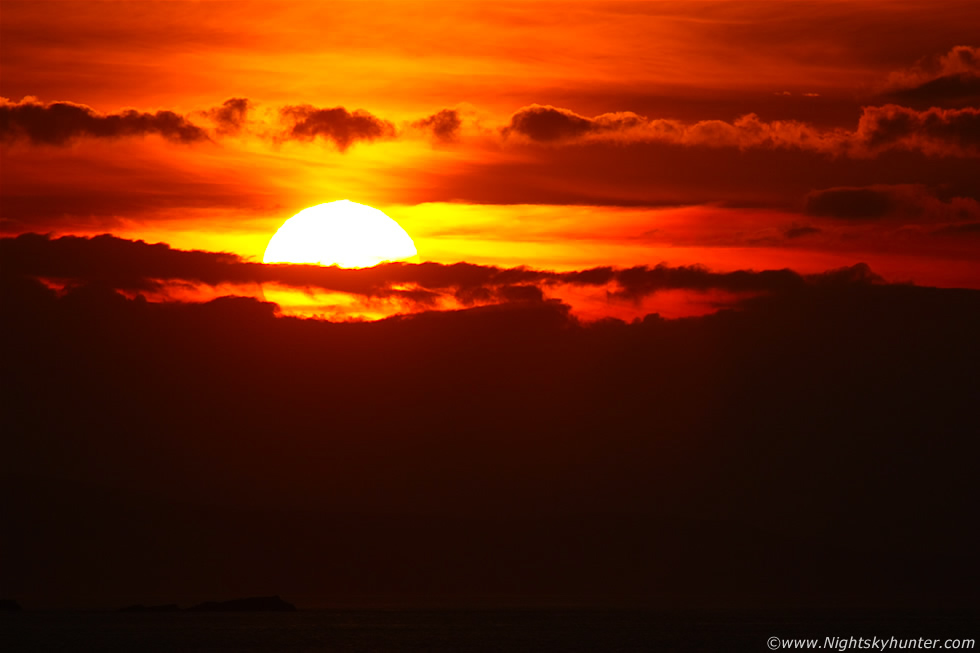 The Canon 100-400mm was back out in business once again and it did a great job picking out the sun's disk before it set into a dark bank of clouds. You can just about make out the ocean horizon below along with a few islands.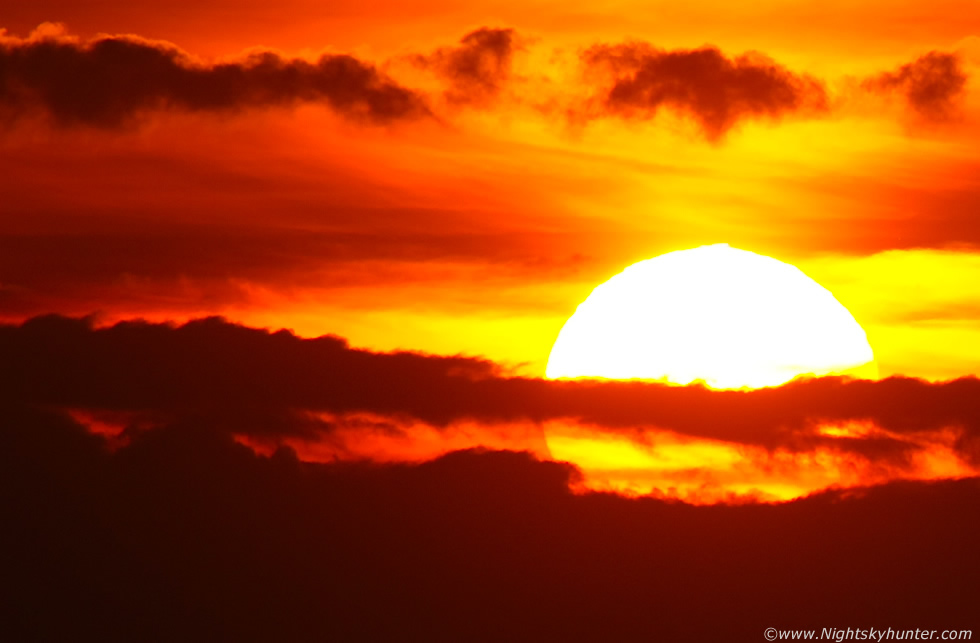 A deep crop from the 400mm frame showing the atmospheric distortion on the northern tip of the disk as the sun entered more dense air with greater scintillation, what a beautiful way to end the day. As dusk began to fall we went for a walk along the beach with the blue twilight sky reflecting on the ocean which was in a content and gentle mood as the stars came out overhead. I had a strong feeling their was an aurora so we checked the internet and found that mid latitudes were on amber so that meant there was an aurora visible here, as soon as the sky darkened we could could see it quite easily from this very dark location as a large featureless enhancement to the night sky with a subtle green colour evident to the eye, I didn't get any decent images as clouds rapidly moved in however the visual scene was enough. The last thing we saw as we walked across the deep sand in pure darkness was the Summer Triangle with incredible Milky Way structures before the clouds swallowed up the stars and it was time to head home just in time for midnight. What a fun day - airshow, a beautiful sunset and aurora all back to back and all for free. I can't wait until the 2013 airshow, I wonder what it will have in store?. Thanks very much for reading.
Martin McKenna