Impressive Co. Tyrone Thunderstorms & Omagh Updraught Beast - June 15th 2020
I was still buzzing from the thrilling chase we had the day before at Mullaghmore in Co. Sligo when seven of us storm lovers from Ireland and N. Ireland all converged on the west coast to watch an evening of the best storms we had experienced in years. I came back late that night at 23.30 BST and despite feeling tiredness creeping in from the long drive I was surrounded by what I call the 'nature glow', that wonderful warm glow that we feel when we experience something exceptional from nature. That glow is not a common sensation, it only happens during special events such as a sublime aurora, an exceptional Noctilucent Cloud display, a beautiful comet or a wonderful thunderstorm cloudscape, on this night I was glowing for the first time since the two sun halo events captured during the early part of lock down. What all this meant was I wouldn't be getting sleep anytime soon, and besides, I had to get all my gear prepped once again for the following day which looked like another great set-up. It took me until 02.00 BST to get all the images off my three DSLRs and Mavic 2 Pro, and video off the Go Pro and phone, to format the cards and recharge all the batteries. I had no room left on my lap top so all imagery from the time lapses had to be transferred onto my external hard drive and the images all cut and pasted into different folders with appropriate names so I could organize all the time lapse sequences, all this can be tedious and time consuming however it makes life much easier when I begin to edit and render on the days ahead.
After all this was done I enjoyed a spicy lemon and ginger brew and stepped out into the backyard. The big storms earlier had generated significant moisture and despite feeling warm and muggy the expected clear night had been replaced by fog, I could see it like an eerie apparition drifting past the streetlights, there would be no NLCs tonight. I took a last look at the models, tomorrow looked to have great potential yet again with 1000-1300 CAPE, LI's -4, the surface flow was a slight NEly so cells would be moving W/SW, the flow was very slack so once again very slow movement which I liked, temperatures were expected in the 23-25 degrees C range again with high dew points. A marked convergence zone, solar heating, and orographic lift looked once again to be the focus point for initiation with perhaps several zones of sea breeze convergence in place. Shear looked strong and very interesting, the highest CAPE looked to be in the midlands and west which was overlapped by 20-25 knots of DLS until mid afternoon, this would be strong enough for multicell storm modes however by early evening the shear would increase across the east and midlands and at that stage would overlap the big CAPE values during prime heating with up to 40 knots of DLS, this was certainly strong enough for transient supercell type forms. Convective weather had issued a slight risk for my target area and with that I went to bed and fell into a happy sleep with memories of thunder in my head.
I was up early the next morning, I placed all the gear in the van with two camera bags and tripods on the passenger seat all ready to grab just as I had done the day before. I filled up my water canteens and a few snacks and aired out the van, I was ready to go anytime I needed. As I ate breakfast I studied the latest model updates online. The Met Office had issued a yellow warning for thunderstorms and once again TORRO had issued a convective discussion with convergence derived tornadoes mentioned. Unlike Sunday morning which had begun sunny and warm today the sky was filled with fog, in the one hand this was good as there would be plenty of juice for storms to feed on later however on the other hand if it never cleared then solar heating couldn't get to work and that would stop any storm development at all. Looking outside I could see the white disk of the sun well up in the east and I could sense it would burn away the fog in due course. My target area today was the Tyrone-Fermanagh-Sligo region although I was hoping I didn't have to travel to the west coast again so soon, especially if there was a chance of good action closer to home. Just after midday I noticed a signature on radar over the Sperrins, it was still foggy in Cookstown, so I decided to have a look, I drove to TESCOS and topped up with more diesel and from there I saw two large gaps in the clouds with blue skies and within these were updraught towers looking sturdy and mean, now they were obvious on radar. I couldn't believe it, literally two areas opened up in the fog and solar heating produced big updraughts that fast, it was game on.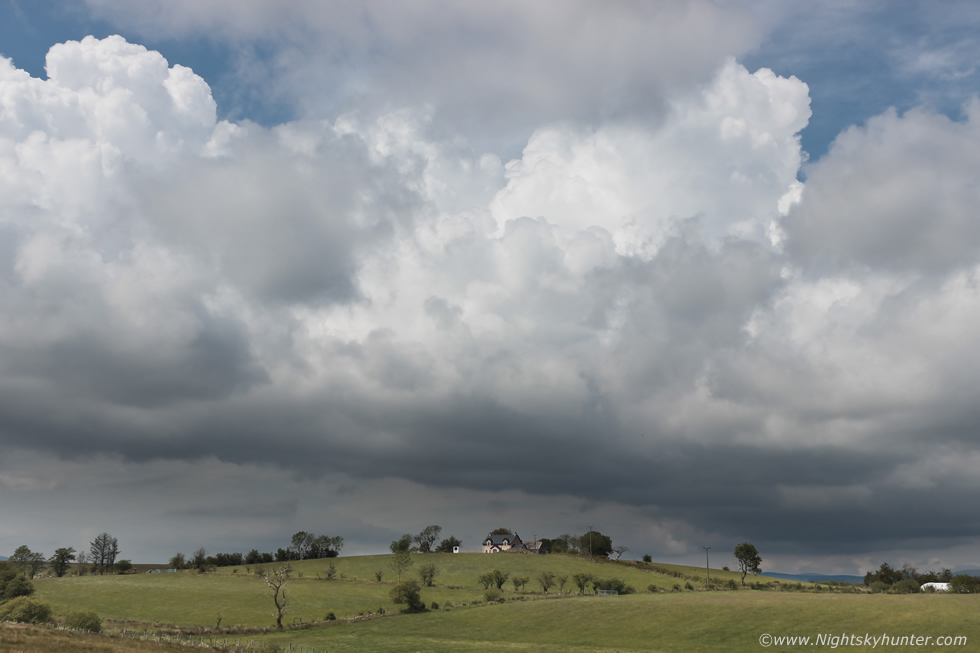 My adrenaline increased and I mentally went into chase mode. I went back to the house to sort out a few things then hit the road and suddenly all the fog was gone and I was under blue skies and hot sunshine. I headed out the Omagh road which offered great open vistas for watching the sky, based on the charts my plan was to document initiation here then follow the convection SW as they matured into storms, I figured I would likely end up in the Enniskillen area. Once I entered what I call the 'Mid-Ulster Plains' I could see very impressive convection spanning all the way from the W Sperrins, across the road, and disappearing into the SW, multiple towers over a convergence zone, all of them begging for attention, I didn't know which one to look at first, they covered the entire skyline. The convection was bubbling keenly and brilliant white in the strong sunshine, I decided this scene was too good to pass up, these were clearly the birth of storms to come, I wanted to time lapse this magical process. I found a tiny lay by on the side of the road, grabbed the 600D, climbed over a gate and once again ended up in a random field I had never been in before. Even though the sky was full of convection in one long line I chose this area straight in front of me, this farm house located on the top of a hill made for a nice country scene so I began my first time lapse here. The shutter began clicking then I sat back in the warm grass and watched the atmosphere evolve.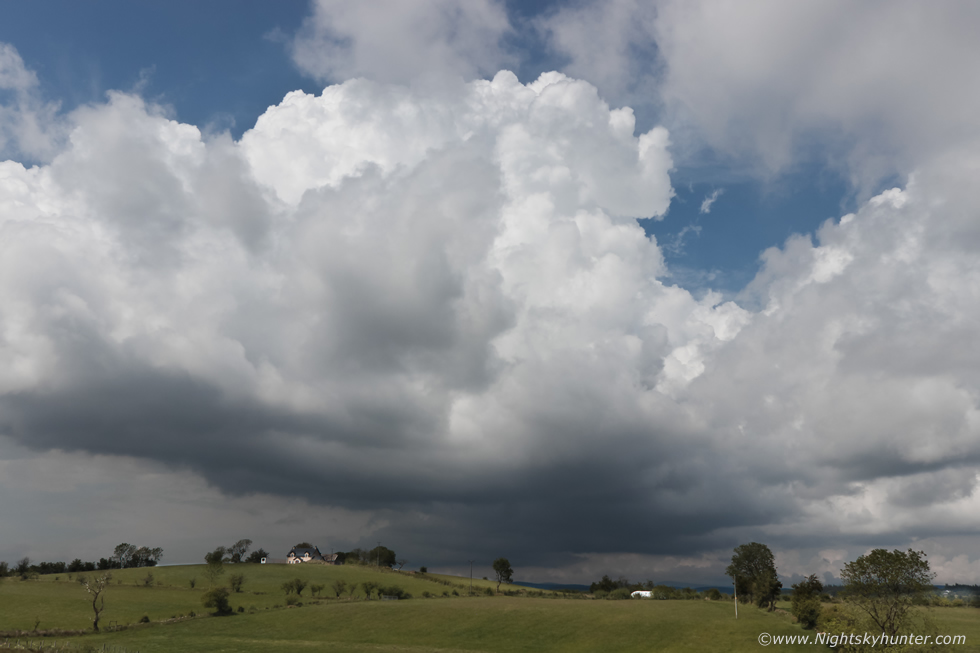 It was roasting hot, the sun was intense and the air felt close and humid, it felt like a perfect storm day and once again I was in my element resting in a beautiful field with convection boiling up while catching a tan in the process, I live for moments like this, I think about them all year, literally counting down the days until Summer arrives bringing with it warm weather, T-shirts, thunderstorms, Noctilucent Clouds and balmy nights. Suddenly a rumble of thunder broke the tranquility of the countryside, the thunder was deep and came from high up, it was from this very updraught I was shooting, it must have been a discharge from inside the tower, I had just heard my first thunder of the day and it was only 13.00 BST.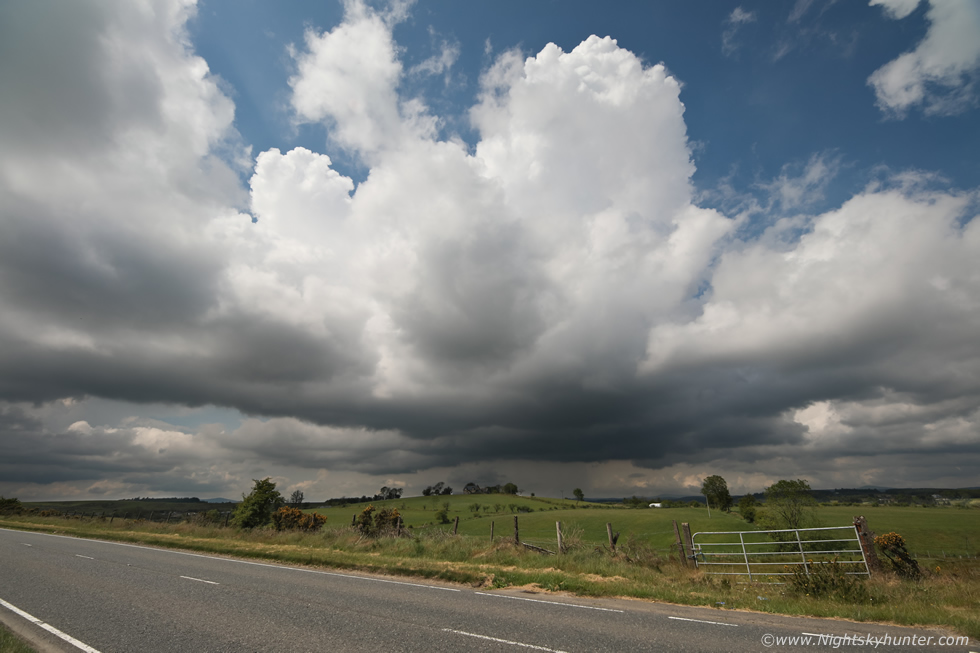 I climbed back over the gate (pictured here) and grabbed the Canon 5D Mark IV with 15mm wide angle as the convection got too tall for the 18mm. When you watch the birth of a storm you are witnessing something very special, to me a storm is alive, hence why chasers call them cells, each cell is unique and no one knows for sure exactly what it will look like or what it will do, watching its birth and maturity is like being invited to watch the secrets of nature on an atmospheric stage, at least that's what it feels like to me. I love this scene with the convection over the Co. Tyrone countryside with the road leading into the distance, I would be heading in that direction shortly. The base grew dark and light precip can be seen falling on the west side of the updraught base, I filmed a few vlogs with the phone and messed about taking several selfies with the clouds. It was early afternoon and the heat was really something, especially beside this tarmac road which seemed to radiate the heat ten fold, I was sweating like mad and could feel the sun burning my neck, it really was very close and humid, I kept myself hydrated then decided to get back on the road again.
I needed to get further SW, my intention was to follow this cell and get on any later cells so I drove west long the Omagh Road, normally I would go through the town and into Kesh as my next stop however I considered that a little to far west, I needed to be south west so on an instinct I decided I would just take the first option in town and head out the direction to Enniskillen. That decision ended up being made for me because the road was closed ahead due to road works and a diversion sign directed me to the left so I took it, it was taking me south west anyway, from here on I was in the flow and just seeing what would happen.
It was here that the adventure began, I took the detour and drove along sweeping back roads, crested hills and dived into dips as I made my way south west through the countryside, the sun was shinning and I was in top form. I pulled into a filling station in a small village which I can't recall the name of, I remembered seeing a nice church which I made a mental note of for a future night shoot, then got a few snacks to top up my own energy and keep hydrated. I moved on and spotted the same cell I had watched earlier, it was now producing a heavy core and I drove through it, the first rain I had seen all day, I was only in it for a few minutes then appeared through the other side with little fan fare, there was no more thunder however the cell had a nice compact base with interesting texture so I pulled onto a grass verge and watched for funnels for a while, for some reason I had bought myself a packet of honeycomb pieces, I must have needed a sugar hit, little did I know I would be needing it soon. After a period of observation I began to get a feeling the day was going to bust, despite the strong solar heating I wasn't seeing much more in the way of developments, in fact, it looked like the atmosphere was still largely capped. I wasn't too annoyed after seeing such nice convection earlier however it was way too early to give up yet so I decided to just wait and see what happens.
I went back to the vicinity of Omagh then took a back road until I was somewhere in the middle of nowhere, my intention was to find a mountain and just watch for new towers but suddenly a new cell came into view out of nowhere, I didn't see where it had formed, it may even have been the same one I was under earlier but now it looked mean with solid clouds, a darkening base and heavier precip breaking out, there was a hint of structure so I decided to give chase. What happened from here until mid afternoon is a bit of a blur in my mind, the drive went from relaxing to intense and the ante was dramatically raised as the cap broke and things rapidly happened. All I know is that I took a lot of back roads, chased my own tail a few times, ended up on roads I had never seen before or roads unsuitable for my van, for some reason I seek these places out in the hope of discovering a cool vantage point for storms or perhaps to stumble across some new foreground to compliment the images, it's this unknown factor, literally from one minute to the next, which makes storm chasing so exciting. I know I was between Fintona and Trillick, I took minor roads, I take these to avoid busy traffic and to find peace, but the road went on for miles and was so narrow the hedge branches were scrapping both sides of the van, there was barley enough room for the van at all, furthermore my good sat nav was not showing me the names of these minor roads and I saw no road signs either, I came close to being lost. I reversed into a gap in the road beside a cool looking abandoned house then a tractor passed, I asked for directions and he pointed me in the rite way and I was back in action, I spotted the cell once again when I cleared the trees and I was back in the flow, I made a beeline for the cell as it was now looking serious business.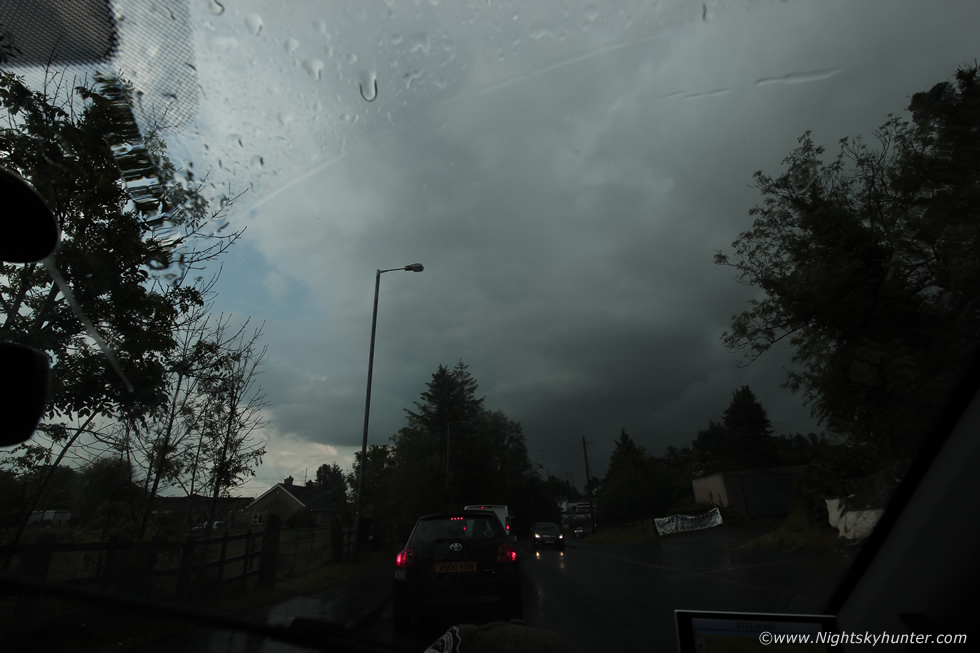 I was in the Ballinamallard area and had just got a glimpse of the flanking area of this developing storm, I was stuck in a traffic jam due to road works and stole this quick shot through the windscreen. I really liked the look of that structure, the updraught looked tilted with bulges along the mid section like a bell shape, to me this cell had supercellular traits, by that I mean it was strongly sheared and organized. When the lights turned green I raced out into the country expecting to get a cool structure shot over a nice field, but that didn't happen, there were no road options to get me in the correct position, in fact, the road was taking me in a curve rite into the precip core where I didn't want to be, I didn't have the patience to turn back and sit in another que so I just went with the flow, I lost sight of all structure and ended up inside the core. I didn't think it would be a big deal and that I would be out of it soon but that wasn't going to happen. What followed was 20-25 minutes of frantic driving through an incredible rain core with full-on torrential rainfall, the roads became saturated and the rain drummed loudly on the roof and bonnet, then the roads began to flood, I could barley see out the windscreen with wipers at full speed, lightning flashed and thunder rumbled and cars began to pull off the road but I kept going, I wanted out of this core for structure.
Paul Martin rang to kindly tip me off to a good looking cell and as it turned out it was the one I was under now, he said the core on radar was massive and white, I could barley hear Paul's words over the loud torrent of rain, I drove over hills, through flooded roads, waves of water sprayed up over the bonnet, on two occasions the van tried to aquaplane but I recovered and slowed down to accomodate the conditions. The rain kept hammering down, I felt like I was trapped under this core, it seemed no matter what direction I went I was still under it, it was the worst core punch I've had in years. Then just as I was making progress I got stuck behind a slow car on the back roads, the person was obviously too frightened driving in such heavy rain so I had to trail them at a slugs pace for a long time before I could pass while all the while lightning flickered embedded inside the rain, this was a good storm but I would rather have been outside it.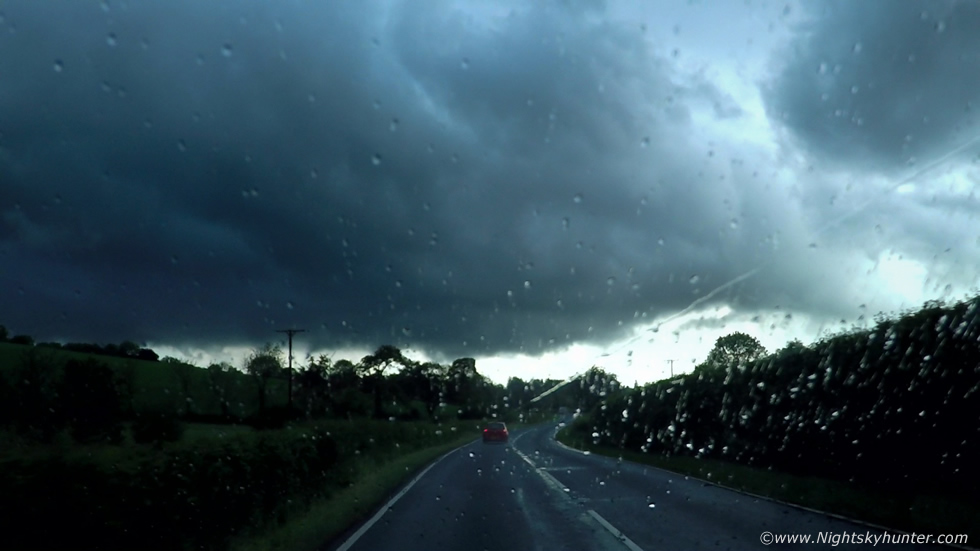 I began to clear the core after an eternity and got a glimpse of the storm's flanking area and the structure looked promising. That's the updraught base dead ahead and I was fairly certain that not only did I observe rising inflow but there was also some kind of rotation. The above and below images are frames taken from the Go Pro footage.
I'm fairly confident that's a shallow wall cloud below the updraught base. A wall cloud is an abrupt lowering below the base where warm inflow is being ingested into the updraught, the storm is breathing in air and you are witnessing a visual manifestation of that process which can only be seen when rain cooled air near the core condenses to form this visible lowering of cloud. Wall clouds can be rotating or non rotating, the former can be a precursor to funnel cloud or tornado formation, wall clouds are not a common sight with storms in this country, I haven't see many anyway.
Now that I had seen structure I wanted to keep it in view, my sat nav shows a display of the road network all the time so at a glance I can tell where I am and what road to take. I had an option, continue straight ahead or take a left, I took a left down a minor road, I hoped it would present me with a place to pull over and a nice open view of the storm and not be lined with trees. It was full of trees but by now I was committed, I drove along the road which was either surrounded by trees on either side or the few gaps which did appear where rite beside someone's house or else power lines criss-crossed the fields destroying any view and photogenic potential. I passed farm houses, woodland, flooded roads and finally emerged just in time to pull over with an open view. By this time the updraught base had lost its best look and the storm was outflow dominant and heading my way with lightning, I decided to get ahead of it incase it formed a shelf cloud.
I got five miles ahead and couldn't get a decent view for images yet again, this was frustrating, the only answer was to get the drone up. I ended up in the middle of nowhere on narrow back roads, the countryside was beautiful as I passed Horses and Cows grazing in lush fields, I saw a tiny gap in the trees and squeezed the van into that. There was enough of a clearance to get visual line of sight, it looked like ancient ground here and in the corner was the remains of an old car half buried in the ground, it was like some bizarre relic. I got the Mavic 2 Pro in the air, cleared the trees, climbed to 80m and could see the storm approach, a large area of sky was covered in a dark blue rain core/outflow boundary, I could see flashes of lightning and hear the distant thunder booming, it wasn't photogenic but it was still a storm, I yawed the drone to the west and there was a new storm with intense precip core perched on the hills near a row of wind turbines, it looked mean and I saw in-cloud lightning on the screen, I would never have known about it without the aerial view of the drone. An elderly women walked past me and wondered what I was up to, we had a friendly chat about the storm and what I was doing and she seemed fascinated. I did two flights here then decided to move on.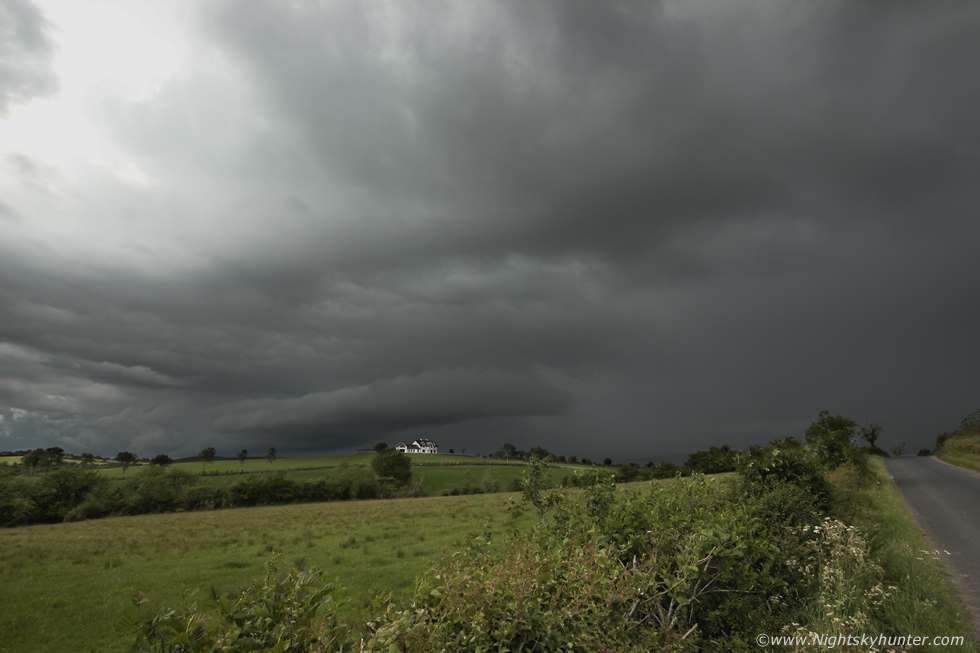 I came to a cross roads with no signs and again nothing on the sat nav, I didn't know which direction to take, I took the left and ended up on a tractor path, I turned and went another road and ended up meeting the elderly women again so I stopped and asked her for directions as quite frankly I didn't know where I was, following her advice I headed NE and made it onto higher ground and finally I cleared the trees and I felt like I could breath again. I pulled over when I saw this, that was the same storm the drone had spotted, now it was on me. I stepped out of the van and experienced the most terrific crack of thunder I've heard in years, it was loud and sharp, it was fantastic, of course I wasn't filming and missed it, this is a wide angle capture of the storm moving L to R with interesting structure in the updraught region above the house on the hill. It seemed the atmosphere had exploded and there were storms going up everywhere, I wonder how many I had seen already, three or four?, I was starting to loose count in the chaos.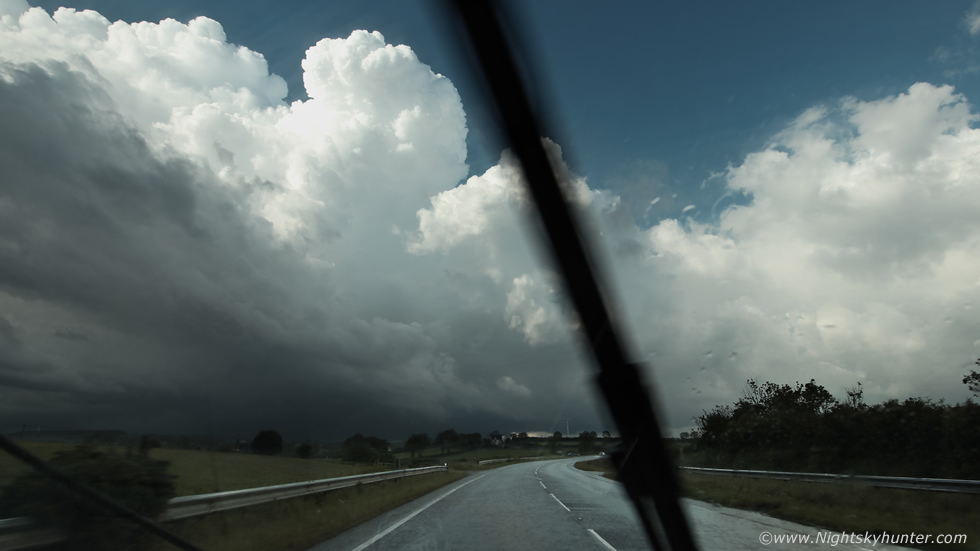 Suddenly I got another text message from Paul Martin who was on Pigeon Top outside Omagh and was seeing huge updraughts, the text was wrote in a very excited tone. It takes good quality storms to impress Paul so I knew rite away from his tone that something exceptional was happening so I said I would meet him there, I wasted no time and drove as fast as I could in the direction of Omagh. Once I cleared another core the storm Paul was talking about came into view and when it did I was blown away, this storm was a beast with a well defined rain free base hugging the ground and complimented several huge updraught plumes pushing skyward like nuclear bombs. Paul wasn't kidding, these were serious updraughts exploding as they ascended through the upper Troposphere taking advantage of over 1000j/kg of CAPE during maximum heating and now tapping into that 40 knot shear aloft. This is a sneaky hand held shot with the 5D Mark IV at 15mm wide angle, this doesn't even do justice to how massive this looked in person. Pity about the wiper in the frame but at the same time it adds an interesting element which captures the moment of the chase.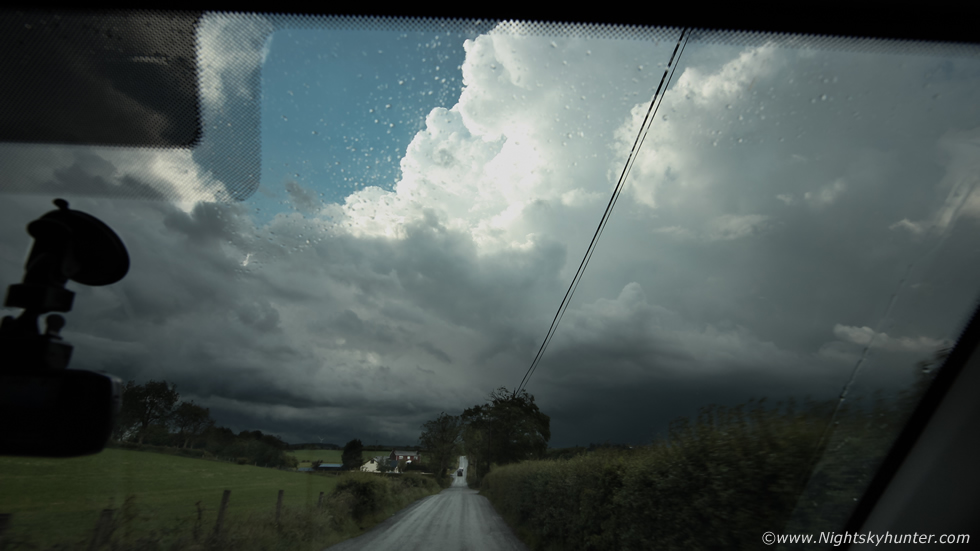 I exited the main Omagh road and was now navigating the back roads which led to Pigeon Top. Another 15mm shot through the windscreen, fantastic looking storm structure with rock solid updraughts leaning over, the convection looked like it had biceps, there was no question that this was the storm of the day.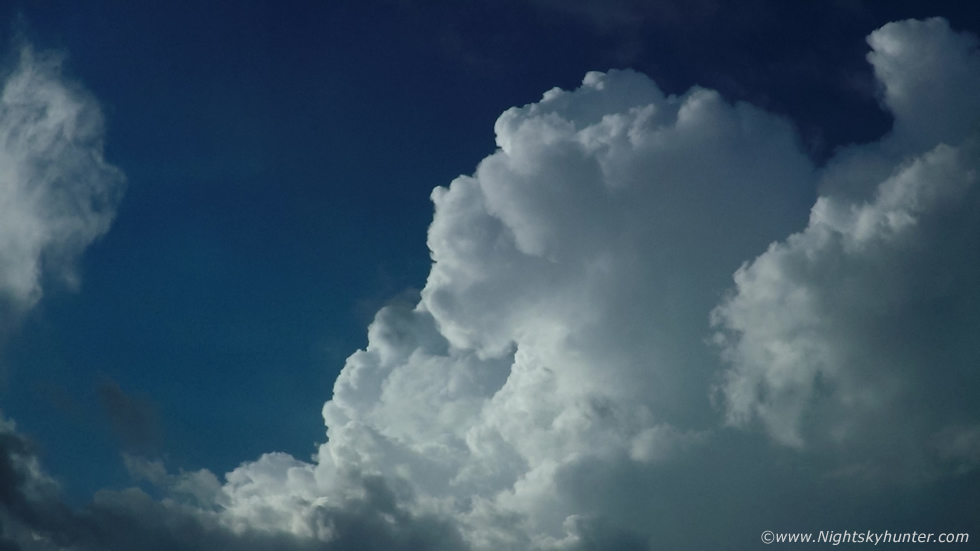 I ascended the steep mountain road, the van rocked and bounced over bumps and dips, at one stage it landed with a penetrating thud which sent a shockwave through the steering wheel, I ended up breaking a spring in the front right wheel although I was unaware of it at this time, however it was worth it for a sight like this. The window mounted Go Pro was pointing at the zenith as I drove at a swift pace up the mountain, the updraught plume was phenomenal, it looked like a scene from the States, you really had to have been here looking out the windscreen and see what I was seeing, the depth from this storm from that low base to the top of this plume was outrageous, I would say with great confidence it was the largest most impressive storm updraught I have ever seen in my life.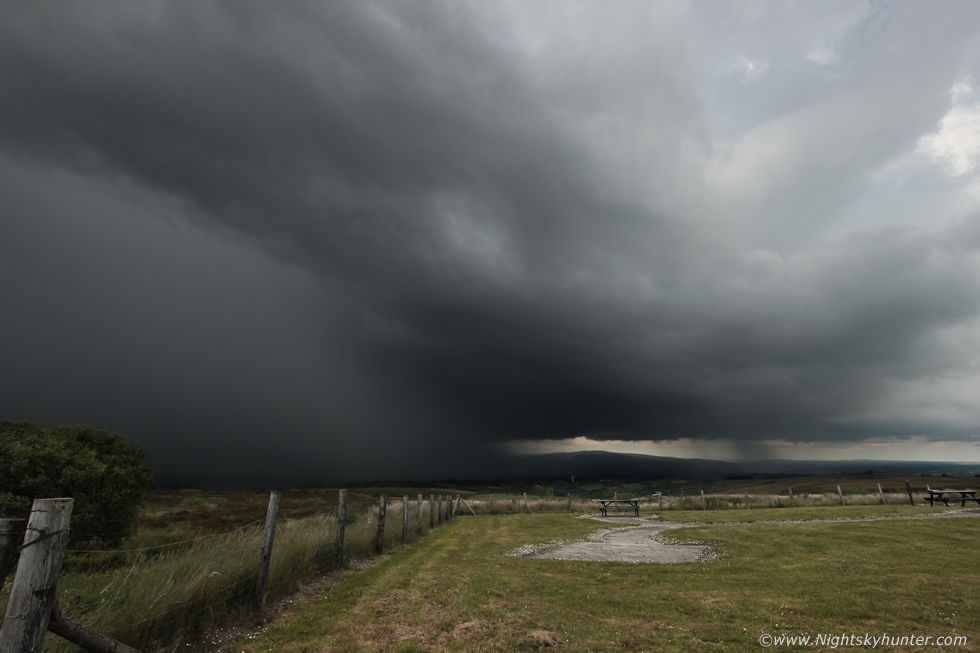 I had reached Pigeon Top and had to pull over for a shot as I was just amazed by this sight, this is looking across the picnic area towards this storm which I would describe as brutal in appearance. This is wide angle on a full frame DSLR covering a huge area of sky and yet the storm is so huge I can only capture a portion of it, however this was the best portion to capture. Amazing updraught base on the right, low and solid and pure black, it honestly looked like it should have been producing a tornado. As you gaze upward from the base you can see that the updraught is strongly leaning over to the left and dropping an insane precip core, yet again it looked like something from the States. As I stepped outside to get this image all I could hear was continuous thunder, this has got to be one of the meanest looking storms I've ever seen.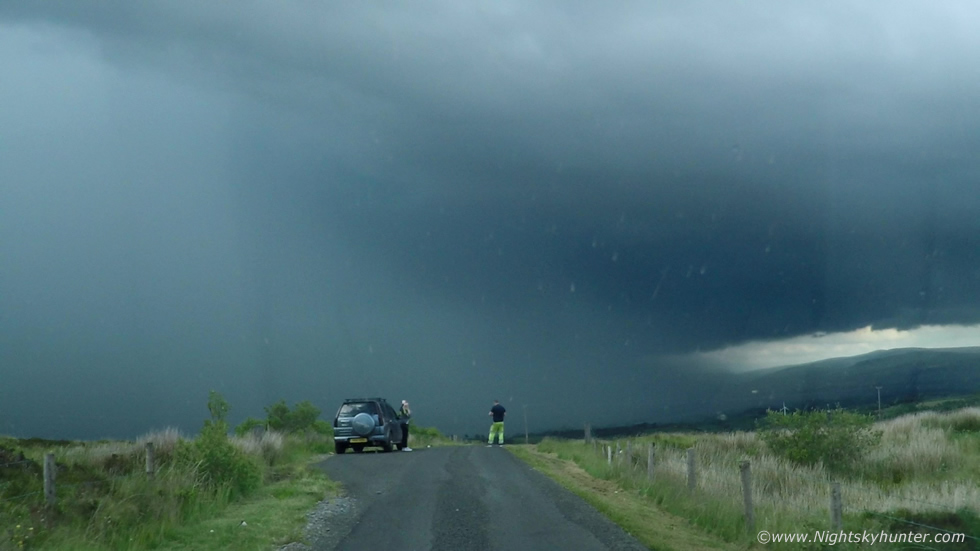 I took a side road where Paul and Tracy where located, this a Go Pro video frame as I approached, look at that base and core, I was glad to see that for the first time this day there was enough space for me to park.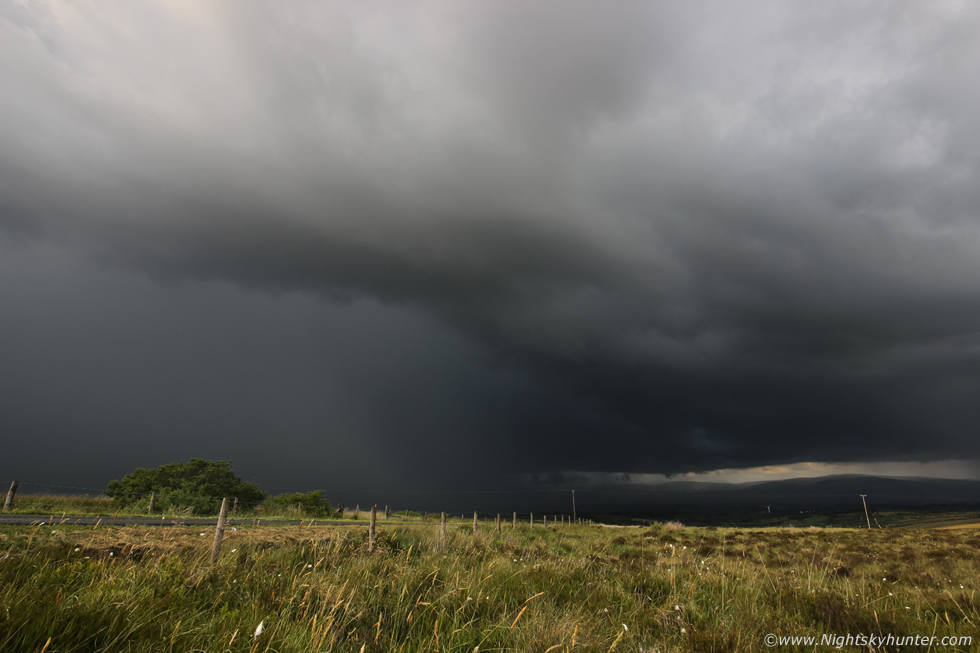 I was out the door like a rocket, Paul and Tracy were buzzing, I went into this field and set up the 5D with 15mm Irix lens and began shooting a time lapse. With the 600D I recorded video, this is a still from the full frame time lapse. Paul, Tracy and I were lost in the moment, savoring every second of this amazing storm, thunder rumbled constantly, this truly was a beast of a storm, I never expected to see anything of this caliber today. The core was causing flash flooding below and wicked lightning, residents of Omagh were saying it was the worse storm they had experienced in years. Paul showed me the radar, the storm had a white and even purple core, the reflectivity was sheared for miles to the west, it looked like it had supercell traits and based on the structure, radar and 40 knot shear this was not surprising. There was no mesocyclone however the sheared aspect was typical of such an organized cell, the scud below the base was lifting off the hills and rising into the base and moving in two different directions and seemed to be turning.
I ended up getting a cool time lapse of this scene, thunder rumbled all the time as the core crept closer, we even seen a pronounced rain foot, I had only ever seen one before in 2009 I believe. A rain foot is a forward extension of the precip core indicating stronger winds at the surface spreading outward from the descending rain and cool air, it can even be a visual indication of a small scale microburst event. The time lapse proved very interesting, an area of light within the dark base manifested and seemed to yawn open into an irregular circular region, this looked to me to be a clear slot associated with a possible rear flank downdraught or RFD, a feature I have never seen before but which is a feature associated with the process of descending air wrapped around the rotating updraught of supercells and often a progenitor to tornado formation.
I honestly believe this storm and perhaps a few of the others had supercell traits this evening. The radar showed three cells all sheared to the west with the Omagh cell being the largest, then with time they all merged into a larger storm. Even though this cell had supercellular traits they were transitory and short lived, this was due to the multicell nature of the synoptics, once a decent cell fired on its own ahead of the last precip core it quickly ingested rain cooled air and became outflow driven. We watched pink lightning flicker inside the core, it was all in-cloud and much of it was embedded high up within the updraught, when the thunder came it actually sounded like it was descending from a great height. The core got too close and we where in the danger zone so we took cover inside and watched the lightning show as rain hammered us. I felt grateful to having been in the company of this amazing storm and I'm also grateful to Paul for tipping me off as this storm made my day, it's perhaps even one of my best storm encounters in recent years.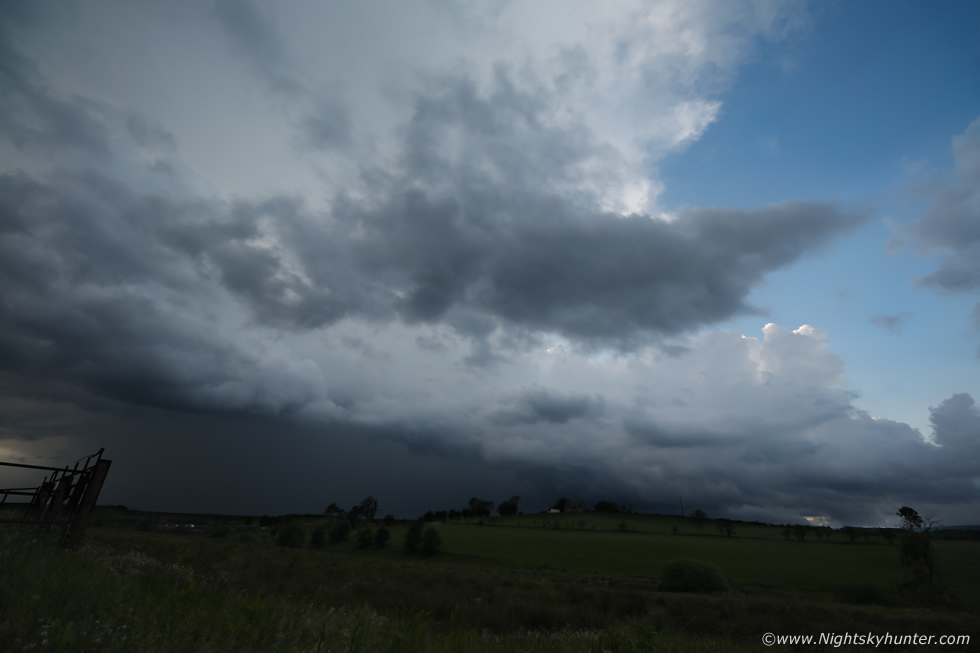 I figured I had scored well today, it was late evening and I decided to make my way home. As I headed back east along the Omagh road I punched through the core of yet another thunderstorm. Nigel McFarland rang me and provided me with a radar based update, he could see the storm beside me and another on the other side of me near Lough Neagh which was moving in my direction, I thanked him for the intel and pulled into the side of the road for what felt like the hundredth time today. Over a gate into a field, storm with core and new towers going up, I got the 5D on the tripod and began a time lapse, the storm was slow moving so I selected a two second interval. I heard thunder behind me in the distance, Nigel was rite, I was standing between two active storms. I then realized with amusement that I was standing within the very same field I had been in at noon watching the convection building earlier this day, I didn't even think about where I pulled in, you can even see the same farm house on the hill, that earlier experience seemed like a life time ago, this had been an action packed day.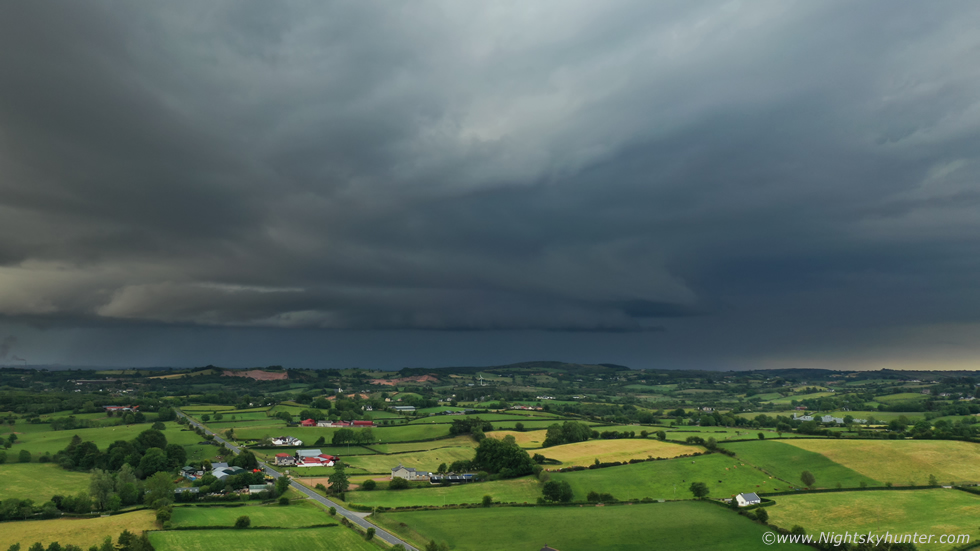 Once the rain began to fall I got back on the road and shot east and spotted the Lough Neagh storm on the horizon with pink flashes of lightning. I ended up on another grass verge and this time I launched the drone from a field nearby, I had only 35% battery remaining but it was enough to get in the air for a few aerial stills of this cool looking storm with mid level cloud feeding into the cell.
Further east and closer to Cookstown I pulled over for the final time this day, it was 21.00 BST and there was still an active thunderstorm. I set up the 600D and 5D on tripods at different angles and began shooting a time lapse. The base of the storm had greatly lowered in height and to the naked eye the precip core had a green hue in the evening light, periodic pink lightning flashed from deep within and angry thunder seemed to echo over the landscape.
A mean looking cell with a rather rounded structure and of a high precipitation nature. This caused flash flooding below with some observers reporting rapid lightning activity. John Fagan was watching radar and would later inform me that this cell approached from the lough and briefly merged with another cell then made an abrupt turn before heading in this direction.
Camera panned to the right, it was fascinating to watch these low bands of cloud feeding into the storm from R to L, this was clearly the inflow region, in the time lapse the clouds can be seen moving in opposing directions.
A guy pulled up to say hello and comment on the storm, turned out it was one of my facebook followers called Stephen who is also a keen storm spotter, I got this frame from the time lapse sequence. It would have been cool to have got a c-g bolt at the very moment he was pointing at the storm.
Definitely an interesting HP storm and a great way to end the day, by now I was knackered from ten hours of chasing and decided to head home to enjoy one of Roisin's lovely dinners.
Vlog and time lapse from the first part of the day showcasing the growing convection over the Omagh road then showing aspects of the frustrating chase through the intense rain core in a quest to capture structure.
Part two and the the climax of the day showing raw footage and time lapse of the nasty thunderstorm near Omagh, the highlight is the view of the updraughts as seen via the Go Pro, the DSLR time lapse showing a possible clear slot and the almost constant thunder followed soon after by two surprise storms on the way home.
These last two days have made up for the entire Spring and Summer with back to back high caliber storms which offered regular thunder, an abundance of in-cloud lightning, good storm structure, fantastic time lapse conditions and the best updraught on a storm I can ever recall seeing. It's unusual to get a warm core set-up with such great visibility to observe storm structure and also from an easterly flow for surface based storms. Over these last two days I had taken approximately 24,000 still images, four drone flights, filled the Go Pro memory card twice and accumulated 23.5 hours on the road, it really did feel like a proper period of convective action and very productive chasing.
I chased again on the 16th into Co. Armagh, the cloud never lifted in time so storms didn't fire inland however storm spotter Owain Rice managed to capture thunderstorms further east near the coast from Co. Down, one of these storms had a very interesting updraught which was tilted over with what looked like a vault, inflow lowering and possible wall cloud, it too looked to have had supercell traits judging by its sheared aspect and features. Even though I busted inland I wasn't annoyed in the slightest after two great days before, I had my Mother and our Dog Rhua with me so we ended up having a good road trip, we checked out Armagh Observatory and the Armagh viaduct which I had never seen before so I got some drone footage which made the day. If the rest of this Summer goes quiet I will not care, I'm already more than satisfied with what nature has shown me, that being said, I'm always watching the charts in anticipation of another storm chase. Thanks very much for reading.
Martin McKenna