Fermanagh Storm Chase & Omagh Rd Sunset Hail Storm - April 9th 2016
I'm delighted to report that the 2016 storm season has begun early and that yet again I have been on the road hunting for photogenic convective weather. There was a general risk of pulse storms across central areas of the country, there would be some shear far below the border to the S and perhaps the very far N however the N areas had smaller CAPE in the 100+ range with 200 in Fermanagh/border and 400 below with some high resolution models pushing 500 CAPE for Ireland. This would be a SWly flow backing SEly later in the day with -40 C temps aloft and decent lapse rates so it seemed to be a good day for convection, hail showers and isolated thunderstorms. During morning hours I was still undecided where to go as the pulse nature of convection in such a set-up meant cells could fire anywhere in the country and at random however based on CAPE, precip charts and wind field lines I decided that Tyrone, Fermanagh and Enniskillen regions would be best over southern N. Ireland so that was were my thought process was taking me. Within min's expert forecaster Tony Gilbert from UKWeatherworld issued a convective outlook for scattered thundery hail showers however he also included an 'FC - experimental' risk box over the W portion of N. Ireland/Ireland for a risk of funnel clouds, the risk areas where Donegal, Fermanagh and Tyrone, then after a quick chat with Omagh storm chaser Paul Martin via pm on facebook we decided that we would have to get into that risk box and that Fermanagh was an obvious target area, in fact, satellite imagery already showed a few early cells heading in that direction so it was game on, we would be chasing and would meet Paul later.
Roisin and I grabbed a much needed coffee in Cookstown - can't beat a caramel lattee for a boost - filled a flask of tea and water then hit the road SW. By 15.00 UT we arrived in Kesh and parked at the filling station there to wait on Paul and figure out a game plan. On the way down we spotted two big cells to the W which looked like they where passing over the southern Sperrins however I thought they would decay soon as they looked unorganised, however they were big with anvils and in hindsight I should have paid attention to that area because there would be good action there during prime heating time later, however I wasn't to know this and besides I wanted to get inside the FC risk box. Paul Arrived with his dog 'Oscar' then as we chatted we saw a cell further to the SW in the direction we intended chasing, it had a grown a white anvil and dark base so our plan would be to drive further along the road towards it, stop near the lakes for a quick brew then chase elsewhere after that intercept.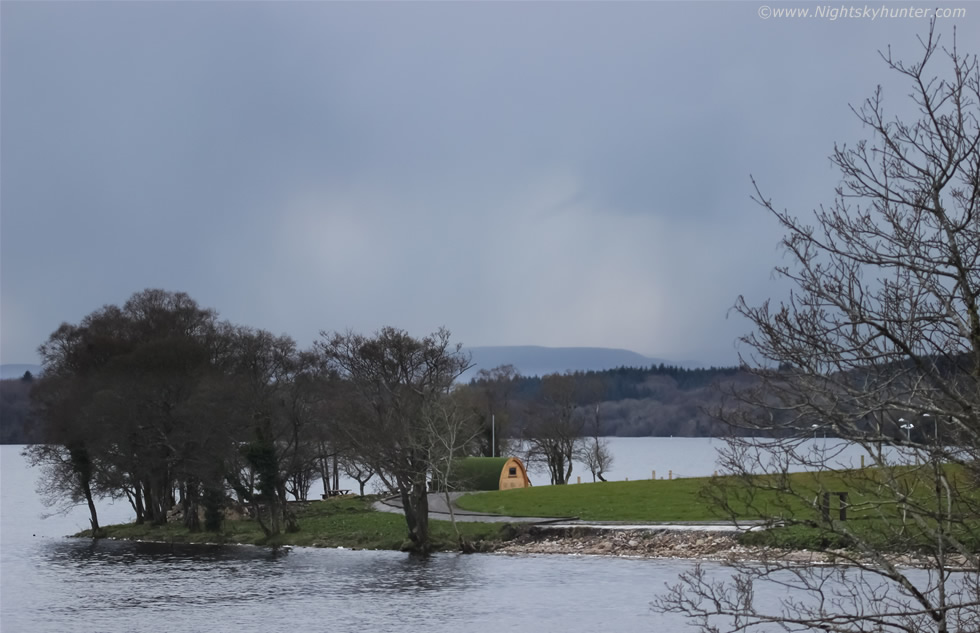 We hit the road once again with Roisin and I in the Berlingo and Paul and Oscar in the jeep, a few miles later we pulled into a lay by in Fermanagh looking across Lower Lough Erne. Roisin and I crossed the road and walked onto the grass at the side of the road which offered us a view across the water, then within a few min's we noticed a blocky lowering of cloud at the rear of the cell we had been watching, then an elongated form grew out from the lowering and soon it formed a funnel cloud, we couldn't believe it, the funnel was long, dark, and protruding from the lowering at a slanted angle towards the lough, I hesitated a moment then ran back across the road, opened the van, grabbed my camera and 100-400mm lens, ran back across the road, attached the lens, then realised with horror that I had made an amateur mistake.
My DSLR was on full night time settings from my aurora shoot two nights earlier, I had forgotten to change the settings back for daytime shooting in the morning as I always do but this time it had slipped my mind. The time spent changing all the settings manually cost me valuable sec's however when I got it done I managed to get two images before the funnel vanished completely, I was kicking myself. You can see it at right of image centre, however previous to this it was three times as long and very obvious, either embedded within or behind a curtain of precipitation. I'm almost embarrassed to post this image however I can assure you that it definitely was a funnel and more impressive than this image shows, here it was almost gone with just a short tube present on the lowering, Paul Martin arrived and rushed out quickly, he too had spotted it from the road. Lesson learned, always have your camera on daytime settings before a chase because you never know when you will need it and that few extra sec's can be the difference between a great digital catch and going home empty handed. At least we all visually confirmed a funnel and that verified Tony's risk box - nice work Tony!
We drove further SW towards Belleek and just before entering the town we drove into the last of the precip core under that same big cell which was now drifting across the countryside, we encountered hail stones then realised we had been late for the party because we were witnessing the aftermath of a very intense hail core. The roadsides were covered with deposits of hail which at a first glance looked like snow and the road itself was covered in a thick slush too, it was apparent that a significant hail event at happened here recently which was in the process of melting, if only we had been here earlier to film the core, that would have been nice, however just seeing it was thrilling enough, I wanted to get images of the hail stones surrounding the Spring daffodils however we where in a line of traffic and couldn't stop. That was quite a cell after all, it dropped a funnel cloud and a noteworthy hail storm.
After this we spent several hours watching the skies from a jetty on the S side of Lower Lough Erne, at times standing out under sleet and falling hail stones, temps dropped to 3 or 4 C in the hail cores and it was bitterly cold, the clouds were also moving incredibly slow in the slack air, in fact, this might have been among the slowest motion I have ever seen. Paul got internet and we checked the radar, storms had fired down south, also cells with red cores near us (not electrified) and a big thunderstorm had erupted N of us over Donegal with new cells firing over the Sperrins in my home area, we were surprised by this activity considering the lesser CAPE in those areas, the mountains must have been aiding with lift. We drove around the lough, through Enniskillen and back N then while on the Omagh road Paul suggested we check out Pigeon Top mountain to see what the view was like.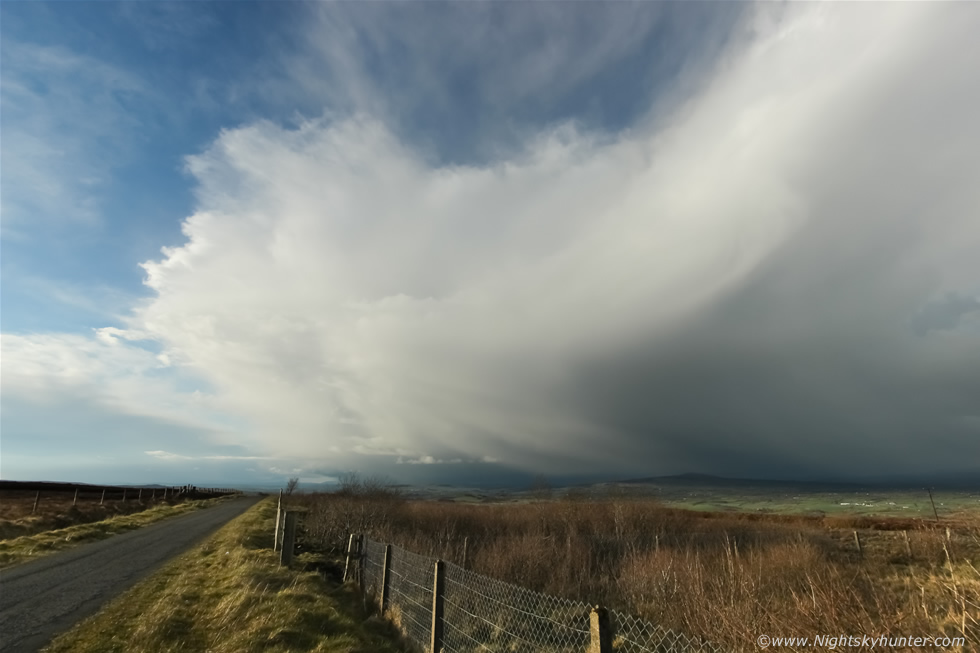 We arrived on Pigeon Top, I had never been here before and always wanted to, this was Paul's local storm chasing vantage point which was nice to experience in the flesh, in fact, it was from here that Paul captured his first funnel cloud back in 2007. The view was fantastic and elevated with a clear horizon in all directions. Despite the cool breeze it felt wonderful being up here in the fresh air, the sun was out with blue skies and in front of us to the N was a massive storm cell over Strabane, radar confirmed an impressive red core from it and to the N of it was a big storm near Derry/Londonderry, we where looking in that general direction. This is a 10mm capture with the cell in the distance and because of the slack flow the cell seemed to sit there, it dominated that area of sky and looked serene and majestic with white anvil and sweeping hail curtains, it was in a stage of collapsing however it still looked sweet and it was already making our day.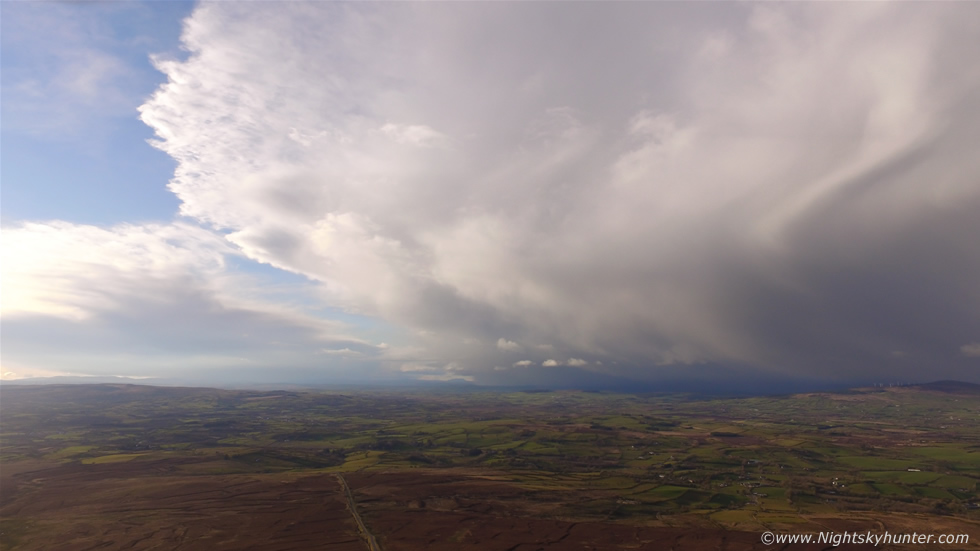 I set up the Go Pro on a tripod on the side of the road and began recording video for a time lapse then I unpacked the Phantom 3 Advanced drone. I didn't actually expect to get a signal because of the large pylons and mobile phone masts nearby however amazingly I got calibrated and full GPS without any issues. So I flew the P3 upward and filmed the cell from the air at a great height, this is a 12mp still taken while hovering above Pigeon Top with blue skies behind the anvil while swathes of hail fell over the countryside, you might be able to make out Lough Foyle in the distance under the precip core. I landed then Paul and Roisin and I chatted about the day while taking in the wonderful view. Many miles away to the S and SW where distant cells on the horizon with anvils surrounded by a multitude of towering cumulus clouds all lit into warm colours by the lowering sun, this moment in time really made the day for us all and as far as we were concerned this was the end of our chase.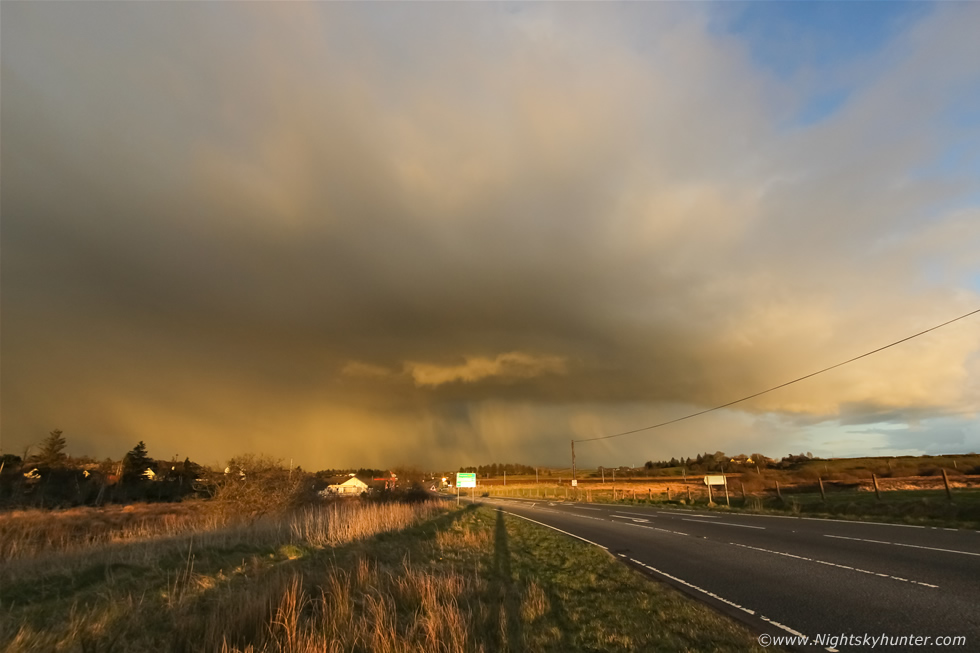 Roisin and I drove through Omagh then onto the main Cookstown-Omagh road with the intention of getting something to eat and wind down for the day. However as we passed the Seven Sisters I spotted a cell ahead of us, it was partially obscured by mid level cloud however the back end of it was in clear air with a tall white updraught tower pluming skyward, it looked like a new fresh cell which had developed from nowhere, the base was long and well defined and the low sun was turning the clouds orange and it looked like a potential photo opportunity so we pulled off the main road and parked inside the entrance to An Creagan. I ran over to the grass on the road side, set up the Go Pro on a tripod and recorded video while I began taking stills with the DSLR, this was 10mm, the sun was low behind us and lighting up the countryside into wonderful warm colours of orange, yellow and gold. Of greater interest was the long curtain of hail stones falling from the base of the cell which was also lit into wonderful sunset colours, this looked to be our photogenic catch of the day.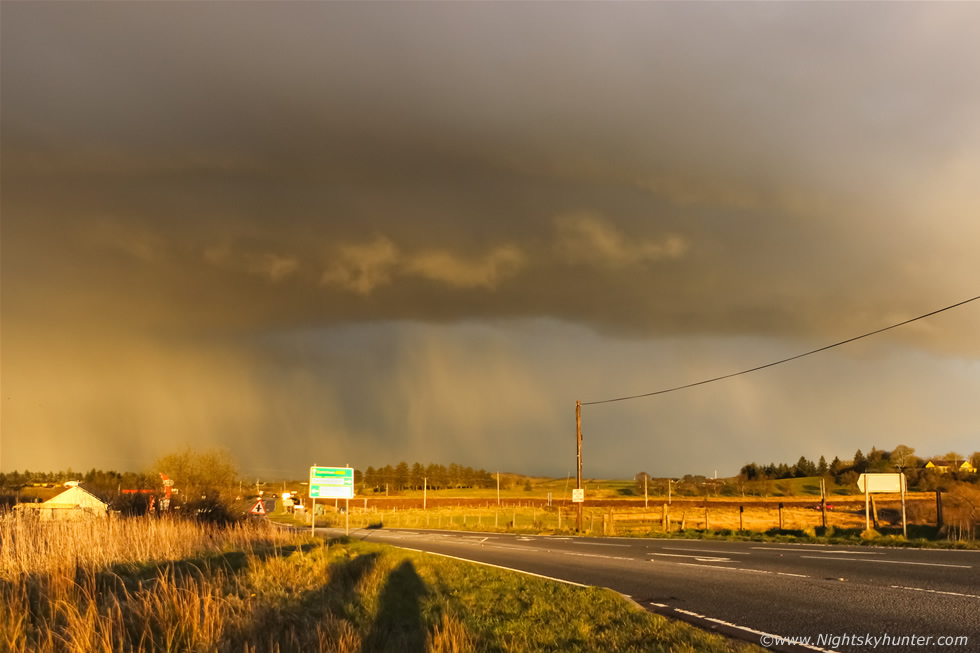 Now using the 24-70mm F/2.8, the visual sight was gorgeous and very dramatic. Nice solid base above the road with just enough shear to let the hail core fall away from the base to the N, the entire cell and hail core was crossing the Omagh road from R to L.
That's a very dense curtain of hail stones and it was bound to have been showing red on the radar at this particular time, maybe I should have drove closer to it to fill the frame but at least at this range I had the structure while standing out in full sunshine.
The sun lowered further behind me and was still perched in clear skyes however another cell was approaching so my wonderful light was going to be shut off at any moment.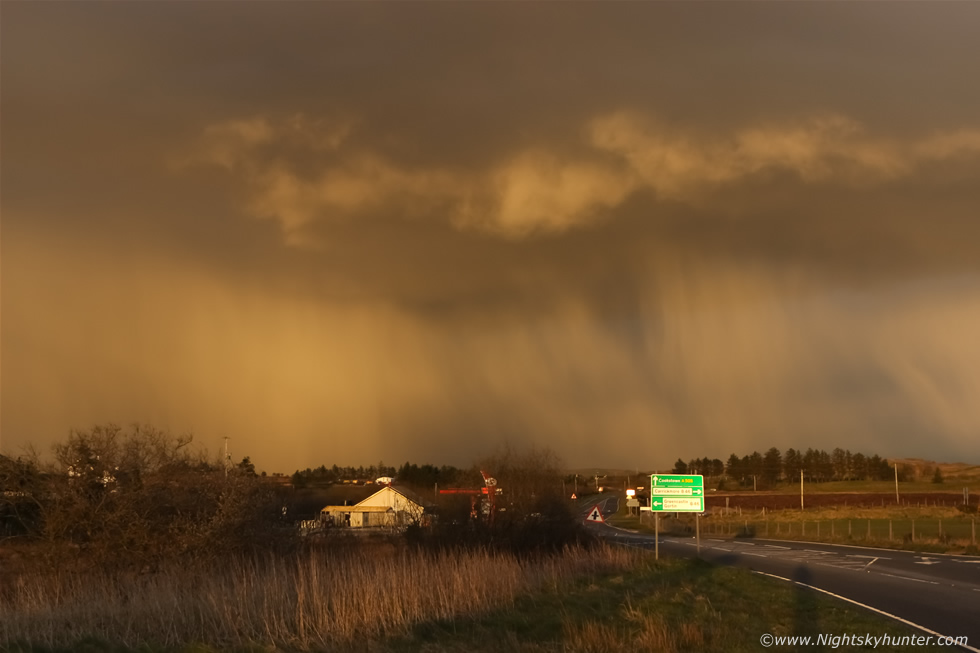 The good old Omagh road never fails to deliver. The amount of times Paul and I have chased up and down this long road over the last few years has made this a favourite location of mine, we have seen some great storms and convective skies here complimented by beautiful open countryside and yet again it produced a sudden unexpected photo opportunity just as the day was waning to an end. Roisin and I were tired and hungry from such a long day on the road, we never had any lunch so now we were feeling it so we decided to pop into An Creagan and see if their dinner menu was still on - it was - so we both enjoyed a piping hot chicken curry with rice, it was like heaven after being exposed to such cold and wind all day long. When we drove back up the Omagh road after dinner we could see via the half light of twilight that the road sides and fields were covered in patches of white, it was hail stones from our old friend which we had been shooting at sunset before dinner, a good hail storm indeed.
Full chase starting with the Fermanagh cells, Belleek hail stones, Go Pro time lapse of the Strabane Cell then drone footage of the same cell from Pigeon Top then ending with the sunset hail storm time lapse over the Omagh Road.
Edited video footage of the sunset hail curtains over the Omagh road followed by a short time lapse, the video doesn't even come close to showing what it was like to the naked eye however I hope you enjoy it in any regard. As I write this the current storm set-up has ended with high pressure dominating the weather however I will be ready and waiting to get chasing again once the pattern changes over the next couple of weeks. Thanks very much for reading.
Martin McKenna