Omagh Gorse Fire, Smokenadoes & Dust Devils - June 5th 2013
After a long cold Spring we have just had a fantastic heat wave here in N. Ireland spanning almost two weeks with temps between 20 and 25 degrees C complimented by clear skies every day and night which has been amazing for this country. June 5th was another hot Summer's day and I was already on the road by late morning heading S through Cookstown into the open country roads. There was a slight risk of thunderstorms so I was hunting storms, I was fully aware of the warm air above creating a strong cap in this high pressure environment however with some latent instability, strong solar heating, and a slack wind field I knew there was a chance of funnel clouds from any weak convection which formed and that was my intention this day. My plan was to drive S to Omagh then park and watch convection develop then shoot W during the peak afternoon period where CAPE values were highest however that plan went straight out the window when I glanced to my right and saw distant white smoke rising from a fire which had suddenly came into view, it was many miles away over the hills where I had never been before so I decided to abandon the storm chase and pursue this fire instead for I suspected this would provide me with the most dramatic images of the day. With me was my now retired Mum and my old faithful pal Rua - our Cocker Spaniel pup who loves getting out in the car, she had been with me on recent chases where I have caught four funnel clouds and now she would be seeing her first wild fire.
I really had no idea where the fire was located so I just trusted my instincts and pulled off the main Cookstown-Omagh road and headed W into the remote and beautiful countryside of Co. Tyrone, as we drove closer there was no question that this was a gorse fire and a serious one at that, the time was 12.30 and I became a little concerned for we still had hours of intense solar heating which would only fuel this fire so this had the potential to turn into a major event and within a short period of time it did, at the time of writing this turned out to be the biggest inland gorse fire of the season. Gorse fires are named after gorse bushes in Ireland which are often the source of these random wild fires however it was unlikely that gorse was the culprit here, gorse fire is simply a generic name as the fire itself could have been feeding on wild grass, trees, bushes or other sources, I couldn't tell myself however there seemed to be everything in the area including moss, peat and turf.
The fire really was far away and it seemed to take a long time to get close however after going down a number of narrow country roads and taking false turns, tracing back, then trying another route we eventual got in the area and it soon became clear that this was much bigger than even I had thought. The base of the fire seemed to be located behind this large forest, I pulled over for a quick shot before we got closer, here it is at wide angle taken from a beautiful country road.
We drove on closer however the trees tried to block our view so it was very difficult to find a good clear location to get images, however I found this one on the other side of the forest, I got the car backed into a desert-dry lane and found a gap in the hedge to get images. This scene looked epic in the flesh, multiple orange and white smoke plumes towering high into the sky with smoke crossing the zenith and into the other side of the celestial dome.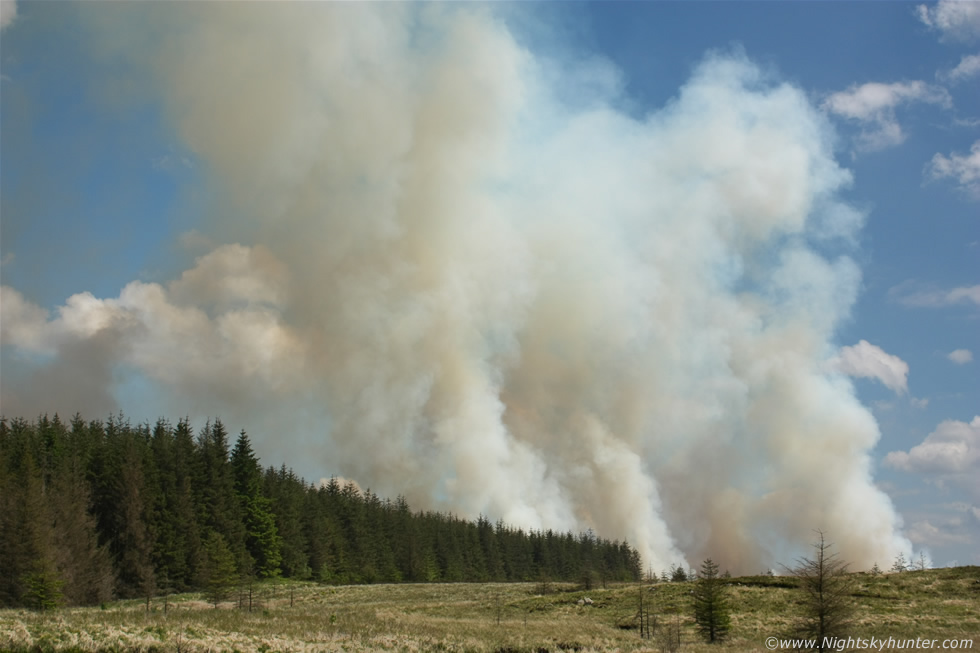 The orientation and movement of these towering smoke plumes was a testament to the convective environment with smoke particles rising more or less straight up and in such a slack flow the towers would easily be subject to alteration as they rose which can easily reveal rotation, smoke is a great way of revealing what the eye cannot see, during thunderstorm days warm moist air rises in vertical columns called thermals which cannot be seen visually, at least not until the moisture condenses to form clouds in the form of cumulus and towering cumulus clouds which are the first stage leading to thunderstorm development, sometimes you can see the presence of these thermals on a hot day when you observe Buzzards circling overhead, this time nature was revealing these thermals in the form of smoke instead of water vapor and even inducing new thermals from the heat itself which acted as a strong source of lift.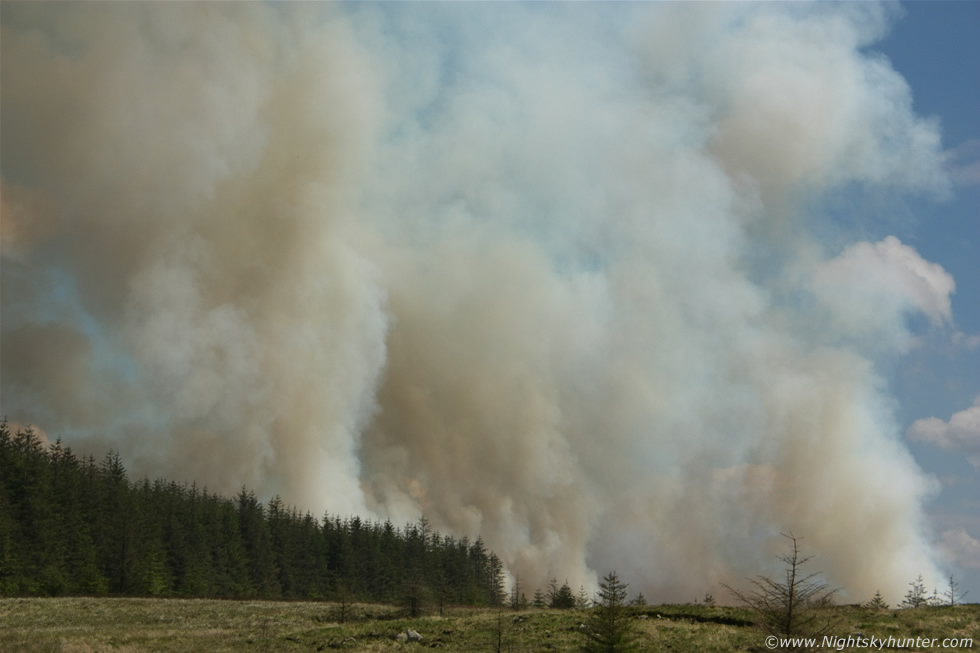 Notice the large tubular form to the rising smoke which was already taking on rotational movement at times, this would later generate some very exciting phenomena. Judging by the smoke towers there must have been at least three fire sources although we couldn't see the fire itself due to the hill in the way, I was very tempted to walk far into that forest on the LHS which would take me out to the fire itself however I quickly decided that would have been extremely dangerous as the smoke was drifting in that direction, I had a quick look down the forest path between two rows of tall trees and saw brown smoke going above trees and through the branches at the far end and that was enough, I wasn't going to get trapped in a forest with a spreading fire downwind with vast quantities of smoke chocking my lungs so after taking more images and video footage we decided to move on to find another viewing angle.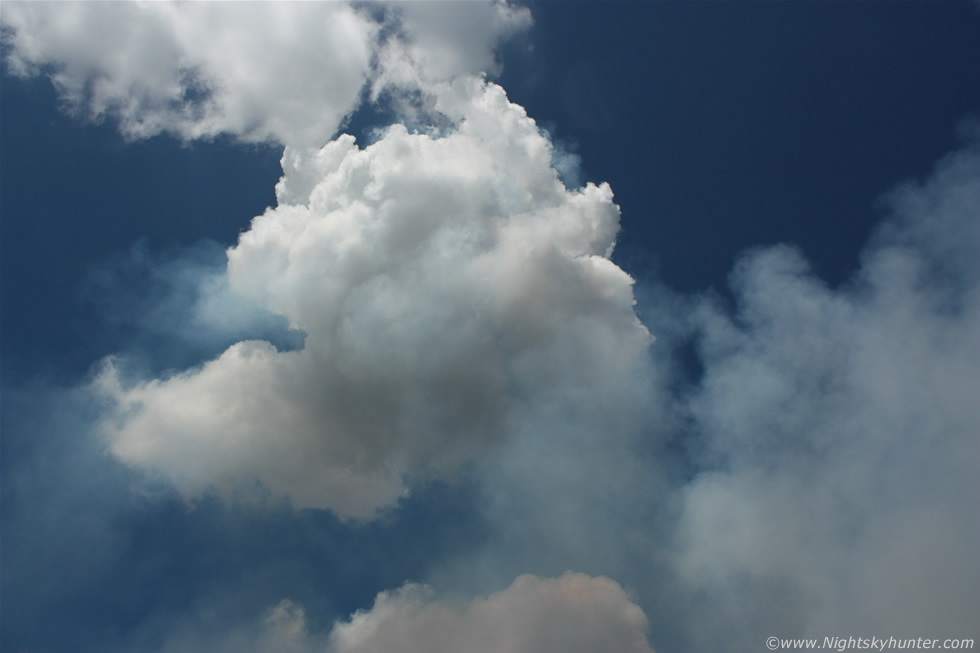 This was the same location, I was watching those towering smoke plumes through the camera viewfinder then trekked their rising form through the zenith where I snapped this wonderful phenomena. This called Pyrocumulus - cumulus clouds formed by the heat from fires, it usually takes a good wild fire to produce any decent Pyrocumulus however this was the best I had seen in my life to date and the first of many of this cloud species to marvel at during the rest of the day. I saw more Pyrocumulus this day than I ever have before in my life. There was a lot of convection around this day however I could tell what was standard cu and what was fire induced cu, the latter only formed above the smoke/fire and had tops which were much more sharp and solid than any other convection in the area, quite an amazing phenomena to witness, I saw my first pyrocumulus above the gorse fires over Glenshane Pass during the epic gorse fire season in 2011 however those clouds were nowhere near as large as these.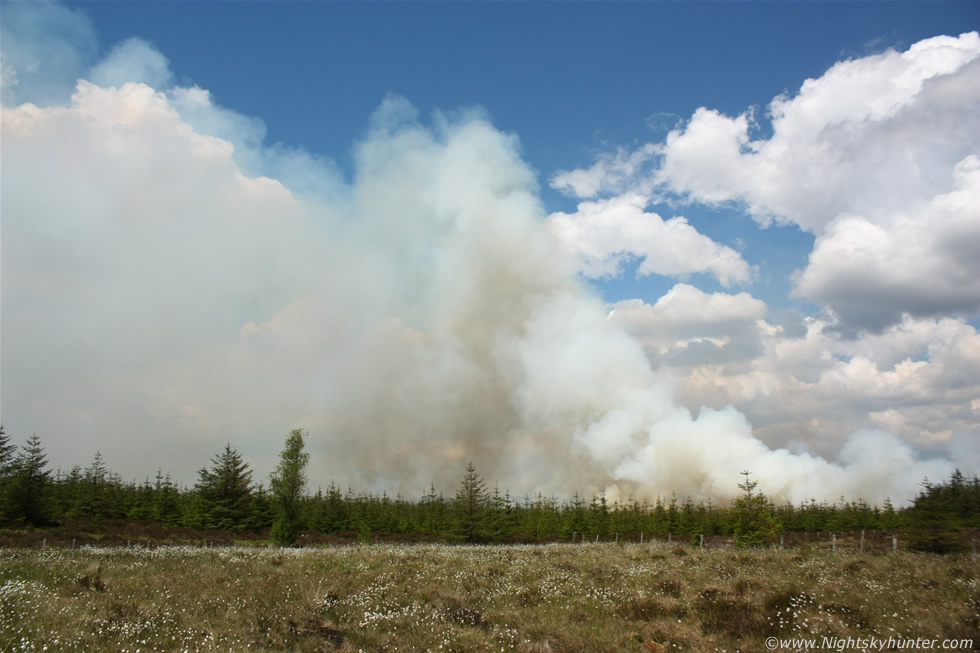 We then drove along the hot roads in search of a better vantage point, we walked across two fields in the intense sunshine sweating like mad to get into this position to see the source of the fire better. The fire extended beyond the L and R frame of this image, the burning source was located off frame to the R, I noticed a farmer's barn and house in that area so it looked to be in danger if this got out of control, I assumed the owner had already phoned the fire service at this point. The scene looked great despite it's destructive nature, the billowing smoke clouds contrasting against the blue sky accompanied by streets of convective clouds with green, white, red, and orange colours in the landscape below was beautiful.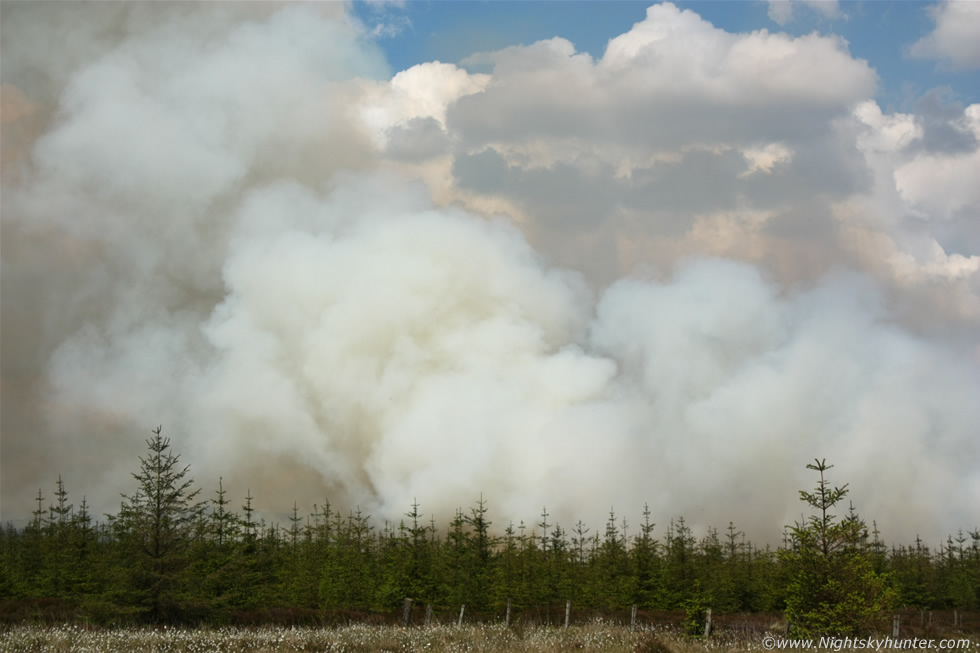 The fire seemed to invigorate rapidly sending these towering smoke plumes upward with renewed energy, the way they formed in a stair-step fashion reminded me of a thunderstorm's flanking line. It was very hot standing here completely exposed to the sun, I had to keep taking water to stay hydrated, I was glad I was wearing a baseball cap to protect my head from the sun otherwise I would have been in trouble, my arms already felt like they were cooking and I was getting shivers indicative of too much sun exposure already, however the fire had my attention so I ended up staying with it for much of the day.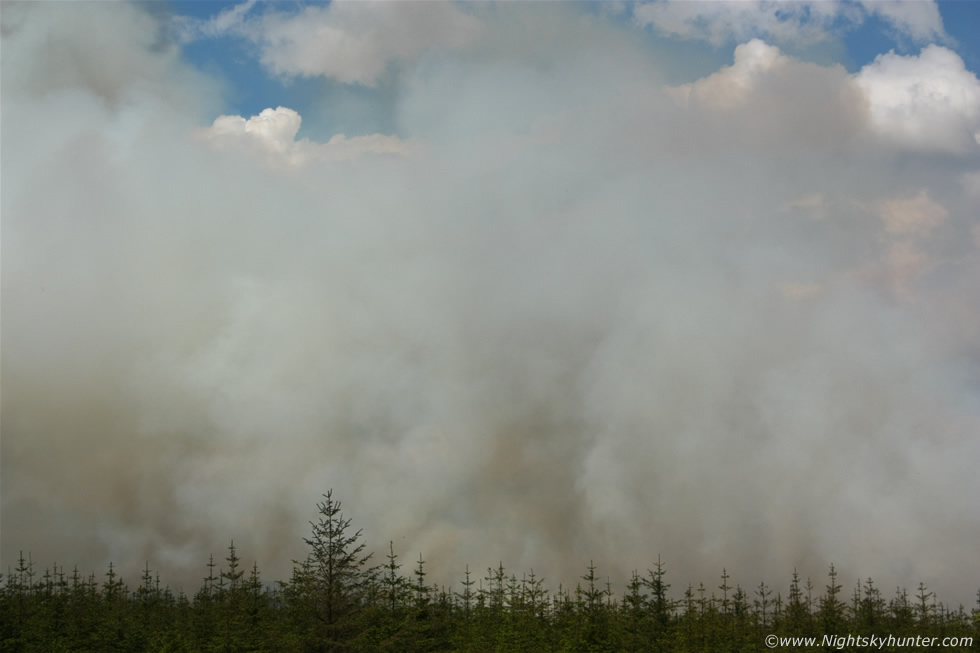 Telephoto zoom into the smoke which was now moving across the top of the forest with surprising speed given the calm conditions, I'm glad I made the decision not to go into that forest. I had already been shooting this fire for 1 and 1/2 hours and I needed a break from the sun so we back-tracked through the roads and found a corner shop where we got a few snacks to take with us, I informed the girl serving me about the fire and she said she had spotted it when going to work at 11.30 this morning so it had already been going for hours and was getting stronger.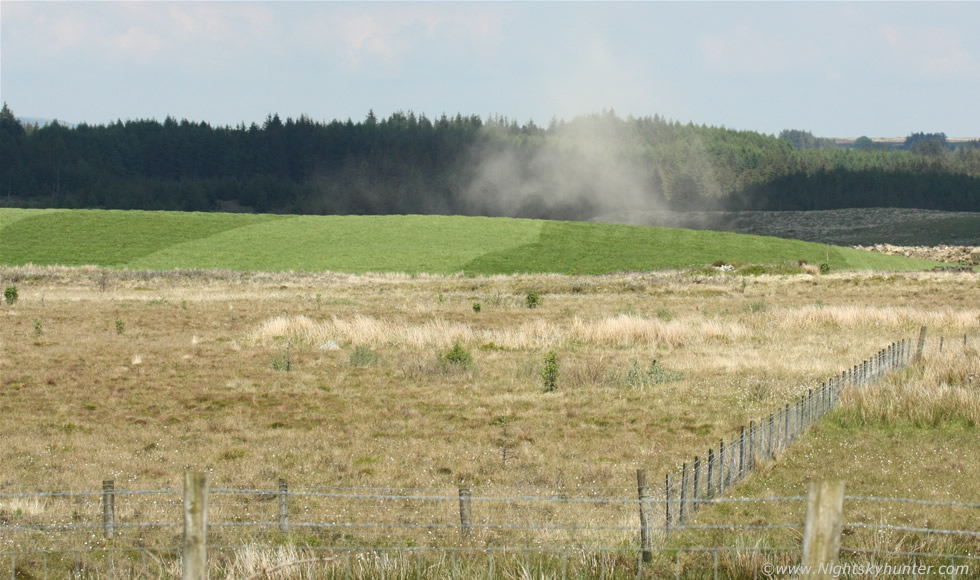 We ate at a picnic table in the mountains under brilliant sunshine surrounded by stunning scenery, this was an area of the country we had never been to before so it was exciting exploring new territory for the first time, this is why I love the sky and chasing various phenomena because the pursuit expands your comfort zone and takes you into locations you have never been before and when that happens you can end up seeing things you never expected, I was looking for storms and already I had encountered this unexpected gore fire however that was not the only thing. After lunch I parked off the trail near Beaghmore Stone Circles and walked into one of the vast fields, I have to admit I was completely blown away by the view, there were miles upon miles of open green sunlit fields filled with distant Sheep, Cows, Horses, and a great deep blue sky above filled with beautiful convection, far away in the distance was the gorse fire spreading like mad and off to my R was a nice line of keen convection with promising towers and low bases which I watched for a long time in case there were funnels, we sat down in the warm grass while Rua played among the buttercups and it felt like heaven. I even saw a rare horse shoe vortex for several min's above an updraught tower over the S. Sperrins which I filmed, however I ended up deleting it to save room on my computer, the visual sight was cool with the white coma-shaped tube rotating and changing shape as I watched.
I put the telephoto back on and got distant shots of the fire when I heard my Mum call out ''look at the smoke'', she was pointing behind me into the distance, I turned around and was astonished by the sight, that wasn't smoke, it was a massive dust devil! I had only once seen these before during the warm Summer of 2005 when I first moved into my current estate, one morning I looked out the window and saw two dust devils side by side moving up the road opposite my house, both were the size of a two story house, the sight was amazing and by the time I got my camera they were gone. I have never seen dust devils since, ever, so this was the first time that I have observed them out in the wild, and to be honest I was very excited. I actually saw three of them, by pure chance I caught this first big one on camera with the telephoto, I just had time to aim and take one shot before it vanished on me, but hey I got it on camera!, these two images are crops, the dust bowl was rotating like mad, it reminded me of the US storm chasing videos I had watched showing a tornado forming on the ground kicking up dust in a rotating bowl before the condensation funnel filled in from above, that's exactly how this looked, rotating like crazy and moving across the ground from R to L, it was incredibly exciting to watch and I felt quite blown away by the experience. Dust devils are extremely rare in this country, you need a dusty environment and dry hot weather with the correct synoptic conditions to catch them and to be there at the correct place at the correct time is very hard to do, and here I saw three of them!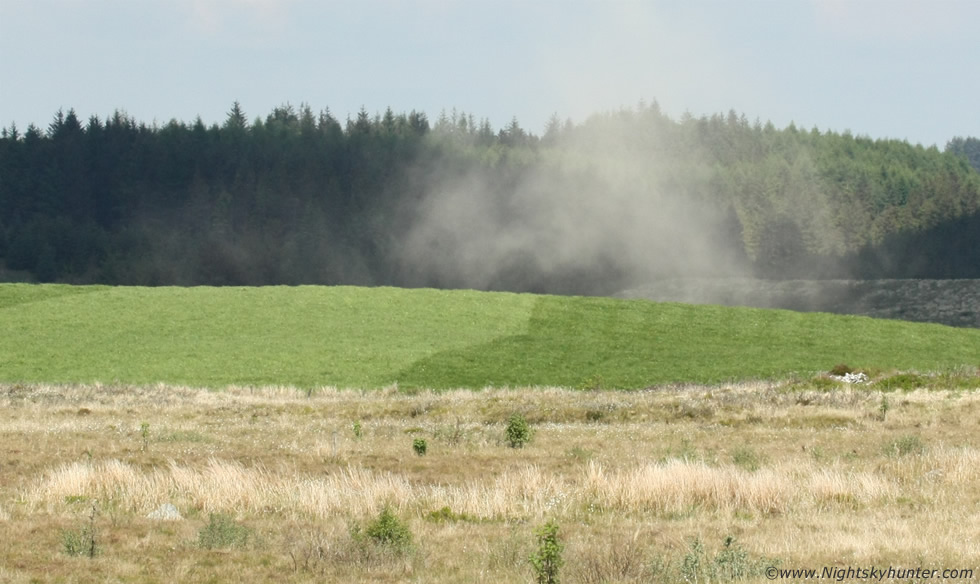 I started shooting video hoping for another then as soon as I switched off the camera another appeared in the field to the R of the first dust devil, this one was much more compact and concentrated, shaped like an inverted cone and rotating fiercely while moving forward then it was gone again. We drove up a small road, came to a dead end, turned the car and came back the way we came when another large one formed behind a row of bushes and swirled across the road in front of us, had we been 50m further down the road it would have went rite over the car, this was a cool experience so I was well chuffed to tick this vortex phenomena off the list.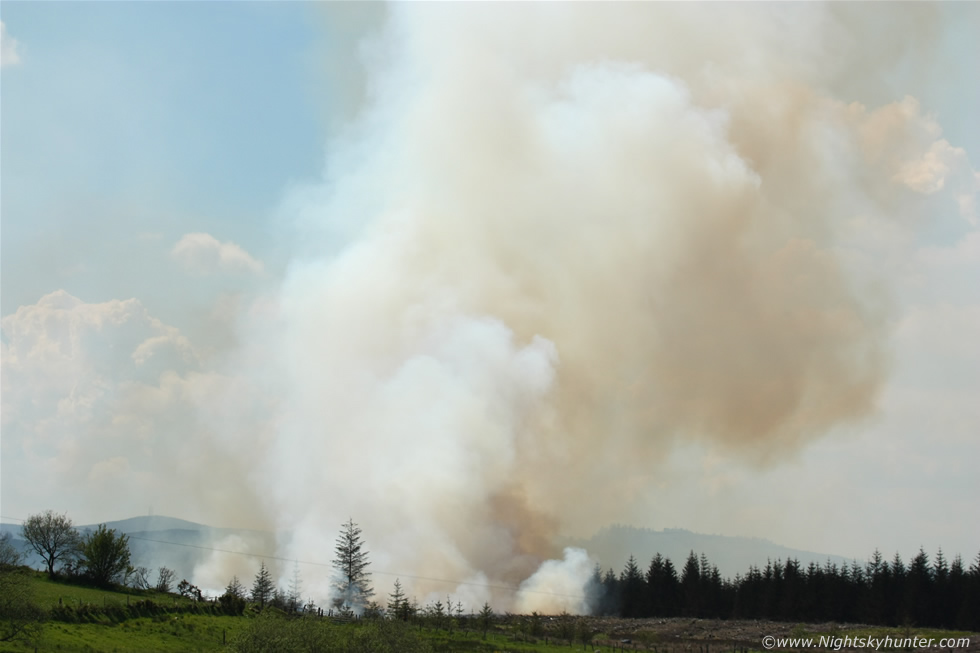 Then we where back on the road and returned to the gorse fire which was now quite massive in size, this is one of several areas on fire looking from the N side, the structure to the smoke was impressive at times sporting orange, brown, white, and blue colours. We couldn't get any closer as none of the surrounding roads lead to the fire, except for a long lane into the property of the farmer who I had earlier mentioned, no doubt he was concerned about the proximity of this fire to his property, I saw two fire engines near his home, I felt relieved knowing there was help at end.
There was a barn and farm house to the L of the fire and on the other side was a bungalow which was getting seriously threatened as the fire rapidly spread in that general direction.
I wasn't the only one taking images, I saw people pull up in their cars taking images and video with their phones then drive off. Two more fire engines appeared on the scene, they asked for directions and I informed them of where to go to meet the other men on location.
Things were getting very active, I was parked near a junction sweating in the heat taking images and video while cars drove past watching the fire, locals pulled over for a chat, fire trucks moved around, and forest service vans all in action.
Big tree being engulfed by the smoke
At this stage it was now the biggest gorse fire of the season, later I would learn it would span for 5 miles in length with 50 fire crew working all through the evening getting it under control and some of the men wouldn't get home until dark, I also learned that the local fire service in Maghera where I live was at the scene too. The fire was raging here and looked very intimidating and serious, this was the far L side of the complex where huge black-brown evil looking smoke clouds reached into the sky with surreal motion. Check out the flames beyond the tree line, I have numerous images of this same scene showing the evolution of those flames which is quite scary, the red fire would lick skyward like a fiery tongue with filaments of fire detaching from the parent flame. Look to the far L and you can see one of the fire trucks.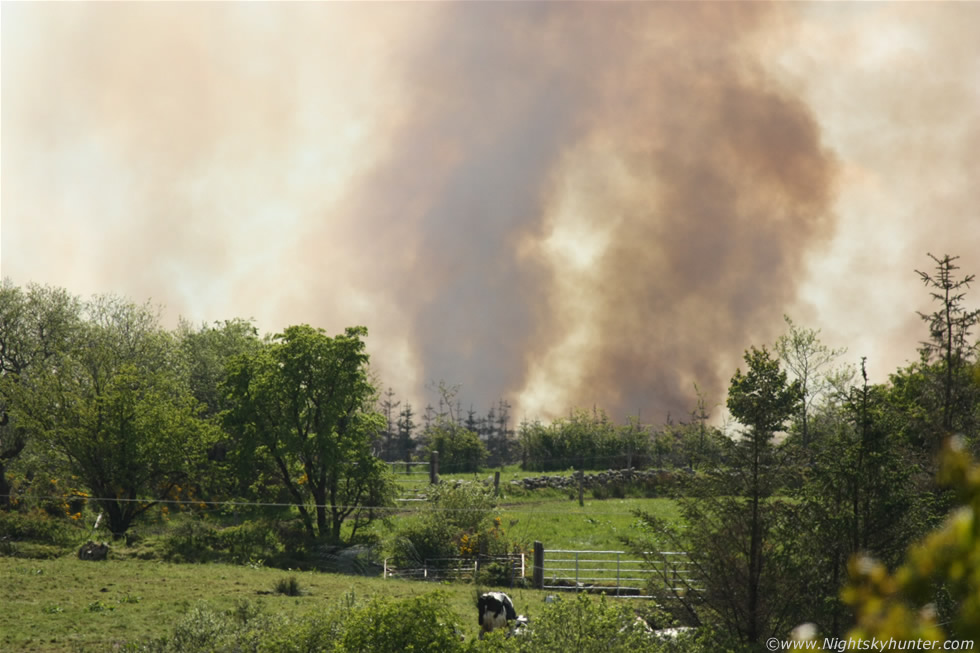 Strange scene with atmospheric contrasts, the Cows peacefully grazing on the lush grass with a nasty wild fire not far away, thank goodness there where no Cows in those other fields. After a lot of photography we took a break and moved back to the shop we visited earlier and got two 99s and a bottle of water which went down well, I had to park the car under a tree to get shade and cool down.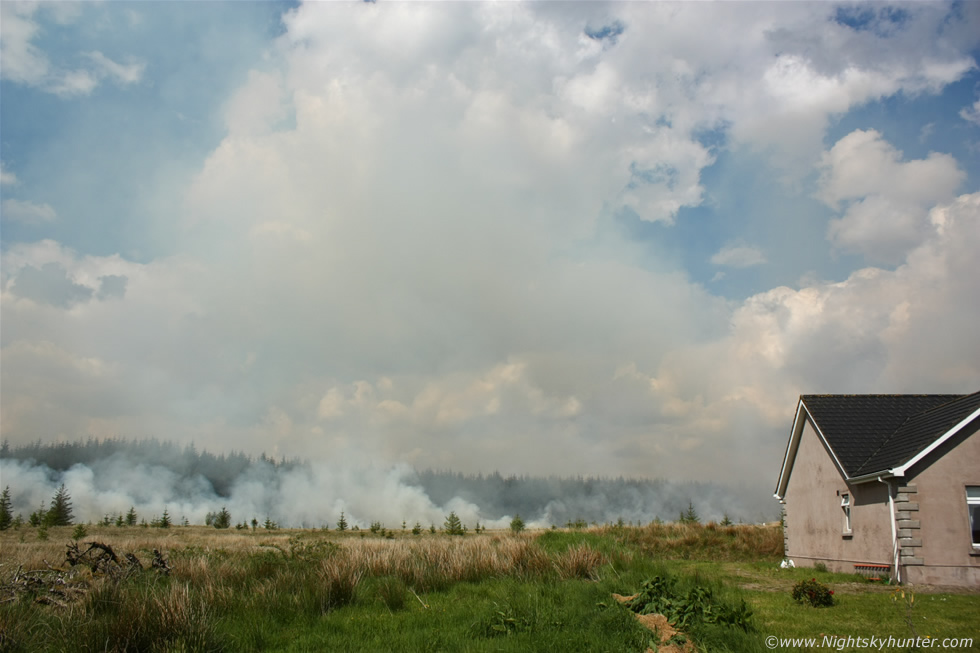 Back on the scene once again on the S side of the fire during the late afternoon and once again parked at the side of the road closed to a junction deep in the countryside. The smoke in this scene was going way back behind that house and was very close to the back of it and getting dangerously close to the property, the fire service where at the side of the house monitoring the danger and forest service were knocking on the door and getting no response, the owners must have been at work and had no idea their home was at risk. Luckily the breeze was going from R to L, had it been coming this way there's a chance this house would already have been consumed at this stage.
I had the video tripod mounted on the roadside while taking stills with the 100-400mm while leaning on the car roof for support. The smoke was blowing from R to L at shocking speed when seen through the viewfinder and it was obvious the breeze was fanning the flames and spreading it in a major way.
These two images are stills taken from the video footage showing a phenomena called smokenadoes - tornadoes made from smoke, these are vortices caused my rising/rotating air from the fire and this is the first time I have ever seen them for definite. I actually saw quite a few of them when I was taking still images and also got a number on video, I have annotated the stills so you know where to look. The smokenadoes were spinning while moving across the grass from R to L, check out the transparent tube inside the R vortex.
Three smokenadoes in this clip, again the transparent tube on the shorter one is clearly visible
Getting close in with the telephoto once again, smoke was amazing to watch blowing over the grass and surrounding the trees like the fog from a Hammer Horror movie.
I could see the flames licking up at times and could hear them spark and crack as wood succumbed to the fire, it actually sounded quite scary in a way, if you turn up the volume on the video clip towards the end you can hear this yourself. The fire crew were at work at this stage somewhere in there beyond the smoke.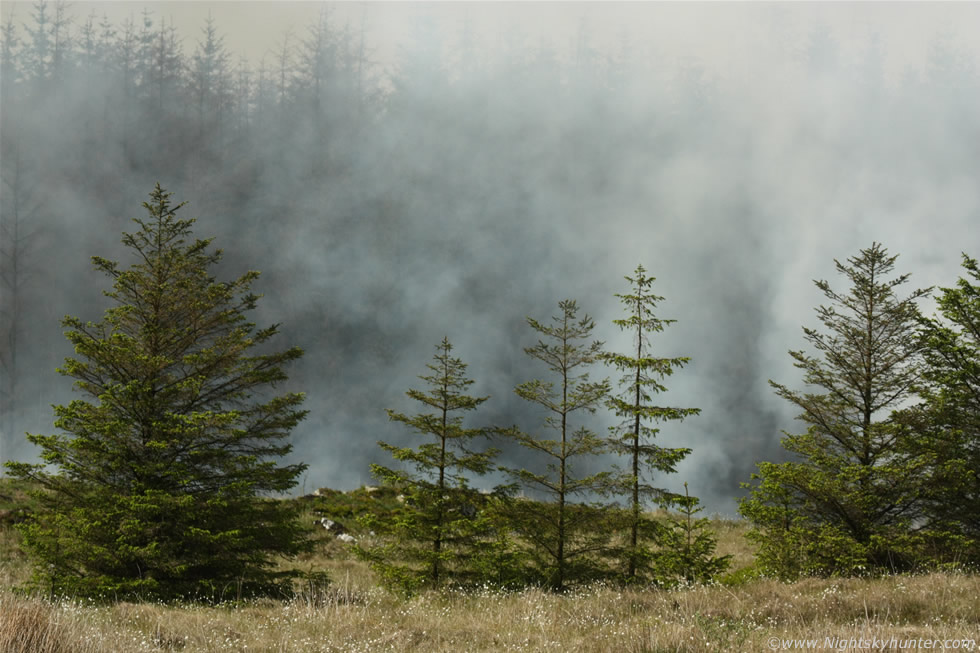 The road I was shooting from was getting congested and one member of the forest service made a smart remark to me which I didn't like, he was trying to make me guilty for taking images of the fire but it didn't work so I stayed longer on purpose. I do enjoy photographing wild fires, the fires are often dramatic, exciting, and very photogenic however I would never take pleasure in any person, animal, or property being damaged at all, thankfully the fire service later got this one under control and saved two properties from burning down and no one got hurt which is great news indeed. The road was getting busy with fire engines so we called it a day and got out of their way. I must have just missed the BBC Newsline van for this fire made it onto the main news and the filming was done exactly from where these last seven images were taken, they must have arrived not after I left.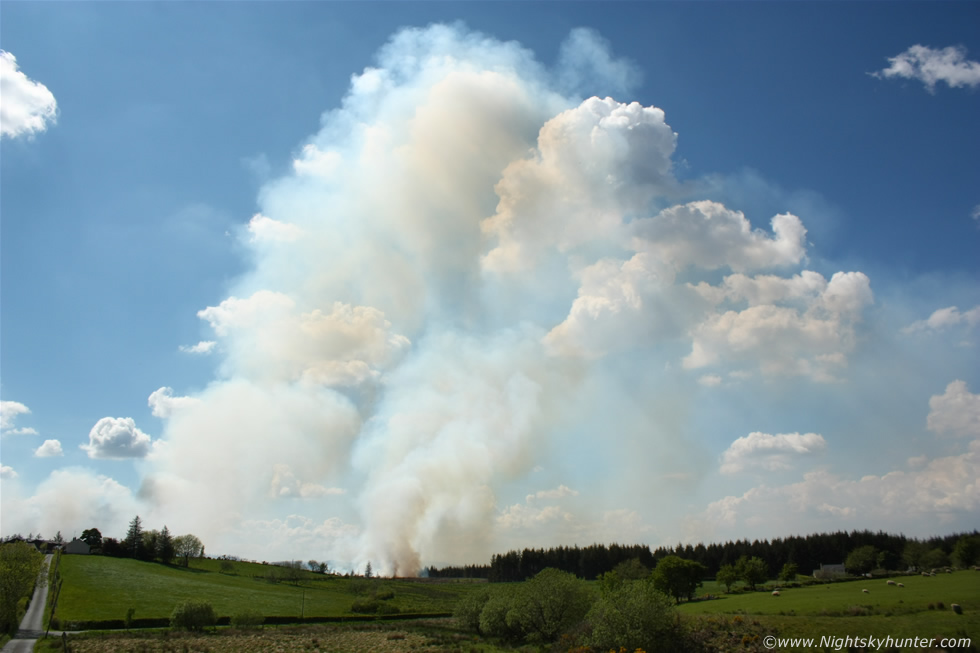 No one knows how this fire started however the consensus from the fire service was that it was a natural event and when you consider the prolonged period of bone dry conditions, hot temps, and intense sunshine it's easy to see how easily this could have ignited, the grass and trees were like tinder, all it would have taken was a bottle focusing sunlight onto the grass. Here's a parting shot from the road with the smoke contrasting against the blue sky. We then began the journey home, I had taken 400 images from this shoot so this reports shows only a tiny fraction of what I have. Quite an unexpected action-packed day - major fire, smokenadoes, horse shoe vortex and dust devils - well worth the money spent on fuel!
Video clip 14 min's in duration which you can watch on high quality or even as HD. Towards the end you can see the fast blowing smoke behind the house, the smokenadoes are visible between 8 min's 29 sec's and 9 min's. When I arrived home I noticed by arms were red due to sun exposure, it was a hot intense and exciting photo shoot, my hat goes off to the fire crews who battled with the fire in these very trying conditions. Thanks very much for reading.
Martin McKenna