Norwegian Star Cruise Ship At Dawn - Largest Ship Ever To Visit Lough Foyle - Oct 11th 2023
Not only has 2023 been a record breaking year for thunderstorms across the country but it has also been a record breaking cruise ship season on Lough Foyle. This year has seen more cruise ships than ever before with larger vessels making an appearance on this famous lough which connects Ireland and N. Ireland in an area of outstanding natural beauty.
If you have been following me for any length of time then you will know that I have an interest in shipping, I find ocean vessels mysterious, fascinating and dramatic, but not only that they make for wonderful subjects for aerial filming. At the time of writing I have been filming ships traversing Lough Foyle for at least eight and a half years and during that time I have noticed a big increase in vessel traffic with larger ships than ever before, especially with the tankers. This activity is largely due to to the success of Foyle Port where business is booming with trade in oil, grain, coal and other dry goods cargo. However tourism has also been booming and as a result there has been a record number of cruise ship visits this year, some of which I have had the luxury of filming, including what looked to be the largest vessel on record during the late Summer.
However as September gave way to October the Summer cruise ship season came to an end, then suddenly my friends and I got tipped off to an exceptional vessel due on the Lough on October 11th, but I was confused, surely the season was over? and how come this ship wasn't listed on the Foyle Port website? It turned out thanks to the Irish weather a freak event took place that ended up presenting us not only with the largest cruise ship ever, but the largest ship of any type in Lough Foyle history, her name was 'Norwegian Star'.
This mighty cruise ship was never meant to grace our waters, she was originally due to visit Galway however strong unfavorable winds prevented this stop so she was suddenly diverted to Lough Foyle, talk about great fortune! The ship would leave Killybegs then sail over night around the headland of Co. Donegal then arrive during the early morning, she would spend the day then depart for England which presented me with two filming opportunities, inbound and outbound. Of course she would be sitting at anchor for hours increasing my chances of recording her but you see I like to film ships when they are moving as this adds a greater sense of drama to the footage. Word of her arrival soon spread across social media and we found out the pilot would board her at 07.00, then she would sail again at 16.00, these were my two flying windows.
At 294m in length, pretty much near 300m or three football pitches end on end, she was by far the largest ship we would ever see or get the chance to shoot so as self confessed 'ship chasers' we were determined to be there and be a witness to Lough Foyle history. To put things in perspective the tankers on the Foyle range from 144m to 190m, the latter is rare. The bulk carriers vary from 180m to 200m (these are big vessels) and any cargo vessel bigger than those would be the plywood ships such as the Hosanger and her Sister vessels which max out at approximately 215m, again these are still massive when you are in proximity to them as they sail past you (try Culmore Point if you don't believe me). Beyond these work horses of the sea are the cruise ships, they vary from 100m to 180m and occasionally surpassing 200m to 230m which were in the previous record range, so something in the 300m range would be essentially a dream come true for us.
Now that we had the times what were the elements doing?, the morning was to be dry with 20mph NWly winds or stronger, these were strong enough to reduce air time however during a recent trip to Donegal I was flying confidently in winds in excess of 30mph so I wasn't concerned at all. The sun would not rise to 07.44 however the pilot would be boarding at 07.00 at the outer anchorage not far from the Foyle buoy, this meant she could be within range 15-20 min's later depending on her speed, but it looked like light would be low, especially so if it was overcast, this could be a good thing or a bad thing but I wasn't quite certain yet. So my plan was to get her in the morning then sailing away again in the afternoon, I was bound to succeed at one or both times increasing my chances of getting good footage.
I went to bed at midnight then my alarm woke me at 04.45 on October 11th and I was up like a rocket. I filled a flask, and Rhua - my trusty canine companion - was ready too and by 05.10 we where on the road driving north. The sky was overcast however by the time I arrived near Greencastle in Co. Donegal large clear breaks had opened revealing a beautiful pre-dawn starry sky with Orion, Sirius, Procyon, Hyades, Pleiades and the best scene of all was blazing planet Venus near the naked eye star Regulus in Leo with the crescent Moon with Earthshine below, it was spectacular and felt weird standing in the dark under the stars to get a ship. I met up with drone pilot and fellow ship chaser Nigel McFarland and together with head torches we walked across the landscape of Donegal, as we ascended a small hill we were treated to a great view across the lough, and there in the semi darkness was the Norwegian Star in all her glory. We were impressed, the ambient light was lower than we had expected and the ship was lit up like a gold Christmas tree, she was stunning, gold lights on multiple decks, perhaps fifteen stories high, she truly did look like a floating hotel over the water.
This was a fantastic offering from nature, at first I was complaining I wouldn't get sunrise light on her but now this was a golden opportunity. I had filmed a couple of cruise ships on the Foyle in the past in the dark with lights with my Mavic 2 Pro but never anything of this caliber. Lights, pre-dawn blue hour glow, it was a perfect moment of beauty. This would also be a great test for the large four thirds sensor on the Mavic 3 Classic so I was eager to see how it would handle things. The ship was moving in alarmingly fast, another good thing, I needed to get in the air fast. Video on auto mode, manual white balance 600K, then I flew out across the atmospheric lough while many people were still asleep, I heard the buzz of Bees swirling, it was Nigel's Mavic 2 Pro, he was heading out too for still images, both of our drones flew out eagerly ready for action.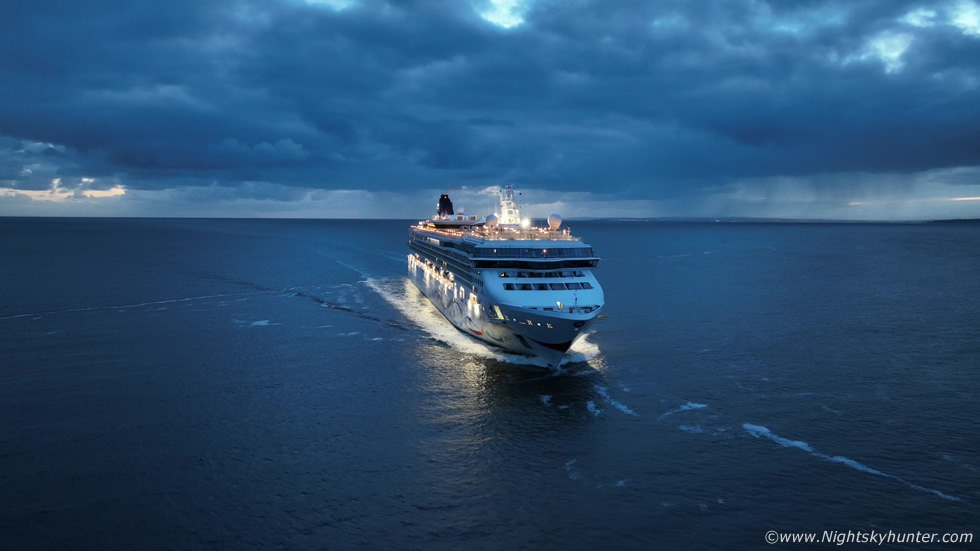 Ship passing Shrove and I've reached her, I eased off on the throttle and glided towards her, I decided to approach from her starboard side first and film her bow
What a beauty, bow hatch doors already open with crew ready to begin tendering passengers to Donegal as soon as possible. To think there were 2,348 passengers and 1,031 crew onboard.
Pulling back towards Donegal to show her great size while keeping pace with her with drone flying to the right. I like the way her lights reflected upon the water. Nigel said ''look up'', I lifted my eyes from the screen and looked in front of us and there she was sailing by with barely a sound like a phantom at dawn. We were both awestruck by the visual view, her huge length and height seemingly blocking out all foreground objects behind her, she even eclipsed Binevenagh on the other side. It was the sight of all those golden lights and windows glowing in the darkness which was remarkable, we actually felt privileged to be here to witness this moment, the morning chase had been a very good decision indeed.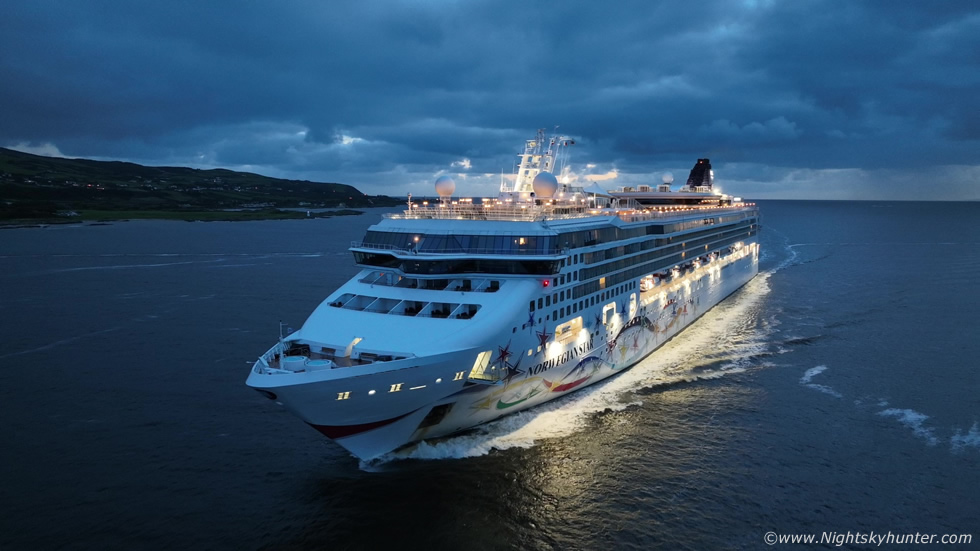 Wrapping around the bow to her Port side, Nigel and I were constantly reading out our altitude and range and location relative to the ship to make sure both our drones were safe. Her speed was perfect for video, fast enough to be interesting to watch but not so fast that I couldn't stay ahead of her, that 20mph wind the charts showed was way off, it was between 8 and 10mph at most. Her max speed however in the open sea is 24.6 knots or 28.3mph driven by two Diesel-electric ABB Azipod units (2 × 19,500 kW). One of my signature moves is to fly backwards tracking the ship as she moves forward then ease off and watch the ship pass through the field of view while panning the drone, a simple but effective movement as the ship provides all the drama.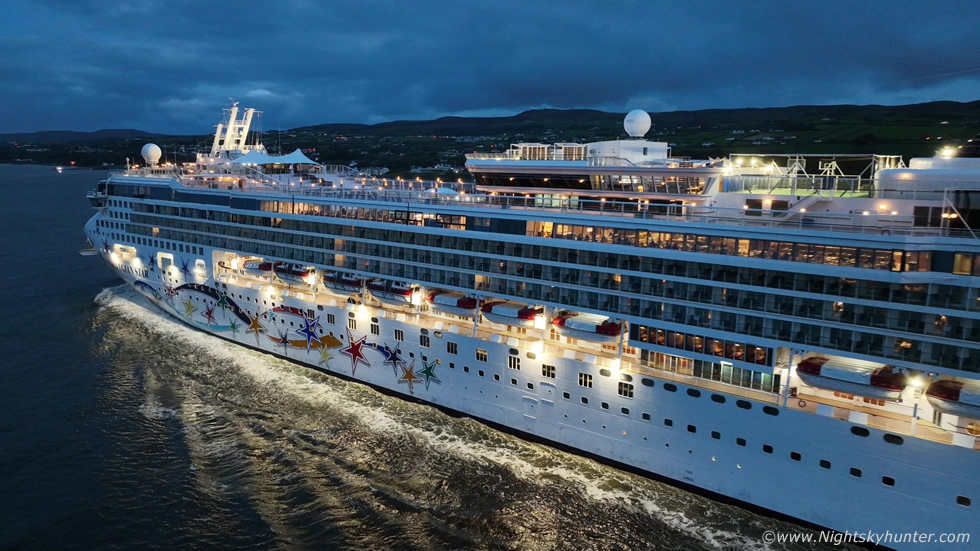 It was amazing to watch her pass live on the RC screen, her golden lights reflecting on the water, on the hull, and illuminating those huge stars and ribbons sporting multiple colours. I could glimpse people in their cabins and on various decks, passengers and staff, some eating breakfast, others admiring the view, I felt like I was peering into a floating apartment block, make sure to watch the footage below to get the full experience.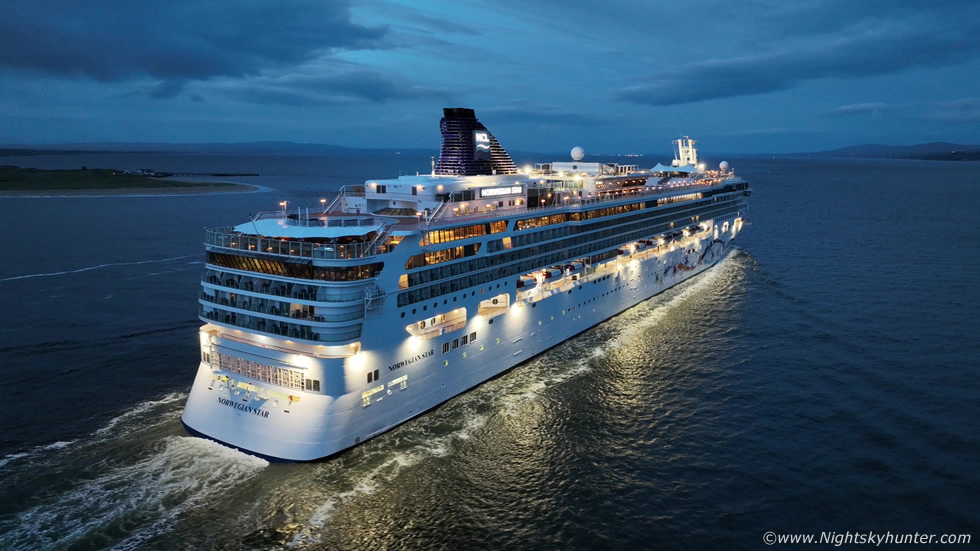 Wrapping around the stern then tracking along her starboard side for a distant wide wrap. That's Magilligan Point on the left, the beach looks tiny in comparison to the ship. 70% of her cabins face out to sea, Norwegian Star underwent a refurbishment in summer 2018 when it received the Sky High Bar, the Bliss Ultra Lounge and the adults-only Spice H2O, a Casino was fitted in 2005. She has at least ten different dinning areas and her decor was designed to appeal to Asian and Australian passengers, rather than Americans, this was because she was originally based out of Singapore by Star Cruises until she was bought by Norwegian Cruise Line (NCL) in 2001.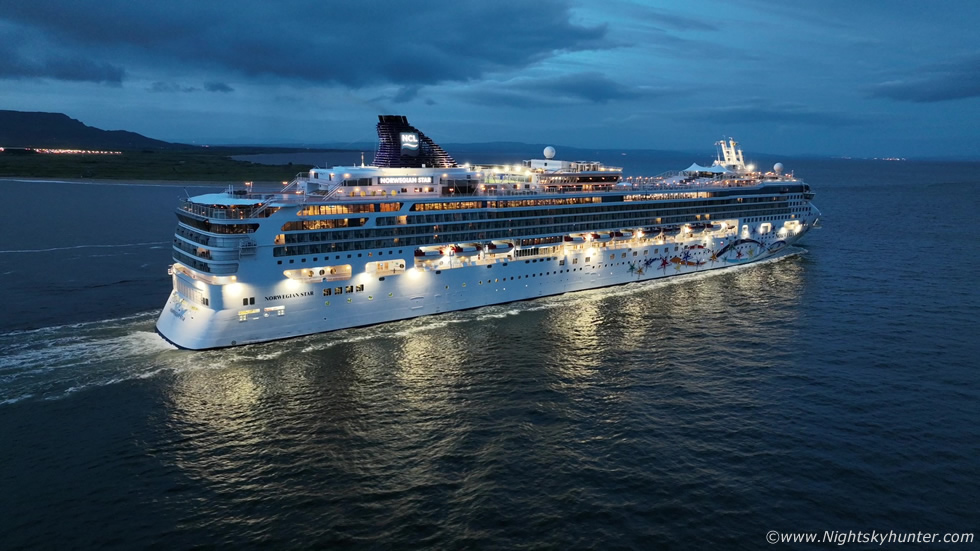 ''Unusual for a cruise ship, are its twin 220-square-meter (2,370 sq ft), three-bedroom, suites situated atop the ship complete with private garden and sundeck'', imagine private gardens on a cruise ship!. ''Norwegian Star's gross tonnage is 91,740. She is 294 meters long, with a beam of 32.2 meters and a draft of 8.2 meters. Norwegian Star is a Panamax ship and was designed at the maximum size that could be accommodated by the locks of the Panama Canal at the time''.
Magilligan Point and pier in background, the distant lights are from Magilligan prison. It's shocking how far back I had to fly the drone to get her all in the frame with space around her.
Letting her pass the camera field one more time, the green area on top is a basketball court. I didn't have any interference from the ship amazingly, and I was flying with manually selected 2.4 Gz frequency which seems to work much better in open spaces. This marked the end of my filming session, I let her sail away, I checked battery and I still had 43% remaining so I pursued her once more with the intention of taking still images with the 20MP camera.
Ship still moving as she approached Greencastle, I didn't know how the images would turn out in such low light with a moving object, I just snapped the images on auto mode and hoped for the best and they turned out very well considering the circumstances.
The floating hotel arriving at Greencastle and beginning to slow down, crew already getting the tenders ready, you can see one extending out from the hull.
It really must have been a strange sight to live in a house over looking Lough Foyle in Donegal, to look out the window the night before and nothing there, then bed time, then waking up in the morning, opening the curtains, and suddenly this is in front of you, it must be quite a shock.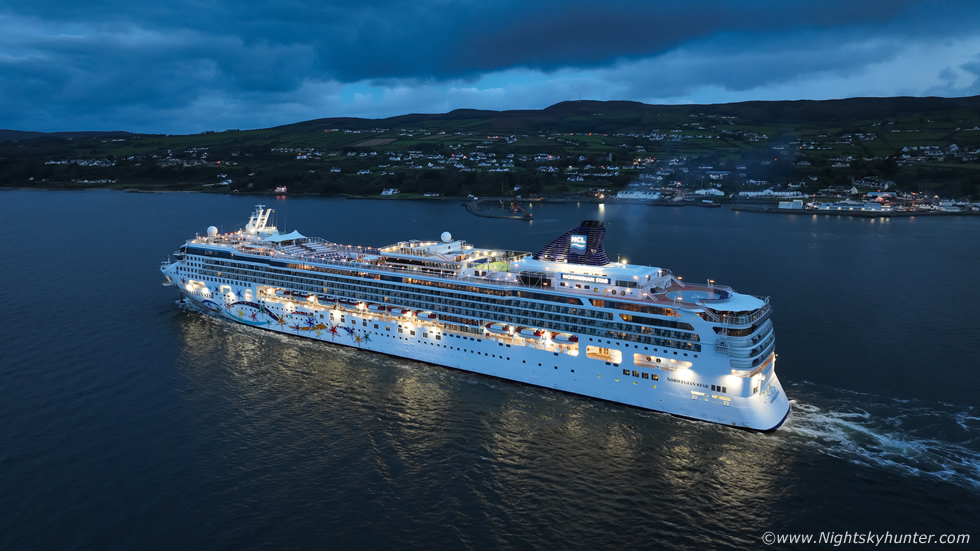 Final aerial image with Greencastle harbour in background just as dawn was breaking. These ships are too big to go all the way down the lough to berth at Lisahally/Foyle Port. The berth space wouldn't be sufficient to support such a vessel, also the space there is needed for the work horse cargo and bulk carrier vessels and furthermore the power lines crossing Culmore Point would catch on the ship. So for these reasons, and others, the cruise ships of this size drop anchor in the deep water near Greencastle where they spend the day, then passengers are tendered (little boats with seats) across to Greencastle where they would explore the local area then take coach trips into the city and along the Co. Antrim coast to such places as Dunluce Castle, the Giant's Causeway and the Rope Bridge.
This was a special moment, news of the ship was covered by many social media sources and of course staff from Foyle Port visited the ship to meet the crew, get a tour - which they film for their twitter page - and present a certificate to the Captain as is custom for a ship's first visit to these parts. It was a landmark moment for Foyle Port and for the future of tourism in this area. I decided to wait around for the rest of the day with the intention of getting her leaving again for round two.
Eight hours later the sun was shinning and she set sail at 16.00 sharp outbound for Southampton, UK. I had another good flight around this massive vessel and also filmed the pilot climbing down the ladder and returning to the Foyle Leader, which looked tiny in comparison to the Norwegian Star, you can watch this daylight video on my youtube channel.
Full drone footage of the Norwegian Star with lights as she arrived on her historic voyage to Lough Foyle. What a brilliant day out ship chasing, it was fun to compare the pre-dawn and afternoon flights and to experience this visitor in her various moods, however it was the morning flight which really will stay in my memory forever.
The big question is, will this be the record breaker for years to come?, how long will we have to wait to experience a ship of this size again on the Foyle?, perhaps the 2024 season will be just as busy and a few surprises could be in store. However, there are plans to construct a new cruise ship berth at Greencastle, if this can get the go ahead then in the near future we could be getting vessels even larger than this, in fact, we could be seeing some of the largest cruise ships in the world, exciting times are ahead!, thanks for reading.
Martin McKenna