Mussenden Temple Noctilucent Clouds - June 27th 2019
It has been years since I have captured a proper NLC display from the north coast of N. Ireland, the last time I did so was back in July 2011 when Roisin and I experienced a beautiful display over Dunluce Castle (report) however since then I have to confess that my NLC adventures have been more focused inland. The reason for this is that NLCs cannot be forecast so the chances are very high that if I did commit to the coast on any particular night the odds of getting a display were small, even more so for getting a spectacular display which are most definitely not a nightly occurrence, in fact, there might only be anywhere from two to six decent displays each season and that's only if you can get a good run of clear skies to see them. Driving to the coast every clear night is tiring and costly and on most occasions I would be coming home empty handed, this had been my reasoning anyway ever since the 2011 shoot. I love shooting NLCs local, they might suddenly appear with little warning so having locations close to home where I can drive to at a short notice are paramount for a successful photo shoot, I often end up in fields or on more rare occasions near lakes and I have never regretted these experiences.
However this season I decided I would take a gamble, I had been chatting with photographers Nigel McFarland and John Fagan about this very issue, I wanted more in the way of foreground interest and in truth I was longing for a good NLC coastal experience so I told the guys I was going to do it. After the mega NLC storm of June 13th we had gone through a cloudy period in N. Ireland then a run of clear nights presented themselves once more, during late June we had four clear nights in a row so I began watching the skies in earnest yet at the same time I was holding back. Only the second night produced a display however it was weak and unimpressive, I never even left the house, the following night produced absolutely nothing and I was beginning to get worried our good weather was going to end soon. June 27th would be the last of these clear nights and I had a good feeling all day, I decided that on this night I was going to go to the coast and try my luck. Nigel was in touch and said he was going to shoot the sunset and stay later in case of NLCs so I decided I would leave earlier than I had planned and would meet up with Nigel, a sunset shoot would be a nice experience and anything else would be icing on the cake.

I arrived 1.5 hours before sunset, parked on Downhill beach and devoured a tasty cheese burger (I had no dinner) then Nigel rang, our original plan was simply to shoot the sunset from the beach, but I wasn't digging the potential, the sky was too clear for a good sunset, it would be a nice visual experience but not really a photogenic one. Nigel was feeling the same way so he suggested we got to the summit of Binevenagh and shoot the mountain at golden hour with the drones, that sounded like a great idea to me for I have always wanted to get Binevenagh at sunset with the drone. We took the mountain road, it had changed greatly since I had last been on it way before Winter, the road was now covered in gravel, as we ascended stone chips shot out at crazy angles from the wheels and due to the dry weather great clouds of dust rose from our vans almost obscuring my view at times, it was fun and atmospheric and reminded me of the scene from Convoy when the trucks took the old back trail to avoid their pursuers.
We walked out to the summit, the evening was gorgeous, we put the drones up and took imagery of Binevenagh. I acquired footage first then concentrated on aerial stills. This was a 180 degree pano, a combination of eight 20mp images merged together onboard the Mavic 2 Pro itself capturing the last final minutes of sunlight on the mountain, I was rather pleased with this one, you should see the high resolution version of this one. We watched the sun set behind Donegal then made our way back to the vans, we had time to kill, it could be another two hours before we had a chance of seeing NLCs if they even showed at all.
I was making a brew and Nigel and I chatted about the ins and outs of NLC photography, camera settings, focal lengths, displays from past seasons etc when I casually looked up, I exclaimed ''holy sh**t NLCS!!'', we looked up and couldn't believe it, there was an extremely high elevation NLC display already visible in the bright twilight, much earlier than I would have expected to make a visual sighting, we were shocked and couldn't believe it, we had NLCs and it was a big one. There was no time to waste, we had intended to capture NLCs over the temple however we needed to get there first and we where out of position, we didn't know if this early show would be the precursor to an all night show or if it would vanish so we needed to get shooting. Our two vans raced back down the mountain road, all I saw was a dense cloud of dust covering the sky from Nigel's van in front, the deep loose gravel was like driving in snow at times and I will admit to driving a little too fast, but the NLCs were all I could think about so I kept going, I had target fixation, I just wanted to get to Mussenden and have my camera set up. At one stage I took a bend too fast and the rear of the van slid out, there was another dust cloud in the air and gravel spewed sideways, I counter-steered and regained control and we left the mountain behind and where back in good clear air. When we passed Gortmore viewing point we had such a terrific view, the beautiful blue twilight sky reflecting on the ocean and tranquil Lough Foyle with those rippling alien clouds manifesting in the sky, it was a wonderful scenic memory.
We arrived at Downhill, sorted out our gear and began the walk through the grass, I was carrying two camera bags and two tripods, my intention was to shoot time lapse with one DSLR and still images with the other DSLR. We looked up as we walked admiring the NLCs, we could see very well pronounced ripples, waves, whirls, bands, knots and lacunous holes. We arrived in front of Downhill Estate and decided to try this location first, it soon became obvious that the NLCs were fading away, in fact, they were vanishing rapidly by the second despite the fact they where at the zenith, below was clean sky devoid of NLC down to the horizon, we didn't have long to get a record and began shooting. I used my 10mm wide angle and shot a time lapse of the fading display over the dark form of the old manor house, the NLCs looked like a Banshee in the twilight, we were both happy to have got something this night, then they faded away for good.
NLCs can be a little like the aurora, they are often unpredictable and can manifest shockingly fast once your back is turned. Just as the main display literally vanished into thin air we spotted something else extremely low across the N and NE horizon, at first it looked like normal cirrus cloud but as the sky darkened further we knew they were NLCs in the form of long cream coloured bands only 2 degrees (a thumb width at arm's length) high and not photogenic, however after careful observation we could see that these mysterious clouds were growing rapidly, upwards and expanding in horizontal extent to the NW and NE, we knew this potentially could be a good show and perhaps even a stunning NLC display later, but for now it was just a matter of waiting, so we switched off the cameras and chatted while enjoying the view of the ocean.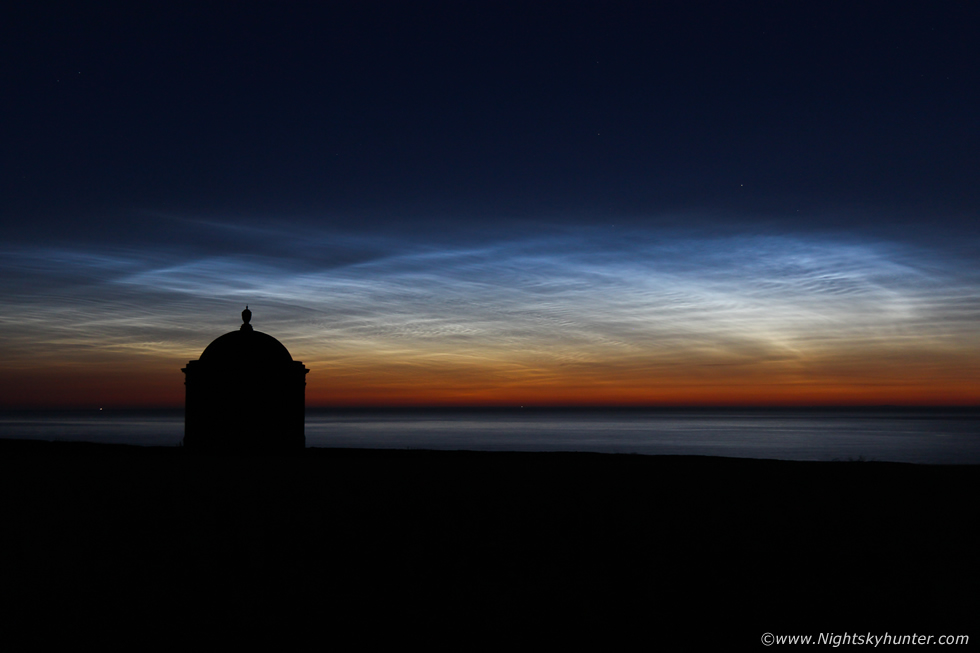 By 01.00 those faint bands had evolved into a display of absolute beauty, we had three cameras set up in the long grass shooting, I was focused on time lapse yet I used another DSLR for still exposures at my leisure, I say leisure but it was far from leisurely at the time as Nigel and I were constantly busy checking exposures and focus while observing the display, we were in the zone and loving it. I mainly used two lenses for this display, the Canon 18-55mm kit lens and Canon 24-70mm F/2.8. The former I find to actually be a good lens for NLCs because of the good focal range available which is ideal for framing NLCs. The latter is my favourite NLC lens, fast, sharp, so much so I could stop the lens down to get even better sharpness in the images due to the abundance of light from these clouds. Here's the famous Mussenden Temple with NLCs, something which neither of us had captured before despite all the years shooting NLCs since 2000-2001, we had now achieved our goal, however we never thought we would be lucky enough to get a display of this caliber on a random clear night at the temple.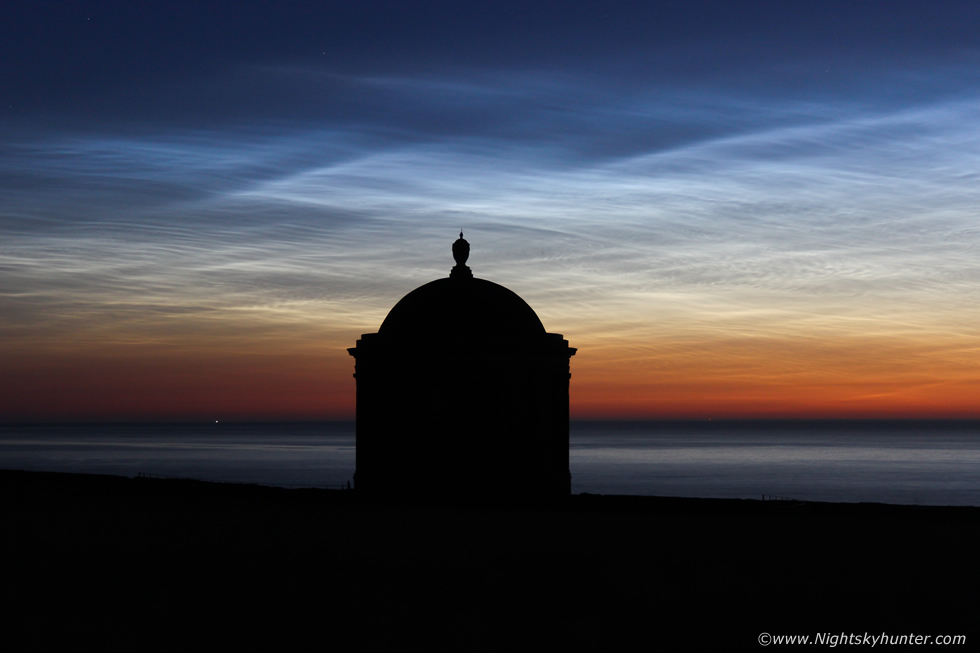 Kit lens at 55mm, check out the beautiful electric carpet of waves and bands criss crossing one another, there are two prominent areas to the left and right where this was happening in dramatic fashion.
The display illuminated the entire horizon with exquisite structure and glowed so bright it reflected on the ocean, this was the view to the NE, check out the vast array of NLC forms and structures on view. The stars of Perseus are above centre with Andromeda and Aries on the right, the distant lights of Portrush can be seen in the same area.
As camera 1 was shooting time lapse I used camera 2 for memory scenes like this one, here's Nigel with camera and temple with full display in progress. It was such a nice experience standing within the tall dry grass on such a mild summer's night watching this spectacle from nature.
This was using the razor sharp 24-70mm F/2.8 which I had stopped down. The colours of this display were breathtaking with classic NLC electric blues blending into silver then with decreasing altitude yellow merged into a vivid orange band which crossed the ocean horizon, the naked eye view was just as splendid as the camera view.
Nature is incredible, orange-gold bands and whirls ascending aloft into a fine complex of herringbone structure while whirls to the N complimented by knots seemed to 'blow' into vivid silver bands, the impression was of watching magnetized filings moving with an unseen magnetic field. This scene was too epic for single images so I changed the camera to this angle and shot a new time lapse, conditions were prefect, a great display, superb visibility and just a gentle breeze to keep due off the lens.
The view at 01.30, the bright star to the upper left of the temple is Capella, I can tell you I never felt so glad to take a chance on a clear night as I was on this one, this night exceeded any of my expectations, this scene would make for a unique pano-style print.
55mm focusing on the region below Capella, it was 02.00 and already the display had changed its form again, you can see extremely well defined waves (also known as herringbone), these are the classic NLC structure like sand ripples on a beach at low tide.
Nigel enjoying the show, two long slanted bands had formed to the lower left of Capella, they even cast their own shadows onto the background veil.
Nigel and I savoring the moment, it was just us and nature, no other photographers around. Herringbone rising above Capella, it was now pre-dawn, the NLCs would be changing altitude as the sun began to ascend after passing the darkest part of the night, the background sky was getting brighter rapidly, we knew the night would be ending soon.
03.00 memory shot with us back at Downhill estate, the sky was brightening fast however I managed one more time lapse before we called it a night. This was such a gorgeous night filled with visual wonders and a great nature fix and summer memory which I had been craving, my gamble had paid off, we got treated to one of our finest displays of the 2019 season and we made the most of every minute of it. I headed back home at 03.30 feeling exhausted but satisfied, the mental images of this display stayed in my mind when I drifted off to sleep at dawn.
Drone footage of the sunset experience on Binevenagh with the summit at golden hour while we waited for the sun to drop between 6 and 16 degrees below the horizon, little did we know that we would be getting treated to a surprise NLC show not long after sunset.
Full DSLR time lapse of the Downhill and Mussenden Temple NLCs, I was rather pleased how this worked out and on a personal note I feel this is my best NLC time-lapse sequence I've ever taken, thanks very much for reading.
Martin McKenna