Mullaghmore Sunlit Thunderstorms & Funnel Cloud - June 7th 2014
I don't think I have ever observed so much daytime lightning and heard such prolific thunder as I have during this four day thunderstorm outbreak! I spotted the potential a week in advance as the models were keen on showing a period of very unstable air with fabulous ingredients for thunderstorms across large areas of the country. Hot unstable air had made its way N from Spain covering the entire country delivering warm temps and high dew points while across the Atlantic Ocean cold air was moving in from the W and where these two air masses clashed there would be rapid destabilisation of the atmosphere and a high risk of thunderstorms. The first event was a classic Spanish plume set-up which generated night time thunderstorms across parts of England and Wales during the night of the 6th and early hours of the 7th, this plume crossed the Irish Sea and moved N with a chance of it clipping the E side of N. Ireland during the afternoon of the 7th.
I was awake until 03.00 the previous night watching radar on my laptop just in case any night storms formed over N. Ireland and as I expected - they didn't - then I was up again at 04.30 for another check then up for good at 08.00 to study the forecast and select a target area for Saturday's storm chase. The Met Office had issued a yellow warning covering the E coast of Co. Antrim for heavy thundery rain and flooding so many had their eyes in that direction for action, however I never liked that set-up at all and from experience I knew it would be a bad option. First of all that part of the country would be cloudy for much of the day which would cut off solar heating inhibiting any convection and second of all any storms which did form would be elevated in nature with no structure visible at all due to bad visibility and precip, what is there to gain from sitting under cloud and rain all day with nothing to shoot?, elevated storms of this nature are extremely unphotogenic and at best all you can hope for is to catch a bolt among the grey, however had this been at night time then that would be a very different scenario with the possibility of epic lightning shots for miles however the timing was bad and I didn't see enough energy for storms to even happen in that risk box, I was correct to make this decision because no further storms developed in that area inland.
My heart lay further S where the real action would be within the post frontal air mass. The models were predicting 1300-1500 CAPE and LIs of -4 and -5 with freezing air aloft at - 30 to -40 degrees C overspreading the country with a trough moving N during the day with just enough vertical shear to allow the formation of surface based multicells or lines of thunderstorms. Furthermore there was a large convergence zone across the W of Ireland and over the ocean where funnel clouds could form so this helped greatly in my choice of target area. There was some concern over cloud cover issues from the overnight Irish Sea storms moving inland however satellite imagery showed good clear sections down south so in my opinion the day looked absolutely prime for rapid thunderstorm development. I decided that our chase area would be in the Fermanagh-Sligo zone with the option of moving N into Donegal if needed, in a nutshell we needed to drive S away from cloud cover and into clear sky and unstable air then let solar heating do its magic.
Roisin and I prepared flasks of tea, plenty of water and snacks then hit the road at 10.00 and began the drive S, we were both in very high spirits with the radio up loud and buzzing with great energy associated with being out in nature with the prospect of something exciting happening in the hours head. We drove through cloud and rain however once on the Omagh Road the rain stopped and clear sectors could be seen through breaks in the cloud which was extremely encouraging. Once in Fermanagh the cloud eroded and we were under pleasant warm sunshine and I have to say that at this point I felt utterly confident that the ingredients were there for good thunderstorms, it would just be a matter of patience then making the rite decision at the rite time, we were in that adrenaline building transition between forecasting and nowcasting. First we needed something to eat and a look at the radar so we continued S into Belleek and got settled into our favourite place to eat in town - The Lemon Tree Coffee House - where we enjoyed coffee and a very tasty lunch. I got online via my lap top and noticed that storms had already fired to the S and W of us with strong cores on radar, S. Sligo and Galway were getting hammered by nasty storms and these cells were slowly moving NW on the SEly flow and as the trough moved N we could be getting storms in our location too however I planned on heading S to intercept them and I had a feeling that this human-storm encounter would take place in Co. Sligo.
Paul Martin had been in contact and was up for chasing too and had informed us that he'd just left home in Omagh and was on his way S which was great news, I really began to have a good feeling about this day and a quick check on facebook got me even more excited when I saw a chart posted from the high resolution models showing almost 2000 CAPE over parts of Ireland which was rather exceptional indeed. The chase was looking perfect, the atmosphere was loaded with energy, storms were already prolific to the S and the atmosphere would stay unstable until way after 21.00 at night. We had time to kill before meeting Paul so Roisin and I drove to Bundoran and had a wonderful long walk around the coast and cliffs adjacent to the golf course, it felt like we were on holiday as the sky was vivid blue and the sun was so strong that it was beginning to affect me, in fact it was relentless at Bundoran and I could feel my skin start to shiver in response to its intensity so I made sure to take plenty of water and keep hydrated. The walk was a beautiful experience with vibrant colours everywhere and people out enjoying the great weather with a vast calm ocean stretching across the horizon while convection bubbled up merrily. As we walked we also watched the clouds and noted how the towers were getting more agitated and taller, there seemed to be a weak cap at work however I knew it would break easily when the tough moved in so I wasn't in the slightest bit concerned, it was all up to nature now so it was just a matter of having faith in the sky. We returned to the car and made tea and to be honest it was hard to sit inside - it was that warm and close - however the discomfort was great news for solar heating was even better than I had anticipated and the temps were already hotter than forecast, I said to Roisin we are going to get storms, we could feel the atmosphere was ready to do it and with that said we noticed tall towers shooting rapidly skywards to our S indicating that the cap had broken so we were in business.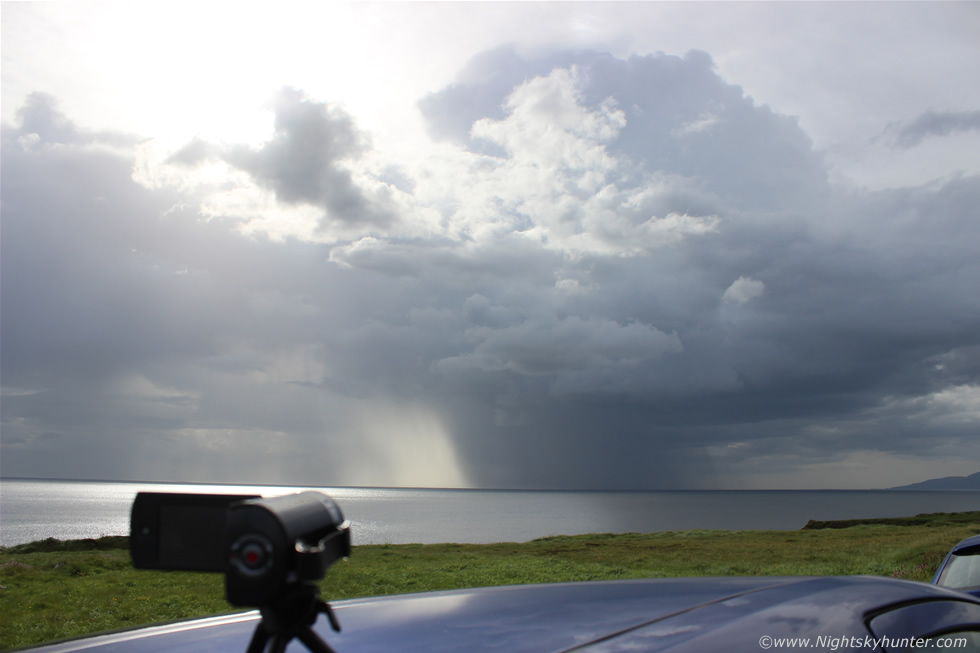 New text messages arrived from Paul so we raced back to Belleek then we all met just as towers were building over the town. We had a quick chat about the set-up and the latest radar update from which it was a logical conclusion to get to the W side of the country as the NW moving storms would be favouring that area and the ocean so we decided that S and W would be a good move to intercept however we had to think of somewhere we could pull over and watch the storms without having our view of the bases blocked by trees or buildings so we immediately thought of Mullaghmore and with that said we hit the road once again with our two cars en route to Co. Sligo with Roisin and I in one car and Paul with this two Dogs 'Aurora' and 'Candy' in the other who had also come along for the chase. We went over the border then into Ballyshannon then straight to Sligo with cells building all around us, it was tempting at times to pull over and shoot however we were on a busy road and we needed to get to our destination asap, in the wing mirror I saw several cells explode to life to the E inland and a black angry base nearby which was begging for attention however we let them go and continued S, sometimes you just have to make a decision and stick with it and not get suckered by other cells.
We turned off the main road then advanced rapidly through the back country roads while climbing in elevation and at times the drive was dodgy with other cars passing on the road which barely had enough room for two however we reached our destination then parked the cars at the edge of the road looking across a field of grass then out across the open Atlantic Ocean. This was Mullaghmore, our old favourite location where Paul and I had watched the best night time lightning show of our lives during the previous August and here we were once again at the same location hunting for storms and from the look of the sky it looked like nature had smiled upon us once again. We were not long out from the car when we heard several rumbles of thunder from both the ocean and inland which got us all smiling then our attention was drawn to a new cell which had just erupted in front of us in the form of a tall solid charcoal-grey tower of major height which just grew as we watched with more thunder, the sun was directly above beaming rays downward illuminating half the hail curtain within shafts of glorious light while the other half remained in shadow, this play of light and dark on the glistening ocean accompanied by thunder was great to experience. The storm was high based however it made up for it by its slow speed for it seemed to inch across the ocean in front of us and we had the perfect front row seat, I set up my video camera on the car roof and filmed. The updraught grew to a huge height then became surrounded in haze while the cell headed for Donegal where it would make its presence known as a nasty storm with flooding and lightning which would knock out the power in that part of the country.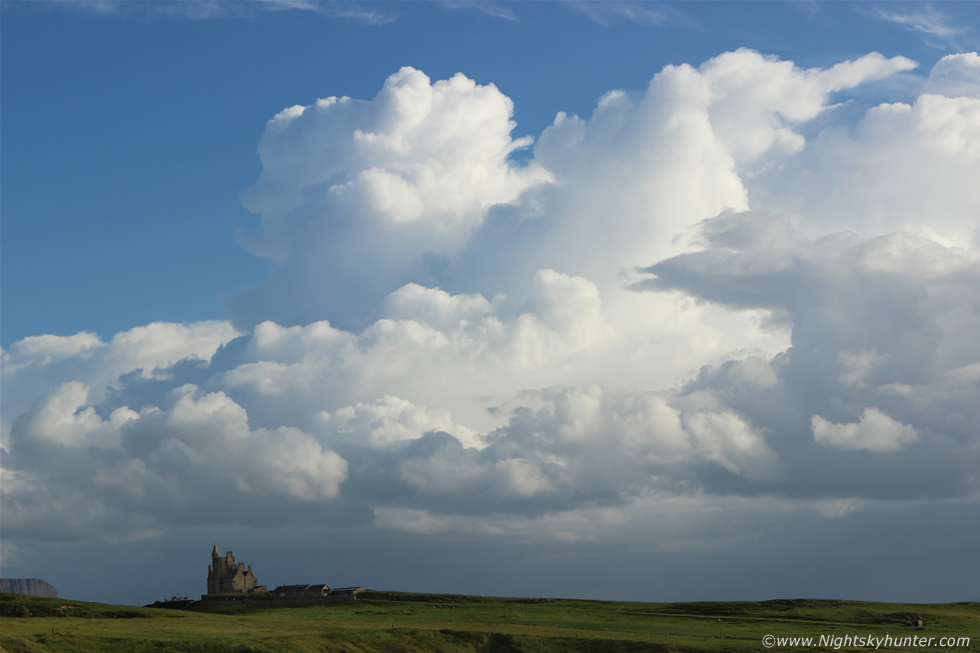 The storm was interesting but not photogenic however it was fun to watch and pleased us on this wonderful warm and humid evening. We looked to our SW and suddenly things took on a more dramatic and energetic tone, this was the view in that direction facing the famous Classiebawn castle. In the distance new storms had fired and were building very rapidly as we watched the towers explode upwards in real time, these looked to be the real deal and the photogenic reward of the day so we all started shooting this new storm cluster, I turned my video camera towards the castle and started filming at wide angle then attached the Canon 24-70mm F/2.8 sharp lens to shoot these stunning cloudscapes. Storms where moving L to R and looked awesome with the cells lit brilliant white in full sunshine with clean blue sky all around which made for excellent visibility storm structure photography. The storms built with great energy using up all the unstable air as the towers proudly reached full height while leaning over with the stronger winds aloft then spreading large solid anvils downrange across the ocean. The tail end charlie updraught at the rear of the complex above the castle looked the most impressive of all, and better yet these storms would be moving across our skyline rite in front of us, talk about being at a perfect location.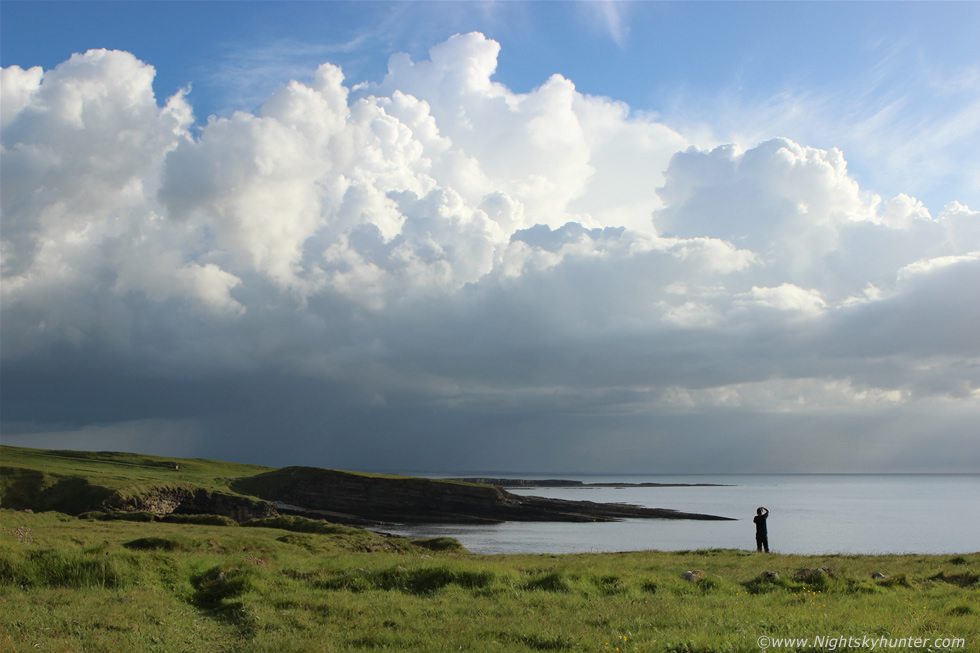 There was a lot of excitement from this point onwards and it was also a time of serious photography, I can recall taking a lot of images, almost constant shooting using different settings however settings aside we really couldn't have asked for better light or a better location, nature was showing off big time and it was doing its part so now it was time for us to do ours and document the event on camera. Paul ran down to the edge of the cliff while I stayed here to set the video camera with the intention of filming the storms crossing the ocean. Paul made for a fantastic sense of scale and added foreground interest to the scene which I think really helps show just how big and distant those storms were.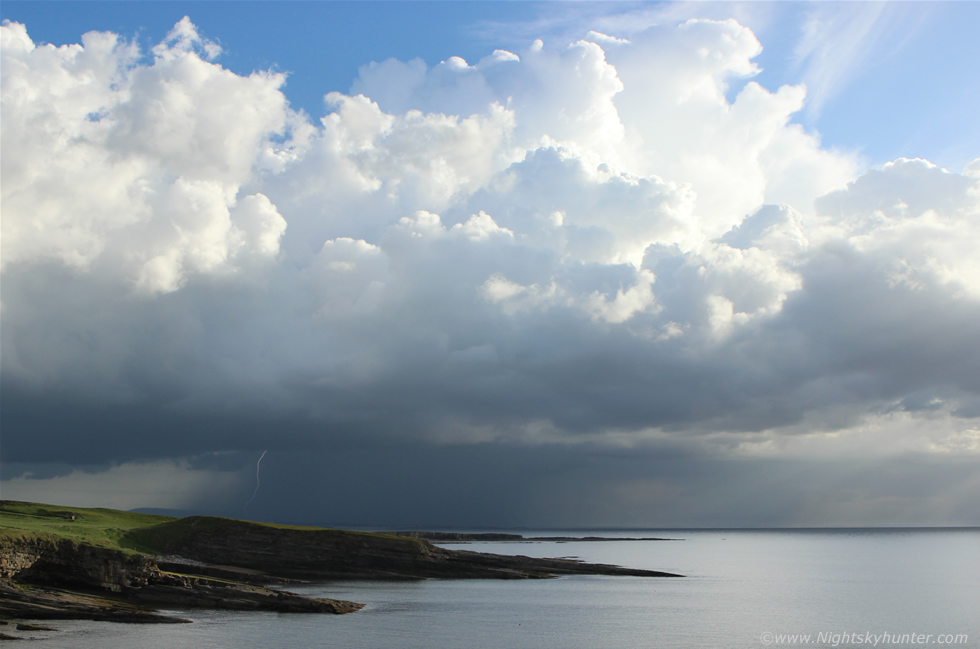 I grabbed the camera gear and ran across the grass to join Paul at the edge of the cliff with a big drop to the ocean below. The view was spectacular looking directly across a surreal flat sea while having the complete joy of watching these storms in full sunlight and feeling very warm while wearing just a t-shirt - and for the second time this season - I got to watch the entire life cycle of storms rite in front of me which was a real privilege. I also captured my very first day time c-g lightning bolt, this was taken hand held on manual mode with a shutter speed of 790th/sec which is an extremely lucky catch, this wasn't continuous shooting mode either so I was blown away when I saw it on the back of the LCD screen, this image alone made the twelve and a half hour chase worth it.
A crop from the above image showing the bolt all the way to the ocean. We were shooting away with the sun on our faces while hearing distant thunder crossing the sea towards us, this was heaven.
Look how solid that anvil is to the upper R!, that was a distant thunderstorm over the ocean moving L to R while on our side of the cell new towers were building with a fresh storm growing to the L at the rear of the line, add to this the storms further away over the sea and the one hitting Donegal and we must have had somewhere in the order of five or six storms in progress at different stages of their life cycles.
Beautiful rain free base on this new storm behind the precip core surrounded by clear blue sky, you can't ask for better than that. We monitored the base carefully for funnel clouds and waterspouts, you never know, after all these storms were moving through an area of good surface convergence.
The storm was filling the frame of the 24mm so I switched to the 18mm kit lens and it still didn't fit all in, it was time for another lens change to accommodate this growing storm.
The 10mm ultra wide angle was the tool for the job with the entire storm in the frame however it also pushes subjects further away so keep in mind that the storm is closer to us than what it looks here. I love the underside of the cloud structure lit by the lowering sun with crepuscular rays fanning onto the ocean horizon. We were getting i-c bolts within the cloud base and c-g bolts within the precip core with deep booming thunder.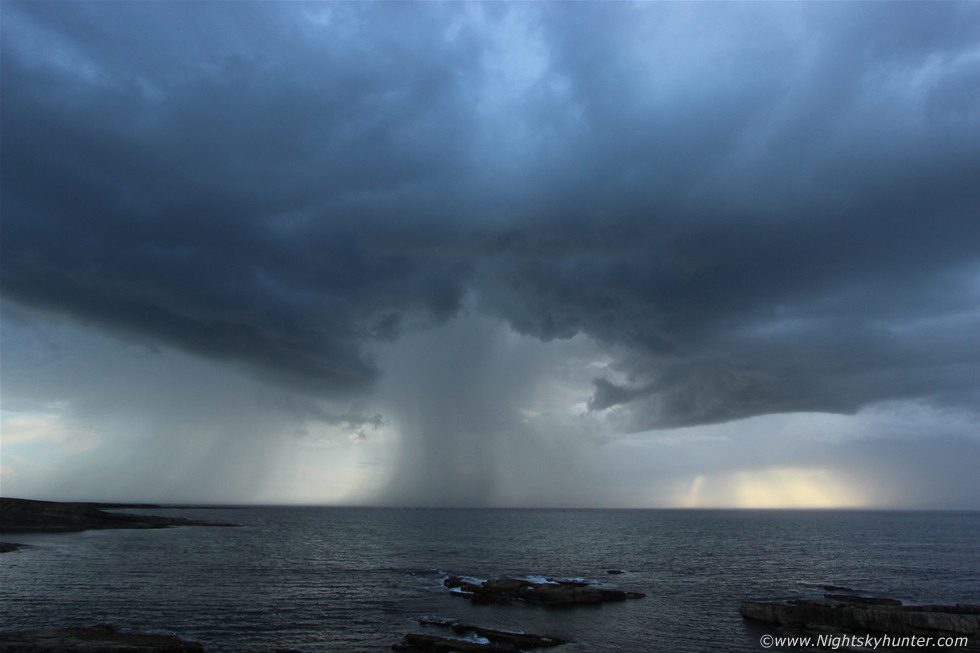 As our main storm moved across the sea to the W of Donegal this new high based storm formed from nothing and suddenly came to life rite beside us with beautiful structure, again the 10mm was employed, I like the graceful precip curtains sweeping over the ocean. Fairly close range i-c and c-g bolts again and for the first time we began to sense that we were in danger however we stayed put and kept taking wide angle stills with brief video clips with the 600D for bolts while Paul took video with his mobile phone camera and all the while my other video camera was filming the whole thing at wide angle from the car roof behind us.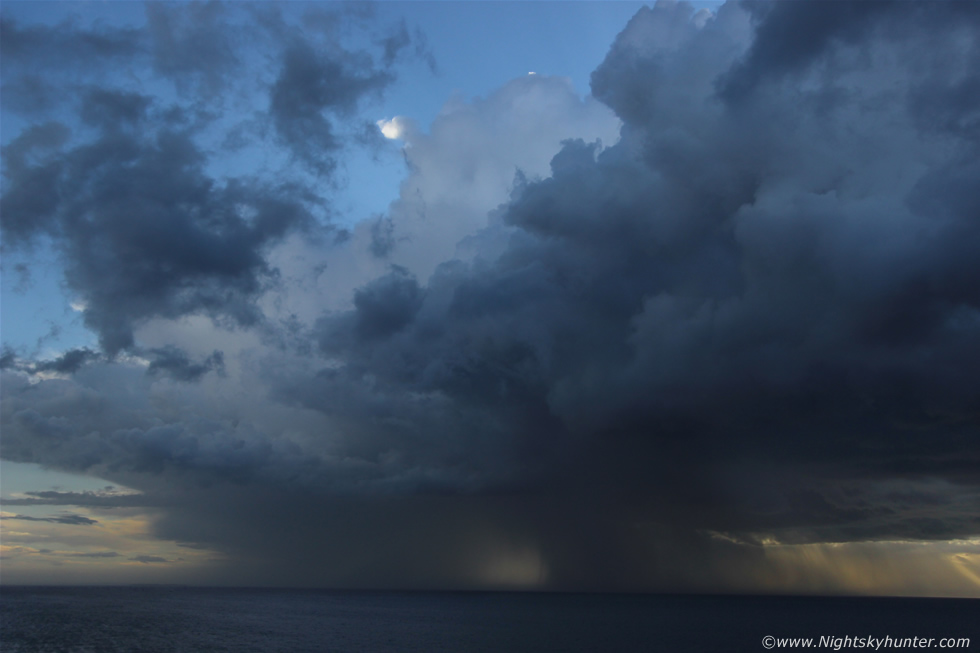 Storms clearing through to the NW with two cells and precip cores on view, the pair looked quite dramatic at close range back-lit by the sun with warm colours in the sky behind contrasting with the thundery blue tone of the storms. Both cells were still producing lightning however the closer cell was now getting our full attention as any further bolts would be extremely close to us, both Paul and I were crouched low on the grass near the cliff edge filming while Roisin took shelter in the car sensing that things were getting dodgy. This part is worth watching on the time lapse video below because the natural wind flow was SE to NW so from our vantage point it would be blowing from L to R however at this stage the wind had changed and was blowing directly towards shore, this was actually the downdraught from the storm (outflow) blasting across the ocean to meet us on the cliff, we felt it as a cold draught which forced us to put on a jumper for a while, however it looks cool on the video with ocean surface getting disturbed and flattening outward towards us.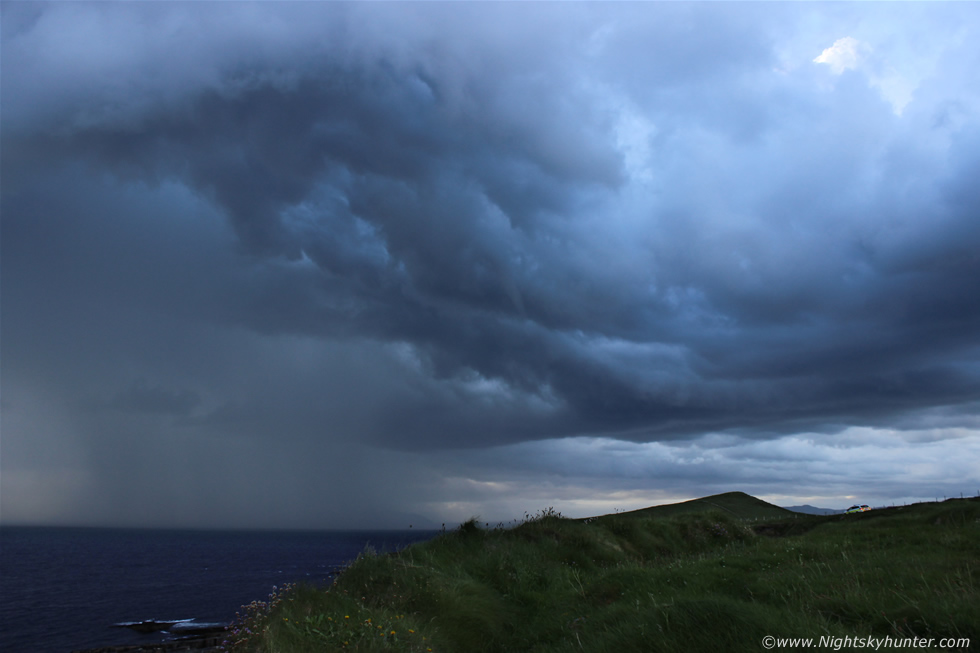 Roisin came back to join us - she is brave - and even brought over my tripod so I got the camera attached and began shooting 10mm video of the core out to sea for another bolt. I heard Paul saying ''Martin...'' then I saw a nice i-c flash in front of me which I got on video then I heard Paul once again saying ''I was looking at that area over there...'' I turned to my right and saw a funnel cloud, I shouted ''funnel'' over and over then removed the camera from the tripod and replaced the 10mm lens with the 18-55mm and began shooting it before it vanished while Paul was shooting it too. Here it is at wide angle under the base of this now very high based storm, you can see it at the centre of the image. Note the Gardi car (Irish Police) on the road below, they had been watching the storms too.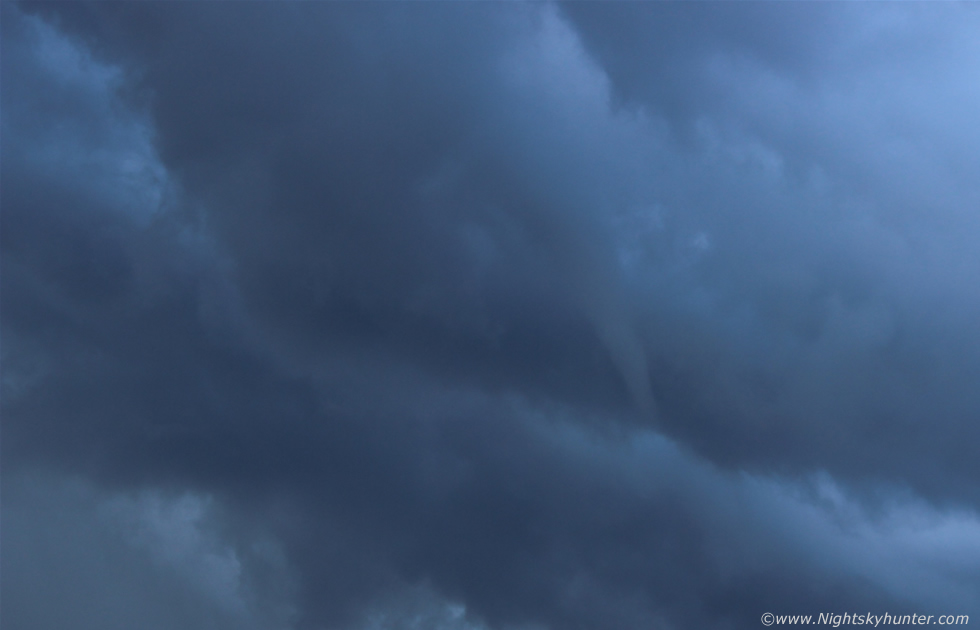 55mm and cropped in. A lovely funnel cloud it was too with nice well defined smooth form and attached to a collar cloud above where you can see the wrapping motion going on. The funnel lasted a minute or two then vanished leaving us yelling with delight. The storms died out and the sky was blue and sunny once again and to the S new cells were still going up with mammatus and rainbows on display however we had a great a show and felt victorious about what we had experienced over the last couple of hours. Aside from one brief hail shower we had watched and photographed storm after storm in perfect view under warm sunshine until near sunset, this is what storm chasing is all about and the three of us just took in the view and fresh air and absorbed the glorious atmosphere then began the long journey home. While on the road after sunset I could still see lightning flashing over Donegal and in the rear view more towers miles away were going up as yet more storms fired in the S.
It had been a fantastic first day of chasing and we were all highly pleased with nature's performance, normally I would be feeling exhausted on the way home as I still had Fermanagh-Kesh-Omagh-Cooktown-Maghera to drive however I was full of energy and focused because of that natural high from experiencing something special from nature. This first day we spent 12 and 1/2 hours on the road however it was worth every minute of the chase, we got to experience hot sunshine, view wonderful countryside and get treated to a train of thunderstorms over the ocean in perfect visibility while we got to our work on our tans then we get an unexpected funnel cloud for the icing on the cake. I don't normally drink however when I got home I celebrated with a nice cold mug of beer, however I wouldn't be resting for long for there were more storms forecast for the following day and the next two days following that and I couldn't wait to get checking the latest models and get back on the road for round two.
Full HD video footage of the chase at Mullaghmore, highlights are the three time lapse segments with special interest in the time lapse of the white storms exploding behind Classiebawn castle then moving over the ocean with Paul and I in the frame for a sense of scale. Note the tide lapping against the shore, the evolution of the towers and anvils, the updraught base/inflow motion and the downdraught blasting across the sea towards us, the funnel cloud is also in there too, can you spot it?, the video ends with a full uninterrupted time lapse of the storms. The musical score is from Paul Hertzog which is also the sound track of the martial arts movie 'Kickboxer' starring Jean Claude Van Damme, thanks very much for reading.
Martin McKenna