3000 CAPE Mesoscale Convective System Haze Monster - Mullaghmore June 13th 2023
What an incredible Summer this is turning out to be with exceptional high pressure weather which could even go down on record as the best May, and especially June, we have had for many years. The weather has been like a dream come true with hot sunshine every day, clear skies day and night, and dry with hardly any rainfall at all, in fact, it's been approximately four weeks since I've seen any notable rain in this area. These extended dry spells really are rare in Ireland and as I write this chase report we are currently experiencing heat wave conditions which requires three days or more of temps at 25 degrees C, that criteria was easily met. This perfect weather is already making this my favorite Summer for a very long time, however only one thing was missing to take it to the next level - thunderstorms!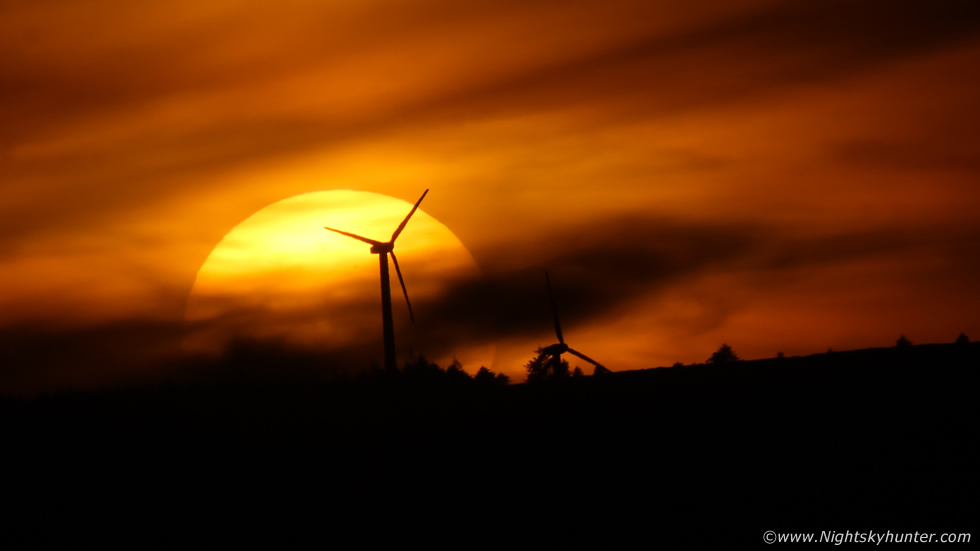 Perfect sunsets which rivaled scenes from hotter countries were happening on a daily bases so photogenic prizes were easy to come by if you simply looked outside before 22.00 BST, however I wanted to dry a different location and fancied a local adventure. On June 7th Paul Martin and I decided to meet up for an evening of drone flying with the intention of shooting the sunset. It was another beautiful warm Summer's evening which we had grown so accustomed to seeing so we knew this was going to be a turkey shoot. We relocated into the countryside near Omagh in Co. Tyrone and found a nice location where we flew the drones for over an hour.
The second I arrived at this location I already knew my composition, towards the sunset location was a hill and on top of that was a distant wind turbine farm, I said to Paul that if we could get the solar disk setting over those turbines it would make for a great scene, so we kept a close eye on it. Then as the sun began to descend it was obvious the alignment was going to work out perfectly, I attached the 100-400mm lens on the 600D, used a stone wall to support the long lens, and picked my moment. As the sun sank into the haze the solar disk became visible with several sunspot groups on view, then the disk descended behind the dark outline of the turbines.
Definitely within my top five sunset disk captures of all time.
The midgets were brutal though, Paul and I were getting ate alive and it was difficult to hold the camera steady for long enough without wanting to set the camera down and rub my hair and face, it was pure torture but we preserved. Paul even hovered his Mavic 3 drone above us, we stood below the cool down wash from the props and it was like heaven, fresh air cooling us down and blowing away the flies. A short but successful sunset shoot, however just as we were packing up to leave Paul and I said wouldn't it be great to get thunderstorms, we were craving some action, little did we know the pattern would quickly change to bring us exactly what we wanted.
HP continued, the temps stayed hot and an increase in moisture and humidity from the S associated with a Spanish Plume set-up began to influence the quiet weather pattern. England and Scotland got hammered for several days in a row by thunderstorms and two MCS's in as many days then soon it was our turn. Storms were forecast for west Ulster on June 12th, Colleen Webb and I met up on the hills outside Omagh during the afternoon in anticipation of developments in that area. However cloud from an English MCS anvil drifted over N. Ireland suppressing solar heating and a capping inversion was still trying to keep the lid on things. We watched a distant cell to our NW near the Donegal border and even heard distant rumbles however it mainly stayed capped and died off, we never even took the camera out of the bags. The day was a bust so we drove home under grey skies and mizzle rain so it wasn't a good day out however it left me hungry for more, I really wanted a good storm.
The next day, June 13th upgraded tremendously into the best set-up of the season. Our forecaster Owain Rice had forecast the potential for strong storms merging into one or more MCSs with prolific lightning potential. Furthermore models showed surface based CAPE values of 3000j/kg which is about as high as it gets in Ireland, the parameters also indicated hail stones of 2-3cm in diameter, this outlook was soon backed up by other sources with CW issuing a severe thunderstorm risk. A few storms where possible over W. Ulster however by far the overwhelming storm activity was expected in the far W and SW moving slowly NW on a slack SEly flow. The AROME favoured Fermanagh, Sligo, Donegal and further S, we all agreed that W was best and that we would likely do our first long distance chase of the year to our old favourite storm chase location, Mullaghmore in Co. Sligo on the west coast.
I was up to 02.00 making preparations so I didn't get much sleep, but given the warm muggy night I wasn't going to get much sleep anyway. By morning the forecast was good and we were committed. By 11am my Dog Rhua and I hit the road west and parked at An Creggan where I met Colleen Webb then soon after Nigel McFarland arrived too, we had a feeling it was going to be a classic chase day and we felt confident we were going to get a storm. There was a cap present this day, however if temps surpassed 23 degrees C then the cap would break and storms would explode, a classic loaded gun scenario. It was after midday, we checked radar, storms had erupted in the far S of Ireland with red and white cores and sparking away, we knew it was game on, the day was unfolding exactly as forecast. If the storms kept moving NW we would meet them at our target area by evening.
Our three vehicles chased W, my van was reading temps between 25c and 28c, no wonder the cap had broke. We stopped at the filling station in Kesh, had a snack, did a vlog, then chased on through Co. Fermanagh into Co. Sligo and finally after a long drive we arrived at Mullaghmore. It was great to see the ocean again and Classiebawn Castle. We noticed how incredibly hazy it was, we could barely see the top of the mountains, visability was low however I saw it as plenty of juice for storms to ingest. Another radar check showed storms were still coming directly towards us, still several hours away, they were producing near constant lightning, power was being knocked out and locals were saying it was the worst storm they had experienced in years. Owain Rice was communicating with us, he said the anvil was now over 100km long and met the criteria for a Mesoscale Convective System or MCS. Those storms had all merged together into this massive cluster which was growing in size all the time, all of this generated a combination of excitement and nerves hoping it would last, however there was nothing to stop it so we remained confident.
We lay on the warm grass and took in the view, had a picnic then casually got our gear ready, visitors to the area had no idea what was coming. What struck us all was how incredibly humid it was, the air felt warm, heavy and wet, it was unreal, it's been years since I felt air like it. Facing S/SW the dome of the sky changed from a semi transparent haze into a milky white flat cloud which covered the entire sector, this was the leading edge of the MCS anvil. For over an hour before the storm neared our location we could hear distant thunder, faint at first, then getting less muffled and more frequent with time. This was such a great experience as the haze blocked the sky, there was no visual clue that trouble was coming, except those distant rumbles announcing the approach of the storm.
We changed location to the corner on the hill and entered a freshly cut field with a decent view SW. Thunder was getting louder, then suddenly, the storm merged out from the haze like an atmospheric monster. First a huge precip core, then ahead of it on the NE side of the MCS was a high based shelf cloud, above these huge solid updraught towers billowed aloft, we were shocked how suddenly the storm came into view, and even more shocked to see how rapidly it was surging across the land towards us, furthermore that huge precip core on our side was going to devour us soon, there wasn't much time to document the scene. I began shooting a time lapse with the DSLR then left that running, then I got the Mavic 3 Classic in the air 50m above us, let it hover while recording video. Then I began shooting a vlog with the phone, this moment seemed to fly in so fast, we could see lightning flashing from both cores and thunder rumbled.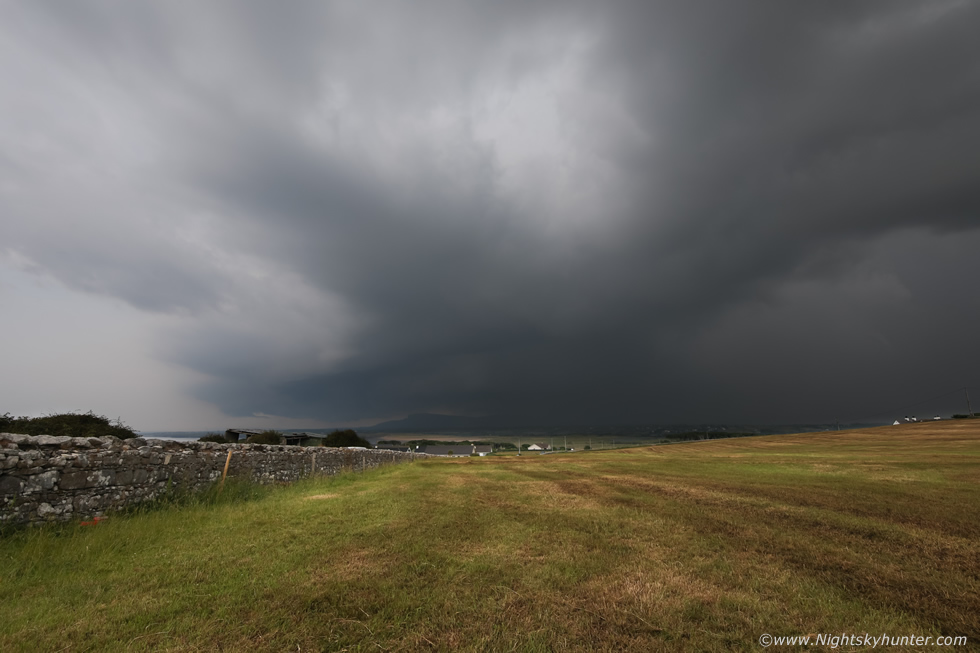 One of the time lapse frames with the full frame 5D Mark IV and 15mm wide angle lens as the storm approached, it was a lot closer than it looks here, the core was rite behind that house to the upper right on the hill.
The drone did me proud, the footage captured two rapid fire c-g bolts under the shelf, they actually showed up on two frames, this was the first with a clear cut strike.
The second frame showing two bolts with vivid reflection on the water. I was filming at 30 frames/sec, in hindsight I should have chose 50 or 60 frames/sec however during the rush and excitement of the moment I never had time to think about it. C-gs were random, some also came from the big core on the right, however most of the lightning was in-cloud, within the core, or from high up within the updraught towers.
My favourite image from the chase, shelf cloud on a Mesoscale Convective System over Mullaghmore Bay during a period of very active lightning activity. The last MCS I experienced was 1985, there may have been a few I was unaware of after that, however this is the first time I've got an image of an MCS so I was delighted to capture this rare encounter. At this moment in time the anvil was not far off the length of Ireland with cloud tops at 36,000ft with temps at -60 degrees C, exceptional indeed.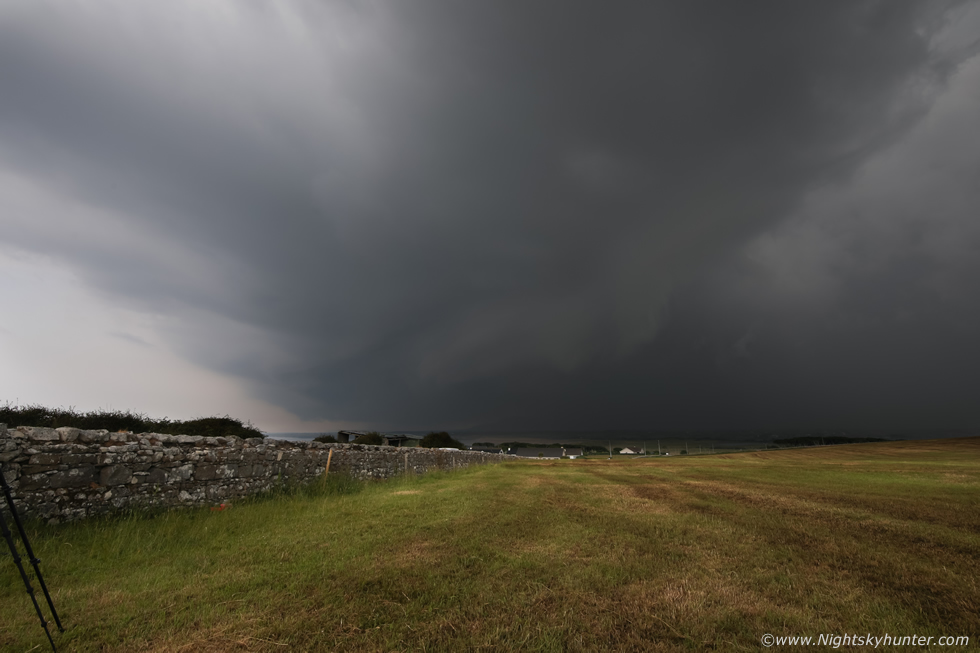 I heard the horn of a car arriving and a yell, it was Paul Martin and Tracy who had just arrived. Nigel and Colleen and Rhua where in the field beside me and three drones were in the air while Nigel had his lightning trigger on his DSLR, we could hear the click of the shutter then moments later thunder rumbled, amazing device. DSLR wide angle with the storm almost on top of us, we agreed we were in danger, you could feel the electricity in the air, we were the tallest things in the field and standing beside a tripod wasn't appealing, the core was perhaps 300m away and racing in, it was time to be smart and take cover.
I landed the drone, grabbed Rhua and ran back to the van, then returned to the field and grabbed the DSLR and tripod, I had a fleeting thought at this moment, was this the moment I got struck by lightning and killed? there was a feeling of great urgency, my instincts told me to get cover NOW, I threw the gear into the van and closed the doors just as the monsoon arrived. What followed was a very long period of heavy 'warm rain' with very active thunder and lightning. I tried filming out the driver's side window but many of the bolts were in-cloud and the thunder seemed deeply muffled by the rain core, the best scene was when I looked out the windscreen and saw a combination of huge intra cloud and c-g bolts over the road, my Go Pro Hero 4 stopped working again (always lets me down) so I never got it on video, however Colleen Webb did catch it on her dash cam so congratulations to her.
We waited well into the evening, the storm passed over Donegal and Bundoran where cool images were captured of it's shelf cloud then it eventually eased down as it approached the ocean. Our encounter with it was short lived due to its sudden arrival which was a paradox after such a long drive and hours waiting around for it so our experience with brief but very sweet, hence why I've such few images. We began the long drive home, it's a lot easier to do a long drive back when you experience something cool, in fact, it makes me feel very content and buzzing. This trip is a beauty anyway, the evening light on Benbulbin and driving through the Fermanagh lake lands is classic tourist scenery and fantastic to experience even without storms. The drive home was in sunshine with lovely elevated towers bubbling up to the NW over Donegal, I made it home for 22.30 after 9.5 hours on the road.
We found out later that lightning from this storm struck a lady in the arm through her kitchen sink, then CCTV footage emerged of a tornado touch down far in the south just after the storms first fired, it has already been rated as an EF0, so a very interesting day with lightning, a tornado and MCS all from the same evolution of that storm complex. When I got home I felt hungry for more storms and as I write this now on June 16th we have several back to back days of storms on the way so I hope I can get out chasing again and catch something cool, if I do you will see it on here soon.
Footage from the chase, most of it is a VLOG from various locations along the way including a section I filmed the following day explaining everything which happened, thanks very much for reading and watching.
Martin McKenna