Mullaghmore & Kesh Severe High Precipitation Thunderstorms - June 17th 2023
I consider it a very good chase season if I end up making one trip to Mullaghmore in Co. Sligo, however in most years I never make the trip at all due to a poor chase season or thunderstorm activity was never severe enough to justify the trip. This year has been different, this has been the season I've been waiting for. I chased with the guys to Mullaghmore on June 14th when we intercepted a 3000 CAPE MCS which in itself is remarkably rare and yet here we are yet again preparing to target the same area on June 17th just four days later.
You can't ignore more than 2000j/kg of CAPE, it's as simple as that, if you are storm chaser in Ireland/UK then instability values like this are the stuff of dreams. We were also experiencing a sustained heat wave, very high humidity, and an Atlantic trough out west was feeding in colder upper air which should erode any capping inversion, and if there were any doubts about that then lift from a warm front would tip the scales. Shear was weak at 10-15 knots however with this kind of instability and the forcing from the front storms would be very powerful. A severe thunderstorm watch was issued by all sources with hail 2-3cm in diameter, a risk of frequent lightning and even funnel clouds and weak tornadoes.
The target area was the far west of N. Ireland and west coast of Ireland, however where would get go? there was some disagreement with the models, GFS wanted storms over Omagh, the Sperrins and Co. Fermanagh but the AROME was also showing better potential further west towards Co. Sligo and Co. Donegal. In this scenario west is always best, furthermore the cloud tops were colder there and sea breeze convergence from the Atlantic combined with exceptionally warm SSTs made West Ireland a tempting target, however we wouldn't know for sure where we would end up until we were on the road.
Arrangements were made on social media the night before and a game plan was set, Rhua and I left Cookstown at 10.00 then arrived in Omagh for 11.00, soon Colleen Webb arrived then John Fagan. Earlier it was strangely cool with a notable SEly breeze and cloud cover which was concerning us, but by midday the temperatures were warming up nicely and humidity was on the increase, it was now feeling more like a storm day. Sat24 revealed a big clearance to the SW moving up the country so solar heating was already influencing the air mass and storms where already erupting over the Republic of Ireland moving NW. We filmed a vlog then checked online, TORRO had issued a convective discussion for large hail, frequent lightning and tornadoes from backing winds in the S. We were just waiting on Paul Martin and Nigel McFarland, Nigel would meet us later as he was finishing a photography job at the north coast then Paul rang, he said he would meet us in Kesh at the big lake near the Marina and we could make a new plan from there.
Colleen, John and I hit the road, through Omagh, Lack, Edenderry then stopped at Kesh, soon Paul and Nigel joined us and the whole team was present. By this stage the sun was hot and the atmosphere was primed, Nigel half jokingly said we should stay here as he had a feeling about it, but we brushed it off at the time and never thought anything of it (his instinct was bang on). We relocated to the large filling station on the main road, had a snack to top up on energy levels then we all brain stormed, excuse the pun. There was some indecision on the location however we all just decided to commit ourselves to the west coast so we all hit the road once again. Five vehicles all from the north chasing along the country roads in a line one behind the other, this was chaser convergence in N. Ireland, it felt like a scene from 'Twister', everyone was on high spirits and buzzing with the excitement and adventure from the road trip and slight anxiety and anticipation of what lay ahead, would we get a storm?, would the gamble pay off? the last time we all chased together like this was to the same area back in 2020, so this was only the second time that a 'caravan' of northerners was chasing together, these are moments to be cherished as they don't happen often.
Even without storms the drive is a wonderful experience, there's nothing like driving along the scenic road through Co. Fermanagh with the huge lakes either side of the road with Lower Lough Erne covered by beautiful islands with fishing boats adrift on the tranquil water, these parts are a fisherman's paradise, in fact, people travel from all over the world to fish here. We were on a fishing trip of our own, our rod was the radar, our hook was our cameras and our big fish was an atmospheric monster. As I drove along I felt a tremendous sensation of confidence and positivity, I knew we were going to catch our elemental Salmon.
We crossed the border into Co. Leitrim then Co. Sligo, towers were going up all around us and a large mass could be seen out to sea with a dark base, we needed another brain storm so all of us pulled over onto the hard shoulder. Towers were bubbling up over our heads in real time like a balloon being filled with air. We decided to relocate to Bundoran first, so all five of us jumped into our five cars, and when the road was cleared we all turned around in unison back on to the road, it was such a funny moment, it was like all five cars were performing some kind of synchronized dance as we all performed a graceful turn at the same exact same time, I wish someone had that on camera, I looked into the other cars and everyone was laughing.
At Bundoran the traffic was slow, we pulled into the Great Northern Hotel and got out to admire the sky, that tower we saw was now producing precip and let out a rumble of thunder which got a yell from all of us, we were just out the door and now we had thunder, success already, then a few more rumbles, we had the cameras rolling for lightning, then everything died, and with it our expectations. The cell was weak and mushy, pulse convection which had no structure at all, we all agreed it was rubbish, at this moment in time we thought the day was going to be a bust. Then after some debate we agreed to just go to our old faithful location at Mullaghmore, after all, it would be great to see the ocean again anyway.
When we pulled up along the west coast we knew we had made the rite decision. In the distance big storms were moving slowly towards us, radar showed a big cluster inland moving S to NW and another cluster line over the sea which would also pass rite over us, there was nothing to stop them, they had been active for hours and they were getting closer, then we heard distant thunder and everyone was back in high spirits. From this point on things became a bit of a blur because so much action unfolded, I even recalled needing to relieve myself but I was so busy shooting storms that I didn't get to do that for another hour and a half, that's how busy things got. Several of us stayed at the cliff edge and others ventured around the corner depending on their requirements, John was shooting video and DSLR stills and Nigel was using his lightning trigger so they needed a good open view. Paul, Colleen and myself were using drones so we got them in the air to document the action.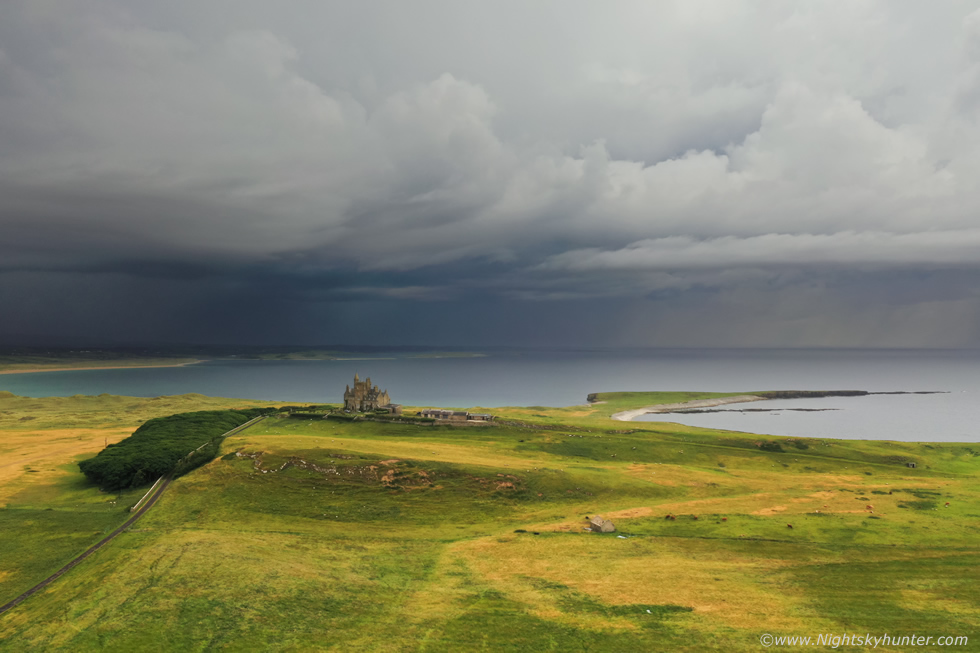 It was obvious from the start that this wasn't going to be a structure day however this didn't concern us as the lightning and thunder frequency was simply outstanding, it seemed flashes were coming from all directions, inland and out to sea, it was difficult to know where to point the cameras. Our three drones were in the air, all of us reading out our altitudes and positions so there would be no collisions. I had two options available, let the drone hover and record video and hope to catch lightning, or fly the drone cinematically to showcase the landscape and any bolts which did happen would be a bonus, I decided on the second option, and besides I wanted Classiebawn Castle in the frame.
I began filming sequences flying low then at medium height documenting the castle, then hovering briefly for stills. Even without lightning the view was gorgeous and worth the trip alone. This is the castle and surrounding coastline with the big storm approaching, the colours from the air were wonderful with yellows and greens contrasting with the grey-blue ocean complimented by the dark battle ship grey storm clouds aloft. All I could hear around me were excited comments from Paul and Colleen, some were meant to be heard, others just voicing their reactions verbally with no care if anyone was listening, it was that kind of moment, everyone wrapped up in their own world and enjoying the moment and calling out every flash of lightning they saw and if it was left, right, or centre and c-g or intra cloud. I love the above image, it almost looks like a water colour painting, yet lurking in the distance was a 2000 CAPE beast heading our way.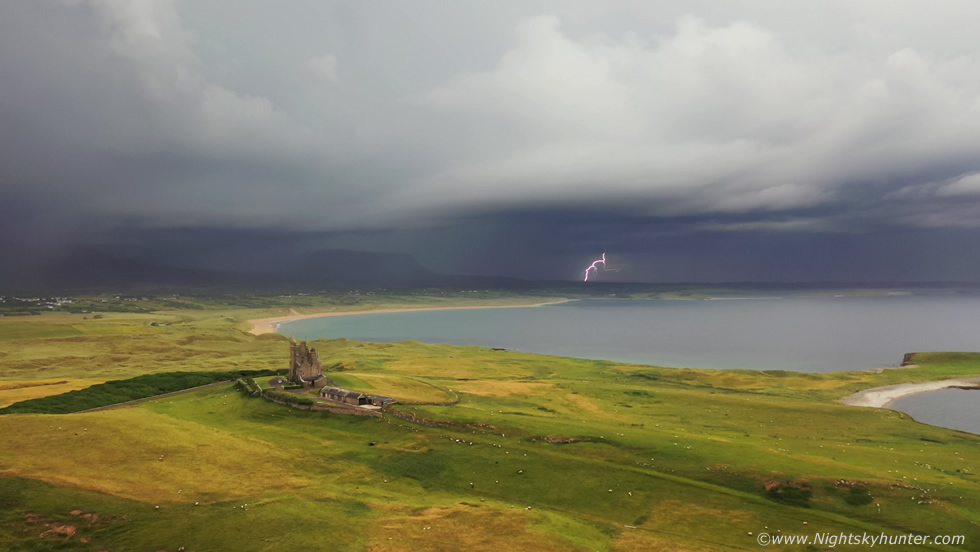 I began filming video and flying around the castle in graceful arcs or 'wraps' and I got lucky several times. This beautiful multi-branched c-g struck from the darkness, I was happy with that one. Remember this is wide angle so all of this was closer than it looked and if you look at the precip core on the far left we didn't have much air time left, that southern storm was almost on us. You can just about make out the dark form of Benbulbin through the dense precip curtains.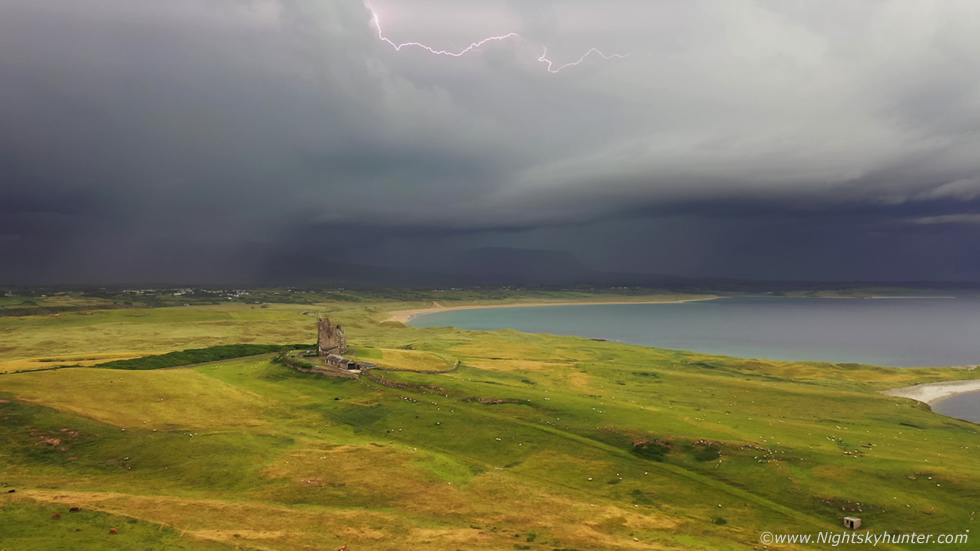 Another lucky catch with this big in-cloud bolt lashing the sky like an electrified whip, most of this bolt was outside the top of the frame, it went rite across the sky. I heard a big roar from Nigel and John, asking me did I see that? and did I get it on video? I admitted I hadn't and what was it?, they said four c-gs struck the sea one after the other in a row, they pointed to the location, it was just outside the right edge of the frame, ahhhh!!!, that would have been awesome, they said it was boom..boom.....boom..boom rapid fire picture perfect c-gs. Rain began falling on us and on the drone too and it was still a fair distance out so I raced it back through the preicp in sports mode and landed, the drone was soaking wet but it took the beating well.
Then we all ran to the cars for cover and the onslaught began. We spent a long time getting pounded by heavy rain with very frequent lightning, many were vivid in-cloud bolts which lit up the clouds and rain from within, but also random very big c-g bolts, some of which looked like positive strikes. We were all filming through our windscreens with phones, DSLRs and DJI Pocket devices, Nigel still had the lightning trigger going, there was that much rain I only had the window down to reveal a 6" slot to film, but the entire inside of the van door, seats, dash and my trousers and T-shirt were all soaked. John was filming a live stream on Facebook and captured a wonderful c-g striking behind the castle which got a great response from his followers, what a cool catch that was.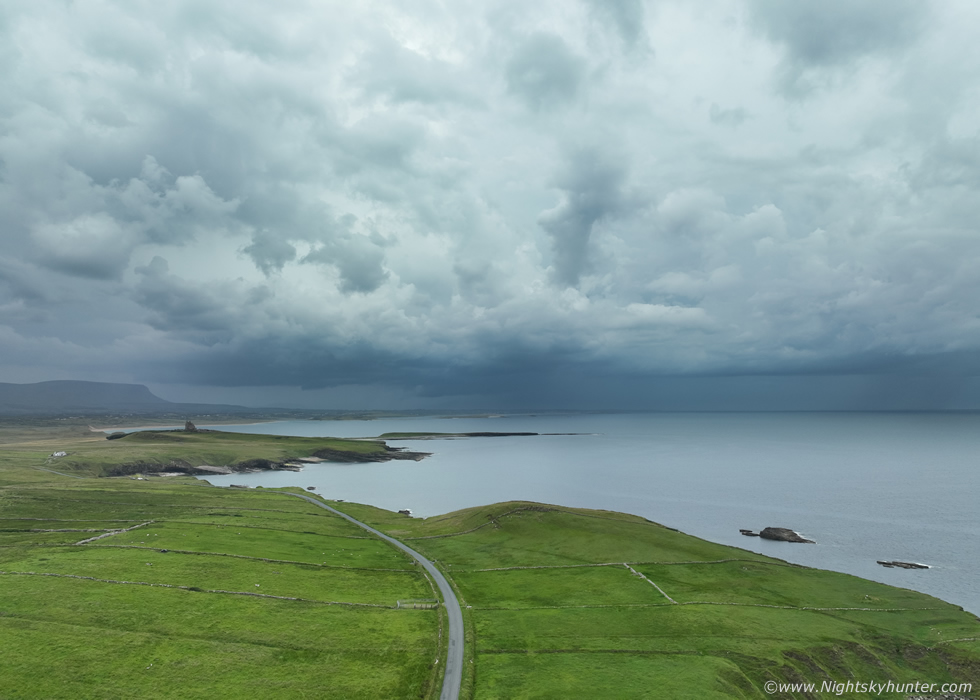 After what seemed an eternity the storm passed through, however radar showed another cluster moving north, we changed position to back around the corner which offered a good view of Donegal. New battery in the drone and she was back in the air for a look, you can see the next big storm line far in the distance with a nice base to the left and even a lowering, storm moving towards us and L to R.
While the first storm was very active with sparks moving in from our L, a new storm just developed in front of us over W. Donegal, we now had two storms, this began rumbling, more flashes inside the rain, all internal bolts, we noticed convergence here with clouds feeding into this cell from behind us while the cell itself was moving away and to the R (NW), this convergence was forming more towers over the sea beside us.
While all of this was going on a loud rumble of thunder shook us from behind, yet another storm had appeared, this was the third, we were now almost surrounded by thunderstorms. A hill blocked our view of what was going on so three drones were sent aloft to investigate. This turned out to be a great new storm and my favourite of the day, the core was just new and as the precip dropped from a very high base it spread out at the surface, we all said it looked a little like an Arizona Monsoon thunderstorm with a wet microburst.
The core intensified rapidly and regular bolts were dropping from it, this storm commanded our attention more than any of the others. It looked cool perched over the bay, on radar the core was already red and white.
Big cloud to ground positive bolt, these were striking from extremely high bases so the bolts were powerful, I was quite chuffed with this one.
The storm flanked us and began moving across the sea, we still had three active storms around us, we had never seen so much lightning and heard so much thunder in years. The core was a beast, to the naked eye we could see a green colour within the upper sector of the precip core, usually an indication of hail. This thing just flickered with many in-cloud bolts, we felt safe enough so we stayed outside.
Our vantage point with the storm, the back edge of this cell exhibited rapid rising and rotation, we all thought we were going to get a funnel or waterspout at any moment, likely convergence and outflow winds interacting with the clouds and coastline. The rain was on us again and this time it took a long time to pass as all three storms flashed and rumbled all around us.
It was late evening and it eventually dried up, radar showed another big cluster moving up the west central regions of the country, it looked like it might hit the border or Armagh/Tyrone later but confidence was low that it would survive. Another cluster was moving up the west again but it hadn't been producing sparks for a while so we figured activity was now on a downward trend. We had all had an awesome day and decided we would begin the long drive back again, so all five cars were back on the road moving north again, however as we did so we caught up with the storm again and entered its core, I have to say that was the worst rainfall I've drove through for a very long time. It was like a proper Monsoon, noisy, the roads were saturated, at times I wondered if I was going to aquaplane.
Paul was in front of me yet the spray was so bad all I could see was the top half of his jeep, at this time I got a call from Paul, he said he got a look at the radar and new cells with red cores had formed along the leading edge of that western cluster and it was sparking, he suggested we maybe delay our trip home and check it out just incase we got lightning at dusk. We agreed to all meet at the filling station in Kesh once again, it felt like a life time ago since we had stopped their earlier. The storms were over an hour away and we needed energy, there wasa hot food counter in the car park so we ordered food there. This was turning into a rite adventure, it was 21.00 and we were seated at a picnic table in Kesh, still in t-shirts as it was warm and muggy, one of those classic Summer nights. We had time to kill so we ate and drank and enjoyed the break, all around us were highly developed altocumulus castellanus, it didn't take a genius to know that elevated storms were likely just by reading the sky.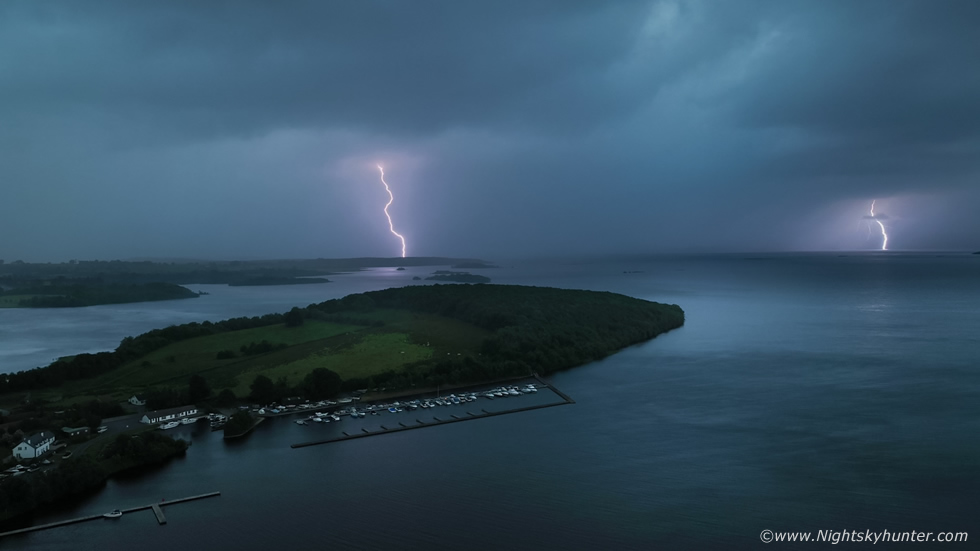 It was 22.00, we went back to the lake where Nigel had his feeling earlier in the day, it was sunset but with the heavy sky it already looked dark as dusk. The sky was already illuminated with lightning, we couldn't believe our luck, the sky was flashing pink lightning in front of us and to the far left from two cells and there was another one behind us, radar looked like a horse shoe with us in the centre, once again we were surrounded by three active storms.
The Mavic 3 Classic was back in the air, I adjusted the settings manually then began recording video while flying the drone at the same time. First the cores lit up from behind, then this spectacle happened, I captured two brilliant c-gs, these happened at the exact same time one after the other, but visually this was three bolts, the far bolt was two which struck the same place, it was a spectacular combination, the closer bolt looks like a positive strike, the further a classic bolt with multiple branches. They lit up the lough and we all yelled with delighted, Paul and Colleen also captured the barrage with their drones too and John was recording ground video as well. There were teenagers playing about the pier but after that they began screaming with surprise and ran back for cover. This was my photographic catch of the day, I was delighted, the entire drive and hours spent on the road was worth it for this.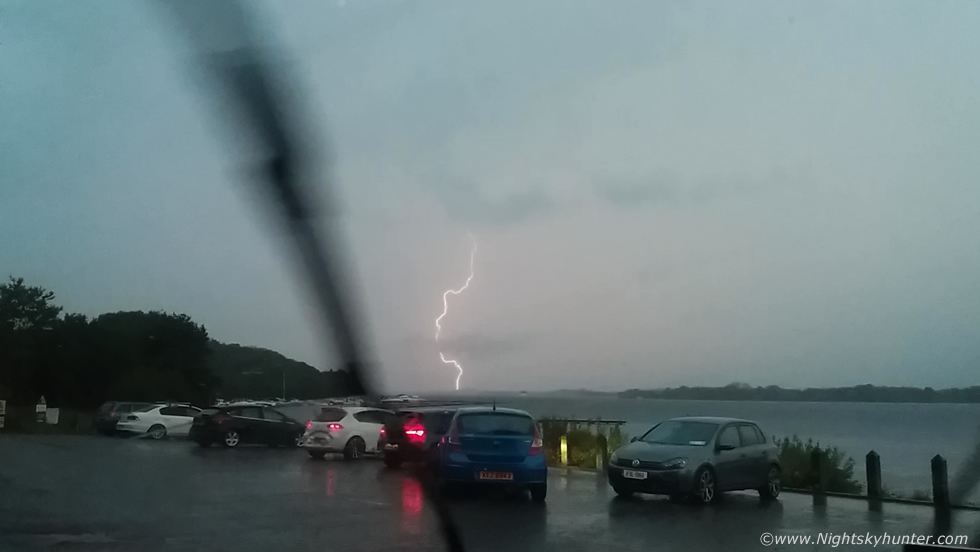 The rain started to drop, I began bringing the drone in and I got another c-g on video moments before landing which I will save for the youtube video below. Then it was back in the cars getting hammered with rain and lightning all around us yet again, Rhua was sleeping in the passenger seat, she was that used to thunder now she wasn't alarmed. The sky lit up with large curved in-cloud bolts and more c-gs, I got this one with the phone. The storm then moved N across Donegal and Strabane and we were back to dry air.
What a day this had been, we observed more lightning in one day than the last few years combined, so much so that we began to get desensitized to it as if it was all normal, I love it when I feel like that, it means we have been getting proper action. I drove back buzzing and happy, I didn't make it back to Cookstown until 23.30 after 12.5 hours on the road. GFS was showing more storms the following day and another long drive was in order, by the time I got the memory cards uploaded and gear charged it was 01.30 then I went straight to bed exhausted.
Vlog of the entire chase day with some of the guys, an intro on the set-up, ground footage, drone footage of Classiebawn and lightning from Mullaghmore and Kesh. These last few days were the most active the west and south west of Ireland had ever seen in years, for some, they had never seen anything like it before with daily storms, this was fast becoming a major outbreak and it was to happen all again tomorrow, check out my next chase report to find out how it went. Thanks very much for reading.
Martin McKenna