Sperrins Winter Wonderland, Birren Snowman & Moneyneany Blowing Snow - January 7th 2022
I'm delighted to announce that 2022 has got off to a great start, and here's why. As you know the last two months of 2021 were utterly uneventful for sky and weather phenomena, in fact, it was the weather itself which ruined the end of the year and the much anticipated festive period when my friends and I had hoped to meet up for several shoots and perhaps even get some Winter weather to chase. The latter end of 2021 turned out to be the dullest on record with back to back day and night of grey stratus and what seemed weeks of blandness, it was so bad I never charged up my DSLR batteries at all as there was nothing happening, we spent the mildest Christmas period bereft of any photography, that's until the very first day of 2022 when all that changed and nature suddenly turned the tables.
January 1st 2022 was actually forecast to be clear so we decided to make the most of this rare moment by meeting up out in nature and simply savoring the stars and at the same time have a good catch up, I know it wasn't just me thinking this, my mates were thinking the exact same thing so we all jumped at the chance to make a night of it. After dark the clouds vanished and the sky was clear and beautiful and as the first stars came out I packed the van with food supplies and a fire pit which we normally use for BBQs, this portable pit would be perfect for the job so I was eager for the perfect moment to use it and this was it, the Christening of a new year of sky action.
We met up in Davagh Forest near the Sperrins not far from OM Dark Sky Park and Observatory, we chose the concrete car park as it was an ideal location and safe for the fire pit, also the surrounding trees would shelter us from the wind. On location was my old storm chasing and astro partner Conor McDonald and Omagh based storm chaser and photographer Paul Martin. Oh what a night we had, all of us had arrived prepared with everything we needed, first we lit a BBQ and ate burgers and sausages, then we BBQ'd marshmallows, treats and heated mince pies slowly on the hot grill followed by a choice of tea, coffee or shloer, I even had Christmas cake with me. Once we could eat no more we used the bowl shaped interior for our fire pit and using sticks, logs and a heat log we got an awesome warm fire going. This kept us warm and in high spirits as the temperature dropped rapidly around us, the stars overhead were like old friends joining us on our nature fix, everything just felt rite as if nature had conspired to make it happen.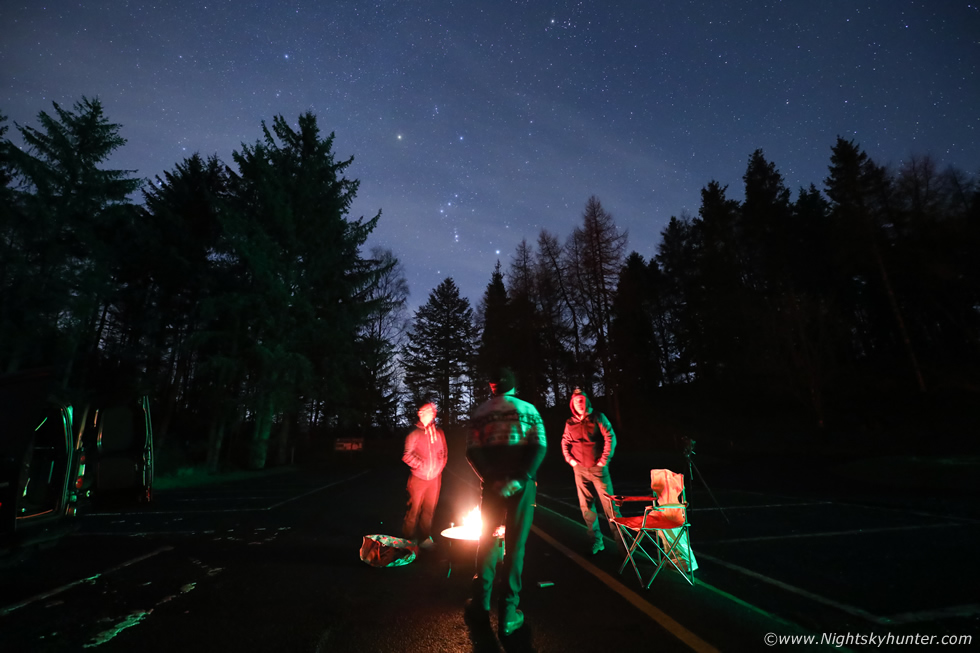 As we chatted we watched the stars and noted several early Quadrantid meteors, then Paul and I set up a our cameras for a time lapse of the fire and stars. This is one of the 15mm wide angle images from the lapse showing us in our element, completely unstaged, hence the slight motion blur from us moving as we chatted, this single exposure captures the energy from this special moment and above us Orion the mighty hunter watched down approvingly from above the ancient tree tops.
The forecast had shown high cloud moving in by 01.00 however as we were pondering leaving at 02.00 the sky was entirely clear which felt like another good omen for the new year. Then we saw lightning!, not one, but seven flashes of distant lightning, bright blue among the stars, radar revealed these where from thunderstorms over the North Atlantic to the W of Scotland, one flash, more brilliant than the others cast shadows where we stood, there was no question that this was nature's way of saying you guys are going to have a great year.
A few nights later Paul, Conor and I did a watch during the peak of the Quadrantids from Lough Fea on another cold but showery night, it was tough going in the chilly NWly wind and there was no hiding from the full exposure of the wind from across the lough however yet again we got treated to clear skies and a count of 52 Quadrantid meteors, which I actually think is the most from this particular shower we have ever seen. Several passing showers turned to snow and this set the scene for what was to follow. We discussed the models and had noticed a cold trend with deep cold uppers moving in over N. Ireland during the January 6th and 7th period with a chance of the first snow of the year so plans were silently made.
The set up for the period really did look decent and as the days passed the models kept the cold theme consistently so it was a dead cert, this was happening, now it was just a matter of making preparations and seeing if any photo opportunities could be had. The flow began as a SWly bringing in a frontal system which would sweep across the country during the afternoon turning to sleet and snow over high ground. Then behind it the flow would veer to a Wly flow bringing in countless wintry showers, the deep cold air was descending from the north with upper air temps of -40 degrees C, furthermore GFS was showing 100-200 CAPE over the N, NW, W and SW coasts so behind the front these showers would be quite convective with a slight chance of lightning and even thundersnow over inland coastal areas. Then as the night went on and temperatures dropped showers inland would turn to snow so my plan was two fold, night convection/lightning then daytime snow scenes.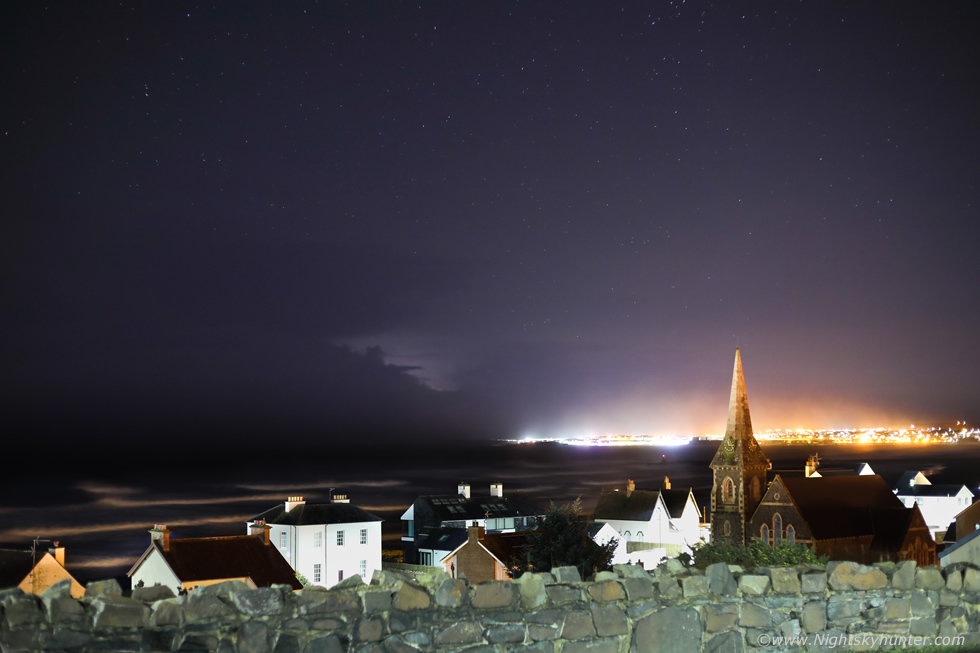 On the night of January 6th/7th I headed to the coast, it snowed all the way from Cookstown to Coleraine but the snow was wet and not laying so driving wasn't impaired, I arrived at the north coast at 23.00 which coincided with the arrival of the instability along the Antrim coast, I met up with Nigel McFarland and Colleen Webb who where there for the same reasons as myself. We positioned ourselves on high ground above Castlerock overlooking the ocean. It was a night of regular fast moving cloud, wintry showers and brief clear sectiors however it wasn't long before we saw our first flashes of lightning. Visual observations and radar confirmed they were very far away over Scotland and flashing as thundersnow storms, we observed nine flashes of lightning from three different cells in that area alone, despite the great distance on several occasions we saw the top of the Cumulonimbus light up from within which was great to see, unbelievably this was my second night of watching lightning and it was only a week into 2022, I really felt that yet again this was a good omen.
Despite the odds being remote of getting anything on camera at this range I set up the 5D Mark IV with 50mm F/1.8 lens and began shooting a time lapse towards the area of interest. Then another lightning flash, more distant and feeble than any of the others we had seen, however this time I got it on camera. You can see the glow within the cloud due N beyond the lights of Portrush and even discern the shape of an anvil. Even though this image won't win any awards I was rather pleased I had got something on camera so early in the year so I was quite content. Cloud filled in for a long time after this and the reports of snow inland were getting worse so despite intending on doing an all nighter (I had a sleeping bag with me) we decided to call it and get a few hours sleep and save our energy as we would be needing it first thing in the morning for an all-day snow chase.
On the way home I encountered laying snow between Garvagh and Maghera, it was only a light layer but it covered the road and it had froze over, for a while it made for some treacherous driving. On two occasions I passed cars which had ended up in the ditch, clearly they had slid off the road, I suspected they had slid then panicked and slammed on the brakes which would have made things worse. The van began sliding too and fish tailing during certain moments which really got the nerves going so I slowed to 40mph and kept my steering slow and straight and used the gears to control my speed, several times the rear end slid out however I counter steered and eased off the accelerator and managed to stay on the road, I was lucky and had no incident and made it home for 03.30, I was glad of a warm bed and much needed rest.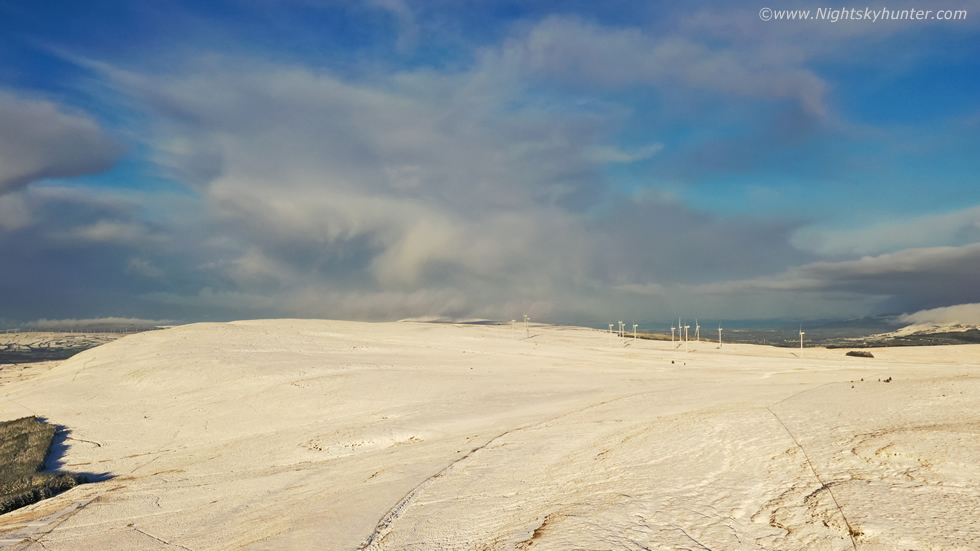 I wasn't expecting much snow the next day to be honest but little did I know that as I slept the showers came in dumping non stop snow over the Sperrins until dawn and a generous layer had been deposited. I packed the gear and hit the road at first light and made my way into the mountains, today I would be meeting Nigel and Colleen again, this time on Glenshane Pass which would become our base for the morning. We arrived to a winter wonderland, the hills were covered in a rich blanket of the white gold, we felt like kids, it was awesome to see and great for the soul after all those weeks of grey before Christmas, our patience was being rewarded now. My intention was to film as much drone footage as possible, in theory we might only get a handful of good Winter days over the entire period and many of those could have overcast skies with no good light, so days when good snow and good light combine are to be cherished, these are the days for getting my best aerial snow footage of the year and today was going to be one of those days so I was in the zone.
I did two drone flights over Glenshane at sunrise, one flying adjacent to the road and along the River Roe and the other high over the hills looking over the snowy summit. This is a still image from that position looking NW, you can see the wispy tops from those far away snow showers with subtle mammatus and the distant wind turbine farm behind Benbradagh. After 1.5 hours on Glenshane we decided to move location, this time we would jump into the deep end of the snow pool and head straight to the famous Birren road between Glenshane and Moneyneany, a place where Nigel and I have been filming much of our snow scenes in recent years. We also wanted to show the Birren to Colleen as we had told her about it so often but given how dangerous it can be with the risk of getting stuck we decided that Colleen would join us so she jumped in with Nigel then we made our way to the Birren.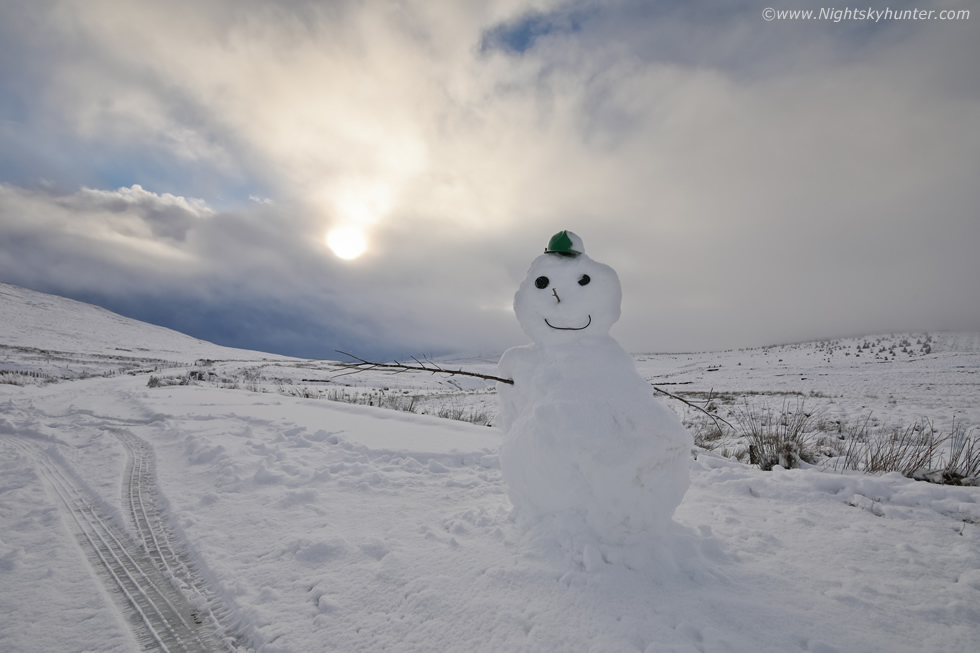 The Birren is seldom ploughed however today for some reason the first section was which helped us get into position without much worry, however the second section wasn't so it was there where we stopped and made 'camp'. The area lived up to its reputation, there was snow everywhere in all directions, pristine fresh snow and there was nobody else about, it felt like we had it all to ourselves. So what did we do?, we built a snow man. Actually clouds had drifted in subuding the light so we couldn't do any aerial photography so while we waited for the light to return we made this impulsive snow man. I haven't made a snow man since I was a teenager and I have to say the experience was wonderful, we laughed as all three of us rolled the two large mounds of snow for the body and head, if anyone had been driving past they would have thought we were nutters, in fact ,our snowman was on the edge of the road so it couldn't be missed. We used our lens caps for eyes and Nigel found a green hard hat to complete the scene.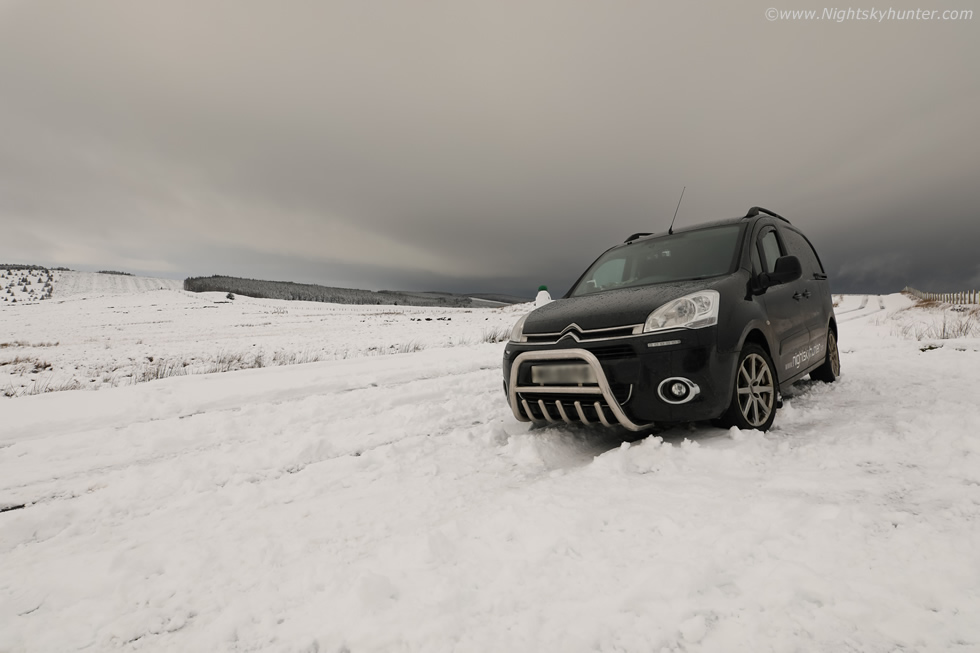 The clouds hung around for quite some time so we had a notable wait on our hands so we just stayed at ice station zebra and relaxed, it was only 13.00 so we had another three hours of daylight remaining. I took this snap of the van at base camp, it's a bit like myself, never content unless its in snow or beside a thunderstorm.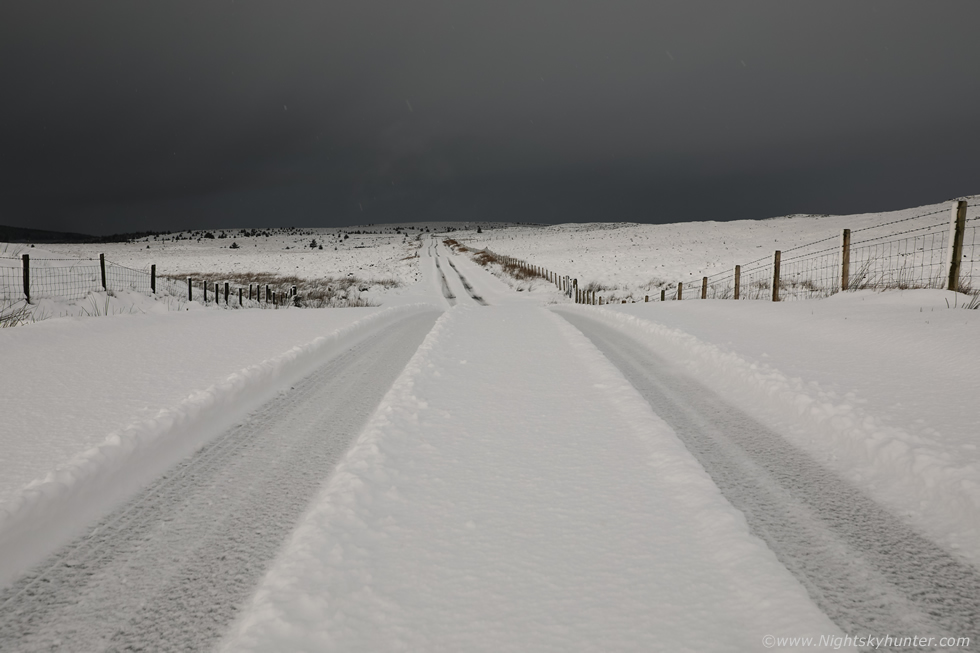 The sky turned very black as a big snow squall approached, there was still some ambient light on the snow covering the road so I took this image of the two contrasting scenes, light vs dark, you can see streaks from several large snow flakes beginning to fall. We took cover in the vans and waited for what seemed like an eternity for the snow to stop, it didn't, the tyre tracks got filled in and the place was once again covered in fresh snow, I passed the time drinking decaf tea, eating snacks and reading segments from John Tyrell's book 'Tornadoes and Waterspouts of Ireland' then suddenly the snow flakes stopped falling, the cloud broke, and the sun came out. Just like that the Winter wonderland returned, the landscape was stunning and perfect and the light was even better than we had hoped for so our new plan was to change location and film Moneyneany mountain.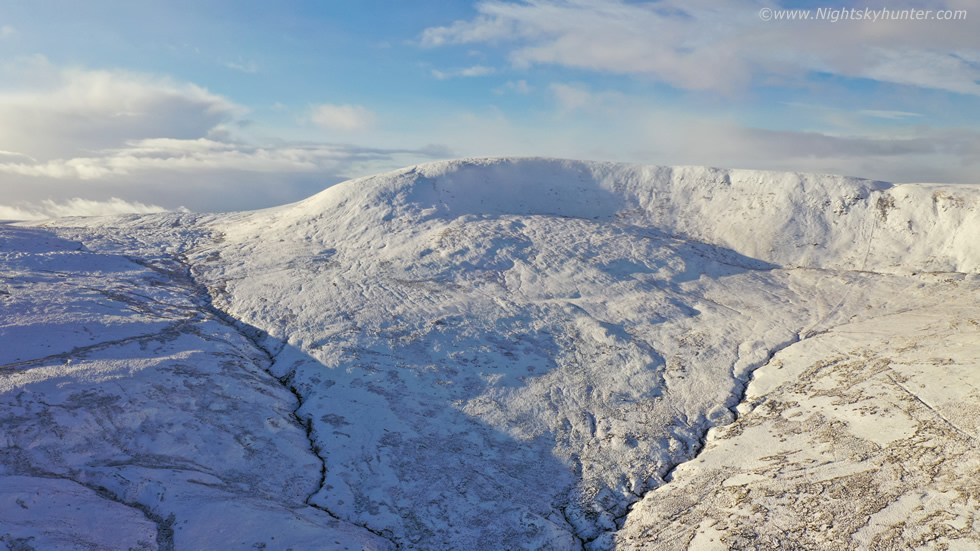 What a scene it was on the last hour of daylight driving along the snow-covered road with this stunning mountain in front of us and Mullaghmore to our right, the light and snow scenes were so striking I didn't know where to look first and where to stop and what to shoot, it was beautiful everywhere, this was what we had been waiting on all day, this was the place and time, it was happening. I got the Mavic 2 Pro straight into the air for flight number three, I just had to shoot aerial video and stills of this eye-catching summit. This is the mountain which is visible for miles, the one you always see when driving, its steep side and angle always catches the intense sunshine which makes it stand out to all drivers in the Mid-Ulster area, this is an image using the standard wide angle camera from the Mavic.

This is a 180 degree panorama of the same scene, this turned out to be my favourite image of the day, I absolutely love the sunlit snow, low sun angle casting long shadows, the deep blue sky and of course the lowering sun, the Birren road is actually visible on the far right side as a line at an angle. This image is resized to 980 pixels wide which is website size however you really should see the full size high resolution image, it's massive. I then noticed some issues with the drone, the props were showing constantly on the left side of the camera view and they seemed to be bopping up and down, also the on-screen telemetry was indicating that the drone was slowly drifting, this would only happen if there was a very strong wind present.
Nigel and I were shocked for where we stood it was dead calm and I knew from the charts that where was no strong wind shear, the drone took a while getting back in the wind but it handled the job well, it really is an incredible piece of kit. I have flown in 26-27mph gusts before however I estimate that these gusts had to have been 30mph or more. Then we saw why, as we looked to our half right towards the summit we could see snow blowing at high speed along the flank and over the tops, this had only recently appeared, there was a front approaching after dark so I assumed the wind was increasing with it's approach but we where in the lee side of the mountain which sheltered us and the full wind itself was getting lifted over the summit and enhanced. The visual sight of the blowing snow was dramatic so I decided to contemplate filming that which was fast becoming the main highlight of the day for me.
It was risky putting the drone up again in that wind but I decided to try it, I have good experience flying in adverse weather so I knew that experience would keep me rite, I would just need to make sure I came back to the home point sooner than usual as the wind and cold would drain the battery life fast. I ended up doing two more flights, all video, the following are random still frames from the footage.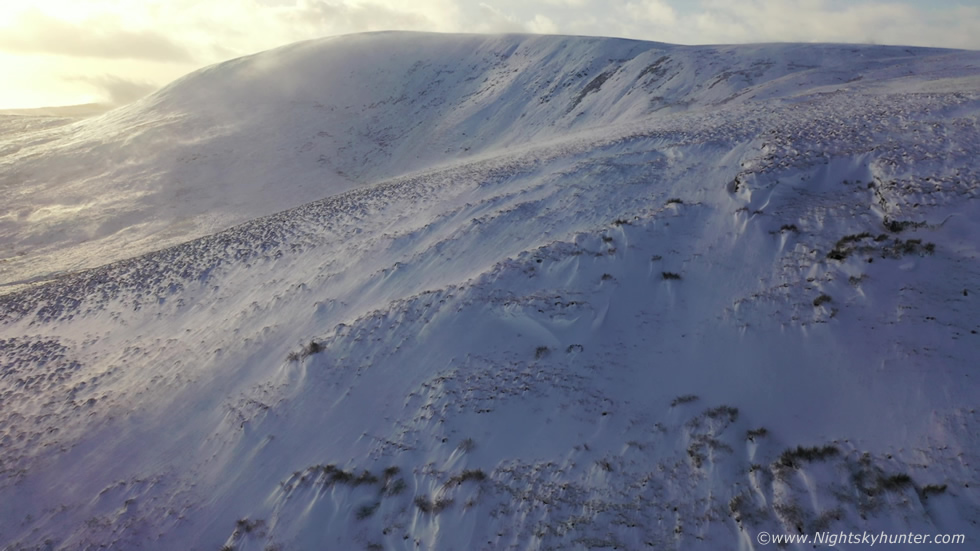 I've never filmed blowing snow before with a drone, it was thrilling to finally tick this off my bucket list. The wind was blowing in streamers over the summit and around the peaks from W to E , all those streak patterns below is the blowing snow, it looked like a wind-blown dust storm on a desert, only this was the white version. I was amazed the drone held position very well, I forgot to mention that I observed one small snow devil before I took off, this area seems prone to them in certain conditions, I recall one year when my Dad and Roisin and I witnessed our first ever snow devils from this very same location, only those were much bigger and the wind stronger, I will never forget that day.
A ghostly film of blowing snow which looked like a veil
I loved the view of the peaks facing the setting sun with the snow and mountain back-lit which made for some dramatic cinematic moments in the video footage, the light really was fantastic.
I even flew through that valley close to the surface and used the walls of the up-slope region to block the drone from the strongest gusts.
In the valley between the peaks, a place you can never see from the ground as an observer unless you hike up into them, you really need to watch the video below to get the full experience.
Moneyneany was alive, intimidating yet beautiful.
A proper drone image taken as I was flying back before the battery got too low, 120m high, the scene was of massive dynamic range so I used the drone's built in HDR setting to get this image, I really wish I had shot a 180 degree pano of this moment. I landed, switched to my last battery and did another flight, this time flying low past the isolated trees and bushes to reveal Mullaghmore in all its golden hour glory, this was my sixth and final flight of the day. Nigel then produced a surprise in the form of a BBQ, so in the moody last light of blue hour all alone on the cold mountain we had a BBQ sizzling away on the snow, I can think of no better way to end a great day of snow chasing.
Full footage of the moody pre-sunset Moneyneany scenes with sunlit peaks then back-lit valleys and blowing snow. If I don't see any more snow this year then I can be content with what I have captured here, anything else will be icing on the cake.
The golden hour flight low over the snow-covered Sperrins passing isolated trees to reveal Mullaghmore
Full vlog featuring the Glenshane snow footage along with B-roll from the Birren road and Moneyneany, our snow man, and of course snippets from the blowing snow back-lit by the setting sun. The Winter is young yet and more snow events are likely, we always get our most severe Winter events during the February and March period so nature could have more surprises in store yet. Thanks very much for reading.
Martin McKenna