Massive Storm Cells Over Lough Neagh, Co. Antrim - April 11th 2012
At the time of writing both UK and Ireland have been experiencing its most thundery April in years with two weeks in a row of almost non stop convective weather with showers, thunderstorms, funnel clouds and even a stunning tornado/waterspout off the coast of Bray near Dublin, Ireland on April 14th (video). This was quite significant as it was the best tornado footage ever taken from Ireland and because it happened during the least tornado prone time of year which makes it all the more interesting. All the action was associated with low pressure and unseasonably cold air from the N and NW rather than the typical SWly and Sly unstable flows which we expect in this country. During the previous week the atmosphere produced thunderstorms for five days in a row and for three out of those five days it looked like N. Ireland was in the firing line so I was ready and waiting.
The first day was a marginal set-up with low CAPE but that didn't stop Roisin and I going chasing anyway in the hope of seeing something early in the convective season however it soon became apparent that the atmosphere was not willing to co-operate thanks to too much cloud cover, cool temps, lack of shear, lift, and convergence. We tried all afternoon, even climbed a mountain to pass the time then got caught for half an hour in Swatragh thanks to an Easter band parade which was really frustrating, thank goodness there where no storms to chase that day our I would have been furious. The second day was a little better however the atmosphere still struggled but that didn't stop Roisin and I chasing again, we positioned ourselves at various locations in Maghera, Glenshane Pass and on the mountains outside Swatragh watching weak convection and single cell showers bubbling up but it was obvious nothing was happening in the N of the country of interest so we ended the chase. Later a t-storm broke out over SE Lough Neagh with more action below the border but it was game over for us. The late evening produced some quite decent convection and one cell in particular really impressed me as it developed a spectacular atomic bomb-like anvil near my home which was a real treat. I took plenty of images during this period however none are really interesting enough to make a report with.
April 11th was the third and last day in a row for N. Ireland and for the third night in a row I had my eyes clued to the model updates and forecasts trying to work out where to go and to tell you the truth I really needed to see something cool as I was not sleeping well at night due to the anticipation then waking up after 06.00 not able to sleep waiting for the new model updates and hoping something decent would happen. According to the experts this looked to be the best day of the three with 500-600 CAPE, - 50C air aloft, excellent lapse rates, NWly flow, good solar insolation however there was no shear to speak of so it would be a day of popcorn single cell convection which could be very photogenic with clear sky between cells and with a slacker flow over E Ireland it seemed that funnels couldn't be ruled out and better still any cells would be slower moving in that sector and hence easier to track and watch.
The following morning an unexpected obstacle presented itself, it seemed the car was booked by my mother who wanted to go out for the day and do a little shopping and despite trying to tilt the scales in my favour for chasing she seemed adamant on going so I had to call off our planned chase which was very disappointing however all was not lost so I asked her where she wanted to go shopping and she replied in Antrim which got me interested again because Co. Antrim was the target area I had planned on chasing anyway so Roisin and I decided to go along so all three of us hit the road, my theory was it's much better to be on the road and out under the sky rather than sitting at home and besides we might just get lucky and see something anyway. The drive along the motorway was accompanied by regular dark showers and a few distant clusters of towers which had me interested because they were much better than what I was expecting at this time of the day so perhaps there would be developments later.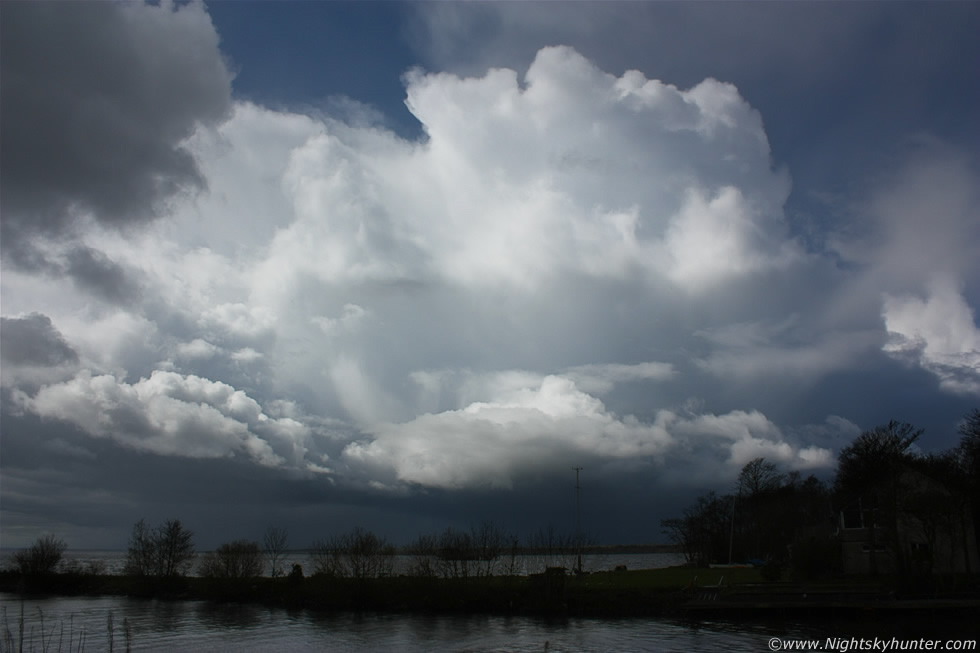 Nearly two hours was spent in Antrim shopping then when we got back outside to the car park I saw a gap in the cloudy skies (briefly between cloudy mush) and I thought I saw a really impressive cell growing back to the NW however I couldn't be sure as visibility wasn't great. At this stage the rest of the day was open for ideas so I suggested driving around to the Lough shore for something to eat and also because I could get a good look at the skies across the water so we headed there and pulled into the car park at the Marina and sat in the car and waited for a heavy shower to pass. Five min's later the rain eased and a clearance moved in from the N (R) and in that gap I saw the top of a massive cell moving into view and even at a glance I knew this was a serious cell and the best convective sight I have seen so far in 2012 so I rapidly got out to take images. When viewing these images remember that many were taken at wide angle which makes things look smaller than they actually are so keep in mind that these clouds where of considerable depth and height in reality so I hope the images portray some of that sensation. Here's the cell moving into view from R to L (NW to SE) moving from land to water and as it did so it exploded into a life.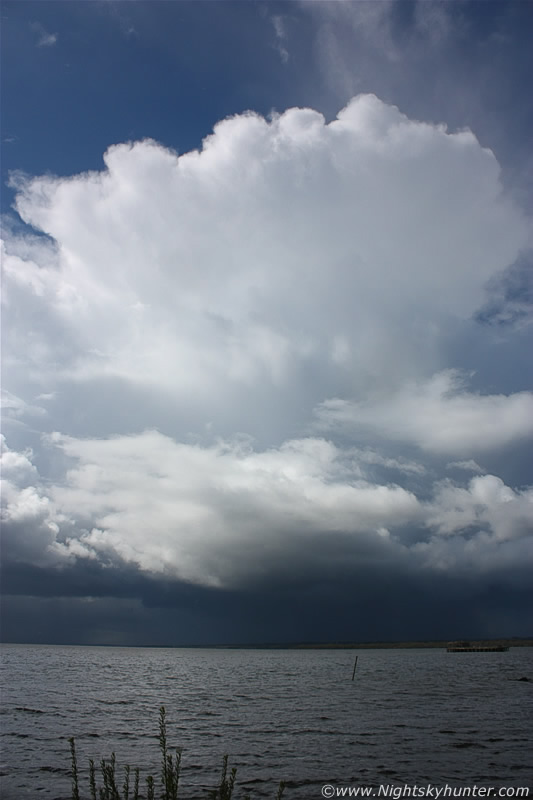 I ran to the far end of the car park so I had a perfect view looking S across the entire Lough and jumped onto a wall so I was as close as I could get to the water. This is the same scene 4 min's later, compare the two images and you can see how rapidly things have changed at the top of the cell with those towers fully glaciating and spreading out into a classic circular anvil which was completely solid. This cell was crossing the mid section of Lough Neagh some 4-5 miles away from us so it was a decent distance away which worked out best for us because we could see its entire structure.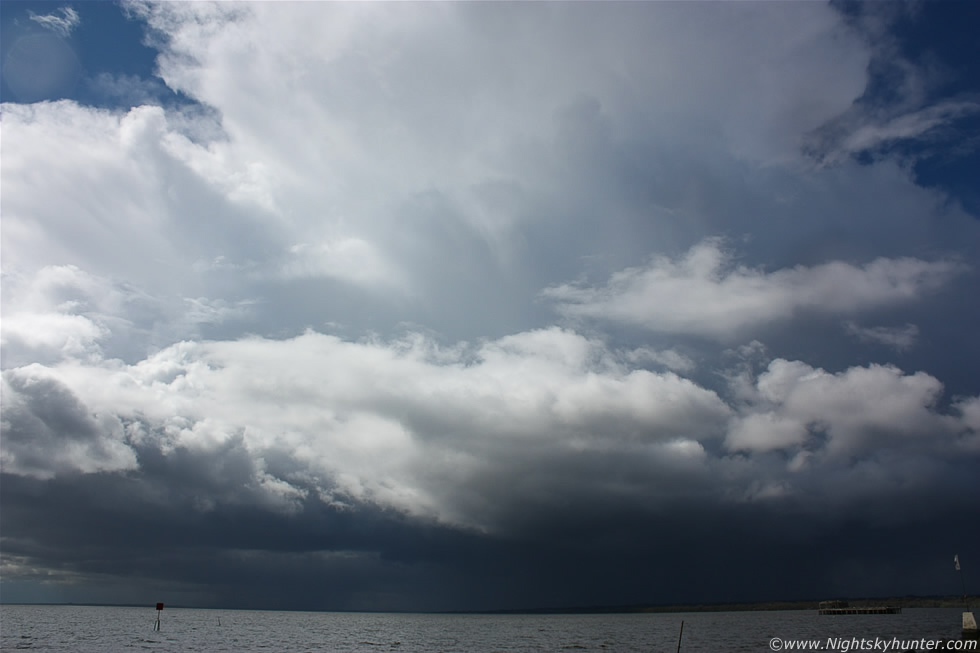 If only I could convey to you the height of this thing!, here the base was 5 miles away yet the top of that perfect hard anvil was dominating the sky so much that my head was actually tilted back looking directly up, we could feel a sudden cold drop in temp as the cell's outflow/downdraught blew across the Lough and hit us giving us the shivers then once it passed the sun came back out to heat things up. I was saying to Roisin how I didn't understand why there was no lightning from this cell, I mean the thing was massive in scale with rock solid anvil of text book quality in frigid upper air with a very dark base below with moderate precip core with the clouds taking on that classic thundery blue appearance, however if you watch the video you can see a quick in-cloud bolt at 1 min 1 sec into the clip which I hadn't noticed at the time, and to be honest I spent most of my time looking up as the anvil was so utterly spectacular.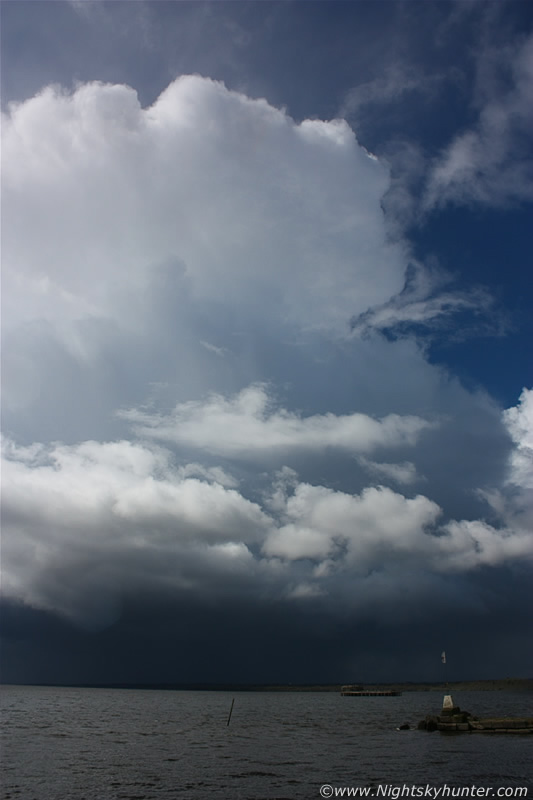 Another vertical shot to get it all in, a good sense of scale is that wooden structure over the Lough which is located off shore near the Marina, that's actually an old torpedo testing platform which dates back to world war II however now its nothing more than a sanctuary for birds. The cell was getting further away from me in distance however it still towered into the sky, I was certain I had never seen a cell of this caliber before during the month of April since I got into storm chasing in 2007, in fact, I'm pretty certain this ranks as the tallest storm/anvil/updraught I have seen since the massive thunderstorms of 2009. At this point the very same cell was photographed by Derek Watters from Dundalk some 50 miles away to the S and even from there it looked like a significant sight. Once it crossed over the SE side of the Lough the visual sat images showed the anvil to be the same length as Lough Neagh itself which is some 20 miles in length! - impressive indeed and furthermore those same sat images showed it's pancake-shaped anvil casting a vivid shadow on the ground below which was very cool.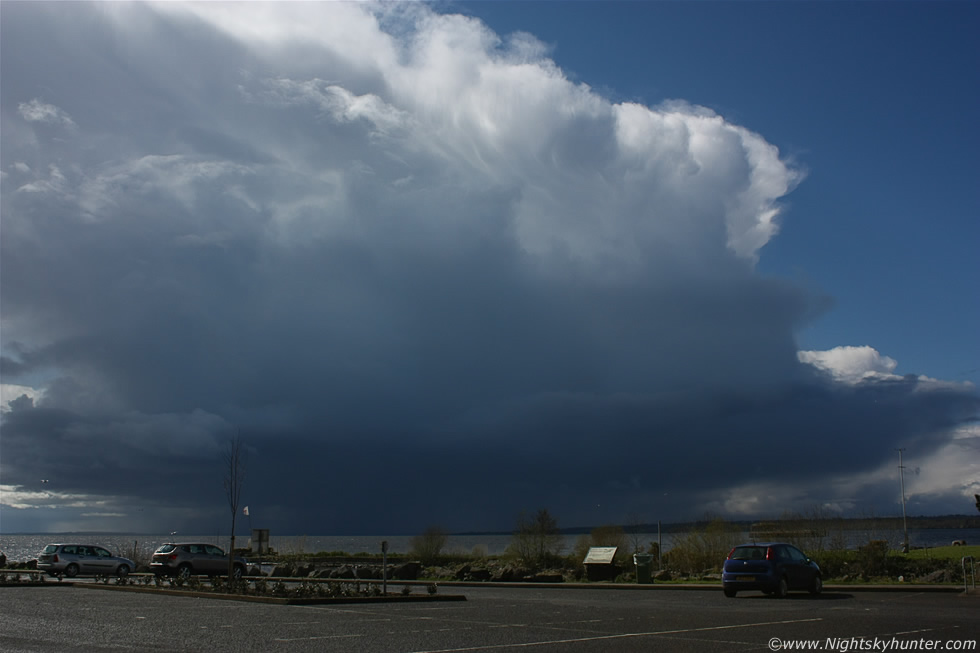 I lost sight of the cell then went for lunch in the local cafe at the Marina however I had a feeling more sky action was in the offering so I made sure to sit at a table where I could see out the window and monitor the sky while I ate. I enjoyed every moment of my panini however that ended when I spotted another cell moving across the window as a black mountain so I threw the panini down me as fast as I could and hurried outside for a look. I took these two images from the car park showing a beast of a cell following the same track as the last one across the Lough with a beautiful updraught and anvil starting to fan out along the leading edge, moving R to L here with the base half way down the Lough some 4-5 miles away from me again, I heard two low rumbles of thunder coming across the Lough which put a smile on my face, second storm of the day and the first thunder I've heard this year.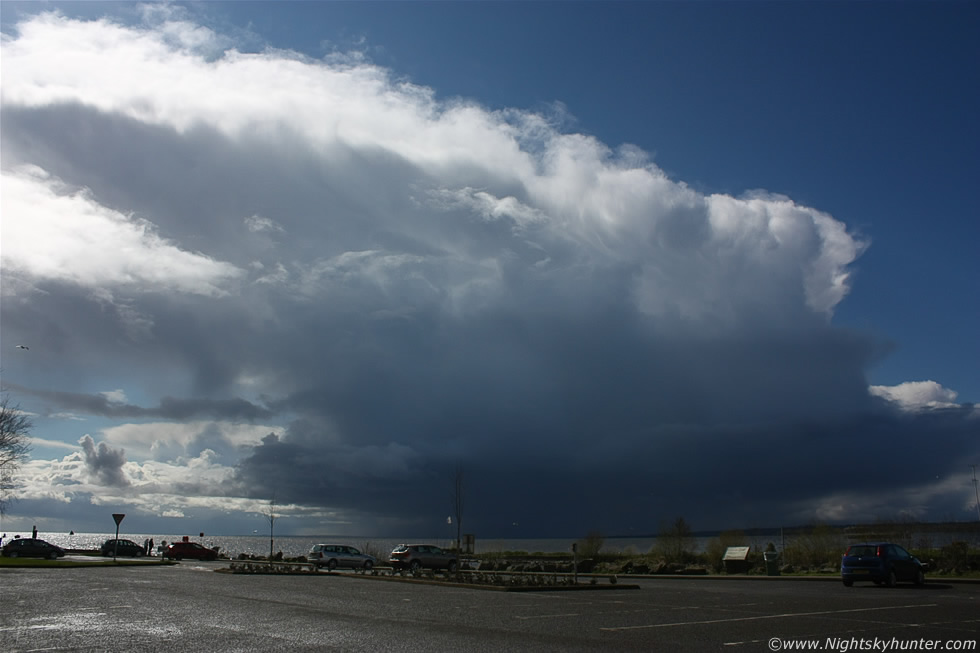 Full wide angle with the anvil on the leading side (L) projecting downrange to the SE due to the upper winds, you can always tell what direction a storm is moving by looking where the anvil is pointing. This cell was another monster and was developing rapidly with very solid structure, the base had that atmospheric dark blue colour and occasionally the sun would reflect off birds flying near its base like silver dots flashing against the darkness which looked very cool.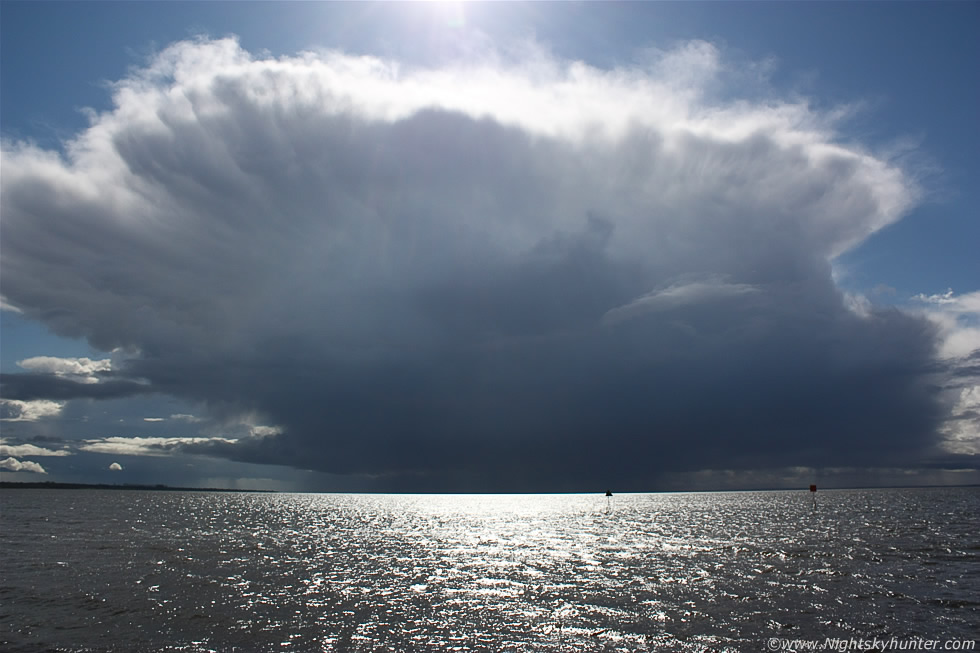 There is something very magical about watching storms over a large body of water, it must be the calming effect of the water lapping against the shore with the gentle breeze and bright sun shining on my face while miles away a majestic mountain of air, water droplets, and ice crystals performs its life cycle in dramatic fashion over the water, we where very fortunate to have been at this vantage point because we could see the storm's structure perfectly, this really was a lucky day because we hadn't been chasing at all and then when we least expected it nature rewarded us with something special on the last day. The anvil was now nearly fully developed with rows of mammatus-like streamers visible under the entire anvil canopy.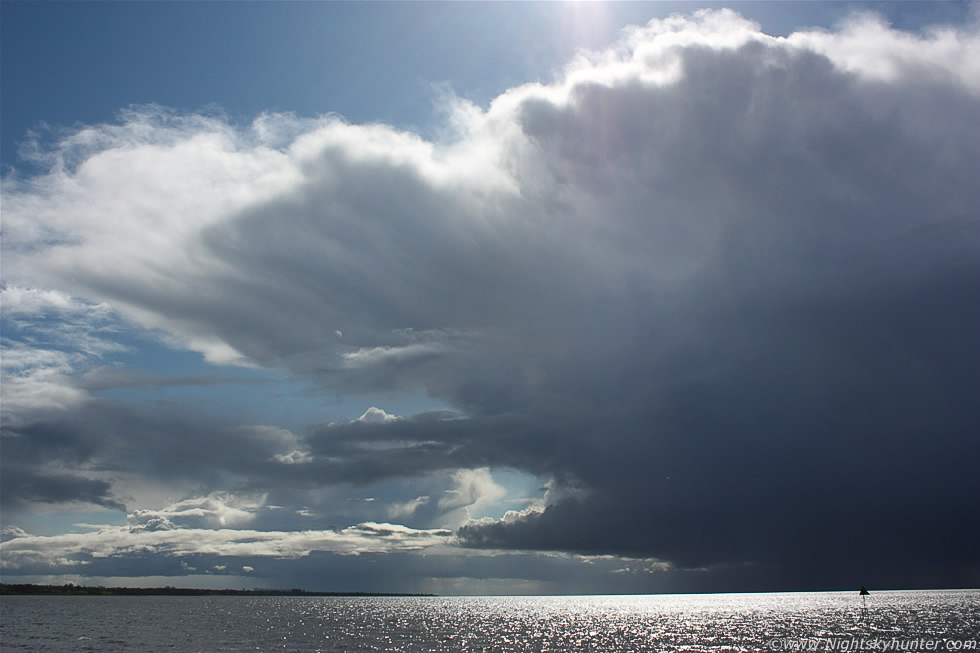 Roisin and Mum joined me at this point where we spent the rest of the afternoon in bright glorious sunshine watching this cell do its thing which was my idea of a perfect afternoon. This is the leading edge of the cell with leading anvil sector and it looked like a beast yet strangely surreal because despite the chaos going on below the core I could hear Children playing in the sunshine behind me with quacking Ducks and graceful Swans floating in the water nearby and I was quite certain that the other people in the area had no idea what was going on over the Lough, their sunny day would have ended very quickly had that base passed a few miles further N with rain, hail, cold downdraughts and thunder/lightning. From watching these cells and other convection in the area it became obvious that they where exploding to life over the Lough itself so they must have been feeding off the vast supply of moisture here.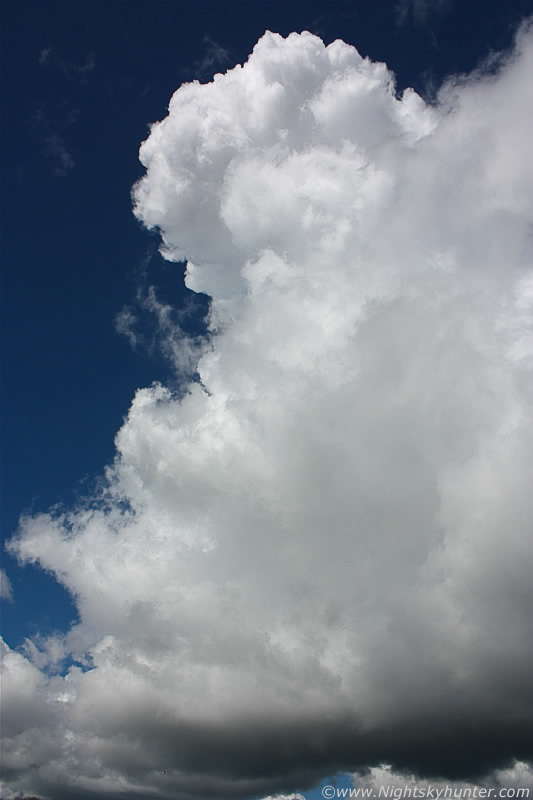 I looked behind me and saw this insane updraught going up within min's over the Marina. Images don't even come close to doing this justice however if you check out the video clip after the 4 min mark then you might get some idea of just how truly gigantic this was. The base of the tower was over the car park where Roisin and I could see rising inflow motion in the form of scud getting sucked upward which developed slight rotation as it passed over the beautiful green sunlit trees, we watched for funnels however our attention was completely distracted by the stunning head on this updraught which I couldn't even fit into the wide angle FOV, looking up along the tower to the top was like gazing upwards at a white skyscraper in a city, I was totally shocked how high it was, the scene reminded me of the plume from a violent volcanic eruption. I'm pretty certain that this was the tallest single updraught tower I have ever seen in my life.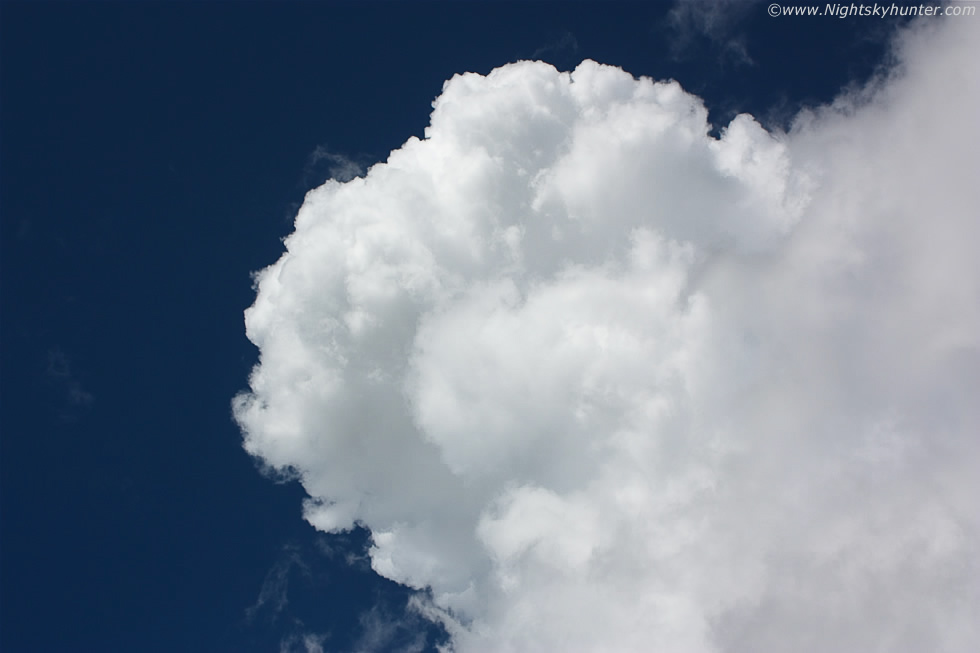 Imagine standing on a narrow wall beside the Lough and seeing the dark cloud base along your line of sight at tree top level some distance away then tilting your head slowly back until the base of your skull is resting on your upper back and gazing directly overhead and that's what it felt like to see the top of this updraught and even then that plume was still towering high into the sky with rock solid edges with the classic 'explosive' development with real time expansion of the cloud like an atom bomb, and this doesn't even come close to doing it justice. Even without the storm cells over the water this single sight on its own would have made up for the busts on the previous two days alone, it was that impressive!. While this plume was exploding skyward I was explaining to Roisin and my Mum what was going on, why the cloud looked like that, what they can do, and the kind of air movements going on inside while admiring those brilliant heavenly white cloud tops contrasting against the deep blue sky surrounding it, an old man was sitting nearby listening to every word and taking it all in so hopefully he learned something new that day. A high altitude passenger plane passed nearby and it wasn't that much higher than the plume, in fact, I later learned that similar cells over the Republic this same day where so large that planes where being re-routed to avoid them and considering that the Lough cells where even larger than those then something similar must have been going on in the airspace around here. Planes must avoid powerful convection like this at all costs because these cells exhibit powerful downdraughts and updraughts of rising air that can move vertically at over 100mph which can bring planes down or cause severe turbulence, you most certainly wouldn't want to be flying around any of these cells in a single engine plane or glider that's for sure.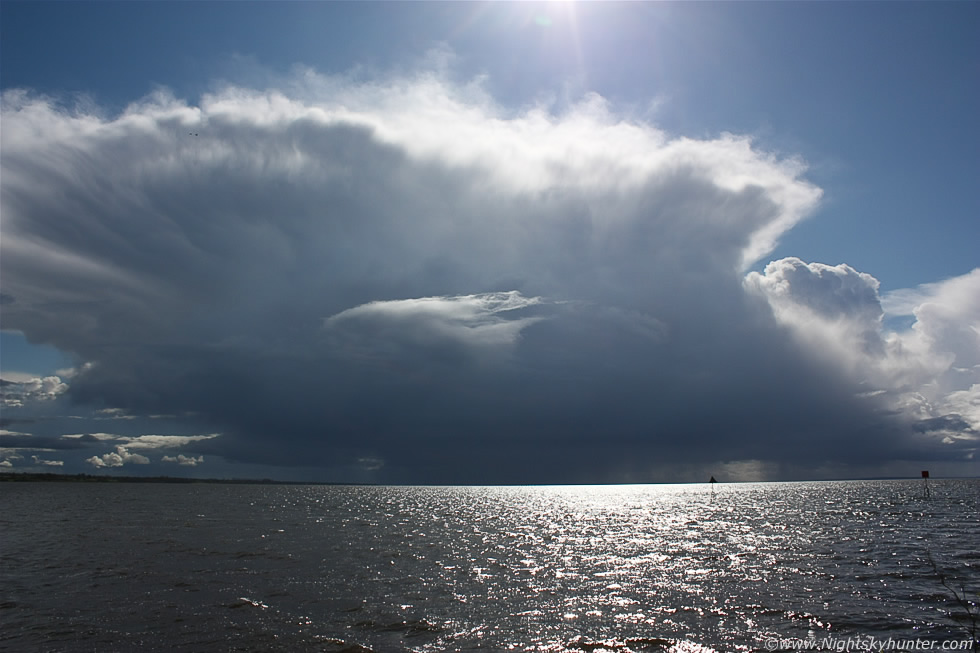 While the volcanic plume updraught was blowing me away above my head I turned around and got back to the previous cell which was now even further away over the SE side of the basin yet I still couldn't get it in the wide angle FOV. You can see new towers/daughter cells going up behind the big one and they continued to grow with more convection for miles behind it. Shooting conditions were very challenging because the sun was at its highest point in the sky shinning down on the top of the cells and reflecting intensely off the water which felt wonderful with its warm glow on my face, it made such a change to be viewing this stuff in such sublime and comfortable conditions compared to what I'm usually exposed to.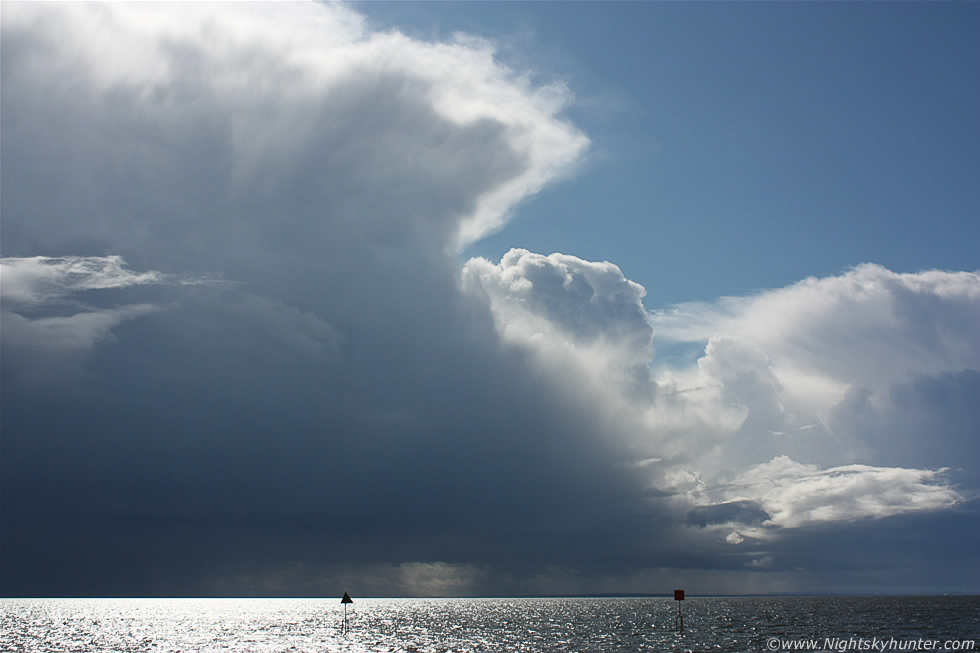 30mm shot of the flanking region showing dark base, precip core, and the new updraught which exploded into life at the rear, again it was rock solid, it's amazing to see convection like this during April, I never thought I would be using the terms 'explosive', 'rock solid', 'crisp' at this time of year, it just goes to show that no two months or two years are ever the same and each has its own potential to produce unexpected surprises. Bit of a lowering under that new updraught which was probably an outflow feature. I actually love the light here with the sun turning the tops of the cells bright white with thick bright sun beams piercing through the clouds onto the water.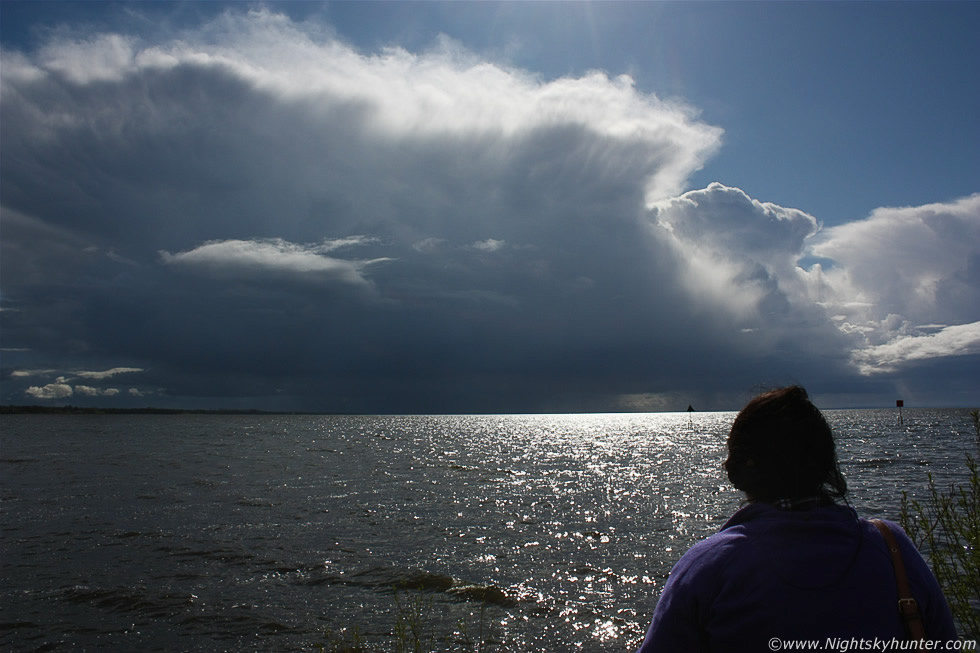 I asked Roisin to stand in for a shot which helped convey a sense of size and distance, pretty decent cells considering they must be 10+ miles away now. Note the updraught at the flanking area with the hard domed top punching up, that's called an overshooting top and is a sign of severity (at least briefly in this case).
42mm zoom showing the overshooting top visible as a bump above the solid flat anvil/top of the tower, the rising air inside this updraught was so strong that it punched through the anvil into the upper atmosphere, if you see a pronounced version of this dome for a long duration you can be sure you have serious air moving inside your cell with an increased chance of severe weather and even tornadoes, in this case however it was a brief event and a nice early surprise for the season ahead.
Here's a video clip I made showing all of the above cells, of interest is 1 min 1 sec where a quick i-c bolt is visible and after 4 min's for the footage of the volcanic plume updraught. All this action took place between 14.00 and 16.00 UT during peak heating hours and all over, or in the vicinity of, the Lough Neagh basin which obviously has an effect on the weather, this is what's known as a micro climate and Northern Ireland has many of them. This large body of water is one of my favourite chasing regions because of its effects on the weather and for its storm/tornadic history however it's a love-hate relationship because I have seen the Lough kill storms during 2010 (except for one amazing day) and 2011 yet during 2009 it invigorated storms into some of the finest multicell structures I have ever seen including quite a few funnel clouds and this year seems to be one of those good years, this no doubt is down to the temp of the water at any given season and its supply of moisture and any local convergence/wind flow patterns which can aid convection, in any case the Lough is a great location to chase around so I will be back again in the near future. As we drove home back N the sky became less and less unstable as we advanced towards the lower end of the CAPE from towering cumulus to cumulus mediocris to cumulus humilis and ending with bright sunshine and blue skies making a fine end to a wonderful day. Finally here's an image of me in my 'element' (no pun intended). Thanks very much for reading.
Martin McKenna