Sunset Mammatus, Maghera - Nov 18th 2010
November has been a very unsettled month over much of Ireland and UK due to low pressure and a raging influence from the Atlantic Ocean which had spawned three intense storms which affected a large area of the country within a week or so with deep low pressure centres and associated fronts which produced heavy rain, local flooding, severe gales, power cuts, tree damage, coastal thunderstorms, waterspouts over the Irish Sea, and unfortunately one fatality. At one stage it seemed there were gales blowing for over 24 hours and when they finally eased it did feel strange to wake in the morning to silence instead of the usual howl of the wind. There was little in the way of photogenic severe weather action for me as most of the best stuff took place under the cover of darkness so I was waiting patiently for something interesting to shoot. That opportunity unexpectantly presented itself during the late afternoon of November 18th, and as always I had been up late the night before giving GFS and other sources a cursory glance to see if there was any convective potential, and I was surprised to see that there was. During the cold months of Autumn and Winter convection tends to die out over inland areas due to lack of sufficient solar heating so I never have high hopes of seeing any decent home grown cells unless significant lifting/forcing along with potential instability is likely, these are often associated with cold fronts which like to produce severe squall lines with tornado potential, however despite having three level one forecasts issued there seemed to be little to get excited about so far.
In contrast to this the best place to see storms at this time of year are at coastal areas where warmer sea surface temperatures (SSTs) often produce extremely good convection and thunderstorms so that's really the region where one wants to be chasing in Ireland/N. Ireland during the cold seasons, and if there's a strong flow then some of these storms can get blown inland some distance before they collapse. In fact just this very week there where impressive thunderstorms off the S, W, and NW coasts of Ireland each with stunning anvils proudly visible on the sat images with a size almost the length of N. Ireland itself, I counted three of them at least during a casual glance and wished I had lived on the W coast to see those monsters. At the risk of getting sidetracked I will return to the 18th, GFS predicted 100-200 CAPE with LIs between 0 and -1 with a significant cool pool of frigid air over NI with good lapse rates so it seemed that for once there was some instability over inland areas, just enough for convective hail showers and perhaps a slight risk of an isolated thunderstorm however it was all a very subtle and unexciting affair so I didn't think much more of it, however as always I didn't forget the set up and made a note of keeping an extra careful watch on the sky the following day.
On the 18th, and just like the three days before, it was raining heavily. It was just extremely dull and grey which left me feeling very uninspired so I checked the radar and was surprised to see large bands of organised showers moving SW to NE across NI in clusters with pink echoes so they were fairly intense, in fact intense enough to produce something interesting and possibly a few sferics. The sky looked rubbish outside but my instincts kept telling me to be sharp so I changed the settings on my camera for day time shooting incase I needed to react fast because I didn't want something suddenly appearing only to waste valuable time transforming the Canon 450D from night mode to day. Just before 16.00 UT the rain suddenly stopped and I could see an eerie warm light illuminating my neighbour's home so I went outside for a look, the entire sky to the N and NE was filled with a large wall of orange cloud with precip falling which looked amazing, almost like the back of a severe cold front, at this point I was thinking there could be a nice rainbow so I grabbed my coat and went for a walk up the estate onto waste ground for a better view. I didn't see any bows however something suddenly caught my attention to the NW, I watched as the sky brightened in that area and a large blue clear gap yawned open, and as a veil of grey mid level cloud was drawn away it left in its wake a substantial looking cell/shower a few miles away to the NW of Maghera. The anvil on it was quite large in size, and considerably high in the atmosphere for the time of year, and had a nice warm colour covering the entire spectacle, then a multitude of little mammatus pouches suddenly formed under the anvil which began to rapidly evolve into large well defined udders.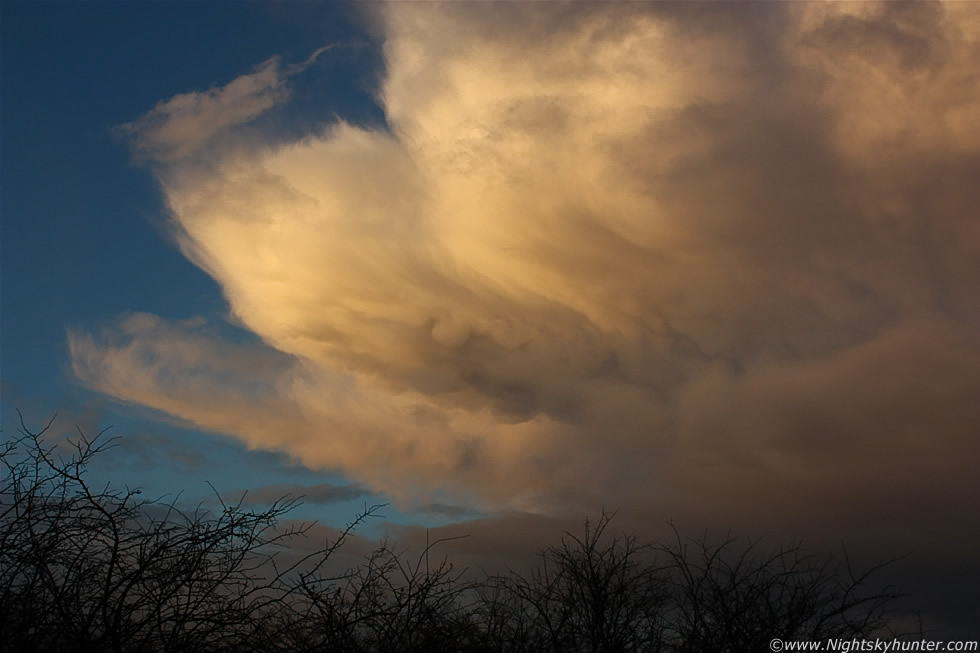 I needed a better vantage point so I jogged through an area of horrible soaking mud which caked my trainers then climbed to the top of a small hill which had a great view to the NW over a line of trees, and it was from here that I took these images from. Over the next 20 min's or so I was treated to the best mammatus display I had seen in years. These images were taken with the 18-55mm kit lens, most of the stills are at 30mm and 55mm so you can appreciate that this was a large display considering that the cell was still miles away.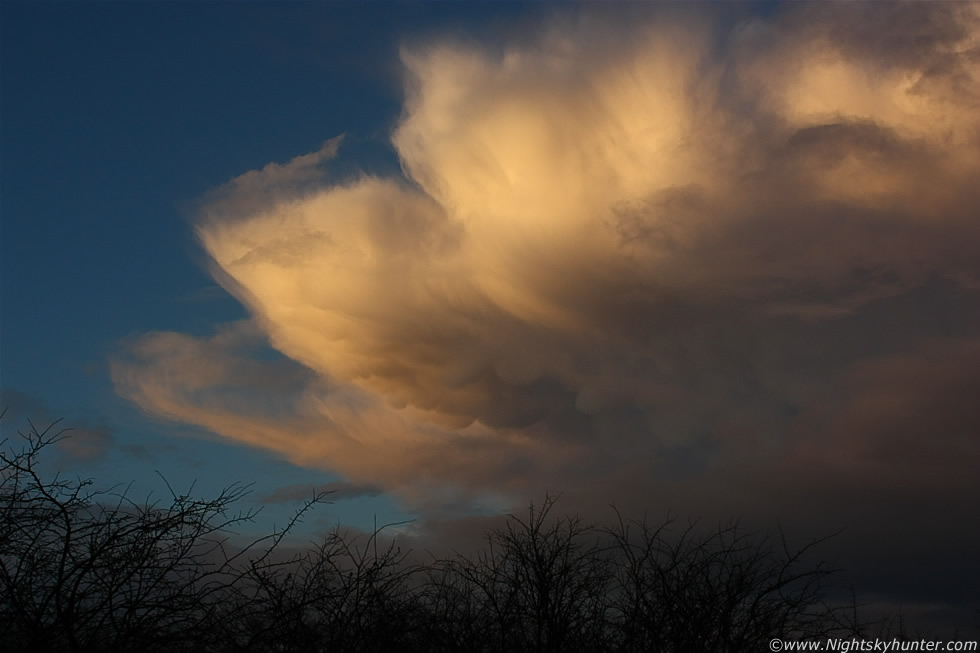 For those who don't know, the huge area of cloud in the image is a portion of the anvil on top of this large cell which was moving slowly from L to R, and being late in the afternoon with a low Sun and little solar heating the cell could no longer sustain itself with energy so this was why it began to decay, and when this happens there's usually something photogenic. The large anvil canopy was breaking up into several sections and mammatus bags were forming under them. The entire scene looked amazing with the intense orange colour contrasting against the clear blue sky to the L.
The closer images are at 50-55mm
At this stage the display was stunning in the low light, I was taking these hand held so I needed to alternate between ISO200 and 400 to get a decent exposure. The structure in the clouds and the form to the mammatus was visually stunning and considering how high the anvil must have been I can only imagine how massive those mammatus bags must have been up close, I wished I have been standing directly under them, what an amazing image that would have been with the udders filling the 18mm frame, I could hardly complain though as I was at a great location which was close enough to see the detail while still being able to see the anvil and other parts of the cell.
With the naked eye the mammatus varied from orange-gold in colour to a strange purple-blue hue which blended into pouches of a dark charcoal colour at the light-shade boundary.
And to think that earlier the sky was flat and grey with rain falling for hours, it was difficult to take in this amazing transformation. I love mammatus displays, they were the very first convective subjects I photographed years ago when I first got into this subject so this display really brought back all those earlier great memories and sudden dashes outside with the camera. Mammatus are always at their best before sunset so this was a real treat.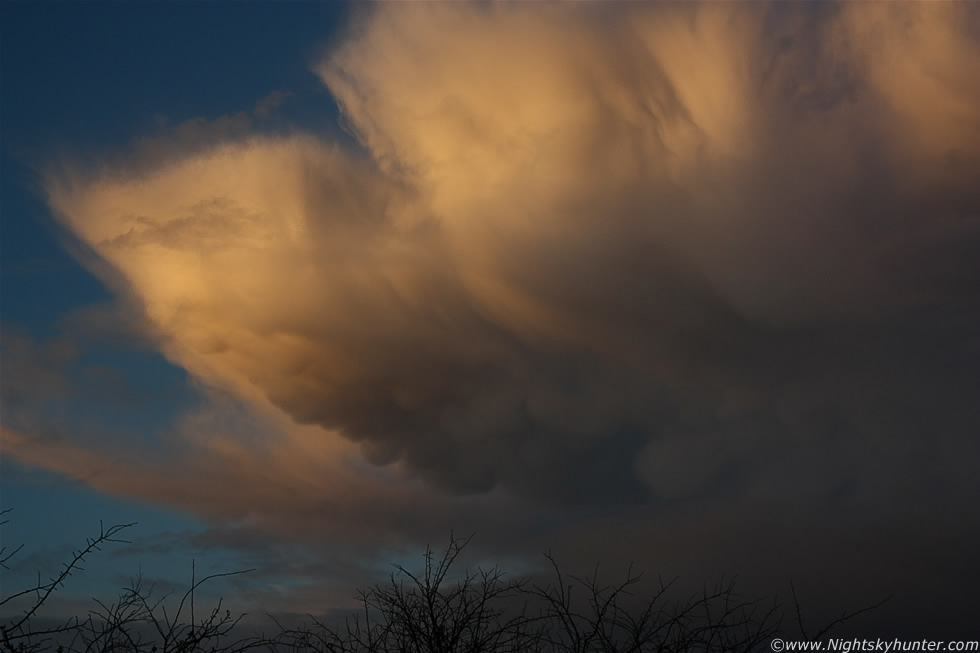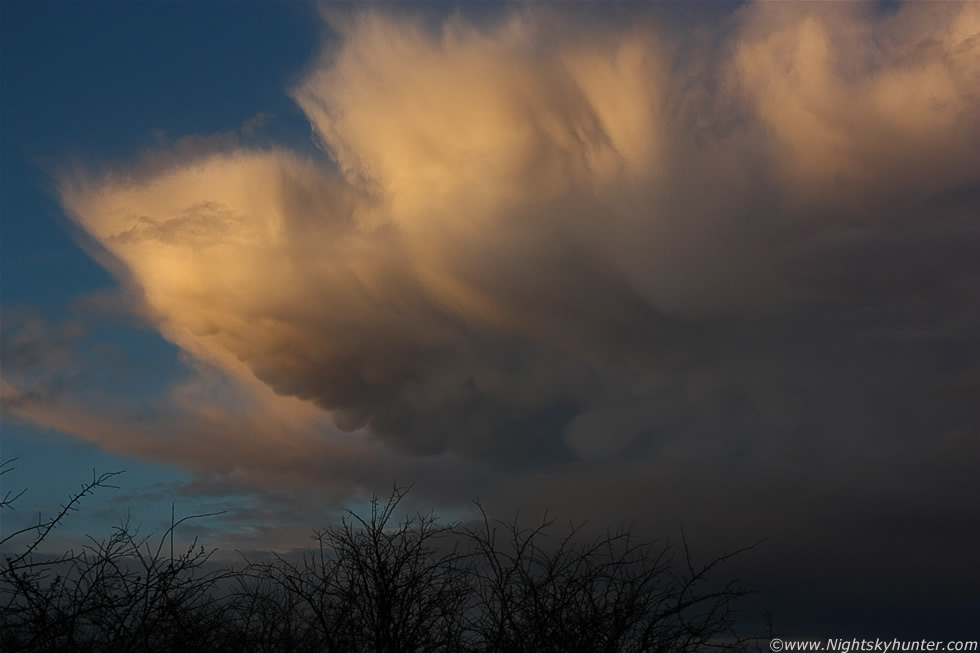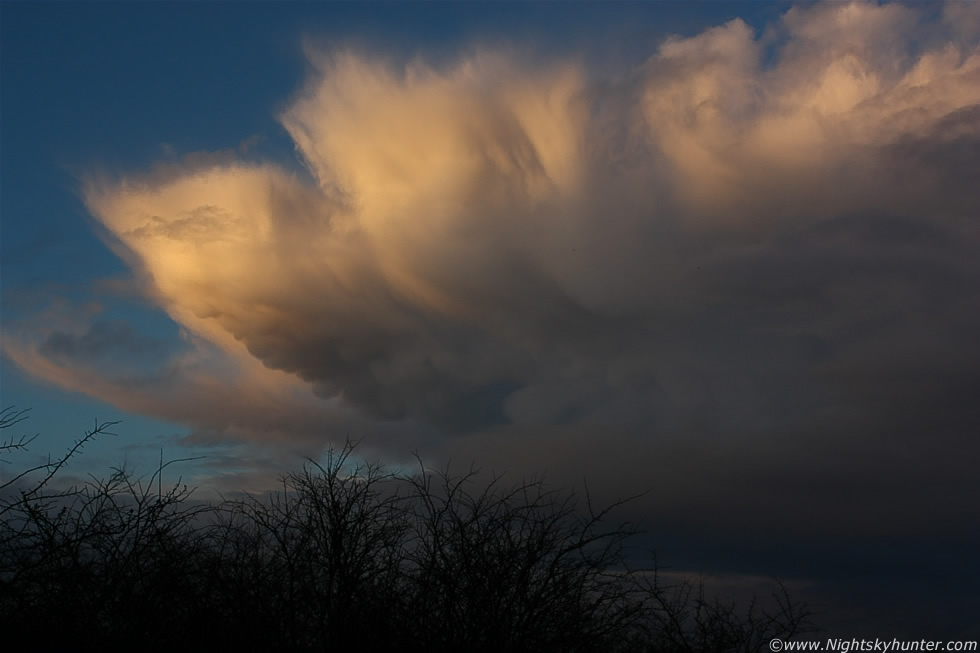 These last few were ISO400 which is why they look brighter, the last shows a wider shot of the cell, the rest of it was in shadow far outside the frame to the R in the N sky. The mammatus eventually turned pink in colour then were covered by a carpet of dark cloud which turned the sky overcast again and the show was over. This was quite an unexpected and thrilling show and even more special since it appeared close to my home, so for once this year I didn't need to drive out in the car in search of something nice to photograph. I hope to catch more such displays in the months ahead when cold airmass showers get more prolific over the country. Thanks for reading.
Martin McKenna