Sunset Mammatus Clouds - Oct 28th 2007
On Saturday night/Sunday morning (Oct 27/28th 2007) a sharp cold front would cross N. Ireland as it arrived from the Atlantic Ocean. The Met Office announced a severe weather warning with a high risk of heavy squally showers and strong winds. Other weather experts predicted a chance of lightning and even a slight risk of Tornadoes so I was on the alert for some severe weather action. On Saturday night I checked the BBC weather website and using the online sat and radar images I saw that a particularly heavy band of rain would pass over Maghera at approximately 01.00 BST. I was quite amazed by the accuracy of these charts because at 01.05 BST we got hit by the most intense torrential rain I have seen since the 2007 Summer thunderstorms. The sound was quite frightening, in fact, this was how the rain announced itself to me, I was working on the computer when I heard its nasty sound through the window. My Sister and I watched in awe as the rain hammered across the open back door which was followed by strong straight line winds from the SW, this was a short lived burst however it blew debris across the garden. This was caused by an impressive line of convection which produced several lightning flashes which my Sister witnessed.
I was looking forward to Sunday as I knew that nice convection can suddenly kick off after the passage of a front, and besides, the BBC and UTV television weather were forecasting thunderstorms. I woke up to clear sunny skies on Sunday morning. For a better view until some action arrived my Mum and I took our dog, Drew, for a walk through Drumlamph forest outside Maghera. We spent most of that time taking shelter under tall trees near a river bank and eventually the showers moved off. I could see dark cumulus cells embedded within the cloud cover which was arriving swiftly from the SW over the distant Mountain range. We drove into the town of Maghera and pulled up into a car park where I took images of the retreating convection which was now bubbling up due to solar heating as they crossed over the roof tops of local shops. I was leaning over the car roof snapping images of interesting Cu despite getting strange looks from passing shoppers. I had a large number of images taken so it would be impossible to show them all here.
Later in the evening the sky turned dark from the W and a very heavy deluge of rain passed over for 20 min's before the sky cleared again. In the N I could see a beautiful bright primary and secondary rainbow with large cu towers in the background. The Sun was getting low in the sky and the light level was dropping fast. My friend Ryan McDonald then called at my door with a present. In his hand was an article from the Sunday Times magazine featuring well know American storm chaser Mike Hollingshead who runs a terrific website called extremeinstability.com. This article featured a day in the life of Mike, and at the page centre was a glorious image featuring Mammatus clouds lit orange by a low Sun across the great flat plains of that majestic location. Ryan and I were admiring the image and discussing the content when yet another heavy shower arrived so we took shelter in the car. After 20 min's or so the rain stopped and through the rain-soaked windscreen I could see sunlight catching the glass but I saw something else. Hanging down from the sky where incredible Mammatus pouches, so we immediately exited the vehicle for a better look. Covering the entire NW to SE sky was an incredible display of Mammatus at low levels as they moved in from the SW. The hanging pouches or 'udders' were lit a stunning orange-gold colour by the low Sun. I wasted no time and snapped off my first two images. This was what I caught...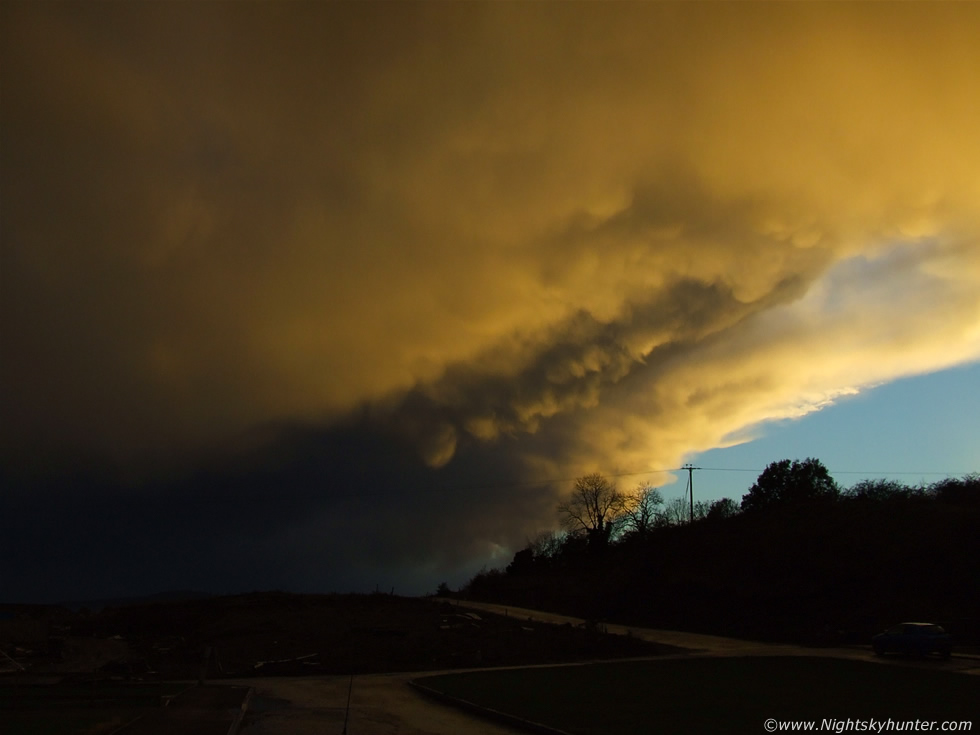 Facing SW. First shot taken using car the rooftop for support. Note the tilt and dark underside with dropping mammatus pouches forming, clouds where moving from R to L here.
Second shot. Cell movement to the L (NE) very obvious within sec's. Note that more pouches had formed in the sunlit region higher up compared to the first image. The mammatus were evolving rapidly here. Display hanging over the 'site' at Willow Glynn, Maghera. Clear slot then appearing to the W (R).
Ryan and I then walked up to a nearby hill where the display passed directly over our heads. I got down on one knee and took several more images, this time with Ryan standing in front. He even pointed at the mammatus for that extra icing on the cake. This also gave the images a sense of scale and depth. These are all hand held captures at a moderately fast shutter speed (500) at ISO 64 using a Fujifilm S5600 5.1MP camera. At this stage the display was so low in height that I felt as if I could have jumped into the air and touched it. Vertical shot on hill facing SW with Ryan in field. Mamma fully matured now.
Amazing how quickly the sky can turn from grey and wet to spectacular and colourful within sec's
Large and small lowering pouches were now catching intense sunlight. Even at this fast shutter speed cloud movement is apparent from R to L. The cell was moving at a rapid speed. We composed this image on purpose with Ryan pointing at the low level display.
Zoomed in capture with mammatus above Ryan's head. The zone between light and dark here is very striking.
Single close up capture of pouches. This was to the E of zenith.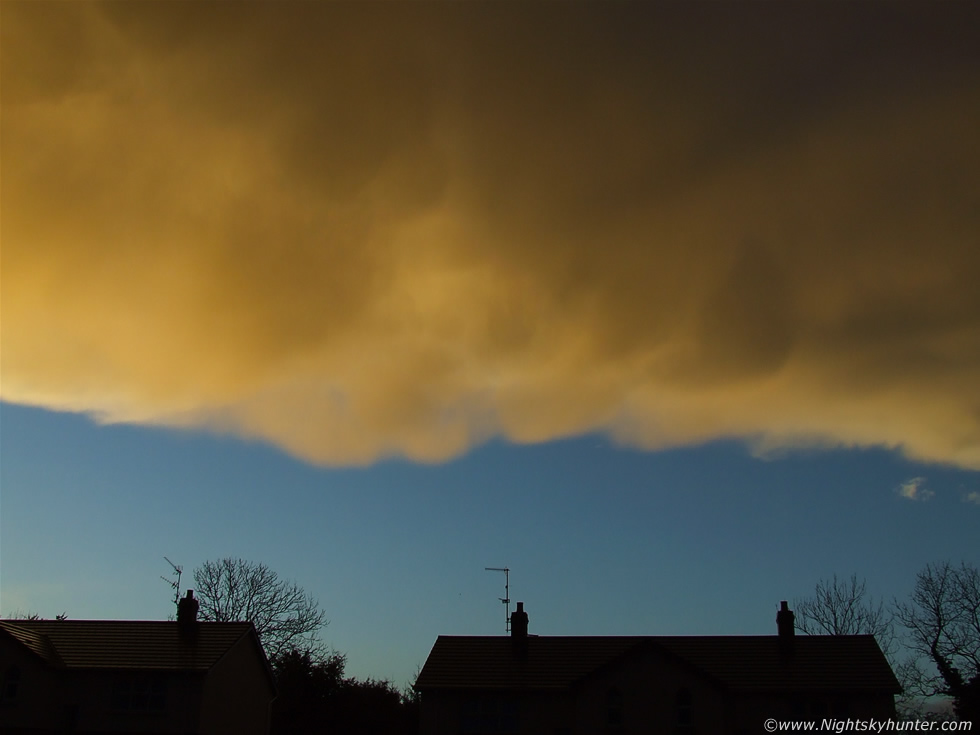 Facing W with Mammatus above rooftops. Clear skies followed in the display's wake. Within five min's the display had crossed into the E which provided us with a side-on view of the parent cloud. As I had suspected it was a Cumulonimbus with fibrous back sweeping anvil. The mammatus where hanging from the anvil's underside. This was a massive cell, so big that it seemed like a cloud blanket when seen from below. The coloured dramatic sky looked apocalyptic in appearance but by now the Sun had dropped lower and those distant mammatus pouches had decayed and developed a dark blue tone as they retreated from direct sunlight. It was an incredible sight and without doubt the best display I have witnessed in N. Ireland for some time. I hope this is a good omen for more stormy weather to come over the Winter period. When we had time to come down from the 'high' I realized that the sight we just experienced was not that different from the image we had been admiring in the magazine not that long before!. An amazing bout of synchronicity, and a experience which has left me with a taste for more.
When darkness fell that evening I saw another mammatus display in dark edge-on profile in the W sky against a dark blue twilight sky. Not long after this my Sister observed a brilliant white c-g lightning flash in the S over Maghera while walking in the country. While observing naked eye comet 17P/Holmes I seen three distant in-cloud (I-C) lightning flashes in the E sky however they where too far away and infrequent for a capture.
Mammatus clouds come from the Latin word 'Mamma' meaning breast and are often associated with storms. Their presence is a sign of instability in the atmosphere and often provide visual observers with a sign that severe weather is taking place. Mammatus most always appear at the decaying stage of a storm when it has passed the mature stage. These images were published on TV3 Weather with Martin King and various other meteorological websites. A successful and unexpected session, we were lucky to be at the correct place at the correct time. In the very near future I'm planning a camera upgrade and hope to add a digital camcorder to the collection with the intention of providing more video footage related to storms and bright astronomical events for readers of the site so stay tuned for updates.
Martin McKenna