Multiple Thunderstorm Intercepts Near Home - Maghera June 7th 2016
This Spring and Summer is currently turning into my favourite year for a long time, the entire month of May was dry, with very little if any rainfall, prolonged high pressure, blue skies by day, clear skies at night and warm temperatures, it has been the best May in two or more years. Now June has begun in a similar fashion with warm temperature, high pressure and a great early season Noctilucent Cloud display and now an outbreak of good thunderstorms, and dare I say it, could this be turning into one of those classic thundery Summers?. I have been on the road chasing storms for three days in a row and one night doing long hours and using up a lot of diesel and financial resources in pursuit of exciting weather and good photo opportunities. On June 5th Roisin and I chased to Co. Fermanagh then into Bundoran, there where storms in the distance however they never made it over the border and although we had a visual on them they were not worth taking the camera out of the bag for due to having no structure and high bases with capping issues further N. Still it was a great day out, we checked out the castles and ended up spending nine hours on location before we got home again.
On June 6th I did a solo chase into Fermanagh once again then Ballintra and Bundoran, I intercepted two strong thunderstorms then after ten hours on location I returned home only to find out about elevated storms moving up the country. So without any rest I teamed up with chasers Conor McDonald and John Fagan, we met at Ballyronan Marina and for the next three hours we got treated to an epic night time lightning display which was the best electrical storm we had seen since 2005, however I will save the details about that night for another report. That night I got home at 03.30 and wasn't in bed until 04.30, however due to the heat and excitement from the chase I never slept well so I was awake and up the next morning at 07.00 for round three.
I had a good feeling about this set-up and believed that there was a chance of storms near home if I was lucky. This would make for a delightful experience because I haven't had a storm near Maghera in a long time and the thought of not having to spend long hours on the road was very appealing, it would cost little and be of greater personal value. I studied the situation that morning, 1000+ CAPE, LIs -3, SWly flow however by the afternoon a slight Nly breeze would move inland from the ocean, this was what had me interested because this combination would create converging winds. Convergence zones are a natural focus for thunderstorm formation because air which meets has to rise forcing air aloft, this combined with strong solar heating would act as the primary forcing mechanism aiding with storm formation, convergence zones can also contribute to funnel cloud formation. Based on the precip charts I had several areas in mind, Lough Neagh, Antrim and the Sperrins, I did think though that the first two would produce the goods. Storms formed over Co. Down and SE. Antrim early in the day however they were too far to chase, I was holding back for something close to home and besides the eastern storms looked more elevated which meant messy with no structure, the temptation was strong to get on the road however sometimes one needs to hold back and wait.
I was communicating with Conor McDonald and John Fagan via facebook and discussed plans and developments in depth. By 13.00 towers were exploding over Maghera with astonishing development and it looked like the cap was breaking then soon after this thunderstorms formed over the W. Sperrins near Strabane and where heading N/NE towards Derry. I kept an eye on them and noticed new cells behind these slowly heading for Glenshane Pass which were already producing sferics with red cores on radar, these I decided would be my target. I drove around to Conor's house and called in with him for a chat, we saw huge updraughts over the house boiling in real time, it felt like perfect thunderstorm conditions, we checked radar one last time, still an active cell and a perfect target, it would only be 15 min's or so up the road so we got in the van and raced up Glenshane Pass then once outside Dungiven we got a visual on our cell which was in the company of a field of turkey towers all soaring skyward.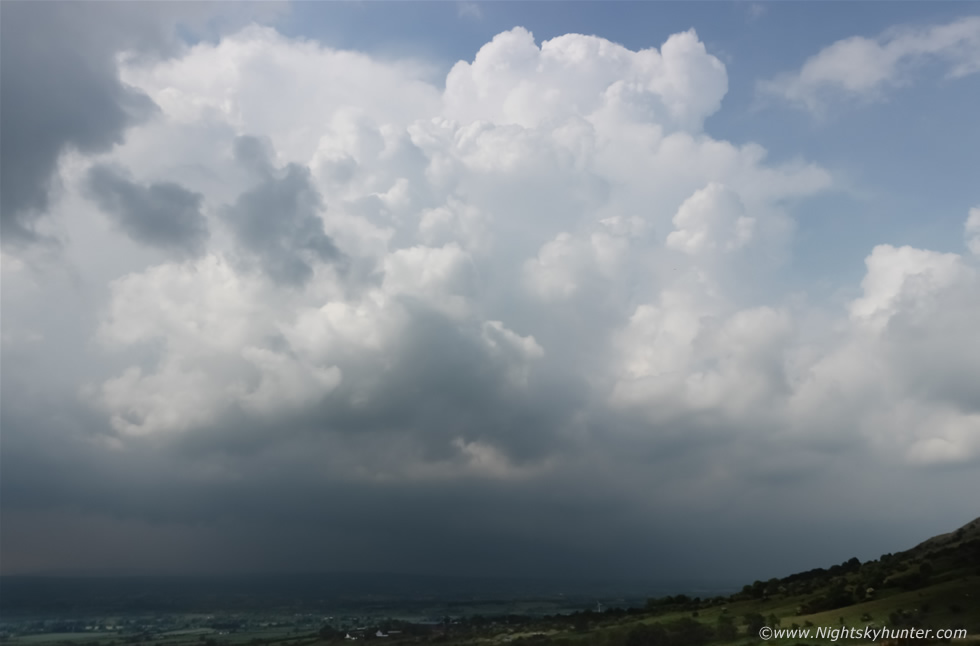 We drove half way up Benbradagh mountain and got out to watch, this would be our base for the next hour or so. This was our view of the storm, I have to say it felt wonderful and incredibly rewarding to get a storm so easily in comparison to the previous two days. I set up the Go Pro for a time lapse, took a few stills, then Conor and I stood on the mountain slope watching the storm. Moving L to R on image, this cell was huge with solid updraught and towers slowly creeping across the landscape, you can see the base coming through the haze in the distance, we could hear periodic rumbles of thunder echo over the mountain.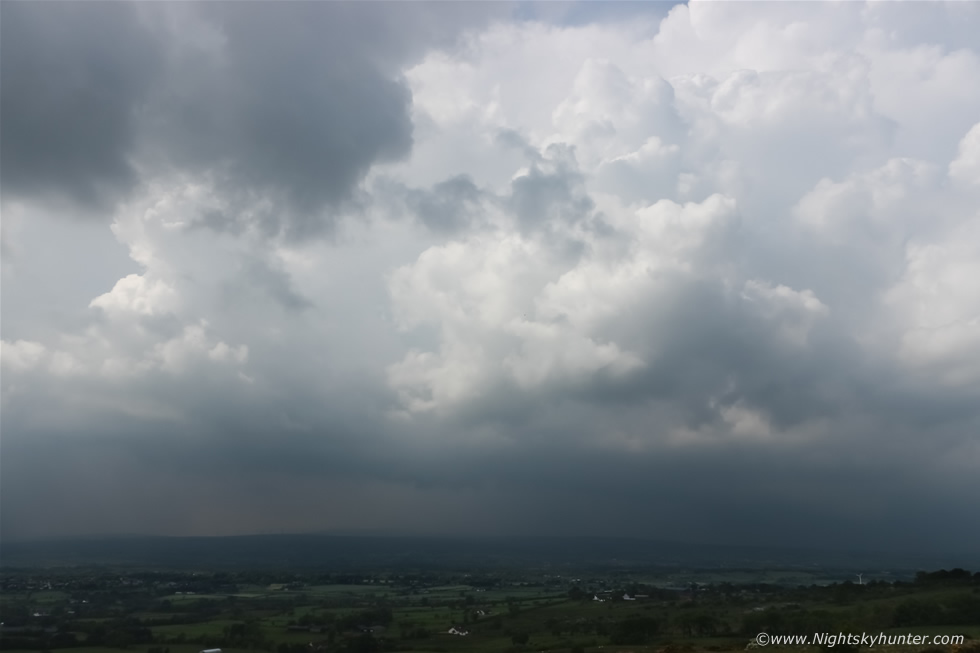 It was very warm, the sun was strong and unrelenting and the humidity was unreal, for some reason it was really affecting me, the atmosphere felt muggy, warm, and heavy and the air on my skin felt like liquid, this is exactly how Reed Timmer describes the atmosphere in the States in his book about storm chasing, on this day I felt it very strongly. Big towers kept going up on the rear and sides of the storm as the cell rumbled and drifted towards the Derry area and Lough Foyle.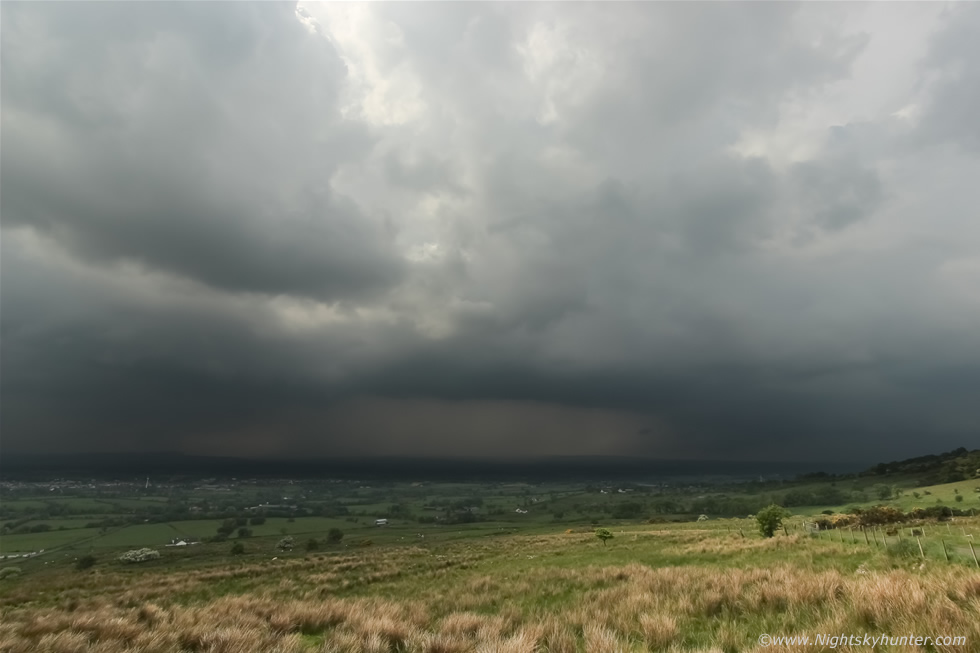 A new cell formed on the flank of the Derry storm forming a rounded gust front which began slowly moving our way, you can make out the precip curtain behind the thick haze. I got a text message from Roisin telling me to be careful, news had just come in that a father and Daughter had just been struck by lightning while leaving school in Lisburn, both were taken to hospital in a serious condition. I was shocked to hear that, the last lightning related incident took place in 2009, so this kind of event is very rare and only happens during potent thunderstorm outbreaks. The news highlighted that this day was real and that we had to be careful, however we were not too concerned, we have been watching storms for countless years and know what we are doing, we make a judgment call each time we are out and know the risks, we knew we could be in danger however this was what we also loved to do so we were in our element.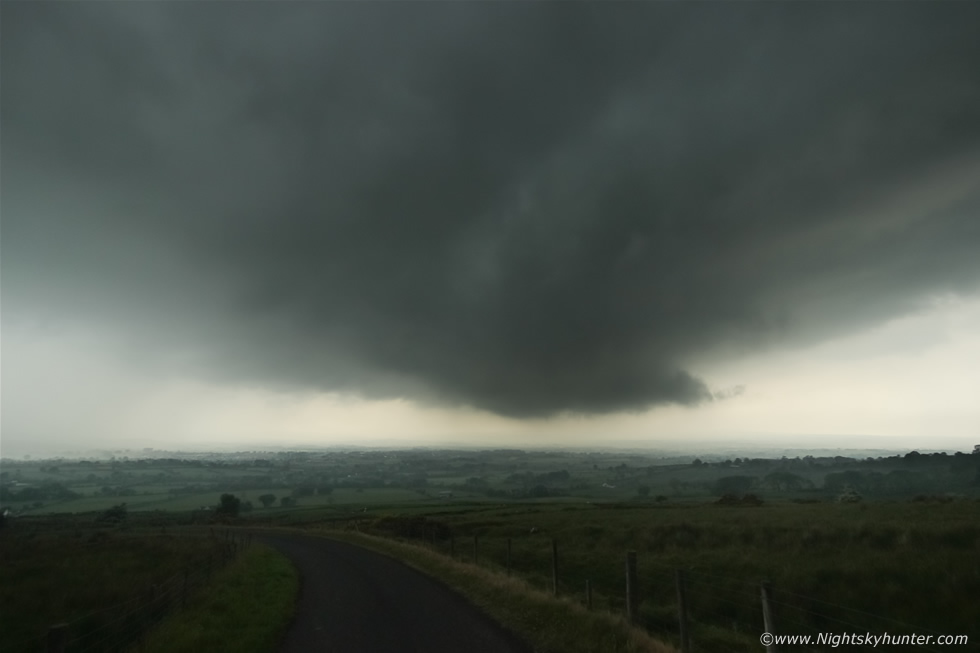 We drove to the top of the mountain and let the cell pass over us, it was almost like a winter's scene on top with grey skies yet dark chunks of scud lifted over the summit, it was very ominous and humid and the air felt highly charged however we never saw any more lightning or heard rumbles. After a while of quiet observation we decided to drive back down the mountain, we needed to see the radar for the bigger picture, there could have been more storms firing in the local area and we needed to find them. Half way down this came into view so we stopped on a steep incline and took in the view. Cell moving R to L, earlier storms had been high based however this was obviously more surface based in nature, quite a dramatic lowering and source of inflow going on under a new updraught base.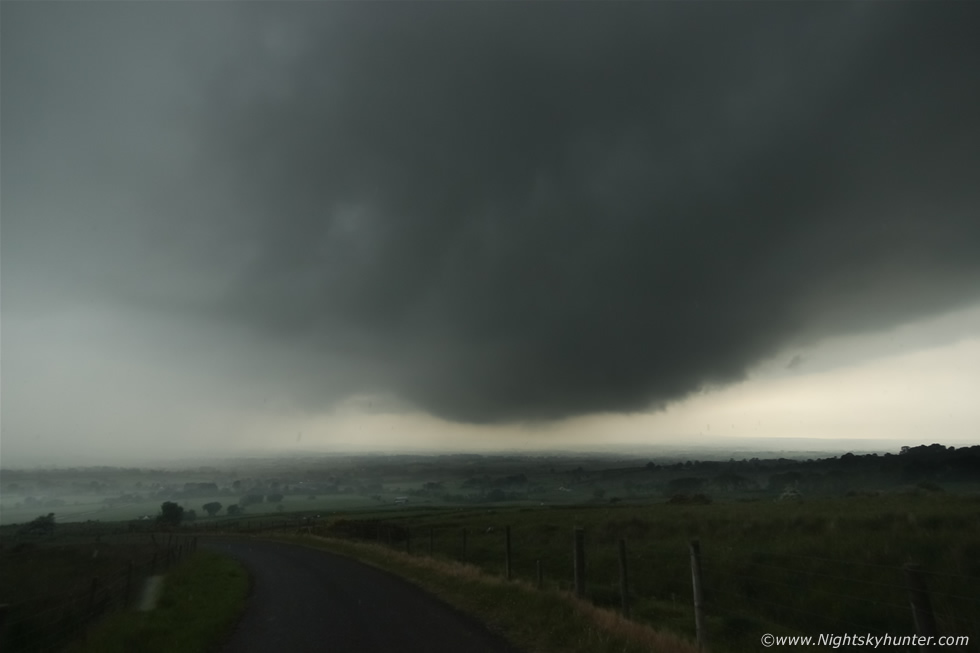 A little later it formed into a swollen inverted bowl, for a moment we were thinking, could it be?, could this be the start of a funnel spin up or something stronger?, we couldn't see any swift rotation however scud was rising up into the lowering. The rain was hammering so these images were taken in haste as large warm drops of rain slapped on my face, and to be honest, it felt rather refreshing in this sticky humid air. We drove on down the mountain and back along Glenshane Pass with the cell's gust front with whale's mouth visible in the wing mirrors. We went back to Maghera and made another quick stop at Conor's house to check radar, new storms had formed to the S of the storms we had been on and they where making a beeline for Maghera, we had enough time for a drink of water and a secondary radar check then we rushed outside back to the van and hit the road once more, this time chasing near Maghera in our own home territory.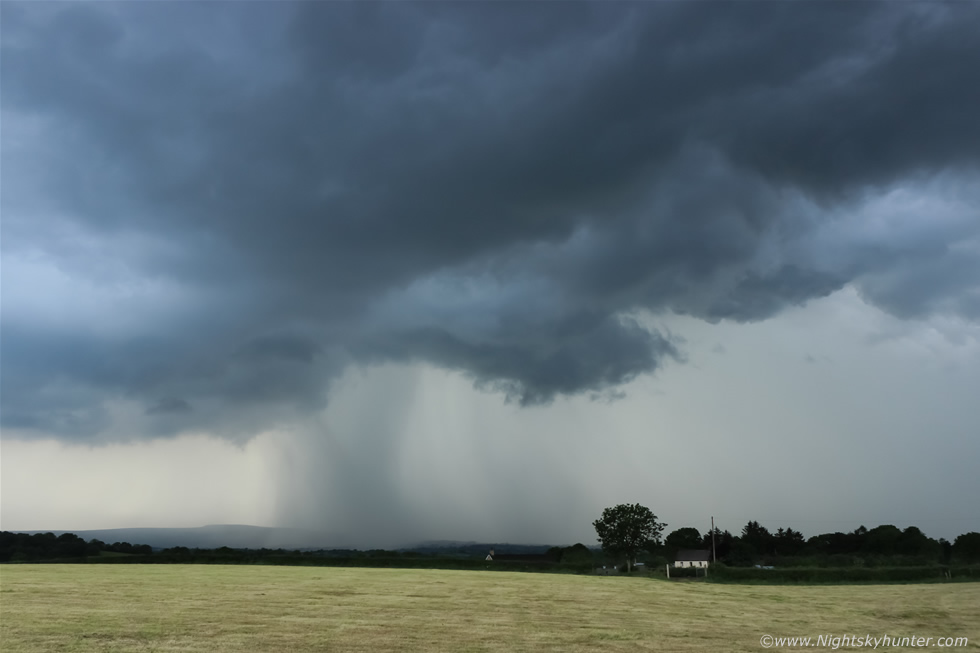 We drove into the countryside and after some trying road encounters with tractors and other drivers we found a lovely quiet spot that was made just for us. Conor and I ran up a steep field carrying our gear, running in the heat and humidity was tough, when we reached the top of the field we saw our view was blocked by trees so we ran back down again, crossed the country road, and climbed over a gate into a beautiful field while panting for breath. This one was absolutely perfect, it was lush, flat, with perfect horizon and had just recently been cut and it smelled powerfully of Summer. This beautiful storm was just sitting over the fields in perfect view, it let out rumbles and had a nice precip core.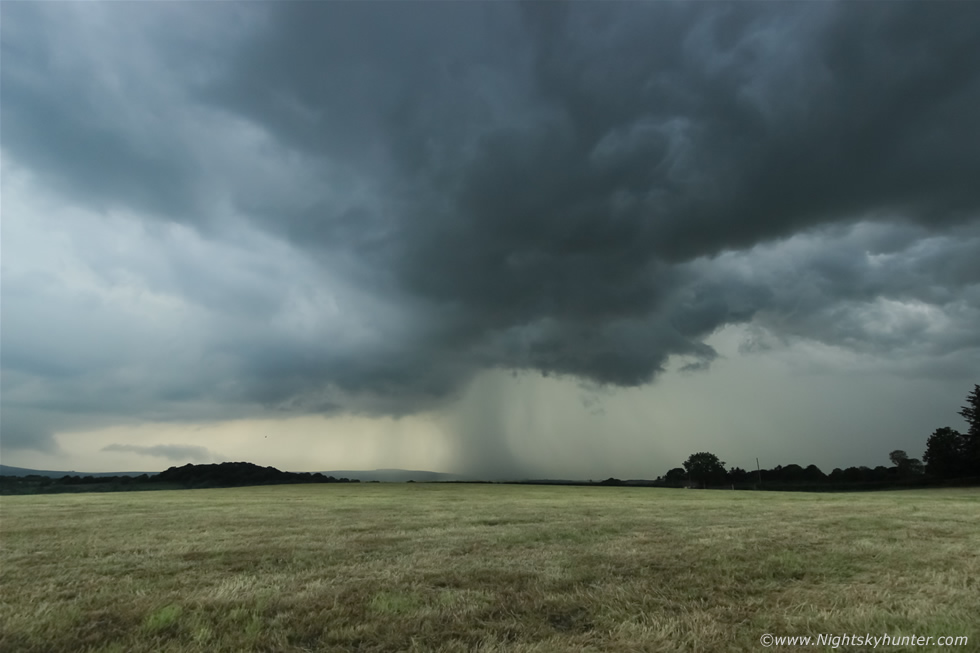 This was the perfect day for us, standing in a beautiful field in a t-shirt in the warmth watching a thunderstorm from our own home location, nothing felt better than this. I set up the Go Pro on a tripod and let it record video for a time lapse while Conor and I took stills of the storm. We got many deep angry rumbles here and another storm had formed behind this one out of frame to the L which was also rumbling and firing out long blue in-cloud bolt s.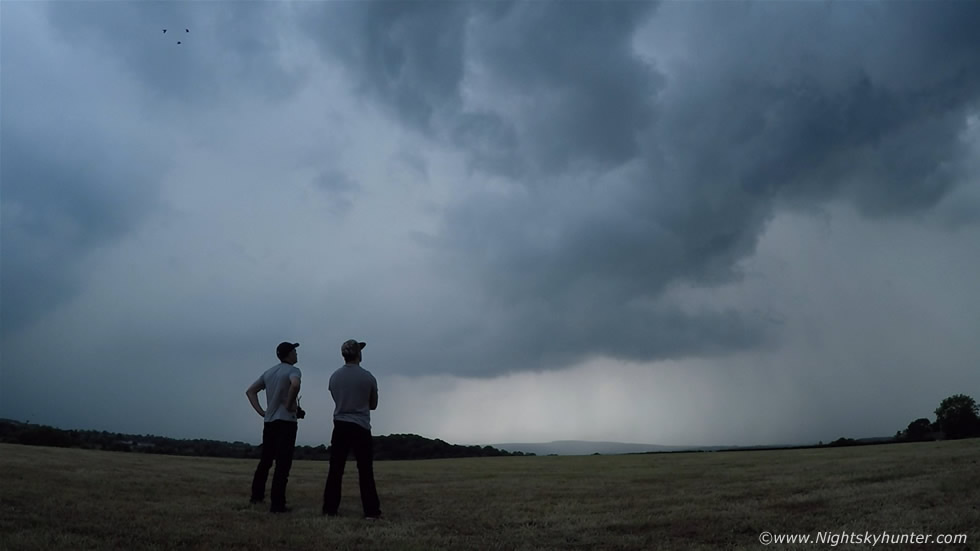 Still frame taken from the Go Pro video, I had to include this scene for the memory. The atmosphere was warm and heavy and the humidity felt like water on our skin, this was heaven, watching a storm in a t-shirt without a drop of rain on us while the storm rumbled and flashed away while moving at a snail's pace, this is why I love Summer. Conor (on right) is largely responsible for getting me into storm chasing, we have done relentless observing sessions over the years under the night sky, I got Conor into astronomy and Conor got me into storms so everything you see weather related on my website is because of him!. Conor has been living in Australia for years however now he is back home so it felt great to be out chasing and watching the skies yet again, some things will never change.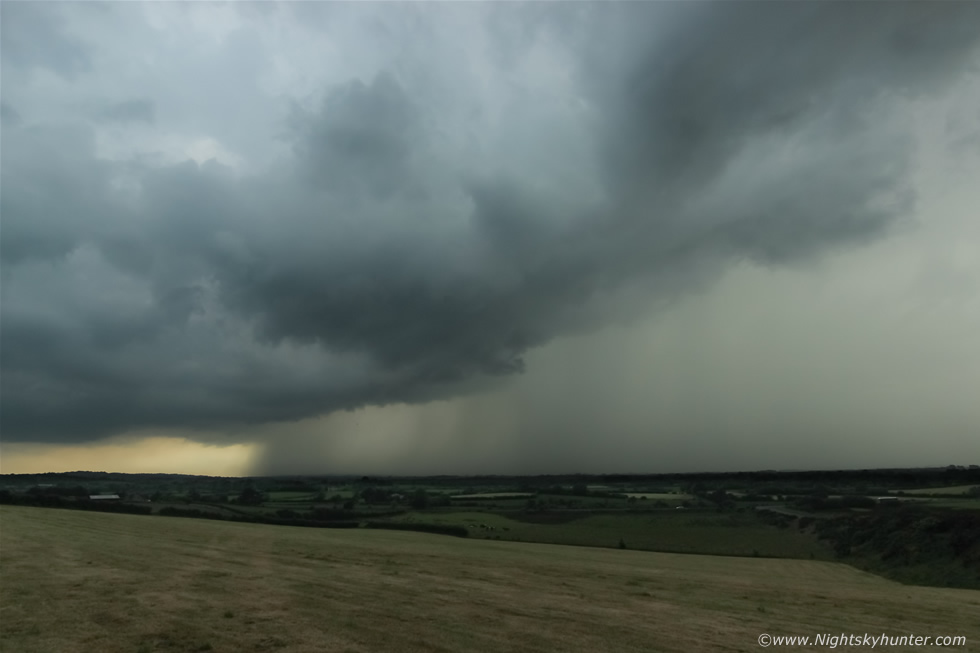 The storm was back building with new cells forming on the SW side of the line of storms crossing the Sperrins so we chased once more through the countryside to get to this new cell and ended up on the hill outside Knockloughrim, we went over a gate and ran into this field. We had this storm in front of us perfectly located over the flat countryside and another close range storm behind us rumbling too, we where in the middle of the action and could sense the charge in the atmosphere and the sense of approaching danger. This storm was most unusual for me because before we left the field to take cover from close range c-g strikes I glanced over and saw that the storm had kicked up a large area of dust on the leading edge of the precip core to the left hand side of the image in the clear sector. I have seen this before on videos of storms in the US however never in my life had I witnessed anything like it before in N. Ireland, however thanks to high pressure and weeks of dry weather the conditions were perfect for this rare sight. Outflow descends from the storm in the form of rain and cool air which reaches the ground and spreads across the surface much like a cold front, this very same outflow lifted the warm dry air ahead of it scooping up diust and dirt into the sky visible as a long band of haze to the naked eye, the front of the precip core also had a rainfoot which is a visual cue indicative of a good downdraught or keen straight line winds at the surface. I didn't get this dust on camera as we had to get cover fast however this image shows the scene only min's before it appeared.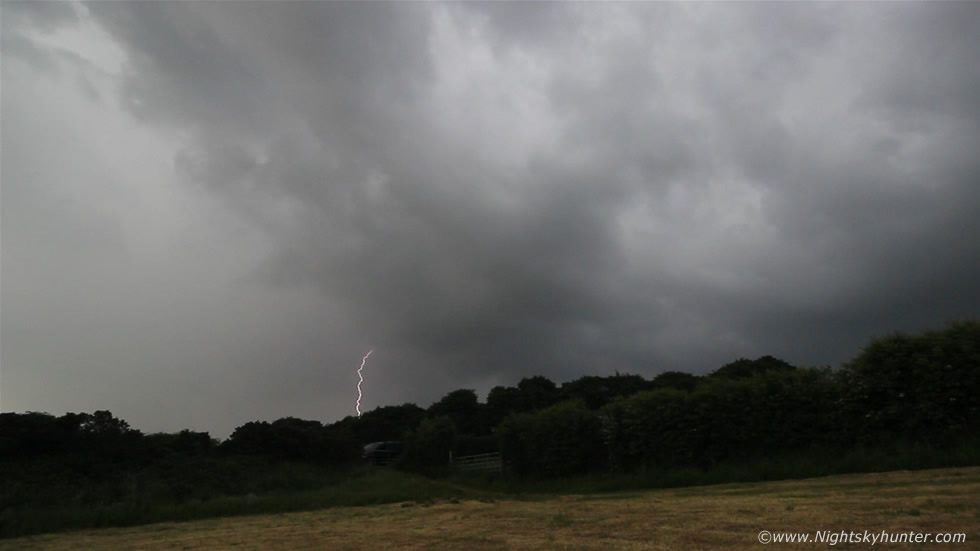 While all this was going on, behind us was a closer storm which was trying to kill us with lightning strikes, we held out as long as we could before our internal alarms kicked in and we sought the shelter of the van. Two rapid fire c-gs struck down behind those trees at close range, this bright one was the R bolt and the L was outside of fame, these were followed by roaring loud thunder, however Conor and I laughed with joy despite the sense of danger. Remember these are stills from video footage taken with the DSLR with wide angle 10mm lens so they where a lot closer than they appear on these stills.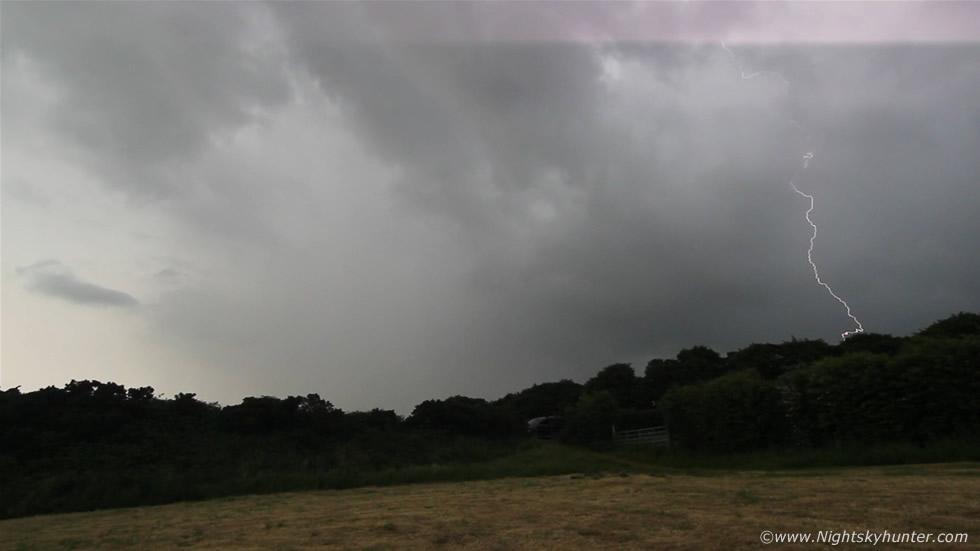 Another c-g hit down even closer then we decided to get the heck out of this field. We chased the storm further S and E to stay ahead of the core and drove into a nice field and watched the cell drift away into the distance with a massive gust front sporting whale's mouth under it's lip. This was the end of our day, a perfect day, all close to home and with multiple thunderstorm intercepts, you can't ask for much better than this and within 15 min's we where back at home having dinner.
I have a feeling this is going to be our most thundery Summer in years so expect to see more chase reports in the very near future. Thanks very much for reading.
Martin McKenna