Dramatic Sunset Mammatus Display Over Maghera - May 11th 2015
I was surprised to see several convective outlooks issued covering inland areas of N. Ireland as the Netweather GFS model was showing very little in the way of CAPE across the country in addition to the fact that the lifted index was at +5. There was a trough moving in from the NW with moist SWly flow however there wasn't enough unstable air to warrant a thunderstorm risk over land so I was surprised by the forecast indeed. My own personal forecast favoured storms over NW coastal areas and Scotland where the better CAPE was forecast however I just couldn't get my head around the forecast for here. However the speed shear was excellent and the outlook mentioned that organised multicell lines were likely with a chance of tornadoes. I did not disagree, the shear and tornado parameters were there for certain however I just couldn't see how we could get a decent updraught forming in the first place to tap into this dynamic environment, this was a classic example of a low CAPE high shear set-up which is a very low risk event however past cases have shown that such set-ups have indeed produced severe weather and tornadoes across UK and Ireland, in fact, the last example was during the Summer of 2014 when just such a set-up (with good surface convergence) produced a spectacular tornado/waterspout which trekked across the northern portion of Lough Neagh in full view of anyone looking in that direction.
I decided that after that event I would never ignore my instincts again and do my best to take full advantage of every set-up (if diesel and personal circumstance allow it) no matter how low the risk because I know from personal experience that some of the best photo opportunities came from these lesser days when you least expect them. I'm not a storm snob and I'm certainly not the kind of person who waits for the perfect set-up with everything in place before I head out, this is all great if you want that ultimate chance to experience a tornado or rare severe weather event however you could be waiting a very long time for that to happen in Ireland and may only get several days out each year at best. I want that tornado image like everyone else however I love all kinds of convective weather and enjoy seeing what nature does whether it be a sheared storm, a simple convergence zone shower or a pulse storm. You see my goal is photography based, I not only want to witness nature in all its glory but I want to get great photogenic scenes and more often than not these scenes happen during the lesser set-ups and it is for this reason that they are just as exciting to chase. This turned into one of those days.
My personal forecast was soon verified as thunderstorms formed over W and NW coastal areas of Ireland during the early morning hours then inland Scotland scored the best with plenty of sferics during the afternoon. I never believed there was a chance of lightning across N. Ireland because there was warm air aloft acting as a cap to stop any rising convection. However I never once let my guard down for the approaching upper trough would help with ascent and with the presence of good shear anything was possible, I didn't need thunder to get a dramatic weather image, it was all about timing and light. The day was mainly uneventful with long periods of blue skies and sunshine with little in the way of showery activity at all, the only thing of note was the suppressed temps of only 13-14 degrees C and the strong winds which made it feel more like an Autumn day, the wind was strong enough to knock a large tree down over the road to Magherafelt near Moneymore. During the late afternoon scattered showers were forming on radar and intensifying, none were electrified however they bared close watching, most where far away to the S and W and nowhere near my location.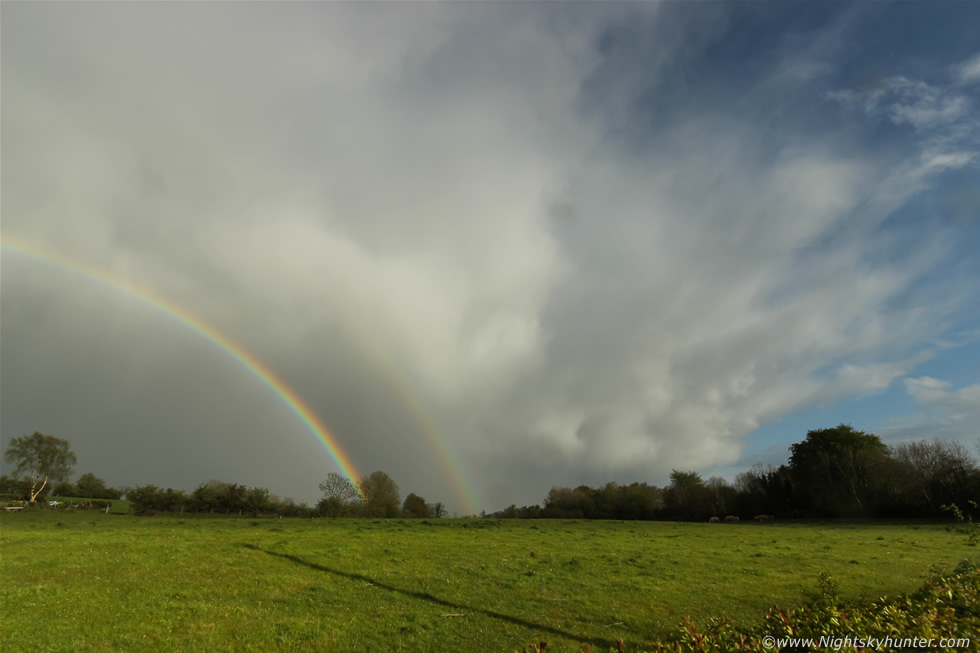 Roisin and I decided to go for a walk through Drumlamph woodland outside Maghera however before we left I checked the radar, of interest were two showers, the N shower was small but strong and was heading straight to Drumlamph however it was clear behind it so we could go ahead with our walk. However it was the S shower which caught my attention, this one was very large and seemed to be organising with each radar update however I suspected that it would probably fall apart before it got here and I decided that the day was likely a bust. Roisin and I arrived at Drumlamph and just as expected so did that first shower on radar. We sat in the van as rain and small hail dropped on us for 15 min's then the precip passed us with a clearing sky behind, I suspected there could be a nice rainbow and sure enough the sun appeared and in an instant I saw a lovely primary and secondary rainbow over the tree tops, I called Roisin out to look and she snapped a few images with her phone then I ran across the road to get away from the trees and got my own images while shooting with the 10mm Samyang over the top of a hedge. It was rather a splendid sight watching those two intense rainbows over a sunlit field with a little mammatus on show, I really thought this was as good as it was going to get today and that I had already got my photo opportunity, if only it had been later in the day, I was quite honestly happy enough with this image as it was a nice surprise and it didn't cost me any diesel.
By late evening I was on the road returning home, the sky was blue however my attention was drawn to a linear mass far away to my SW, the cloud mass was very dark and the back edge of it looked very impressive with great definition which looked like the back of a cell sweeping upward into a low topped anvil, I wondered if it could make it this far N, the sun was getting low and I had a growing sensation that something photogenic was going to happen. Back at home I got online and checked the radar which confirmed that what I had seen visually was a cell which was located close to the NE of Omagh and was exhibiting a text book sheared precip echo on radar, the rear of the cell had red and white colours with lighter precip vented forward down-wind, the cell was moving to the NE and looked to be heading in my general direction. During the next update the radar indicated a linear red echo as it approached the Sperrins, the convective shower was rather swift moving and was covering a lot of ground fast and soon I heard rain pouring down outside, it turned dark as the first proper downpour of the day hit Maghera.
I immediately sensed that this was my chance for the timing was utterly perfect, the sun was low and close to setting, this is the time of day that photographers call golden hour when the light is colourful, contrasty and dramatic, the core was over us now and within min's it was shifting into the E, I ran across to the other side of the house and glanced out the W facing upstairs window and sure enough the sky was covered in dark cloud, however a clear section had already formed behind the cell to the W and the low sun was shinning brightly, I felt a sudden rush of adrenaline, I knew there was going to be a great photo opportunity and I needed to act now. As fast as I could I got a t-shirt on, took the batteries out of the charger and into the 600D, put the charging battery back in the Go Pro and into its case then rushed downstairs, I was at home this day so I quickly called my Mum and asked her if she wanted to see a great sunset show, she did and together we rushed out the back door. The van was locked in the backyard so I had to unlock the padlock and get the gates open, my hands shook with excitement and for a while I couldn't get the key in the lock, it was like a scene from a horror movie, I wondered if I had lost my chance for the sky was extremely moody already. I got it open and we drove away from the house and under a sky which was covered in a vast eerie red hue, high above the front windscreen was a beautiful red sunset rainbow - a price catch in itself - however I was hoping we could get another mammatus display, if the earlier shower was anything to go by then we had a chance and in this light it could be extremely photogenic.
I could see the back edge of the anvil coming into view, storm chasing is all about making remarkably fast decisions, one not only has to determine what is happening at the current moment but also project into the future where the cell is going and hence where to chase it or at least park to observe the phenomena on display, I was faced with this very dilemma rite now, a bad decision could cost me a missed photo opportunity. The W side of the cell looked much better defined however it was miles away and I would need to drive N along the Coleraine road to catch up with it, that was all very well and good however it would take time to get up that road, plus the trees on either side would block the view and the show would be over by the time we found a decent clearance. For that reason I decided on the E side of the anvil because I would have a much better open view across the countryside and the NE motion of the cell would bring some of the W side of the anvil into view as well so I made this decision in about 2 sec's and went in that direction driving as fast and safely as I could. We arrived into the countryside on Crewe Road and pulled onto the grass verge near a gate to a field which I have used countless times in the past for storms and NLCs. Rain drummed off the roof and through the windscreen a red rainbow was putting on a nice show for us. Then suddenly the clearance arrived over us and out to the NW I could see the W anvil all lit into surreal warm colours complete with numerous mammatus pouches, I asked my Mum to put down the passenger window, here's a 10mm shot capturing this spectacle unfolding.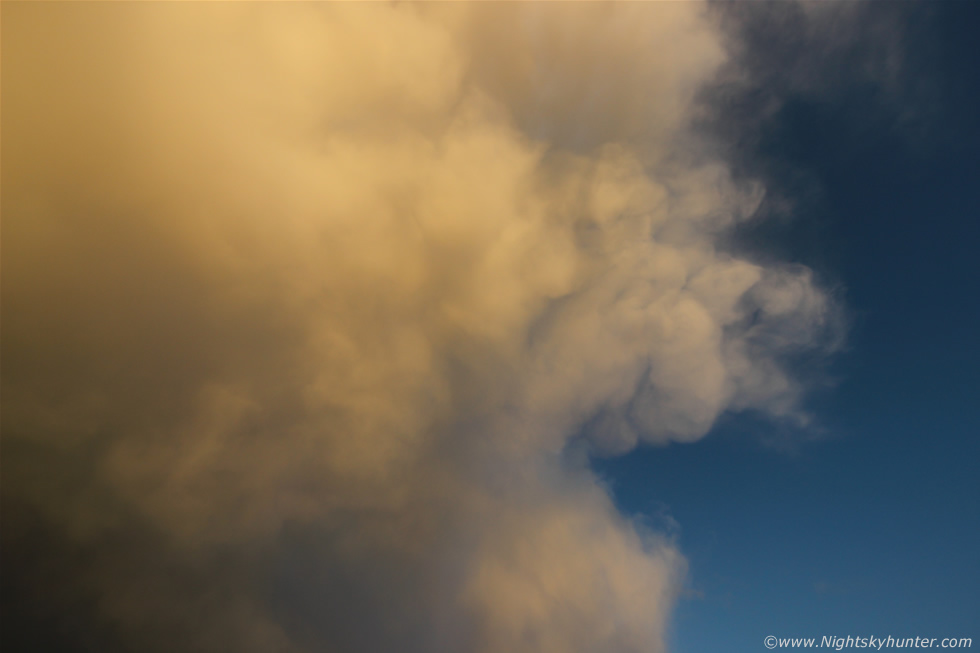 It was happening, my instincts were correct and the timing couldn't have been better. Initially I wondered if I had made a bad decision on my choice of location as the distant NW section of the anvil looked to have the mamma while here we were still under rain and featureless cloud. I got outside the van and looked up and got a big shock, mammatus was forming above me and out to the E on my right hand side, it was almost an all-sky show and it was all lit up in perfect light. It was like a curtain had been drawn across the sky with the anvil edge sailing across the zenith with clear blue air behind it.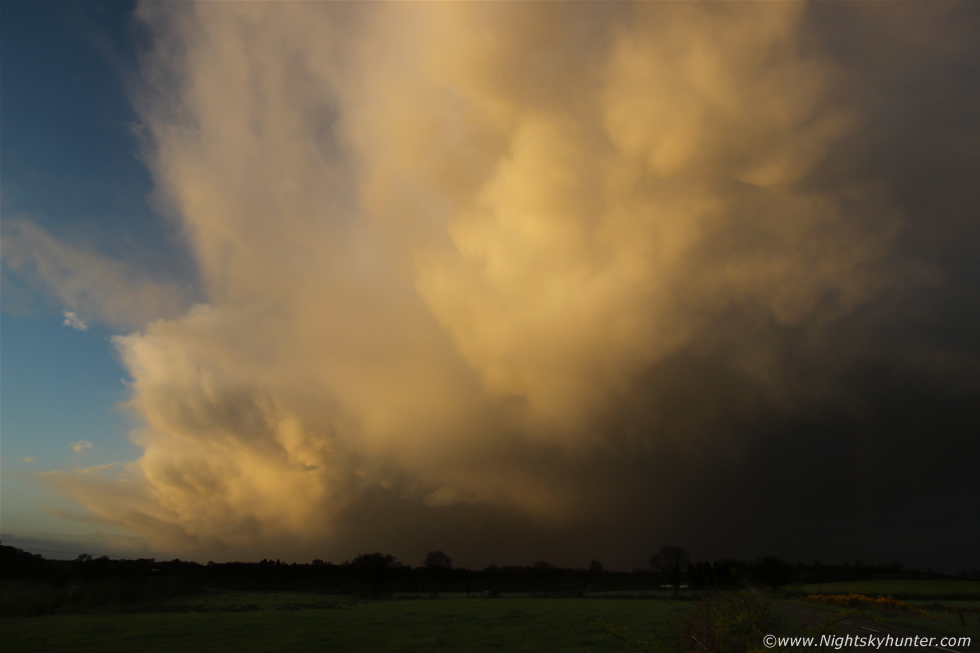 I was in the zone in a major way and buzzing with energy, at this moment in time I couldn't believe what I was seeing after such an uneventful day of mostly clear skies, not one rumble of thunder either, however this amazing sunset show magically revealed itself in my own backyard. These are all taken with my new Samyang 10mm F/2.8 ultra wide angle lens, this is a massive field of view and I couldn't even fit it all into the frame. This was facing W to NW as the cell moved from L to R, the anvil and mammatus extended overhead and into the E at this moment which is something I haven't witnessed in a long time.
Panning overhead.
The cell was moving fast and was impossible to chase however I didn't need to as this location was perfect, it doesn't get much better than this with a huge sunset mammatus display under the anvil of a sheared cell passing over my own countryside with lush green fields and pristine blue sky in it's wake.
I turned around and began shooting towards the E and NE, I felt like I was being ambushed by the clouds as I didn't know where to turn to next to get images. The mamamtus was very well defined and seemed to be forming rapidly in real time, this was such an epic sight with the entire display and rear section of the cell lit into glorious orange and gold colours by the setting sun, the little segment of rainbow on the precip core was an added bonus.
I quickly ran back to the van, grabbed my tripod, then set-up the Go Pro Hero 4 Silver on the roadside and began filming the cell's passage. My Mum had seen mammatus with me before however never in dramatic fashion like this, she couldn't believe the show we were getting treated to, and nearly could I for that matter.
Facing due N and looking along the Crewe Road towards the departing mammatus, I quickly stopped the Go Pro and panned it to the L and began taking a new clip.
I wanted to get away from the thistles sticking out from the hedge beside me so I ran across to the other side of the road for a better angle, I stood beside a row of gorse bushes which were glowing the same colour as the mammatus and I breathed in their fine coconut fragrance, what a way to end the day with a moment like this.
It has been a long time since I have seen a decent mammatus display and even longer since I have witnessed such a display lit by intense sunset colours like this, in fact, October 2007 and December 2006 where the last time I have been lucky enough to get this kind of magic light for a mammatus display.
I climbed over the gate and into the field and set up the Go Pro once more and let it record the cell moving into the distance, here's one of the departing shots.
The last rays of sunlight lighting the back of the anvil before dusk arrived with Go Pro filming, this was with the Canon 24-70mm F/2.8. A tower and wispy anvil briefly appeared over the top then finally it settled down for the night somewhere to the N over Swatragh or Garvagh. After 21.00 we headed home feeling exhilarated, I never thought I would get to experience a show like this when I was looking at the charts in the morning which goes to show that one should never ignore a low risk set-up and always be watching the skies for the unexpected.
Short video clip using the Go Pro, I have some regrets with this footage, first of all I didn't adjust the temp/Kelvin/white balance of the video using protunes so the footage is devoid of the stunning gold colour, had I got a warmer temp selected then this would have looked much more impressive, I also wish I had panned around to the NW to get the other section of mammatus however trying to take video and still images can be very challenging when time is short. My second regret was not using the video mode on the 600D, had I done so I would have had 10mm footage with the cloudy white balance and would have had those colours faithfully captured. Despite these complaints it was the still images which made the day and the visual experience was unforgettable. Thanks very much for reading.
Martin McKenna