Lough Neagh HP Storms & Possible LP Mesocyclone - June 27th 2017
This was quite an unexpected set up which only presented itself 24 hours before the target day so I was pleasantly surprised when I saw the potential appear on GFS. During the first part of June 27th a frontal system would track across Ireland then N. Ireland bringing with it rain and cloudy skies with little interest, however it was the second part of the day which could become the focus for thunderstorms, the post-frontal air mass would generate an unstable Sly flow which combined with cold air aloft and good lapse rates could spark heavy showers and storms, the flow would begin a Sly then veer to a SEly by the mid afternoon. With CAPE values of 400 and a negative lifted index the basic parameters looked encouraging, however I wanted to ferret out the details to see what potential there really was. Much to my surprise models showed an overlap of good DLS during the first part of the day which would move rapidly N later, convergence was present all day across the midlands and W with low LCLs indicating that at last we had the possibility of surface based storms. Convergence would greatly aid with updraught formation and shear would keep cells organized with a longer life cycle and hence greater chance of severe weather on a local scale. The flow would be slow, even slack, this would mean that cells would be creeping along at a snail's pace which presented a major problem for spot flooding, in fact, the Met Office had issued a yellow warning for this very reason.
I was excited by the prospect of a chase, and even more so because precip predictions favoured the midlands and W which made chasing all the more appealing, even so I was very cautious and had low expectations, 2017 has been the worst year for storms I have ever witnessed with constant disappointments so I was weary, the lack of social media build up was interesting though and deep down I secretly began to get my hopes up. It would be a day of radar watching with the intention of rushing out the door at a moment's notice, everything else could wait, even lunch or dinner, my heart was on the chase.
For a while it looked to be a damp squib, the front cleared away early enough however it left behind a serious amount of residual cloud, if this didn't clear through there would be no solar heating and we would loose our primary trigger for storm formation. I saw showers suddenly appear down S which began to intensify at an alarming rate, SAT24 showed clear sunny skies in the S which was already forming convection, furthermore that clear air was moving N, it looked like we would be getting our trigger after all, however it would be a waiting game. By late morning cells had erupted below the border and moved N, these were showing very high rainfall rates on radar then the first lightning of the day sparked over Co. Monaghan. I was chatting with Paul Martin and John Fagan on facebook about the set up, we were all watching what we could and ready to report. The cells moved N again and developed multiple large red and white cores on radar, their slow movement combined with their back-building nature meant they were dropping some serious water, these were going to cause trouble with spot flooding and affecting traffic. The massive cell was passing W of Armagh, Paul was working in the area at the time and provided a real time visual report, he said ''clouds look great, best convection of the year and bases prime for funnels''. This visual report gave me great encouragement because I now knew there was structure to see, Paul is a seasoned chaser with high standards so if he was happy with what he was seeing then that was good enough for me.
It was now early afternoon and the Armagh cells had moved further N and were growing rapidly, they moved into Co. Tyrone with several new daughter cells forming further W, it seemed the midlands was the place to be, I had already made up my mind that I would be chasing, I just held back a little longer to make my final decision. Radar indicated this massive cell was approaching the SW side of Lough Neagh, based on its currently path it would either cross the W side of the lough or else the inland countryside adjacent to it. The upper edge of the precip was making a beeline for Coalisland so I decided to get on the road immediately. My plan was to drive to Coalisland and find a viewing point near the lough, then as the cells moved N I would back N to Ardboe then Ballyronan with the option of turning W into Cookstown or the Sperrins if needed later. I took the new by-pass to save time then took the turn off for Ballyronan. As I drove I observed great looking convection, possibly the best of the season, a massive thick line of convection was located over the lough with a long dark base stretching for miles, the updraught towers aloft were crisp and solid sporting a silver-grey colour, they were expanding fast and the entire cluster of towers seemed to be merging together to form one massive storm, in the distance was a wall of precip marking its S side, I headed for that section however I dreaded the thought of getting under the rain as I really wanted structure, however I pressed on. I decided against Coalisland and instead opted for Battery Harbour on the shore of the lough in Ardboe which I knew offered a good viewing point across the water.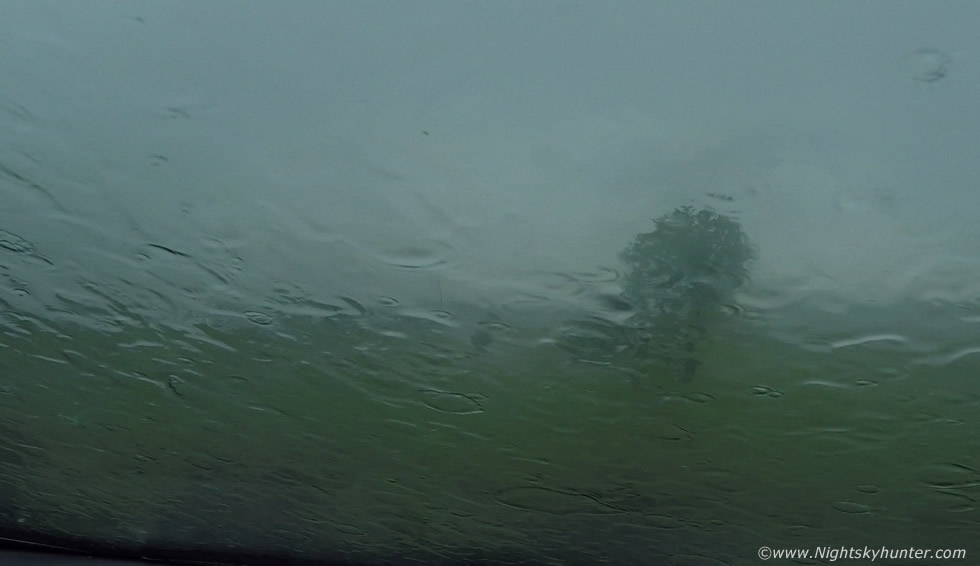 I arrived at the harbour just as a section of that big base moved from the lough to land, it was clear the wind had suddenly shifted to a SEly which was sending everything towards me. I looked up into the belly of the cluster and could see chaotic clouds which immediately got my attention. I could see clouds meeting from different directions with cloud streaming through the sky like currents and eddies on a river during a flood, it was a strange sight. Inflow cloud could be seen feeding into the back, there was no question this storm was organizing big time, I had only minutes to take all this information in before a wall of rain arrived forcing me to get back inside for shelter. Heavy rain began drumming the body work with loud rumbles which then intensified into full on torrential rainfall, I could do nothing but stay inside and wait for it to pass, I began filming with the Go Pro, this was the rain on the windscreen.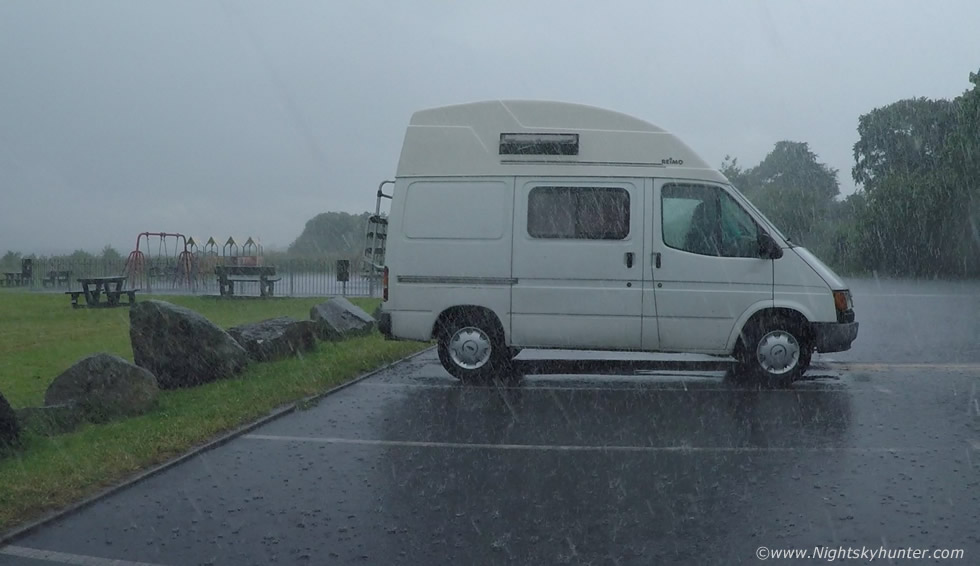 The rain pounded the area for half an hour without stopping, I put down the window and filmed it with this camper van in the frame, the only other vehicle in the car park, it seemed amusing to see such a Summer sight getting drowned by rain. Once the rain eased the car park was entirely saturated by water with the footpaths looking more like a river than concrete.
As the rain slowed down I could see structure appearing, I cleared the mist from the windscreen and took this shot from inside as it was still bad outside, the base of the cell was now coming into view. I opened the door and went outside for a quick look, the sky across my zenith was rotating, it looked like a cinnamon swirl of cloud spinning while drawing in cloud from the surrounding area, big rain drops were hitting me in the face so I couldn't get video or stills.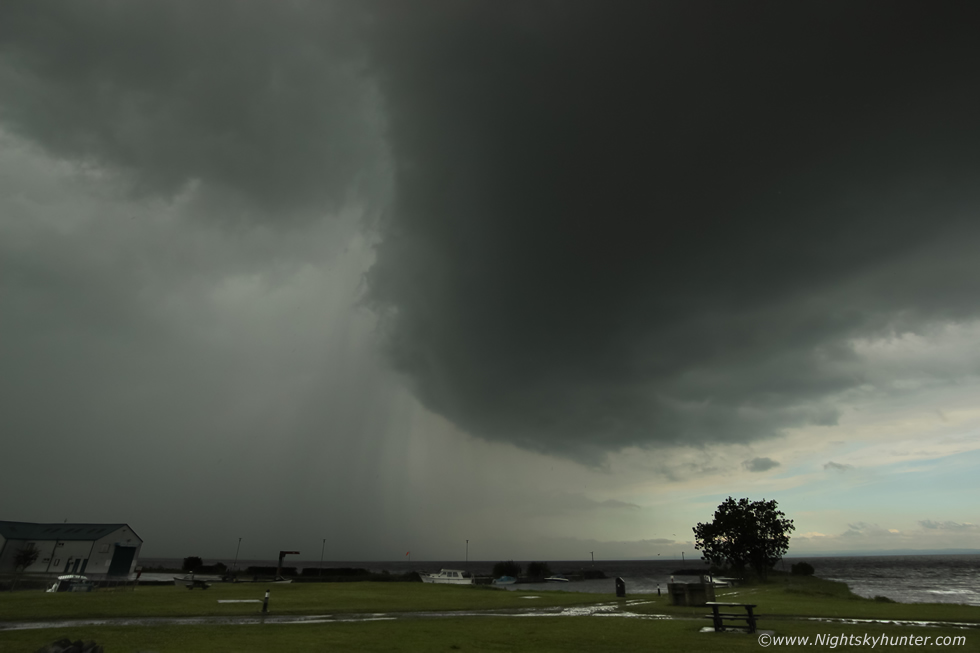 Suddenly the rain stopped and I was out like a rocket taking stills with the 10mm lens, my trusty Samyang F/2.8 never let me down, it's always ready for action. This was the back cell of the cluster, often called tail end charlie, cell moving R to L, you can see the huge updraught base dominating the sky with the intense precip curtain to the L, if only I could do this view justice. The base was solid, dark, rounded and bulging above the lough, high overhead I could see the top of the updraught tower at a great height between breaks in the mid level cloud, the view was fantastic, I was pleased I made the effort today for this was the first proper surface based structure of the season for me. This base was big and close range, to give you can idea of size, imagine how massive the FOV is with a 10mm lens on a crop sensor, even if I tilted the camera to portrait configuration I still wouldn't have been able to get the updraught in the frame. Clear air was moving in behind it and the storm seemed to be drawing in air and feeding on the moist inflow, I sent Paul Martin a text saying I had observed rotation.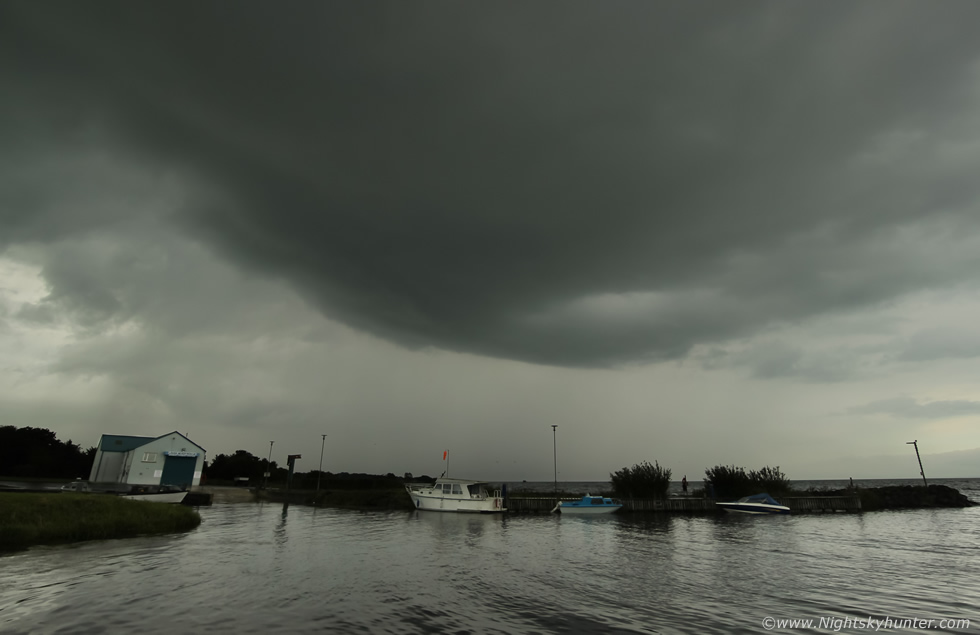 A little later the cell had drifted further away and the base was developing a smooth laminar structure which was unusual, this storm was huge and organized yet I never heard a single rumble of thunder or saw lightning which was strange given its caliber. I got a call from Paul, he tipped me off about more cells to the W, there was a cell producing sferics to the W of Cookstown which was moving NW with new cells forming near Dungannon, I greatly appreciated this call from Paul and for the guidance as I had no wifi at this location and was hence radar blind. I decided to change location and head W to get on the other storm, although deep down I didn't want to leave this cell and wondered if I should stay with it.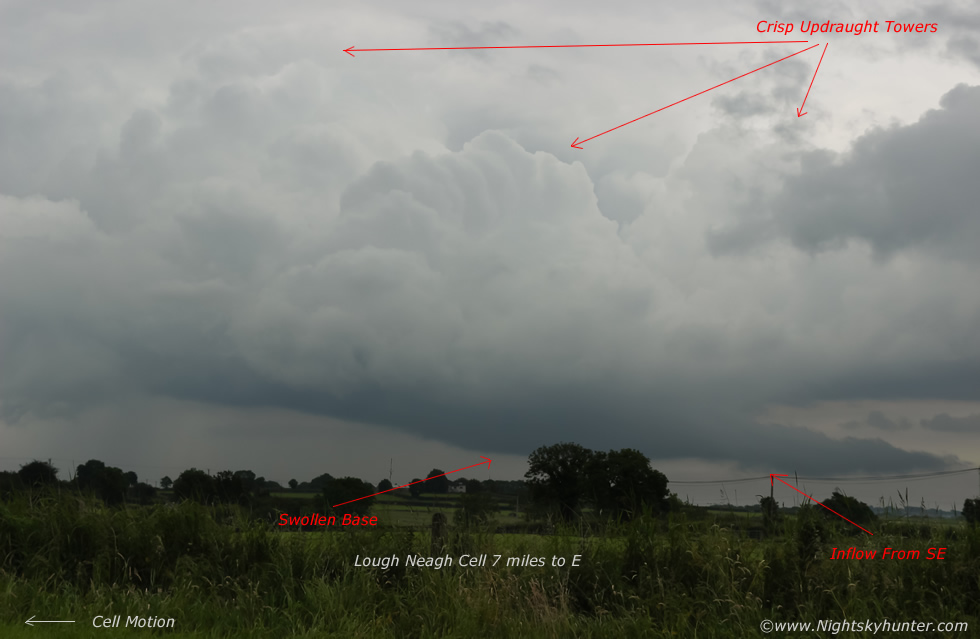 I drove W through the twisting country roads however I kept seeing the Lough Neagh cell in my mirror, it was as if it was luring me back. I pulled over near a gate to a field and got a few shots of it miles away in the distance, it was still moving along the W side of the lough. In the image the cell is moving R to L, you can see multiple updraught towers above the base, the base itself was swollen and lowered taking on a pregnant appearance, that was the very same base I had been under earlier, it was cool to see the towers above it, note the inflow cloud feeding into the base.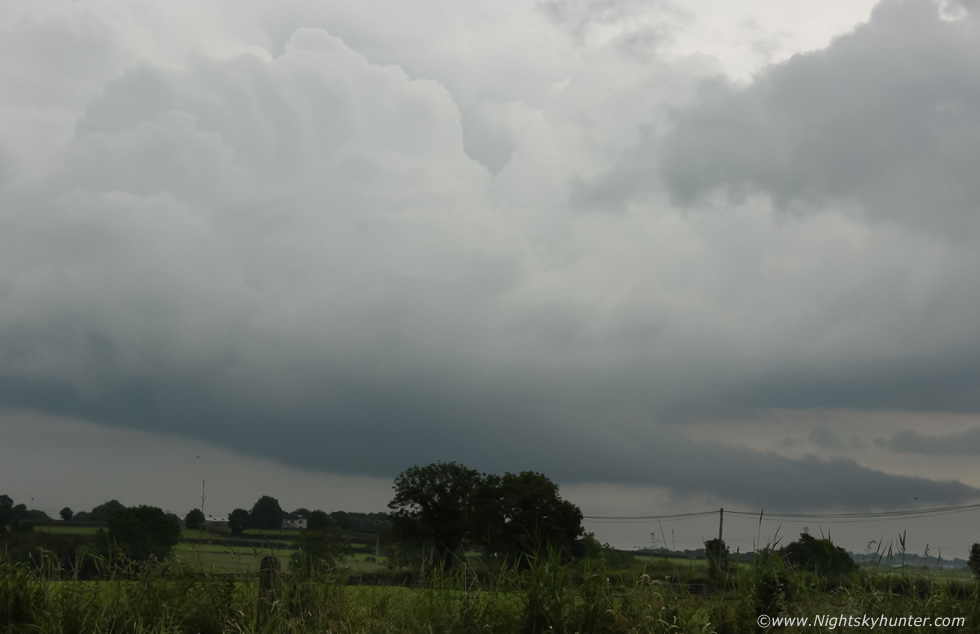 Zoomed in to 55mm using the kit lens, that long inflow cloud was getting sucked into the base, I was watching it happen in real time. I then decided to head on to the other cell, I wanted to hear thunder. I made fairly good progress until I arrived at Moneymore, I was on the junction on the Springhill side and it felt like a life time. It was rush hour, cars and trucks were passing constantly, I sat there for a long time feeling frustrated, there wasn't a break in the traffic and it was relentless. I realized I would never make the storm at this rate, I checked I was clear behind, then reversed into a side road and made my way back through the countryside in the direction of Ballyronan, it was my intention to return home to Maghera via this route as I figured the day was over. While on the back road I got stuck behind a slow moving JCB, much to my frustration I was stuck doing 25mph on tight curving back roads with no way of passing, then I saw that the driver was chatting away on his mobile phone, and I kid you not he was talking into it for a full 20 min's on the back roads while occasionally serving over the white lines, he was either oblivious that I was there or didn't care, either way the drive seemed to take forever. The JCB driver finally pulled in and I picked up speed once more, I was passing Ballyronan Marina and saw my old storm cell uphead, this time it was overland ahead of me, I drove under it and could make out low dark clouds over the fields and what looked like rotation, but I couldn't stop as cars were behind me and the road was narrow.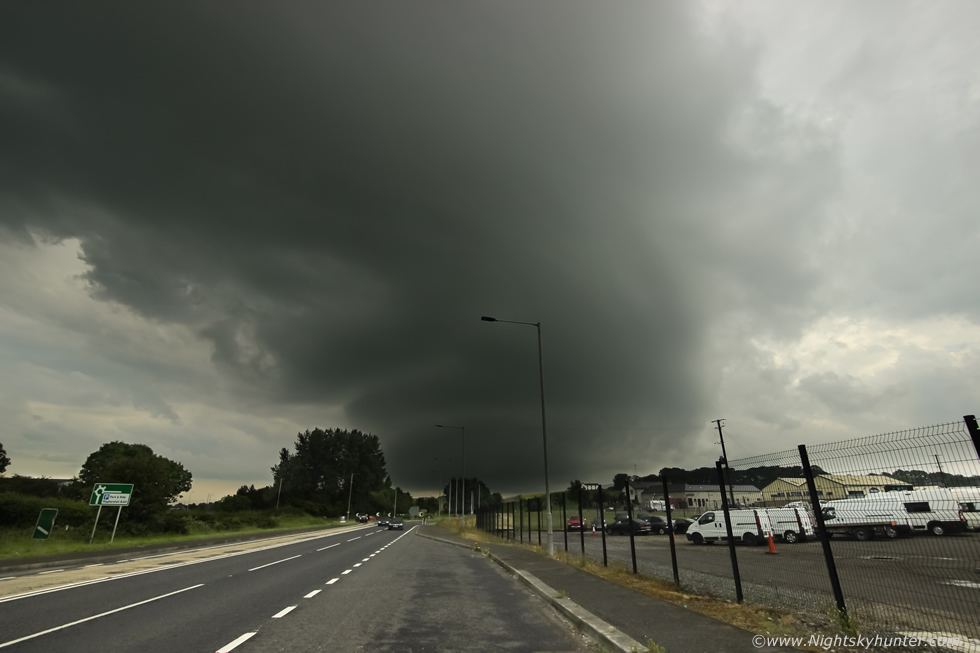 I drove on, joined the main road, turned at the roundabout onto the Glenshane road to head home when I looked in the mirror and saw an impressive sight, I took the first chance I got and pulled into a lay by and got out with the camera. This was with my trusty 10mm wide angle, amazingly this was my Lough Neagh storm now one hour later and it had greatly changed its appearance. The base was now well rounded to a considerable depth, I could see three tiers of striation branding and the precip was being vented downwind thanks to the presence of wind shear aloft, this looked to have been a mesocyclone (rotating updraught) and had many of the visual traits of a Low Precipitation (LP) Supercell.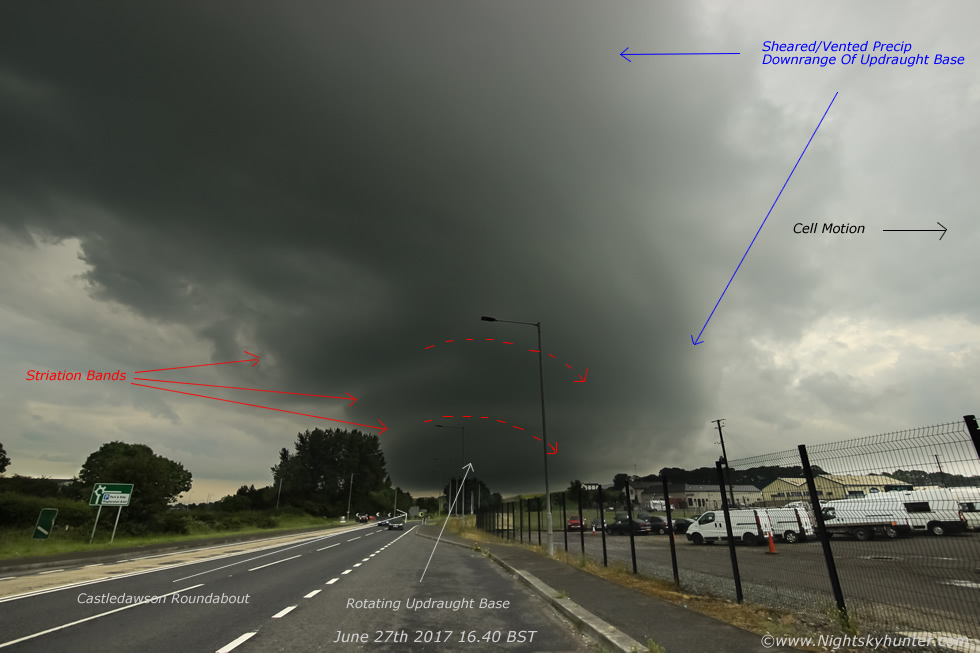 Same image annotated highlighting the main structure elements. Castledawson roundabout is at image centre and the base of the cell looked to have been close to Magherafelt. I cant say conclusively that this was a supercell, however based on the rotation and visual structure it certainly had transient low topped supercellular traits at this time, given the rotation and inflow I had seen earlier on the same cell, its longevity and the presence of shear then this structure is not surprising, however I admit I wasn't expecting anything like this at all.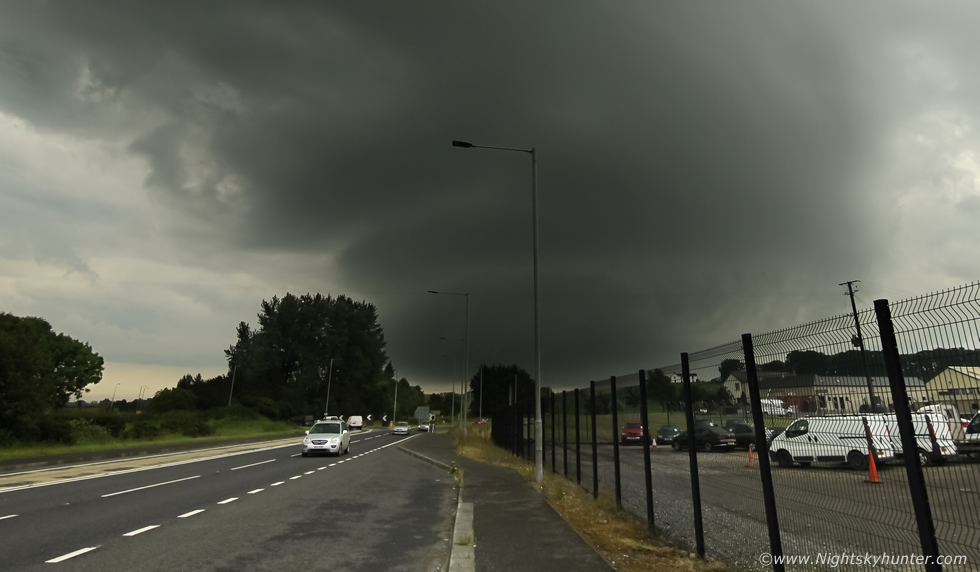 A second wide angle image cropped in closer showing the updraught base and striation bands. Pity about the foreground, however there was nothing I could do about it, if only I had this scene over a nice field, in good light, and shooting a time lapse, now that would have been a treat. That being said this ended up being a very interesting chase and furthermore I have succeeded in capturing my first 'structure' of the season. Later in the evening more organized storms formed over Co. Fermanagh and moved into Co. Donegal bringing lightning and tremendous rainfall amounts which caused major flooding on roads, blew man hole covers out and even damaged traffic lights. This day may be the very day that has turned this season around, from now on I'm expecting photogenic storms for rest of the 2017, thanks very much for reading.
Martin McKenna