Lough Neagh Freeze, Ballyronan Marina - Dec 8th
This is my third image report documenting the remarkable severe cold spell which hit both UK and Ireland hard for a two week period between late November and early December 2010 in the form of bitterly Nly, NEly, and Ely frigid flows which produced daily snow showers and record breaking low temps for the time of year. In fact the temp dropped to - 15.5 degrees C over parts of N. Ireland several nights before I took the images on this page. December 8th was the last day of this potent severe cold spell so I made a special effort to get out with the camera to document what was going on around the mid Ulster area on a fine sunny Winter's day with blue sky above and beautiful white snow plains below which made for a visually stunning and photogenic day. I really had no idea where I was going to go but by pure chance I ended up in Magherafelt documenting the frozen ponds while photographing the rich number of Robins there. Since it was nearby I decided to head towards Lough Neagh but before I made it I saw some wonderful icicles over 1ft long hanging from the rooftop of a shop in Ballyronan which was quite cool so I spent considerable time there taking images. As an after thought I decided to check out the Lough to see what was happening there and that was when I got a shock by what I saw.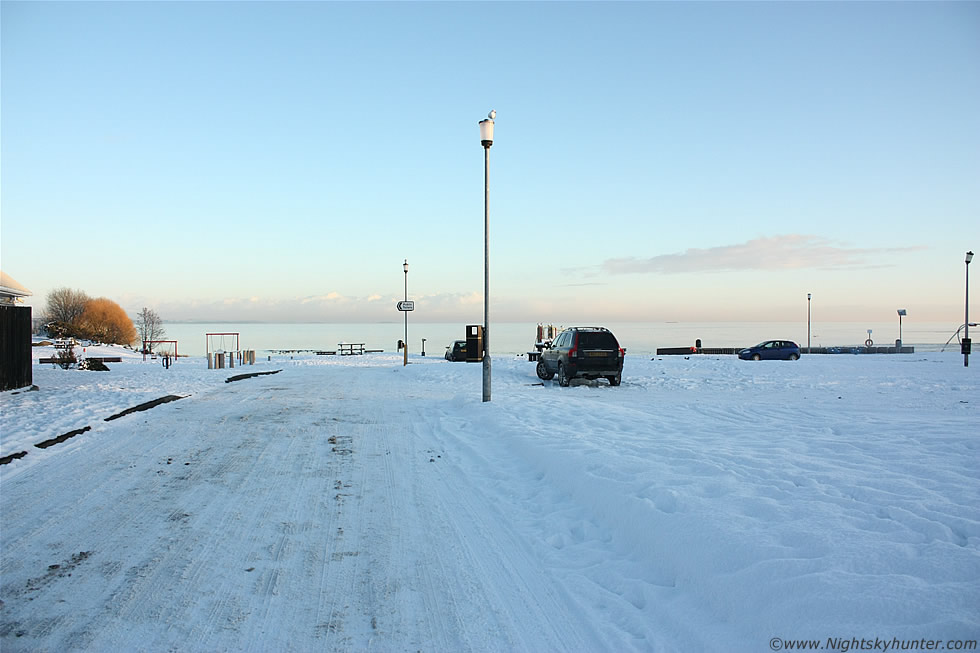 This is the road into Ballyronan Marina at the NW shore of Lough Neagh. I knew something was up when I noticed how still everything looked along with the snow on the road and the signs warning drivers about the slippery road, I don't think I saw the place looking so white before. This image is looking E across the Lough towards Co. Antrim. I quickly parked the car which still slid across the snow despite me driving incredibly slow, then I got out and spent the next hour walking around the shore of the Lough. I was amazed to see that large sections of the Lough itself had completely frozen over with ice covered by a light dusting of snow. This was shocking because this last happened during the epic Winter of 2009/2010 which was the first time I had ever seen the place covered with ice so solid, in fact it was like tarmac, you can check out last year's image report here...
http://www.nightskyhunter.com/Extreme%20Lough%20Neagh%20Freeze%20-%20Page%201.html
To see this same place frozen over for a second time within 11 months was simply amazing because prior to January 2010 you would need to go back 50 or 60 years to see anything like it in the past which goes to show how severe our weather has become this season. So to get two severe treats like this in less than a year is really something to behold and needless to say I got busy with the camera despite the freezing temps attacking my sore fingers. It was such a stunning day with that incredible Winter atmosphere which makes you feel glad to be outside in the freezing dead calm air with the bright low Winter Sun turning everything around you into a Winter wonderland. I ended up taking over 250 images at 12mp each although I could have taken many more with sufficient room to spare with my 4GB memory card. I really could have done a much better job with the images however I felt rushed as it was getting on in the afternoon and the Sun was getting lower every minute so it was a race against time to take advantage of the light.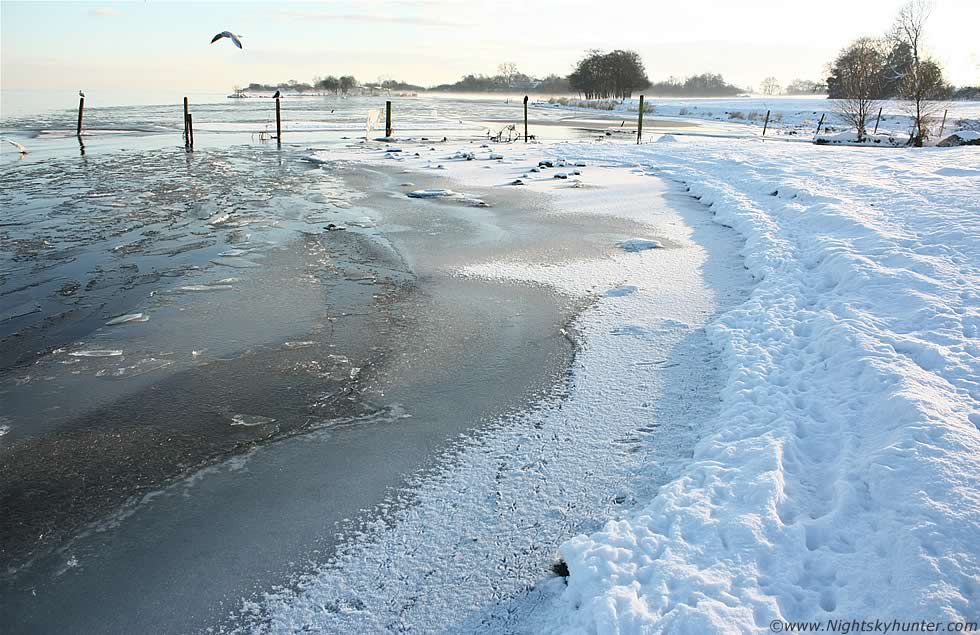 This is directly in front of the car park, usually you would see a crescent-shaped area of sand much like a beach with rocks and stones where the sand bank merged with the Lough itself, the water here typically behaves like a gentle sea on a good day with little ripples and waves licking the shore. On this day it was pure ice covered with snow. In this image I'm facing S looking down the Lough shore, in places little banks of brilliant ghostly fog would sail across the surface glowing intense in the Sun which looked stunning. This area never ceases to amaze because it seems to exhibit a host of weather extremes every year from big waves, to severe flooding, amazing fog, majestic thunderstorms, funnel clouds, waterspouts, and now expansive ice coverage, I really do wonder what's going to happen next. The last time I was in Ballyronan was back in September when I was storm chasing so you can imagine how shocking it is to see this kind of transformation within three months, of course back then the long range weather models and experts were going for a mild Winter this year, oh how wrong they have been!.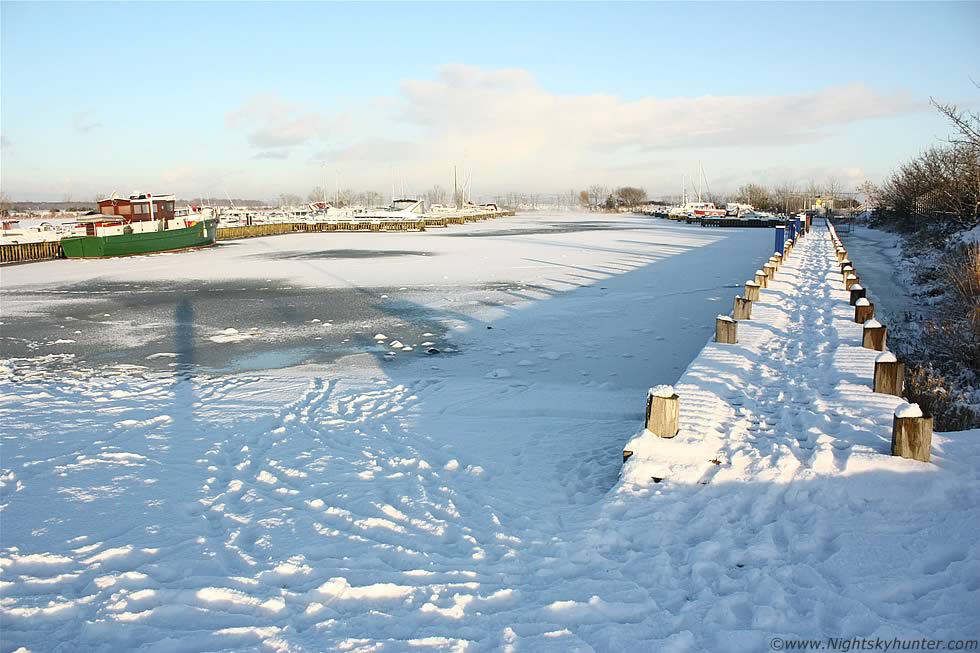 A little further N along the shore looking E to NE across the large bay where the boats are moored to several long wooden jetties. The length of my shadow is a good indication of how low the Sun was at the time and hence why I was in a rush to document the event. It's very difficult for those who have never been here before to appreciate how exceptional this ice coverage really is because one cannot appreciate distances. You see where the tracks in the snow end?, well the water extends from there straight across to those trees in the distance so all of that is ice.
Further around the shore and now standing on another snow-covered wooden jetty beside the northern most harbour looking NE where you can see the rear of the famous 'Maid of Antrim' boat which is a small cruiser which takes locals and tourists on tours across Lough Neagh to various destinations, I've never been on it myself but it sure would be nice on a hot Summer's day. The water to the R of the wooden posts is solid ice which extends far into the distance.
Again, train your eye across the image from the Maid of Antrim to the upper R corner where it meets that blue boat covered in fog, that's all a single sheet of ice which I thought was very impressive, I'm certain the overnight temps here in this sheltered part of the bay must have been extreme. This event was amazing however it wasn't as 'epic' as last year's event because the ice this time looked unpredictable and very dangerous. Back in January it was so solid that I couldn't believe that such an exceptional thickness of ice would be possible here in N. Ireland and many others thought the same and proved it by foolishly walking across the Lough to those distant boats, I watched them do it and was shocked to see it - it was as if they were walking on concrete. No one should ever be walking on a frozen lake - you have been warned.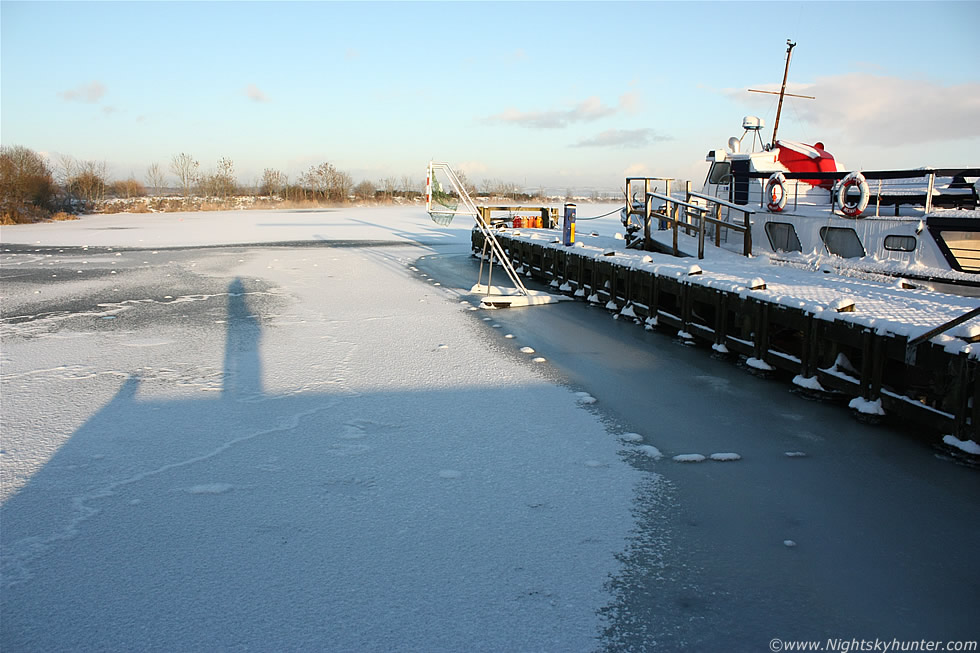 The other side of the Maid, that's a basket ball net used for water sports activities. You can see ice on the side of the Maid and over the windows and life rings due to dripping water freezing over. Check out my shadow on the ice which is actually a double shadow, the other belongs to a photographer who was shooting the scene with a point and shoot camera at the same time. With the exception of us and a few isolated walkers the place was rather quiet and empty which suited me very well.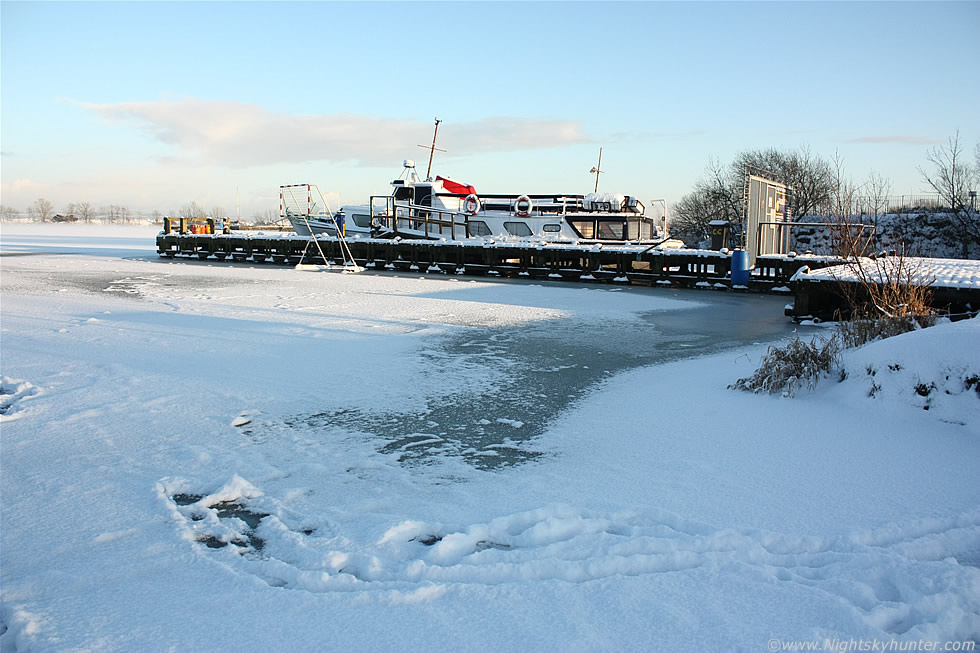 Moving further along the shore, you can see that the foot prints at the bottom in the snow merge with clear ice. Lough Neagh itself is not deep at all as far as lakes go, in fact it is rather shallow which may help explain in part why it likes to freeze over however having said that it's certainly deep enough to drown in if you ever broke through the ice. Even this area close to the shore where the boats and small craft slide into the water is quite deep so if you fell through the ice out there you wouldn't stand a chance without immediate help.
A contrasting scene with the Summer seat looking abandoned in a world of snow and ice, the entire view across to those distant trees is frozen water. Looking back on this I really should have got an image of myself sitting on the seat.
This wide angle image says it all, that's ice extending from where I'm standing all the way out to those boats and even beyond, easily several hundred metres I'm sure.
Same location with the lens at 55mm. I was shivering quite badly at this stage, when you are engrossed in taking images you tend to loose all track of time and even forget that you are cold, tired or hungry so it's only when you take a break when it really hits you and more often than not you are much colder than you thought. Plenty of tracks across the ice here, I'm assuming they belong to some sort of Bird, perhaps a Duck or a Swan.
This looked quite mad, it never ceases to amaze me how quickly this place can freeze over like that. Plenty more Bird tracks on this side with those concentric ice rings which I assume are caused by people throwing in stones to test the strength of the ice, which then freezes over again. Unfortunately I did see what appeared to be Human tracks along with those of a Dog over this deep water which is a frightening thought.
The far northern side of the Marina near the forest, this was my favourite scene of the day with this large sheet of ice covering a huge stretch of Lough and ending just shy of the distant Bird hut to the upper R.
This looked insane, the brilliant low Sun turned the ice, snow, and light fog into a blinding spear of white light across the water. It was like a frozen lake from another country up north like Alaska!
The Children's play area covered in snow with ice floating in the Lough shore below and in the distance a line of snow showers can be seen over Antrim. The Gulls sitting on the bars seem to be waiting on something, the scene reminded me of Alfred Hitchcock's 'The Birds'.
This was taken earlier in the session within a park outside Magherafelt where I saw more Robins within an hour than I have at any other time in my life. I have an image showing eight Robins perched in the same tree which is something I have never seen before either. Despite being wild these birds were far from afraid, in fact very much the opposite. At one time I was surrounded by Robins which where so close that I could almost reach out and touch them. The above image was taken with a 18-55mm lens at the 55mm setting and cropped very slightly for compositional reasons, you would think it was taken with a telephoto lens.
The following day a rapid thaw moved in and quickly removed a great deal of the snow and ice which brought to an end cold spell number one so I was fortunate that I checked out the Lough before it all vanished. However as I write this the weather is turning nasty again with cold spell number two expected to hit within a few days with an active Arctic cold front, severe low temps, heavy snow accumulations, and the risk of further snow showers and even thundersnow. I wonder if Lough Neagh will freeze over again within a few weeks?. Thanks for reading.
Martin McKenna