Rare Structured Supercell Thunderstorm Over Lough Foyle! - July 24th 2022
As I begin writing this chase report I will admit that I'm still buzzing and suspect it will be quite some time before I come down from my high, and there's very good reason for this emotional reaction. July 24th 2022 has proved once again that all it takes is one single day to make a chase season, and to some degree that single day can also make a chase career. It also underscores to me that you should never ever give up when pursuing your dreams and that anything is possible through tenacity, hard work, an iron will, and a true passion for your goals, this day was the epitome of all these things. I would just like to say thank you Mother Nature for turning the tables and rewarding us with something very special indeed.
If you haven't read my last chase report, which I will admit was wrote in quite a negative vain, in fact, it was a little desperate, however these emotions were the result of what can only be described as the worse N. Ireland Summer on record, for those who didn't read it I will briefly fill you in on this background for it's important for the story to come. Years ago I used to be a Winter worshiper, I loved the long dark nights, in fact, the longer the better because it provided me with more hours to observe the night sky and search for comets and do all the things I obsessed about as a very keen amateur astronomer. However in recent years, my feelings have veered somewhat, perhaps it's getting older or perhaps I'm just accommodating all my interests, but it seems that I now look forward to every Spring and Summer over any other season. As much as I love the snow (and I really do) and aurora chasing I spend much of my Winter counting down the days to Summer to the point were some might say I'm wishing my life away. I simply can't wait for Noctilucent Cloud season and most important of all, the Summer thunderstorm chase season.
I just love thunderstorms and convection, I find this difficult to describe and perhaps some day I will write a book on the subject, however I simply love the excitement, the thrill of the chase, the game of chess with the elements, the road trips, adventures, the meet ups with friends, and the quest for the unknown for one when starts out on a long chase day one never truly knows what will happen, it's this unpredictability that lures me out every time. I also love warm weather, being able to wear a t-shirt, feeling the sun on my face, the smell of hot tarmac, circling buzzards on thermals and the scent of Summer fields in the breeze, I absolutely thrive on this. Naturally, as with my Astronomical interests I also have my own storm related goals, my main goal is to capture dramatic storm clouds, surprisingly lightning actually doesn't rate high on my list, I'm a structure guy so for me this is my primary goal. In addition to this funnel clouds are my main pursuits, then we get to the bucket list. The quest for that photogenic tornado, waterspout or rare phenomena such as sprites, and of course a supercell thunderstorm. When each Summer arrives I eagerly anticipate a fabulous time pursuing these dreams.
Then Summer 2022 arrived, with the exception of May 16th which produced a fantastic multicell thunderstorm outbreak the rest of the season to date has been horrendous. There has been very few convective outlooks and those that were issued resulted in rubbish grey cells which were capped, had tops too warm or the flow was to fast like Autumn and Winter flows which resulted in nothing, I chased every set-up and spent a lot of time and money invested in the chase which always resulted in little or nothing. In addition to this it has been cloudy almost every night so I never saw a decent Noctilucent Cloud display so this already ranks as the worse NLC season I've ever had, the majority of the days have been grey and overcast and somewhat oppressive, it really has been a dire time for weather and landscape photographers. It got so bad that I never even charged my DSLR batteries for many days and I reduced my drone filming as the light was constantly grey, in truth, it has been downright miserable and never seemed to end.
This was the emotional backdrop hanging over me like a shadow this season and with July nearing it's end there was a real sense that time was marching on and soon Summer would be over with not much to show for it. Then two days popped up on the charts, July 23rd and 24th, the first day produced nasty convective rainfall with thunderstorms, I was chasing this day with Roisin, we observed a nice c-g and booming thunder however there was just nothing of interest to shoot as there was no structure so we headed home. That being said there was major flooding in Strabane, Derry/Londonderry and Moville with minor damage at Benone beach caravan park.
I did have a much better feeling about Sunday July 24th, a warm humid air mass with a SWly flow with -40c air aloft, deep moist convection was expected and overlapped by +40 knots of deep layer shear. A severe thunderstorm watch was issued by Convective Weather for all of the country with an enhanced risk box over Lough Neagh into Co. Antrim, Co. Armagh and Co. Down, in fact, the models did show the E, SE and NE of the country to be the main target area which matched up with the forecast, those areas saw the greatest overlap of CAPE and shear into the late evening. I liked the 800-900 CAPE, this would be the day of greatest instability since May 16th and the energy was to remain in place into the late evening which I always considered to be a good sign. The television weather forecast showed thundery rain affecting the country during the morning and afternoon then clearing to a few scattered showers, it didn't look too inspiring so I had a detailed look at the AROME model.
According to AROME cells were forecast for the E in line with CW however I noticed that by 18.00 the convective rainfall had gone to be replaced by very well scattered cells at random over the Sperrins and NW, it was these which actually had my interest however the other forecasts were more focused on the E. It would just be a matter of seeing what nature does, however I had a feeling it was going to turn out to be yet another grey mess. That being said it was still a good set-up and also looked to be the last chase day showing for some time so I was determined to give it everything I got. I didn't need to be up early which was good so I lay in and kept an eye on the radar, it was raining all morning, a large mess of rain which looked so large that I had nearly given up on the chase already. The mess morphed into embedded organized storms in the E and I could see towers through the gaps so I decided it was time to chase, the time was 15.00 and clearing skies were moving in on the satellite images. Portglenone storm chaser Colleen Webb was also chasing so we decided to meet at Ballyronan Marina.
We arrived at the Marina to a wet but warm afternoon, the sky was overcast and grey, on the far side of the lough to the E and SE where distant precip curtains, these were thunderstorms, the first over Lisburn and the second near Belfast. We watched and listened, we counted 22 rumbles of thunder, and even though it was satisfying to hear thunder once again I was not happy as the sky was a complete flat grey mess yet again. I never took the camera out of the bag once, I just didn't have the heart, after all what was there to shoot? to be honest despite being active lightning producers the storms were rubbish to a photographer, our hearts sank, it was turning out to be yet another one of those days. Eventually the thunder stopped and we were just left with grey skies and time was ticking, Colleen and I agreed we needed a new plan. We studied the radar over and over, the thundery rain was gone and too distant to chase anyway however we noticed a few isolated cells inland popping up quite fast, there where storms near Co. Fermanagh and showers breaking out over the Sperrins, we saw one approaching the Maghera-Glenshane area and decided we may as well change location and target those.
Colleen and I made our way to Maghera, the sky was brighter with better visibility, we stopped at Oak Leaf car park on Glenshane and got out to check the sky. We could see our cell approach, it was pathetic, no thunder, tops not even high enough, the clouds looked completely devoid of life, no inflow feeding in and the surrounding towers looked warm and capped and not even tall enough to do anything, it was a disaster. There was something wrong with the area, to say we were disheartened would be an understatement, we just could see nothing of interest and the cameras never saw light. I actually felt utterly let down by nature to the point were I couldn't take it anymore, I was about to head home and call it a day and I knew Colleen was thinking the same thing yet we couldn't bring ourselves to leave, we both had a feeling not to give up, Roisin rang me and asked what time I would be back, I simply said I wouldn't be back until all chances of a storm were gone so I was going to give this my heart and soul, Colleen felt the same, so we searched for some positivity, a sign from nature.
Colleen checked radar and her mood lifted, she showed me her phone and my mood lifted too. There where discrete cells forming over the Sperrins, to the W and NW, some where even near the north coast, they had red cores and looked very healthy. We looked in that direction and indeed there was plenty of blue sky and sunshine, the distant towers looked bigger and more robust. Five minutes later another radar check showed activity booming, before there were two cells, now three cells had appeared within five minutes, they where moving NE for the coast or Coleraine/Limavady area, I suggested to Colleen that the stronger solar heating there was perhaps invigorating the cells so we decided to take a gamble and chase to the N, our next plan was to meet at the wind turbine farm near Swatragh for another radar check and come up with a new plan.
Colleen and I hit the road, our two cars chasing N on a wing and prayer hoping to see something cool. My mood certainly began to shift the further N we drove, the sun was brighter and stronger with blue skies and convection, it felt like a completely different day, I was beginning to feel quietly optimistic so I put on my lucky baseball cap and increased pressure on the accelerator. I didn't stop at the turbines, I just kept on driving, it truly felt like we were on the hunt for our elemental prey. Glancing out the window to the NW I glimpsed the top of a strong updraught, it looked to be forming an anvil and I knew if we kept driving we would cross its path, at this stage I knew we had made a very good decision.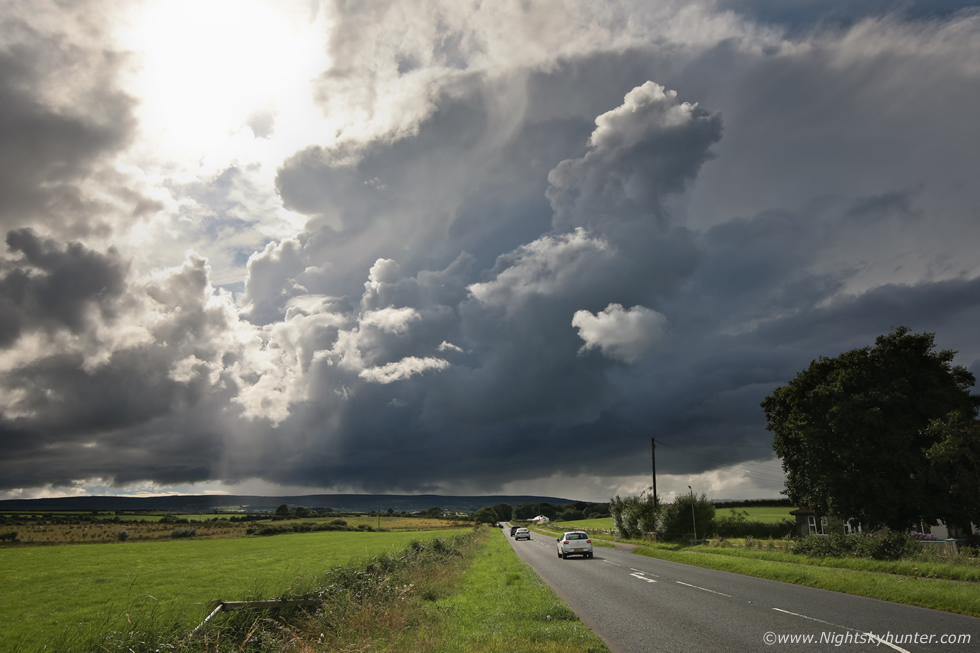 We took the left exit at Coleraine Roundabout and made our way along the coast and as soon we emerged into the countryside there was a thunderstorm rite in front of us. I knew that if we kept driving towards it we would end up under the base or the rain and we would loose any chance of structure so we hastily pulled over onto the grass verge at the side of the road, Colleen and I rushed out with the cameras. Thunder rumbled, Colleen yelled ''yeeoooo'', we were both delighted to be on a storm and this one looked strong and of large size. Visually it was big and black, being back-lit by the sun with the sun emerging from clouds in the same direction, it was an extremely difficult scene to shoot due the high dynamic range of light. At last we had found a nice storm, it was a technical success however we still needed good images to make the day, the low cloud forming under the updraught base and the solid updraught towers all indicated a strong cell, it was moving R to L and towards us at the same time, what to do?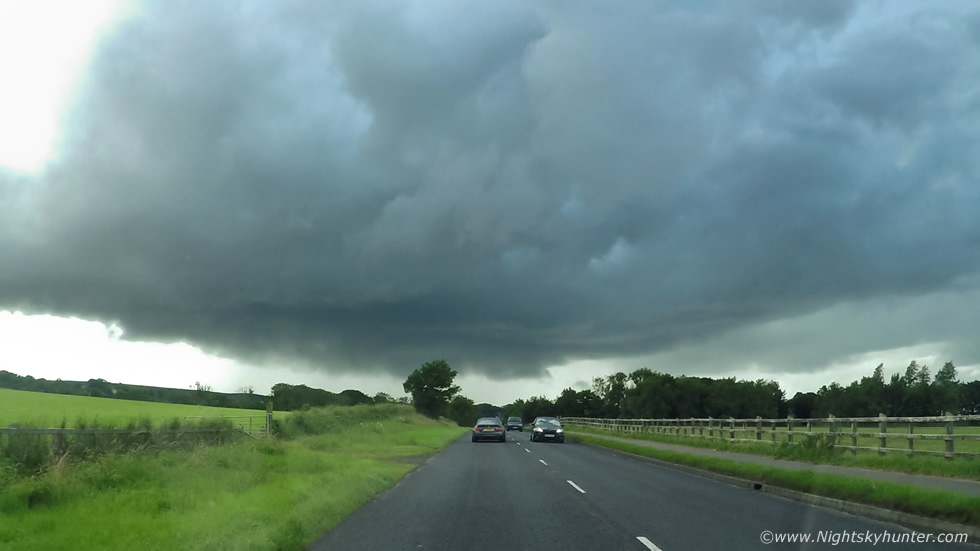 We decided to get closer, as we drove between Articlave and Castlerock the storm had very nice structure, in fact, I would describe it as a beautiful thunderstorm framed perfectly by the windscreen, however I couldn't get stopped to shoot the moment and the closer we got to it the closer the structure would pass over us. This is a still taken from my old Go Pro Hero 4, even the Go Pro struggled with the dynamic range blowing out highlights and not showing the mean darkness to the storm clouds. Something which doesn't come across well on this still was the laminar line curving gracefully around the perimeter of the updraught base, it looked streamlined with warm sunlight beginning to highlight the feature, I badly wanted a proper DSLR image of this but we entered trees and obstructions and lost the scene.
Not wanting to give up, I turned around near Castlerock at the first available option and took the narrow back roads through the beautiful fields and farm land which surrounds this area. The road was bumpy and there was even a ramp, I was hoping that Colleen was still behind me, I checked the mirror and there she was, we were moving at a swift speed, Colleen was clearly feeling as determined as I was. The van went over a crest on the road and Rhua literally went into the air for a brief moment and looked to have defied gravity, then she fell back onto the seat again, I had her seat belt on so she was fine but I had to reassure her that everything was good and that this was 'fun'.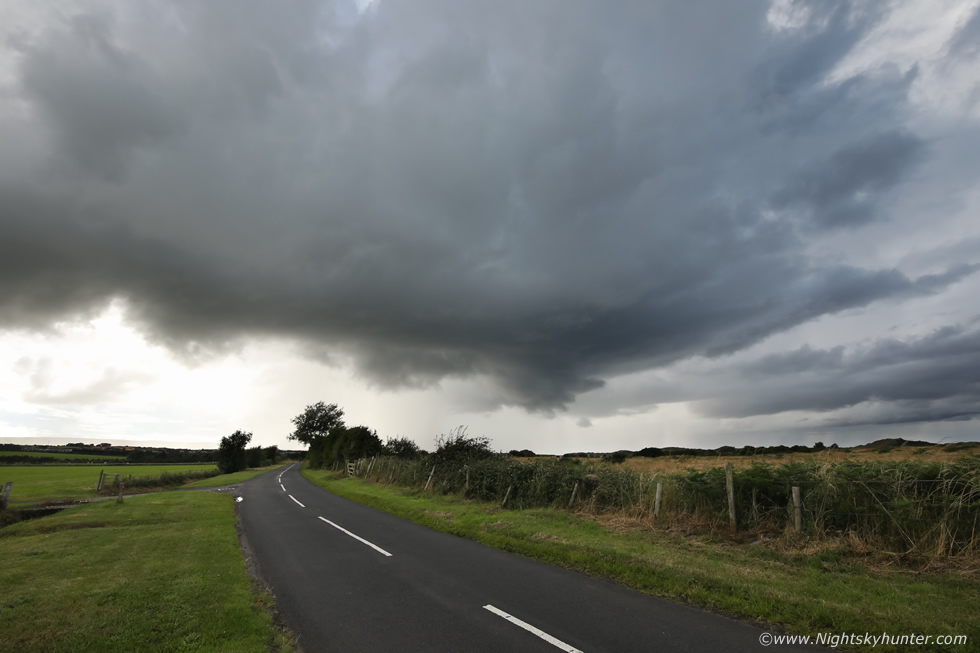 We stopped on the road with fields on either side, this would be a quick pit stop as there was a farm house beside us and I didn't want the owners out wondering who these two suspicious vehicles were. This was the storm about to pass over us at wide angle, it had already lost that cool structure that we observed ten minutes earlier, I had to blow out the precip core to get the storm to show up at all.
We drove on to another spot where we could park better at a bend in the road with a layby. The storm had now gone quiet however it had a blinding hail curtain lit up vividly by the sun. The storm was starting to become more linear and weaken and took on more of a gust front/weak shelf appearance. The feature on the image to the right looked interesting, definitely rounded with a lowering in the middle, it was transient and didn't last long.
Passing over us, it was very warm and sunny, Colleen and I were really enjoying the beautiful countryside then suddenly hail stones began to fall and bounce hard off the car and van, I had to grab Rhua and get her back inside the van followed by myself until the deluge passed.
We waited at this location for a while as the foreground was so scenic, we spied this nice field of hay bales and joked about how cool it would be to get a storm over that. Within a short time a new cell came into view with a large updraught bubbling upward and beginning to lean over in the shear with an anvil forming. It never became electrified and passed over the Sperrins more inland however it really made for a pretty scene. When this passed through we noted how everything seemed to be invigorating fast in all directions, the old storm which had passed was back-building as it moved to the E and over the sea was a line of very good convection, and far to the W beyond our sight was a darkening sky.
We checked radar again, there where cells to the W which would either move across the coast or slightly inland, we knew this could be our last chance of the day. What happened next was the second of two very important decisions made, and what follows would never have happened without both of our opinions. My initial decision to chase to the coast was a good one, however where to go next would be the most crucial, we discussed this at length, we were both urgent to make a move fast, I was considering staying here because of the foreground or else head to Downhill Beach however that would also mean the storms to the W/SW could be hidden by the hills so we would be relying on an ocean track storm which was a gamble. Colleen suggested Gortmore viewing point on high ground, there were road diversions in place but she new a route to get us there fast, I thought it was a good idea so Colleen led the way. We got held up by slow moving traffic, why is it that everyone is now driving between 35mph and 45mph?, is it because of the price of fuel?, it was frustrating getting stuck behind these people, eventually the turn off came into view and we took it and finally got away from the congestion and into the freedom of high ground with big space all around us.
As we ascended the steep road we pulled over for a minute at a lay by to look across the ocean. There was an impressive large white cell stretching across miles of sea with a low base, it looked like it could drop a waterspout at any moment, I didn't know whether to stay with his our proceed to our next cell, then we heard thunder booming again from the W where the sky was getting very dark, we jumped back in and drove on up. As we neared the top I looked to the right and saw a very pleasing view of Magilligan Point where numerous clipper boats from the Foyle Maritime Festival were sailing in beautiful sunshine, with the big white storm clouds to the right, our mate Nigel McFarland was their shooting the clippers, we also knew he would be watching the clouds too. Anchored on Moville Bay was 190m bulker carrier 'Intrepid' undergoing lightening operations on the lough, then as we fully crested the hill, in front of us, was a mean black thunderstorm.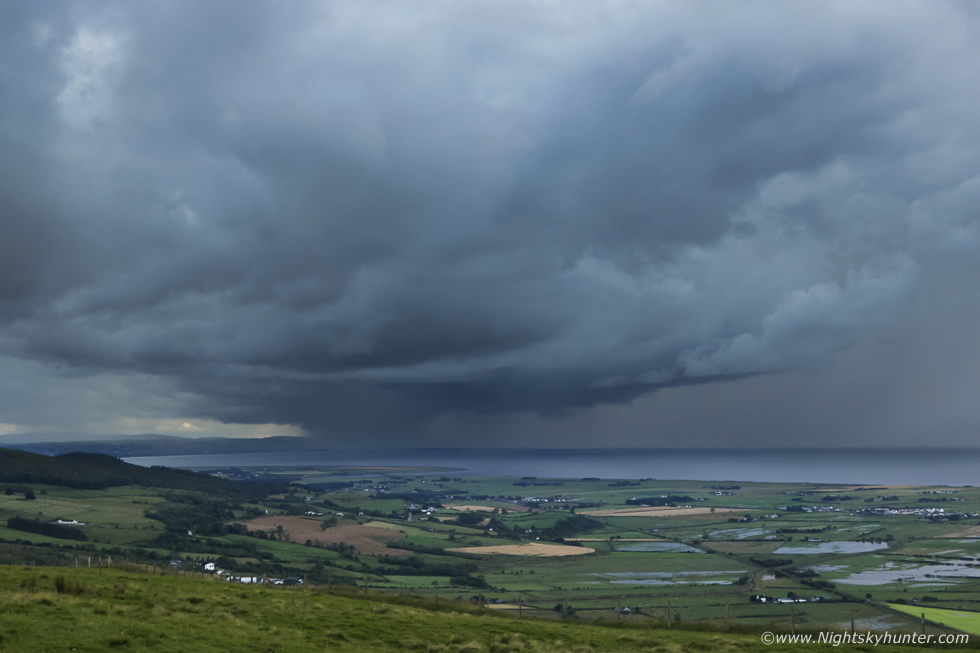 We ran outside to assess the sky, thunder boomed across Lough Foyle and Colleen let out another ''yeoooo'', she was in her element. My initial impression was that this was a mean looking storm, the clouds were very black in person and there was a very strong precip core. I figured this would probably fill in with rain soon or fall apart so I might as well get some images, I shot this from the lay by then I thought, I don't think I have a single thunderstorm time lapse from this Summer yet, this was my opportunity. So I grabbed the heavy camera bag, one tripod and Rhua, there was a fence in the way so I had to lift Rhua over it and climb over into the field then made my way down to the next wire fence at the far end where the land dropped off, I just didn't want any foreground clutter in my time lapse.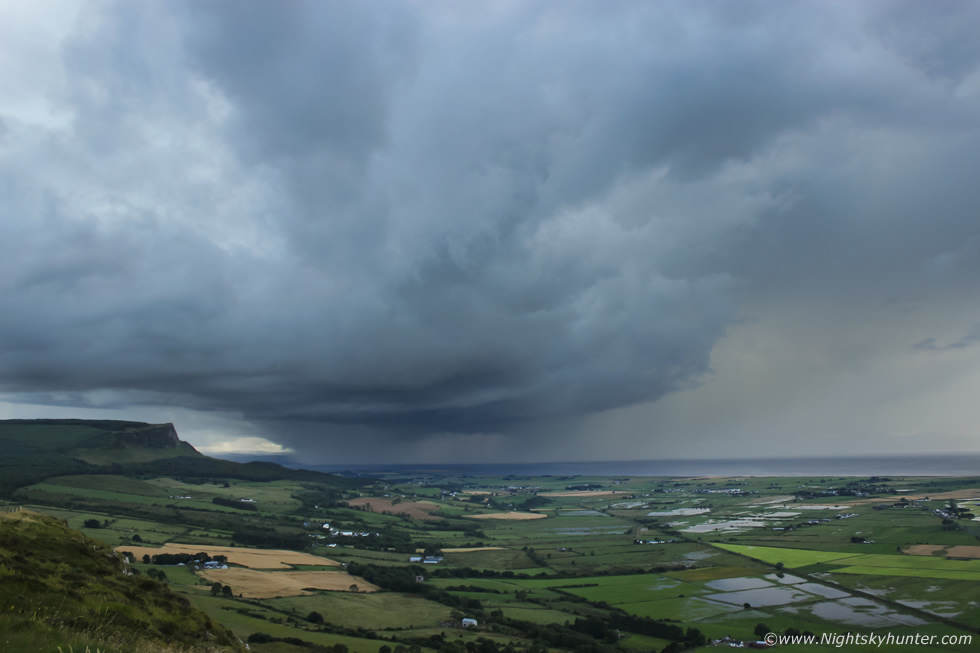 This was my position after climbing the second fence. I had the Canon 5D Mark IV full frame on the tripod with 15-30mm F/2.8 lens shooting a wide angle time lapse then with my old faithful Canon 600D with 18-55mm kit lens I was taking hand held images to get a little closer in. Colleen was up in the car park shooting images from there and Rhua was in the field between us wondering what was going on. Thunder boomed again and in-cloud lightning lit up the sky to the far right, it was then that I had time to study the storm and it dawned on me that this storm was evolving fast and was unlike any other thunderstorm I've seen in years. The sheared aspect, the anvil precip was completely sheared downrange to the N (R) across Lough Foyle and Co. Donegal for miles with lightning, yet the updraught base was well separated from the precip, the base was forming lines along its length and bulging, and the way it was moving, this was a supercell thunderstorm!, I yelled across the field to Colleen ''that's a supercell!!!'', Colleen began shooting a vlog and taking more images, then the storm rapidly developed amazing structure.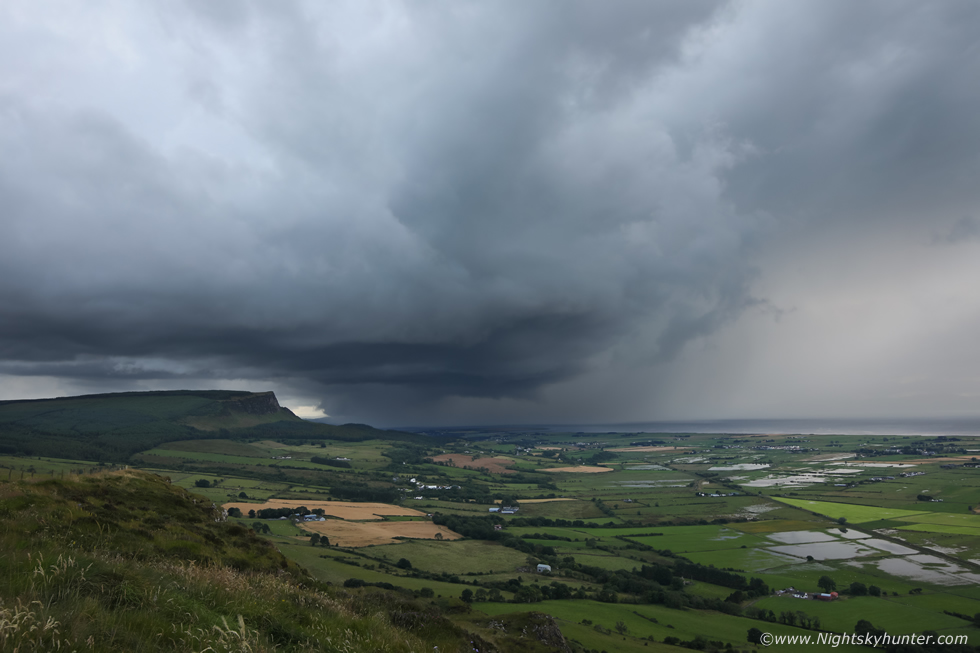 I was in shock, when this day began looking at messy flat grey skies at Ballyronan I never would have imagined that I would be shooting a supercell a few hours later, I just couldn't believe this was happening, yes the synoptics were there, however actually seeing a clear supercell with structure was not what I had been expecting this day, now I was glad we had drove to the north coast and that Colleen had suggested Gortmore. This was a very special moment for me because Lough Foyle and surrounding coast line has long had a special place in my heart, and now, spinning majestically over the W side of the lough was an extremely rare supercell thunderstorm with all the classic structure on view, a scene similar to what chasers would see on the Great Plains of the USA, and now here was one in N. Ireland.
This intercept took 15 years of chasing and 7 hours on the road this day to achieve. If you are a storm nut like myself then you will know about the elemental mechanics involved to get such a storm in the first place and furthermore you will recognize supercell structure in a heart beat, however for those who don't know I will give a quick over view. Supercells are uncommon in UK and Ireland, mainland Britain would tend to get more than us however N. Ireland is very much the opposite, this is mainly due to the fact that England is more favorably placed for plume set-ups with the engagement of fronts and troughs interacting over that location to bring the necessary ingredients for such storms, N. Ireland usually ends up in the cold sector with the warm sector over England.
Supercells have formed over N. Ireland before, there was a good HP supercell over Belfast Lough in 2005, I personally witnessed a supercell over Enniskillen on July 6th 2015 which was not photogenic and produced no thunder, however it did have epic rotation, a wet RFD and precip aggressively wrapping around the base, I also observed an inverted rotating bowl under the base which became obscured by precip, I only found out this year through TORRO records that this storm did produce a tornado however I've no further info on the details, that storm was a doer but not a looker. I saw another supercell over Maghera on August 1st 2008 near my old house, it produced no thunder or any heavy rain but it did have very strong rotation and had some aspects of the visual structure of such storms. Then the best of all were the off-shore supercells 80km distance from Mullaghmore in Co. Sligo which Paul Martin and I marveled at during August 1st 2013, these were night time storms and likely high based which put on the best lightning show I have ever seen.
Since then I have experienced storms with 'supecellular traits' and there have been likely supercells over the Irish Sea and North Channel in recent years associated with plumes, those tended to stay over the sea and where elevated. The problem is that the few supercell type storms we do get are either off shore or more than likely covered by grey clouds or obscured by heavy rain, so we seldom get to see much structure, certainly some structure in the better cases but I've personally never seen an image from Ireland showing a supercell with all it's main structure visible at once. My dream was to find such a storm and it had to be surface based, and now that dream had come true.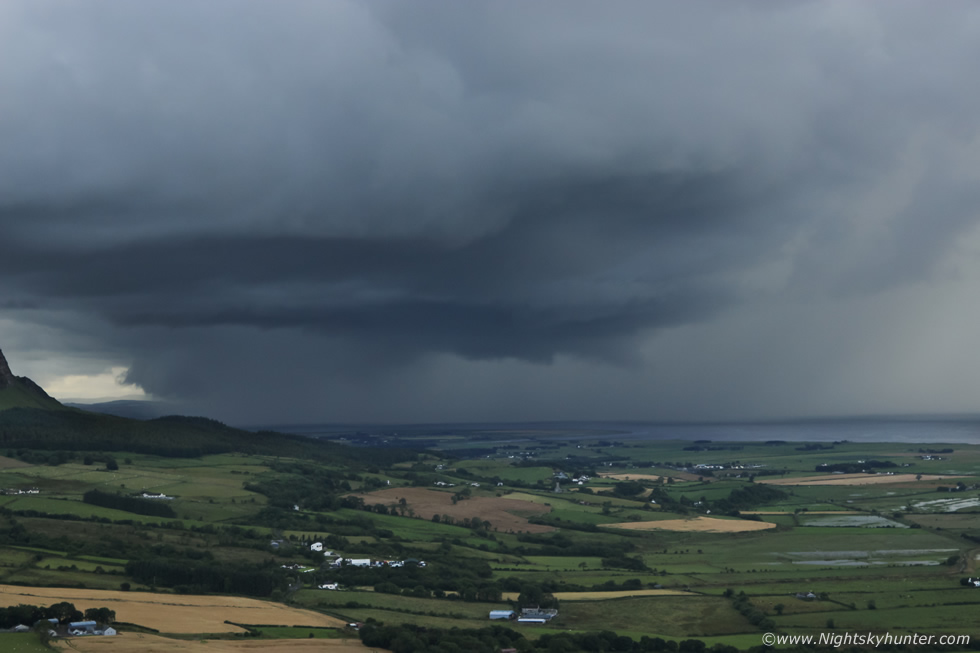 18-55mm capture showing the dramatic structure to the base, I was buzzing with excitement and I confess I had to control myself to stop my hand shaking with excitement. The visual clues of a supercell thunderstorm are as follows, strongly sheared precip away from the base with inflow and outflow regions separated, a tilted main updraught tower, a pronounced rain free base (RFB) for classic and LP supercells anyway, bell-shaped bulging updraught base, a vault between the base and sheared precip where little or no precip is falling, although in LPs this region can have big hail. Striation rings around the updraught base indicating strong rotation, inflow bands, and even wall clouds with tail cloud appendages. A flanking line usually feeds in from the side meeting the primary updraught tower.
An observer will also see the storm rotating and this is the important part. A supercell is not defined by the weather it produces, but by the presence of a rotating updraught called a mesocyclone, so in effect, a supercell is an organized rotating atmospheric machine. This organization allows the storm to last for much longer than conventional storms with a much greater chance of severe weather such as strong winds, flash flooding and of course strong tornadoes and even large hail. The storm base above has these features and was absolutely stunning to watch, I was getting as many stills as I could and was hoping my time lapse would do it justice.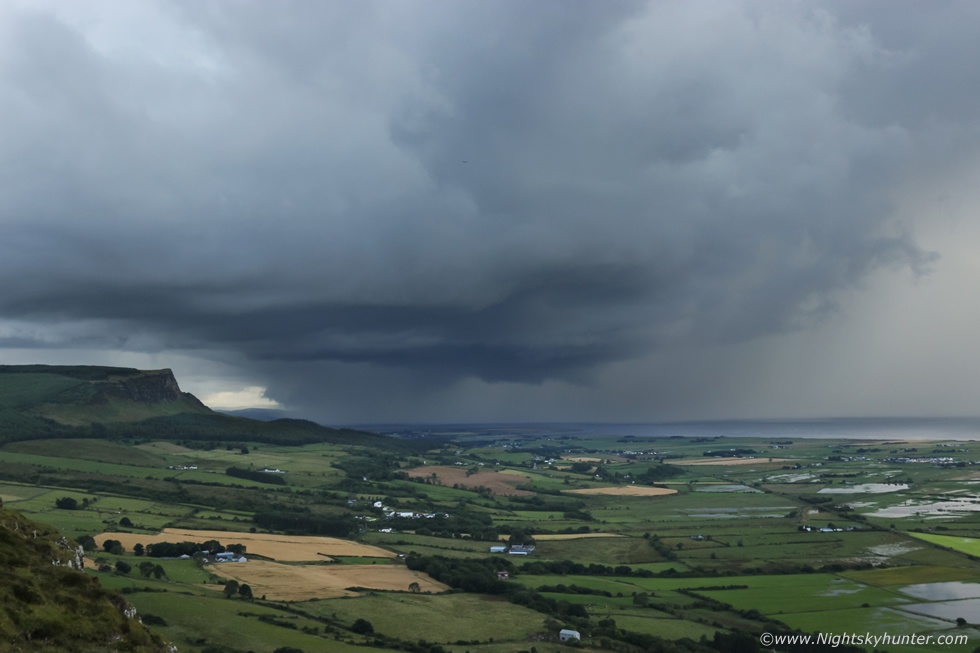 Storm was moving R to L and towards the camera while the anvil and precip was being vented across the lough by 35-40 knot upper level winds. At the surface it was calm, humid and warm, then the breeze began to pick up as outflow wind from the anvil precip associated with the forward flank downdraught (FFD) began to impact us. I saw a brilliant c-g strike down over the lough out of frame to the R, a silvery-blue bolt, however I was so transfixed by the structure that I ignored most of the sparks.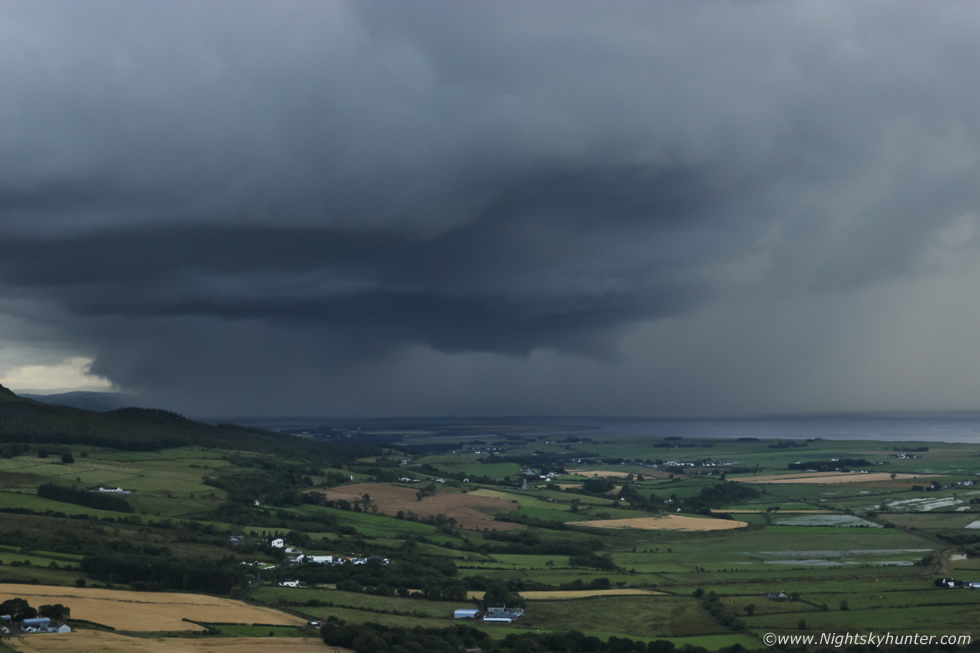 A passer by approached Colleen and said it looked like a scene from the movie 'Twister'. That lowering under the base tapered towards the precip is called a wall cloud. This is an abrupt lowering under the main updraught tower marking the location where the cell is ingesting strong inflow into the storm, it manifests from the condensation of water droplets from the precip core and gets drawn upward as the storm ingests moist warm air from the surface, this air ascends rapidly upward through the base and into the tall updraught tower high in the sky. A rotating wall cloud marks the location where a tornado could form. The multi-tier laminar structures are a sign that the entire updraught base is rotating strongly.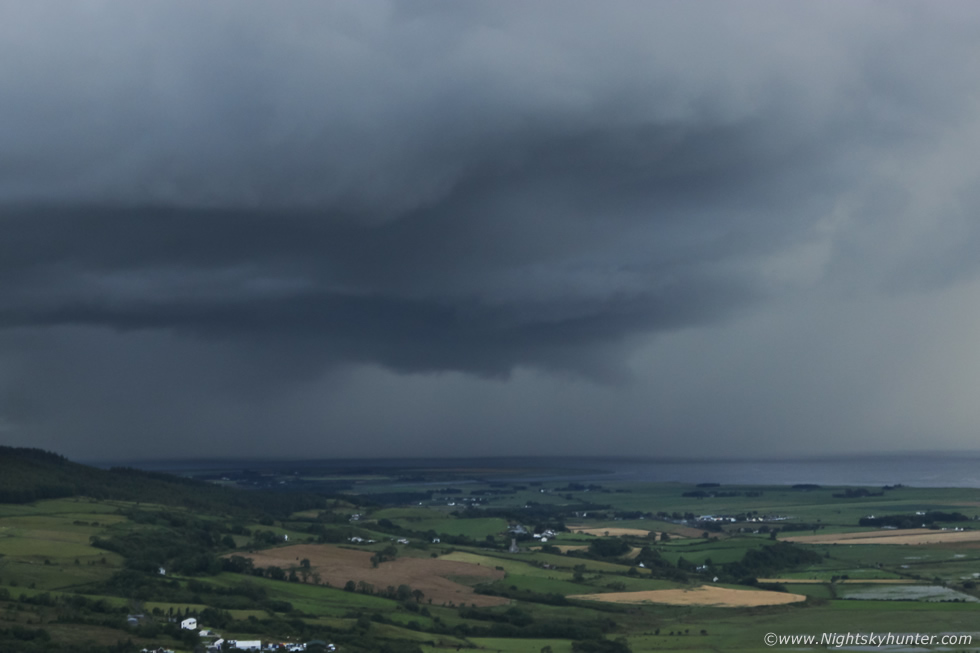 55mm using my old 18-55mm kit lens, I was cursing myself for not upgrading my kit, I have always loved the scale of an 18mm lens on crop sensor, it really is a great focal length for storms which are not very close to the photographer. This old lens has no working auto focus, it's broke, so I had to manual focus using live view and the lens itself is not the sharpest in the world, combine that with hand holding in the outflow wind with trembling hands and it wasn't easy to shoot as effectively as I would have liked, however I was not disappointed, I was able to get in close to the structure feeling content that the wide angle time lapse was working away beside me. This storm had an impressive precip core on radar, the area behind the base and to the left was white on radar and covering a large area, and the precip vented upwind associated with the FFD was red on radar, there was flash flooding taking place yet again.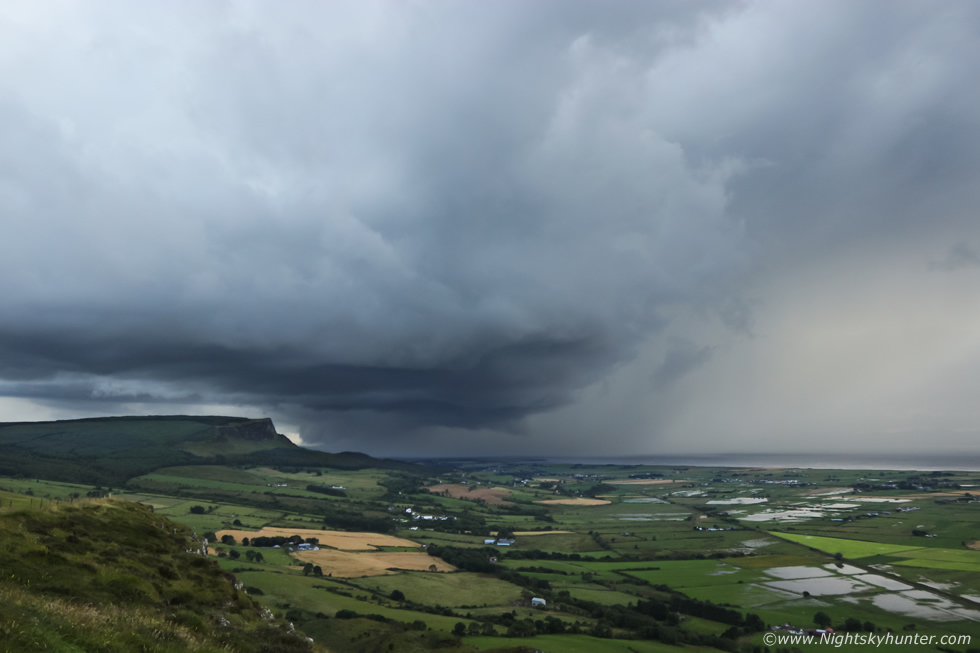 One of the wide angle full frame images, you can see the flooded fields from the thunderstorms which had hit the previous evening, and now more flooding was taking place, affecting the same area then moving inland eastward. The storm initiated close to the Co. Donegal border then matured in proximity to the city of Derry/Londonderry then began moving E affecting the countryside of Limavady, Sperrins, and later Coleraine and inland coastal regions. One lady informed me that when the storm hit Coleraine a strong c-g struck something solid with a metallic sound cutting out the power with their house alarm shutting off accompanied by the smell of burding sulphur, I suspect the bolt might actually have hit her house, she referred to the supercell as ''that evil storm''.
Notice the long base on the far left meeting the mesocyclone base, that's the flanking line, below that area the sky is dry and clear, in fact, you can see a brighter area in the base, that's called the RFD slot or RFD notch caused by the rear flank downdraught. The RFD comes from high up in the storm, the rotation and downward fall of warm air descends through the notch and wraps itself around the base. RFD can invigorate rotation and many scientists believe it aids with tornadogenesis, if you where standing near that area you would feel a strong warm wind blowing into you suddenly from nowhere. Photographer Owen Anderson reported sighting a funnel cloud not far from that region SE of the storm.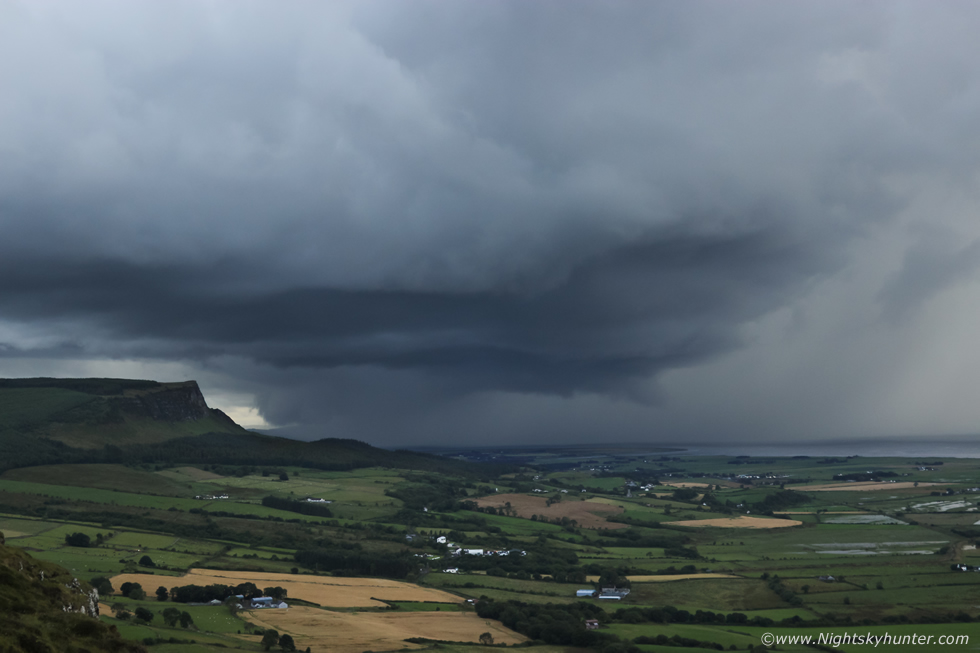 At this moment in time I was looking at the best storm structure I've ever seen, this was textbook supercell structure, the curved form and vault, the layers or striations, the bell-shaped bulge and perhaps as many as three tiers or sections above the wall cloud. Supercells require specific synoptic ingredients to form, namely deep moisture, decent instability, and strong wind shear in the form of speed shear which is an increase in wind speed with height through the first 6km of the atmosphere and directional shear which is an increase in wind direction with height, getting all these together with the main ingredients for good thunderstorms in the first place is why such storms are rare in this country.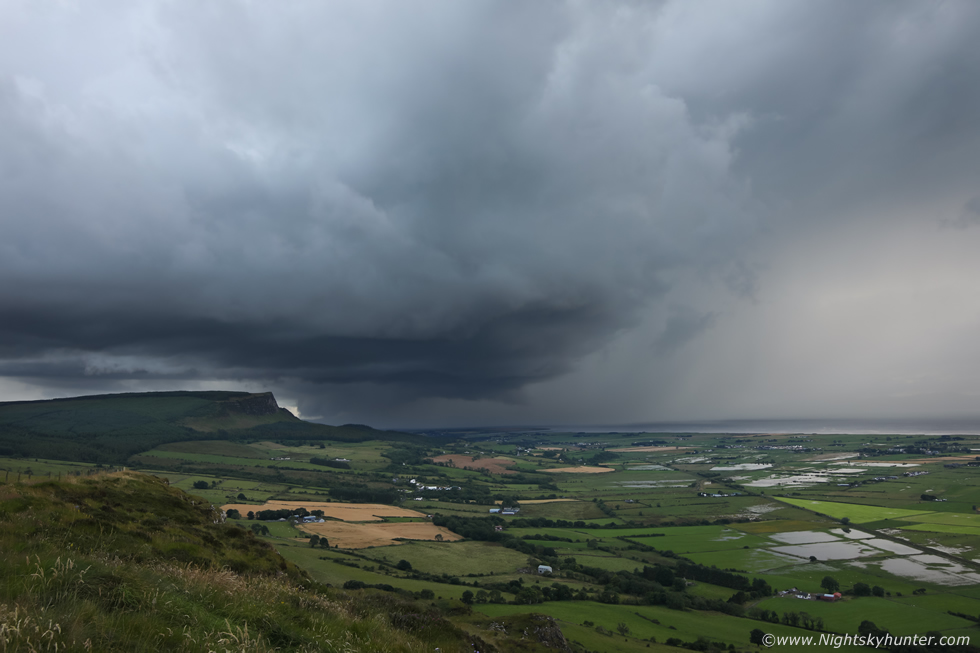 Positioning is also everything with supercells, a storm spotter needs to be located E or even better, SE of the updraught base/meso in order to get a decent view. If I had been in the city looking E all I would see is rain, if I had been in Donegal I would be under rain, if I was further inland to the S I may have glimpsed some structure however the flanking towers and associated cloud may have blocked that view too, the ideal location was where we where standing, talk about tremendous good fortune. The high vantage point allowed us to view the entire storm structure and close to the surface near the wall cloud, something we may not have seen properly from near sea level below.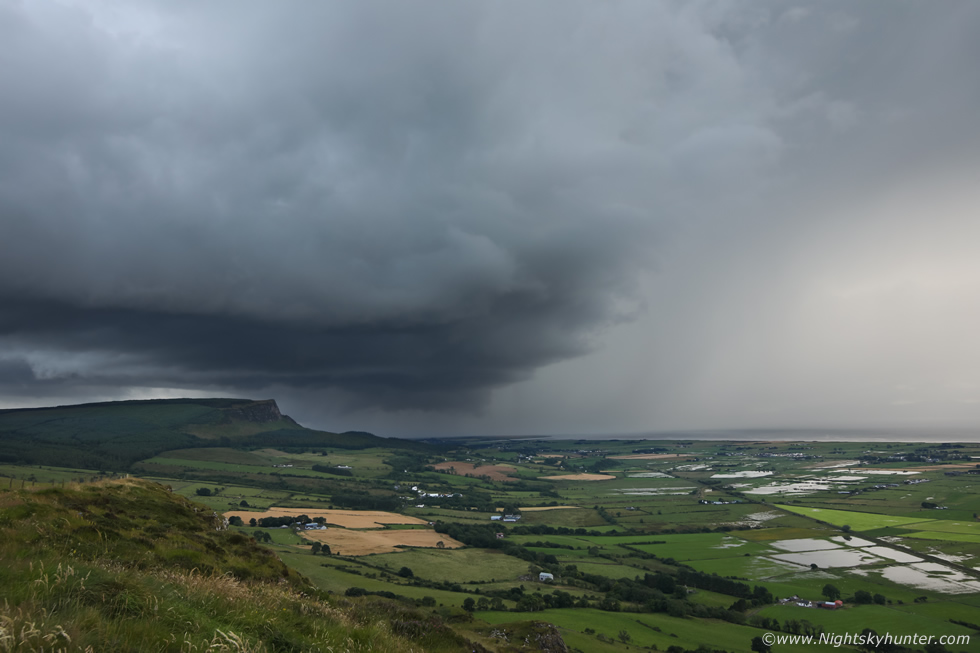 It really doesn't get much better than this, stacked plates on a supercell mesocyclone with Binevenagh in the foreground. It's my belief that including the favourable synoptics, moisture from the lough itself may have helped this storm grow, furthermore the flat land around the lough would have allowed the storm to feed on an uninterrupted supply of warm inflow.
Super wide angle 15mm on full frame, this to me is not only a dream come true, but also in my opinion one of the 'Holy Grails' of storm chasing in Ireland/N. Ireland. This could just as well have been captured over the Great Plains of Tornado Alley, the meso, striations, stacked plates, vault, wall cloud, horse shoe base, RFD cut, tilted updraught, vented precip, rumbling thunder, all visible at once with the flood plains of magical Lough Foyle, a place that I sometimes refer to as my second home.
Annotated image of the above scene
I would like to thank Co. Down based storm chaser Owain Rice for making this graphic for me which shows what the bird's eye view of this supercell would look like with structure and synoptic features combined with our vantage point, if you compare this to the above annotated image it will help to visualize what was happening.
My last image at 30mm, the mesocyclone was beginning to move behind Binevengh and the anvil was now over our heads with sporadic lightning. I packed the camera bag, grabbed Rhua and the tripod then ran back across the field and over the wire fence to join Colleen once again. Just as I did the FFD hit with very heavy rainfall so we took shelter in the vehicles as lightning flashed overhead. I rang Roisin and informed her about the supercell, she was delighted for me and could tell I was on a high, the kind of high one only experiences when they have witnessed something special from nature.
The storm eventually passed over us and continued E, it was drying up where we stood and thunder could still be heard in the distance. Nigel McFarland arrived to meet us and the three of us had a great chat about the storm. Nigel had informed us that he had been at Magilligan shooting the clippers when all of a sudden there was the most bizarre dead calm feeling to the atmosphere, it was warm and humid with not a breath of wind, he sensed a charge as if something was building, a physical sensation or gut instinct that something was brewing, he said the last time he experienced that was on the Benbradagh thunderstorm of June 1st 2018 when an epic thunderstorm suddenly exploded into life with little warning at close range to us with prolific lightning, he said he felt that exact same sensation, then a flash of lightning and thunder broke the serenity as the supercell announced its presence, some people left the beach in a hurry to get shelter. I like to think that Nigel was sensitive to atmospheric changes taking place when 900J/kg of CAPE was convecting in the atmosphere while 40 knot winds aloft were clashing ice crystals generating a charge. As we chatted among ourselves a nice section of rainbow appeared to the E over the Causeway coast heralding the end of the storm. I asked Colleen to screen grab the radar from Netweather.tv and the following is part of the supercell sequence.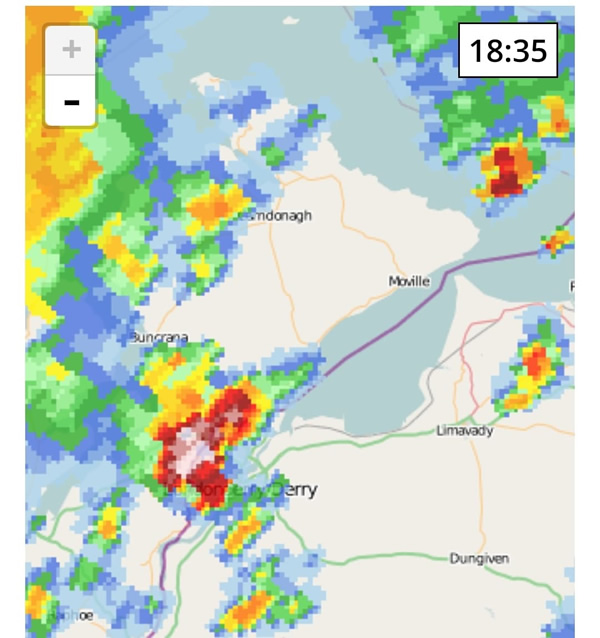 18.35
18.40, the above two images do show the two cores on the images, the anvil precip (above) and precip behind the meso (below), it's also evident that the precip is wrapping around as seen by the dry notch on the SE side.
18.50
18.55, look at that white core!
19.15, Limavady then later Coleraine getting impacted by the precip and lightning.
Vlog filmed with my mobile phone showing the supercell live as I commented on the structure and expressed my belief about the mesocyclone, the outflow from the FFD was affecting the speaker. I really wish I had a proper video camera for this, or even a DJI Pocket 2 for proper vlogging.
DSLR time lapse of the supercell during it's most dramatic and photogenic phase showing all the structure, captured with the 5D Mark IV and 15-30mm Tamron F/2.8 lens. On the time lapse you can clearly see the rotation within the updraught base, this is the only thunderstorm time lapse I have from this Summer, but now I can say I have a rare supercell time lapse.
As I drove home I got treated to another cell with sunset colours illuminating the precip core pink and red with a complete primary and secondary rainbow which was a fitting end to a great chase day. I know that Mum would have loved to have been with me for this chase, before she passed away last year I had spent many years taking her with me on storm chases, she loved the road trips and adventures we had together and enjoyed learning about the clouds, she never feared our close encounters with storms and I reckon she got a buzz from them just the same as I do, so Mum, this supercell catch is dedicated to you! Thanks very much for reading.
Martin McKenna