Insane Icicle Display On Glenshane Pass! - Jan 22nd 2013
Day 5 part 1 of the current severe Winter weather pattern affecting N. Ireland. During the previous four days I had been in 4.5ft deep snow drifts, blowing snow, blizzard-like conditions, experienced an ice storm with rime and glaze and on the previous day Roisin and I spotted a nice row of beautiful icicles which we estimated to be a foot in length which was the first proper icicles we had seen since the severe Winter of 2010. The following day, January 22nd, I was on my own driving up Glenshane Pass onto very high ground once again in search of photogenic Winter scenes. This was expected to be the most severe day of cold spell, it had been snowing on the mountain non stop for almost 24 hours and this was on top of sleet and snow showers on and off during the four days previous to this and during the early morning hours a clearing sky was expected to plunge temps to truly severe levels.
The GFS model run was showing minimum temps across N. Ireland between -10 and -11 degrees C before dawn with -11 lasting into daytime around the Lough Neagh basin and flat lands of Antrim which was quite exceptional indeed. The sky was fairly cloudy so it's unknown if temps dropped that far however more realistically they probably hit the -7 mark and perhaps lower in isolated inland regions. The Met Office had issued its fifth day of severe weather warnings for snow showers and ice and a scan through the reports on Twitter indicated that one foot of snow had fallen near Lough Fea outside Draperstown and that overnight snow showers had been causing traffic chaos across Antrim, even on low ground schools were closed (over 90 closed in N. Ireland alone), some bus services suspended and flights from Belfast Airport grounded while motorists had abandoned their cars on roadsides so it was quite a notable period with the news almost dominated by the Winter weather impact.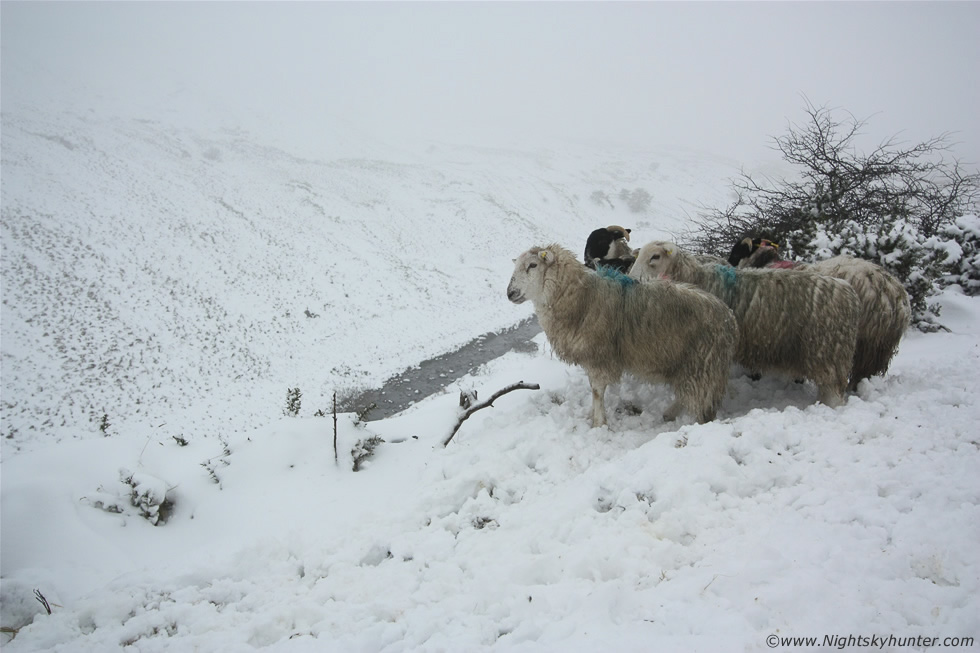 I wasn't really sure what I was looking for however after all the recent snow on the mountain I was curious how deep it was today and with freezing fog and sub zero daytime temps I was hoping to see a beautiful hoar frost display. It was still early in the morning so I did my check of the weather models and monitored online reports then had a hearty breakfast and wrapped myself up in many layers of clothing then I hit the road under another cold overcast sky, the cold clouds where so low that when I was driving through Maghera I couldn't see Slieve Gallion or the Sperrins at all as they where wrapped in a blanket of water droplets and ice crystals. I then ascended Glenshane Pass and once I hit a certain elevation the landscape turned into a perfect Winter wonderland with deep snow everywhere, the ground was white, the trees were white, the fields and mountains were white and so was the sky and at times they all blended together through the windscreen to create a white out effect.
I pulled onto the hard shoulder for a look and got out for a few snaps, I climbed over a wire fence near the barricade and found myself on the top of the mountain surrounded by a heard of Sheep which had large lumps of snow and ice attached to their woolly coats. They seemed pleased to see me and they all ran over at an alarming speed towards me, perhaps thinking I was a farmer going to feed them, and at one stage a few of the bolder members of the herd looked like they were going to ram me however after a while they got used to my presence and all was good. Here's a few of them standing in the snow storm with the steep drop into the valley below where the River Roe can be seen meandering through the mountains, quite an amazing view to start the day.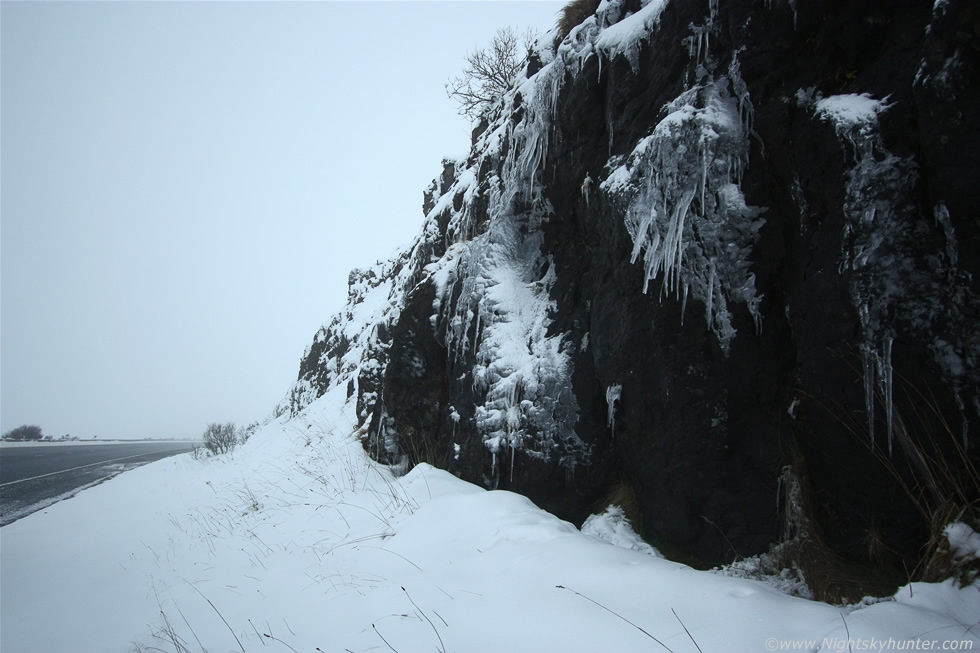 I was back on the road again driving along the main pass and everywhere I looked was a world of beauty. The vast snow-covered landscape would vanish from view when I would periodically enter a bank of very dense freezing fog with extremely low visibility and on the bushes lining each side of the road was a lovely formation of hoar frost which was one of the things on my list, I decided that I would return there for photography a little later in the hope that the sky would clear with a blue background which could be a recipe for great images. However I forgot all about hoar frost when I cleared the next fog bank at the top of Glenshane when I causally turned my head to the R and said out loud ''holy s**t!'', during that quick glance I could see a stupendous icicle display all long the mountain cliff so I pulled over onto the hard shoulder as soon as I could, then crossed to the other side of the road to take in the spectacle. I couldn't believe what I was seeing, the entire rock formation which marked the leading face of the mountain which flanked the main road was covered literally in hundreds of massive icicles!. This is a 10mm ultra wide shot showing one side of the face with many icicles and thick sheets of ice covering the rocks, this theme was repeated along the entire mountain to my L and R for hundreds of metres along the road until the mountain met the quarry, I could only imagine just how many icicles there must have been.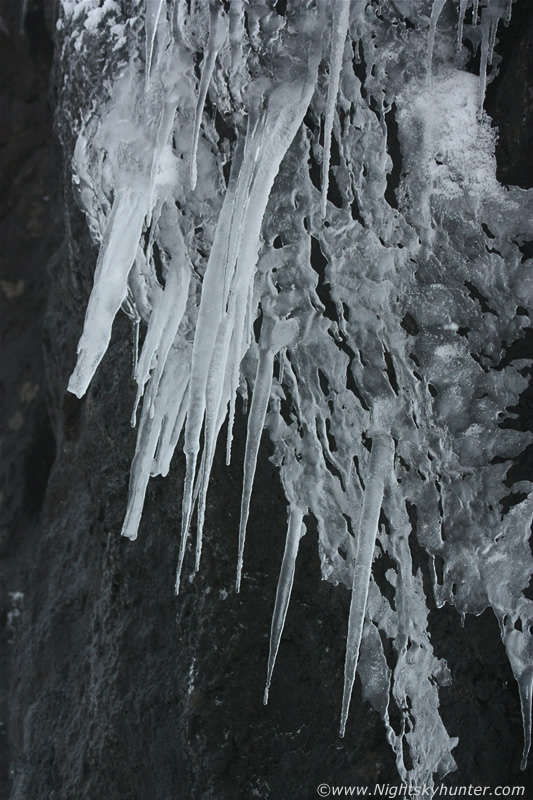 I love icicles, in fact, they are one of my absolute favourite severe Winter weather phenomena and large specimens are quite rare in this country which require an adequate period of severe weather and by being in the correct location at the correct time to see them, running water is always a good place as well as melting snow with periods of slight thawing mixed with re-freezing or ice storms and cycles of snowfall. These cliffs always had flowing water and several waterfalls and now all that water had turned to ice. The conditions must have been brutal here over the last 24hrs and especially during the night.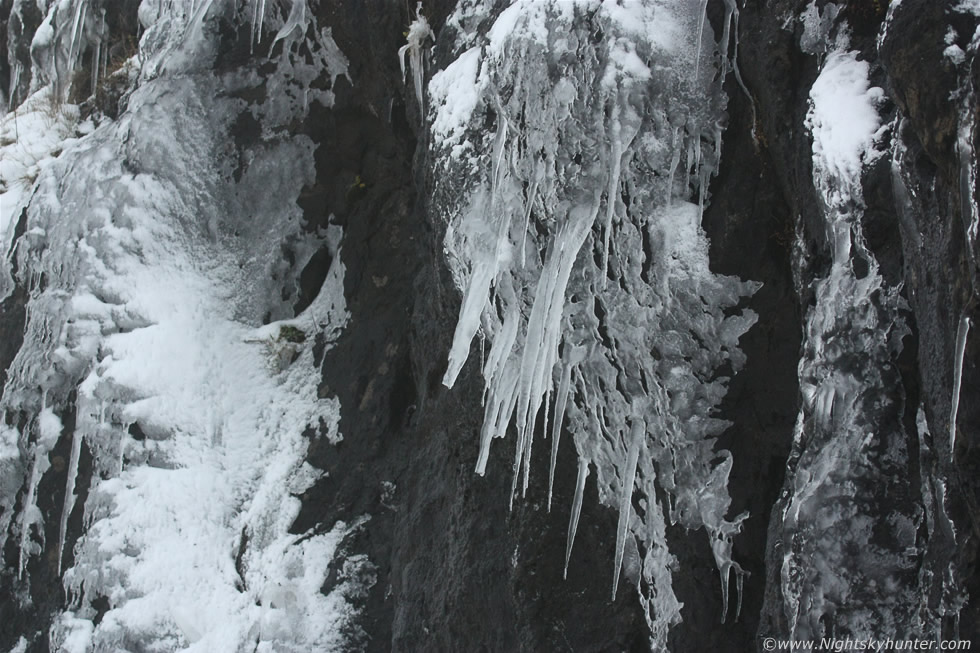 I was out of the car standing in deep snow snapping away and taking video clips at the same time. I was switching between the 100-400mm and 10-22mm lenses however photography was difficult due to the extreme low temps, for much of the time my hands were shaking and my breath condensing and freezing over the viewfinder so it look a lot of resolve and patience on my part to settle myself and try and get decent images. All these icicles are large specimens, even the smaller ones in the images are still large by everyday standards, everywhere I looked there where icicles of all shapes and sizes and thick slabs of glaze ice covering rocks and grass, the scene was utterly amazing.
Mentally flip this image upside down and it looks like a Punji stake trap made from ice
This was the bottom of the cliff from near foot height to about 6ft above my head, repeat this scene on either side around the bend in the road and you get the idea of how extensive this was. One memory stood out during this time, below this image at ground level was a single blade of green grass completely encased in a perfect transparent tomb of smooth clear ice 3" thick which was amazing.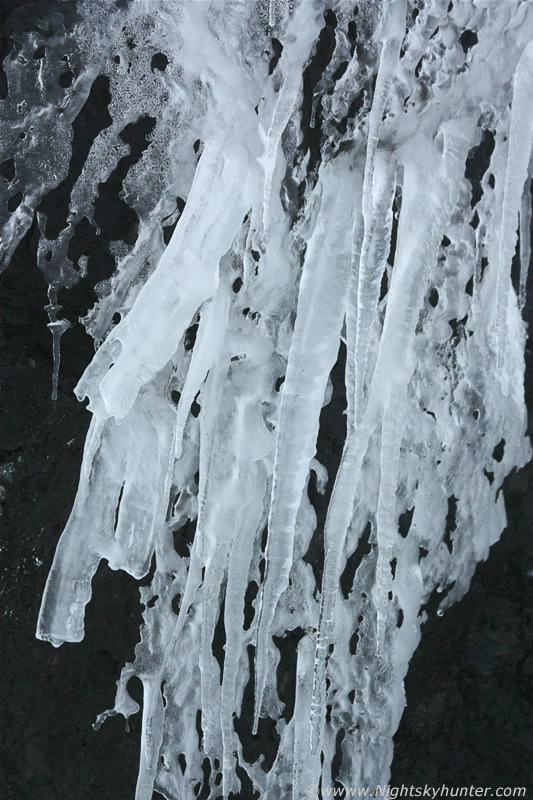 One of the waterfalls. My hands were absolutely freezing at this point and my body was getting chilled from standing in deep snow while trying to keep still for images and it was taking its tole so I went back to the car to warm up. As soon as I turned the warm air on I was yelling in agony...arrggggghhhhh!!...my hands and fingers were so cold that they were in severe discomfort. My fingers hadn't felt this cold since the severe Winter of 2010 and I must have spent a good 20 min's in the 'comfort' of the car trying to get rid of the horrible painful cold-warm tingling needle sensation which seemed to penetrate to the bone. Once I got feeling back in my hands I sent a few text messages informing Roisin, my Dad, and photographer Paul Martin of what was going on.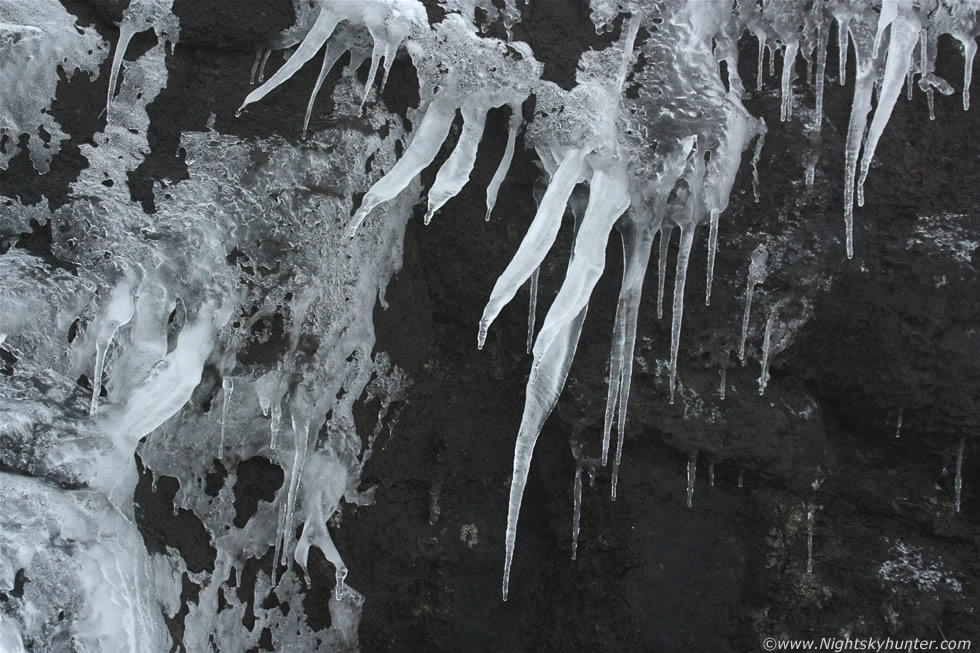 Vicious looking icicles, this scene reminded me of the Queen alien from 'Aliens' with it's array of silvery needle-shaped teeth and long strands of acid drool dripping from the horrible mouth, this formation looks very similar to that monster with teeth and upper jaw and neck to the L.
Glenshane was really showing off today. The above two where taken from the comfort of the car with the telephoto lens sticking out the passenger window while I tried to stay warm inside.
I was feeling warm again then got back outside for some real photography and to get up close and personal with these giant icicles. This was Winter insanity!, here's my hand for scale, many inches of thick clear ice, I felt like a child on Christmas morning and I was loving every second of the experience.
Multiply this scene by hundreds and you can appreciate why I consider this an epic event. Luckily I had the presence of mind to bring a tape measure with me and was able to get accurate stats for the record. These icicles were an awesome 3ft in length and 5"-6" in girth at the base and 4" thick in the middle.
Amazing structure - again the movie 'Aliens' comes to mind here
I will never forget the stunning icicles I saw during the Winter's of 2009 and 2010, those years produced the first serious icicle displays I had ever seen in my life which were extremely widespread which is something I will never forget. The largest icicle I have ever seen in my life was during 2009 when on Christmas Eve my Dad and I spotted a monster icicle over 6ft in length hanging from the wall of the Pizza Man in Maghera (I have an image of that) however these icicles on Glenshane in 2013 stand out in a league of their own due to their consistent large size, their great frequency in the one area (hundreds), and by their complex structure.
It's spectacular the kind of sculptures the elements can create.
That's filling the frame of a 10mm (107 degree FOV) lens. Make sure to check out the video below to get a better feeling on what it was like to experience these.
I included the tape measure for evidence, this confirms the 5"-6" girth of these icicles. Looking around me there where so many more to tempt me over, I could even see icicles within icicles and other complex formations however due to the freezing cold I decided to stay with this fascinating area which had caught my attention from the very beginning.
10mm view of one of the bigger waterfalls which was now solid ice with huge icicles hanging from cliff. Perhaps this is what standing on a comet nucleus might look like with snow, dirt, rock, and jets of ice erupting from the rotating nucleus, as I'm sure you can tell thoughts of comets Panstarrs and ISON are still on my mind with the former appearing during March this year and when an astronomer is near ice and snow he will automatically think of comets.
Nature really is amazing and I have to say that I was not expecting to be greeted by a scene like this today which is a testament to just how severe this current cold spell as been. This single event has completely made the Winter for me and I have a feeling their could be more surprises in store.
After taking several hundred images in severe conditions and once again getting back in the car with freezing red fingers I decided to drive down the mountain again and return home to warm up and get something to eat before returning once again back up the mountain for another round of Winter magic. Half way down I snapped this shot of a road crew repairing the lines attached to the telegraph poles on Glenshane Road which were damaged by the weight of all the recent snow and ice.
Video clip of the insane icicle display which is worth watching all the way through. You can really appreciate the size of the icicles in relation to my hand and I even measure the width and height to show you their amazing size, at one funny point you can see my hand and tape measure trembling like mad due to the cold which I hope will make you feel like you were there for yourself so you may want to watch it with a jumper on while hugging a hot chocolate drink. During my second drive up the mountain I hiked to the top of the Sperrins and was blown away by an epic Winder landscape which made me feel like I was standing on a ski slope in the Alps, you can read more about it on the image report. I was back home at 17.00 and was exhausted however I really did get treated to some amazing scenes which I shall never forget. Thanks very much for reading.
Martin McKenna