Heat Wave & Significant Severe Thunderstorm Outbreak - July 2013
Love it or hate it, N. Ireland really does boast such a varied range of weather in any given year and nature always balances herself out when it comes to the good, the bad, and the ugly. At the time of writing 2013 has turned out to be one of those strange years which couldn't be predicted by long range forecasters, it was as if the weather was intelligent and taking great pleasure in defying anyone who dared to make predictions. We ended up with severe Winter weather episodes during January and february with an historic severe blizzard which made headlines across the world. After this everyone was expecting a quick transition to Spring however that never seemed to happen, instead we got a very long trailing cold period which seemed to delay any real hint of Spring to the point where reliable trees and flowers refused to bloom at all as if waiting on a better time, this led to a long miserable and cold spring with high pressure, cloudy skies, and below average temps, it was like a world trapped somewhere between Winter and Spring which needed release, this dragging cold period led some to suspect we would get a bad Summer and a quick transition into an early Winter and I have to admit I was feeling the same way about it all too.
Then July arrived and by the second half of the month everything had changed, nature had tipped the scales once again and presented us with a truly stunning two week heat wave. I mean this was a proper heat wave similar and probably better than the last heat wave I remember from 2006. The 2013 event was one of those classic Summer episodes which one recalls as a child when the days seemed to last forever with glorious heat and brilliant skies and that's just what we got. Every day was very warm or even hot, the humidity was high, the nights were muggy and sleep was a challenge, the daytime skies were clear from sunrise to sunset and the sky was bright blue with that classic white heat haze along the horizon. I was loving every minute of it and it evoked all those wonderful childhood memories of the magnificent Summers after primary school ended. It was so warm and humid that I was constantly sweating through my pores day and night and unlike in my younger years I did not spend the time sitting out under the intense sun much at all, all my exposure was in bursts and I always wore shades and a cap combined with many pints of water which kept me hydrated and saved my skin, this practice always kept those sun related headaches at bay, you can't be too careful these days.
Each day the temps were in the 25 to 27 degrees C range and soon they settled around the 29 C mark for days then peaked at 30.1 C which is almost a record for this country. I had been on the road a lot during this two week period on photo shoots, bust storm chases, night sky shoots and even went out looking for heat wave-related scenes as I wanted to document this very unusual event. There were wonderful Summer scenes every day with farmers taking advantage of the fine weather to work their fields with glorious sunlit bales of hay and tractors against a blue sky background which was wonderful. However sometimes you have to ignore what's above you, around you, and instead look down, often it is the smaller details which can tell a story and this is what impressed me the most during this event. I had observed small segments of melted tarmac before however never in all my life have I seen melted tarmac on such a vast scale as I have this July. Roisin and I were astounded by the extent of the damage on the roads between Fermanagh and Donegal over the hills which had experience major exposure to the sun, we could see lines of black melted surface extending for mile after mile which was amazing, when the wheels met the melted strips we could feel the sticky sensation on the tyres through the steering wheel accompanied by a distinct droning sound similar to what one hears when driving upon black ice.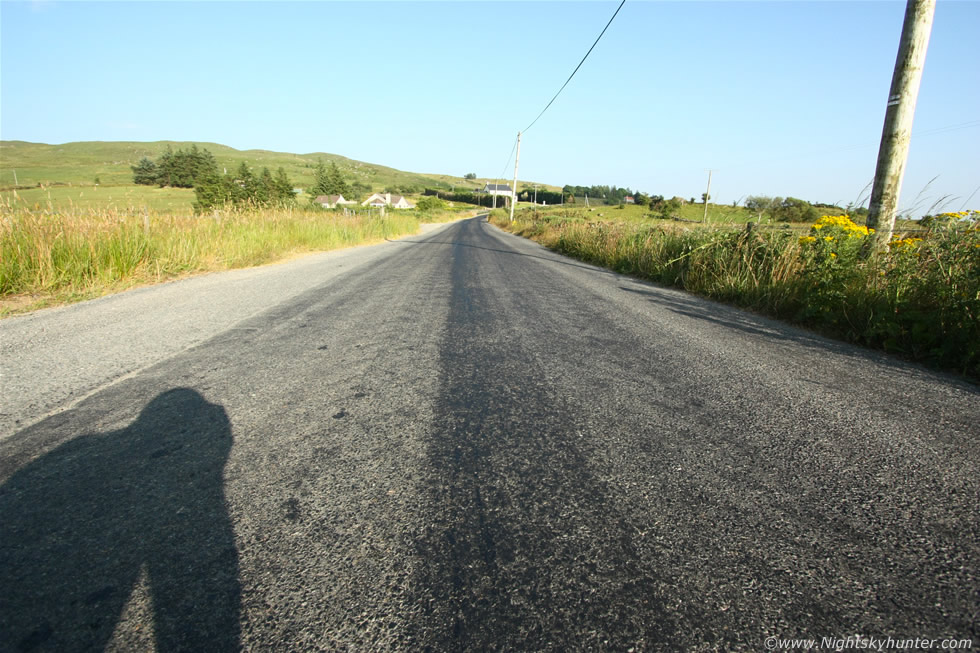 The above two images where taken from the beautiful narrow roads in Beaghmore outside Cookstown on one such roasting day, I decided I had to get images of these melted roads for the record. All the dark features are melted tar, I could feel the heat rising from the road into my face which was very uncomfortable this close to the ground, the first image was taken while standing on the car roof. I made the most of this heat wave and even had several photo shoots in Co. Fermanagh and checked out the location and photo potential of six different castles for possible night work. However with storm blood in my veins it wasn't long before I forgot about clear skies and began to dream about getting thunderstorms.
July 22nd - A Week Of Storm Chasing Begins
This heat wave really lived up to it's classic status because the models indicated a major thundery breakdown towards the latter half of the month which yet again had all the hall marks of 2006. What made this storm outbreak so interesting was that the models showed the potential for strong thunderstorms every single day for almost two weeks into the future and from studying the set-up this looked like it was actually going to happen with warm, humid, unstable sub tropical air from the S/SW clashing with cold moist air moving in from the W from the Atlantic Ocean, the end result would be an explosive cocktail of atmospheric energy. This breakdown looked so good that I decided that I wasn't going to concern myself about saving money for photo opps later in the year, I was going to hit this hard with all my energy, dedication, all my money, and every ounce of passion, I felt determined to take advantage of every opportunity and would chase on as many days as I could until I caught something cool. I have to say I was getting very excited by the prospect of such a big road adventure all in pursuit of thunderstorms. The activity had kicked off the previous day with an isolated but huge storm below the border not far from Sligo which produced a lot of c-gs, it was the only storm in all of UK and Ireland that day and before sunset the visual satellite view was remarkable with huge towers casting a long shadow all the way across Ireland, over the Irish Sea and upon parts of Wales, that was a big one!.
My first chase of this epic period would be the following day, July 22nd, when the potential looked more promising with colder air aloft moving further inland and more in the way of shear present. My own personal forecast was for the W part of Ireland and W. N. Ireland where there was better moisture, shear and instability with the added bonus of lift and convergence from a small low pressure centre off the W Irish coast. There was a cap in place however with colder air overspreading my target area during the afternoon and evening it looked like the cap could break easily enough. My plan was to drive to Co. Fermanagh and target the W areas where I had the option of moving S or W to better locations. I was chatting about this potential with Omagh storm chaser and photographer Paul Martin who had also decided to chase as much as possible so we decided we would hook up the following day and chase together which was fantastic news as this introduced even more positive energy to the chase, so it was all set in stone, we would be chasing to Fermanagh the following morning!
I needed sleep however sleep would be something I wouldn't be getting much of for the next week or more, the anticipation and excitement affects me a lot so I can never get much rest so I stayed up late into the night studying the forecasts again then eventually drifted off after 03.00. I was up at 07.00 studying forecasts and I was delighted to see that all was positive and that the forecasts still had the green light, I then waited for the following GFS update just to be sure then happily observed that the main convective outlooks issued by UKWW, ESTOFEX and UKASF all agreed with my personal target area. My camera gear was all ready, suitable clothing for long drives in hot weather, plenty of water, two flasks of tea, I then got supplies at the local shop in the form of more drinks, tinned fruit, bananas, apples and chocolate for energy then meat and veg from the butchers, then back home and made up a selection of turkey, cucumber and lettuce baguettes then I was ready to hit the road.
I left early and began the sunny drive S with plenty of fuel in the car and money to spare for more fuel and food. I felt in top form, very focused, and extremely motivated. The temps were warm and the humidity strong even for this time of day which was a very good sign for later. I drove through Tobermore, Desertmartin, Moneymore, Cookstown and the traffic was light so I made great progress before meeting Paul Martin in Omagh. There was no point taking two cars so I said I would drive since I already had all the fuel in the car so Paul left his car at home and the two of us headed rapidly S once more then by early afternoon we had made into Fermanagh. An upgraded forecast had been issued with a slight risk of severe thunderstorms near our target area which got us very excited, the best location was Sligo however we where not far from there so we couldn't have asked for a better location.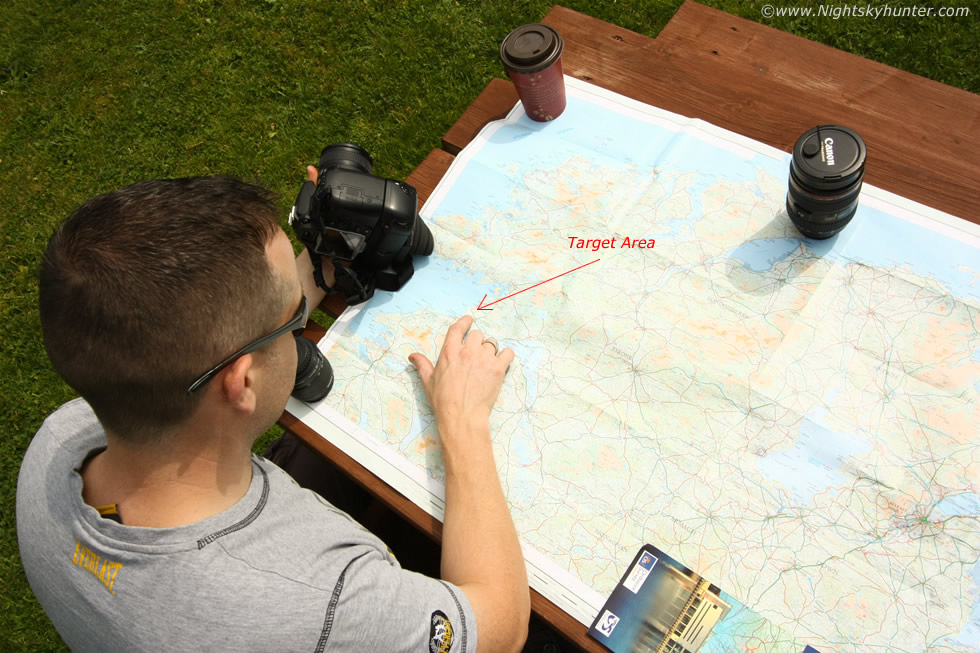 We drove to Belleek and decided to stop for some lunch so Paul and I grabbed our supplies and sat on the picnic tables among the grounds of Belleek Pottery where we enjoyed our sandwiches and coffee, I was on the lattes again and needed that extra kick of caffeine for I suspected it was going to be a long day. It was a wonderful experience eating our lunch here along the lush green hills adjacent to the River Erne under intense sunshine and blue skies, there wasn't a drop of precip in the country anywhere at this time however that didn't worry us because we had faith in the forecast and we were not expecting things to kick off until 17.00 or more so we had time to kill, I have to say it felt like being on holiday sitting here and thinking of it now really puts a smile on my face. Here's an image of us planning our attack on any developing storms, we where very far from home and currently located near the Lough on the map beside Paul's ringed knuckle, our target area is indicated by the red arrow. We had decided that W coastal locations would be a good bet because of the excellent vantage point and also the last outlook had mentioned a risk of waterspouts so we couldn't pass up that opportunity.
It was so warm and humid, it felt like another country, above us and moving inland from the ocean where very isolated but solid formations of Alto Cumulus Castellanus, these famous clouds form at mid levels of the atmosphere and often take the shape of small castle towers hence the name 'Castellanus', their presence early in the day is a great visual indicator that there could be thunderstorms later in the day. In this case there was still warm air aloft forming a capping inversion or 'cap' at mid levels however cooler air at height was gradually moving in above this boundary layer and eroding some of that cap to create those small towers, this was also a great sign and if the process could invigorate then this mechanism could manifest itself as elevated thunderstorms later which would likely become surface based when cells tap into the better moisture later in the day. The sky was promising and changing in a very relaxed manner and we were in top form. We did have one set back and that was lack of internet coverage on Paul's phone and without internet coverage we where essentially blind, it's a different thing being back home and going visual however being this far from home and with money spent on this trip it was of paramount importance to have coverage and know precisely what was going on and where, and at this moment in time we where out of action.
We debated on what to do, we couldn't think of where to go to get coverage and there where no internet cafes in town so we asked a man walking past and he informed us there was coverage in the Belleek Pottery cafe rite beside us, that was a stroke of luck so we walked into Belleek Pottery, had a quick look around, and worked out that in order to get internet coverage we needed to go inside the cafe itself which meant we needed to purchase something as the code could only be got at the till. We had already eaten and had our tea so we ordered another tea each and got the code however it was a waste of time as it still wouldn't work, the sweat was starting to drip down my face from the heat in the place so we took a few sips of the brew then left and just decided to get back on the road and find somewhere else. We drove over the border then through Ballyshanon and entered Bundoran, this was a place I hadn't been to since I was a young boy during one of our family holidays so it felt surreal to be back, Bundoran is a thriving sea side town however it was too busy for my liking being packed with people, the place was dedicated to tourists featuring many novelty shops, cafes, ice cream vans and amusements, the traffic was very busy in the town and there was a great holiday atmosphere, it struck us as weird that many people had come here to enjoy the hot weather yet we had drove all the way here for bad weather, and you wouldn't have thought it by looking at the sky, had anyone known our reason for being here they would have thought we were crazy.
We couldn't find anywhere to park and the few spaces we did find needed to be paid for, they were expensive and in Euros, we had overlooked this point so we moved on and eventually found a car park beside a church at the end of town so we went for a walk in the hope of finding somewhere with internet access, we noticed the public library beside us and it had a computer so our hopes were high however when we tried to open the glass doors they were locked shut, a small piece of paper on the window told us the library was closed on Mondays, this was Monday - unbelievable, we laughed it off and walked deeper into town. We found the Holyrood hotel and went inside and asked at reception and as luck would have it they had a public computer with internet access, it felt great to be out of the relentless sun for a while and inside some shade with air conditioning. The internet worked however we had to pay in Euros and luckily Paul had a few Euros on him, one Euro gave a few min's online which wasn't very much time so we had to make it quick, I used the 'astro links' section of my site to locate all the sites I needed which saved a lot of time, radar showed no precip at all, sat images had nothing convective and the forums were quiet so we logged off feeling slightly worried, at least we were not missing anything so we chilled out in the hotel lobby for a while and talked about the forecast looking at all the positives to keep ourselves in a more positive frequency.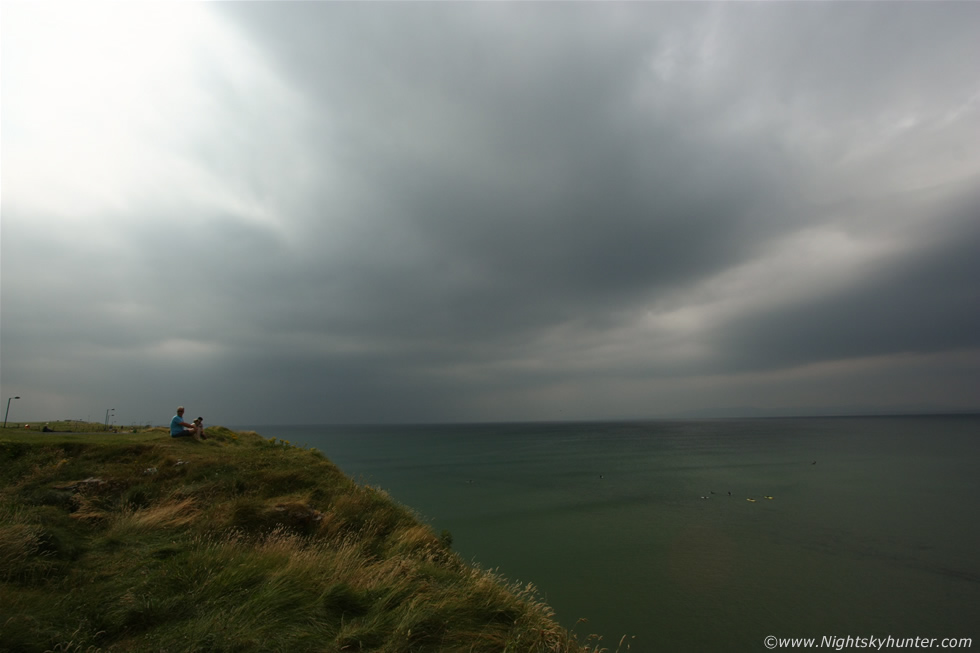 We had plenty of time to kill so we walked along the beach checking out locations for future photo shoots while catching some rays. We then went back to the car then drove to the cliff top and sat down with the camera gear over looking the W. Atlantic Ocean which offered us a terrific view, the ocean was vast and calm with a gentle swell and countless surfers could be seen far below on the green surface. Meanwhile the sky grew hazy with non convective cloud and we began to have our doubts, it was already well into afternoon and prime storm time and yet there wasn't a single atmospheric sign of storm potential. We just sat here taking in the sun and discussed the real possibility that we could be going home empty handed, both of us didn't like this idea at all after driving so far so we both agreed we would stay dedicated, remain on location, and see what happens, after all, that huge storm yesterday had exploded rapidly much later in the evening when no one expected it so perhaps this would happen once again, this optimistic train of thought was what kept us going. We drove back towards town and decided we should use this down time wisely and get something to eat just incase things rapidly changed later when we might not have more time, I have always been a believer in eating, drinking and going to the bathroom at every chance because you don't know how long it will be before you get those luxuries again. We parked in the main street of Bundoran and enjoyed a much needed chicken fillet burger, fries, and coke in a sit-in take-away which gave us much needed energy.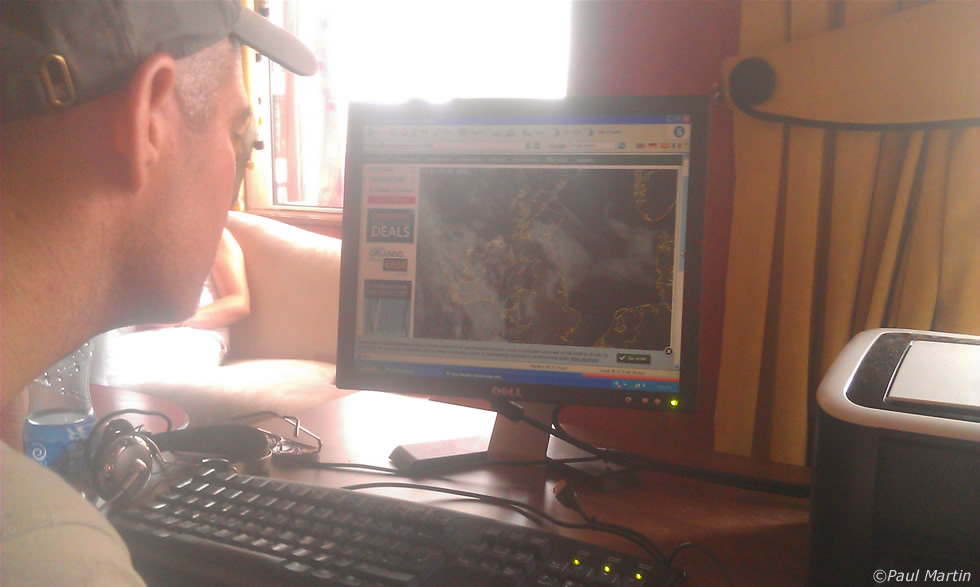 We where then back out in the hot sun, over the ocean and further to the S and W we could see quite well defined Altocumulus Castellanus once again and decided we needed to know what was going on, it had been several hours since our last internet check so we got some money from the hole in the wall and got change in Euros then went back to Holyrood hotel and bought ourselves another short look online. At a first glance there was nothing much on radar except a couple of blue (weak) showers to our S near the ocean and that was it, no storms and no lightning. However the visual sat images did show a change since our last visit, below the border there was cloud building, it looked mid level however there where towers embedded within, and as we played the animation loop over and over we could see a long line of cloud forming in a SE-NW direction with slightly convective elements, there was no question cumulus and small towers were forming but to be honest we lost hope in it.
It seemed too little too late, it appeared the cap was too strong and perhaps the cold air at upper levels never made it in far enough, we decided it wasn't game over yet however our spirits were getting low. Here's a snap shot of me looking at the hotel computer which Paul took with his camera phone, you can see the building cloud over the Republic and out W over the ocean indicating where the deeper moisture was located, it was a waiting game once again, the negative was that as the evening went on we would be loosing solar heating as our source of lift however the positive was that models showed CAPE across the entire W side of the country until well after midnight so this kept our chins up. We decided we needed to change location, we felt that the energy was heavy here so we moved off into fresh territory, perhaps a change of scenery would bring us better luck.
We thought there was no point waiting around getting frustrated so we formed the mind set that we might as well explore the area and check somewhere out while we where here to make the most of the day, we studied the map and Paul highlighted Lough Melvin which sounded like a great idea, we wanted to escape from people and busy roads and get closer to nature and peace so off we drove with Paul navigating, I had never been this direction before in my life so this was all new territory for me, after a lot of driving along narrow back roads we finally found a fantastic and very isolated spot adjacent to the great lake. The location was utterly brilliant and just what we needed, no one was there, it was peaceful except for the relaxed sound of the water gently stirring over the rocky shore, the sun made the concrete warm to the touch and the sunlight reflecting off the water danced in the ripples like a natural disco ball, it was heaven. Birds where chirping in the bushes, ducks could be seen, and butterflies and dragonflies buzzed among the foliage.
We explored the area for a while then sat down at the end of a long concrete pier with our legs dangling over the edge, the lake was dreamy, the sun very strong and the humidity was still high, we had another brew and got hydrated with several tins of fruit, it was after 19.00 in the evening and there wasn't a decent convective cloud in sight, I was seriously having my doubts now however for some reason we decided to stay anyway, then suddenly we both heard a distant rumble, Paul said he thought it was thunder however I was skeptical, it could have been an outboard motor on a boat far across the lake, soon after there was another rumble, we then looked at each other and said ''that was THUNDER!!'', talk about a shock, we were not expecting that at all, it wasn't long before we heard another rumble and another, they were getting more distinct and more frequent, there was no question there was a very active storm out there somewhere, yet we couldn't see any storms at all as far as the eye could see, there was a large hill with trees opposite us on the far side of the lough so perhaps this blocked the storm, or perhaps the thick haze along the entire horizon was concealing our storm. By an amazing stroke of luck Paul managed to get internet coverage on his phone from this remote location and when he showed me the last radar update I was blown away.
The radar showed a very strong multicell storm 10 miles away to our S, it had just passed over Sligo producing a serious amount of c-g lightning and it sported very pronounced red and white echoes which indicated torrential rain and considering the storm's slow motion would no doubt be causing flooding. The storm was slowly moving N and more or less heading towards us, we felt elated, a check on the radar view previous to this indicated just a weak reflection from a shower so this thing had exploded into life between the two updates, that was fast, we were now very excited and rapidly packed the tea cups away and got into the car as fast as we could, we needed to get to a good view point to shoot this storm, the sky was darkening over the far side of the lake, this time we drove twice as fast through the narrow roads dodging the occasional car and a few tractors, we had no idea where to go, our basic plan was to get away from trees and into open ground so we could get eyes on the sky and preferably on our target.
After some hasty driving we pulled off the road in Ballyshanon onto the shoulder directly opposite a Gardi base and got out to watch, our eyes scanned across the sky over the fields, it wasn't a bad spot as the horizon was good and there was a two story derelict old building in view which would make for some cool scenes with the storm over it, but where was our storm?. We watched and waited for what seemed like ages, there where no visual clues to any storm in our area, what the heck was going, our excitement was turning to frustration, the entire sky was covered in haze and that's when it struck us, the storm was embedded within all that atmospheric mush, then suddenly we spotted it!, all we could see was the top of two big towers rising above the haze which marked the top of our storm, it looked like a mountain of badness however it was moving in a different direction we had anticipated, instead of S to N it now was going rapidly NW, visually that was to our R and not in front so the storm was in the process of side swiping us so once again we got back in the car and this time we where literally chasing the storm.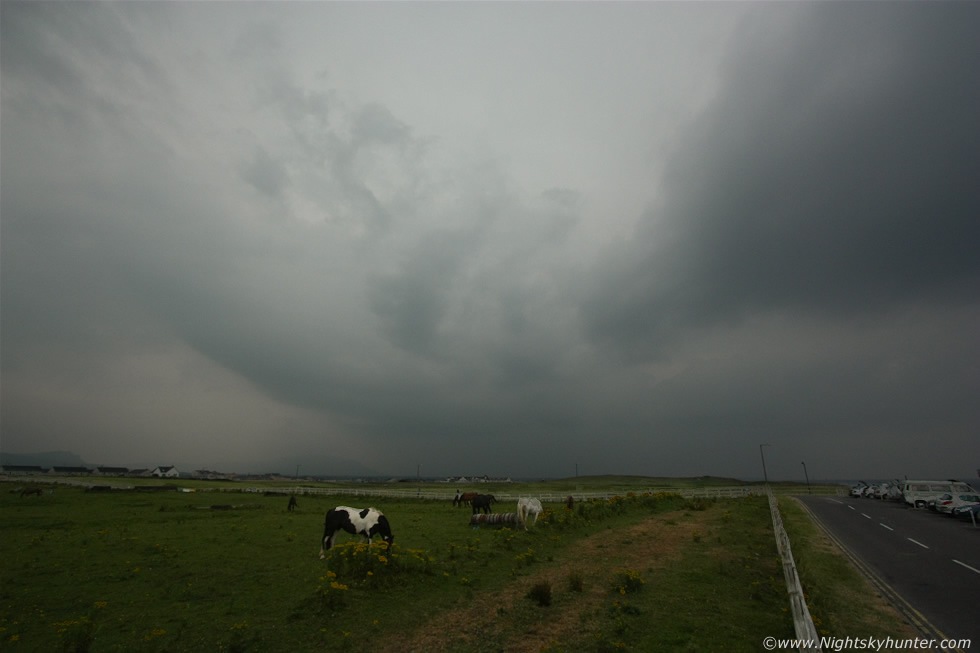 We drove as fast as the law allowed us on the main road and went back to Bundoran which was as good a place as any, the storm was moving along the coast now and would soon be over the sea so we decided to relocate to where we had watched the surfers earlier from the cliff. The above image shows that location now, the ocean is out of frame to the R and directly at image centre beyond those distant houses. We sat on the top of this fence waiting, we had picked our spot, the plan was to shoot the storm above a field of horses however that plan never happened, once again the storm had trekked more to the W away from us and was now in the process of crossing from land to ocean, the above image is all I got. The entire storm was covered in thick grey pea soup heat haze which was so thick that no storm structure could be seen at all, you can see the precip and haze over the mountains and somewhere above that was our multicell, I know this image is awful however I wanted to include it anyway to help tell you appreciate just how bad the haze was, the storm was moving from L to R.
The storm moved over the sea so we locked the car and carried our cameras and tripods on foot across the grass towards the edge of the cliff, we got briefly held back by a surfer getting his board ready who asked us about photography, storms got mentioned and he asked for advice on shooting lightning during the day, then we where on our way. We stood for a very long time at the edge of the cliff watching across the ocean, the view was simply grey soup, we knew there was a storm in there but we couldn't see it, we couldn't see lightning or even hear thunder, we then went into a quiet period and it began to drizzle on us for a few min's then it stopped. So this was our reward?, we were both very disappointed, this had been a great storm but not being able to see any structure was like a kick in the camera lens. It was late evening so we drove back inland again to near Belleek for a radar update, we got more fuel in the car and parked in a disused area opposite a filling station, I made us some more tea however the water was cold so we stuck to water. Spirits were low, we agreed it had been a great adventure, the day was a technical success because we got thunder, we intercepted the storm however we were let down with no photogenic results due to the haze, there wasn't much more we could do so we talked about heading home once the latest radar update had been seen.
The radar stopped us in our tracks, our storm was sitting over the ocean and didn't seem to be going anywhere fast, in fact, it was back building rapidly with new cells behind with strong cores which would still be visible from the coast only this time they where further to the N, a good viewing point would be in Co. Donegal so we decided to give it a go and headed back once again on the chase, it was a long drive through busy roads before we got into Donegal and yet again all we could see in the sky was thick haze and the only indication of there being a storm out there was that one side of the sky had much darker haze than the other side, yet again we could see no lightning because of this despite the charts showing active sferics, it was like chasing after a stealth bomber blind folded. We drove and drove and drove but it became obvious we simply couldn't keep up with the storm, the rear end was now over the ocean to the NW and simply too far away, it was a valiant effort however we were beat. We pulled into Killybegs harbour for a much needed break and a chance to stretch our legs, it was getting dark, the big fishing boats looked really cool and we noted what a cool foreground that would have made for night lightning, however that wasn't happening tonight.
It was time to call it a day, the road home was long, we were both tired, we had loved the adventure and agreed that we done our very best and after all we did get close to a storm and had thunder so it was a success to some degree however we didn't get the photogenic fish in the pan to make it a 100% success, visual treats are good, memories are great however we don't feel complete until we got something cool on camera, this just made us more thirsty for another go and we decided we could very well end up meeting for another chase tomorrow. We drove back from Donegal to Omagh where I dropped Paul off, he kindly offered me tea to stay awake however I declined as the stop could ruin my flow, I just wanted to get home and away from the car for a while so we parted company and I continued on my lonely drive from Omagh to Cookstown, the last haul through Moneymore, Desertmartin, Tobermore then Maghera seemed to drag forever however I wasn't really alone for my thoughts were busy wondering about tomorrow's forecast, I hadn't had any sleep yet I was already planning another chase and I simply couldn't wait. I got home after midnight then was up much of the night studying forecasts and updating this site then finally got to sleep around 04.00. 240 miles of driving, 13 hours awake, what a day it had been!
July 23rd - Fermanagh Storm Chase Day 2
I didn't sleep well due to the excitement of another day on the road, I was up at 07.30 and the computer was switched on followed by a detailed study online about today's set up, breakfast would have to wait a while. This day had even more potential, I will not bore you with reciting CAPE values for every chase day however I will just say that daily values ranged from 1000 to 1800 with LIs between -3 and at times -6 all combined with strong solar heating, deep moisture etc. Cold air aloft would be overspreading a larger area of the country today which in effect would stop any cap from forming with the net effect that storms could easily form and much earlier in the day. The strongest CAPE values in conjunction with best wind shear and convergence was over the W and central part of the country so just about anywhere could get a storm however models seemed to favor the Fermangh and surrounding area once again so I decided I would chase there once again, there was simply no question about it, if there was a chance of storms then I was going to be out on the road. The official forecast agreed upon a moderate risk of organized thunderstorms, these would likely be elevated however some could become surface based later and because of the sheared profile to the atmosphere any strong storms could produce tornadoes. Paul Martin and I were communicating again about the potential and Paul decided he would be chasing too however this time he was going to stay home radar watching and would leave when storms fired and in the meantime he would keep me updated via text message which was very nice of him.
This time I decided to take my recently retired Mother out for the day as well as our English Cocker Spaniel dog called Rua, I have taken my Mother out chasing on and off over the years which as been a good thing because she gets to see what I do and experience nature at her best, also the road trip can be very exciting and when storms are being naughty one can use the time to explore the country, take in the sights, and pretty much make a holiday out of it so there's much to gain. We left Maghera early once again with the boot packed with snacks and flasks and for the second day in a row we where driving S into the unknown, I had a much better feeling about this day, solar heating was very strong early in the morning and as we made great progress on the road I had a strong feeling things were going to kick off early and that there could be better photo potential, the sky was alot cleaner which meant there would be less haze to block cloud structure, it seemed yesterday's storms did a great job of cleaning out the atmosphere so I was extremely confident we would get action for certain, the sky 'had the look' and besides, I had my lucky cap on so these were all a good omen.
As we passed through Omagh there was an area of nice storm clouds forming over the S side of town, the clouds were black, surface based and seemed to be forming on a convergence zone, we pulled onto the shoulder outside of town and watched for a while, I reckoned there could be a chance of funnels so we maintained a visual on those cloud bases, Paul rang to inform me of developments and I asked for a good vantage point in the area and he suggested Pigeon Top which was a great idea so we moved on up the mountain road however 1/4 of the way up road works blocked the road so we had to retreat back to lower ground by which time the interesting cloud base had moved on, I did however spot distant towers with real hard and crisp tops to the S and SW which looked big and on the borderline of becoming storms and since that was in the direction we where heading we decided to move on. I informed Paul we would be having a tea break in Kesh and he replied that he would be leaving in a while and might be heading towards the mountains for a great spot over the lakes.
Later we arrived in Kesh and parked for a much needed break at the marina which looks over the river which is a nice spot. We were making our tea and realised we were out of fresh milk so I walked around the corner to the shop, as I was walking back again I saw a familiar car parked at the side of the street and looked into the window, inside was Paul!, what a coincidence. We moved back to the marina and joined forces for a chat on the potential, his updated radar told us that a massive storm cluster had just crossed the border and was heading N in our very direction and soon the sky darkened over the town and heavy clouds gathered, it looked like the storm was already nearing us, then a rumble of thunder announced the storm's arrival which also broke us from our trance and we raced back to the cars to chase.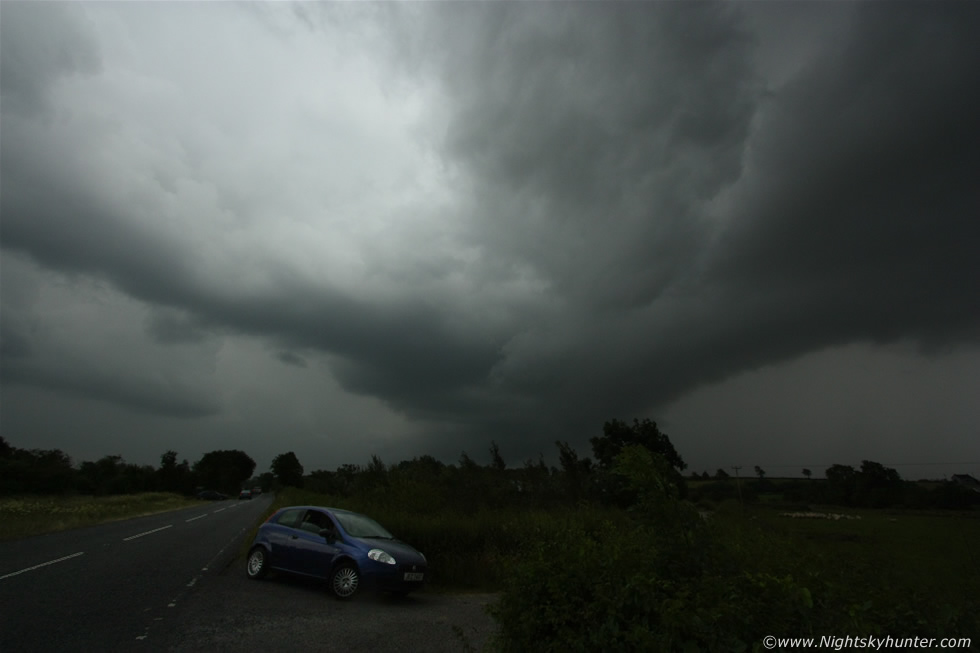 We only had min's to spare and our chances of anything photogenic being captured were deteriorating fast unless we got away from these buildings and into an area with an open view. In no time our two cars where on the road, we left the roundabout in Kesh and headed out into deep countryside in search of a good spot to pull over, from quick glances I could see that the storm was almost on us and that put me in a slight sense of panic because once it passed over us we would be in the rain and would have lost any chance of catching structure on the leading edge. Paul was leading the way and we followed while scanning for somewhere to pull over yet nowhere could be found, the storm seemed it was within touching distance and I thought it was now or never if I wanted to get images so the next opportunity which presented itself I would take. I spotted a narrow entrance at the side of the road which lead to a few isolated farm sheds so I flashed my head lights at Paul hoping he saw the signal in his mirror then I quickly charged into the entrance and got out with the camera.
Here's the storm at 10mm ultra wide angle heading straight for me with my car in the frame for a sense of scale with dark threatening clouds marking the storm's gust front region which extended far out of the frame on either side. My instincts about running out of time to shoot were correct for within sec's of taking images I could feel the outflow air blow against me as cold winds spread across the surface towards us accompanied by isolated large drops of rain, soon it would be lashing. Periodic flashes of lightning lit up the rain with pink strobes followed by growling thunder like some distant large animal getting closer with a temper. I ran across to the other side of the road to get more shots as the leading cloud edge began to fill the frame, Paul arrived and pulled in beside the car and was out shooting too and my Mother and Rua where standing watching from the entrance, I told them to get back in the car as there was a danger of getting struck by lightning then Paul and I stayed out and kept shooting.
Then there came a point when we had to take shelter, my camera was already soaked and the precip core was about to impact us. Paul got back in his car and I back in mine and let the storm pass over us. I put down the driver's window so I could watch for lightning and at the same time take video footage. The outflow hit with a blast against the glass and I watched with a smile as torrents of intense rainfall ran across the road in powerful sheets, after such a long heat wave with bone dry conditions this rain was a joyful sight, it made me laugh with delight and the Sheep could be seen running across the fields to find shelter as the rain turned to small hail stones. Most of the lightning was high up within the storm and buried within the precip of the i-c variety however I did catch a great pink c-g bolt in my peripheral vision to my right which was an absolute stunner. Once the heavy rain moved on we got back out and watched the back of the storm for interesting phenomena, I did some filming and Paul mounted his camera on the tripod, stopped down the lens, and began shooting for daytime bolts. We didn't catch anymore on camera however a few i-c stragglers caught us off guard at the sides of the storm so we just watched. I have to say I felt very happy at this point, it was only after 12.00 in the day and we already had a brute of a storm and it was nice one too and furthermore it had some structure to shoot so I was more than satisfied. I got many structure shots however the above one sums up the scene very well in my memory.
We drove to a nearby filling station and bought some coffee (another latte for me please) and snacks and had a rest and enjoyed the glory of the chase and that awesome feeling of triumph. We had already succeeded and were happy so anything else would be icing on the cake. As we sipped our brews the sky turned blue and the strong sun was back to business and in the distance new convection began to stir, this was heaven and we were loving it. Radar indicated fresh cells forming far below the border, several at central regions however with more over W areas which where all moving up so we decided to stick around and see what else we could get. We hit the road once more and we found a beautiful spot in Fermanagh looking over the wonderful Lower Lough Erne, we spent a long time here watching and waiting for developments with this stunning view in front of us complimented by Summer sun, hot temps, and calm conditions, to be honest we could have stayed here all day, I almost felt like falling asleep among the grass, the relaxing sound from the Cows quietly chewing and the Swans sailing on the blue water was like some kind of enchanting fairy land. This area was also a signal hot spot so we stayed our ground to check online and watch for funnel clouds.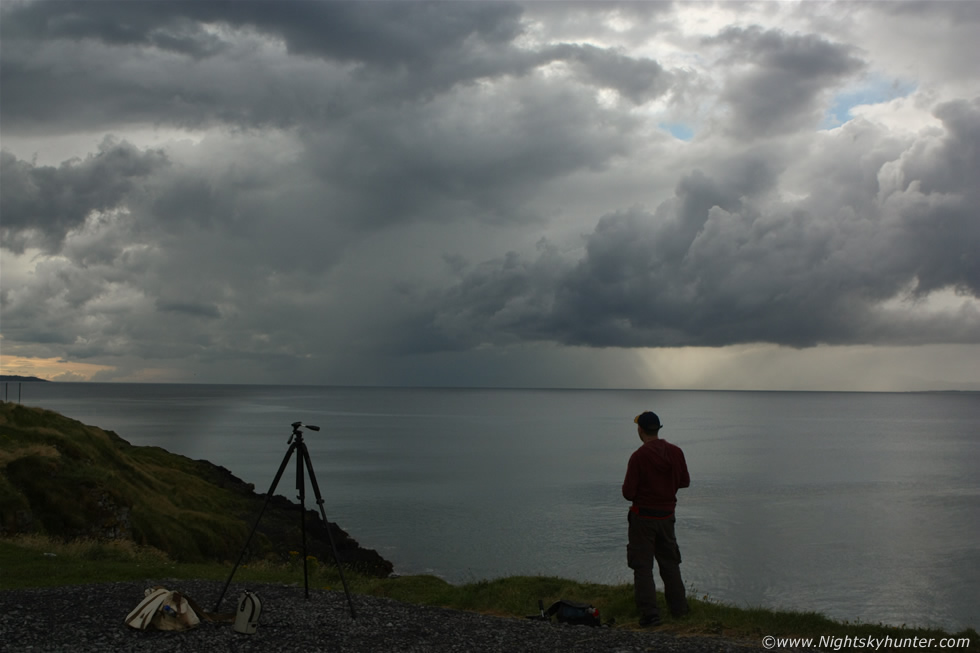 Convection was brewing further W so decided to get mobile and once more we found ourselves going through Belleek, Ballyshanon, and into Bundoran just like the day before and yet again we walked over to the cliffs for the best view, this was like Déjà vu!. All the storms drifted over the ocean for the second day in a row, here's the view looking across the ocean to the NW with the back end of the storm on view as Paul looks on. We could see nice anti-crepuscular rays fanning up through the precip from the ocean surface as hazy sunshine lit the sea into a surreal grey-blue colour with periodic curtains of hail gleaming white in the sunlight as they fell across the water. This storm was very big on radar with red echoes and was producing c-g lightning rite now however we couldn't get a visual on any of it so we just took in the view. Skinny towering cumulus where bubbling up behind us and leaning over in the shear and far away to our E we could see a huge tower exploding up inland which looked a beauty, this was one we had seen near the lakes earlier, we watched it's birth but had no idea it would turn into anything, it was a storm now however it was too far to chase.
We were content enough with our successful intercept earlier so we called it a good hunt and began the long drive home again. We found out that our earlier big storm had crossed much of the country and was almost the entire length of N. Ireland, it actually intensified as it shifted N, it crossed central areas and was at it's strongest near my home with remarkable red and white echoes indicating organisation, TORRO had issued a convective discussion for large hail, strong downdraughts and tornadoes so that was pretty cool, it was nice to catch a big storm like this further S not long after its birth and to experience it's passage over the unfamiliar Kesh countryside which was quite a buzz, I really enjoyed this day and was happy to this time get an atmospheric fish in the pan. Doing this long drive home for the second day in a row with little sleep was starting to get to me and I was starting to feel tired and my eyes just wanted to close, my neck hurt, and my legs were constantly annoying me from being in the sitting position for so long, it felt like forever to get back and I was delighted when we eventually did, the miles and money were starting to add up however the luxury of sleep was not to be had yet because yet again there was a risk of more storms the following day.
July 24th - Fermanagh Storm Chase Day 3 & Filming With BBC
Another late night and early morning rise and yet again I planned on another long distance chase, however my excitement levels were higher than on previous days because this would be a two part 24 hours of storms. The first part was the daytime storms which were expected to become severe, the convective outlook indicated a moderate risk of strong multicell thunderstorms, tornadoes, and with a risk that some updraughts had a chance of forming mesocyclones. The risk boxes where along the entire W side of the country with greatest CAPE and convergence overlap once again over Fermanagh so I was in the zone and quickly got the flask and supplies ready, my camera batteries had already been charged when I came back the previous night which is always my routine. I was on twitter checking for local storm chat and reports when I got a tweet from BBC N. Ireland Newsline and weather presenter Jo Scott informing me that she had sent me an email so I checked hotmail and there it was. Jo wanted to join me chasing today so we chatted on the phone about the forecast and a plan of action, it was a good job she contacted me when she did as I was just about to leave. I said I would be heading to Fermanagh and I would meet them there, we swapped mobile phone numbers and Jo said she would get back to me, she was getting a cameraman and would be leaving the studio in Belfast later in the day so we would converge later on.
My Mother, Rua, and I hit the road again and I have to admit it felt surreal driving to Fermanagh for the third day in a row in pursuit of storms, these trips were starting to really eat into my finances, it was not just the fuel but the food too and that didn't include coffee and snacks purchased on location as well as extra fuel too. For those who don't storm chase you might not appreciate how much fuel is actually needed and how much driving is done when in the action. It's not a case of having enough fuel to get from A to B but rather what goes on between A and B and often the unpredictable happens ending up on a location C added to the plan so in truth you never know where you are going to be and for how long. My car is very economical and easy on fuel which is fantastic so I do well however I find that what eats up the fuel more quickly is the time spent driving on back roads, going up hills, sudden acceleration during moments of excitement, looking for places to pull over, looking for foreground and going back and forth within the same area when a storm is present to re-position the car and chase the storm so there are so many variables involved. What I am trying to say is that I couldn't keep this daily chasing up forever as funds wouldn't allow it and my sleep pattern was seriously disrupted not to mention my body crying for exercise and a break from the car seat so I was expecting a lot from this day.
The second part of this day was a night event, by that I mean some forecasters were going for potentially nasty night time thunderstorms which where expected to move N over the E half of the country over inland coastal areas and Irish Sea, even the T.V forecasts were showing lightning symbols over places like Belfast so this was something I had to consider too. While chatting on the phone to Jo she suggested the night storm event as something we could shoot however I decided to ignore it for several reasons. My first reason was that night storms rarely happen in this country and very often these exciting forecasts turn into a night of messy rain with no flashes which happens so often, my second reason was that by the time any lightning did hit Belfast it could be 03.00 in the morning so the film crew would be way outside work hours so it seemed an unlikely event. I decided on the daytime storms, there was a much greater chance of seeing storms in much better light and furthermore even if we didn't get lightning there would still be cloud structures and convection to film so that became our basic plan.
Before I left the radar showed several intense clusters of showery rain moving up the country so I knew we would be meeting these on the way down, perhaps some of these would turn into storms or else storms would fire in the clear sky behind them. Once we where in route over the S side of Omagh I had this massive cloud of doubt come over me, I don't know what it was but I just had a feeling that something was badly wrong with the sky, outside the clouds looked cold, flat, featureless, and with no energy and a thought hit me that this showery rain was meant to be our storms however I pushed that thought aside and drove on to get into the dry sector behind it where heating would kick start new cells. We stopped for a tea break at Kesh marina again and at this point I was feeling quite defeated, I just knew it was game over and couldn't admit it to myself, we sat there quietly under grey sky with drizzle, seriously what the heck was going on here?, the atmosphere just looked like a Winter's warm front, this was a joke. Paul rang to tell me that there was nothing happening in the entire country at all which upset me even more. It was already mid afternoon and the BBC where on their way and would be here in two hours time, I had drove far enough however their trip from Belfast was even further and I knew they were wasting their time. We had time to kill so we drove S deeper into Fermanagh and stumbled across an ancient graveyard where we had a nice walk and got fresh air and Rua got to run around and explore. The clouds broke and the sun was back out and within min's it was hot and sunny.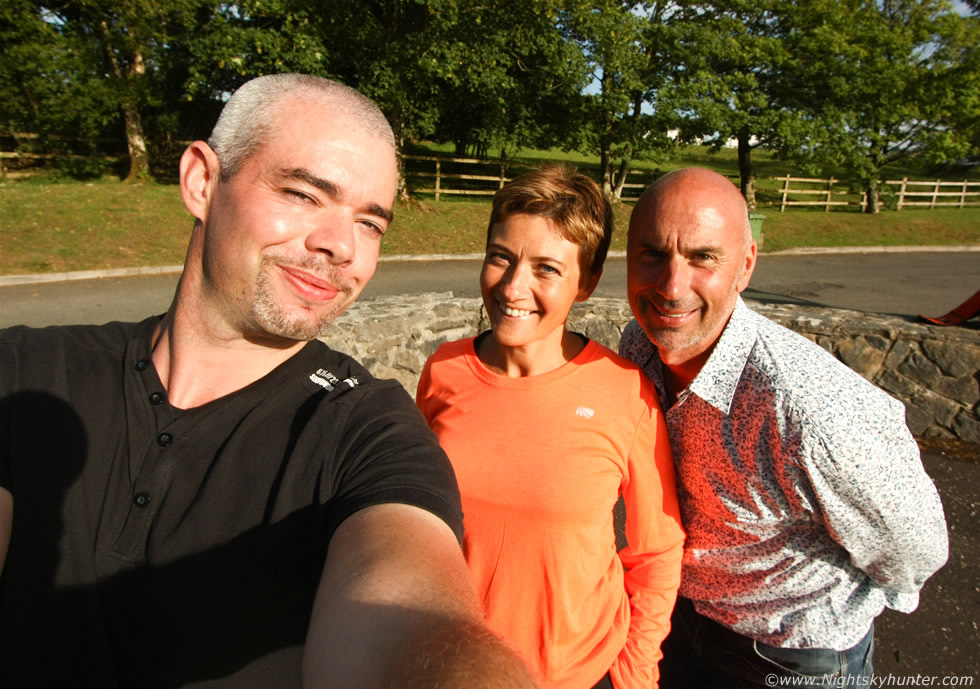 I knew there would be no storms at all, the sky was clear and the few pathetic excuses for clouds that were visible simply struggled to show any motion at all, its seemed something major was missing, no lift, no energy, capped, all I knew was that it was game over. I have felt bad bust days before when it comes to chasing and other phenomena and over the years I have learned to deal with it well and with a healthy positive attitude however on this day all that went out the window and I felt down rite foul and pissed off at everything, Paul rang again to tell me there was nothing anywhere in the country which confirmed my suspicions, I really appreciated Paul letting me know this so I could not cling on to false hopes. Suddenly I felt complete and utter exhaustion as if the last three days and lack of sleep had caught up with me, I just wanted to close my eyes and sleep, I didn't want to be here miles from home, I wished I could have clicked my fingers and appeared back in my room but instead I was far from home, wasted money, energy, fuel and time. I didn't have the energy to even talk to my Mother and I cursed myself for ever leaving the house this morning and furthermore I had the BBC on their way and there would be nothing to shoot, nothing at all, not even convection, this was a bust to remember and now Jo and cameraman where getting closer and I had to face them, I felt like such a fool after singing praises about today's potential over the phone earlier, talk about nature messing with you, I mean two days in a row of storms and on the one day the BBC come down nothing happens at all.
We drove on to Belleek, had a nice lunch and walk along the River Erne then decided to get back to RV with the BBC crew at Kesh Marina. I wasn't feeling myself to be honest and just wanted to get it all over and done with and perhaps someone could make a model robot and drive us back home to Maghera because the thought of it sickened me, are you sensing how I was feeling?. Jo Scott arrived and with her was very well known and highly respected BBC N. Ireland presenter and film maker Darryl Grimason and I have to say after Jo gave me a big hug and Darryl shook my hand with a smile my frequency suddenly changed for the better. I can size people up pretty quickly in sec's and I knew immediately that I was in very good company. Jo and Darryl were two absolutely lovely people who I took to rite away, they radiated so much warmth and positive energy which put me back on form and within min's I was feeling my usual self again and buzzing.
We relocated to the big marina which looks across the lough which was a stunning location, Jo and Darryl bought us coffee and snacks and we all caught up. They took the mickey out of me a little about my forecast but it was all for a laugh and in good spirits, Darryl was a seasoned filmmaker of all things in nature so he had experienced this many times. We used the time very well though, there were no storms however Darryl set up the TV camera and took some time lapse footage of clouds drifting over the lake and some video footage of Jo and I sitting and standing at various angles, then we sat on a wall with the lake behind us with the warm evening sun kissing the water and we began filming interview fashion with Jo asking me questions about storm chasing, how I got into it, my best experiences, close encounters, what makes me tick and so on and so fourth. When I explained that this was my third day here chasing and in the order of 500 miles done they liked it because it showed 'obsession' Darryl said which was exactly what they were looking for, so I guess I was happy to hear that, I think lol.
We had a fun interview and I have to say I enjoyed the questions which made me reflect a little on how all this began in my life which led me to this very moment far from home chatting into a T.V camera about storms, it all seems weird, if only I had known back then what all this would lead to in my future. I think I took my very first storm images in 2005, maybe earlier, I had a Fujifilm Finepix point and shoot 1m pixel camera for Christmas and with that I began shooting sunsets, sun pillars, sundogs, rainbows, then Conor McDonald and I would be on the hunt for anything storm related, we were pretty good at catching mammatus, cb anvils and dramatic clouds, it seemed normal to us even back then, we even walked for miles into the country to snap clouds just to get better foreground, I guess that's how Conor's and my own journey into storm photography began, then time went on, better cameras were acquired and better storms were caught and it went on until now. To be honest the only motivation I had for taking driving lessons was to chase storms and do sky photography and all that stuff has pretty much changed my entire life for the best. The above image was taken after the filming ended and you can see from our faces how much we were enjoying ourselves. It was a successful piece of filming and I also got to share my personal philosophy about nature and the universe and how we can steer our lives with this understanding, Jo and Darryl completely agreed with me as their outlook was very similar to my own. I realised then that this was the reason I left home today, it wasn't for storms, it was to meet these two wonderful people, thanks very much for the great energy guys and hopefully when we meet again the sky will be showing off on camera!.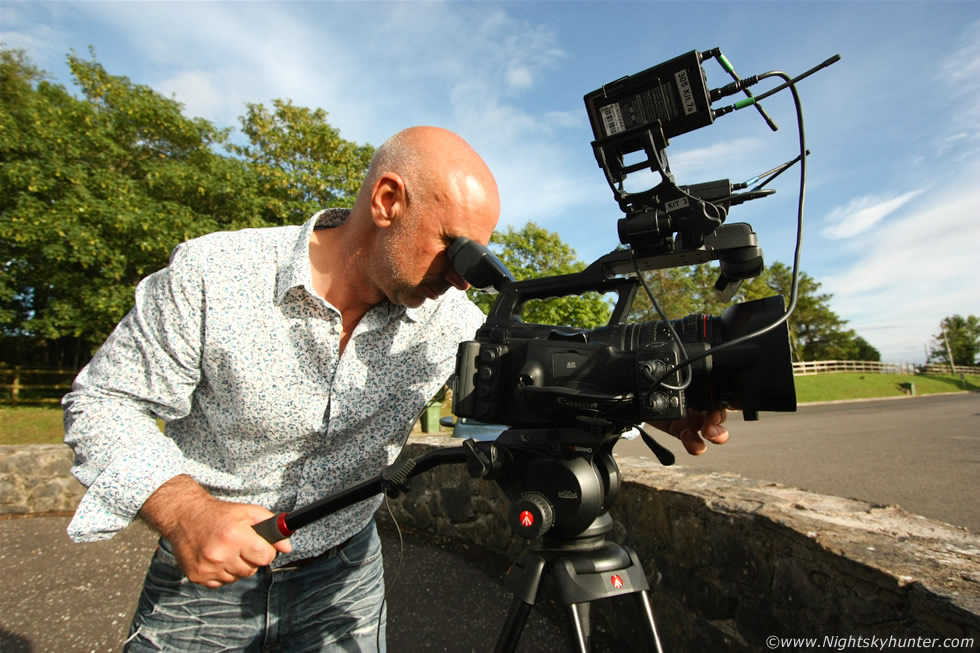 Here's Darryl in action doing his time lapse work. I found out from our chat that he too felt the same about that connection with nature, he was one of the few people I met who understood where my mind was, he has spent a lot of time out in nature and under the ocean and knew better than most what that connection felt like. It was such a beautiful evening and when I began the drive home I felt revitalized with energy as if I had just left home for the first time this day, we made great progress and witnessed a selection of beautiful rainbows between Omagh and Cookstown then had a tasty portion of chicken nuggets and before long we where back home. Within min's I was back on the computer checking the latest radar and chat, would there be storms tonight?, and what about Tomorrow's forecast?, and this was what led me into part two of this day.
July 24th/25th - Night Storms
After that long third day in Fermanagh I really needed to get some kind of rest and just when I was thinking that I was finally going to get a chance to chill out the first reports came in from near Dublin. This part of the forecast had been correct, unreal, night time elevated thunderstorms where moving S to N from the ocean rite up the E side of Ireland and partially over the Irish Sea, these storms were extremely active with high rates of lightning, this was turning into a repeat of 2006 once again. Exciting reports were coming in through the Irish weather forums and through facebook and twitter so I stayed up late to watch the reports coming and to see if there was a chance of night action this far N. Impressive electrical storms moved N of Dublin and approached the border then the charts showed no more sferics so I decided I had wasted enough time watching this, I didn't want to con myself twice in one day so I decided to leave the computer on, I turned off the bedroom lights, opened the window wide as I needed the air - this was a very warm and humid night - then lay on my bed face down to rest for a while, the time was 02.00.
Next thing I remember was my phone alerting me to a text message, I had fallen asleep, it was almost 03.00, the text was from astronomer John C. McConnell from Maghaberry saying he was getting nasty rainfall with thunder and lightning, that got my attention, I was up like a rocket and checked the charts and sure enough there where more active strikes up the E side of Co. Antrim with torrential rainfall, I looked out the window and saw a flash of lightning, after seeing that I am sure I moved just as fast as the bolt had, next thing I was out in the car with camera bag, tripod with jeans and a t-shirt, there was no time to waste on choosing clothes!. I drove out to the Maghera countryside and found a nice quiet road and simply pulled the car onto the grass verge, got out, and got my gear set up rapidly, a few stars could be seen so I managed to get focused on Vega within the Summer Triangle, I turned the camera to the E with the 10mm lens and began taking exposures. Just before I pressed the button lightning flashed again rite in front of me, I shouted out ''Yess!!'', I was on a high, only min's ago I was asleep and now I was out in the middle of nowhere at 3am with lightning flashing.
The lightning was distant but bright enough to light up all the clouds in the sky and even the road I stood on, I took exposure after exposure and got nothing, it seemed that every time I stopped there would be a flash, I could hear distant rumbles even at this range which got the adrenaline pumping at this hour of the night. I sent a text to alert Paul Martin and a response to John to let him know I was out shooting, he replied back ''those are c-gs, be careful!''. The flashes were so bright and the thunder audible enough that I turned on my video camera and held it in one hand while I operated the remote shutter with the other, everything in the video camera was black except for the glow of my camera's LCD in the frame, I didn't catch anything using my gear but I did hear more rumbles and observed flashes. It was one of those amazing classic hot and humid Summer nights which I remembered many years back, it was awesome to be out on such a great night standing in a t-shirt watching lightning and yet I was still sweating!, it's not often one can experience that in N. Ireland.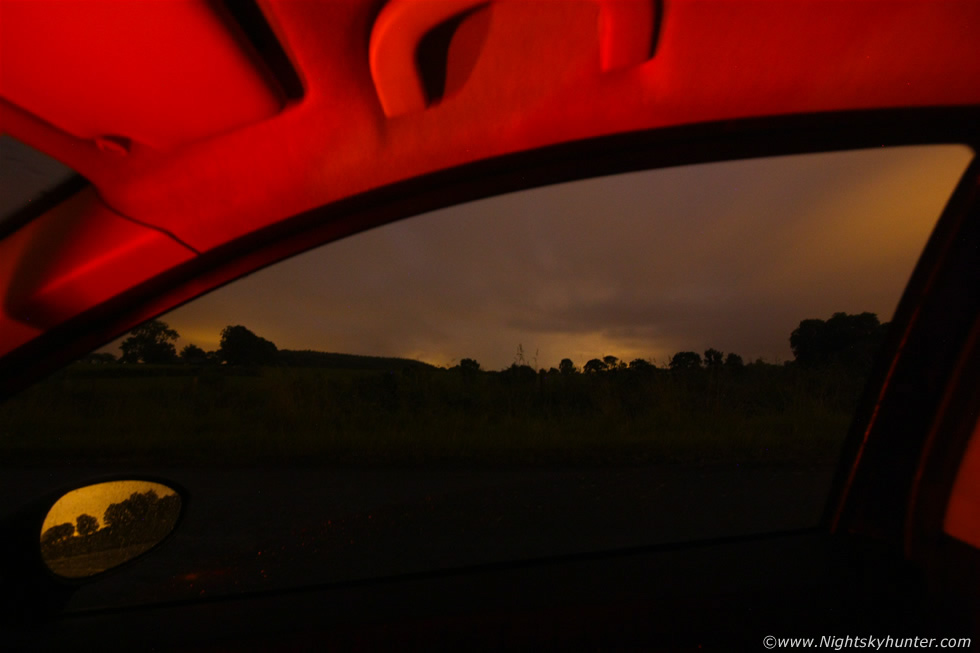 The lightning stopped and the rain began to hit me, at first refreshing drops on my skin which I welcomed then suddenly it turned into a full on downpour, before this it was so quiet I could hear the Cows sleeping in the field behind me and now it sounded as if someone had just turned on a shower before stepping in, it was that sudden. I ran back to the car, put the drivers window down so I could face E then I set the tripod up inside the car so the camera could shoot out the window while the lens stayed covered by the roof, it took quite a bit of adjusting of the tripod legs to get it level but it worked, I had to sit in the passenger seat and not move a muscle to avoid shaking the car. I took exposure after exposure however the lightning seemed to have been done for the night, the above image is one of those patrol captures, it really was pouring out of the heavens at this point and because the window was open the driver's seat was soaked so I got a wet ass as I drove back home, it was 04.00 and yet again I set the alarm for 08.00 for another day's chasing, only this time I had a really good feeing!
July 25th - Severe Thunderstorms - Best Storm Chase In Years!
Up early with little sleep and ready for my fourth day in a row of storm chasing, I have to say that as much as I enjoyed chasing far from home in new territory it was starting to get tedious and to be honest I was deeply craving storms in my own home territory this time, I felt like I had been neglecting my usual hunting areas and decided that I needed to rekindle my relationship with them, however I could only go where the models indicated was the best part of the country so my fate was in their hands. When I checked the last GFS run I smiled, it seemed nature was thinking the same way and as luck would have it the very finest CAPE values and model precip predictions where smack bang in central Ulster exactly where I wanted them, this was a great omen which got me even more pumped up for today's chase. I checked the models again to be sure and yip all the finest parameters where exactly where I wanted them, high CAPE, very low LIs, freezing air aloft, high moisture, strong solar heating, several troughs and most important of all was a very well defined convergence zone which was the final piece in the atmospheric jig saw which when assembled said - risk of severe thunderstorms, large hail, funnel clouds and even weak tornadoes, the convergence combined with just enough vertical wind shear meant that storms would form quickly with plenty of lift, any strong updraughts would get tilted over in the stronger shear so one gets updraught-downdraught separation which meant cells would be organised with longer life spans and hence a greater potential for severe weather. This had the potential to be a very interesting day and rite from the word go there was action.
It was still early morning and the sun was shining strongly into my bedroom window, the humidity was making me sweat even when sitting on the computer chair, at this hour I new these to be good signs then a look at the sferics charts immediately put me in combat mode. There was already c-g lightning near Derry and just below the border and the radar showed weak echoes turning moderate with red intensity spots, that's strong for this early hour, on closer inspection in conjunction with the sat images it was clear that a huge convergence line had formed, I could clearly see it extending from SW to NE crossing through the entire far W sector of N. Ireland and ending near Donegal over the ocean. It was clear things were happening fast and that this would be another day on the road and not to be wasted on the computer however I had to think my strategy through, should I drive all the way W and meet the convergence line (CL) this early in the morning or sit tight and wait for the CL to move slowly E across the country and meet me near home?, the latter sounded better, it would save fuel however it was also the lazy option, I knew from experience that once convection started going up then there was a chance of something amazing happening and I sure has hell wouldn't be seeing it staring at the computer. Besides, CLs are notorious funnel producers and those could happen at any minute - if not already - so I decided I would stick to my own tactic which was simply this - don't think about it, just do it - the nearest segment of the line was near Derry so I decided I would drive to this general area and get a visual, more sferics appeared and the back end of the CL seemed to be picking up too so I sent Paul Martin a quick pm through facebook then hit the road.
My Mum and our dog Rua once again came a long with me for the run, I put fuel in the car in Maghera and the lady behind the counter asked me - as she had on the three days before - if there was a chance of storms, she loved storms so I told her my plan then hit the road. I felt on absolute top form as we climbed Glenshane Pass onto higher ground as the sky yawned open to reveal my favourite kind of pre-storm skies, these were days when the sun was hot, everything was bright and wonderful, the sky was blue and white convection boiled merrily and with great promise all around me as far as the eye could see, it was good quality stuff too and so active in every direction that I didn't know where to look first, this was eye candy and I had a feeling this was going to be an exciting and busy day ahead and as we reached the top of Glenshane I could see the CL far away in the distance sporting numerous sprouting towers and several anvils, I decided to head for the nearest and top (N) cell and made a beeline for it.
We stopped just outside Derry on the shoulder to get a visual inspection on the lead cell, to be honest it looked like it was now outflow dominant however we watched and waited patiently to see what it would do, there was a crappy looking shelf cloud spanning the entire front lip of the cell which hung over the main curving road towards Derry and over the adjacent fields, I could hear no thunder or see lightning, the structure was rubbish but for some reason I took plenty of images anyway, I ran across the busy road and stood up on a farmer's gate to get shots with better foreground and several cars beeped their horns at me as if they knew me, I certainly had no idea who they were. My 18-55mm kit lens was playing up badly, I had damaged it at the Giant's Causeway months ago during a relentless all-night shoot but it still worked however today of all days it decided to pack up, I had other lenses but this one was suitable for this scene with a good focal length range and IS to counteract my slightly shaking hands. The lens wouldn't auto focus in spot focusing mode and it didn't meter anymore, the view through the viewfinder was almost black so I switched back to my trusty 10-22mm ultra wide angle which was for serious business. I text Paul for some radar info and he confirmed what I already suspected, this cell was dead however there were big developments at the bottom (S) part of the CL and sure enough from here I could see ferocious looking updraughts exploding upward which got me saying ''wow'' over and over to myself.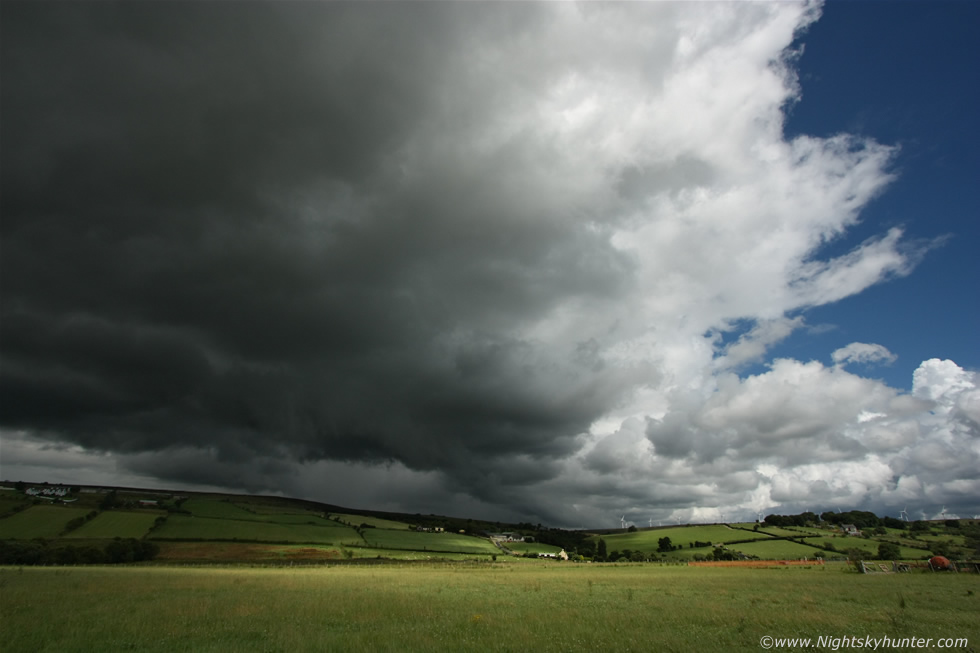 It was decision making time again, should I stay committed here for the rest of the day as I was certain there would be developments or head back home again and study everything online then shoot back out again?, the latter seemed the best idea, there was so much happening so fast that I needed as much intelligence gathering as possible so I left the Derry cells and retraced our route back over the Sperrins, however by this stage there was tasty convection going up everywhere, not just along the CL, but also further S and E near Lough Neagh and Antrim too. This was like shooting Fish in a barrel, but the question was which Fish to shoot?, which one would be a 10 pound Salmon in the next few hours and which would be stickleback?, radar and instincts were needed so I continued heading E over the mountain, I got a few more text messages from Paul which were getting more excited each time, I could almost sense his adrenaline pumping as he keyed in the words. Paul was leaving house and chasing after the S cells in the line which where to the W of Omagh, this was a good sign as there must be serious activity going on if Paul was already on the chase at this early stage of the convective day so I knew he was onto something good, he informed me he was chasing the storms which would be heading towards Cookstown in a while so he would be in that area, I didn't know my own game plan yet so I said I would get back to him and we would probably meet later.
I saw this cool scene over the mountains directly at the highest point of Glenshane out N over the Sperrins so we pulled over once again for another look. The above and below image captures this scene, this was the updraught base of a very young cell growing over the mountain taken at 10mm, the dark belly of solid cloud was ingesting plenty of warm moist air unabated so the cell was feeding nicely on the atmospheric juice while growing vertically by the second. Mid level cloud blocked any of the higher structure however through gaps I could see several gleaming white sturdy towers and the first wispy structure of an anvil forming. The dark region below is the inflow region where a nice row of solid chunky cloud could clearly be seen lifting into the base in such a manner which said 'something is going to happen' so I watched knowing full well there was a chance of a funnel appearing, the light was perfect with the beautiful sunlit fields below, the light and contrast was excellent for shooting and definitely the best storm photography conditions all week and it was hard to believe it was only 12 o'clock, I felt like I had already been out for hours.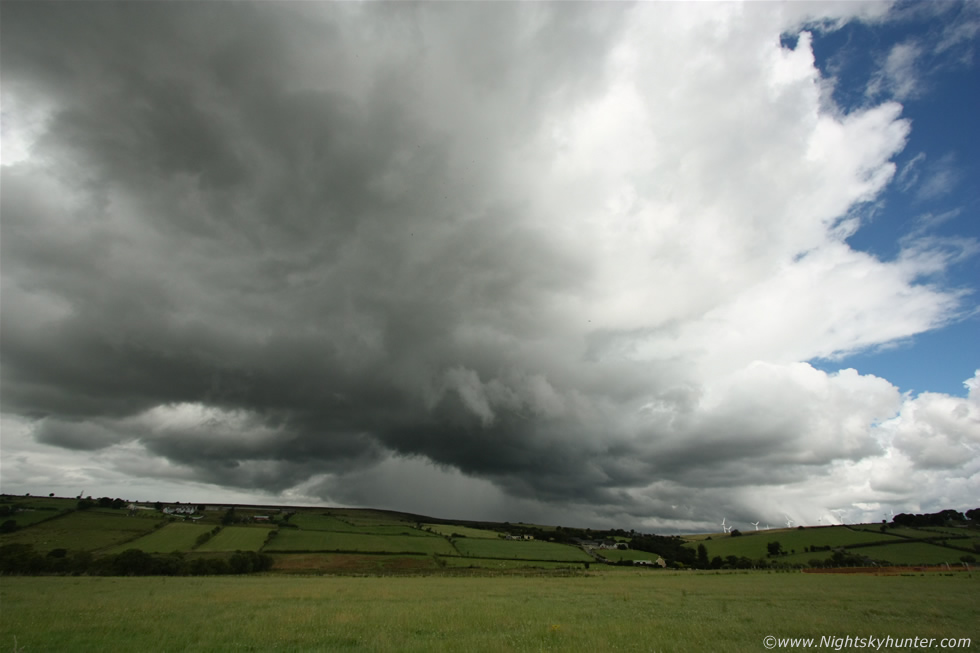 Same scene min's later but now look at the change to the base, it was organising fast however I was loosing the sunlight as the fast growing anvil - partially visible to upper R - was now blocking the sun forcing me to increase the ISO to 200. The base looked even more solid and in the distance, behind the base, you can see precip falling from the core, both features were well separated which was a good sign. I watched and watched for funnels, I saw no rotation then I felt a sudden sharp chill in the air blowing across the fields from the cell, that was the gust front or outflow and the temp drop was so low I felt it had to be affecting the inflow now so I decided to let the cell go, I needed warm moist inflow, not cool outflow so I turned my back on the cell and took several telephoto shots of towering cumulus and cb Calvus heads to my E then got back on the road. I felt this very strong compulsion to move quickly and also I noted that Paul was quiet with no further communication which meant he must be in the middle of action somewhere. Further down the road I saw the cell we had just left and it made for a sublime sight in the rear view mirror as it crossed the road behind us boasting a healthy white anvil and tidy flanking towers in the rear, it was a beauty, it was almost about to become a storm and I am pretty sure it would drop a funnel too, however I had made my decision and got on with it, I had to stop looking in the mirror because it was affecting my driving and it was making me second guess my decision so I put it out of sight and out of mind and so it went back into the atmospheric ocean like a unwanted trout, I wasn't accepting small fry today, I had earned my rite of passage this week already so I had intended on catching the big Salmon further S and these become the focus of my attention.
I drove back as fast as I legally could then once at home I raced upstairs to the computer and got straight on the radar. Holy crap there was a massive convergence zone running the same direction, SW to NE cutting N. Ireland down the middle like the slash from a broad sword but instead of blood there was red radar echoes, from below the border and rite up to the N where I had been was a row of mean cells, more like an orgy of storms with cbs and towers back to back in a slow moving line with lightning breaking out everywhere however it was clear that the absolute finest show was happening along the S portion of the line exactly where Paul was located, no wonder he was so quiet!, the CL had shifted further E since my last radar check and now it was located just to the W of central Ulster and by the look of things there was no question the most intense thunderstorms where between Omagh and Cookstown drifting my way, I made another attempt at communicating with Paul but got no response to my texts so I rang him from my land line and still no joy so I wasted no more time, it was clear the best storms where S so my plan was to head to the S side of Cookstown and intercept these storms and with luck I would run into Paul and we could join forces and go fishing. This time I firmly told my Mum that she couldn't go because there was a lot going to happen and that it was going to be an intense day and we could be away for hours, she knew by my serious mode that what I was really saying was that I was so focused that I needed to be one my own as I didn't want held back and to be honest I didn't want someone beside me to blame if things went bust so she got the message and let me get on with it.
I jumped over the fence and got into the car and was on the road in no time, my excitement levels were very high and I couldn't wait to get into the action, this was make or break, I had to act now. The traffic was good and I made steady progress on the busier roads, when outside Desertmartin I saw stunning convection everywhere, especially to my E and over Lough Neagh, the towers were explosive and very photogenic and temptation got the better of me so I pulled off the road to get a few shots which I really shouldn't be doing because I needed to get to the other side of Cookstown before it was too late, if I got struck in traffic in town centre when the storm arrived I would have lost my chance of decent storm structure shots so time was not on my side, however I got suckered by the E convection regardless. Unfortunately the only place at the roadside I could get into had a tall hedge blocking my view to the E which was like a slap in the face for me being so stupid so I quickly used the chance to text Paul one last time to inform him I was heading outside Cookstown, then I was back on the road.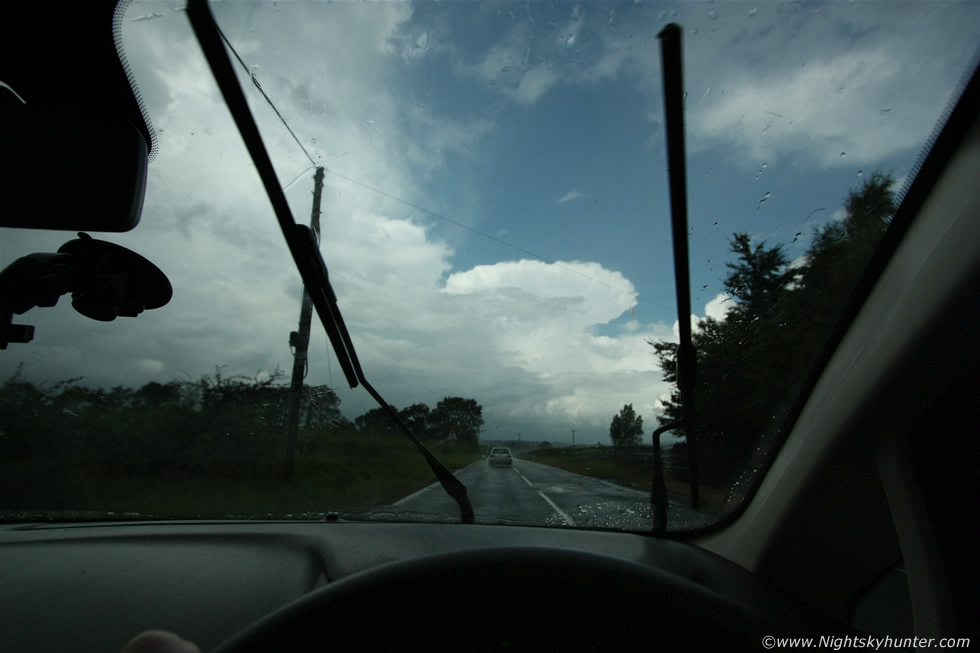 I passed swiftly through Moneymore then Cookstown was in my sights, the sky was getting darker the closer I got and soon the dipped headlights were on. Once in town centre my progress came to a halt with slow moving traffic and annoying drivers, the traffic lights seemed unbelievably slower than normal and I began to get very agitated and impatient, I hit the wheel a few times talking to myself, ''didn't these people know I was chasing a storm?''. After what seemed like an hour of slow movement - as viewed through my fast moving mind - I eventually got to the end of town and broke free from the traffic when I got onto the Omagh side the road widened out and the sky revealed itself, it was like a breath of fresh air as the road yawned open and I entered the countryside with a sky dominated by several full blown thunderstorms, I had made it just in time. I continued S, the rain turned heavy and the wipers earned their keep, as I punched through the core of a cell I entered a lucky clear gap and saw this stunning cell dead ahead, I couldn't stop the car so I took this sneaky 10mm shot through the windscreen. Check out how perfectly symmetrical that anvil is. A row of huge cells could be seen extending away into the distance to the R (N) however the meanest stuff was behind that hedge on the left and it was about to come into view.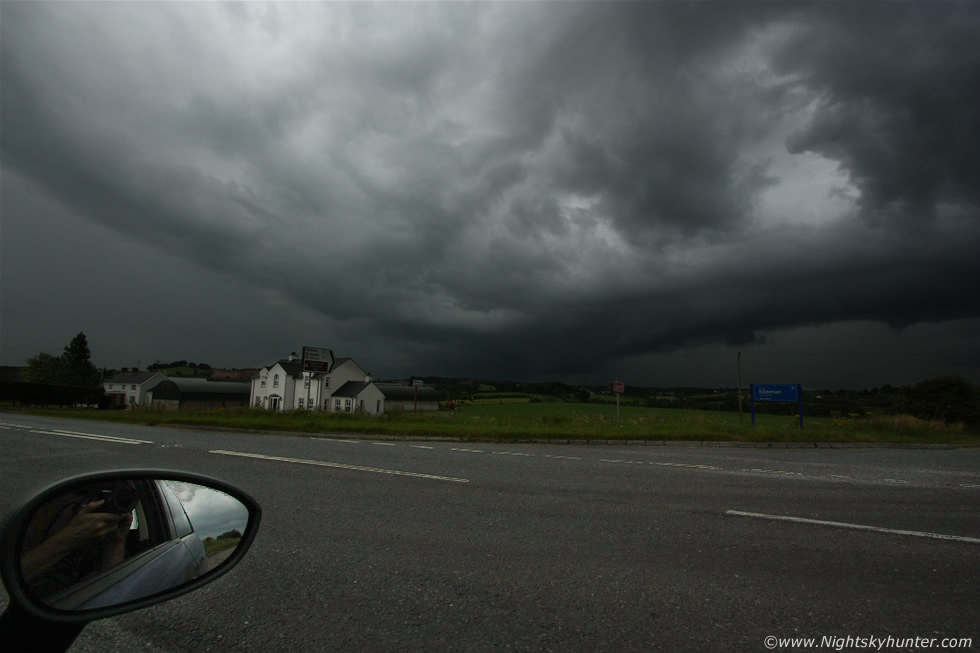 I applied more pressure to the accelerator and got into a clearance and there was the storm looking mean and threatening over the fields to my half L, I was still having trouble finding a location to pull over where I could get shots then I recalled an opportune place I had passed a few min's early on my R so I turned around and drove back N a few miles and found it, the above image was taken from this location on the main Cookstown to Omagh road. Here you can see the S central portion of that huge CL, a storm cell can be see on the L of the building along with a severe thunderstorm to the R sporting a very dense precip line and brutal dark clouds, you can clearly see the storm's shelf cloud marking the gust front moving slowly towards me and slightly to the L. Pink lightning lit up the rain from inside and thunder growled across the landscape. I took a number of images under pressure as the storm neared and cars raced past me on the busy road but this one is my favourite showing the wing mirror, a classic storm chase scene. I also set my video camera on the roof and let it record while I took more stills.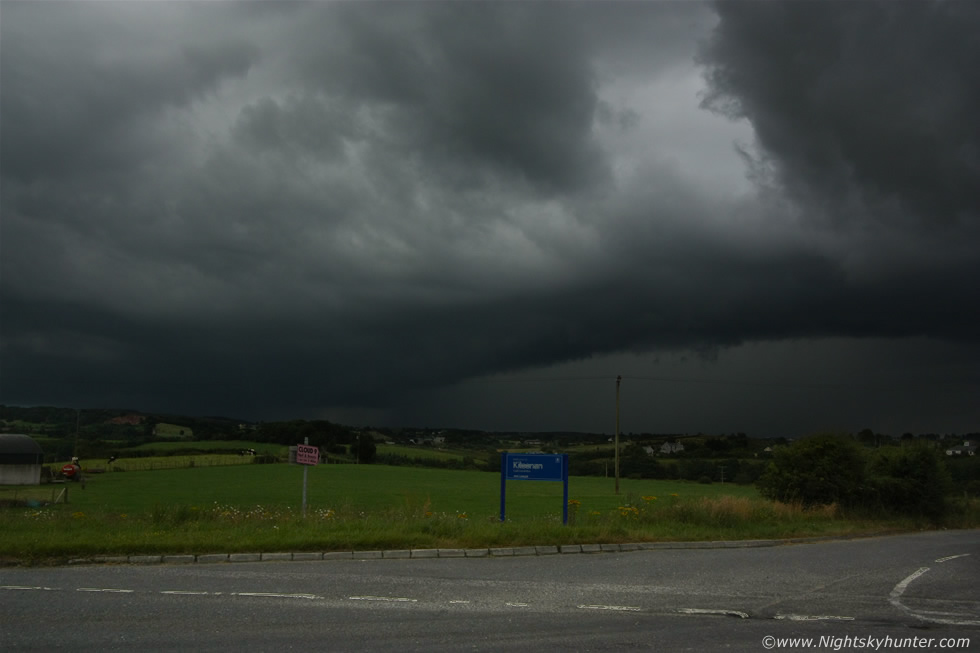 Zooming from 10mm to 22mm, the sky was very dark and looked brilliant, I was in the zone completely and lost all track of time, jezz how long had I been chasing sky action today?, this week?, it was all blending into one movie in my mind, the pace was picking up fast, the storm getting closer and more lightning flashed, the thunder seemed to say ''catch me if you can''. It was a busy junction, cars passed from the L and R, a storm in front and that other road directly opposite me, I saw a car emerge from that very road, it was the exact same car as Paul's so I waved at the car and pointed up, I couldn't see into the car however the driver seemed hesitant, came out then turned full circle and went back down the very road he had emerged from. I assumed it was Paul in mid chase, he probably was evaluating the sky and had decided to race to some local spot to get a few shots with better foreground.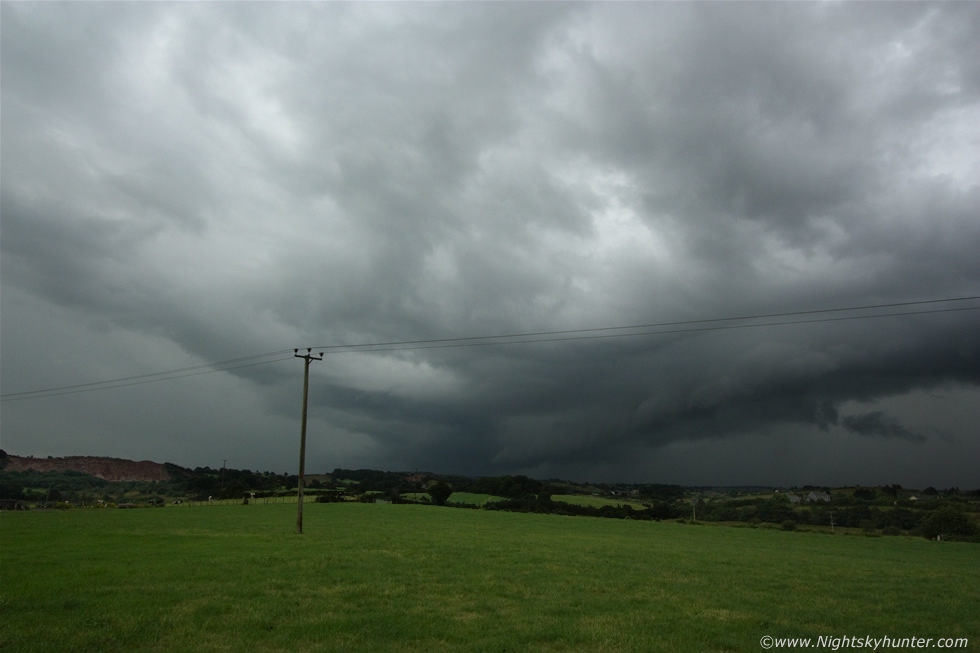 I waited a while then decided to give chase myself and headed down that very same road only this road was much more narrow and I didn't see any options for pulling over for shots due to trees, I didn't know where Paul was heading so I cut my drive in that direction short as it didn't look like a good option. I found a break in the hedge and just about squeezed the car into it adjacent to a gate with a nice flat view across a vast field so I got a few more images here. This was my favourite structure shot of this storm, check out the solid bowing shelf cloud and how intense that precip is. More lightning struck down within the precip either side of the telegraph pole accompanied by loud rumbles, this was a very active storm and certainly worthy of proper chasing with more strategy than usual.
The storm was closing in but starting to take on a more dominant R to L direction so I needed to stay in front so I was back in the car racing S again along the Cookstown-Omagh road which had now become my version of the great plains. I took a back road which initially looked good then it turned into a twisting mess with high hedges with the only place to stop being outside the yard of country homes which immediately drew too much attention to my presence, I was starting to look suspicious so I cleared out of there and wondered where my next move was going to be. Suddenly my mobile rang, I stopped and answered, it was Paul, we exchanged brief intense comments on the storm them decided we should meet, it was obvious that car I had thought was Paul's was not him at all, Paul was much further S and on his way N and would be near my location soon, we decided to meet at an obvious location, I recalled passing a couple of parked trucks along the main road so we decided to meet there.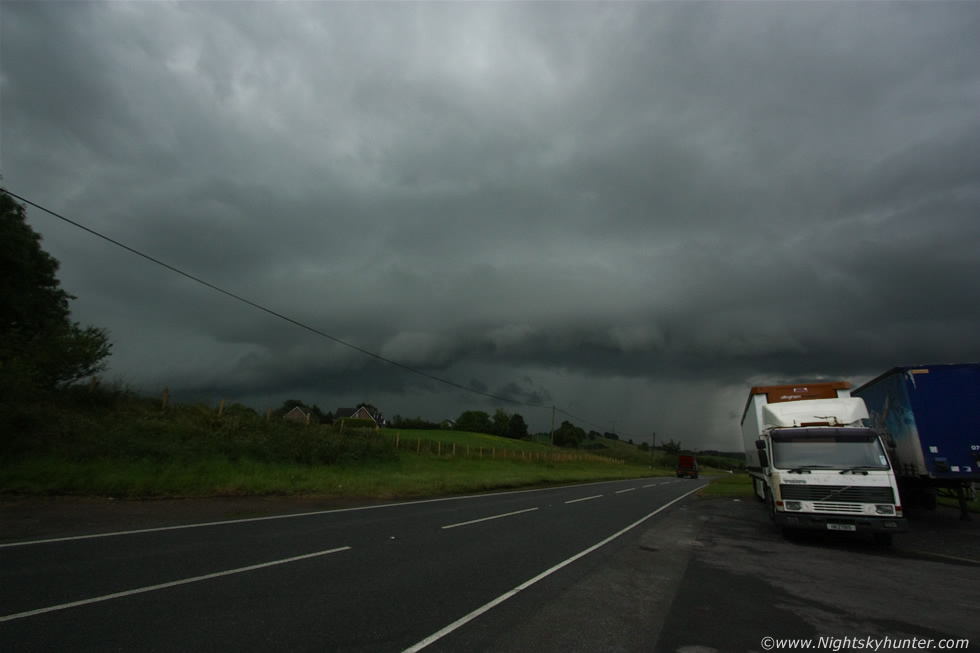 Min's later I was parked at the road beside the trucks waiting on Paul to arrive. The shelf cloud was a mean sight over the main road with good structure while thunder continued to rumble and lightning whipped several i-c and more deadly c-g bolts from the core, I got out for a few shots to get up close and personal with the storm, it was a lot closer than it seems in this ultra wide angle capture. I could see a marked green colour within the precip and even within the shelf cloud, green is rare in this country and is more typical of severe thunderstorms in the US, the mechanism behind the colour is not fully understand however it is believed to be caused by the filtering effects of sunlight through dense precip and is most typically a sign of large hail stones. I have only seen this colour twice before with the most striking example observed in a severe storm in 2009. The colour doesn't show well on images and is definitely much more of a visual phenomena however you can see a hint of it here. However green wasn't all that was happening, I also could see very striking rotation to the centre of the storm behind the shelf where those dark scud clouds were operating. I mean this was rotating full tilt, it was very easy to see with great consistent turning motion, this rotation and the structure reminded me of videos I had watched of a HP supercell.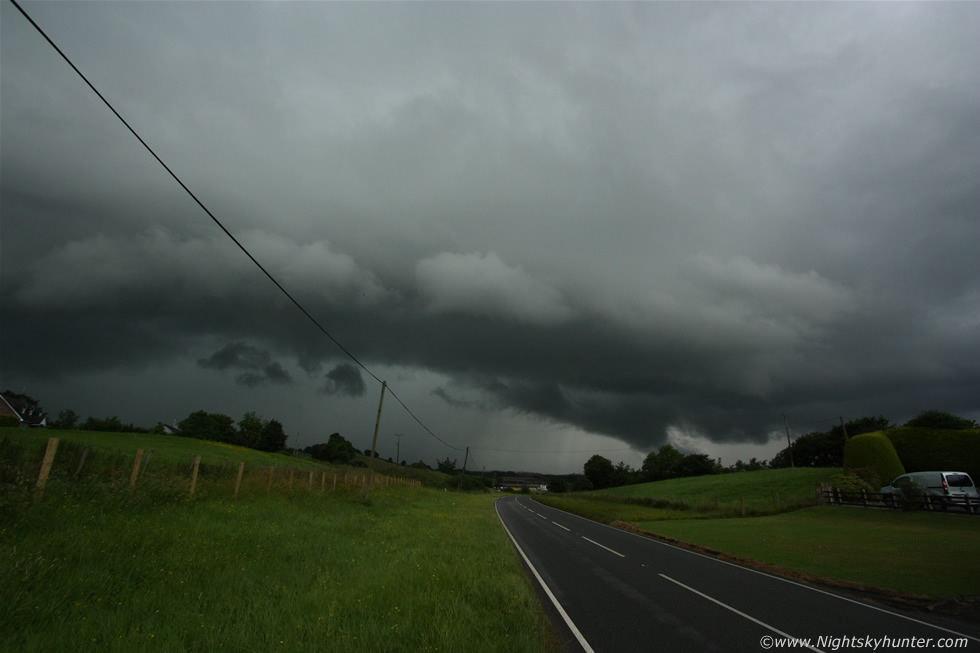 I was taking images and a quick video clip at the same time and didn't realise I was talking to myself, I said out loud ''rotation'', it was meant to address the sky and not meant for human ears however when I glanced to my R I saw several men inside the shed - who owned the trucks - who had been watching me and no doubt thought my actions were a little odd, however even they began watching the sky too when the storm announced itself through the aperture of their work station. I ran across the road for a better angle, climbed the grassy bank and rested the camera on a fence post top for support, the storm was rotating proudly and at times I saw black formations of scud lowering down in front of the preicp and directly under the central point of the rotation, it almost looked like brief spin ups were happening for a few sec's however the lowerings were not tight enough to be called funnels, regardless it was a testament to how much this storm was spinning. Here's the storm looming over the road, the entire convergence line extended for miles either side of this frame. I looked behind me and saw Paul's car pull in alongside my own so I ran back for a quick catchup on the storm.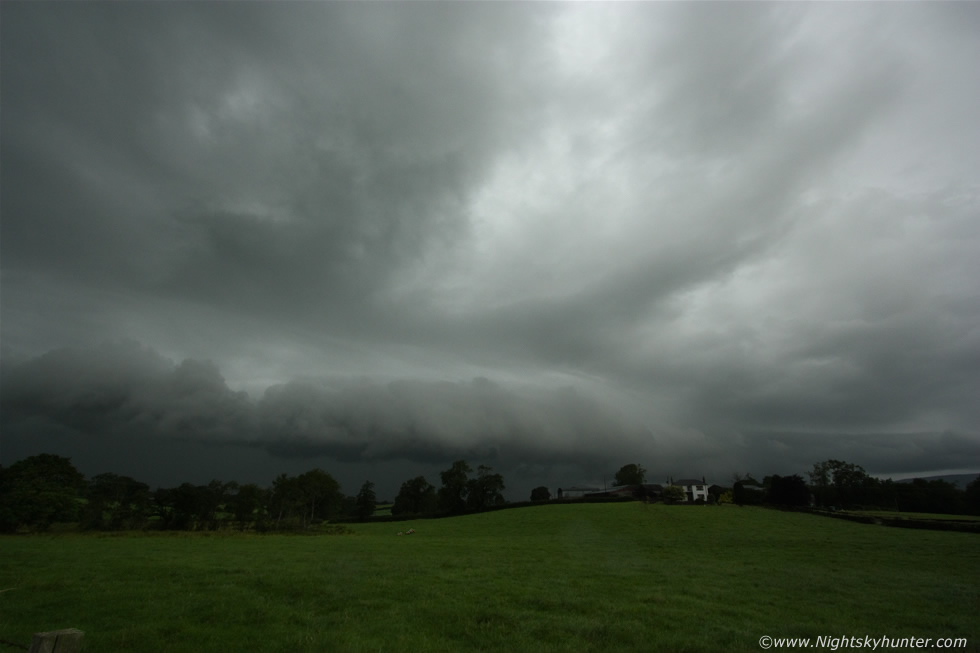 With only a few min's before the storm was over us we cut out any small talk as we could discuss everything later so we decided we would make a play on this storm, it was obvious by it's temper it was the main event of the day and there was no sign of it weakening so our game plan was pretty straight forward, we would always stay ahead of the storm but still within close visual range, we would do quick stops to get out and shoot the ever evolving shelf cloud then drive ahead of it again, it would be a game of cat and mouse and it would involve much fast decision making on our part and as long as we didn't let it overtake us - unless we wanted it to - then it would be a success, the massive storm system was rather slow moving and riding the convergence zone nicely while still shifting NE however the storm was no longer in control of us, this time we had the control, it was our territory and we knew the roads so now it was time to enjoy the storm, after all, we had been training to do this in Fermanagh the last three days and feeling as sharp and as practiced as we were I knew this would be a walk in the park for us. We left the road side and headed back N on the main road heading for Cookstown, Paul's car was in the lead and I was following behind.
We drove through various roads which gave us the shortest journey through busy Cookstown, I was driving while at the same time filming out the window with the other hand for on view was a stunning mass of white convection further E which was tall enough to be towering high over the buildings as we drive through town, the cell looked like several mountains stacked one on top of the other with bugling updraughts and anvil, it was a beast of a storm which looked like it was over Lough Neagh and I could sense that Paul was watching it too, it was almost tempting to break chase and go after that cell however we remained committed to our own. We escaped the last of the roundabouts in Cookstown and made it onto the main road to the N of town which was less congested and which offered us a great open view of the sky. We drove fast along the carriageway and in both rear view mirrors I could see the dark shelf cloud taking up the entire sky, I took a chance and had a quick look out the driver's window to my 5 o'clock position and could see great rotation under the L (E) side of the storm. We needed to stop for another image and Paul was thinking the same so we got off the main and parked bumper to bumber on the shoulder then climbed up another steep grass embankment and here was the scene. The shelf cloud looked very menacing as it loomed over the fields and was taking on a double stacked laminar profile.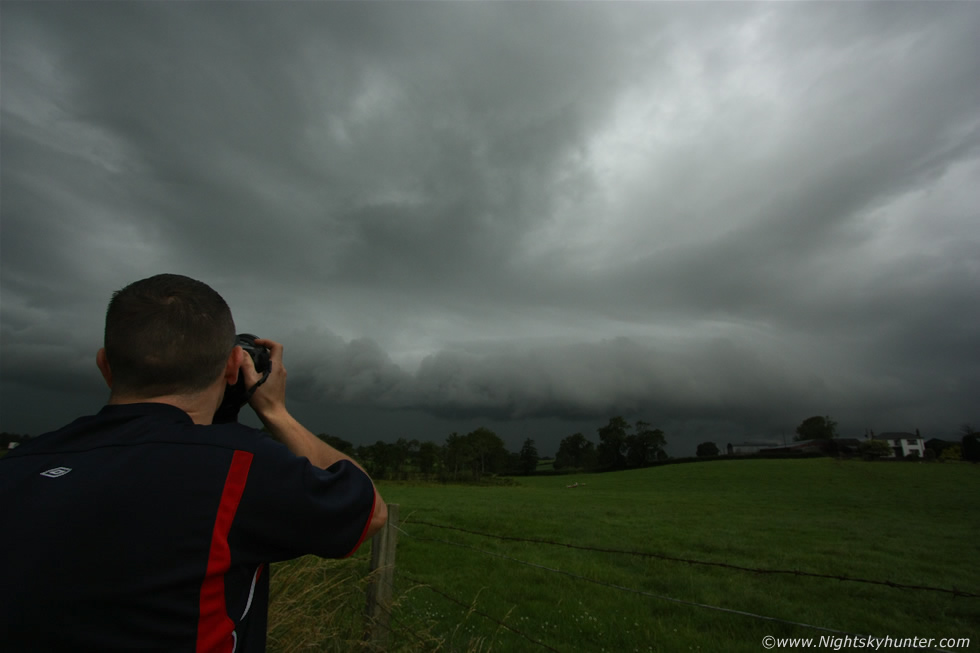 Paul in the foreground for a sense of scale, the rest of the storm extended out of frame to the L across the carriageway and across the countryside into the E covering miles of landscape as thunder continued to rumble, we took the visual scene in, got a few more images, then where back in the cars again driving N and E to stay ahead of the beast. This time I was in front and together we made sure to get well ahead of the storm because the next time we stopped we needed to make a few decisions on what we were going to do as there would be various road options to use. After a good bit of driving we stopped at the layby outside Desertmartin then got out to watch, our view was slightly obstructed by a tall hedge however we could see enough to study the structure. To be honest the storm looked very different and a little more messy, there was mammatus high up on the forward side of the anvil which was a little unusual however the overall structure looked more disorganized to me but it wasn't long before we pushed aside any doubts when more lightning was observed and we noted two areas of very intense rainfall which looked very nasty, we were sure there was going to be flooding today. Paul got a quick look online, the radar for this storm was awesome, the lead core was pure white and had been for a long time, white is the very top of the scale and indicates torrential rain, however in this case it would be very slow moving rain and hail stones so anyone living in flood prone areas under that core was having a very bad day, the radar was so spectacular that we decided to continue chasing and the storm seemed to be taking a big liking to the Sperrins so that became our next pit stop, both cars where back on the road.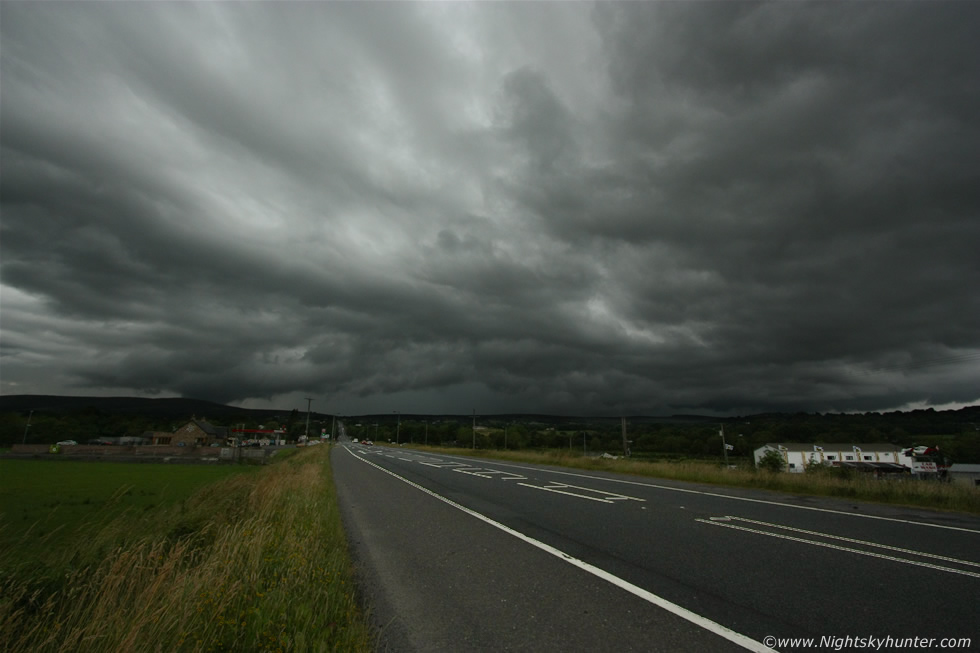 Both of us where racing along the main Glenshane Road and through the windscreen I had a terrific view of the storm over the Sperrins to the NW, the dark green colour within the precip was vivid and was impressive enough to get me talking out loud to myself in the car however the road was too active for risking any shots out the window so I let the chance go and continued on in search of an open space, I know this area very well, it's where I spend much of my Summer and Winter weather hunting exploits so I know the best roads and vantage points, and this was one of them on the S side of the road on the shoulder near Oak Leaf restaurant and petrol station. We both got out and began shooting, I set up my video camera on a tripod and let it film while I took stills at 10mm, here's the storm in front of us, moving L to R over the mountains with mid level cloud covering any view of the updraught or anvil however you can see the strong precip area and the green colour was picked up with the camera too, that really was a tasty core out there and the radar showed it was still white which was shocking, this core had now been at the top of the scale for several hours and was still going, there was no question that this was a severe thunderstorm, those kind of signatures for such long duration were a classic sign of organisation and hence severity. There where episodic ropey scud suckers hanging from the back of the core at times and the core would flash from internal lightning and funnel cloud reports would come in later from the NW part of the country behind that core so there was major stuff going on.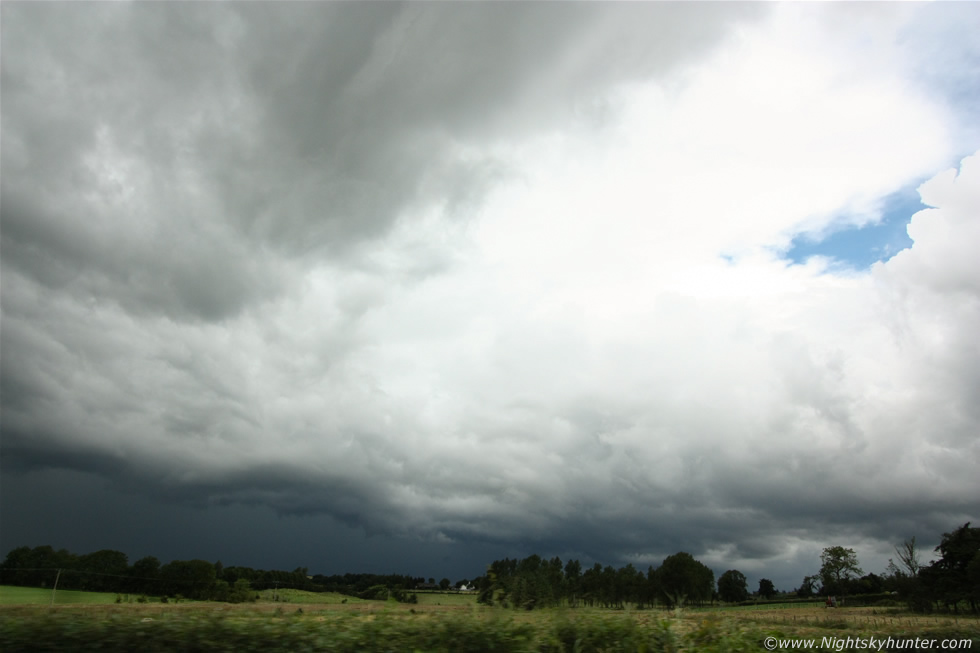 The storm was shifting quite strongly NE so yet again we hit the road only this time we decided that there was no point chasing in two cars so we parked in the Maghera park n ride and I exchanged my camera gear and flask etc over to Paul's car then we headed N back on the chase again, we exited Maghera then onto the Coleraine Road, if we kept going N we would only intercept the trailing cells however our primary goal was the lead green core so we chose NE that way we could keep to its side and do so at a distance which meant we could watch it's ever changing structure. So here we where speeding down the country roads outside Upperlands looking for places to stop and shoot, we couldn't see any so we just kept driving on, Paul was doing a great job keeping pace with the storm, I put down the passenger window and fired of several 10mm shots to the NW at the storm as trees and hedges whipped past the window, here's one of them showing the core, storm moving L to R, lightning pulsed like a warning light and part of the upper tower and anvil came into view (burnt out) however the dynamic range of light was too much for the camera to handle. I later got an email informing me that around the time this image was taken there were unconfirmed reports of hail stones between 2cm and 3cm falling under the core.
This part of the chase became a bit of a blur for me, it had been such a long busy day and it already felt like days of chasing squeezed into the one chase, to add to the dizziness we drove down so many country roads that I can't even recall exactly where we where located at one point. I knew we where somewhere in the country near Resharkin, the road to Ballymoney, road to Ballymena and road signs marking side roads I can't even remember, we where certainly deep in the country and were pretty much winging it at this point and trusting our instincts. We spent some time parked on top of a hill with the car reversed into a tractor path with the nose of the car facing W with a nice view across fields and barns. There was an active core far ahead of us (our target) and a very active new core behind us far away to the SE which must have been a new storm which had gone up along the CL, we stood outside and listened to a lot of thunder then we got back in the car for a break and much needed water to get hydrated, this was beginning to feel like a living dream to me and I realised I hadn't even eaten anything all day except for something light during breakfast so I must have been going on pure adrenaline all day and I didn't even feel hungry or tired, in fact, I was bursting with energy and ready for more chasing. Our primary cell out front was getting more active once again and we had several occurrences of very close thunder and the radar still showed white echoes from that core, this was astonishing as I have never seen a white radar signature last for so long during all the years I have been following this subject.
We went back on the chase, it was obvious the storm was a major outflow affair now so structure didn't concern us, we had seen the storm at it's best and had already got structure images so now we wanted to focus our attention on lightning so we drove off again due W in the direction of the lead precip core. Our view was dissected for some time by more hedges and trees and the car tires got a free swim when they encountered deep puddles at the sides of the road which sent waves of water over the windows then we came to the top of another hill in the middle of nowhere and stopped once more. We climbed over a rickety gate and entered a field full of Sheep, walked around a spooky looking derelict building and got out into an open field which offered us a wonderful view across the land with the storm sitting over the hills covering the entire W to NW horizon with multiple precip cores dumping water and ice all over the country. We stayed for a short while getting images and video however rain was falling on us and soaking our cameras so we had to pack them away, lightning was close by and the air felt eerie and charged as if something was about to happen, we where standing on high open ground and realised we were at a real risk of getting struck so we packed up and went back to the car.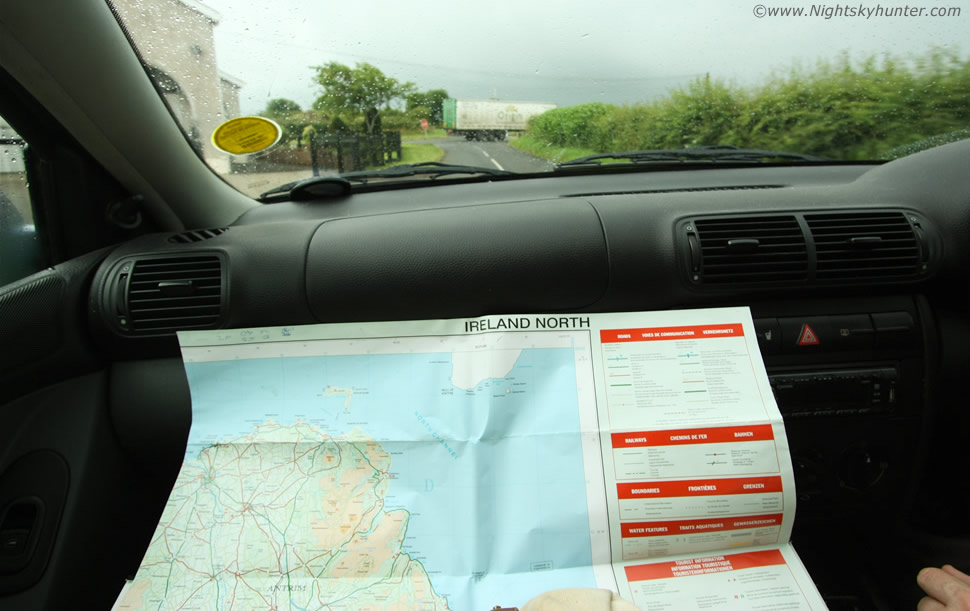 Back in hot pursuit through the back roads and quite honestly I had never been on these roads in my life before, we were going visual and just choosing roads which led to the storm's primary core as more heavy rain lashed the windscreen and puddles exploded like sea mines all around us. I was navigating, I took this quick snap as we bounced across these back roads, I was having trouble finding where we where on the map as the road signs we passed where not plotted on it.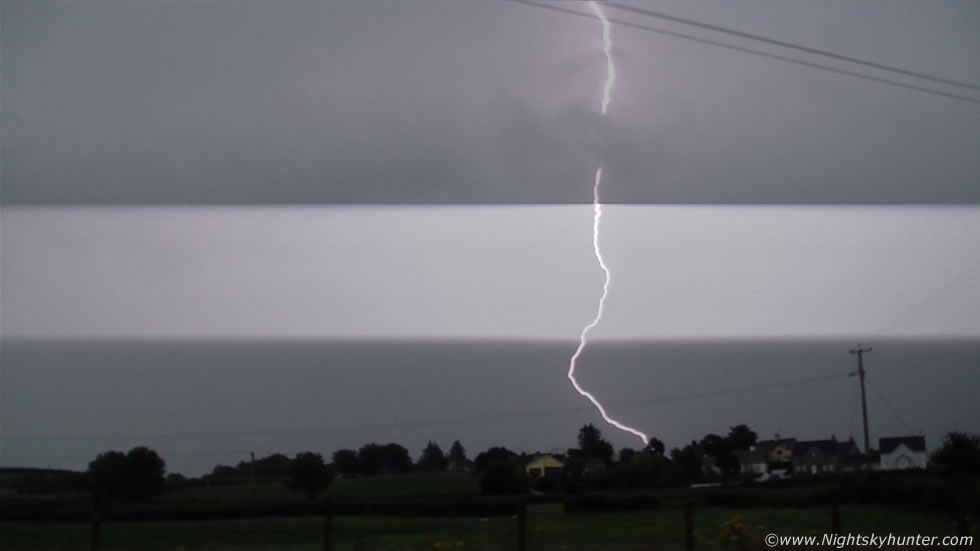 We came to a junction which merged with the main road towards Ballymoney, we where going to head that direction however Paul's instincts told him not to do so as the traffic was too dense, this was rush hour and we would end up getting trapped and in effect would snooker ourselves so on an impulse Paul crossed the road and went straight ahead into the countryside again and we ended up in a place called Cloughmills where we pulled over and got prepared to watch for lightning. It was raining and the sky was devoid of structure, we knew we where just a few miles from the core so we stayed put then changed the angle of the car to a strategic angle, I put down the passenger window and started filming with my video camera, the rain was dripping in the open window and soaking my jeans and it wasn't long before I was cold and wet but I perserved regardless. Suddenly a bright flash of lightning lit up the sky above the car, we couldn't see the bolt itself however we knew it was overhead and very close and a split second after the flash we both could hear a very clear sizzling sound coming from the phone wires!!...then a massive rumble of thunder which was so powerful and close that it actually shook the entire car, I mean the car actually rocked!!, if that wasn't exciting enough we both felt the shock wave pass straight through our bodies, that was bloody awesome, what a rush!!, we both burst out laughing, you can see some of this on the video clips below.
I continued filming out the window then strike!!, a brilliant pink cloud to ground (c-g) bolt struck the ground behind the tree line followed by another loud roll of thunder, I shouted to Paul ''I got that!!'', indeed I had and when I played it back I was delighted to have caught the c-g on the video, here's that frame extracted from the AVI. The fishing was good with plenty of bites so Paul had a go too, he was using the video function on his DSLR however there was no manual control over the exposure, as a result the scene looked too bright because the camera automatically metered the scene and burned it out. Then he came up with the idea of using his mobile phone video footage which was much better, he held it near the window and waited very patiently then strike two!!! a stunning c-g hit the ground again and Paul had it on video, the bolt sported a beautiful purple-pink colour, we were delighted, this was the icing on the cake after an already stunning chase day, we couldn't complain now, we both had caught daylight bolts!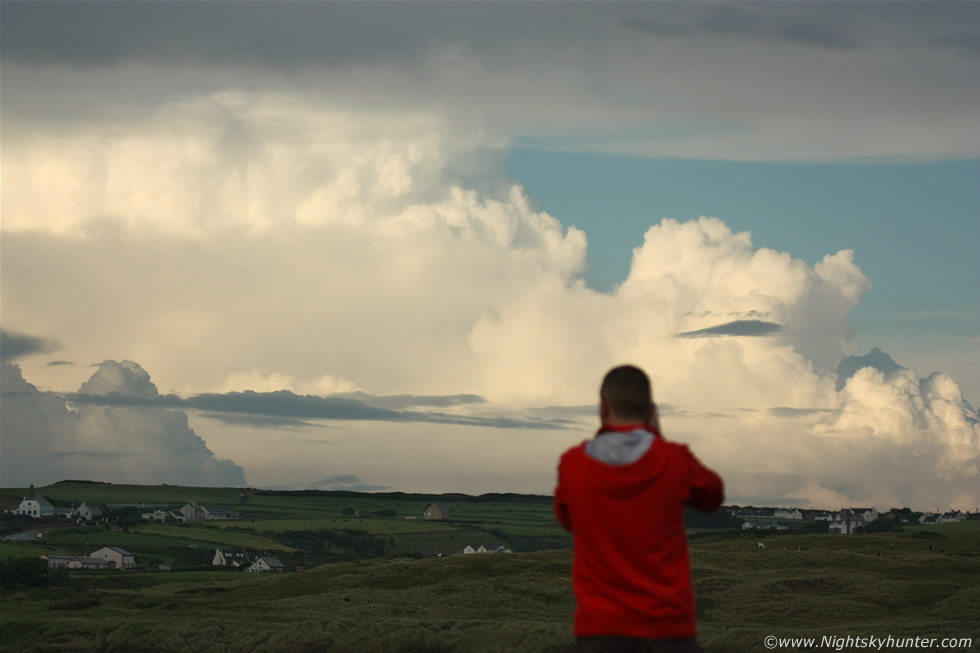 Suddenly tiredness and hunger hit us hard so we ended the chase and decided to go in search of something to eat, we took another back road then arrived in Bushmills where we ordered two chicken fillet burger meals then drove around to Portballintrae to devour them. The place was calm, the sky was bright and the sun was pleasant, such contrast to what we had been through earlier. After our well deserved meal we looked to the NE and saw this distant storm going up, radar showed it was away over W. Scotland and was producing lightning, the multicell made for a nice surprise evening treat, the sun was getting lower and the contrast was nice so I took a few images with the 100-400mm lens.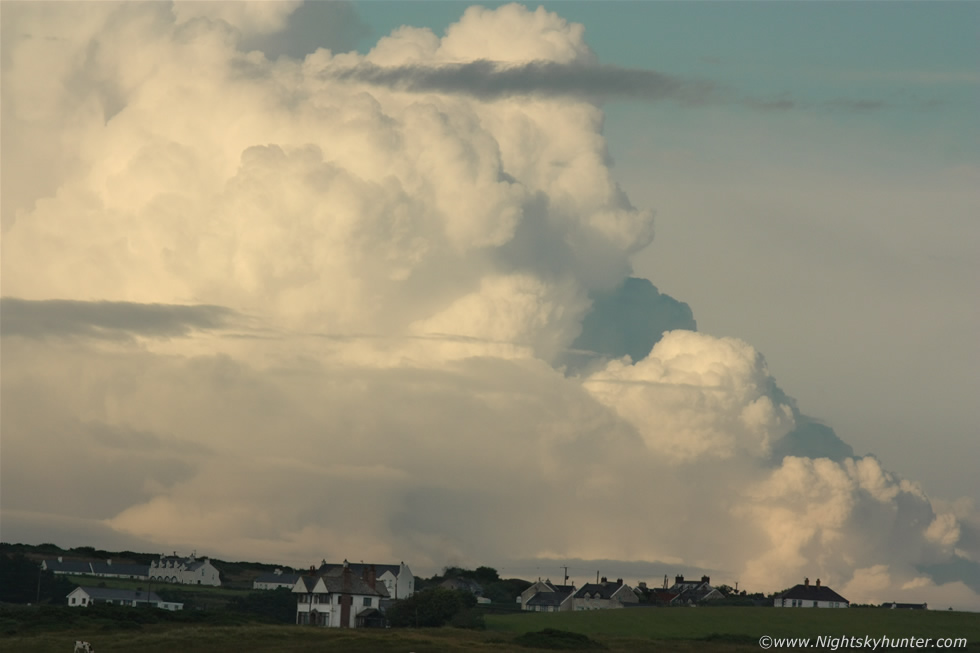 Full zoom into the flanking towers. We thought we were going to have a nice relaxing evening at the coast and maybe shoot the sunset until Paul checked the radar once again, another big storm had gone up over the border and was moving NE, it really couldn't have been more further away, if we waited here it would be darkness before it arrived and by then it would have died out, should we chase it?, if we did then that meant driving all the way back home then further S once again so we decided we would try so we immediately drove back, only this time through Portrush and then Garvagh and stopped at the park n ride bus car park in Maghera where I got back in the car, we had one more radar check which indicated the storm was still there although it had weakened somewhat, Paul lived in Omagh and would be going that way home and the storm would be passing near there however if I went after it too I would be leaving home and going back outside Cookstown just like I had done earlier, it would mean putting more fuel in the car in order to get home again, however I decided to go for it.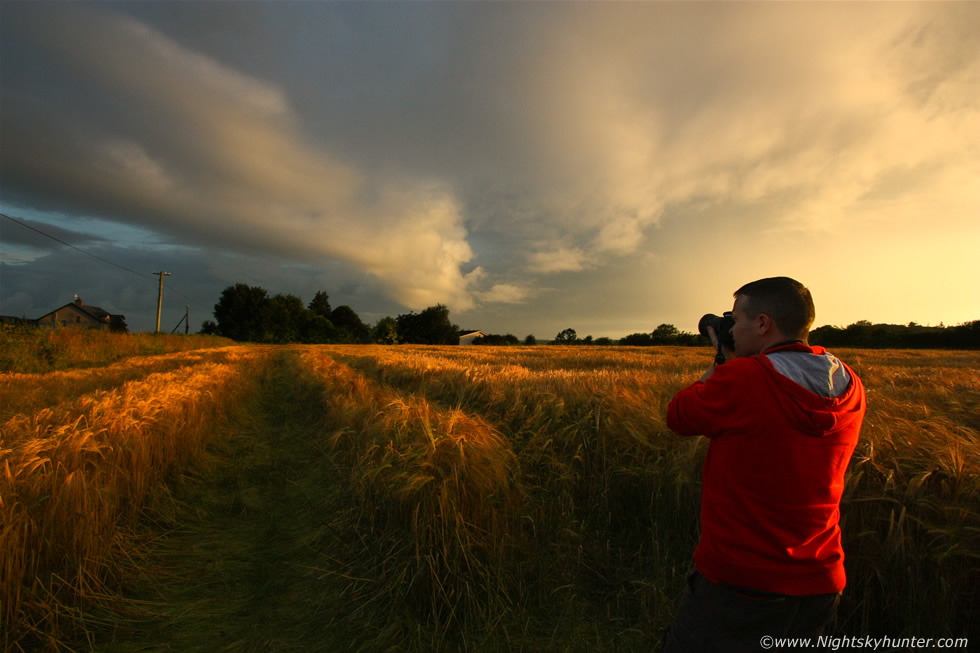 Paul drove off in his car and I in mine and together we went back through Desertmartin, Moneymore, and into Cookstown where earlier - a life time ago? - we had chased that big storm, we never would have thought back then that we would be chasing to the very N of the country then back all the way S again crossing our previous tracks. Good looking towers grew majestically in the area when we made it to the S of town and back on the Cookstown-Omagh main road and after a few miles we took a back road and stopped for a chat. We found this beautiful wheat field and thought it would be a great place to shoot the next storm from however the light was getting dark and the sky was grey, radar showed our target storm to be still some distance away and moving too slow, we got a visual on it many miles away however it would be a long wait so I decided to call it off, Paul would be meeting it on the way back anyway so we stayed for a while longer and had a good chat covering our thoughts on the day.
Slowly but surely the grey clouds parted and the bright sun revealed itself low in the W, it's warm light bathed the wheat field turning into a crop of gold, it was such a beautiful sight, we climbed over the gate and got a selection of images standing within the golden stalks, it was fantastic - a great end to a great chase day. The sun dropped so we decided to part company, it had been an awesome day and without question one of the best action packed storm chases we had ever done. I wished Paul good luck with the storm and his car went S to Omagh and mine turned N to Maghera, I was treated to amazing sunset cloudscapes on the drive home however this time I just enjoyed them without the camera, I can tell you I was glowing, I had enjoyed this day - this week - so much, this is what life is all about. More fuel was acquired in Moneymore then when I arrived home in Maghera I got a text from Paul, he had just seen a stunning anvil crawler bolt of lightning while driving home, what a treat!.
July 26th - Chase Day Five
I went chasing again for the fifth day in a row however this time it was much closer to home and it was a wonderful success, I was woken by thunder early in the morning which was a nice alarm call and sure enough more storms had gone up on convergence zones, this time in central and E parts of Ulster, my Dad and I chased a beautiful single cell storm with very compact but strong precip core through the back roads around Swatragh and Kilrea then got treated to an elevated funnel cloud, it was such a gorgeous hot sunny day and the countryside was beautiful, this day will always remind me of happy memories - chasing with Dad, storm clouds, funnel and the simple joy of being out in a classic Summer's day - the kind which rekindles those childhood Summer memories. There were more funnels this day too and a possible tornado over Glenshane Pass which is being checked out by TORRO, then another storm met me later in the day on Glenshane Pass while waiting on a bus, you can read more about this day via the REPORT.
July 28th - Belfast Storms Day 1
I was staying in Belfast during the weekend with my partner Roisin, there where storms the previous two days however none in this part of the country until Sunday and Monday had potential with more big CAPE, convergence, shear, plenty of heat and moisture. I assembled a gazebo in the back garden and it must have acted like a storm magnet for the following day impressive convection was exploding over Belfast, I won't go into much detail as I may cover the Belfast storms in another report however in a nutshell I was at Forestside shopping centre shooting towers and cbs from the car park then by late afternoon a stunning storm formed to the N of the city, the anvil was huge with back building towers which dwarfed the buildings. I had no car with me so I paid Roisin's Sister some petrol money then the three of us went storm chasing onto high ground above the city however we never made it in time but we could see the storm, it was a brute which produced a lot of lightning over Antrim and central Ulster and a significant road flooding event in Magherafelt and Draperstown, the organised cell extended all the way from N. Belfast to Maghera. I was filming the distant storm clouds by the road side with video camera mounted on a tripod and managed to get a nice in-cloud bolt from the storm however the footage wasn't worth holding on to. The chase was a valiant effort however I got to see the storm growing near the city which is not something I get to see happen very often.
July 29th - Belfast Storms Day 2
More storms!, a nice afternoon shelf cloud passed over S. Belfast, I was shooting video of it from a residential area and getting weird looks from the neighbours, the storm was elevated and passed rite over my location with loud thunder and more i-c bolts. I thought that was it for the day then during late evening I was training and was sure I heard thunder so I looked outside to the W and there was a big line of beautiful back-lit towers rumbling in the distance which slowly moved over the S of the city again, the storm rumbled every now and then but it wasn't remarkable for its electrically activity however it was notable for having lovely warm light and well separated inflow and outflow areas, in fact, the very well defined and highly textured rain free base made for an impressive sight hanging over the houses in the area with plenty of curling and churning motion, I really thought the storm was going to put down a funnel REPORT.
July 30th - Chase Day 8 - Storm Busting
I was just back in Maghera from Belfast and was ready for chasing again however I didn't trust my instincts this day, I knew by looking at the sky that something was wrong, the clouds lacked any dynamics, no lifting was evident and I couldn't see any decent height to the towers however I didn't listen to my inner self and went ahead anyway. A squall line feature formed over W areas and began moving E, there was no lightning from it yet however I convinced myself it would be producing once it moved into central and E areas during the afternoon where there was better instability and heating however I couldn't wait so I drove into E areas earlier and decided to wait it out, I was drifting about Kilrea, outside Ballymoney and ended up waiting in a car park behind the spar in Resharkin, I saw decent cells to my E but they where so far away I reckoned they where probably near the North Channel and out of chasing range, but I was watching the squall line and it seemed to take a life time getting here so I drove back W onto Glenshane Pass and watched it come in. I got some images of the rubbish structure on it but it was a quiet line with nothing of interest other than cold air and heavy rain which was killing everything, then I recalled the sky was clear to the N of the line so I took a chance and drove N to get clear of the residual cloud where I hoped surface heating might trigger a few cells. I ended up at the north coast parked in a lay by outside Portrush.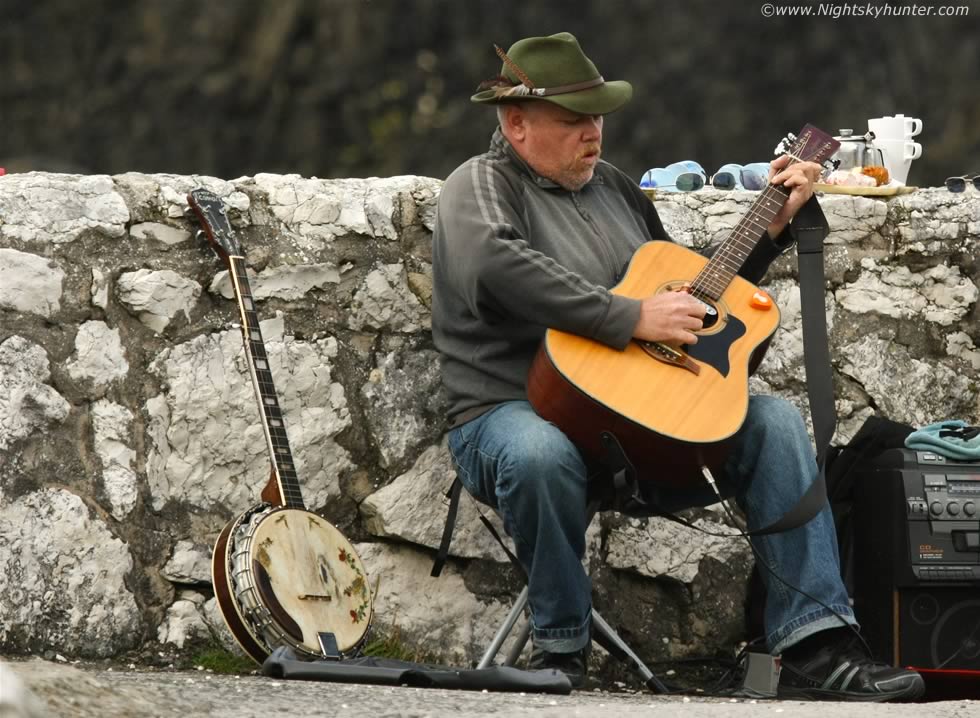 My theory had been good, it was sunny and there was a row of cbs very far away over the sea so I spent a long time taking images of the cells with the 24-70mm F/2.8 and deep 400mm shots of the base while I watched for funnels and hoped for waterspouts, these were legitimate storms however they would never come anywhere near shore, Paul Martin text me to confirm c-g sferics from them. I sat in the car and admitted I had busted, I had been suckered in by that stupid squall line and wasted a full days energy, time, and petrol money and I also was thinking that perhaps I was becoming a little too obsessed with catching storms, they had been my daily bread all last week, over the weekend, and now I was at it again for the second week in a row. I took comfort in the fact that I had at least tried and I was getting the added bonus of sun on my face with plenty of vitamin D. I decided to drive around the coast checking out the scenes, after all, I might as well make use of the petrol money, so I spent some time at my favourite location - Ballintoy Harbour - where there was a great atmosphere with families walking on the rocks and beach and a guy singing randomly beside the harbour wall, first with a banjo then a guitar, I have to say he really lifted my mood and put a smile on my face - good old Ballintoy never lets me down. I sat in the car and made use of my flask and had two brews and my sandwiches then began the drive home and I was back for 21.00. No photo rewards today however at least I made the effort and could put the day down to gained experience.
August 1st - Epic Sligo Coast Night Lightning Show!
OMG this day made up for every second of time, energy, and money spent on chasing storms these last two weeks, in fact, it makes up for all photo shoot efforts made through the entire year to this point. There was a risk of supercells and tornadoes so Paul Martin and I ended up on our biggest chase day to date, the daylight activity was a bust however we were stubborn and wouldn't leave without something so we waited in Co. Sligo on the W coast of Ireland near the ocean in a place called Mullaghmore and as soon as it got dark we got treated to the finest night time lightning show we had ever seen in our lives. Numerous severe storms of huge size sat 80 miles away over the ocean producing extremely active lightning for over two hours, I stopped counting after watching 500 bolts!, we got c-gs, i-cs, cloud to air, cloud to cloud and anvil crawlers. We also saw mammatus, anvils and overshooting tops illuminated by lightning which was awesome, at times there where five bolts whipping across the storm at the same time. There is good reason to believe that at least one of these storms was a rare supercell, this was the climax of a crazy two weeks, we will never forget the mental scene of those cells flashing over the ocean and surrounded by stars as the Milky Way glowed like a cloud in the sky and meteors shot overhead. A truly epic night which we will never forget. You can read the full story in the REPORT.
August 2nd - Chase Day 9
My last chase day and the final storm intercept during almost two weeks of action. I chased a storm passing through Antrim however there was nothing photogenic on offer and I almost laughed at the 9 bolts of lightning after observing 500+ bolts the previous night however it was still wonderful to hear thunder and refreshing to see Lough Neagh thrashing with fury during the storm's passage.
These three videos are all from the July 25th severe thunderstom chase. This clip shows the overhead lightning flash and if you listen carefully you can hear the sizzling sound from the wires followed by thunder which actually shook the car and which we felt affecting our bodies.
Same location with a nice c-g bolt captured along with thunder
This is the entire chase video showing segments from this thrilling day which starts on the Cookstown-Omagh road then near Upperlands, then climaxes with the Cloughmills close range bolts.
What a brilliant Summer, I really couldn't have asked for more, a two week heat wave followed by a thundery breakdown for just as long, this outbreak was the longest I have ever experienced in this country and without question it resulted in my most intense storm chasing ever to date. I was chasing or experiencing storms on most days for a 14 day period, I was up early in the morning and going to bed very late at night, I had little sleep during the entire period, I spent a lot of money on fuel and snacks and I covered nearly 1200 miles of driving. When it all came to an end and I had time to ease down I was shocked to see that I had actually lost a lot of weight, the waistline of my jeans had become very loose!, that was from not having proper meals and instead from eating less, and mainly living on tea, coffee, water and adrenaline. When I look back on it all I smile with delight and think to myself what an adventure!, road trips every day, stunning weather, stunning storms, seeing parts of the country I had never been to before, soaking up rays beside the Fermanagh lake lands and the famous coastal regions of Sligo, Bundoran and Donegal and meeting nice people. I absolutely love storms and nature and as I type this we are not far away from entering Autumn and with the possibility of another cold Winter to follow however my thoughts are already flirting with the storm chases and adventures to come in 2014, I can't wait. This is without question the longest storm chasing report I have ever done for the site so thanks for your patience and thanks for reading it all, I hope it captures the roller coaster ride of emotions and I hope it will inspire others to take up this thrilling and rewarding passion for themselves. Happy hunting.
Martin McKenna