Halloween Triple Planet Conjunction At Ballintoy - Oct 31st 2015
In my home town of Maghera I don't think I have ever seen such a busy Halloween as I have on this night. It seemed like the town was as busy as Christmas Eve with people shopping, throwing parties, trick or treating and even all the kids in the local area were dressed up and out in force playing and enjoying the atmosphere which was really good to see. There were a number of events in the town going on and one of these was the official opening of the new premises for the Maghera Historical Society - formerly the old Xtra-Vision shop - which was a big event with a grand turn out and a speech from Maghera historian and author Joseph McCoy. As part of the celebrations there would be a vintage rally passing through the town with clydesdale horses so my Dad and I decided to document this on camera. I met Dad and together we enjoyed a hot chocolate at the Mid-Ulster Garden Centre then drove through the town to shoot the celebrations, we where a little late as we met the rally head on in Brown Drive with only a minute to get the gear ready so we pulled over and got out, Dad was filming with his Canon 600D while I ran across the road to take stills with the 100-400mm lens, it was a nice sight seeing the horses, vintage cars and tractors passing by, it was most certainly well worth seeing.
That afternoon I was preparing for a photo shoot because after a week of cloudy weather it was forecast to be 100% clear the entire night so John Fagan and I planned to take advantage with the intention of doing a late night shoot at the Co. Antrim coast, our plan was to take advantage of the waning gibbous moon which would light up our foreground nicely so the idea was to shoot time lapse and star trails however our real reason for going was two fold. The first was that the Taurid Meteoroid Complex was now active and furthermore this was a 'swarm year' as predicted by Dr. David Asher from Armagh Observatory with the result that a greater number of Taurid fireballs would be seen so we decided that we could be patrolling for these. The second target was the beautiful triple planet conjunction between Venus, Jupiter and Mars which would rise in the NE below Leo so we definitely wanted to time lapse that, however before all this we decided we would visit Dunseverick waterfall and shoot a star trail over it, that was the plan anyway. I charged all my batteries then from the back step I watched the Maghera fireworks display at 19.30 UT which where now in a new venue within St. Patrick's football pitch. Normally I would be shooting our fireworks each year however the new location put me off, the large white gaelic football posts there would most certainly destroy any photo potential and trash the images so I decided to let them go, however I have to say it was a pleasure to watch them without worrying about camera settings and simply enjoy the visual show, it looked a good display too with new fireworks I had never seen before which shot through the air screaming then abruptly changing angles at 90 degrees, their darting motions reminded me of drunken witches on broomsticks, they even made me laugh when I saw them.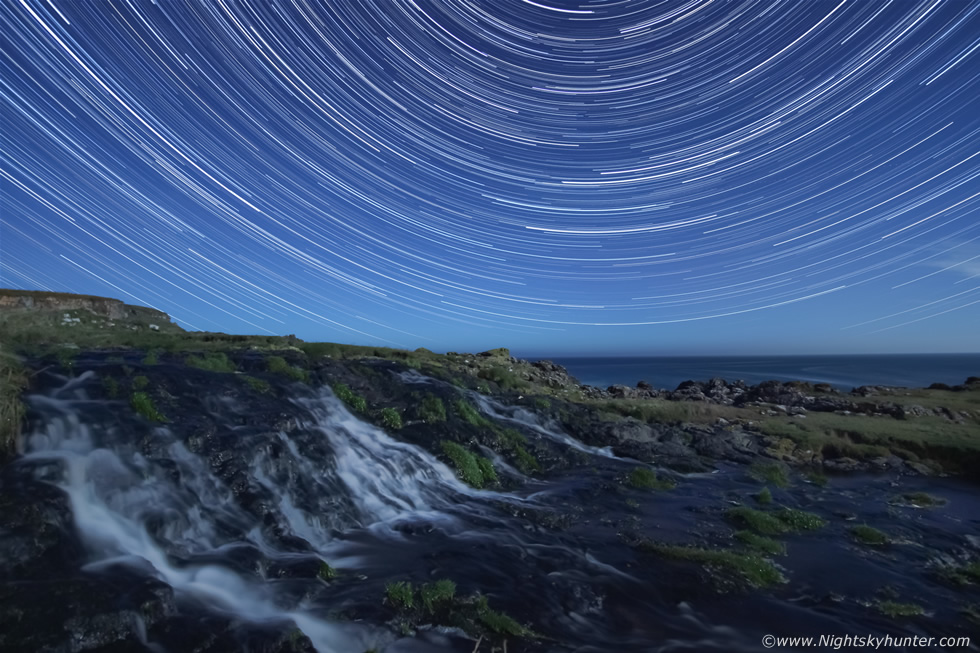 I hit the road at 20.00 UT then stopped at Garvagh filling station for a latte then continued on until I arrived at Dunserverick harbour at 21.00 UT, I was early so I set up the camera and did a patrol for Taurids while I waited for John to arrive, the sky was dark then the moon rose brightening the landscape, it was a beautiful and peaceful spot with no one else there, I saw my first Taurid of the night, a mag +4 red meteor zipping into the NE then half an hour later John arrived and we relocated to the waterfall. The view was amazing, the waterfall wasn't crazy with water however there was enough flowing down it from last night's rain to make it work, the bright moon was behind us well placed in the east perfectly illuminating the water and with each passing minute the moon rose higher brightening the landscape even more as it did so. We set up the cameras near the edge of the waterfall and with the 10mm Samyang we where able to get the waterfall in and enough sky to make this scene work then left the cameras alone shooting 30 sec exposures at ISO800 on continuous shooting.
It was surreal and magical standing here looking across this fantastic moonlit landscape while John and I chatted and watched the sky against the backdrop of running water and rumbling ocean, at times large swells and waves would crash against the shore in dramatic fashion which were exhilarating to watch. We observed more Taurid fireballs then after a suitably long wait we ended the first time lapse, this is the complete star trail made from 302 x 30 sec images stacked together. We began a second lapse for another hour, this in time in portrait fashion which looked to have great potential however unknown to me at the time dew had misted over my lens destroying all my images with the exception of the first ten so I had to delete these however I was more than happy with the first session to call this a success. The planets would be rising at 02.00 UT so John and I ended this session then headed back to the vans, warmed up, then drove on around to Ballintoy and began our hike down the trail, across the small beach, then onto the ancient rocks on the east side of the harbour for our second session.
What a fantastic view we had looking across the ocean horizon to the NE and although the planets had not risen yet we could easily see the Sickle of Leo and fainter stars below it on the ecliptic well above the sea so they were moments from rising, this was going to be special to watch. We got our shots composed, this was the Canon 600D at 10mm, we where shooting across the moonlit ocean with Sheep Island on view and we used this life buoy for added foreground interest then we covered the lenses and waited for the planets to appear. After 02.00 UT we spotted Jupiter on the horizon then a little later Venus appeared too which got a yell from us, I had never seen Venus rise before over a flat ocean horizon so this was an honor, then once the planets cleared the haze fainter Mars appeared too making the triple conjunction complete, all three planets must have been within 7 degrees or so of one another and together they looked spectacular.
As they climbed higher all three planets brightened considerably until Venus produced a vivid glitter path upon the ocean which pointed straight towards us then as the trio moved behind a band of cirrus cloud both Venus and Jupiter sported twin halos with the Venus halo having an orange-red outer fringe, it made for quite a sight as the ocean stirred near us. We time lapsed the entire scene from planet rise until they where well into the E, the time lapse turned out interesting because not only do you see the stars and planets rise but you can also see the twin halos growing larger and brighter as Venus and Jupiter climbed into more transparent air where there was less atmospheric extinction, furthermore it was cool to see the motion of the sea and the changing shadow of the post on the rocks as the moon moved during that period of time, this is one of the images from the time lapse, Venus and Mars are side by side with Jupiter above, it's amazing to think that if we where standing on Mars and looking skyward we would also see the Earth as a bright star in the Martian sky.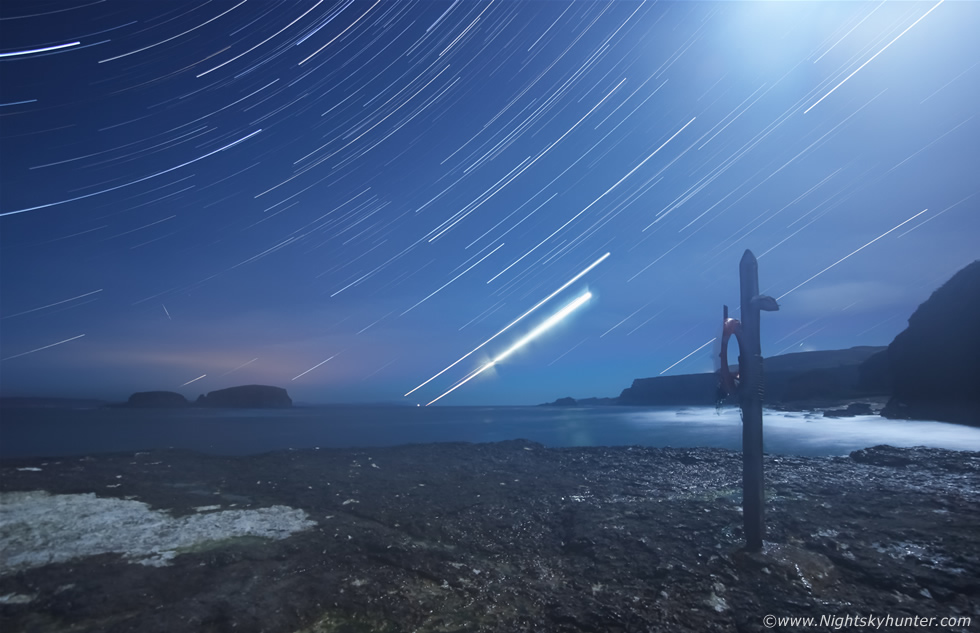 Planet trails and star trails made from 419 x 15 sec exposures at ISO800, check out how much Venus brightens as it climbed into better air at mag -4.5 casting a shadow on the ocean. Fireballs are determined as such when they match or exceed the apparent brightness of Venus so this made for a nice visual yardstick for anyone to remember for future fireball magnitude estimates. One such fireball can be seen above the cliff on the right and the bright star trail between Sheep Island is Arcturus while above is the trail from a bright satellite. Note that the life buoy is blurred in the image, this is because a sudden breeze caused it to move, you can watch this movement on the time lapse video however I don't recall feeling such a breeze strong enough at the time.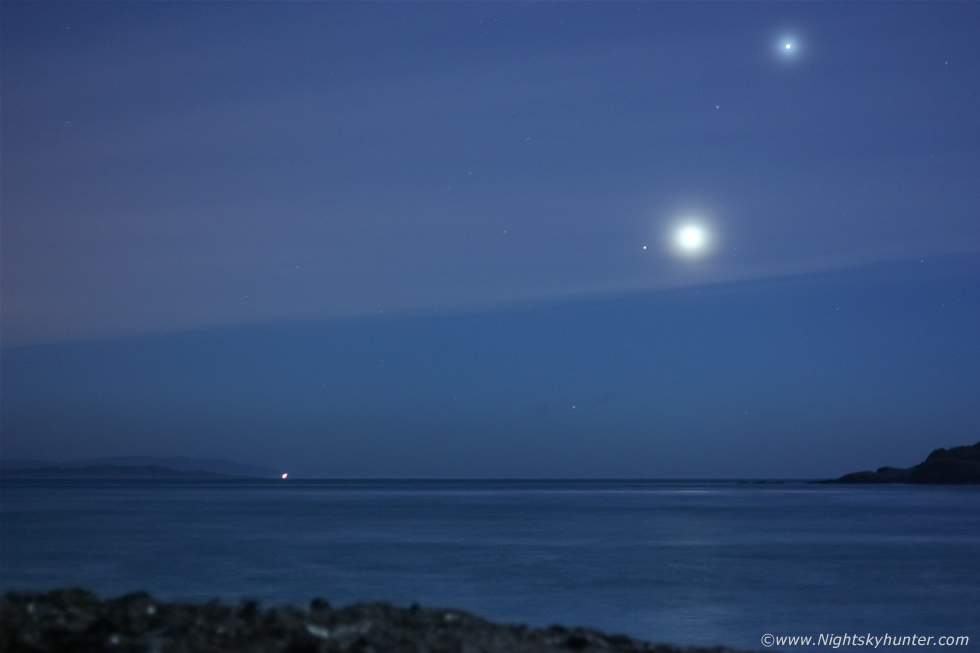 During this session I was also shooting time lapse with a second camera which was located on my right at the edge of the rocks, this was the Canon 450D with 50mm F/1.8 lens employed to get a closer view of the planets. This is one of the stills showing both planets with vivid halos and glitter path from Venus on the sea, this glitter path must have been bright to show up so well with the naked eye considering just how bright the sea already was under such bright moonlight. On the 50mm time lapse you can view all three planets rising over the flat horizon which really made the video for me.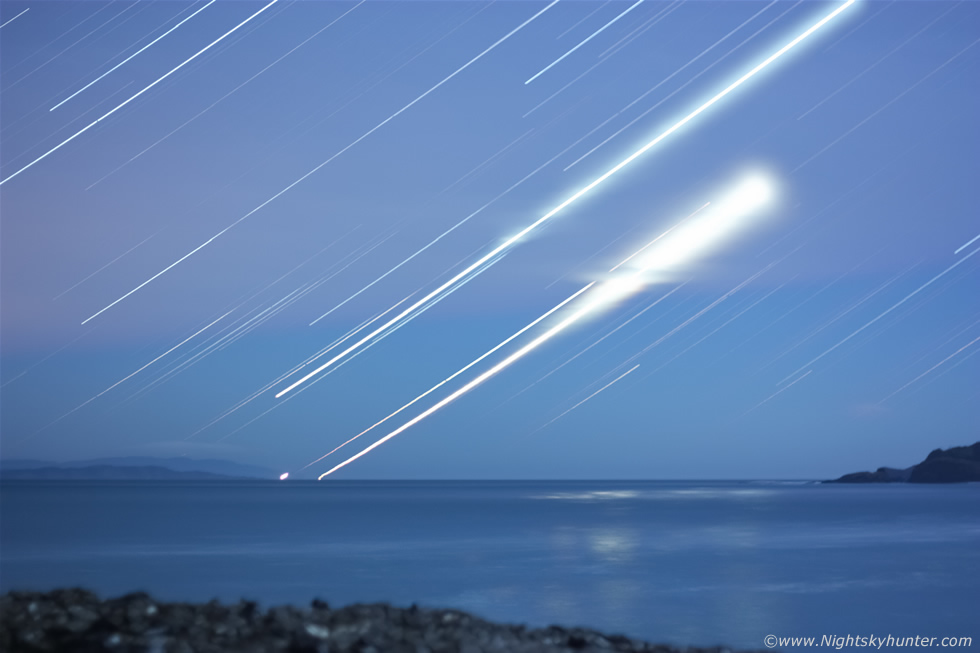 Intense planet trails from 474 x 8 sec exposures at ISO800 and stopped down to F/2 with glitter paths from both planets on view, I was also recording real time audio as we watched the sky which would be used for the final time lapse video. While all four of our cameras were faithfully shooting away John and I were thrilled by a Taurid fireball, orange in colour, which shot down to the left of Venus and Jupiter within our frames, it must have been mag -5 or slightly brighter, we let out a yell of delight as we knew we had caught it on camera. John had it captured however somehow it had evaded my two cameras and must have appeared between frames, still at least it was great to see in the flesh and I was happy that John got it.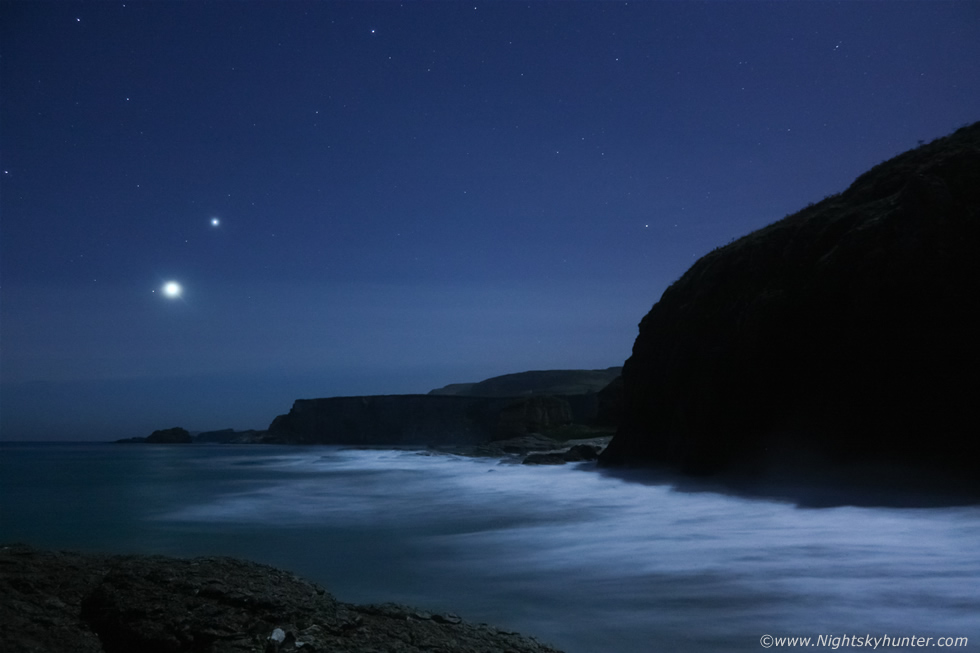 Just before dawn I removed the 50mm and attached the 18mm kit lens and did another time lapse and this time the moon was higher and the tide was coming in with the sea getting more and more agitated, impressive waves and breakers were stealing the show with the brilliant moonlight now on the surface turning the white water more intense in the exposures which made for great foreground.
Star trail of the same scene made from 214 x 10 sec exposures, some of these waves were crashing close to these rocks and the swells were gaining height which added to the excitement.
The time was almost 05.00 UT, time had flown in since we were enjoying ourselves so much, we stopped shooting time lapse and this time I took a few still images before we called it a night, I was using the 10mm Samyang for these.
One of my favourites from the night, that life buoy sure came in handy for foreground interest, I should have stopped the lens down a little for better depth of focus however I wanted to avoid the planets trailing too much so I kept the aperture wide open. Note both planets now sporting diffraction spikes due to the planets reflecting off the dew forming on the lens, it makes for a nice effect though.
My final image of the night under glorious moonlight then we packed up and had one final look at Venus, Jupiter and Mars then began the walk back to our vans and ended the shoot. What a beautiful and successful night it had been with hundreds of exposures taken, then seeing a wonderful planet conjunction from this great moonlit coastline and all complimented by a sprinkling of Taurid fireballs. I was back home after 05.30 UT and didn't get to bed until 06.20 UT.
Time lapse video of the moonlit waterfall at Dunseverick then the triple planet conjunction at Ballintoy filmed with two DSLR cameras and three different lenses with real time audio filmed on location, best watched at 1080p for finest quality. Thanks very much for viewing.
Martin McKenna