Ballintoy Harbour Moonlit Waves/5D Mark IV Night Video Test/Davagh Observatory & Gortin Glen Forest Snowfall - January 2020
January 11th 2020, our second photo shoot of the New Year. Saturday night looked to be clear until the early morning hours due to a cold post frontal maritime air mass which promised good transparent skies. The moon would soon rise at only one day after full phase so we decided we would use its light for some much needed nightscape photography, or intention was to shoot our second night lapse of the year. Normally with a moon phase this bright I would usually pass it up, unless something cool was happening, and wait until the moon was at least two days after full, this habit goes back to my comet hunting days when I used to sweep the western evening sky for comets until the moon rose soon after. My other motivation for going was to test out my new Canon 5D Mark IV full frame DSLR which I have purchased over Christmas, I was having a few issues with flashing stars during time lapses and I also wanted to test out the night video capabilities of this high ISO low noise legendary camera. John Fagan and I arranged to meet up and shoot at Ballintoy since it offered so much more foreground options, it was long overdue another visit anyway.
I left home before sunset, stopped for snacks in Garvagh, then made my way to Bushmills where I met John who had just arrived a few minutes earlier, we were both starving and had no dinner so John recommenced the local take away in town. We ordered chicken goujons, I went for the hot and spicy version, then we drove into the darkness, pulled off the road and ate. I have to say those hot and spicy goujons were fantastic, my goodness they had a kick to them, just what I needed to warm up for the night ahead.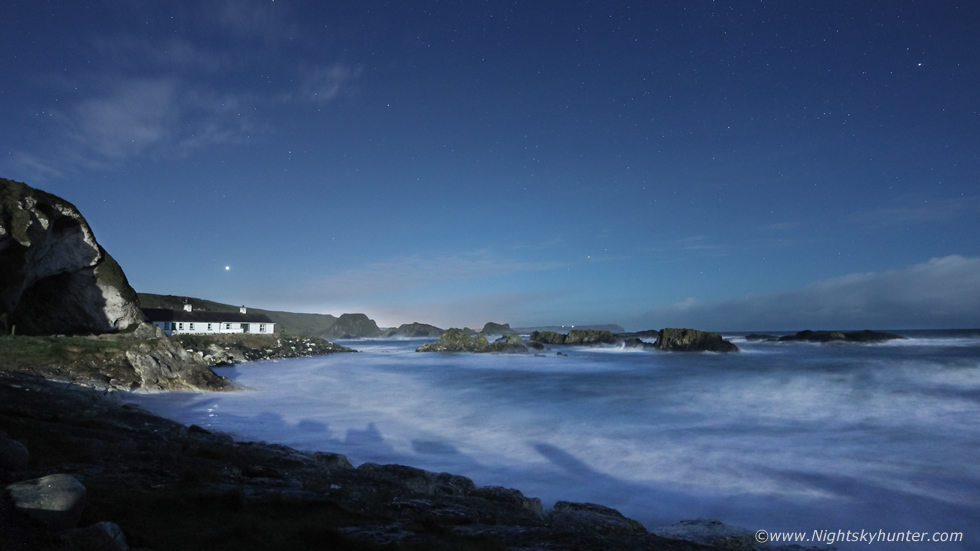 John and I arrived at Ballintoy Harbour, I haven't been here for some time and it felt wonderful being back again and with the exception of a single caravanette we had the place to ourselves. That's one of the good things about Winter time, bright moon phases and no auroras, the coast tends to be much more quiet and peaceful, the way I prefer it. The bright waning full moon had rose in the NE and lit the coastline with it's fantastic eerie light, we were startled by just how impressive the sea was which we sort of expected but not to the extend that it was. A deep Atlantic low pressure system christened Storm Brendan would make landfall here 24 hours later so the ocean was clearly in a very agitated state, this coinciding with high tide made for some memorable visual scenes. We wasted no time and set-up the cameras, Venus was setting over the cottage and the sky was clear so we took a few stills then began shooting a time lapse.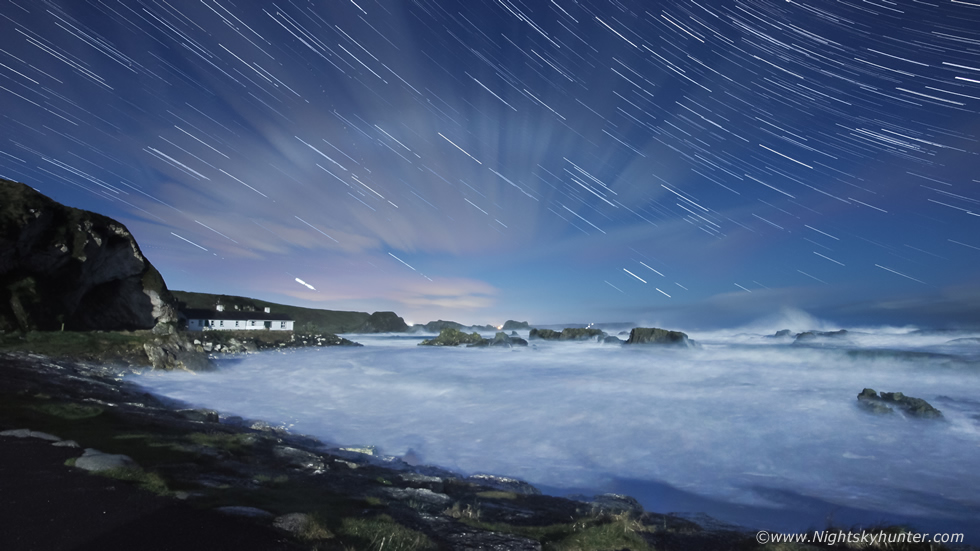 Our two cameras clicked away taking exposure after exposure, John's camera was to the right of me out of shot. The sea filled the entire beach up to the rocks and in the moonlight we watched waves crashing over the distant stacks. The good thing about bright moonlight is that you can reduce your exposure times and get more images and hence a longer time lapse for any given period, or you can reduce ISO for a cleaner image our stop your aperture down for better sharpness and depth across the field, this is a luxury, especially if you are shooting with a crop sensor. I was using my trusty Canon 600D here with 10mm F/2.8 lens stopped town with exposures of 20 seconds at ISO800, this is a star trail from a selection of the frames. For anyone interested, I'm now using Sequator to stack trail images instead of Startrails.de, the latter is great but for some reason it freezes on my modern lap top, personally I have found Sequator to be faster and the final trail is much cleaner, considering that I don't even shoot dark frames, something to consider if you want to get into star trails.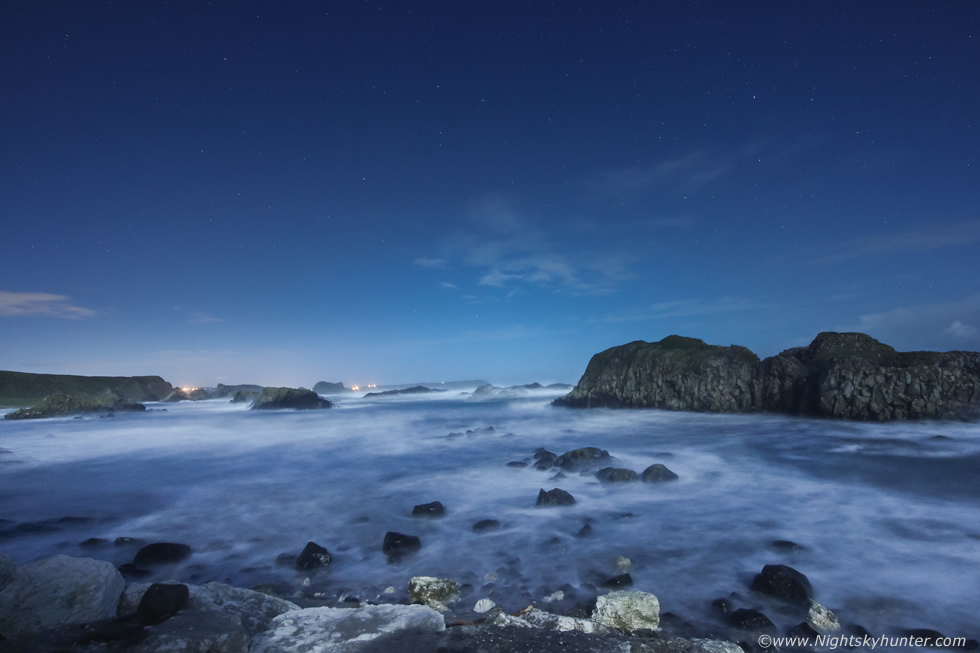 We love moonlit nights, you are more likely to find us out shooting on a night with a moon present because it does a superb job of illuminating foreground interest in a natural manor. I'm not a fan of light painting (although it's great if done properly!) but the majority who use it tend to ruin a good scene and make it harsh and unnatural, the moon does all this for you perfectly. Don't get me wrong, we love very dark nights when there's something happening such as aurora, meteor showers, comets etc, however the correct amount of moonlight does no harm for nightscapes. This image is pure simplicity, a long exposure at lower ISO, the waxing and waning sea smoothed out over time. Cygnus to the right and the Square of Pegasus with the head of Pisces below, all setting in the W/NW.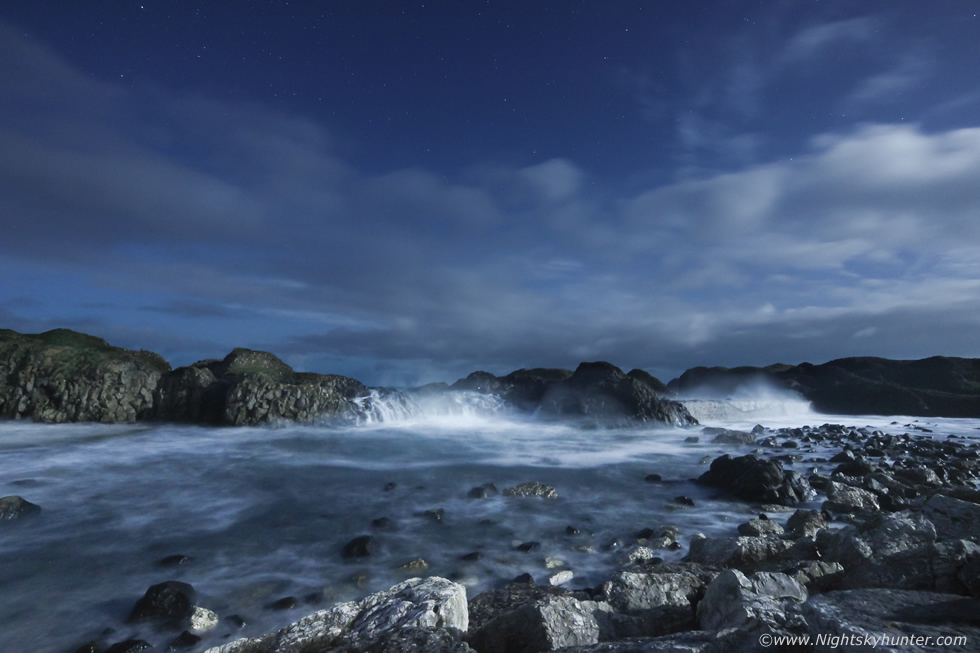 We walked along the harbour wall to the east side where the real action was taking place. Big rollers catching the moonlight would bop up and down beyond those rocks then suddenly would explode over the top, it was thrilling to watch, the moon was higher and brighter so the waves looked unearthly, almost like a raging Banshee. Obviously we couldn't catch these on camera however we shot long exposures of the scene just to capture the memory, John and I both began shooting a time lapse. This would be a perfect time to test out the Canon 5D Mark IV, so I attached the 50mm F/1.8 lens which is the fastest lens I have and maxed the ISO out, I was amazed to record real time hand held video of the stars and even the moonlit waves at midnight, this was surreal and quite mind blowing, if I tried video with my 600D it would be black, this was when I realized the potential of this camera for filming storms in low light and certain astro phenomena and perhaps even vlogging. John also solved the flashing stars issue with the time lapse, as it turned out the mirror lock up function needed to be disabled, this was the complete opposite to the 600D, when we tried it and I later rendered the lapse the stars were perfect with no flashing, so a big thanks to John for figuring this out.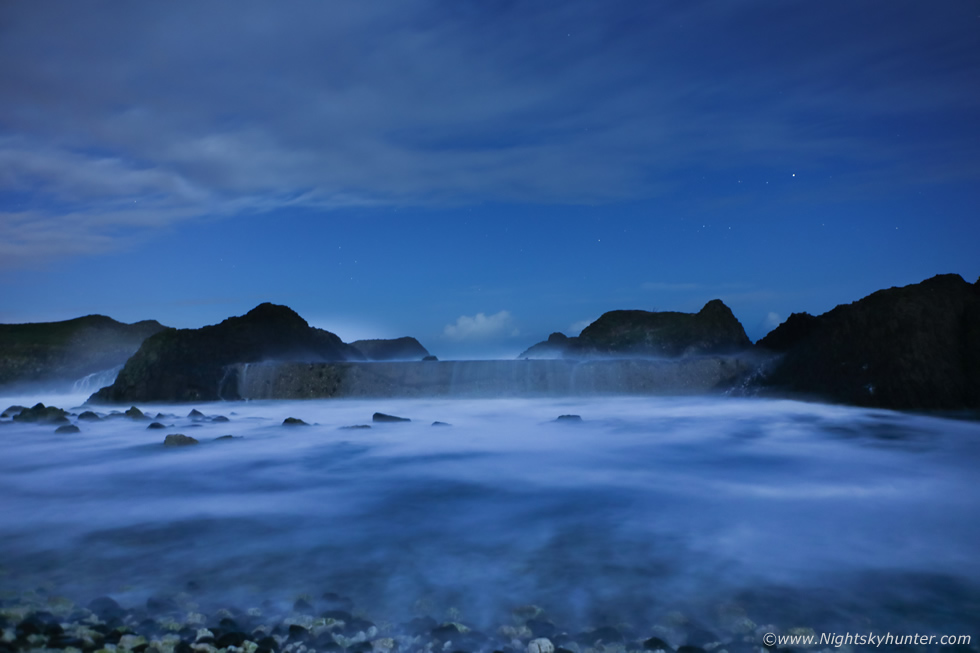 Just after 01.00 and we were both shooting time lapse with two DSLRs each, my 600D with 10mm was still working on the NW sky and waves while the 5D with 24mm F/2.8 (stopped down) was shooting this scene of the waves crashing over the harbour wall, the result was a dreamy scene, that's Vega in the frame. We had a great chat about photography and storms and took in the memorizing moonlit waves which seemed to attack the harbour beside us, no camera could do those justice at night, however just being there gave us the nature fix we both needed. With increasing cloud and a cold wind getting to us we decided to call it a night, both the time lapse and night video test can be seen further down this page.
January 17th 2020, another night and another photo shoot, however this time we were seeking dark skies. Our plan was to shoot the stars over the new Sperrin View Glamping site near Beaghmore which I have dedicated an entire report to here. However we first agreed to check out Davagh Forest first as we wanted to capture Orion over the trees.
I had arrived earlier than expected, I parked within the forest car park and the twilight was fading into darkness, the stars looked brilliant so I decided to take a few images of Orion over the trees. I used the Canon 5D Mark IV with 50mm F/1.8 lens stopped to F/2.8 with ISO at 3200, I wanted to get yet another memory image of Betelgeuse fading. The bright star to the upper left is Betelgeuse, for months this star has been fading and is now mag +1.6, considerably fainter than it should be, it's actually disrupted the visual appearance of Orion for those who are familiar with this famous Winter constellation.
The dimming could be the precursor to a supernova explosion or more likely the result of the star's changing brightness (it's a long period irregular variable star) or perhaps even ejecting clouds of dust in our direction causing the star to fade in visible light, interestingly in infra red light the star is normal and as bright as it should be, the jury is still out on what exactly is going on however it sure has sure made for much needed excitement in the sky this New Year. The star could stay faint for months or may return to its normal brightness anytime so I wanted to document it as much as possible, so here it is. Also note the three belt stars and sword, the fuzzy glow is Messier 42 better known as the Great Orion Nebula where new stars are being born, our own sun and solar system would have looked like this from a distance billions of years ago.
Note the bad coma (stretching of stars) at the edge of field, this is the result of using my older lenses on a full frame camera, the vignetting is also bad too with some barrel distortion, I have corrected this as much as I could in post and even cropped into the centre more, the really bad coma isn't even visible here because of this, but I have to put up with it in the meantime. I'm currently saving up for a Irix 15mm F2.4 Blackstone lens designed for full frame sensors which I hope to get within the next month.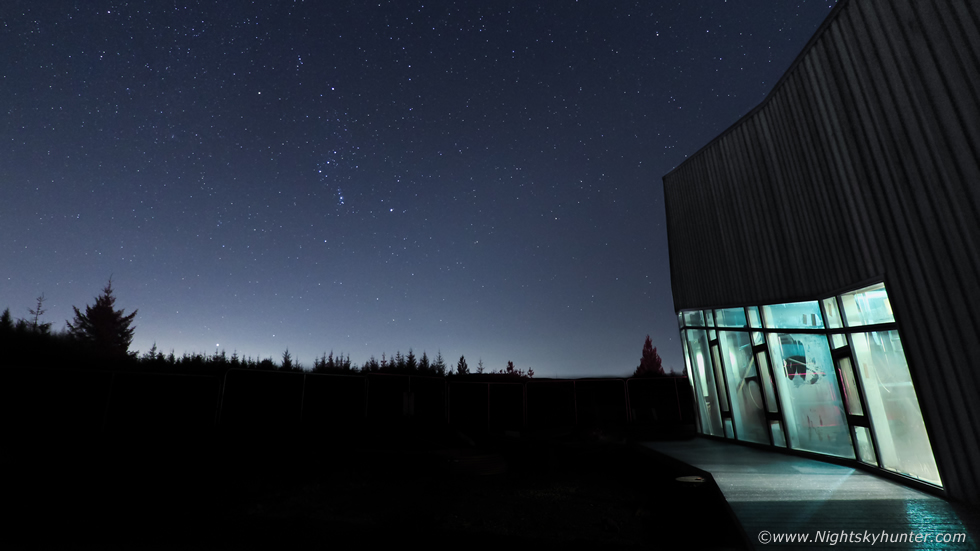 John and I then checked out the new Dark Sky Observatory inside Davagh Forest. For those who don't know I have been working for the Mid-Ulster Council to do the night sky photography and night time lapse imagery of the stars over the forest here, I have been doing this on many nights for much of last year and the project is still ongoing. I have already covered what I needed with the stars over the forest however I had yet to get any images of the observatory as the structure is work in progress. The observatory itself is expected to open to the public during April 2020, in the meantime I have been documenting the construction over the months via drone images and video during daylight hours, we now decided it was time to check it out at night. The observatory building is now completed however the area around it is still an active building site and a tall barrier is covering many of the angles so proper night sky images currently can't be done properly until all this has been cleared. This aside, we wanted to see it at night and check it out, and since we have permission we decided to try a few test images just for the fun of it. In these images I have darkened the foreground with the brush tool to hide metal barriers and general building site obstructions. This is facing SE with Orion, Lepus and Canis Major on view with Sirius rising over the tree tops. Betelgeuse looks similar to Bellatrix in magnitude here, it's normally much brighter than that.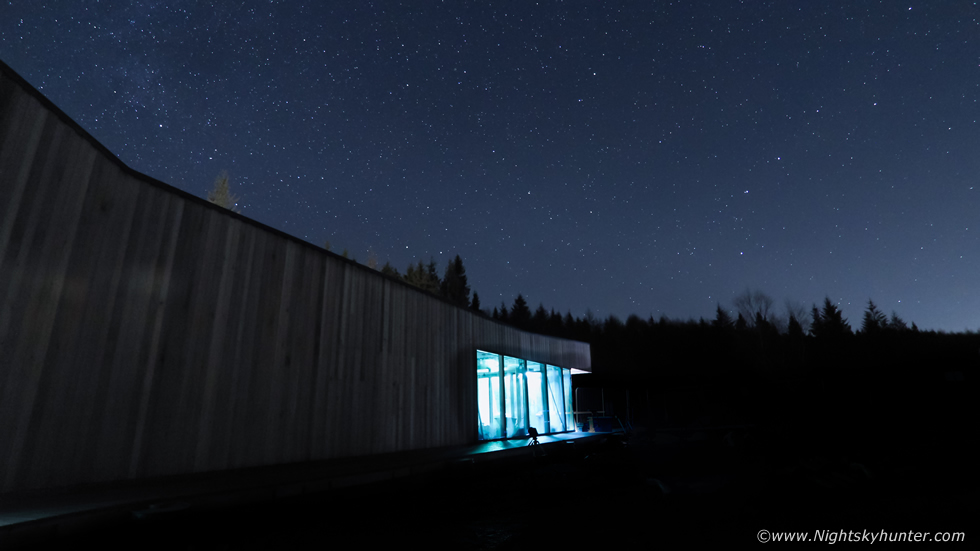 Facing N to NW with Ursa Major, Draco and Milky Way within Cygnus to the left. We can't wait to shoot this exciting new location when it's completed in the Spring, more on this place during future image reports to come this year. We spent the rest of the night at the Glamping pods under a harsh frost and had a fantastic shoot then made our way home during the early morning hours, we look forward to a return trip here in the future.
January 28th 2020, after a very long wait we finally got our first cold spell of Winter, on the days running up to the target period the models were showing active snow showers with good CAPE and potential for accumulations on the hills and perhaps even to lower ground, a two or three day event. As the time period got closer the charts downgraded the potential at the very last minute until the set-up looked really desperate for snow lovers. The deep CAPE had shifted north which meant showers would not be as potent and with a Sly veering to a SWly wind from a mild direction it didn't look good at all, the air was coming from a bad direction and ground temperatures were not as cold as they should have been. The result was a mix of sleet and wet snow, certainly not the kind that tends to produce anything photogenic or long lasting. Day one was a none event however Donegal and Sligo did very well with regular snow showers, Galway even got thunderstorms. Day two looked a little better with the wind shifting to a Wly, models showed plenty of showers with the N and W getting the best as usual. I decided that this could be my only chance of seeing snow for a long time so I may as well make the most of it even if it didn't work out.
I was up at 06.30 UT watching radar and social media reports, Cookstown had a dusting, however it was nothing more than that and was, to be honest, rather disappointing. However a few miles to the south Dungannon had a much better snow fall with several inches present, as people woke up images began coming in of dawn snow scenes, from these I was able to tell which locations looked most favorable for snow. Since I was already in Cookstown I decided I would chase in Co. Tyrone, reports suggested Dungannon and Omagh areas looked best, especially on the hills, so once the sun rose I had breakfast and hit the road. I was getting fuel in Cookstown and noticed that Slieve Gallion had a patchy layer of snow, I decided I would check this out first. I drove half way up into the snow and spun out, the road was too steep and the snow too deep to get traction so I parked up. It was snowing the entire time, I wanted to get the drone up for my first aerial snow images of the season but I couldn't get a break in the falling snow. Low cloud hung over the mountain and it never stopped snowing, time was against me as the wind would be exceeding 25mph at ground level by early afternoon and with 60 knots deep layer shear flying a drone from a mountain would be out of the question. I waited, waited and waited, listened to the radio, ate snacks, took a few images of Sheep then decided this was a waste of time. The van was already sliding down the road with the hand break on full so that was a sign to leave, I trusted my instincts and headed W for Omagh.
I ventured out the Omagh road under showers of wet snow, took the turn off at An Creggan and made my way though Greencastle into the SW Sperrins, my plan was to check out Gortin Glen Lakes. I took the turn off for the lakes and ascended steep mountain roads with deep hills and troughs which were covered in snow, I realized if I kept ascending I was going to get stuck for certain and I would be on my own in the middle of nowhere. I reversed back along a narrow snow covered trail and made it to a better position near an old farm shed where I could get traction, this would be my lunch position, I didn't need to drive any further, the drone could do all the work from here on. It snowed and sleeted and snowed relentlessly, I never thought I was going to get a break then after a long wait the snow flakes stopped and I had a narrow window to fly before the next shower arrived. I got the Mavic 2 Pro in the air and filmed the lake area and surrounding hills, the light was awful and flat, the clouds were low and no sunlight was getting through, it really was the worst conditions for snow photography, in fact, the images looked like they were taken in monochrome. I was still happy to have got a result after all the effort, I landed while the going was good then decided to keep shooting when I had the chance so I drove on to Gortin Glen Forest.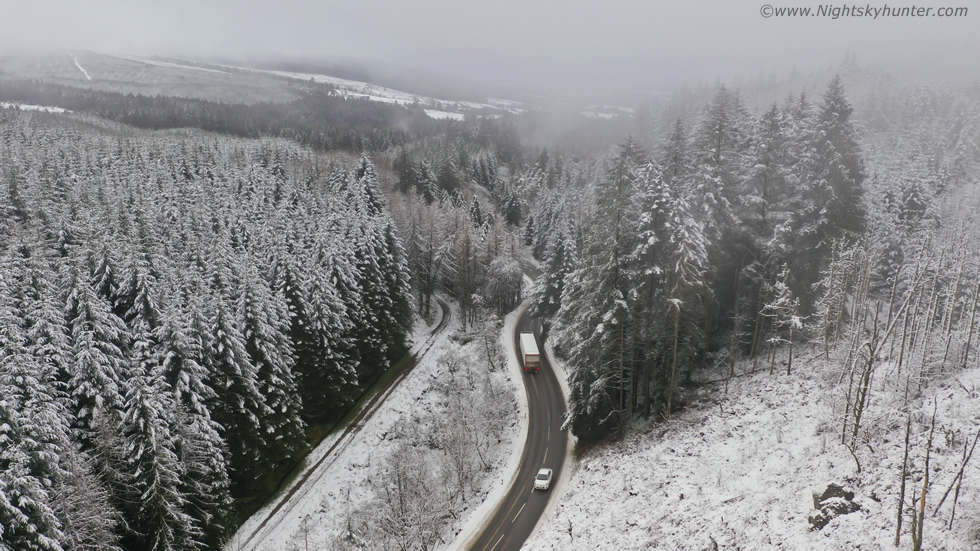 This was a great decision, the forest produced the best snow scenes I had experienced all day, and that recent snow shower which passed had covered the forest which made the pine trees look like they were covered in icing sugar. There was no sunshine however the low clouds had caused an unusual look to the landscape, it really did look cold and barren and those trees really made it, the drone was up and I was in the flow, I knew these would be my images of the day.
The road meandering through the forest, this could have been any snow prone country in the world, it really does have that remote look to it
The blue car stands out from the colourless snowscape, Roisin said this scene reminded her of the opening to 'The Shining'. I have said it before and I will say it again, the Mavic 2 Pro is a remarkable drone, a superb camera and robust intelligent flying platform which never lets me down, I consider this drone one of the best pieces of kit I've ever owned, I have now had it over a year and it still feels like its brand new, the thrill of flying it never wanes.
This was the visual highlight, flying over the forest trail with snow covered trees
Final image of the day, I took a few more short video sequences then saw snow falling from the low cloud so I decided to land and call it a success. Just as I packed away and drove past the other end of the forest the snow on the trees was gone, it was already melting and dropping onto the van roof, that's how fast this day was changing, I'm delighted I got my chance to fly when I did or I would have missed these sugar coated trees. I drove back to Cookstown content and enjoyed a hot lunch. Despite being a mild and snow-free Winter I'm hopeful that a real snow event is on the way, February and March usually produce or finest Winter scenes so perhaps the best has yet to come.
January 11th 2020, time lapse from a shoot at Ballintoy Harbour on the north coast of N. Ireland. Stars with moon one day after full, big swells and crashing waves which looked amazing in moonlight with the naked eye, so I decided to shoot a time lapse for the fun of it even though the long exposure smooths out the water, however the brightness of the scene is close to the naked eye view, just a fun night, high water ahead of storm Brendan. Two cameras, Canon 600D crop sensor with 10mm F/2.8 lens and Canon 5D Mark IV full frame with 24-70mm F/2.8. Four sequences together, the last of Orion rising over the harbour with faded Betelgeuse.
Video test with my new Canon 5D Mark IV with 50mm F/1.8 lens, lens wide open and ISO maxed out. Still amazed to pick out stars in real time video, first test in my back garden then next several nights later at Ballintoy Harbour when the moon was one day after full, footage of Orion and moonlit waves and surf, hope it helps capture the atmosphere. I have brightened the wave footage in movie maker which is quite destructive with digital noise, however with better software and noise reduction applied there's potential with the video even at max ISO. I look forward to using this for low light filming this year.
Drone Flight 1101. January 28th 2020, short drone flight over Gortin Glen Forest within the Sperrins near Omagh during our first snowfall of the year. The light was low and so was the cloud deck, which made everything look moody and monochrome, reminded me of the drive scene to the hotel in 'The Shining'. I had to land soon due to more snow showers but I was glad to get in the air when I did, this area is beautiful. Thanks very much for reading.
Martin McKenna