Birthday, Snow Storms, Planets & Aurora Display - Feb 18th 2012
The weather during the last two weeks has been truly dismal across N. Ireland to say the least with grey overcast days and regular rain and drizzle which pretty much put an end to any photo opportunities for a while. A major glimmer of home showed up on the model runs and it seemed that we would get one day of potentially interesting sky phenomena before it all tuned back to Atlantic dominated cloud cover. That day was february 18th, my birthday, and as I checked the computer during the previous night a smile appeared on my face. An active cold front would surge SE across the county during the early morning hours which was expected to clear through by sunrise. In its wake was an unstable post-frontal air mass with the first inland instability of the year with 200 CAPE and LIs of 0 within a very cold flow from the NW with several troughs which would mean a good chance of convective showers of hail, sleet, and snow with the latter likely on the hills and mountains above 400m elevation. Furthermore there was a chance of an isolated single cell thunderstorm (pop corn cold air storms) with the potential for thundersnow so I became very interested indeed as these kinds of set-ups can be very photo friendly with crisp clear blue skies between cells so viewing conditions would be perfect. This same air mass would be perfect for clearing the sky after sunset which would increase my chances of seeing the current Venus and Jupiter conjunction and to add icing to the celestial cake a fast moving solar wind stream was predicted to impact Earth's magnetic field on February 18th/19th with a favourable south tilting magnetic field which could increase the chances of seeing an aurora display from mid northern latitudes, so it was all happening.
During the morning of the 18th I said to Roisin that all I wanted for my birthday was snow and clear skies to see the conjunction, if I got that then I would be more than happy so we put it out there to the universe and waited on nature to do its thing. We got up early to check the radar and I was delighted to see moderate strength showers moving over the N and NW coasts from ocean to land while moving SE further inland so it looked like things were starting to happen just as I had hoped. A quick look on facebook informed me of big hail stones over Coleraine and snow falling over Dungannon so things were happening fast and to enhance the excitement the Met Office issued an amber warning for icy roads and accumulations of snow between 2cm and 5cm deep on the hills during the afternoon and evening. Deep down I knew this wasn't going to be a big snow event with anything significant laying however I just wanted to see snow falling and be under it when it happened just to experience some interesting weather again.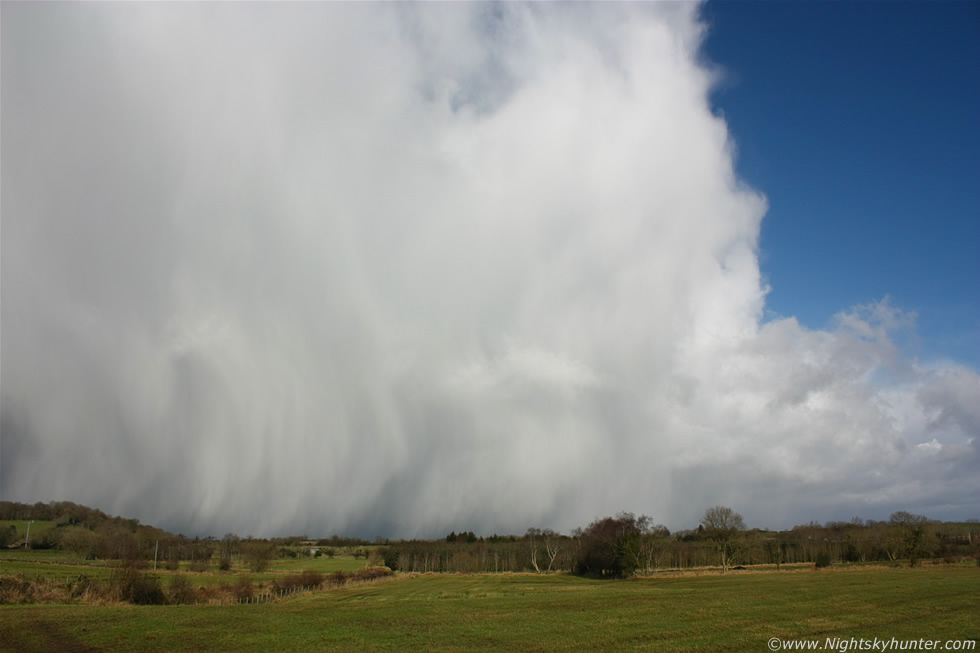 We left home early with the intention of going out for breakfast but that idea was put on hold when we spotted a lovely line of cold air convection with precipitation curtains of hail and snow fast approaching the outskirts of Maghera (image) so we drove to the bottom of the road where the countryside began and pulled over for a few images. This cell made for a striking sight as it drifted from the high ground over the Sperrins down to lower ground where it dropped a beautiful line of hail and snow across the sunlit fields.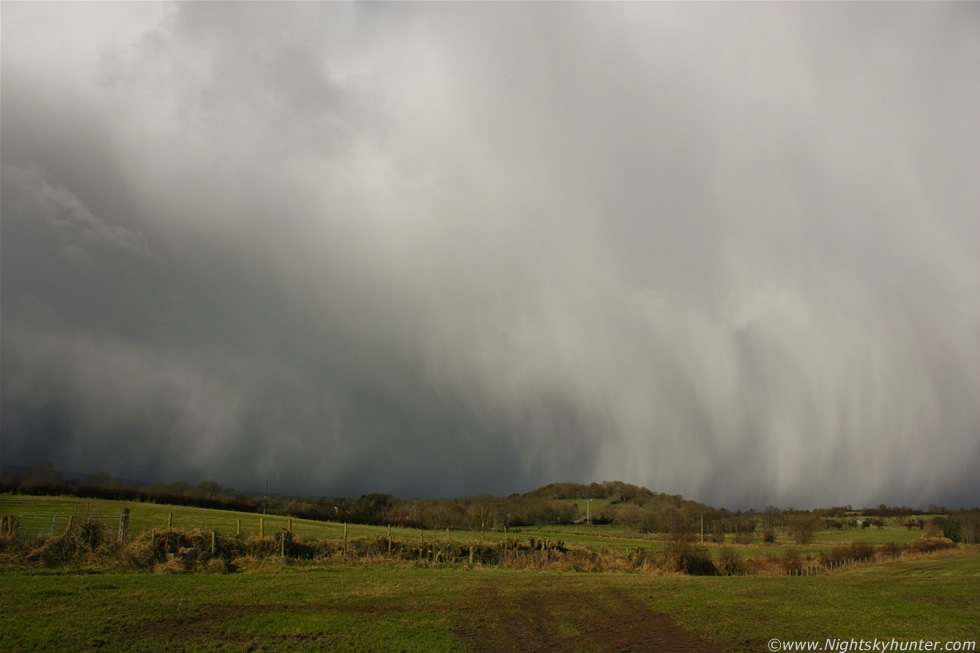 The highly structured precipitation core, moving from L to R, was simply stunning to watch as hail stones and snow fell over the fields between Maghera and Swatragh. This precip curtain was one of the best I have seen this Winter with a multitude of complex and graceful strings of icy precip flowing through the air in an ever-changing pattern with an obvious mottled texture. The sun was shinning bright and illuminated the curtain in all its glory which contrasted beautifully with the darkness of the cell against the bright green fields below making for a very dramatic scene, the only thing missing was a rumble of thunder.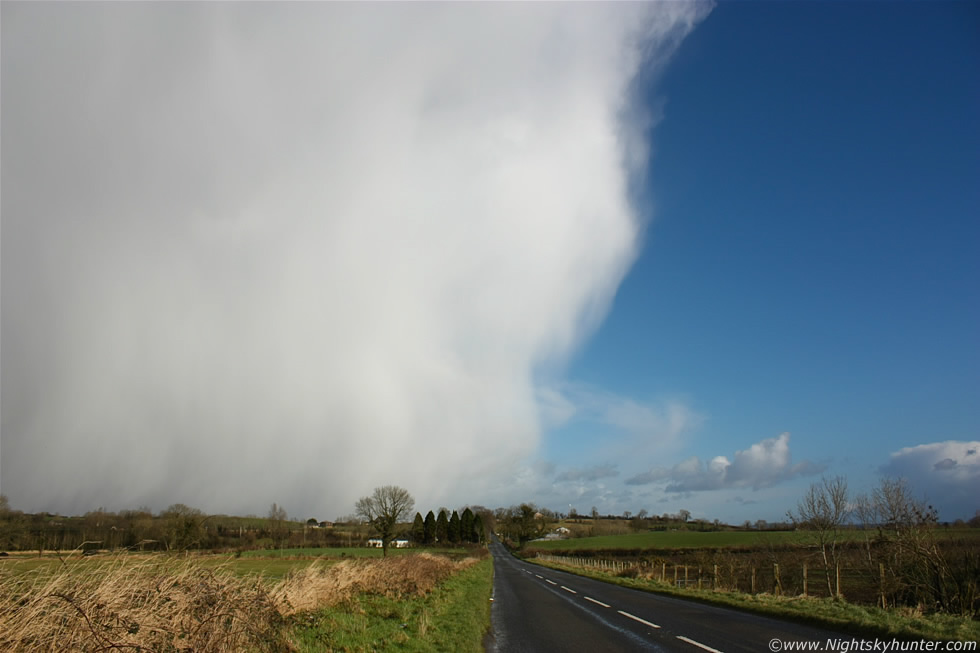 This was a very cool scene with the snow curtain shining in full white splendor with a crisp clean blue sky ahead of it which made for a nice photo opportunity. Motion is L to R and facing W of N here. At least it was already snowing so my birthday wish had already come true however I wasn't satisfied yet until I got under it and could feel the snow on my face but first the human batteries needed charging so we resumed our plan of getting something to eat. We drove up to the high ground of Glenshane Pass and enjoyed a nice warm breakfast in a local restaurant. While in the process of enjoying a good fry we looked out the window and saw the sky darken then suddenly a long duration fall of frozen pea-sized hail stones fell everywhere followed by snow and within 5 min's we had moderate sized hail and large snow flakes falling at the same time. I was delighted, Roisin told me that my birthday wish had come true, it certainly had so anything else from then on would just be a bonus and Glenshane had lived up to its reputation once again. Before we left I looked out the window once more, the clouds had cleared and in the bright blue sky I saw plenty of cold air convection fire with small towering cumulus leaning over strongly due to the presence of speed shear which was a sight I had never seen before in a post frontal air mass during February but my thoughts immediately slipped into Spring and Summer for had this been a more unstable day that kind of sheared updraught could form into organised severe thunderstorms.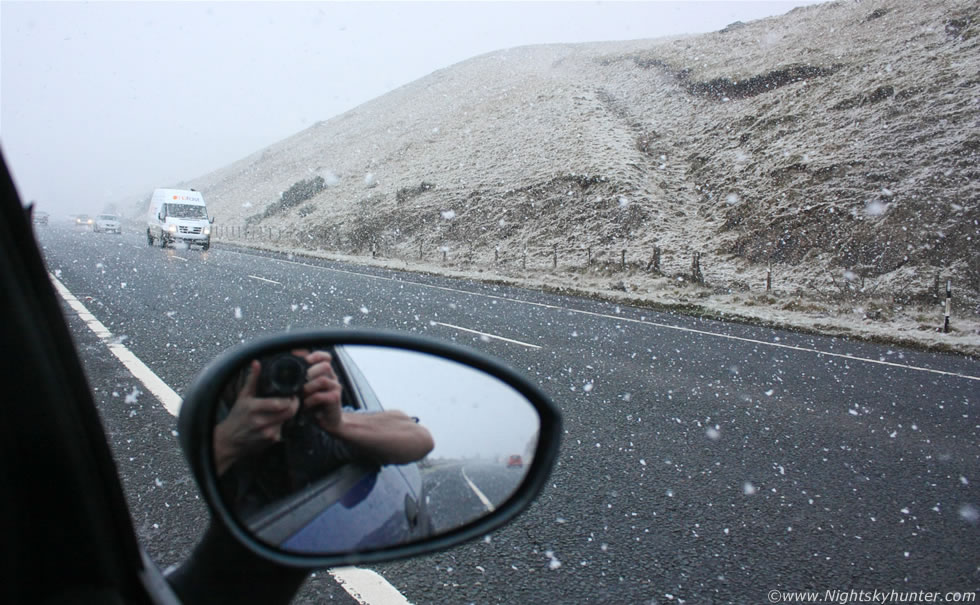 We spent the entire afternoon on Glenshane Pass watching as the increasingly unstable atmosphere produced bigger and better clouds. There was plenty of sunshine so a little extra form of lift (weak solar heating) helped things evolve and greatest instability was expected between 14.00 and 15.00 so I knew we would be nearing peak action time too. I watched as weak convection suddenly got taller and as the coldest air arrived increasing lapse rates I could see some decent towering cumulus trains and several compact anvils which looked fairly impressive in height for this time of year. We drove W across the high ground and it felt brilliant to feel the warmth of the sun shining on our faces once again which is something I hadn't felt in months and a sure sign that Spring was not far away. We encountered the best snow between 15.00 and 16.00 and pulled over at a number of locations to get images and video. Above was taken from the road side as a heavy snow shower fell.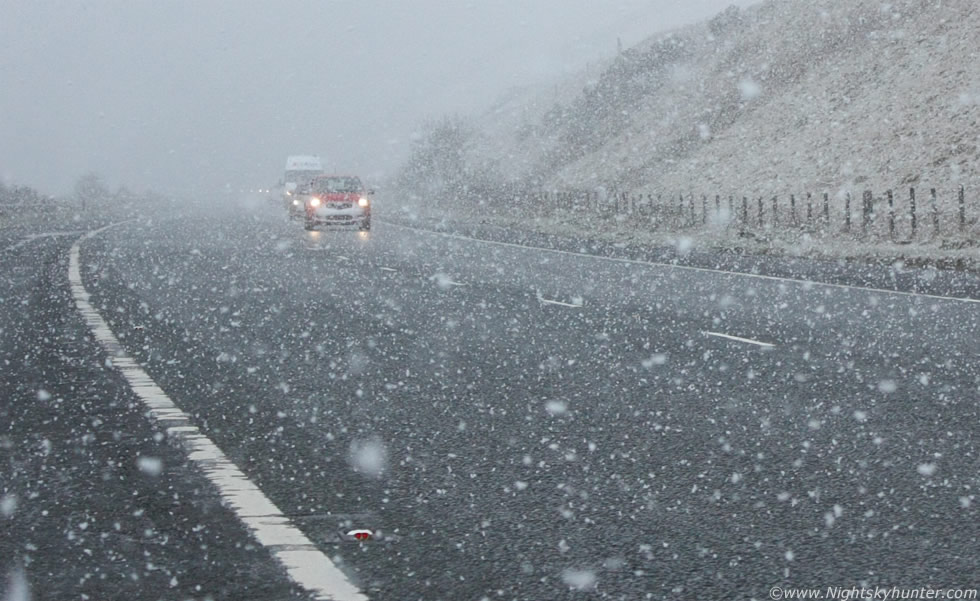 It got very heavy and was even blowing hard at times like a mini blizzard however it didn't lay on the road as the surface temps were not cold enough to freeze at this time however the hills and mountains had a good dusting which looked rather beautiful. This was followed by more road side stops and at one stage we walked into a field to shoot snowscapes to the S on the hills which looked wonderful despite the overcast sky, we even met a local farmer and owner of the field and had a good chat about photography, the farmer was kind enough to let me shoot away on his land while he patiently waited for me to finish so I could move my car and let him get his tractor into the field, a very decent bloke indeed!. We then drove through more heavy snow showers then spent some time checking out Dungiven Castle then drove out the county roads to admire the breathtaking mountains outside of the town at the rear of the Sperrins. The visual sight was glorious with the warm sunlight turning the mountains into rich tones of green, lavender, red, yellow, and orange with a glorious blue sky above and a nice dusting of snow on the summit while white clouds passed over it's top, I have images of this and a video clip which I have yet to sort out. We were hungry again and drove back to the restaurant on Glenshane Pass and had a nice dinner which gave us a chance to warm up and relax for a while, we needed to do this because our 'chase' was not over yet.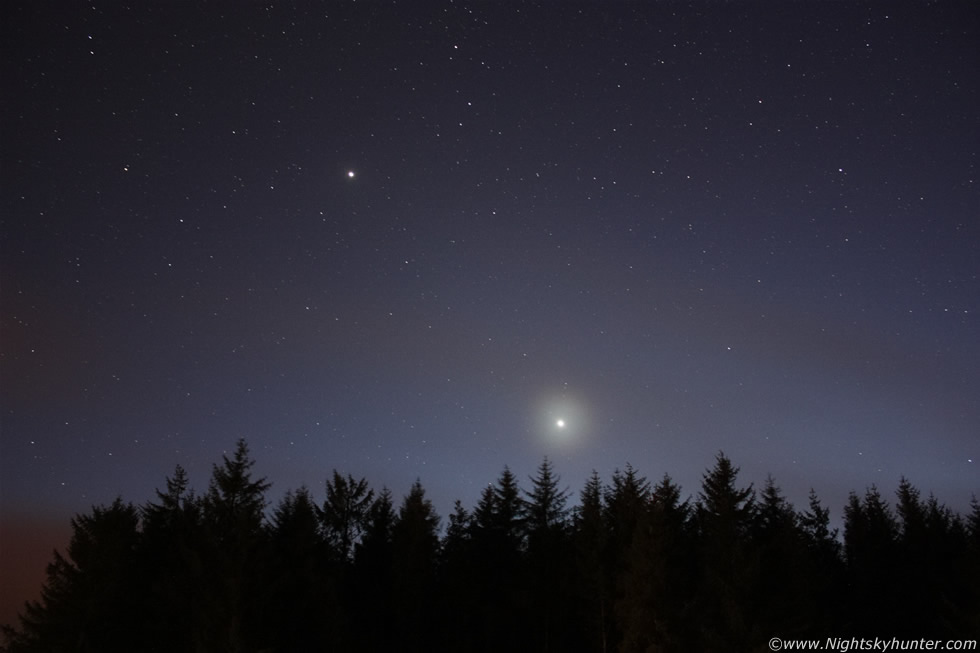 Later we went back to Glenshane Pass for another photo shoot but this time our subject matter was not weather related however it did depend on clear weather to see. Planets Venus and Jupiter where forming a wonderful conjunction in the evening sky visible after sunset for several hours high in the SW to W sky and this conjunction was particularly beautiful because both Venus and Jupiter are the brightest planets in the night sky so to see them so close together was a real treat, especially when seen against a dark sky background which is a rare sight for the former plant. Venus (bottom) and Jupiter (above) where less than 20 degrees apart however this distance between them would decrease every night until they would be only 3 degrees apart during mid March making for a spectacular visual sight and irresistible photo opportunity so my intention was to observe and photograph them each clear night until closest approach. In this image both planets looked spectacular against the dark purple-blue dusk sky above the tall pine trees at Glenshane forest which looked like a Christmas card setting. Planet Venus produced a striking naked eye halo when a patch of light cloud passed in front of its beacon light.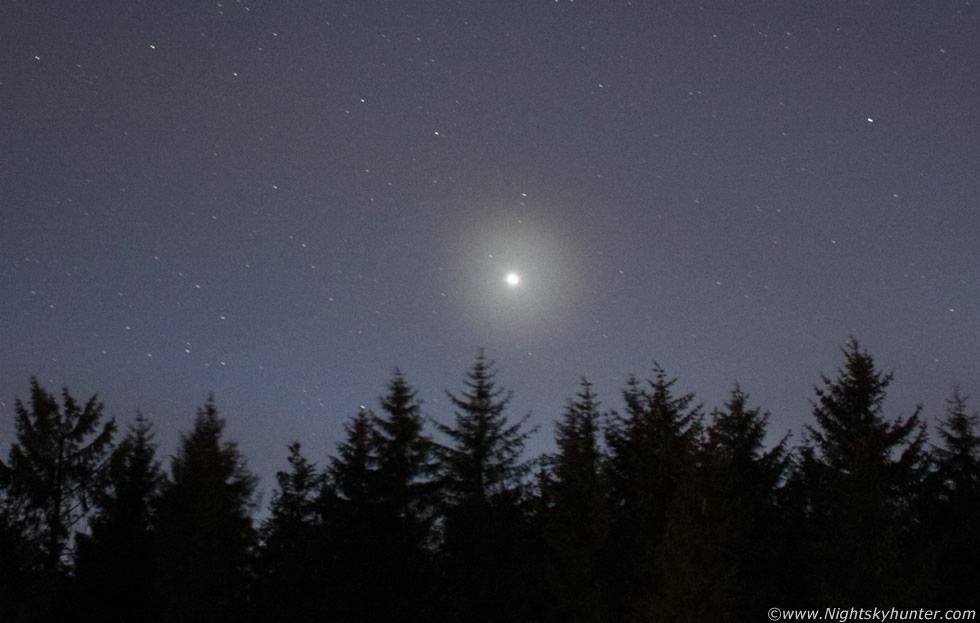 This is a crop of another wide angle image showing the halo around Venus which sported an obvious orange/red outer perimeter. Night time optical phenomena such as halos (ice) and coronae (water droplets) require a very bright source of light to form and hence be seen with the naked eye which is why they are most common around the Moon, however on occasion the brightest planets can also produce halos and Venus and Jupiter are the best candidates. New observers should keep in mind that Venus is a very bright planet indeed thanks to its proximity to the Earth and Sun and to its highly reflective atmosphere where a runaway green house affect as taken over the planet. Venus was currently mag -4.2 however on occasion it can peak at mag -5.0 which means that the planet is bright enough to cast shadows and can even be seen with the naked eye during the day time when at a suitable elongation from the sun which I have seen many times in the past.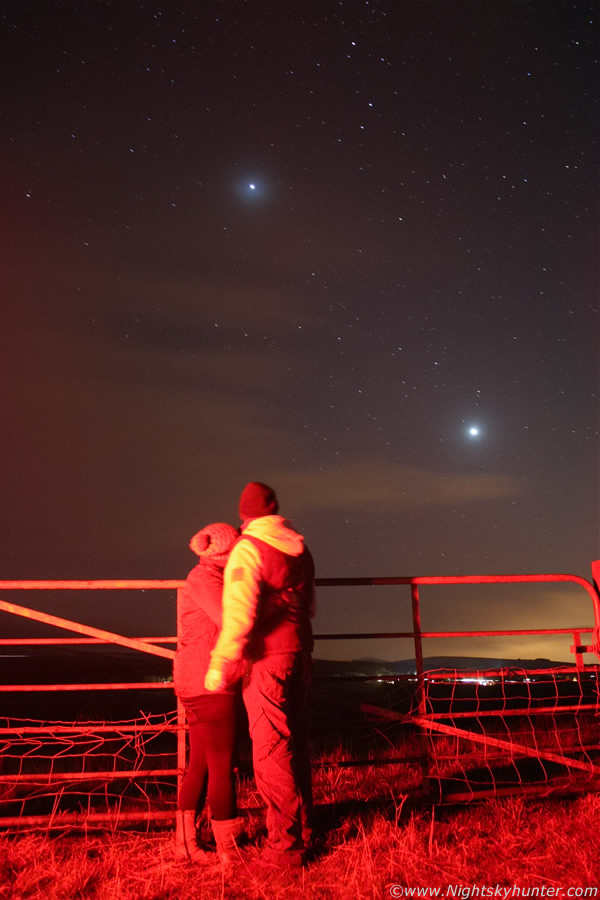 We drove on in search of a new location on Glenshane and after checking a few old favourite locations I wasn't happy with what I had to work with so I decided to drive further W then pulled off the main road onto a narrow country road just as another snow storm started so we pulled onto the grass verge and watched the snow flakes blowing across the full beam headlights. I decided that once this snow shower passed through and clear skies returned then this would be my last images of the night, it had been a long day and I was tired and I had a magnificent chocolate birthday cake waiting for me at home which was calling my name. The snow stopped and I got small breaks in the clouds but not enough to see both planets then I came up with an idea. There was a gate leading into a big field in front of me so I figured if I could shoot the planets above that with us standing in the frame then that could make for a very nice country style image so I moved the car forward and left the engine running so that the rear lights illuminated the gate with its eerie red light then it was just a matter of waiting. It seemed like a long wait and the sky played games, Venus would appear but not Jupiter then Jupiter would appear but Venus would vanish and that game of cat and mouse played continuously for 30 min's until the clouds thinned and both planets appeared at the same time and I got the images I wanted. That's Roisin and I enjoying the scene, it was truly magical in the dead calm, cold, black night with those two brilliant diamonds shinning in the sky sporting their own halos, it was well worth the wait.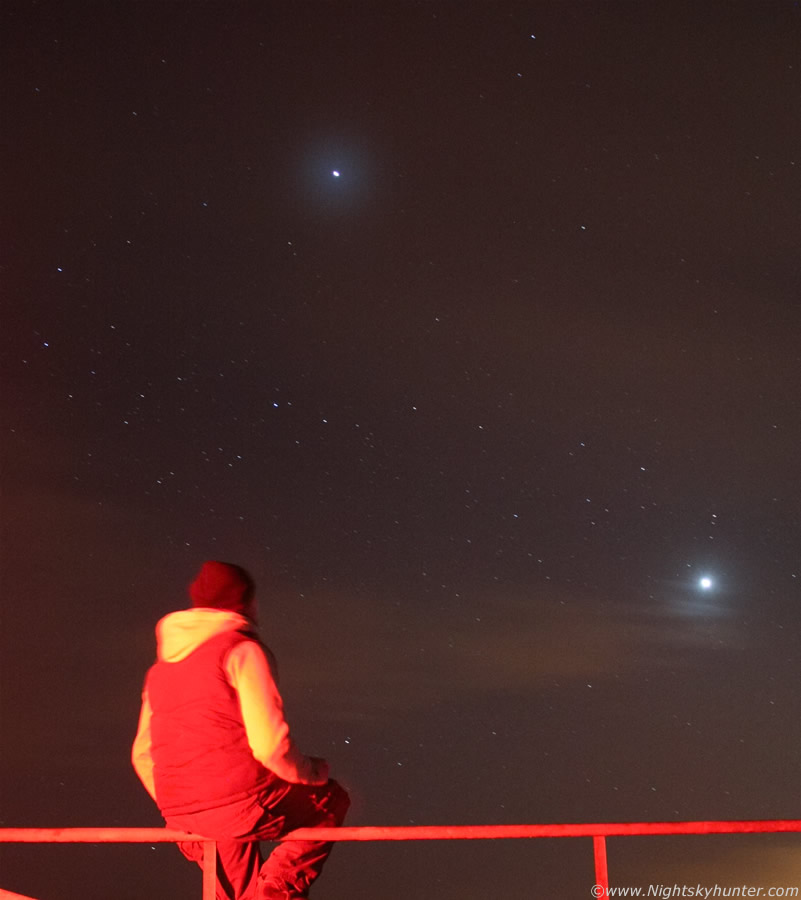 Here's another image with just me in the frame. The above image is a crop from another 18mm shot, I sat on the gate for this one but I can tell you it was a long 33 sec's with my back side sitting on frosty metal so it took all my will power not to make larger movements but even so you can still see some blur thanks to me shivering. I think the effect was worth it though as it looks like I could reach out and touch both planets. Sitting stationary gave me a moment to enjoy the sky and ponder what I was looking at, Venus (below) was smaller than Earth but looked brighter because it was closer however mighty Jupiter (above) was massive in size and could swallow 1321 Earth's but it looks fainter because it is further away at some 5.2 astronomical units which equates to an astonishing 483 million miles from Earth. Both planets serve as a warning, Venus is the perfect example of a runaway green house affect with an atmosphere so unbalanced that life cannot form there, this is a great lesson to protect the chemical balance of our own planet before the future of mankind ends up suffering the same fate. Of greater significance is the role of planet Jupiter, despite being called the king of the planets the late Gene Shoemaker also named it the vacuum cleaner of the solar system. The immense gravitational field of Jupiter has been responsible for capturing inbound long period comets and altering their orbits just enough so that a much smaller number become Earth crosser's and hence less catastrophic impacts on our planet which gave life a chance to flourish. Had Jupiter not been there then Earth would be getting hit many more times by rogue comets to the extent that complex life would never have had a chance to evolve so for this reason we should thank Jupiter for our very existence, perhaps something to think about the next night you are gazing skyward at these planets.
Back home, just after 23.00 and I began thinking about the aurora potential. I knew a fast moving solar wind stream was due to hit either tonight or during the early morning hours of the 19th and I knew that if the IMF tilted far enough south then I could get an aurora display from here no problem so I checked the online charts and was delighted to see that the traffic lights page was showing an amber alert for mid northern latitudes. I knew from experience that when this chart flashes then there is aurora activity of some degree visible over N. Ireland so I made a quick post on facebook then Roisin and I drove back down the road again to the countryside and parked up as soon as we entered a dark location. I couldn't see an aurora visually however I took an exposure to the N anyway and sure enough the camera caught what the eye couldn't see, a very faint green auroral band 5 degrees above the NW horizon, that was the second faint aurora we had seen this week however this display was so poor that it wasn't worth staying out for so we headed back home again. I checked the charts again later and mid latitudes were still flashing on amber and my instincts told me to go back out for another look because auroras are notoriously unpredictable and can vary greatly in brightness, height, and structure within min's and even sec's so there was always a chance that the show could improve so I decided to go back out again, Roisin agreed that I should and I always trust her instincts too.
Outside it was absolutely freezing, what a difference from earlier, the road was covered in ice and so was the roof of the car along with half the windscreen so I got in and immediately began to clear the frost then hit the road, the time was 01.45. I drove back to my earlier location in the dark countryside near Maghera and pulled over at one of my favourite local spots, when I applied the brakes the car slid to a stop, thankfully just in time to avoid hitting the hedge and nearby gate. I wasn't even dark adapted however I could see the aurora in an instant as an obvious enhancement to the sky and I quickly set up the camera on the country road while my boots slid on the ice and took an exposure to confirm. The above image was a little underexposed however it still shows the aurora extremely well as an extensive green band, I was glad I came back out for it now looked significantly better than when I saw it before midnight. You can make out my car in the foreground with the door still open lol, that's how quickly I got out and set-up, the adrenalin was pumping because I always fear clouds obscuring the show which can happen at any moment so I always panic and get my first image asap just incase. I think I had the camera out from the shoulder bag, on the tripod, focused with live view within 25 sec's or so.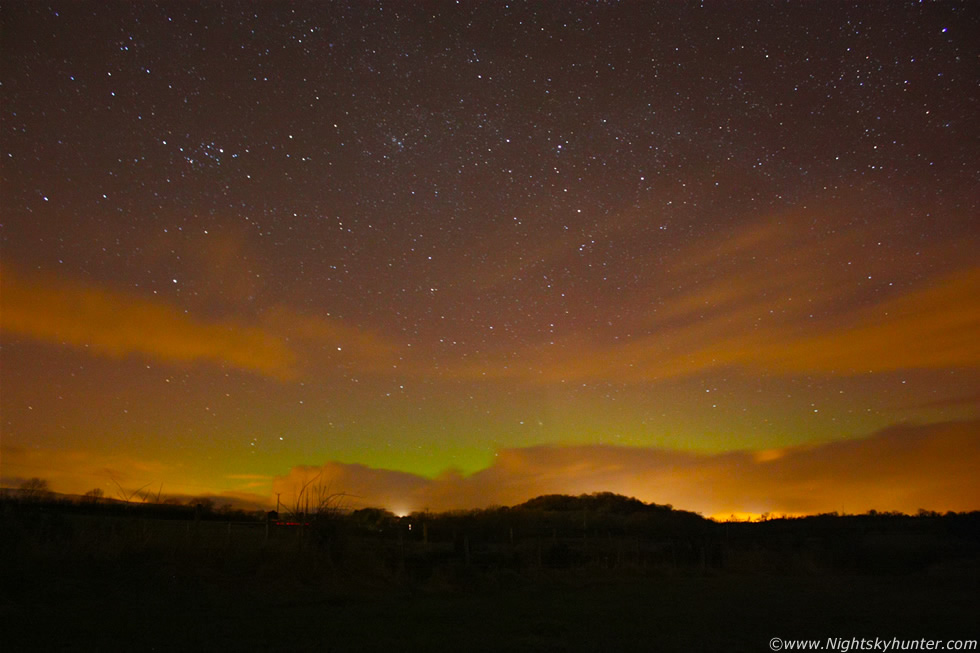 I climbed over a gate in pitch blackness and walked into a field to get a better horizon, the field was also in complete darkness and my eyes hadn't adjusted yet because of the glow of the LCD screen so I couldn't see what I was stepping on however it soon because apparent that I was standing within the worst part of the field on a soggy area on tractor tracks covered in puddles, mud, and crispy ice. My jeans and boots were caked in mud, if you check out the second image on this report you can see the very same field I was standing in from earlier. Hard to believe that from this very same place I would see snow and an aurora all in a matter of a few hours. With my eyes now fully dark adapted I could make out a green colour to the aurora fairly easily and even several vertical enhancements which were likely rays at the limit of vision. This band stretched across the N to NW sky 12 degrees above the horizon and the camera picked up an upper level red fringe which I couldn't see visually. Along the horizon where orange snow showers reflecting LP further away to the N and NW. The fuzzy glow of M31 can be seen R of centre along with a subtle beam. I spent a long time in this field taking images then decided on a change of scenery and went back to the car.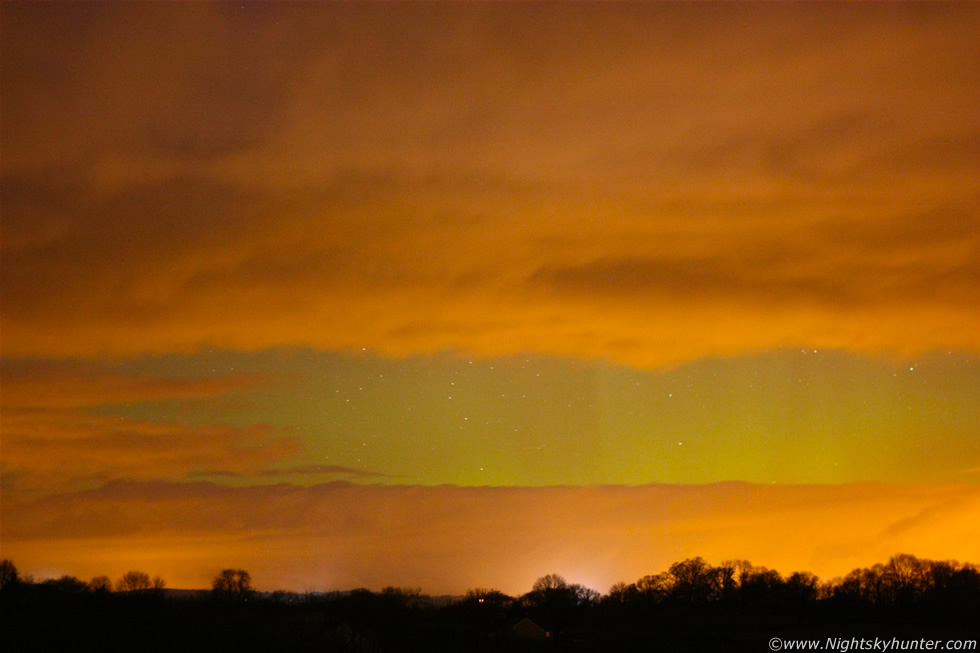 I was looking for a better foreground and was approximately one mile from my previous location when I looked out the windscreen and saw the aurora intensify very suddenly so I wasted no time and just pulled over at the first gate I saw. I set up again on yet another dark country road and took a test shot, it was just after 03.00, when I looked at the image I said ''holy s**t'' out loud, the aurora was obviously experiencing a strong outburst because the image was filled with green beams with pink and red colours at the top of the frame, however a big ugly power line cut the image in two completely destroying the scene so I deleted it and went over the gate into a vast dark field. I walked carefully down the sloping pitch black field until I had reached a point on the other side of the power lines and got set-up once more.
I switched to the Canon 50mm F/1.8 lens and got this image looking N, this lens collects an incredible amount of light, it not only picked up the green band but also a dance of vertical rays which can be seen between two rows of clouds, the exposure was only 9 sec's. There was at least half a dozen beams in there and I could see them with the naked eye too, the 'nifty fifty' had certainly proved itself tonight. As I watched the beams seemed to fade and it became apparent that the outburst had been a short lived affair and it was back to a green band once again which looked alot fainter than before. I suddenly heard heavy footsteps in the field trotting swiftly towards me, I couldn't see anything in the dark but panic took over so I grabbed the tripod and ran back up the field as the footsteps increased in volume, I think I pretty much dived over the gate with gear in hand, I was delighted to be back on the road again rather than being crushed by invisible cows.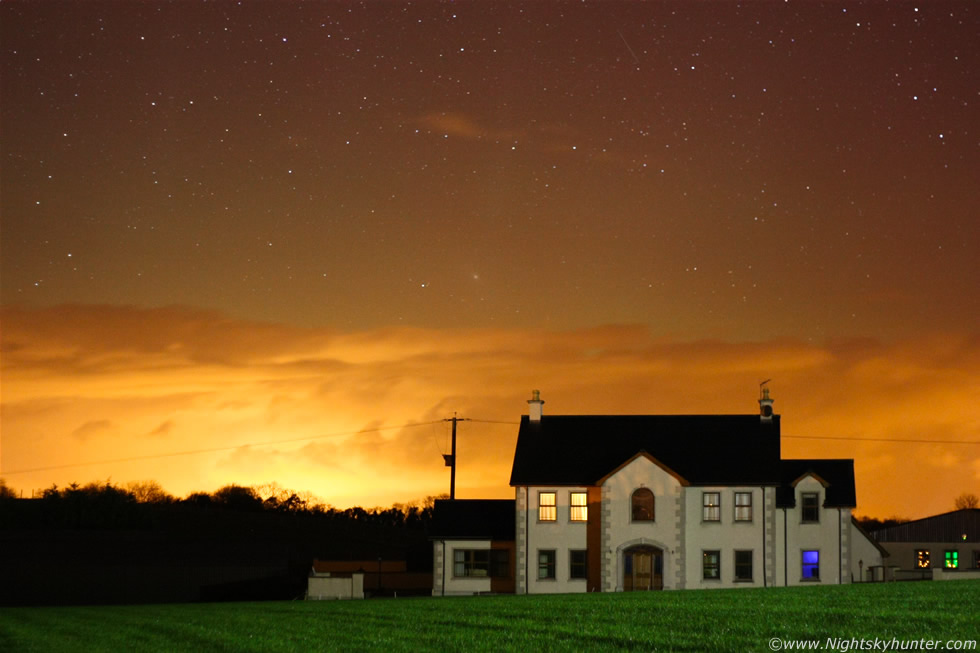 I drove back again and stopped at the top of a high hill for a few more images, I just managed to get the car squeezed into a small gap in the hedge and no more. The night was silent and cold but the beauty of the night sky was truly exceptional with a glorious Milky Way arching across the entire dome of the sky with Orion the Hunter showing off with Sirius the Dog Star and red Mars begging for attention within Leo the Lion. Above the now fading aurora where the stellar rich constellations of Perseus, Auriga, Andromeda, Lacerta, Cepheus, and Cassiopeia the celestial 'W' with the fuzzy glows from the Double Cluster, M31, and M34. Below these was a faint green aurora with orange-lit snow clouds drifting in across the hills. I used the 50mm F/1.8 for one last shot with this house in the foreground, the subtle green and red colours above the clouds were the aurora and the fuzzy spot at centre was M31 (The Andromeda Galaxy) and if you look carefully you can see a ray extending through the galaxy all the way to the top of the frame. It was 04.00 and the aurora was almost gone then clouds filled the sky so it was time to call it a night and drive back home on the slippery ice. I went to bed a happy man, it had been a great birthday, I got snow, a beautiful planet conjunction and an aurora and I even had a few slices of my chocolate cake so I couldn't have asked for more!.
Short video clip showing the falling hail and snow curtains near Maghera then progressing to the snow showers over Glenshane Pass then ending with still images of the planets and aurora display. Thanks very much for reading.
Martin McKenna