Glenshane & Benbradagh Snow Showers - Nov 20th 2015
At last after a very long wait the models finally showed the potential for Wintry showers across N. Ireland during November 20th. There wasn't a great deal expected however any snow would be nice to see again so I vowed that this would be my last photo shoot because I would be getting married one week later so it was my intention to catch what images and video I could during this 24 hour period then rest up and stay warm in preparation for the wedding. The models were showing snow showers across Tyrone, Antrim and Sperrins during the afternoon and evening period however after 21.00 local forecasts were showing a clear frosty night in their wake so my plan was to shoot daytime snow showers then return once again after dark for night time snow scenes, the moon would be advanced which should do a great job of lighting up the snow for us so all in all I was feeling confident and excited about this shoot even though nothing exceptional was expected, this would simply be a taste of Winter and some fun on a local chase. The Met Office had no snow warnings out for N. Ireland however they did have a yellow warning for strong gusts of wind in the 60mph range so it looked like the night time shoot was going to be raw indeed with a nasty wind chill however I would worry about that later.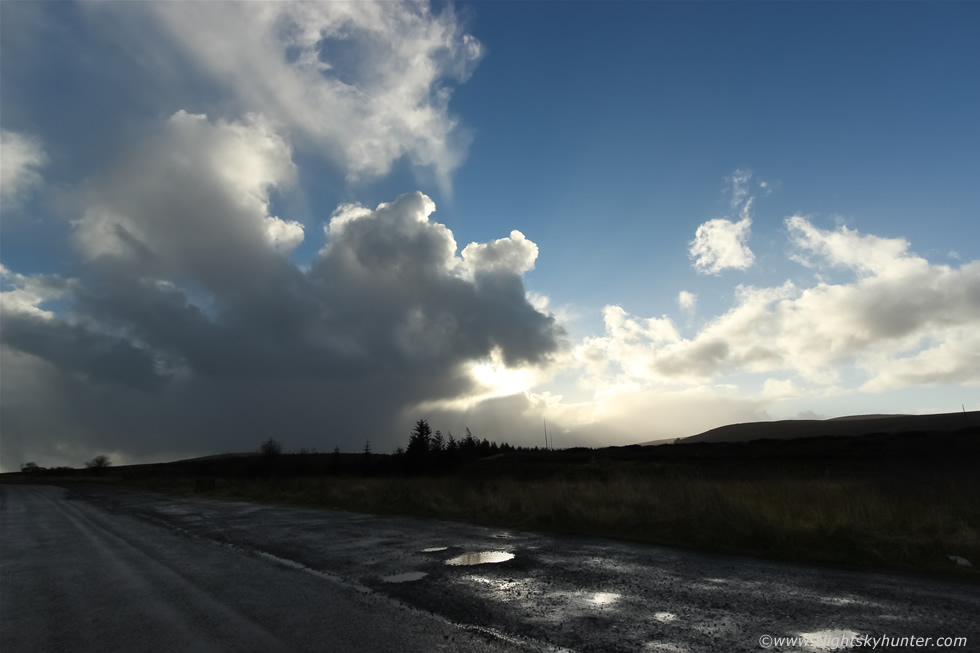 I was getting restless because there was nothing but sunshine and blue skies over Maghera however by early afternoon I was making my move, sometimes its best just to get on the road and see the real sky and make decisions then instead of spending an entire day in the house second guessing yourself. A last look at the radar showed a cluster of scattered showers moving towards the Sperrins from the NW hitting polar air across the country so I hoped that at least one of these showers would hit the Glenshane area with an increased chance of experiencing my first snow of the season. I drove across the mountain then pulled over into this lay by and watched the sky, at first the view was discouraging with some cumulus clouds however with the radar in mind I decided to drive further west with the intention of meeting those showers head on.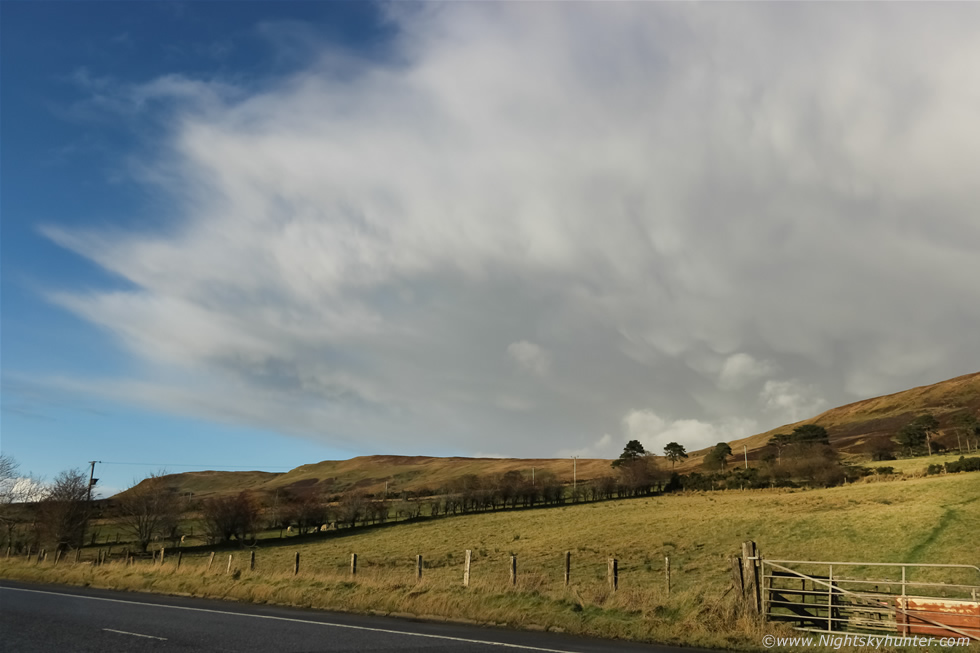 20 min's later I saw my first shower approach so I stopped on the shoulder and began recording a time lapse with my windscreen-mounted Go Pro Hero 4 Silver. The clouds engulfed me and it began to snow!, it actually looked quite nasty out west over the valleys and high ground trees, the snow was blowing quite hard across the forest so I put down the passenger window and spent some time taking high zoom video footage of those blowing snow curtains, I felt a sense of deep satisfaction, this was my first snow encounter of the 2015 season so as far as I was concerned anything else would be a bonus. After another 20 min's of snow the clouds cleared through leaving clean polar air and blue skies and in the wake of the shower was another cell brushing over the mountains, this one had a nice white-coloured low topped anvil with mammatus udders which looked quite beautiful contrasting against the sunlit warm colours of the fields and hills, it was shocking how fast the clouds were blowing across the sky this day, it seemed there was barely time to get stills or video before the area of interest had past behind me. I could see more showers out W and NW moving in so I decided to drive to the top of Benbradagh mountain to check out the view.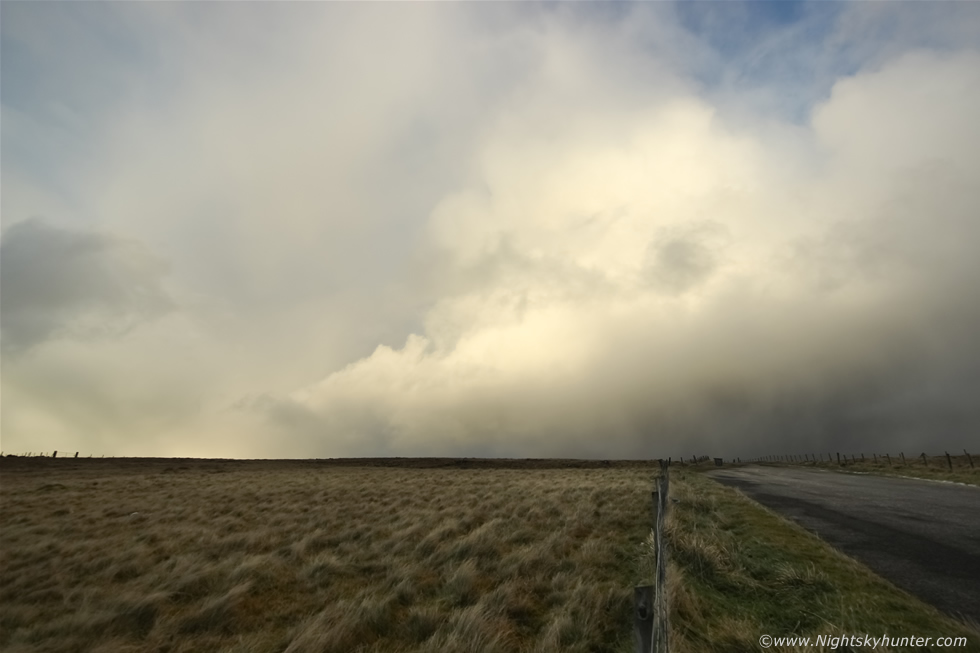 Here I was on Benbradagh after an hour of sitting and watching, the beefier showers had arrived and were affecting the peak, I couldn't have been any higher than I was here, I was careful not to expose myself too much to the bitter wind up here because I didn't want to end up ill so I made sure to do 99% of my photography from inside the van. Luckily I was the only one in the van so I had full access to the cap so I could switch between driver and passenger seats for filming and there was no one else mad enough to be on the mountain so I could park the van where ever I needed for the best angle. I employed every camera I had and every mount available for shooting. My Go Pro was filming from it's window mount with intermittent episodes on a tripod set outside. I also filmed with the Canon hand held with various lenses and made great use of my storm chasing window mount, with this I could fasten a clamp firmly to my windows, the mount was pan and tilt like a tripod head so in essence the van became a tripod in itself. Attached to the window mount was my Samsung switch grip HD video camera, I call this my work horse camera because it has been put through pure hell and still manages to function against the odds, the buttons made gritty noises and the front screen protector was jammed open from sand collected during its previous employment at the beach. Above is a 10mm still of one of those convective cells dropping curtains of snow across the summit, moving L to R, check out the dusting of snow and hail stones on the road.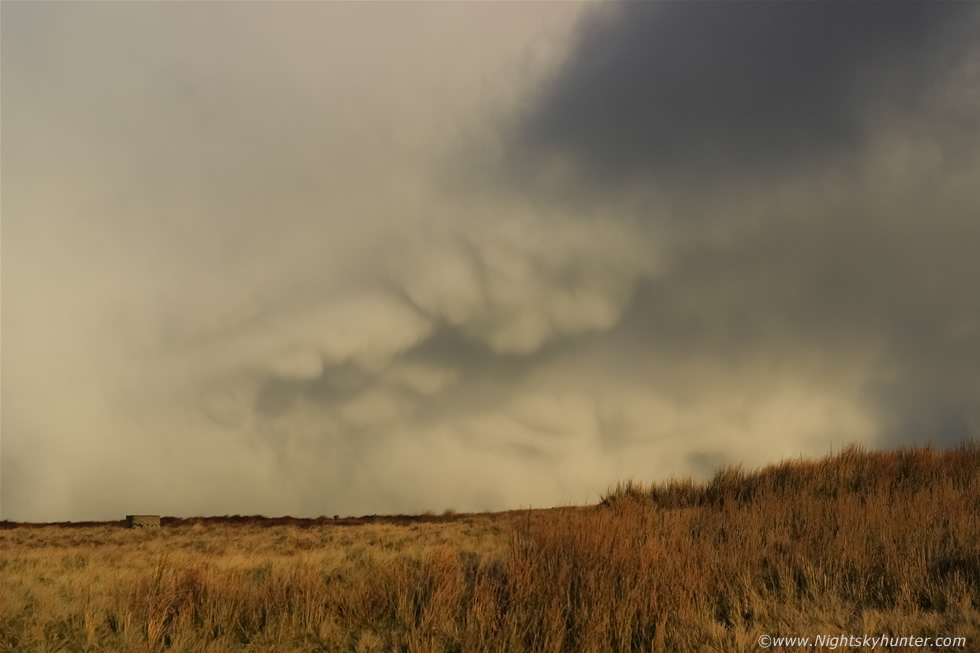 I drove up to the gate and got out for a brief taste of the nasty wind to shoot this mammatus display which was under that cell and catching the warm light of the lowering sun. Although this mammatus was not epic it still looked nice and was more rare because it was associated with a snow squall, that's snow falling on the left below the mammatus and beyond the ridge. I stayed here for another half hour and before sunset the temperature dropped from +4C to -1C in a rapid space of time. I figured any future snow showers after dark could lay so after watching the sunset I drove back home, warmed up, had my dinner and got ready for the second part of this photo shoot.
After 19.30 UT I met John Fagan in Maghera then we drove up Glenshane Pass in the darkness in our two vans, we waited for some time at the lay by on top and encountered numerous snow showers which was a very good sign. We changed location to the Ponderosa - N. Ireland's highest pub - and waited in the car park. According to the satellite images the sky could clear within an hour and we would get our nice clear skies and moonlight for photography. So we waited and waited, I had several brews and snacks while John boiled up fresh hot water on his gas stove then waited some more. It seemed to take forever to clear and we began to wonder if it was going to do so at all despite the encouraging forecast from the television earlier. We got hit by some nice heavy snow showers which blew curtains of small snow flakes across the Ponderosa car park which looked quite impressive over the bright security lights, John and I parked to the side of it and filmed the scene out the window, the 50mm F/1.8 lens is a real gem for night time filming like this. After some soul searching John and I realised the forecast had changed, a big cloudy trough was moving down over us from the north so we decided we would be fighting for any clear gaps at all so we relocated to our intended target - a lovely old derelict house on Glenshane Pass - so we drove there and got ready.
It was either now or never so John and I made our way over the mountain to the house and set up two cameras and tripods each with the intention of shooting a moonlit snow time lapse which would have been epic under clear skies, however the sky was more cloudy than clear so we took some test exposures and acquired a few images just to have in case the clouds rolled in, this turned into a good decision for it would stay cloudy for the rest of the night. I hope you can feel just how raw it was here from the scene on this image, the snow, isolation, bleakness and check out the blades of grass showing motion blur from the strong wind which blew down the mountain, the squalls were nasty at times and on several occasions blew over our tripods. These two images made the entire shoot for me, they capture the magic moment when the clouds briefly parted to show the beauty of moonlit snow. The Milky Way with Cygnus and Lyra can be seen above the house complimented by the pronounced motion blur of the clouds which were racing across the mountain at high speed.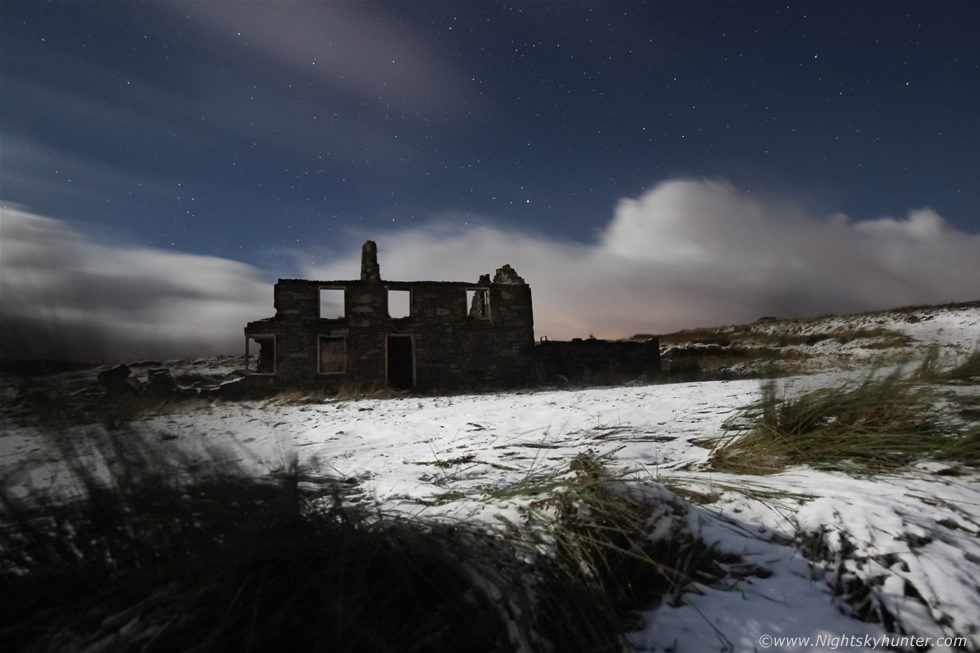 Captured in the midst of another strong squall with wind blowing the grass flat and smashing the naked tree branches together behind us while the landscape lit light and dark as the moon bobbed and waved between convective towers. We left one camera running each and began shooting a time lapse, we knew the sky would mostly be cloudy for it however we had to give it a go anyway since we were here. We may have had only 30 min's of exposure out here but that was more than enough, we had the sense to wait several hours in the vans while sampling more tea. Finally we called it a night once the moon set and began the drive home, thankfully I wasn't far from home on this shoot (for a change) however I was still cold and tired and longed for warmth and shelter.
Full video footage of the daytime snow chase on Dungiven and Benbradagh with time lapse segments as well as the moonlit derelict cottage time lapse later that night, best viewed at 1080p. As I write this report I am now married to my soul mate Roisin Laverty and eagerly awaiting for the next snow event the season has to offer while I enjoy the run up to Christmas. Thanks very much for reading.
Martin McKenna