Glenshane Pass Night Snow Photography - January 14th 2016
This was my first solo photo shoot of 2016, I can tell you I have never been so glad to be out in nature, under the stars, in the snow and listening to the wonderful sound of my camera's shutter clicking as I was on this wonderful winter night. The reason was that I had been unwell since late November 2015, I got hit so suddenly by what I thought was a bad flu that I was literally floored and with each passing day I got worse and worse, then in the middle of it all I got married to Roisin who is now my beautiful wife and my soul mate, then the sickness got worse until it came to the point where I seriously began to think that I was not going to recover. I got an emergency doctor appointment and he confirmed that I had pneumonia, that was a shock I can tell you, well I suffered with it badly, got an antibiotic which began to work then I suddenly slipped back again and relapsed, I was weak, tired, lost weight, was breathing in a shallow fashion, sometimes only capable of speaking one word, coughing, mucus, I felt like my lungs were turning into pulp, for several weeks I also felt like all my front and back chest muscles were bruised internally, I had never been so badly affected by a sickness in my life as I did during this period. So during the entire post-wedding, Christmas and New Year period I was completely out of action, I couldn't go out shooting as my chest was too vulnerable to the cold and further infection so I never pressed my camera's shutter button once during that 2 & 1/2 month period which was devastating for me and of course I missed a substantial aurora display on New Year's Eve, this was all the more frustrating because I got a digislider for Christmas and aside from one test on Christmas Eve night I never got to use it under the stars since then so I my spirits were low and I began to wonder when I was ever going to get back in action again. A second visit to another doctor in early January confirmed that I was over the worst of it and I was issued with another three day antibiotic, this combined with a lot of rest, warmth, hydration, eating fruits and healthy meals and a great deal of positive thinking finally got me through this long ordeal, to be honest I owe my life to Roisin because it was she who kept my spirits high and convinced me that I was getting better while sacrificing her own holiday to be by my side so I couldn't have married a better woman!
By late January 2016 I was feeling more like myself again, I still had to be extremely careful regarding my exposure to the elements however my desire to be out in nature and breathing in fresh air was overriding all the warnings. The weather pattern suddenly changed too and I welcomed it with open arms, the months of Atlantic dominated weather was about to stop, the mild temps, rain and SWly flow had, in my opinion, been transporting germs and bacteria across the country causing the worse outbreak of Christmas flues and chest infections I had ever seen, I firmly believed that this weather pattern had a role to play in the spreading of these illnesses. Suddenly the air north of Greenland began to heat up, a direct result from storm Frank, then building high pressure formed a strong ridge which shut down the Atlantic storms and introduced Arctic air all over larges parts of Ireland and UK, I was delighted to see it for by the second day under this new pattern we had blue skies, sunshine, crisp clean air and frosts, the air was invigorating to breath in and for once it seemed like we were getting the weather that we should be getting at this time of year. The models were also indicating snow for two days across N. Ireland, these were mainly forecast for NW and W areas on high ground however it wasn't until the following day, January 24th, that there would be the first and best chance of the cold spell to get snow and for once I was feeling game for it. That day it snowed periodically on lower ground but didn't lay so I was holding out until night fall, I figured the dropping temp after sunset would increase the chances of showers turning to snow and laying, especially on the mountains which was my main objective. The flow was an unstable NWly so there was a chance of convection and even rare thundersnow however the higher resolution models indicated strong CIN over the N and NW which indicated that a cap would stop these cells from getting taller for electrification, however I wasn't bothered about that during this time of the year because my heart was set on seeing my first snow of 2016.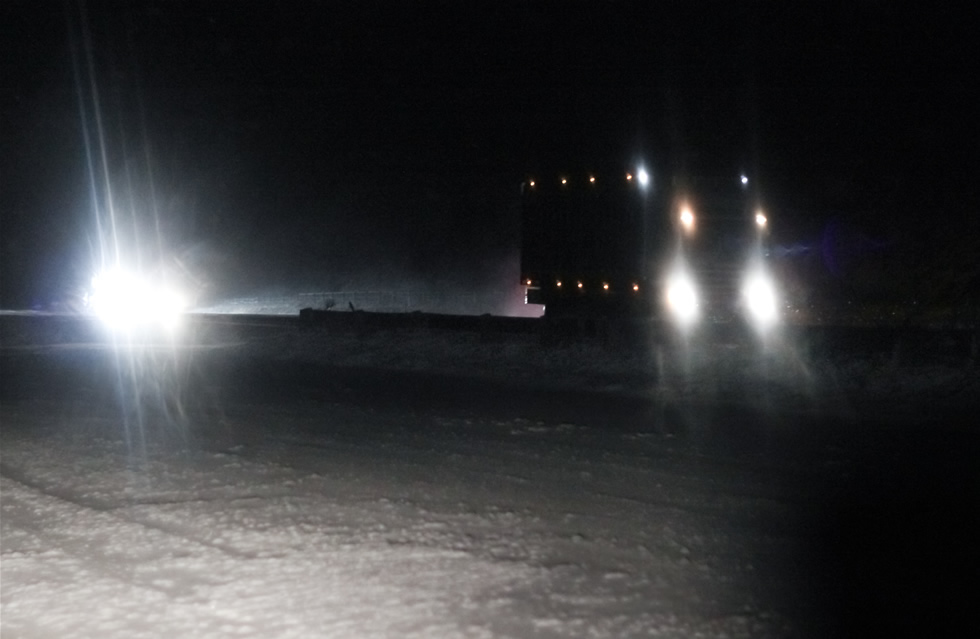 After 20.00 UT I drove up Glenshane Pass and parked in the lay by adjacent to the main road which was busy with cars and traffic navigating over ice and falling snow showers. There wasn't a big accumulation by any means however the area was covered in white, varying from a dusting to several cm's thick so there was enough to be photogenic and satisfy my snow fix. The van temp read -1C and flashing so it was certainly freezing so any further snow would lay on top of what was already there. Not long after I arrived it began snowing again so I decided to try some hand held night images using the 50mm F/1.8 lens. Since I was shooting hand held I had to use a slow shutter speed and high ISO with aperture wide open so it was difficult to keep the camera steady, furthermore the traffic would show some degree of motion blur, but I didn't care, I just wanted to document at this stage. This scene was actually quite cool at times, when a snow shower approached an increase in wind would blow snow across the headlights, pillars of light would form on the falling ice crystals, a little like diamond dust, this is the same process which forms pillars at sunset, you can see the pillars above and below the truck's headlights.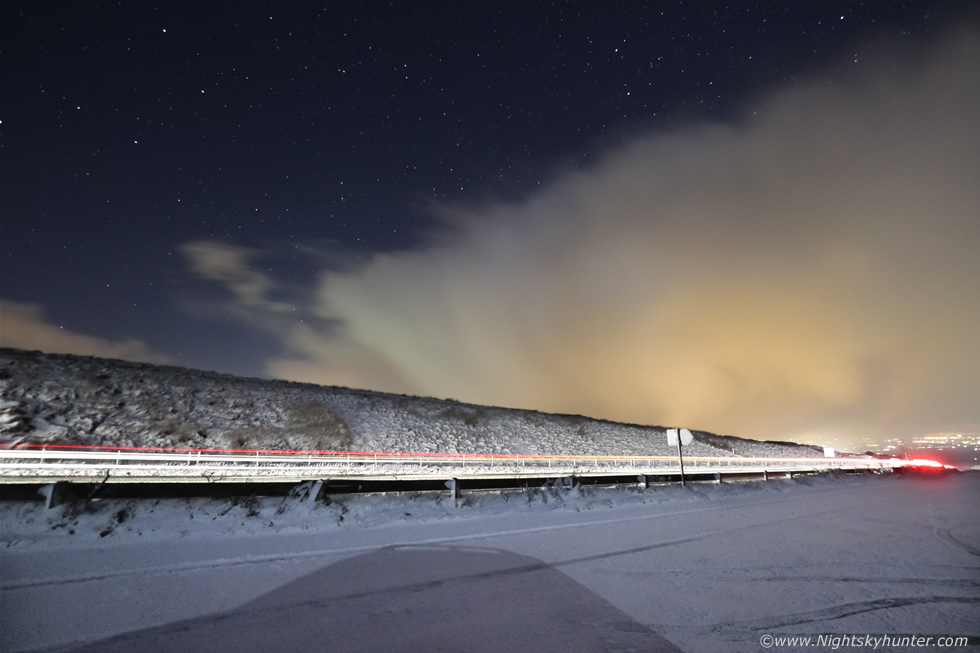 It was one of those beautiful nights of passing snow showers and clear skies which I absolutely love, I wanted to try and get better images however I didn't want to risk a relapse standing outside with camera on tripod so I put down my window half way and attached my storm chasing window mount which clamps over the top ridge of the glass, then I attached my camera, this way the van became the tripod and I could stay inside shooting with some degree of shelter and comfort. This set up worked to absolute perfection, with cable release and bulb mode I was able to shoot long exposures while staying warm with the heater on. All of these images were taken with the engine running with mild vibration however you would never be able to tell from looking at the images, I had to be conscience not to shuffle about too much in my seat though as that kind of movement could shake the van too much. I was tracking and shooting this passing snow shower as it trekked through the northern sky from L to R leaving a beautiful clear sky and stars in it's wake. The snow shower was getting lit from underneath by the lights of Maghera and the surrounding area which created nice warm colours which contrasted nicely with the colder blue tones of the Polar air. You can see subtle mammatus on the right hand side above the lights.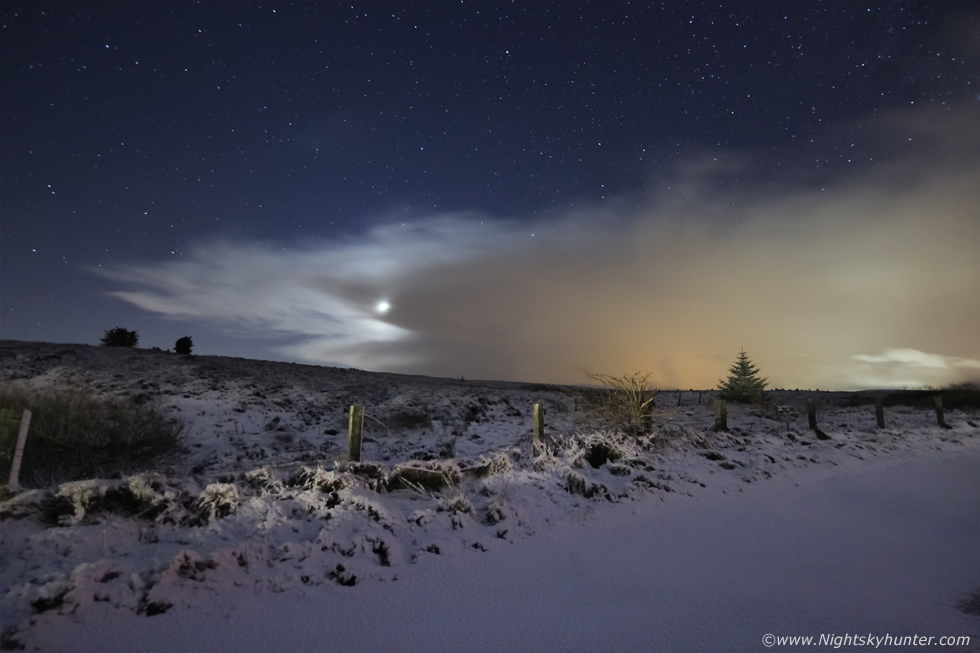 Another big snow shower appeared from the NW and was heading in my direction so I turned the van around until I was facing W. That's the thing about using the window mount, everytime I needed to change angle I had to adjust the position of the van which resulted in a lot of reversing, turning, forward, turning, reversing etc accompanied by the occasional spinning wheel and spray of snow, who knew what the passing car drivers were thinking when they saw me in their headlights, maybe they thought I was stuck, I'm sure they didn't know I was shooting images. The crescent moon with earthshine illuminated the snow and was in the process of being engulfed by this incoming snow shower moving R to L, it was a beautiful scene with the stars aloft.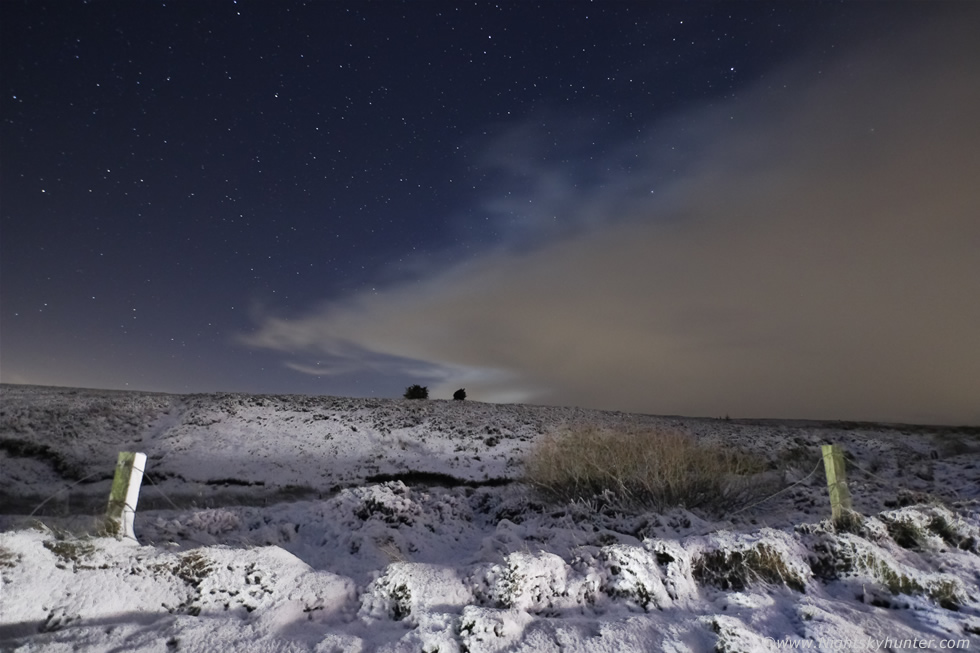 More repositioning of the van ensued, now the snow shower looked like a shark head which had just consumed the moon and now was in the process of covering the stars one by one as it neared, the Keystone of Hercules can be seen on the far left. The headlights of passing cars and trucks lit up the snow for me close to the camera which made getting a balanced exposure very difficult however I liked the effect and thought it enhanced this scene.
I reversed and pointed the nose of the Berlingo to the S and began shooting W from my window mount at the other end of the snow shower, this was one of my favourite images of the night. A combination of headlights and rear lights with clouds and stars over snow lit pink-red by the traffic made for a striking scene. The shower hit soon after this and it snowed heavily then when it passed revealing more stars I decided to leave the lay by and pick another spot, I entered the main road and took a left.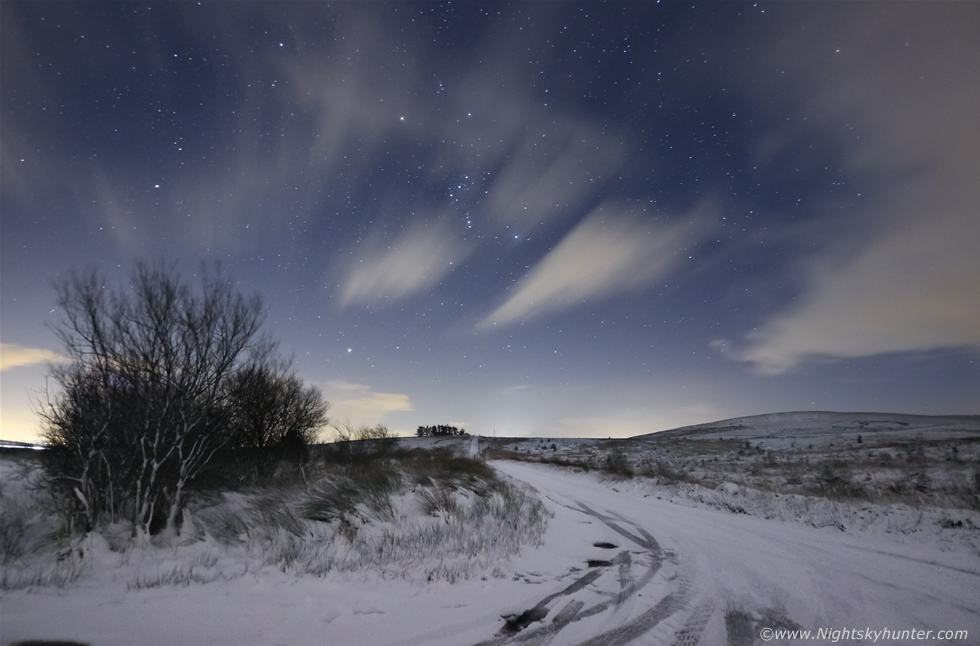 I drove over the cattle grid and into deeper snow, the road was passable but I didn't want to end up near the edges which dropped off into deeper snow, I would be stuck if I did so I stayed on the centre, there was ice under the snow too so the tires began to spin a few times with the traction control flashing. I stopped at a bend and set the DSLR on the window mount once more for a few more images to take advantage of the clear skies, I saw significant cloud moving in behind me so this could be my last chance this night for night snow scenes. Orion was showing off in the company of Canis Minor and Canis Major with bright Sirius twinkling like a jewel while the lowering moon lit up the snow making for a pleasing winter scene.
I then hit the main road and drove west through heavy falling snow, the roads were still in good shape and the gritters were busy however the main concern was the snow falling from the sky, it looked like a scene through the Millennium Falcon in Star Wars with snow flakes streaking into the window at high speed, even with dipped lights it was difficult to see out the window or even the road, in addition to this I would hit pockets of dense fog with falling snow which really dropped visibility further, I had the Go Pro filming at this stage but at night I knew it would never do the scene justice. I arrived in Dungiven and made it one 1/4 of the way up the mountain then turned facing nose down and stopped, I couldn't get any higher, even with the handbrake on and gear in reverse the van still slid forward down the mountain road under its own momentum until it stopped. I was hoping for a clearance to shoot stars over snow here however it never cleared once, it snowed and snowed and snowed, big beautiful flakes falling with intent, it was beautiful to watch, I sat there for over an hour watching then turned on the radio to hear 'Star Man' by David Bowie playing, it felt like a spiritual moment in some way as Bowie had passed away earlier this same day, I always liked his music so it was a nice moment while the snow flakes gently landed on the windscreen. I drove back home as I didn't want to push my luck too far and besides I planned on going up again at first light for another snow shoot across Glenshane Pass.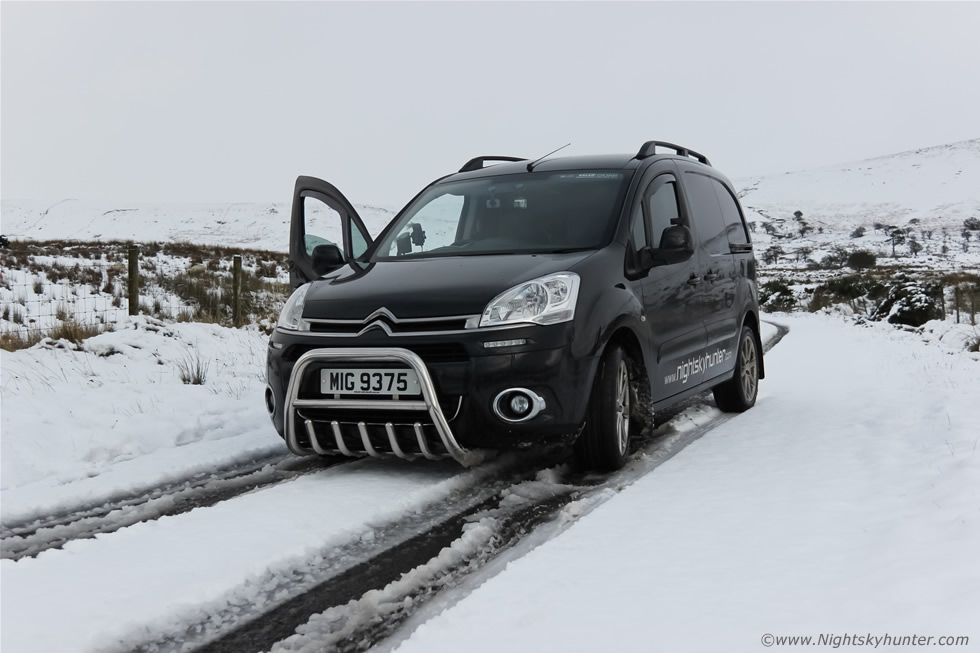 I had set my alarm for 09.00 UT the following morning however sleep was a luxury I couldn't get, my mind was racing and to be honest I felt so invigorated by my first shoot since November that I felt like I was buzzing and simply couldn't rest so at 05.00 UT I watched a storm chasing DVD then tried to sleep again at 06.30 UT when I finally drifted off. I woke next morning wondering why my alarm hadn't gone off, maybe I had woke early, I checked my mobile, it was 11.45 UT!, the alarm had gone off but I had slept through it, I was annoyed at myself because I had missed the morning light over virgin snow on the mountains and by now some of that accumulated snow which had fallen overnight had already started to thaw, however being an optimist I made a quick breakfast and drove back up Glenshane Pass anyway. The place was covered in snow varying from a dusting to a couple of inches to 8" on the sides on the back roads where the ploughs had been working, the temp was already 2 degrees C so the thaw had begun so I decided to hunt on even higher ground where the snow would be deeper and where temps were lower.
I once again made a beeline for Benbradagh, it did not disappoint and even at the bottom the van was spinning in the snow, the wheels just could not gain purchase through the ice and snow so I went back down, then reversed up the mountain road, the plan worked and I got somewhat further than I had done when going forward but eventually I spun out so I parked there and watched the snow for an hour or so - (when the above image was taken) - taking in the pristine fresh air, admiring the snowy landscape, the summit of Benbradagh getting coated with a fresh curtain of snow and took images and video at a leisurely pace. I was loving the atmosphere and furthermore I was loving being out in it even more, the air and countryside was like heaven after having spent so long indoors while I was recovering so this was the fix I had been waiting on. I even felt healthier and could have swore my chest felt lighter and cleaner just from breathing in the snow filled air last night and today, I felt completely cleansed and back in the zone. This day wasn't about images, it was more about the experience of being out in nature within the countryside which I truly love and a countryside which has always been good to me. I then drove back home with a smile on my face feeling exhilarated and delighted to have got my first photo shoot of 2016 under my belt, now I felt ready for what exciting sky new adventures this year has in store.
Video clips of the night and day snow scenes on Glenshane and Benbradagh with the Go Pro and DSLR with still shots from the night snow photography from the previous night. Thanks very much for reading.
Martin McKenna