GPO Light Pollution Protest & Beautiful Moonlit Snow On Glenshane Pass - March 12th 2020
This was something a little different which I didn't expect. I was contacted by the GPO in Greencastle in relation to the proposed new Gold Mine which could be in operation in the area in the near future. Naturally a situation like this creates much controversy in relation to the impact to the environment and the people who live in the vicinity of the site. The new mine may also have an impact on the dark skies across the Mid-Ulster area which could curtail the quality of astronomical observing and astrophotography. In response to this issue the GPO arranged a light pollution demonstration at the exact site of the mine, this involved a series of lights covering a 1200m area of the land similar to the type used by the mine itself, the idea was to showcase the effects of light pollution and its impact on our night sky and it was this angle which involved my input. I was invited to document the protest by camera or drone, the demo would take place over several nights between 20.00 UT and 23.00 UT so I decided I would make good on my word and document the light display on its opening night.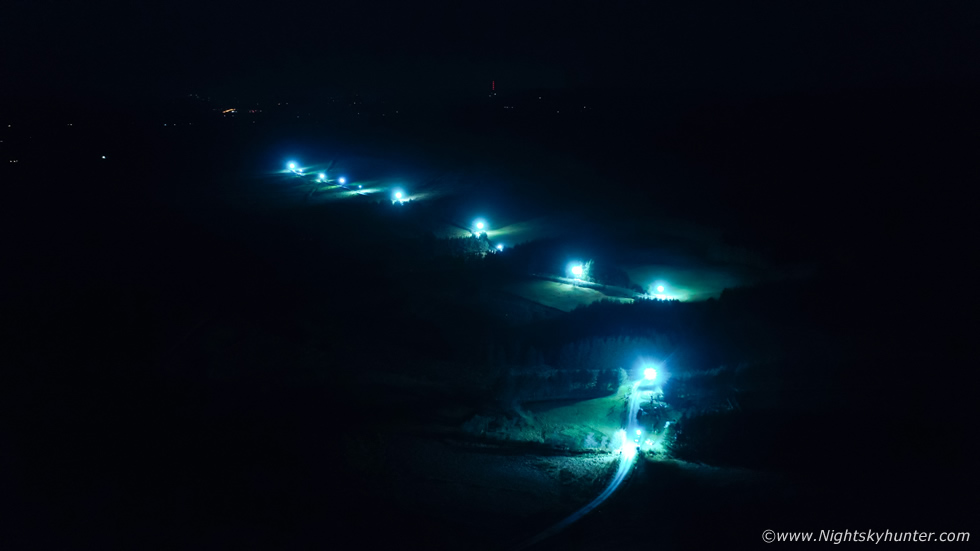 I got full permission, I examined the site during daytime and via google maps while consulting with the GPO so I knew the area had no hidden hazards such as power lines or cables. I worked out my range and camera settings then I hit the road with a spotter for company. We arrived on site, parked on a public dirt road, met some of the GPO team who were all very nice and helpful and passionate about their cause. Once the lights were turned on I got my plan under way. I set up my DSLR and shot a time lapse of the lights, sky glow, passing clouds and Venus. I then got the Mavic 2 Pro in the air and captured footage and still images. This was manual mode showing the 1.2km area of lights.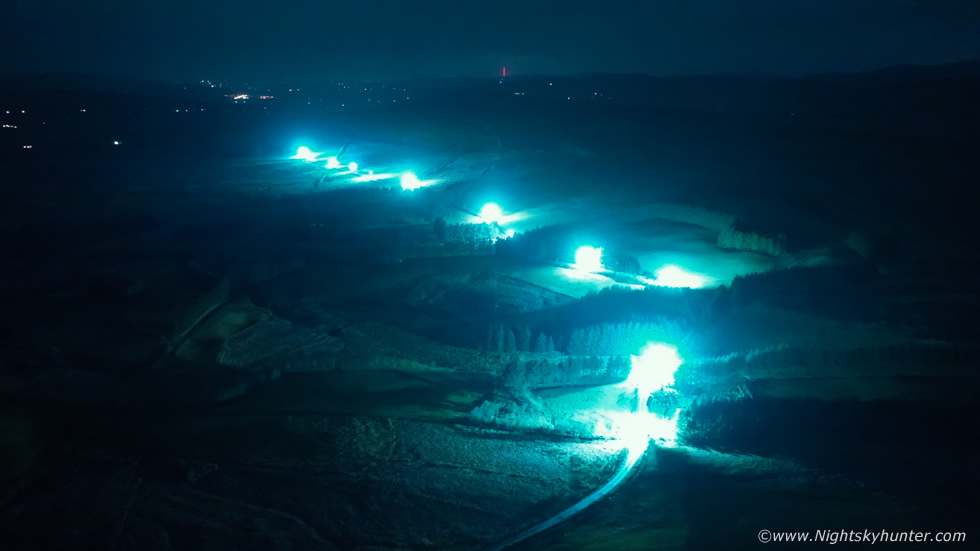 Auto mode which selected ISO3200, I removed some of the noise in post, amazing how sensitive the M2P camera is in low light. I burned through two batteries then the drizzle began so I landed and packed all away. There were others out this same night taking images of the lights from various locations across the mountain, observers reported significant sky glow from 15-20 miles range. My mission with this was simple, I'm a big proponent on the fight against light pollution, I feel if we don't make changes now then there will come a time in the future when many people will not see any stars in the sky at all, I feel it's imperative that we keep our connection with the stars and maintain our ancient relationship with nature. Light pollution can easily be mitigated by creating awareness, through education, by turning off unnecessary outdoor lights and altering light fixture designs so that stray light is re-directed into the area its needed and not wasted glowing skyward. These simple changes over time will reduce sky glow, greatly reduce light trespass and even cut down on energy costs, this is something we all need to implement into our lives to protect the sky for future generations. Now that I've got this out of the way it's time for a surprise snow shoot.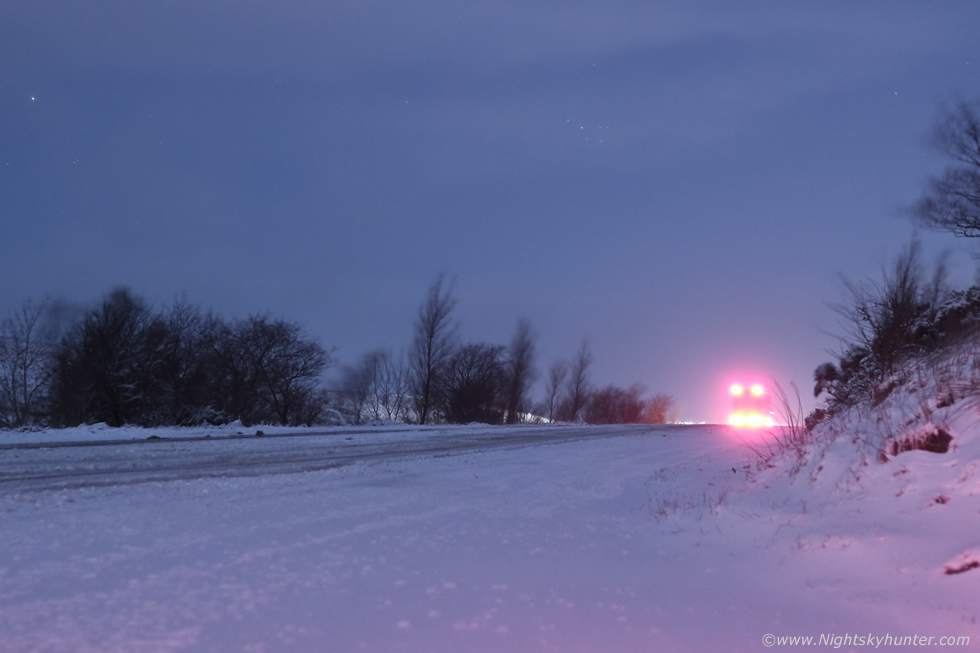 I was fairly certain by this time of the year and with no major set-ups showing that I may have used up any snow opportunities this season had to offer however I did notice Thursday March 12th showing on GFS as a day with some potential. To be honest it didn't look particularly potent and held little in the way of photo potential however I kept a close eye on it. The set-up was a cold marginally unstable post-frontal air mass with scattered wintry showers of hail and sleet which were expected to turn to snow after dark. Given the Wly flow I was expecting this to be another 'wet snow' event with just a dusting on the ground, I didn't even think there would be enough snow to justify the drive up the mountain. I watched radar all evening and was surprised to see an abundance of snow showers hammering in on the strong Wly flow, in fact, it looked like a freight train of snow showers all making a trek over the Sperrins and in particular the Glenshane Pass area. Online traffic cameras showed snow on the pass, much more than I had expected, it was then that a last minute photo shoot had presented itself to me.
I realized that I had no moonlit snow scenes captured this Winter so tonight could be my only chance, all I needed was clear skies as there was a bright moon well placed in the sky at waning gibbous phase some three days after full. Satellite imagery indicated a lot of shower clouds however a large gap was approaching from the west, this would be my opportunity, it was all down to timing and patience. I quickly changed into warm clothes and made my way up Glenshane Pass. I was actually impressed when I arrived as the main pass was covered in snow with ice below, the van was reading -1C, its rare to see this road covered now due to plows and gritters but this was one of those few times in which the virgin snow was untouched. I pulled into a lay by, it was snowing hard, big thick snow flakes putting on a show as they blasted across my headlights in the 20mph gusts.
I was experiencing the last few snow showers on radar and my clearance was perhaps 25 minutes away. It soon became apparent that many vehicles were struggling up the pass, I observed three lorries spun out, two at the top and one at the bottom. I began filming traffic battling the snow with the Canon 5D Mark IV and 50mm F/1.8 lens. The lorry at the bottom began to slowly ascend the pass, it could have been chained up but I wasn't certain, suddenly it came level with me and got stuck on the other side of the road, then the clouds parted and stars began to appear, it was then that I realized I was close to getting one of the scenes I've always wanted, a spun out truck in moonlit snow with stars, and now that chance was happening rite here and now, this could make for a great and unusual nightscape Winter image and it was presented to me on my lap for the taking. It was then that I noticed my cable release was missing, I thumbled around in the dark and after much panicking I found it but by then the lorry had gained traction and moved on up the hill, I got outside and attached the 50mm F/1.8 and took this short exposure, I had missed the opportunity, that's the break lights of the lorry now on top.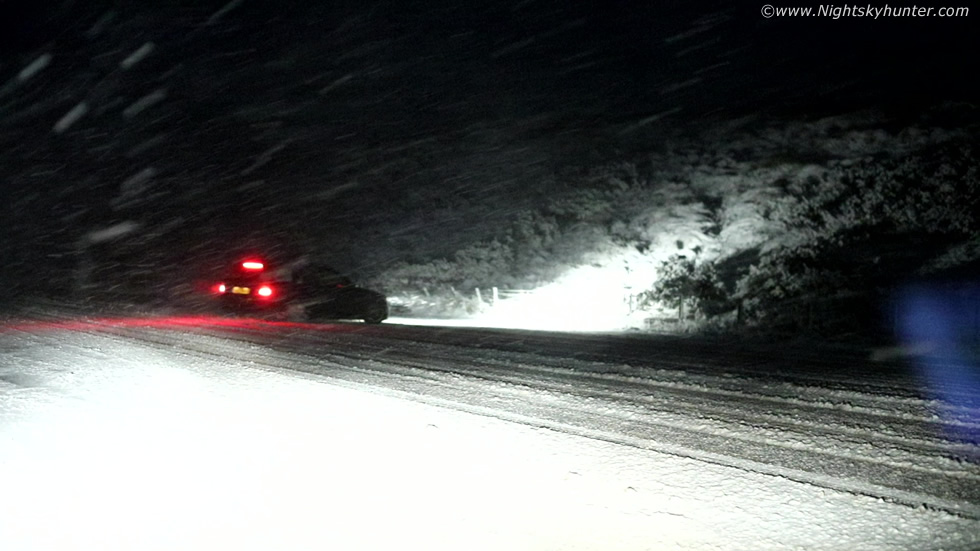 Another snow shower and more traffic, I captured video of this car clearly having a good time as the driver fish tailed along the road then ended in a 180 degree turn which I captured on video, this is a still frame from the footage.
Then the road turned quiet, the snow stopped and the clouds parted to reveal the stars, this was what I had been waiting on all Winter. The moon emerged from behind a cloud and lit up the snow just as I had hoped for. I walked onto the middle of Glenshane Pass, something which I have never done before during snow due to their being so much traffic and took this exposure facing west, it felt like I was the only one on this famous pass and I had it all to myself during one magical moment, the constellations of Gemini, Auriga and Perseus are visible.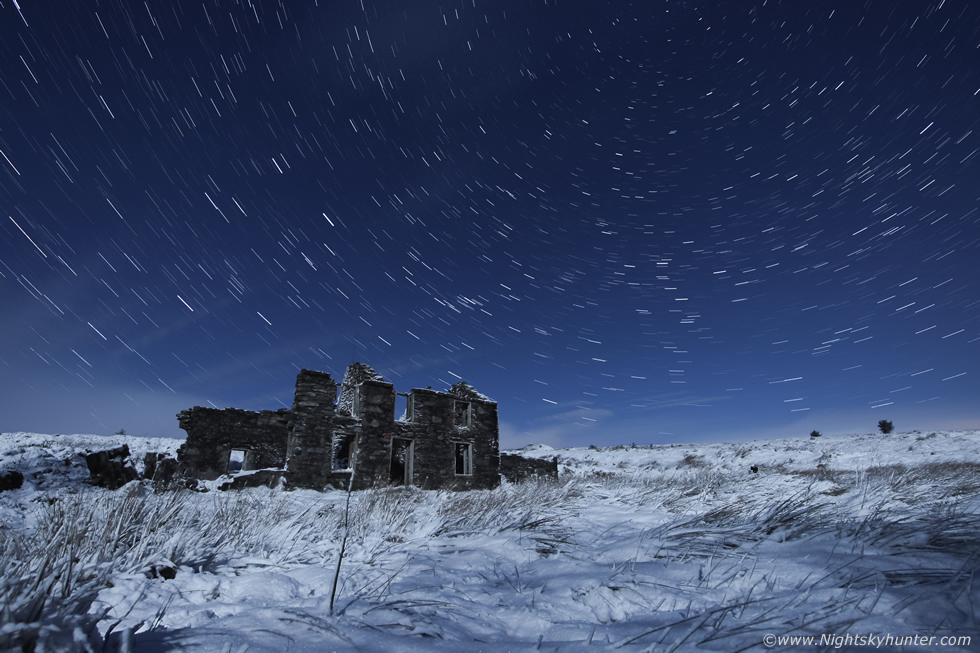 I wasted no time and made my way over to my old favourite derelict house which I have shot many times before in snow, however it's always worth trying again since moonlit snow scenes are rare each season. The going was good, I had clear skies, stars, fresh snow, and the moon was now rising higher and brighter than before, at its most brilliant moment the snow almost seemed to reflect moonlight so strongly that it gave the impression of a torch or car headlight on the snow, that's how bright the scene was visually. I set up two cameras, the first was here using the Canon 600D with 10mm Samyang F/2.8 lens, I began shooting a short time lapse and star trail. I really liked the final result, the moonlit snow magnitude faithfully captured my perception with the naked eye and the image itself helps capture that sense of isolation and exposure on the mountain.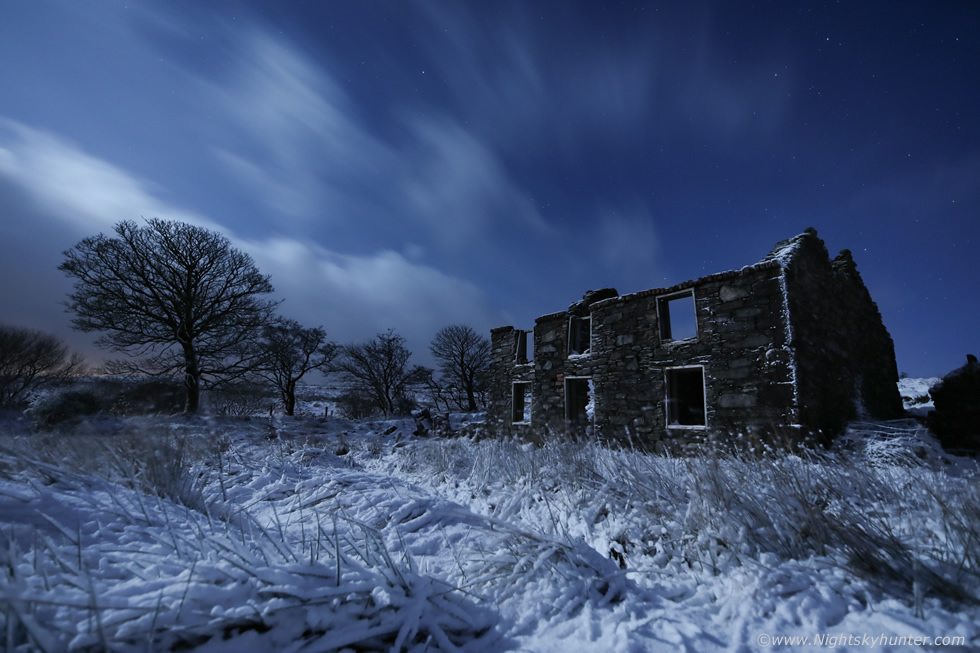 My second camera was the 5D Mark IV and Irix 15mm F/2.4 Blackstone lens up close and personal to the abandoned house. These were ISO3200 with lens stopped down to F/3.5. Random clouds scudded past the sky creating a nice moody affect. I was in my element surrounded by such beauty, the crunchy untouched snow, the peace and solitude, it felt like I was on another planet.
Camera moved close to the house and filling the wide angle frame. There's something captivating about this old house, when you are on your own here it feels slightly eerie as if you are being watched by the house itself, I feel like this all the time when I'm here, however I'm never unsettled by it, the feeling is quite comforting and I can sense from my repeated visits here that I have been made most welcome. I always wondered about the history of the house, who lived here? and what did they do with their lives?, and what did the house look like back in the day when during its prime?, I bet it has a story to tell.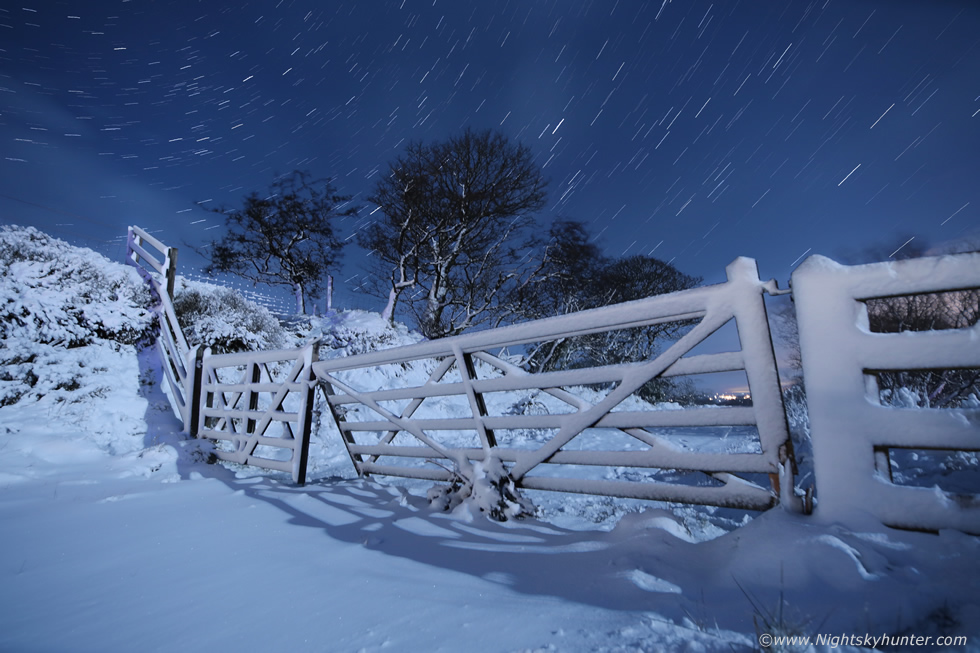 I saw more snow clouds appearing on the horizon and knew my time was coming to an end on the mountain so I took one last image before heading back to the van. I liked the angle and perspective of this fence and gate with the stars aloft, the snow here was absolutely untouched, it didn't get any fresher than this, so I set up the 5D and stopped the lens down to F/4 and began shooting a star trail, I knew I wouldn't get many images with the cloud approaching but I made the most of the clear skies I had. This was the final result, I have to say this was my best moonlit snow image for a long time, I didn't expect to be pleased with it until I saw the final stacked image, this image made my Winter, I got the night snow scene I was after. I felt sure I might not see snow again with Spring around the corner so I'm delighted I had made the effort to come up here so late in the night, nature had rewarded me.
Drone footage of the Greencastle GPO light pollution demonstration
5D Mark IV video footage of the trucks and spinning car on snow at night on Glenshane Pass very much for reading, I will have another night sky image report online soon.
Martin McKenna