Easterly Cold Spell, Icicles, Glaze Ice & Glenshane Pass Blizzard - February 2021
I was thinking to myself it has been a long time since I've seen any ice formations of note, and being well into Winter I suspected it wouldn't be long until we got some weather action once again, I didn't have to wait long, however the pattern was unusual in comparison to our typical set-ups here in N. Ireland. There were no cold air post-frontal air mass set-ups, no high Winter CAPE with freezing air aloft, no Wly or Nly flows. During early February all models had indicated that a cold spell was on the way in the form of a large scale high pressure blocking pattern which would introduce a freezing Ely event not dissimilar to that of 2010. The models never downgraded and the majority agreed with one another, this actually looked to be happening with both UK and Ireland in the firing line.
It wasn't long before inexperienced social media pages and the uneducated media began publishing headlines declaring that the 'beast from the east' would cause weeks of snow across Britain, and soon after the hype and ramping began. I didn't fall for a single word of this hype, I like to look at the facts, not let my mind become polluted by hopeful 'wish casting' or unfounded negativity, I like to deal with the principle facts. When I looked at the latest updates I had already made my own rough forecast. It looked like we would be experiencing a full week of cold or very cold weather, yes, eastern Britain looked like it could get hit hard by snow (it did) however for us in Ireland/N. Ireland further W it looked to be a different story. What I expected was a very dry and cold week which could climax with a decent snow event near the end of the week or over the following weekend. There was no instability, no troughs, in fact, the air was very dry so I expected very little in the way of precip with perhaps at best just a scattering of snow showers, but for the most part it looked bone dry every single day with no potential for snow until near the end of the Ely pattern when a break down to more unsettled conditions would unfold.
My prediction turned out to be correct, it was the driest cold spell I had seen in a long time, I reckon I witnessed about fifty falling snow flakes in Maghera one day and that was about it. From this dry perspective it would seem that any Winter photo opportunities would be minimal however I saw potential for something different, ice. The charts showed a strong Ely breeze all week which would drop daytime temperatures and adding a significant wind chill which could increase the potential for ice, however the lack of precip meant the country was too dry for any widespread ice formations. I suspected that after a few days into the cold spell conditions could be prime for icicles or glaze ice formations. All I needed was a source of water, this would require a little hunting on my part and a little luck, the best hunting grounds would be in proximity to lakes, rivers, or any dripping water sources such as a leaking pipe, running water or even a puddle splashed over a hedge, any of these could produce impressive ice formations. Any location exposed to the strong Ely wind in particular had potential or regions in deep shelter which get little or no sun where cool pools can form aiding with ice formation, so for the majority of that week I would be hunting for ice.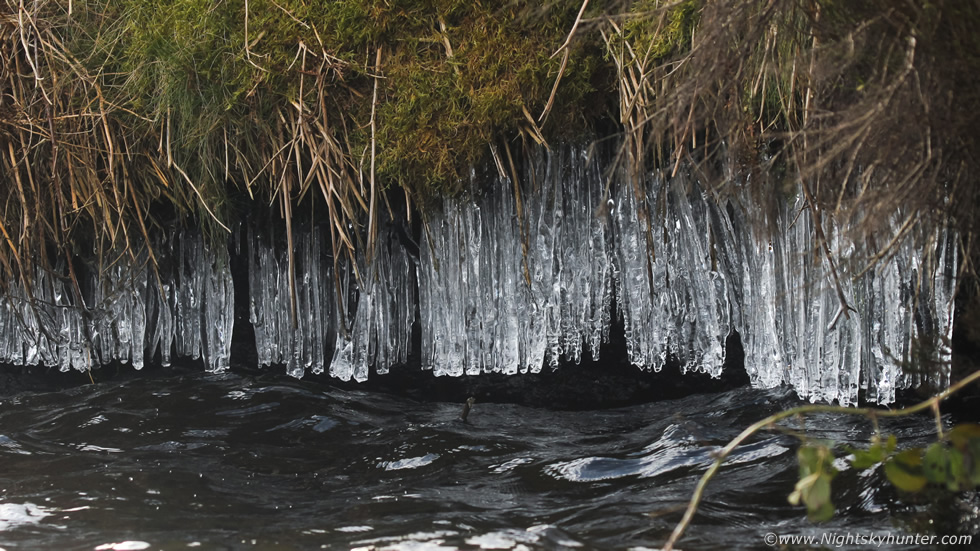 For the first two days I never saw a thing however on day three (Feb 9th) I decided to try the shore of Lough Fea, here the entire wind-facing side of the shore would have been exposed to that raw Ely wind and with constant overnight low temperatures which is custom for this area I suspected I might find something so I drove up for a look and sure enough I found what I was looking for. Sections of the far side of the lough were covered in icicles which hung from the overhanging moss and grass into the water, I estimated their length at 1ft or more in length.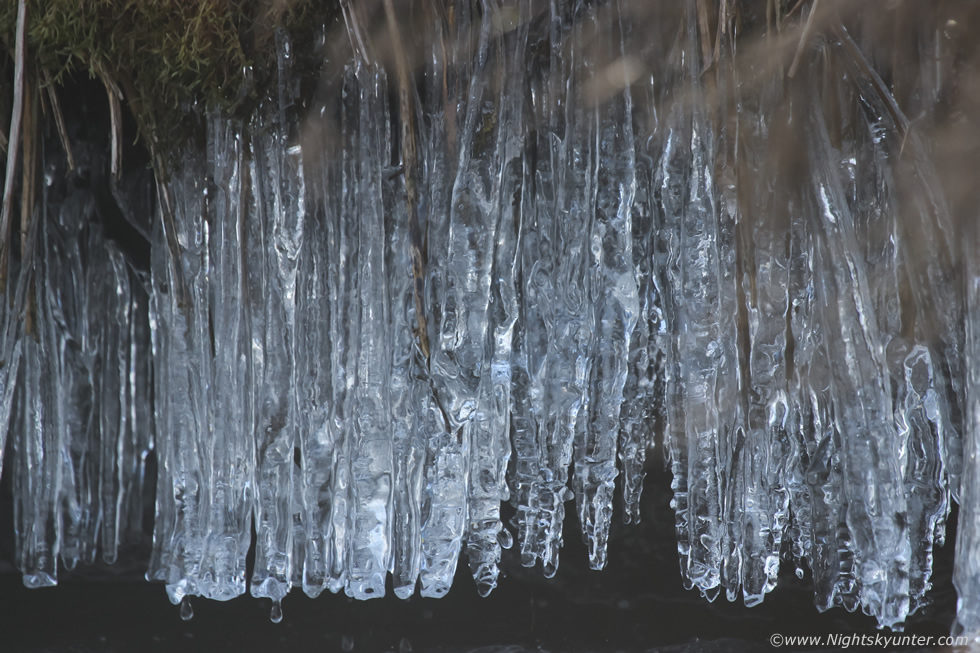 A combination of dripping water from the moss and grass and splashing from the lough itself below made for prime ice conditions. The best formations were difficult to shoot as I really needed to have been standing within the lough looking back toward the shore for the best angle, I was also at times shooting into the sun which made getting a balanced exposure more challenging. I ended up walking over the uneven marsh to get close to shore at an angle then used the long lens to get in close. The ground was uneven and treacherous but I found a vantage point which did the job.
Further around the lough exposed directly to the Ely wind was a nice section of glaze ice covering perhaps 30m of shoreline. These are some of my favourite kind of ice formations, they look stunning like glass sculptures which encase everything. It's amazing to see even a thin stalk of grass covered in thick ice.
I estimated the thickness of the ice varied from 1/2" to 4" in diameter which was quite impressive and much more than I had expected to be honest. Walking in this nasty wind chill began taking its toll so after I had a sufficient amount of images I headed back to the van to warm up, with conditions expected to be the same or worse for the next couple of days I suspected I would be finding more.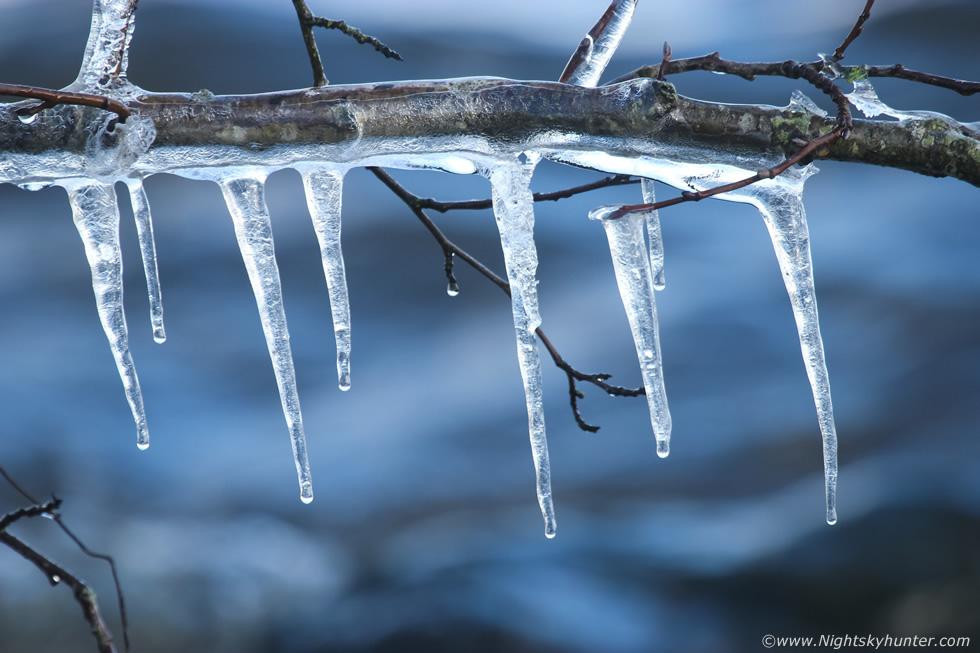 Feb 10th the next day I decided to try Ballyronan Marina at Lough Neagh which would be even more exposed to the Ely wind. I walked the shore and to be honest I was quite disappointed, I was expecting to see obvious formations on a decent scale however there were none to be seen. Furthermore a road crew were doing work in the area so some of the paths were closed, in particular the one furthermost out on the lough which would likely be the most fertile place to search, so that was out of the question. Not one to give up easily I continued walking N along the shoreline through the forest parallel to the lough and soon found some ice formations worthy of photography. The scene above actually makes me feel cold just looking at it.
The low hanging branches which flirted with the water were covered with hanging icicles, the cold blue background of the splashing lough made for nice contrast.
Even Freddy Kruger was covered in ice
Ice formations can look like art. I then checked out Battery Harbour in Ardboe and found more glaze ice however it was very well scattered and low to the water, but I was happy enough to have found anything at all.
Feb 11th looked to have even better potential. At this time there was a sudden surge of images appearing on social media showing interesting ice formations, the most impressive to me was the water fountain in Dungiven which was entirely encased in clear ice and a remarkable sight. To be honest I wanted to get images of it myself however it was in someone's private garden so I let the idea go, but I was already in the area hunting for my own formations. This day looked to have the best prospects, the wind had shifted to a SEly and increased in strength bringing a midday wind chill of -5 degrees C.
I was driving up Glenshane Pass, my eyes were scanning left and right searching for the slightest hint of an icicle when suddenly I looked to the right and saw a large section of stone cliff face covered in huge icicles, I couldn't believe my luck. I found a safe place to turn then pulled over into a lay by for a look. This was a telephoto lens capture of the cliff a fair distance away showing just one section. I got wrapped up warm and grabbed the camera bag, it looked like the remnant of a disused quarry so I carefully made my way across the trail which took me to the rock face.
This was 10mm wide angle, the entire stone face left and right of this for several frames was covered in icicles
I used the 100-400mm to zoom into the mid section of the stone wall to isolated this icy stalactite
With so much ice on everything it was difficult to know what to shoot, technically I had plenty of time on my side to do what I wanted but in reality the elements had something else to say in that regard. It was absolutely baltic!, the strong raging Ely wind originating from Siberia was howling over the rocks and cutting into my back and through every layer of clothing. The wind chill was badly affecting my chest and my hands were suffering too, it was not a comfortable experience doing photography. This formation stole the show for me, glaze ice encased this outcrop of branches which then tapered into icicles at the bottom, it looked like an ice Banshee.
The formation was just above head height so I had to climb onto dodgy ice-covered rocks to get close to see the finer details and fill the frame, I was using the 18-55mm for these.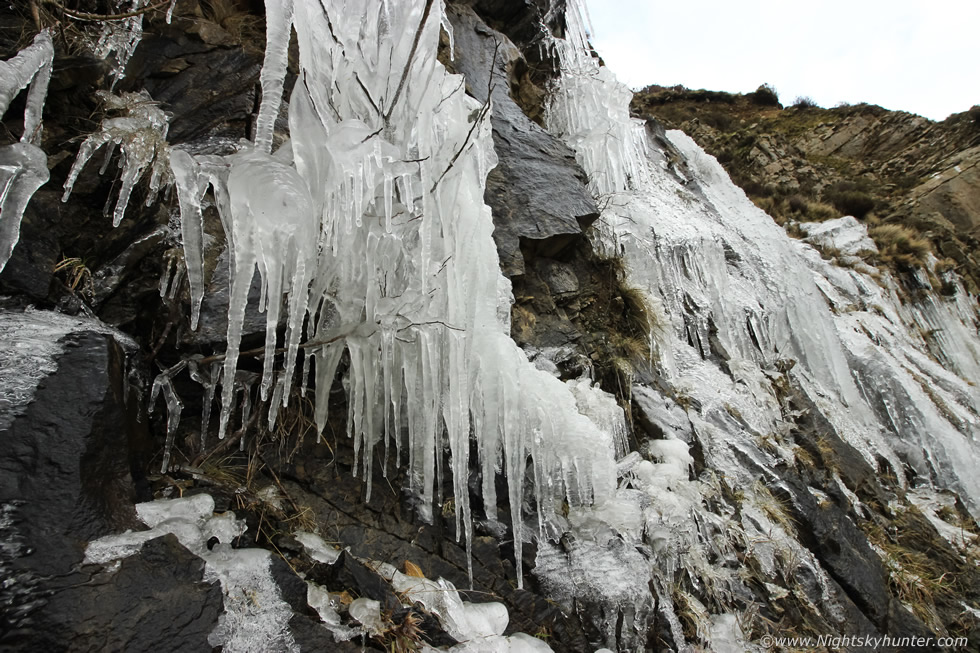 I then switched to 10mm wide angle on crop sensor. I really liked this structure and easily could have spent half a day here trying to get good images and interesting angles but the weather was simply brutal. I had only been here for fifteen minutes but I felt like I had been standing on ice for three hours, if I stayed out here any longer in this wind chill I would end up sick so I decided to call it a day while the going was good, but not before filming a short vlog. It was a shame there was no sunshine and blue skies to compliment these ice formations but the sky was already overcast with heavy grey high level cloud ahead of the approaching front which was expected to bring the much anticipated snow event the next day. Despite these minor nuances I thoroughly enjoyed these ice formations which ranged from 4ft to 6ft in length. I saw large thick chunks of ice 'spears' on the ground upon where I stood which were obviously the remains of large icicles far above me which had fallen to Earth. When I looked up I saw them rite above me, I reckoned if one of them fell on my head it wouldn't have ended well for me so I likely made the rite decision and headed home content with what I had.
The following day was to be the main event of the week, this would be a classic battleground scenario when an Atlantic frontal system collides with cold air falling as frontal snow. There were no questions if this was going to happen or not and no negativity if it would actually snow, this was going to happen. A deep cold pool of air was already over the surface all week and wasn't going anywhere so rain falling from the front had to turn to snow. The system would move SW to NE during the early morning hours then begin to affect N. Ireland before dawn then move NE before finally clearing in the mid afternoon so the timing favored daylight hours. What made this frontal snow event of greater interest to me was the charts showing strong winds from the SE, the mean would be varying from 20-30mph with gusts in the 40mph-50mph range so it didn't take a genius to work out that there could be blizzards, especially on exposed routes on higher ground, this aspect had me quite excited more than anything else. Soon Met Office yellow warnings appeared confirming blizzards and bad driving conditions so it looked like it was game on.
I spent the early night going through the latest charts and warnings and scanned the chat from other snow nutters on the weather forums. My plan was to get to bed around midnight then set the alarm for 06.30 to take a look at the radar. My Dad informed me that he wanted to join in on the action too so this was getting better by the minute. Dad is just as mad about snow as I am and has been photographing it for years, even back to his early film camera days and has had many an adventure on Glenshane Pass. I shut everything down at midnight then went to sleep, but sleep never game. I realized I was just too excited and my mind wouldn't settle so I just closed my eyes and tried to get rest. I reckon I drifted off for one hour at best and just lay still hoping a proper sleep would wash over me. Curiosity was getting the better of me so I switched on the lap top at 05.00 to check radar, I was impressed by what I saw, the front had red cores and was crossing the border into N. Ireland and it was snowing heavy. I ended up chatting with storm chasing mate Conor McDonald in Australia, he too was watching the radar so we ended up discussing the potential and prospects for daylight, Conor is mad about snow so I was impressed, but not shocked, that he was watching N. Ireland snow from warm Australia. I managed to get some sleep then woke at 07.00 for another look.
It was snowing outside and a layer was already on the houses and gardens and it seemed intense enough, however the snowflakes were smaller than usual and light, this was because of the dry air and the blowing wind. The flurries were dancing and blowing chaotically in the wind so I figured that higher ground had to be getting a good show. We had a quick breakfast, brought a few snacks, then left Cookstown and headed NW. With two of us filming this day we had an increased chance of capturing something cool. Dad was filming with his trusty 1080p camcorder which had a great zoom facility and I had two DSLRs set-up and laying between us. The 5D Mark IV with 100-400mm and 600D with 18mm and 10mm lenses, both ready to grab in an instant if needed. We also had the windscreen mounted Go Pro (I need to upgrade this) recording and the dash cam for back up. We noticed this front was already performing well as the Glenshane Road was covered in white and as we climbed in elevation the Pass was also white, this was most unusual because in recent years there have been that many tractor ploughs on Glenshane that the road had always been clear with black tarmac, even in the middle of heavy snow shower barrages, but today the road was covered in snow despite the ploughs constantly passing up and down.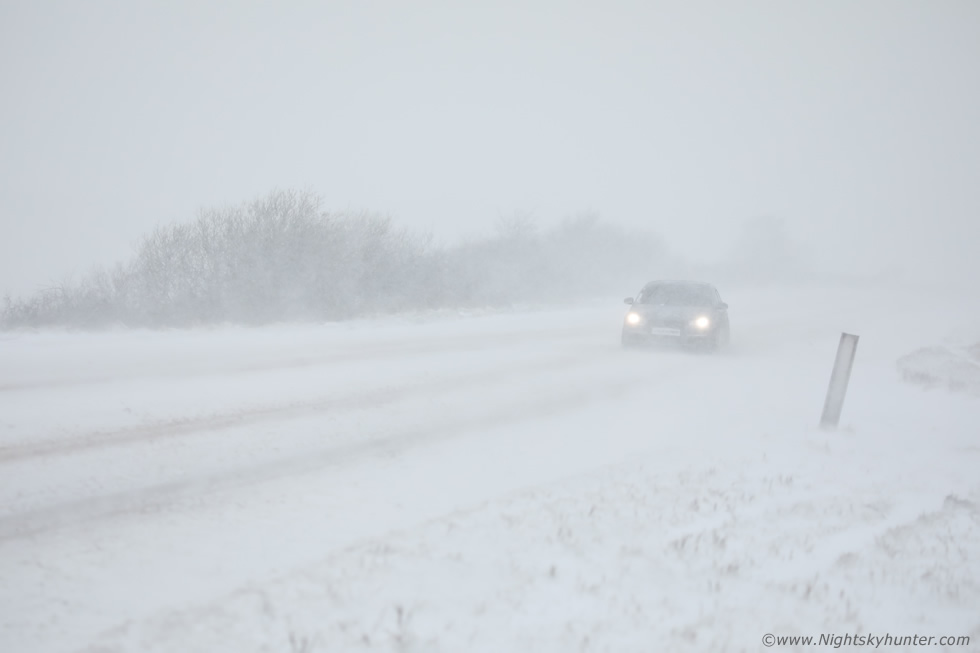 We parked at Proctor's Corner and began to take images and record video. We had met up with photographer Nigel McFarland who was further along the road shooting too. One thing I noticed before we left was that the front would pass through much earlier than forecast and by all accounts the main frontal snow band would leave this area between midday and 13.00 so we had a very narrow window of opportunity to get results. Furthermore the temperature was to rise soon after the passage of the front so there would be a rapid thaw and snow melt so the pressure was on. This wasn't going to be a day of good light, blue skies, sunlit snow and majestic snowscapes, this would actually be a severe weather day. All our driving and filming would be done under heavy falling snow with no breaks and with the strong winds it could be brutal outside exposed for any length of time in such wind chill. But Dad and I had to admit, as soon as we had stopped things were looking good. Facing W along Glenshane Pass as traffic battled through early morning snow.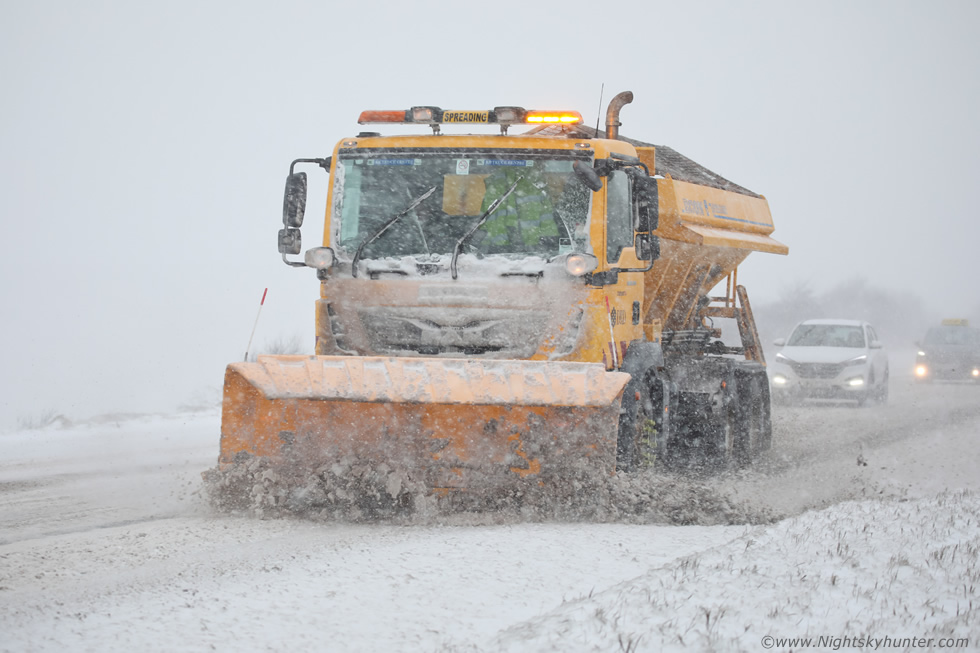 It would be a shame not to capture the gritters and ploughs in action doing what they do best. Normally the road would be clear and black in their wake but the blowing snow quickly covered the ground in white again as soon as it passed.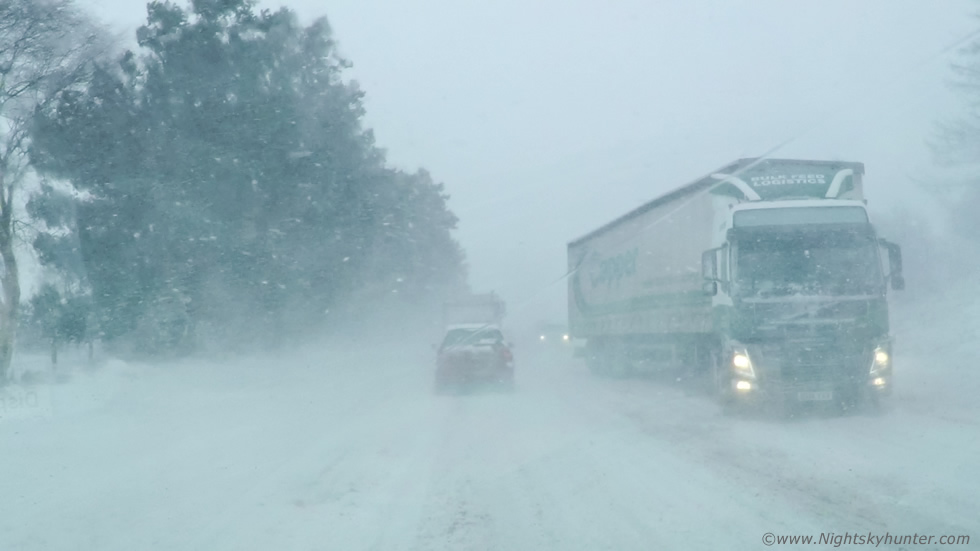 We had watched for a good 45 minutes then noticed that conditions were getting rapidly worse. The most intense precip cores on radar were now approaching the Sperrins which matched perfectly with the strongest wind gusts. We noticed snow beginning to lift and blow as episodic blizzard-like conditions began to manifest. Dad and I decided to take a drive west along the Pass to see what conditions were like there. After only one mile or so it was like a different landscape, this section of the Pass was completely exposed to the strong wind and we were now seeing true blizzard events and very bad road conditions. It was -1C and the van was sliding a few times and brakes were useless if used with force so everything was down to slower speeds, gentle break touches and using the gears for control. At times the road vanished in front of us when what looked like white 'smoke' (snow) blew across the road hiding all cars, it was like a smoke machine from a Hammer Horror movie. A car had ran into trouble on the other side of the road and had suddenly stopped causing a lorry to jack-knife on the road which in turn lost traction and spun out, this is a screen grab from the Go Pro as we drove past.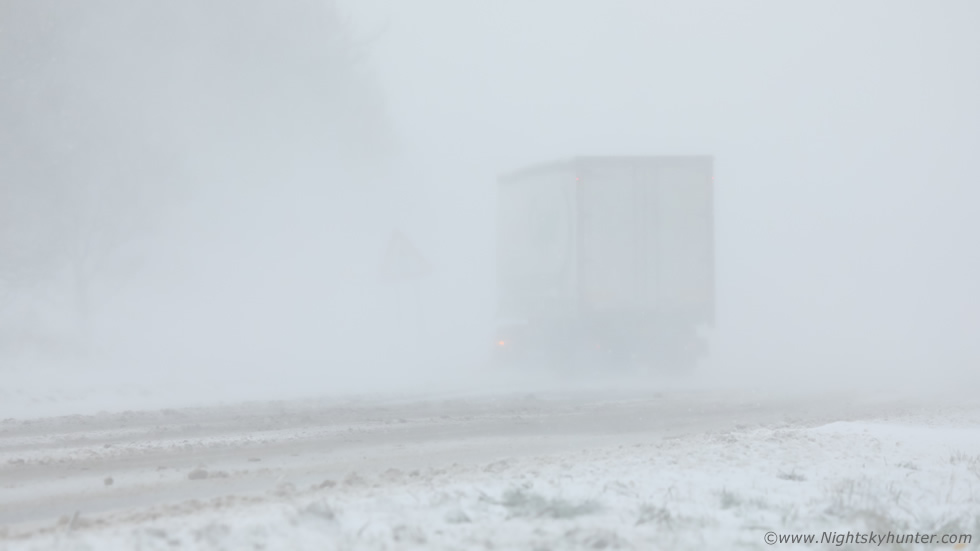 We managed to get pulled over at a junction off the road for photo opportunities. Ideally I wanted to shoot this lorry from the front angle but the truck itself was causing congestion on the road and traffic was getting dense, it looked too risky so we held back and shot the scene from the rear. We were now in the midst of a full-on blizzard, great geysers of snow blew across the road at high speed between us and the lorry which turned more diffuse then at times would completely vanish from view in a wall of white, I would imagine this would have been a danger to approaching traffic.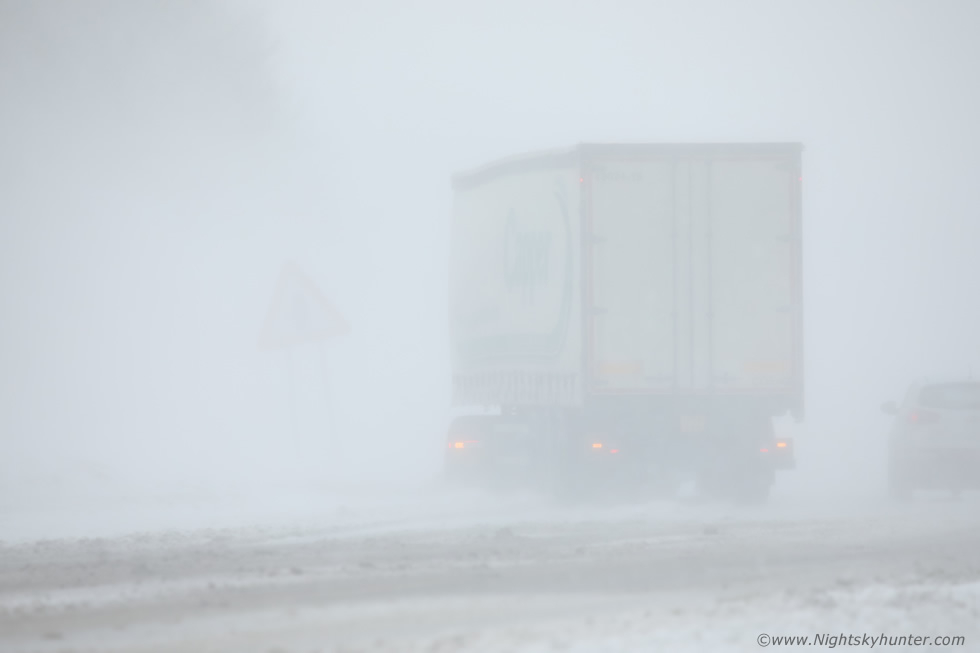 Remember when looking at these images this isn't a camera sensor fogged over, this was actually 50mph blowing snow whipping from right to left across the road captured at 1/800th to 1/1000th of a second shutter speed at high ISO in low light. The snow flakes were small and very dry so it was more like fluffy powder in the form of a blizzard. Check out the road sign to the left of the lorry, you can barley make it out.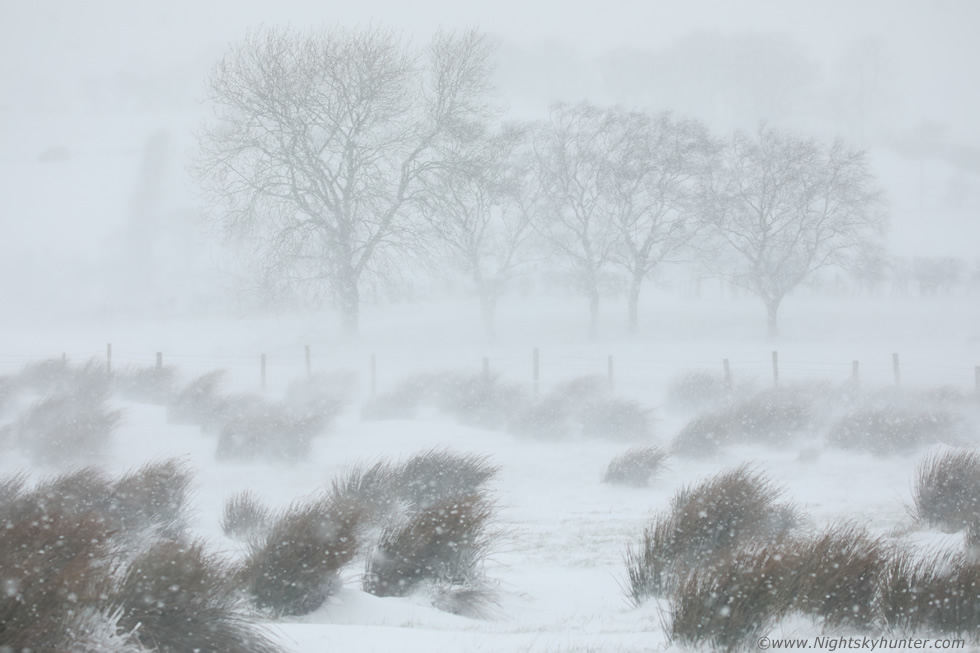 Behind where we were parked the scene was actually turning epic. I text Nigel who then joined us, it seemed we where positioned perfectly in the area with the strongest winds and best snow fall rates. I got out from the van to film what was going on behind us. Genuine blizzard in action with crazy blowing snow blasting across the fields causing blinding white-outs. The snow was blowing as if from a jet engine from left to right in this image and at times the sky in front of me went pure white, I couldn't even see those trees or grass. I was sheltering below a tree trying to film this with the wind whipping me and my hands freezing in the cold.
This was the scene between blizzard attacks when the visibility improved, trucks and cars were piling up on this side waiting for the lorry to be either moved or on the road again.
More blowing snow came with no warning, I put my back to it and turned 180 degrees to capture the other side of the Pass facing W, the snow was blowing in from the left and across the road as if from a power hose.
One of the tractor plough drivers was on the scene helping out, he would get the lorry back on the road again and get traffic moving once more
Behind me again things were truly epic, by far the best daytime blizzard conditions I have witnessed since the great blizzard of 2010. It's difficult to capture the speed of the blowing snow and the entire visual spectacle on a still image without being here watching it. I was in awe of this high speed blowing snow and loving every second of it, I can still hear that wind howl and moan as this lonely landscape became 'sand blasted' by high speed snow. At times everything in this image would just disappear rite in front of me. I filmed two great segments of video during this moment which you can watch below.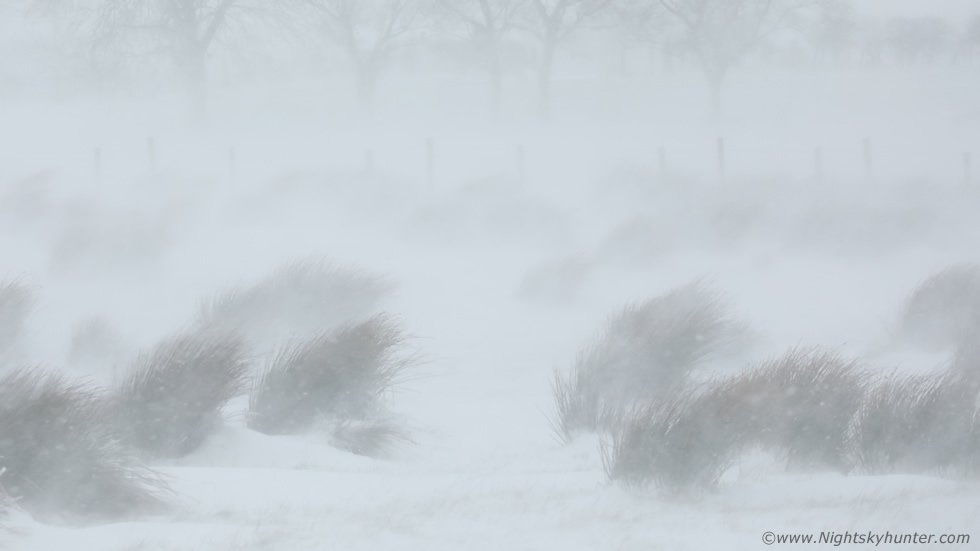 Cropped image into the wild grass blowing over in the middle of the blizzard. These were exactly the kind of scenes I was looking for, this season had already produced non-severe but photogenic snowfalls on the mountains in perfect camera-friendly conditions which I have already documented by DSLR and drone however what I was lacking was something severe with drama so this was what I was looking for.
This was looking along that same stretch of road the lorry had been on, you can barely see anything at all other than one sign post for scale
Cars entering the blowing snow, they looked like mere phantoms in a world of white with no sense of scale or reference
This was approximately midday and the frontal snow had moved away, it was technically dry now with no snow at all however the road conditions remained unchanged. Amazingly the high speed winds were picking up the dry snow from the hills and blasting them across the main road.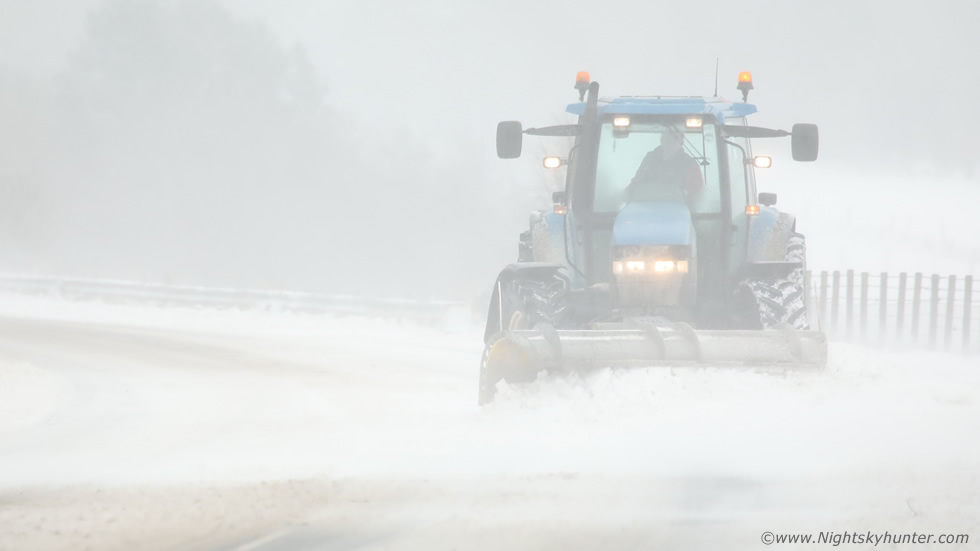 Capturing white-outs on camera is difficult, to get any sense of reality the image has to have that burnt out look to match the intense white naked eye view, but to the viewer who wasn't there it looks like the image is overexposed. I have many more images showing great intensity however I have declined to post them for this reason. Dad and I took a back road in the direction of the Birren, we encountered 3ft to 4ft snow drifts in places then ended up getting stuck on a back road, the van spun out, there was just too many hills and bends with snow to make it, I even saw a 4x4 unable to get any further. We ended up driving into someone's yard where tarmac could be seen for grip, then floored it up a lane and back up the snow-covered road, we had enough momentum to get back onto the Glenshane Pass.
Before 13.00 the blizzard was gone, the road was black once again and the snow was thawing rapidly, it was an entirely different world to what we had experienced an hour earlier. I have to say we were impressed by this event, however its impact had less of an effect on road users because it was on a Saturday morning during lock down so there was significantly less traffic on the Pass compared to normal. Furthermore the early passing of the front and rapid rise in temperature brought this event to an abrupt end and within a few hours you wouldn't have known anything of note had happened here. I've had people view my footage on social media asking me when this happened because they had been on Glenshane early that morning and had returned over it by late afternoon and never seen anything like what I had filmed. That's how narrow a time frame it was, literally two hours of the snow storm at its peak. Had this front stayed all day into the night and had the temperatures stayed cold this would have certainly been a major event. As for Dad, Nigel and myself who had experienced its prime it was a fabulous experience which left us buzzing for days.
Footage and short vlog of the 6ft icicles and glaze ice hanging on the stone wall of the disused quarry on Glenshane Pass a day before the blizzard when the strong and bitter SEly winds made standing outside for any length of time quite unbearable, hence why this video is short.
Full video of the Glenshane Pass frontal snow and blizzard featuring footage from three camera systems including my Dad's camcorder footage. The footage begins as we approach the Pass at the bottom then resumes as we scale the summit, footage continues from Proctor's Corner then further west where the lorry and best blizzard conditions were encountered, I hope you enjoy the footage. At the time of writing (Feb 23rd) it looks like Spring is on the way with more settled weather and high pressure, there are currently no signs of any cold spells on the models and temperatures are on the rise. I will soon be on the look out for Spring and Summer thunderstorms in the not too distant future. Thanks very much for reading.
Martin McKenna