Glenshane Pass Gorse Fire - April 26th 2011
It was yet another very warm afternoon with intense sunshine and a keen breeze blowing dust and dirt across the roads and I wasn't complaining. This April has been amazing weather-wise and will probably go down as one of the driest on record with countless days of sunshine and blue skies making it feel more like Summer rather than Spring. This good weather was the product of a stubborn high pressure set-up which brought little in the way of storms and often degrading the quality of the night sky so I didn't get much in the way of photography done during this period due to the lack of exciting transient sky events. That all changed on April 26th 2011 when I happened to glance out my window and saw a dramatic looking plume of smoke towering skyward miles away to my W on the mountains. My view was partially obstructed by trees and the neighbour's rooftop however it was very evident that I was witnessing a major gorse fire in action so I decided to grab my gear and 'chase' it to document the event.
I'm certain I have seen more gorse fires during March and April this year than I ever have in my life to date. Some of these fires were accidental meaning that they were simply controlled burns which became uncontrolled however the disturbing fact is that the majority have been started deliberately which is very sad news since these burns can, and have, transformed into raging fires covering vast areas threatening property, wild life, and even people with the likely outcome that someone will get seriously injured or even killed. The last significant gorse fire I saw was during the previous evening at dusk when a dramatic plume of black smoke could be seen ascending across the dark blue twilight sky with it's source located in the mountains in the Slaughtneill area, it was quite a sight driving home to see the entire NW skyline glowing pink and red over the crest of the mountains due to the dancing flames, it felt like a scene from another country. To avoid digressing any further I will concentrate instead on the April 26th fire which was one of the very biggest of the season so far.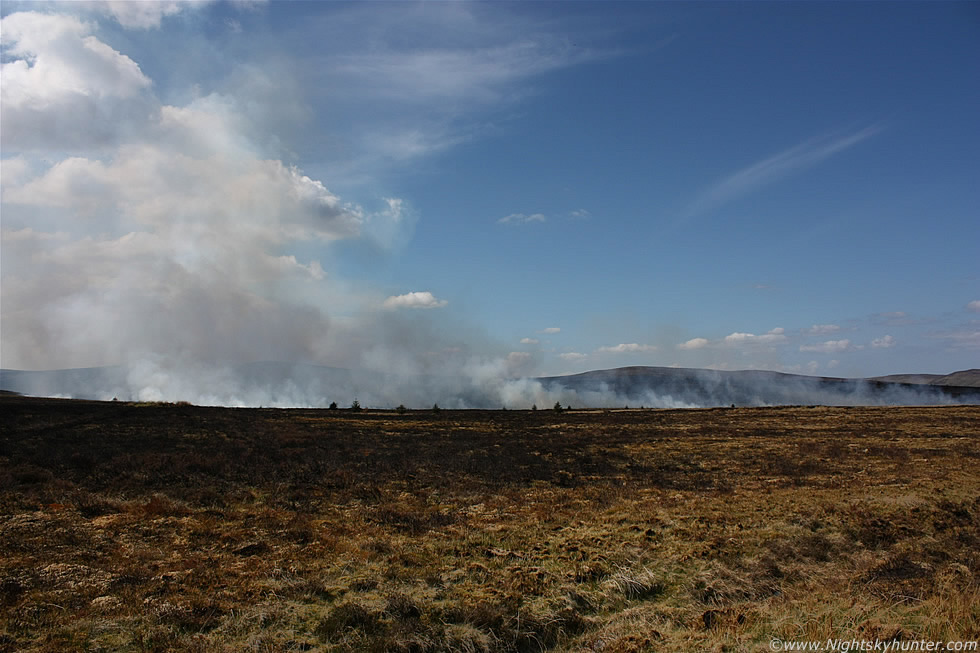 As I drove up the mountain it became clear that the fire was located on the famous Glenshane Pass and it wasn't long before I found a smaller road off the main which gave me a great view of the action, in fact I was parked on the very same road where I had spent many previous nights watching the aurora borealis so this stretch of road was like visiting an old friend. Above was what the scene looked like when I arrived, this is looking W over a wire fence at the side of the minor road across the gorse towards the young but energetic fire. You can see the black gorse which had been scorched by another gorse fire days earlier. This 18mm wide angle image doesn't do the scene justice as the true length of this smoke train extended far out of frame on either side, the wind was blowing the smoke swiftly from R to L (N to S) however the flames themselves where located out of view in a narrow valley. The smoke to the LHS was quite lively and at times I could have swore I saw Pyrocumlus however I can't be certain of this since there where a few lines of low level cumulus trains which seemed to be only in this area with the greatest concentration directly above the tallest smoke tower. The sight of the blue-white smoke, vivid blue sky, and the rich colours of the gorse made for a surreal visual scene.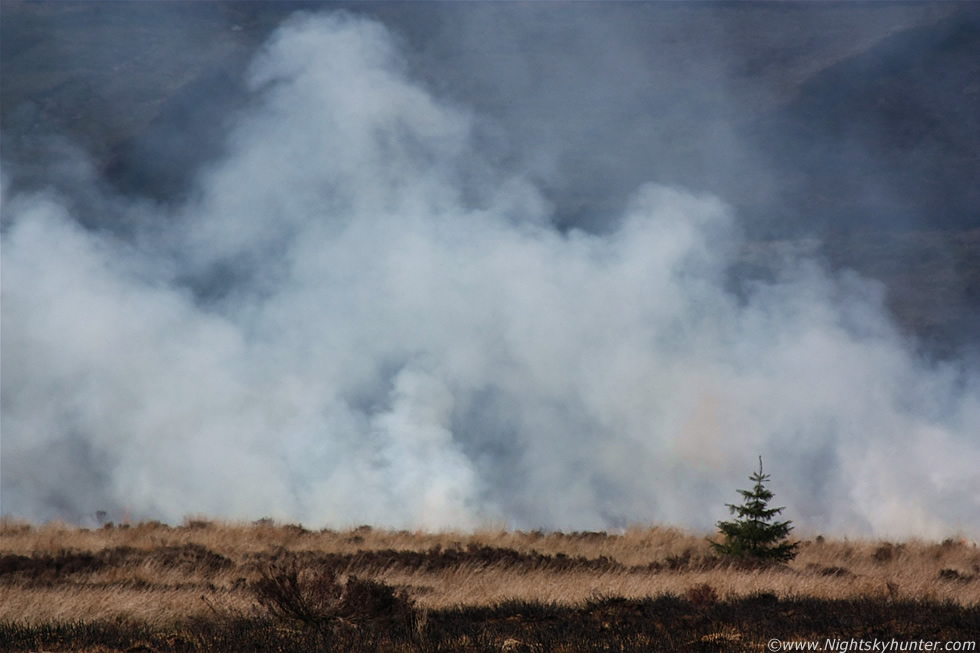 The fire was getting more vigorous by the minute with abrupt columns of smoke sporting rapid upward and sideways motion which looked very dangerous, I was glad I was a considerable distance away yet still close enough to see all the action. I couldn't hear the crackling of the flames due to the strong wind blowing into my ears however I could certainly smell the burning gorse from this range. Behind me, across the main Glenshane Pass road, I could see the entire side of another complex of hills and mountains burned completely black which was a shocking sight. I attached the Canon 100-400mm IS USM lens to get closer to the action however I had to use an ISO of 200 in order to 'freeze' the smoke in the sky as the motion was very striking. Visualize the above image with white smoke blowing and twisting side ways from R to L then imagine 30 or 40 of these images merged together side by side and you will have a pretty good idea how long this fire was.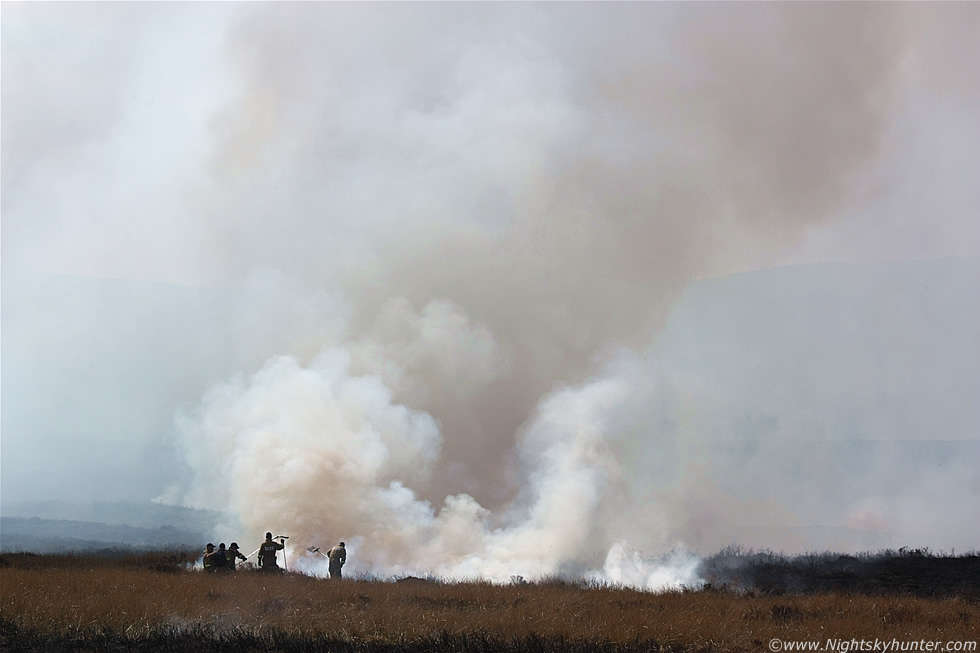 In the distance I spotted several dark shapes which at first I mistook for small bushes until I saw the shapes moving and it wasn't until they got closer that I could indentify through the 400mm lens that they were firefighters. At first I saw two figures, then four, then four became four teams of firemen who quickly got to work on strategic sections of the blaze. The sight of the firefighters in front of the smoke plumes and flames made for a very dramatic scene so I wasted no time in getting images. While doing so I stole a quick glance around the area and was shocked to see I was the only one getting images. I saw plenty of fire engines and fire cars however no indication of any media interest yet.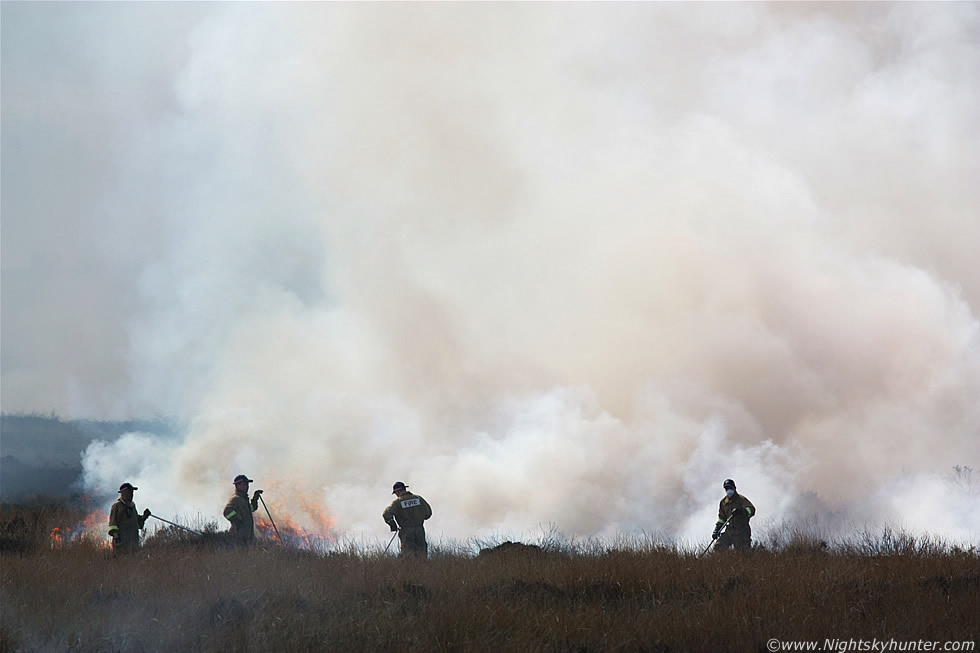 I could see three main areas along the train of blowing smoke which seemed to be the worst. These where located to the SW, W (very far from me) and to the NW. Above is the SW area which became an action-packed scene for a period with firefighters battling to beat the flames into submission.
It looked like very hot work, it would have been difficult enough walking over that treacherous ground with the heavy suits on in such warm temps, however to do physical work so close to a fire must have been very uncomfortable indeed.
One hour later with my attention now turned to the NW blaze where things really got out of control, the fire was already substantial here but it soon went nuts. The atmospheric conditions must have been absolutely perfect for fire generation, I was both awed and worried in equal measure when I saw new fires suddenly form straight in front of me out of nowhere and not associated with the main fire train. Literally 20m in front of me I saw smoke rising from a random patch of gorse, then another would start in another random location, it was really incredible to watch.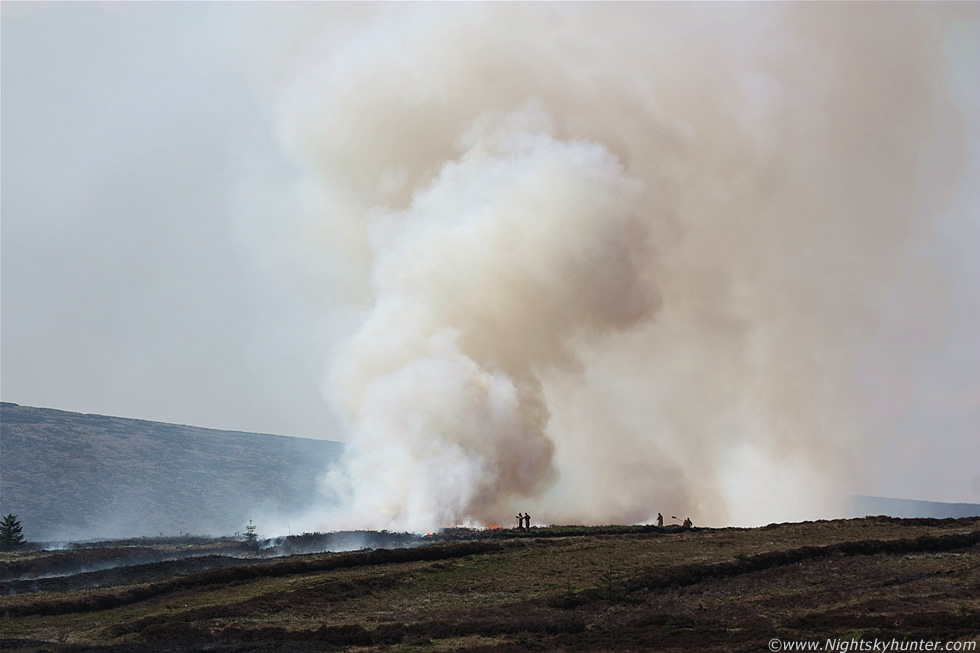 What was even more insane was the sudden change in wind, when I first arrived the wind was blowing from R to L (N to S) however now it was L to R (S to N) which showed just how unpredictable and dangerous these fires can be. The wind was also getting stronger and at times I really struggled to hold my video camera steady at all. It was weird standing in such bright sunshine yet at the same time the force and noise of the wind felt like what one would experience on the top of Slieve Gallion.
These images were the photogenic highlight of the day when this enormous smoke plume dominated the sky with very dramatic structure. The fire fighters looked tiny in comparison to these huge towers of smoke.
At times the structure of this smoke plume reminded me of a billowing convective updraught giving birth to a severe thunderstorm, it just had that explosive appearance which was thrilling to watch. The wind had changed again from L to R to R to L which was really concerning, I can only imagine what others must have expeirenced in the huge bush fires in Australia and California which must have been a truly frightening experience.
This actually does look a little like a back-building thunderstorm, the only thing missing were firenadoes, smokenadoes, and dust devils. The smoke was a great visual indictator of wind direction and reminded me of an episode on Discovery Channel's Storm Chasers when smoke was used to show the presence of inflow winds feeding into supercell thunderstorms.
This image sums up the scene in one click of the shutter. I found out via the news later that this major fire was started deliberately which really angered me. This above scene was caused by one person with a match or lighter and because of it the lives of people and animals were put at risk not to mention the threat to property. There was a house not far from this fire, had the wind been blowing a different direction then things could have been very different indeed.
Crazy
The sense of scale in this image really speaks for itself and yet I couldn't fit the entire smoke plume into the camera frame.
You can almost 'feel' the heat in this image!. After a challenging battle the fire fighters finally got the better of the blaze and managed to subdue the beast into a more controllable situation and soon the main threat was over, they did an incredible job.
I saw six fire engines in total, here are three of them parked close together on the hill. This fire was featured on the local news later that evening when I found out that this was one of 100 gorse fires in N. Ireland this day with the Glenshane event being the worst of them all with sixty fire fighters from six different stations involved in fighting this blaze which was 4km in length.
Here's a video clip I made showing the gorse fire not long after I arrived. Excuse the shaky camera work which wasn't my fault as the wind was so strong that I simply couldn't hold the camera steady, this effect was exaggerated even more when I zoomed into areas of interest. The fire was much worse than it seems on this clip because I decided to concentrate on taking still images of the most dramatic scenes instead.
A few days later on May 1st, my girlfriend Roisin Laverty and I saw witnessed more gorse fires from the north Antrim coast where we saw a distant fire on the mountains in the Ballycastle area with smoke blowing downwind across the sky for tens of miles all the way from there, over the sea, above Donegal and back over the Atlantic Ocean which was incredible. It was strange seeing a blanket of brown 'cloud' above the Ocean skyline contrasting with the clear blue sky aloft. We could also see the tip of a very distant fire over Donegal which looked like a convective cloud from our vantage point, in fact this fire turned out to be the biggest of the season at over 6km in length with 40ft high flames moving faster than a person could run, helicopters had to be used to dump water on the flames. There where more gorse fires in Antrim, Derry, Omagh and in the UK mainland within Scotland, Wales, and England so the situation is really getting out of control to say the least. Thanks for reading
Martin McKenna