Heavy Snow On Pine Trees - Glenshane Forest - Jan 19th 2013
Day 2 part 2 of the severe Winter cold spell affecting N. Ireland on January 19th 2013. This cold spell began in earnest on the morning before however during the afternoon onwards it began snowing non stop in my area of Maghera and all through the night over Glenshane Pass, at first it was sleet then as the colder air propagated in on a bitterly Ely flow from Russia with additional moisture picked up from the Irish Sea and North Channel it turned into a proper snow fest once it moved over inland regions, it was proper snow, not small flakes but those beautiful large solid white flakes of considerable size which looked like cotton wool balls falling from the sky by their thousands, you know the type I mean which evoke all those wonderful childhood memories of magical snow falling over Christmas and New Year which closed schools and presented everyone with a chance to be outside building snowmen and throwing snowballs with friends, these are the kinds of things I think about when I see a good snowfall now when I'm almost 35 years old and snow still puts a young smile on my face, the kid in me will never grow up. Snow also brings with it an abundance of photo opportunities and if you are into weather/storm photography like me then you simply can't wait to get out in it. It snowed all through the night and I hardly slept with the excitement, often I would get out from bed to peek behind the curtains to double check that it was still snowing then back to bed again fighting broken sleep in anticipation of what the scene will look like in the morning at first light when all sorts of wonders await.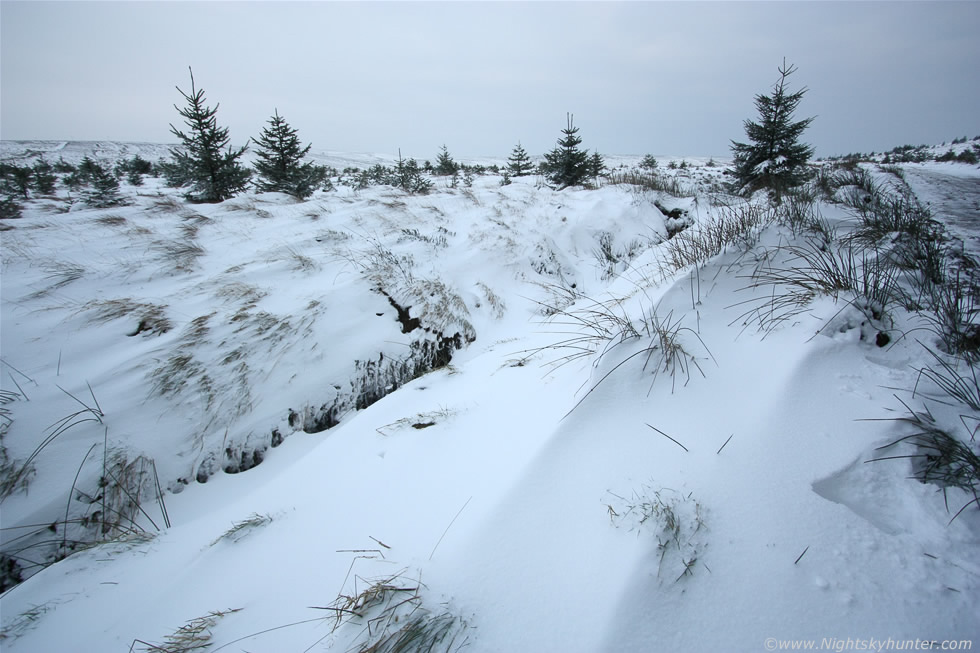 Morning couldn't have arrived soon enough for even though I had been out the previous day in blizzard-like conditions for hours I was hooked and wanted to take advantage of every moment the snow was here as there are only a small number of days in the year which may provide a good snow event so one must strike when the iron is hot - sorry, I mean't cold!. Roisin and I were up at 09.00 on Saturday morning and had planned to spend the entire day out doing snow photography which was also a good excuse to get some fresh air and Roisin had insisted that she wanted to be around nature this weekend so it looked like we could tick off all those boxes at once. We ended up spending the entire morning and afternoon on the mountain where we experienced 3.5ft-4.5ft snow drifts, glaze ice, rime rice, and other amazing scenes which I will cover in another image report, after this great adventure we were getting tired and hungry from the exposure so we returned home to Maghera and recovered for a while. Just as we were sipping a nice brew my phone rang, it was my Dad who asked if we would be interested in going out for a walk in the snow in Glenshane forest as well as doing some snow photography, it was funny because our clothes and boots were still wet and cold from our first trip earlier however we agreed and why wouldn't we?, it sounded a great way to end the day walking in a snow-covered forest with my partner and Dad with an opportunity to do yet more photography!
My Dad left Cookstown so we had half an hour before he arrived so that gave us just enough time to change into fresh dry clothes and make a warm brew and some chocolate to top up on our energy. I gave my camera battery a half hour charge then Roisin and I quickly drank a second mug of tea then we got a call from Dad and within min's we where going back up Glenshane Pass for the second time this day. In the car was Dad, his friend, then Roisin and I all dressed up like Arctic explorers heading into the unknown. My Dad had bought me a 'buff' as I had recently been complaining about a cold throat, nose, and ears while out doing photography in cold weather, I took off my scarf and put on the buff and I fell in love with it immediately, at last I was snug and warm and the beauty of the garment was that it can be shaped into various forms, for example from a neck cover to a balaclava so I was ready and protected to take on nature, thanks Dad.
We reached the top of Glenshane Pass, drove over the cattle grid, parked and began our long walk from there along the narrow rocky tractor path through thick snow and ice with the forest getting closer with every foot step. We stopped for a few images near the forest entrance, I took this one behind me to show you the barren landscape up here with isolated pine trees, marsh, and ditches all covered in snow, it was a very unforgiving landscape. Check out these small snow drifts flanking the narrow river/stream running through the centre, you can see evidence from the shape of the snow that there had been a nasty blizzard here recently, the white streaks indicate that you wouldn't want to have been standing out here on the previous night with gale force gusts and heavy snow.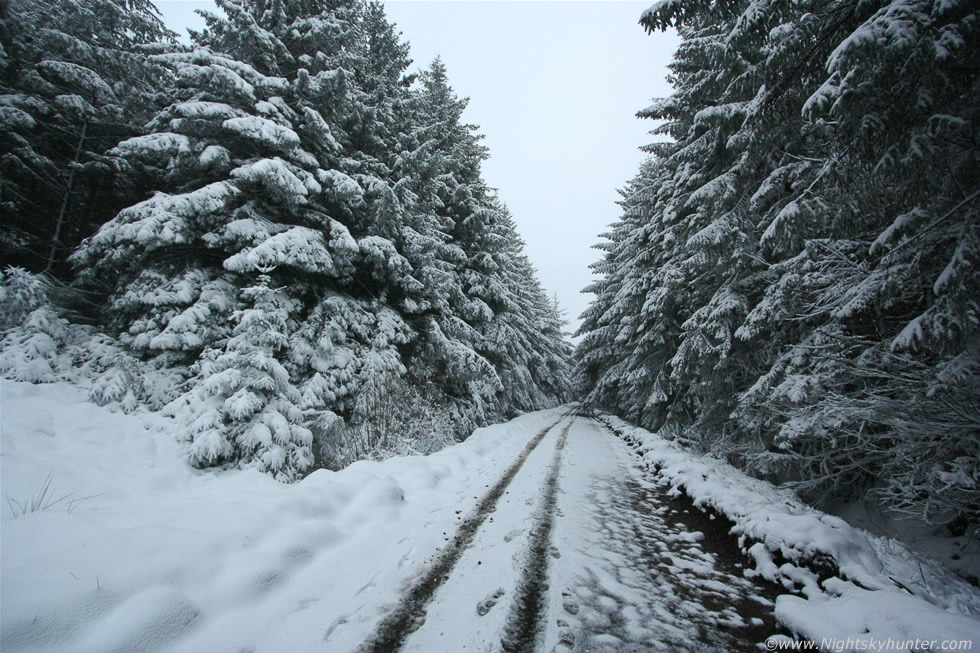 Then we entered Glenshane forest and it was like an eerie kind of Narnia, all of us were struck by it's silent beauty and what a contrast it was to the exposed open world we had just left behind. It was close to sunset and the light was low which thrust deep spooky shadows across the snow and the snow itself was a strange off-white colour as if the natural white balance of nature itself had been thrown off due to the low light and the silvery-grey overcast sky casting its woes onto the snow-covered land below. Far from being frightening it was absolutely beautiful and breathtaking in its own unique way. The atmosphere was difficult to describe in words as it was so silent, I mean absolutely still and mute as if we had just walked into nature's secret moment and hadn't been noticed. It felt strange being surrounded by massive Pines and Conifers all covered in a substantial sold blanket of snow.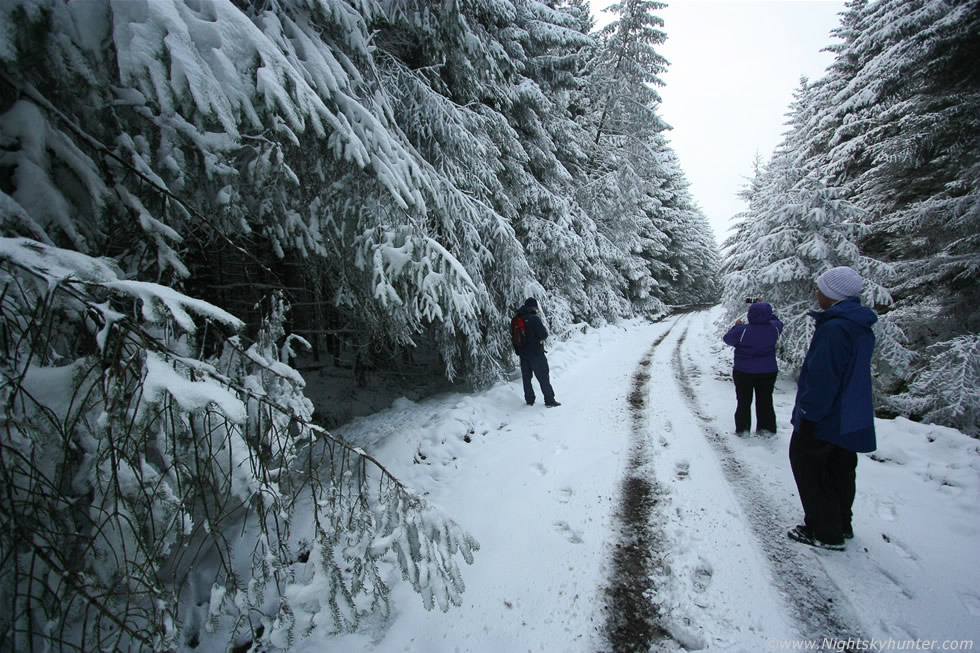 One with us to show a sense of scale. We were all amazed by the sight and each of us went into our own private world of wonder as we explored the snow-covered branches in awe. The temp was dropping like a stone as dusk neared and our breath froze in the air in a milky coma, the deep snow had frozen over on top so it was very crisp and made a wonderful crunching sound with each foot step. Dad had his DSLR out taking images and Roisin was taking images using the built in camera on her Samsung Galaxy S3 mobile phone.
These looked like huge white hands with snowy fingers reaching out from behind the trees to grab me. My imagination was beginning to run wild!, by the way these are all 10mm ultra wide images so they occupy a huge field of view.
An air frost was forming above our heads and the light was very low so I had to use high ISO's and slightly slower hand held shutter speeds than I would typically use in daytime in order to get decent captures. I hate blowing the sky out however there was nothing much that could be done about it at the time as the light under the tree canopy was dark and the snow itself was my subject of interest so it got priority. That big pine tree to the R really got our attention as the amount of snow on it was amazing, it actually stood out from all the other trees in this section of the forest.
Wonderful snow accumulations and structures covering this 'Christmas tree'
Roisin and I were both in awe of this tree and we both stayed behind while the others walked on and took images and video. It was dead silent and when we talked it was in a whisper which was weird because we didn't realize we were doing it for some time, it was the same effect one would get from having a sneaky exchange of words in a chapel or church, in other words we had full respect for nature and could sense its presence. If all this sounds silly then you really had to have been here to experience the atmosphere. Probably a good 4" or more of snow resting on those branches.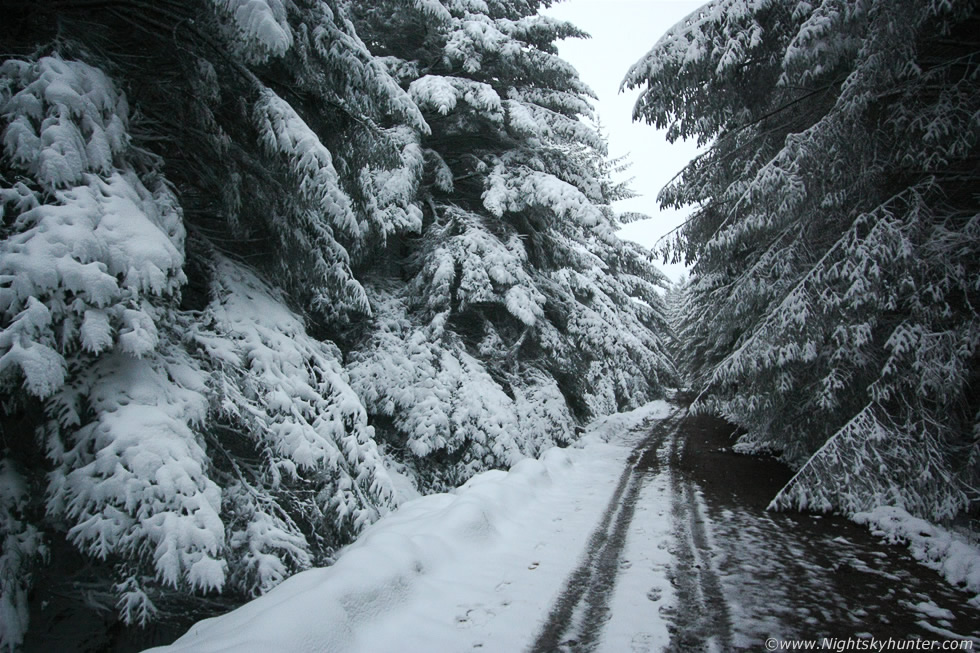 Panning around to the R taking in a good portion of the trees at 10mm. The only life here, with the exception of us, was a little bird hopping through the snow under the trees for food. Check out the weight of the snow causing the large branches to sag downward to the point where they were resting on the path which indicated the tremendous force of the snow on the trees. These kind of trees are extremely resilient though and have been designed through evolution to withstand such severe weather episodes, the branches will drop once a certain weight of snow has settled then the snow either slides of the tree or it thaws. Other species of tree are not flexible enough and this is why in some countries snow and ice can snap entire tree branches.
That's the base of the same crazy tree we found, the snow and frost on it simply looked awesome. Roisin commented on how crisp, pure, and fresh the air was and she was absolutely correct, it couldn't get more pure than this.
Later deeper into the walk as we followed the river just before it got so dark that photography could no longer be done. This was my last image taken at dusk of the snow and trees lining the river banks which looked beautiful visually. Darkness arrived rapidly and it was utterly freezing and after several miles of walking in deep snow we later met up with Dad and his friend and made our way back through the surreal mountains which seemed to glow from their own snow fields, then the moon popped out from a break in the clouds shrouded in a partial corona of red, yellow, and blue colour as if biding us farewell then we retreated, utterly frozen, to the shelter of the car.
Short video clip of the snow and trees. We were all tired with aching limbs, wet, and very cold however Dad treated us all to a big dinner in the local hotel followed by an Irish Coffee (made from whiskey) which warmed up the blood then all was well. The welcome glow of sleep and a good meal enveloped us so we parted for the night and went home to relax for another all-day snow shoot was planned the following day. I have included this report because it was such a special memory to me, the purity of the snow, it's thrilling forms on the pines and the silent atmosphere all shared with Roisin and my Dad was a lovely moment to cherish. Dad has been to Canada many times and is well accustomed to sublime snowscapes however even he was impressed by the snow here and made of a point of getting his own images to document the moment which says it all. Thanks very much for reading.
Martin McKenna