Glenshane Pass Night Blizzard, Winter Chasing & Jack Knifed Truck - Jan 16th To 19th 2018
Flask filled, batteries charged, thermal jump suit and wind proof trousers on, camera battery pre-check completed and that was me ready for the fourth cold spell of Winter and this one looked to be the most potent to date. The snow began to fall on the night of the 15th, I didn't sleep well that night with the excitement of not knowing what was going to happen, I kept going over to the window to watch the snow flakes fall and hoped the following day would work out as forecast by the models. GFS and other models were going for an entire week of snow, a combination of convective snow showers mixed with a proper frontal snow event then back to cold air mass snow showers once more, chart after chart showed widespread 'pink' (indicating snow on the GFS model) on and off without stopping during the day and night for the entire period, there was no question that this was the most serious set-up of the season with multiple rounds of potential photo opportunities. Even though it was snowing all through Monday night it wasn't laying well on low ground and looked wet in nature, however this didn't worry me, the real action would begin on Tuesday when deep cold air overspread the region and as it did so it produce continuous heavy snow showers, several cm were forecast for ground level however 8cm or more (perhaps 10cm) were expected on the hills.
I was up early on Tuesday morning and as I made my way through the morning traffic conditions began to go down hill rapidly, even at 08.00 intense snow showers impacted the main route between Cookstown and Maghera, despite being salted the main road was covered in white with blowing flakes so large they dramatically cut down visibility, all traffic was moving slower than usual and it was clear from this early stage that nature had the upper hand and was taking charge of everything. I made it back to Maghera, pre-checked my gear, made sure the van had sufficient diesel, then made my way up to my favorite winter hunting grounds on Glenshane Pass where the snow would be even heavier. I met up with AerialVisionNI who was already there shooting the morning scenes and it was here where we would spend much of the day.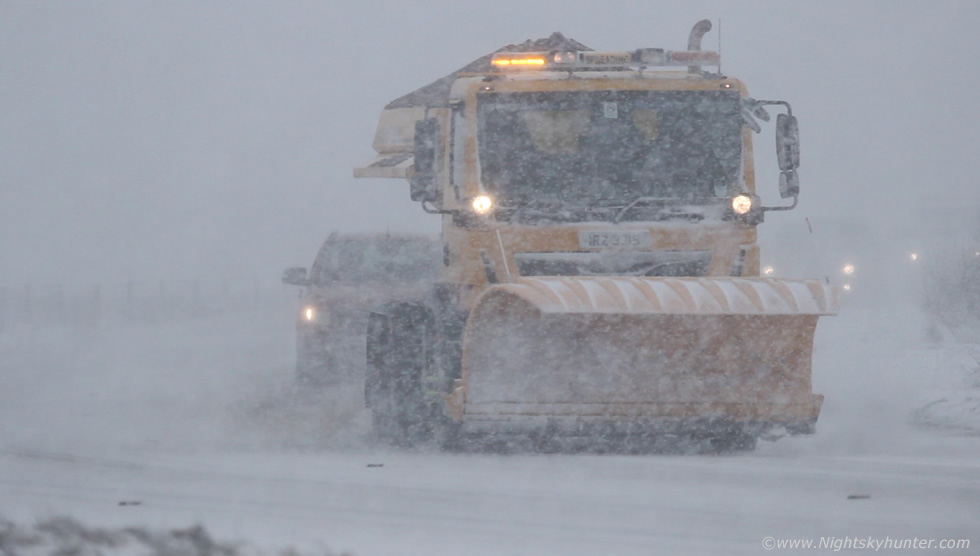 We spent the morning and afternoon shooting stills and filming the action, as time went on the snow became heavier and more frequent and was beginning to blow a little. We had 7cm of snow where we had parked and the frequency of snow showers was relentless with very little in the way of breaks or light for photography, this was also an unstable convective air mass aiding with the intensity of these showers, models predicted 200 J/Kg of CAPE and negative LIs with deep freezing polar maritime air (originating from Greenland) advecting over the warmer ocean, this fueled convection and the brisk winds blew the cells well inland where the colder air turned their precip to snow, this unstable air would be present all day, peak overnight and continue into the following morning so there would be a risk of lightning and thundersnow, anything could happen so there's nothing better than being on location in the middle of the action and watching for an unexpected surprise.
The road crews did a superb job, tractor ploughs and gritters crossed back and fourth over Glenshane all night and day and would continue to do so relentlessly, some of the tractor drivers even spent the night in their cabs which was impressive. Here's a video still of one of the gritters in the middle of the action, it was one of those days of sitting in the vans, getting outside to film, getting blasted by cold air, then back inside again, heaters on the entire time eating up diesel however we needed to stay warm and so did our camera gear and drone batteries. My main goal was to capture blowing snow, the wind would be picking up and gusting during the afternoon and evening and I wanted to film it before the light faded, however despite seeing some attempts the conditions were not ideal yet for a good show, the snow was simply too wet, however we speculated if the wind kept whipping across the laying snow it could dry it out so conditions could change later.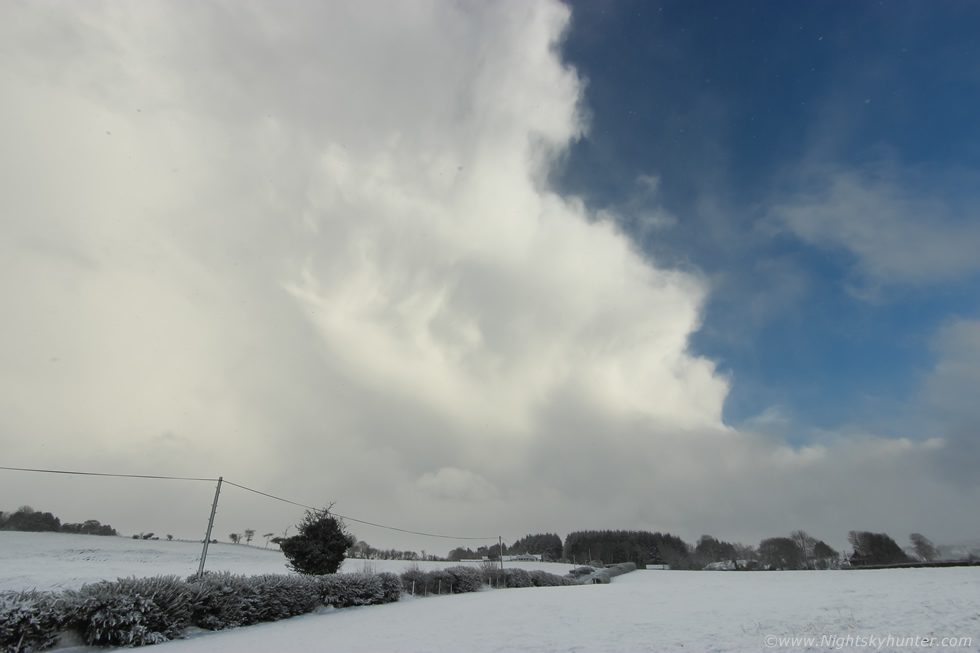 After hours of watching and waiting in the cold we decided to go for a drive, we took the country road S off the main road and took the adventurous back roads were the snow was deeper and driving was a little more treacherous, the countryside was rich with beautiful winter scenery however due to the hills and bends we kept the momentum going then decided to turn off for the famous Birren road which is a mountain road well known for being hazardous in winter weather, we just wanted to drive onto the start of it and get out for a look. Both of our vans began to spin as we started the ascent, we wouldn't be getting far on this road, however after a little revving, verbal coaxing and maintaining movement we managed to get the vans to the crest of the hill, the road was pure ice covered in snow, we stopped and got out for a look. A heavy snow shower had just past and for the first time all day a brief gap in the clouds opened up revealing the back edge of a large cell with fairly nice structure along the side of the anvil as it slowly moved off into the distance covering the land in a fresh layer of snow, this was big, filling the 10mm frame, moving R to L, you can see large snow flakes falling through the air as the wind blew them around from the core, a rumble of thundersnow would have made this scene complete, with last light approaching we decided to call it a day and head for home, we agreed to meet up once again the following morning. On the way down the E side of Glenshane Pass the local conditions had worsened, snow was accumulating fast and two trucks had spun out, hazards on, unmoving on the steep incline, wheels spinning searching for purchase, I tried to get a few stills and a video clip however the inside of my camera had misted over, it was internal, likely caused by striking temperature differences, I couldn't use it at all so I packed up and headed home to let my camera adjust inside.
When I got home I changed out of my layers, warmed up, had a quick dinner and checked the charts. The radar was full of big snow showers coming down from the NW, there were already reports of thundersnow, lightning strikes and power cuts complimenting the heavy snow showers and things looked to get worse that evening. A trough moving down across the sea was making a beeline for the N and NW coasts, 400 J/Kg of CAPE, strong speed shear and convergence all boasted of an increased lightning risk and high snow fall rates, they would be coming inland and heading our way. Suddenly my old storm chasing mate Conor McDonald contacted me, Conor and I have been chasing winter snow and summer thunderstorms for years, in fact, it was Conor who got me into the weather and storm chasing in a big way, our first big funnel cloud catch on July 17th 2017 changed my life forever, now Conor was back from Australia and thirsty for snow, he was game for a night chase.
At first I almost passed on the idea, there would be no moon up so it wouldn't be great for photo opportunities, I was also cold and exhausted after being out all day and the heat of the house was almost putting me to sleep, however Conor assured me he had a good feeling about this, there could be trucks spinning on Glenshane, he had me sold on the idea, but it didn't take much encouragement, when it comes to storms I'm easily talked into a chase, then just to complete the decision making process reports appeared on social media of a big lightning strike and thundersnow event over Cookstown which wasn't far from here, it was chase time, traffic spin ups, thundersnow lightning and anything else which appeared. Once again the thermal body suit went on and several layers, thermal trousers, camera gear, water, flask of tea, shovel, and a survival blanket just in case, I had sufficient fuel to do me the night then I hit the snow covered road, the traction control was flashing as soon as I left the house, the place was a winter wonderland all lit into an atmospheric amber glow by the street lights, I picked up Conor and hit the road onto the high ground of Glenshane Pass.
We spent an hour or more parked up on a back road in fairly deep snow, we noticed the snow was starting to blow along the road in the headlights like writhing snakes which looked very cool, so cool it demanded a little filming. We got online and discovered that the Met Office had issued an extended amber warning covering all of N. Ireland for severe wind gusts, blizzard conditions, 20cm or more of snow on the hills and lightning. When we read this we got very excited, there was no question we were going to stick this out, the warning came into affect from 20.00 onwards, we drove back down the pass and had a break at Oak leaf filling station, renewed our energy with coffee, nuts and energy bars and monitored the situation online. Radar showed massive cells over the ocean approaching the coast heading our way, it was these that would produce locally severe conditions with their strong convective downdraughts enhancing the already strong wind field.
On an impulse we drove back up Glenshane Pass, even half way up it was an entirely different world with strong gusts of wind, we pulled in over the other side of the cattle grid and got outside for a look. The wind chill was nasty turning our hands and face sore and red within 30 seconds exposure, I lifted a handful of snow and was amazed how different the texture it had in comparison to earlier, it was impossible to make a snow ball, the snow was dry and powdery like dust, I said to Conor that the snow was completely dried out and would be perfect for blowing, so we got back in the van and drove to the highest point on the exposed mountain road and stopped in the middle of a road filled with snow drifts, those large cells arrived and suddenly the wind picked up dramatically and in within minutes we were experiencing a major blizzard. The van shook as severe wind gusts blasted the exposed mountain and in the headlights snow was blowing horizontal from R to L, this airborne snow was so fast it looked like it was being blown by a jet engine!!!, the speed was truly phenomenal to watch, we couldn't believe the timing and our luck to be caught up in this spectacle. What made it even more spectacular was that this blizzard was sustained for a long period of time, the fence posts vanished from view and the snow turned blinding in the headlights, Conor and I burst out laughing with excitement and quite a few curse words were thrown out, it was the only way to express our excitement, the visual sight and emotions it generated were overwhelming.
This was the very scene I wanted to catch this winter, I was expecting blowing snow however what I wasn't expecting was a proper blizzard of this caliber. We both agreed that this was the best blizzard event we had witnessed since the epic blizzard on Glenshane during March 2010, it lasted so long we had time to chat about the details of what we were seeing, send text messages and record the event on camera. Conor was filming with his mobile phone and I filmed with my DSLR with 50mm F/1.8 lens which I knew from experience would collect enough light to get a record of the show, I was simply hand holding the DSLR filming through the windscreen, it was so tempting to go outside and film to record the noise but I reckoned I would have had trouble getting my door open and I could ruin my camera so for the most part we filmed from inside, the Go Pro and dash cam were also filming and I recorded sections of it on my own mobile, between the two of us we had five devices recording. As we watched snow drifts had build on the windward side of the road in the form of large wedges of snow flowing from the fields, through the wire fence and onto the road and accumulating around the wheels, the wind kept blowing and wailing and airborne snow and ice crystals whipped across the headlights for what seemed like forever.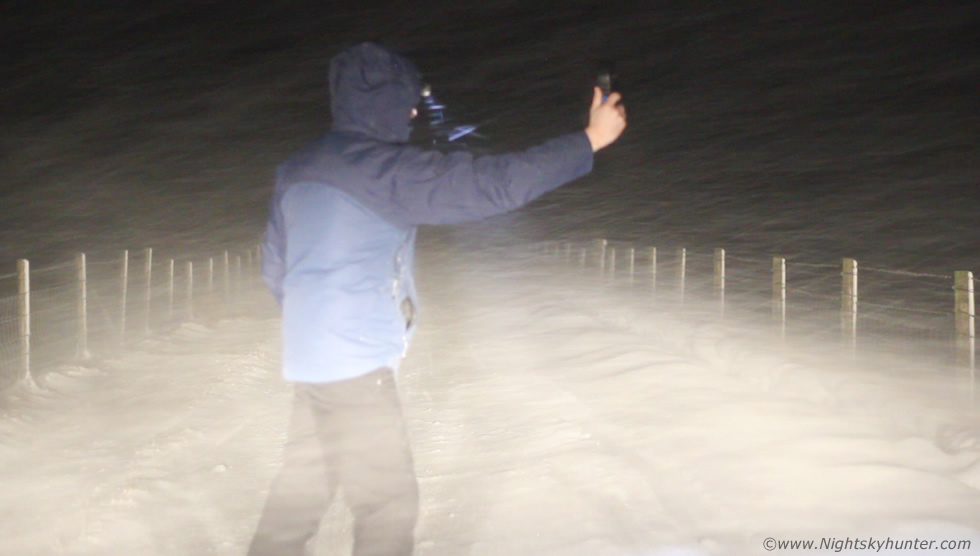 After some time the wind eased a fraction however the snow was still blowing at high speed, I wanted to be out in it so I decided I had to do it, I had to feel it, experience it, live it. Conor recorded with his phone and my DSLR at the same time while I ran outside with my new wind speed anemometer, I had to run over unseen snow dunes then when in front of the van I felt like a rabbit caught in headlights, high speed snow wind driven snow flakes changed to high speed hail stones and ice crystals which lashed my face and eyes, I couldn't even read the display and my breath was taken from me so I made my way back to the shelter of the van, it had been worth it, Conor got the memory on video, I was only out for 60 seconds or less, I can only imagine what it must have been like during its peak. Then suddenly the snow stopped and wind eased, we went outside for a look and sure enough we could see the anvil of the storm covered in night time mammatus surrounded by a sea of winter stars, what a scene it was, I wanted to get the DSLR out however judging by the wind and speed of the clouds it would have trailed too much in the exposure so we savored the visual moment, what an eventful evening, a blizzard then mammatus, we got out the tape measure and recorded 43cm of snow around the van!
We drove across the mountain road going through then over numerous snow drifts, it was like driving over white sand dunes, then we made our way back to Glenshane road, while all this was going on large cells were producing lightning over the sea. Fair play to the Met Office with this one, their warning was supported by the blizzard encounter and it happened only half an hour after the warning was due to start. Amazingly no one else reported experiencing this severe event, there was hardly any traffic on the road here at this time except the ploughs and gritters, however we were on higher ground than them, perhaps we were the only observers to experience this event at this location, in any case it was the height of the winter season for us and a severe event we will never forget. Check out the full footage at the bottom of this page, the blizzard peaks half way through and you can hear our excited commentary in the midst of the action, please keep in mind that although the DSLR did a great job of capturing the blizzard it was only recording video at 1/50th of a second, the actual blizzard was much faster than this to the naked eye, we called it a night at 01.30 then I spent until 03.00 trying to stay warm, I was cold, weather beaten and tired, it had been a long but exciting day and I planned on being out again early in the morning.
On January 17th I was up on Glenshane Pass at first light and once again teamed up with AerialVisionNI with the hope of getting done flights done to showcase the latest snow cover. Charts indicated gusts of 12-15mph at worst so it was certainly doable however once on location we knew this wasn't going to happen, at least not at this stage anyway. The wind was raw and bitter and more snow showers drifted over the mountain, we waited and waited however the snow and wind didn't relent, however the light was much better and the distant mountains of Benbradagh and Sperrins towards Draperstown looked stunning catching the low morning sun and boasting high snow depths. While waiting for the wind to ease we deciced to drive back to the same road where Conor and I had encountered the blizzard the previous night, then stopped the vans on the road to take in the view. The countryside here was a beautiful desolate wind swept winter wonderland, we where parked only a few meters from where we had been last night. A new cell appeared from the W and as it rapidly approached it developed the most photogenic snow curtains I have ever seen from this location, check out that amazing structure as the huge curtains fell over the snowfields accompanied by squally winds, we where both out shooting with the wide angle lenses to capture the moment as the wind whipped our faces.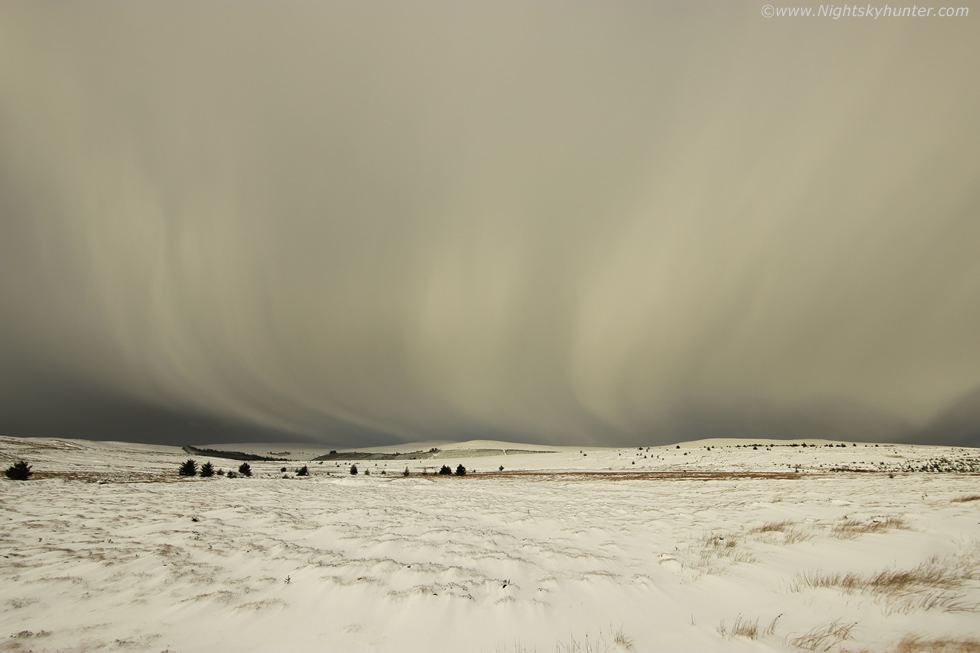 Panning to the left facing NW, the entire sky was dominated by these memorizing curtains, nature really can produce beauty from such chaos, this was only late morning and already we had captured what would be the most photogenic scenes of the week.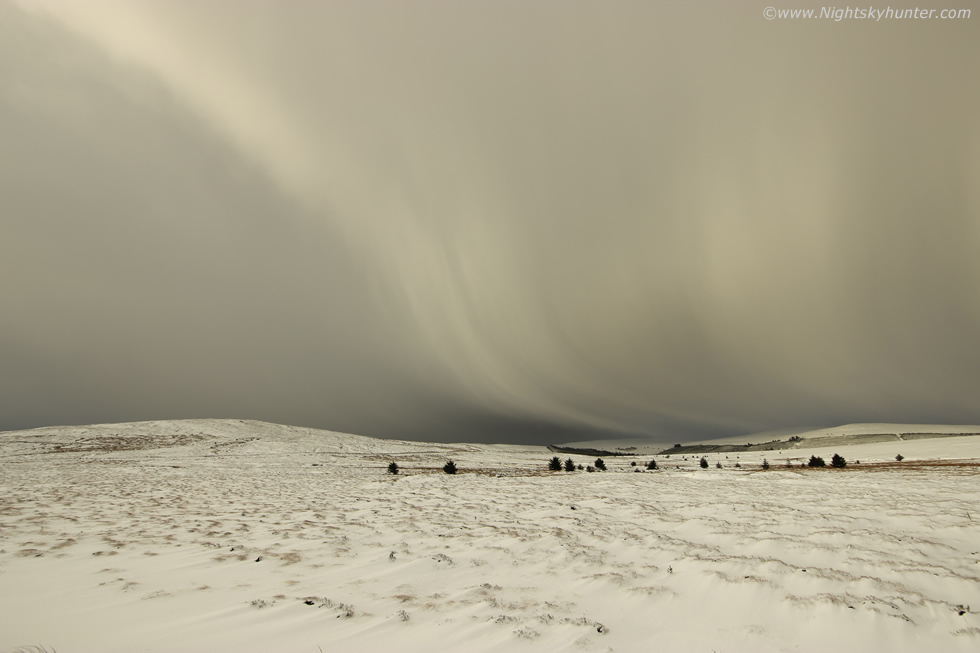 Facing N, curtains cascading from R to L while advancing towards us, the curtains were being pushed ahead aloft in comparison with ground level were they can be seen trailing behind, you can also see the wind swept snow marks in the immediate foreground produced by the blizzard during the night hours. We only had minutes to get stills before the snow was on us, back inside the vans the wind picked up blowing snow across the road once more, the wind chill was nasty, penetrating through all the layers of clothing I had on during the short interval I had been outside, I was glad to get back to the warmth of the van and view the squall in comfort. Feeling satisfied from such a photogenic moment we drove on to a lower part of Glenshane which was a little more sheltered and where the wind was only gusting 12mph so we managed two drone flights at two locations, then my Dad arrived for a look and brought a much needed refill of tea and left over Christmas cake, I can tell you that was a joy to eat in these conditions, what a great day out.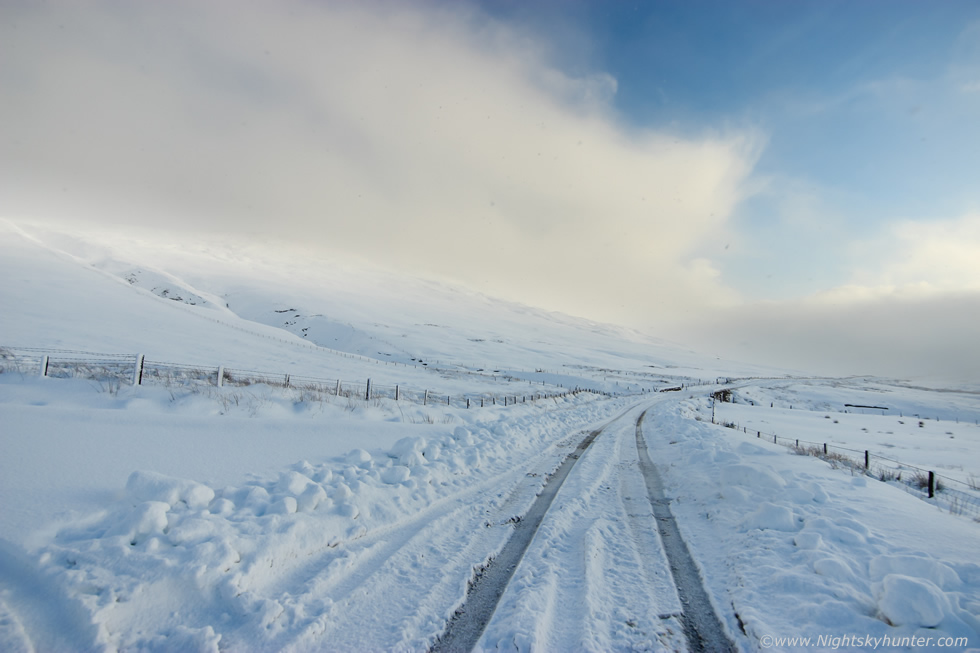 January 18th and we where back on the road again, this time my Dad and I arranged a shoot, we decided to try the famous Birren road for a change, this road connects Glenshane to Draperstown, it's a narrow road which crosses a mountain and is always a favored spot for winter action, that's if you can even get over it in the first place, there are no gritters out there, you just have to hope the local farmers have ploughed the road. The road was snow covered for much of its route and slippery at times with little in the way of lay bys to pull into if you meet another vehicle. We found a good spot and reversed back as far as we could to keep the road open, then waited. It snowed and snowed and snowed, it never stopped, snow shower after snow shower, we literally spent hours here drinking tea and vegetable soup waiting for a break. Suddenly in the afternoon the sun appeared, I tuned to look outside and the snow was so bright it actually hurt my eyes, I couldn't look at it, that's how much light it was reflecting, I really needed sun glasses. We got out to take advantage of this nice light, I took this quick 10mm snap showing the road and clearance with big snow flakes still falling through the air.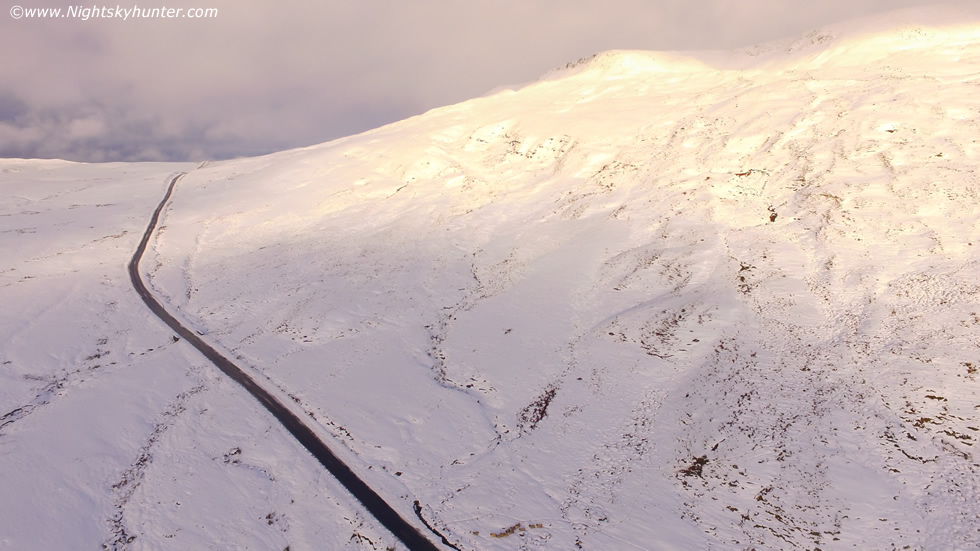 We got the phantom in the air and managed two flights before the snow began again, drone hovering at 120m altitude (CAA limit) taking in the mountain with sunshine kissing the peak, look how bright it is even in this image. The Birren road can be seen below, this was facing N towards the Glenshane side, the road looks fine here, but not over the brow of the hill where it was covered in snow, my Dad was doing spotter for me so I could get in some quality filming, I recorded a nice sequence flying low across the snow drifts and fauna in gorgeous late afternoon sunshine which you can view below.
The drive back was stunning, the sunset lit up a selection of large cumulonimbus cells which looked stunning surrounded by deep blue polar air over this winter landscape, this wide angle image captures the moment well.
Last capture of the day, inbound snow shower at sunset, the naked eye view here was beautiful with miles of smooth snow either side of this barren country road, heaven for snow seekers like us. That night the best frontal snow event happened in years with much of the inland section of N. Ireland getting covered in a blanket of snow. It was beautiful to watch, this time no blowing wind, just silent falling snow for hours, I decided that the next morning I would once again get on the road and see what nature had in store.
The next morning everything felt like a dream, this was day five of snow and the entire week was now blending into a world of white, I went to bed with snow, I woke up to snow, the constant layers of clothing, cold exposure, reduced sleep and quick meals were beginning to take their tole, I was becoming a little burnt out however I didn't want to miss any surprises the day had in store, I came so close to staying home, the prospect of a warm day inside was most appealing, my mind and body were begging for it for not only was I physically out in the snow day and night but when back home I was immediately downloading images and video, charging my DSLR, charging the Go Pro and charging five drone batteries and the RC, then editing images and video footage and checking the models and radar for the latest snow intelligence, it really felt like snow had become my reality. Despite the week of chasing catching up with me I was secretly loving it, I never take snow and winter scenes for granted, there are only so many days each season so one must take advantage of the photogenic hand offered from nature, and enjoy it, so with a final push I decided to make the most of what could be the last day of action.
I hooked up with Dad, had a warm lunch in town, then hit the road, originally we were going to target Benbradagh however Dad suggested the Draperstown area, it sounded good to me, new territory for the drone, perhaps snow scenes have never been droned their before in some parts, it sounded good so we took off with three hours left until sunset. We spent the afternoon driving over treacherous mountain roads near Draperstown, Moneyneany and Plumbridge areas, there were stunning scenes everywhere however the sky was covered in a blanket of cirrostratus ruining the light, not to mention that the wind was stronger than what the forecast suggested. We back tracked onto the location where we saw snow devils several years ago, the location was beautiful, deep snow, drifts, sublime visual scenes but the gusting winds ruled out any drone flying. We had to give way to a passing 4x4 and ended up getting the van stuck in the snow, this in fact happened on two occasions on the same road all because of being nice by pulling over to let other traffic past. The drive wheels spun out, it was solid ice with packed snow on top, we had to dig away the snow from the wheels and push the van and eventually got it out, a little bit of drama but no bother to us, we had one hour left of light so Dad suggested returning to the Birren road which was in the vicinity, perhaps it would be more sheltered, it sounded like a plan to me.
Last light, parked on the Birren mountain road, it's amazing how we ended back on this same location once more which we had never intended in the first place. Heavy snow filled skies, good snow cover all over the hills and sections of the road, however what was so striking was the silence, there wasn't a single noise to be heard anywhere, it was utterly silent, the snow had muffled any subtle noises from sheep walking, it was like being on the moon. We waited for what seemed like an hour and a half, the light was low and it was so cold, it seemed there would be no good scenes to be had today. I got the drone in the air and did a test flight anyway for training purposes then landed with the intention of leaving. We took one last look around before calling it a day, I jokingly said it's a pity a truck didn't jack knife on this road, but that's not going to happen here - no sane driver would knowingly bring a truck up this road in the snow - so we packed up and began descending the Birren road, suddenly to our disbelief a truck was on the narrow road in front of us, heading our way, we couldn't believe our eyes, this was a 40ft proper tractor and trailer, what the heck was it doing on this road?, it could only mean trouble. It took up so much of the road we had to pull off into deep snow, the truck past us with a few inches to spare and kept going, if a van struggled to get up this road how could a 40ft truck do it?, we knew what the outcome would me, we looked in the wing mirror and the truck jack knifed on the first incline.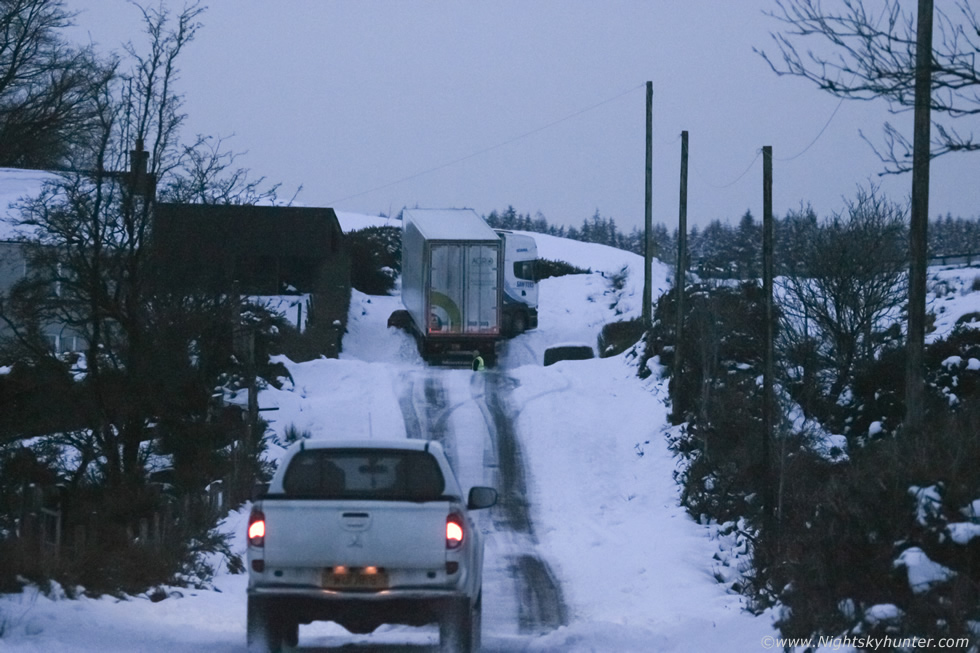 The light was very low, an eerie blue dusk sky with storm clouds brewed, I got out the DSLR and 100-400mm lens for a few captures, even at ISO1600 and slow shutter speed the images came out almost black, it was too dark for this lens, I had to brighten these 100% in lightroom to show any detail at all so please excuse the quality.
The tractor and trailer were almost bent 80 degrees, wheels spun out, this road was ice with snow on top, here was just the beginning of the ascent up the Birren, the truck would be going nowhere.
I reckon the driver wasn't impressed, you would swear he was looking rite down the lens here. The sky seemed to darken by the second, the light was too low however I decided to get the phantom in the air for a look anyway. Within a few minutes it was in the air and after 500m of following the road I arrived at the truck and from this distance I could hear the drive saying ''F***'' out loud, was it aimed at the situation or was it aimed at the drone?, I had no idea, but he wasn't having a good day, I can only hope he can look back on this in the future and laugh about it all.
I took several short video clips and stills, the phantom's camera really struggled in such low light and the wind was picking up too, my fingers froze in contract with the exposed metal sticks on the controller, however seeing this jack knifed truck was a really cool experience from above.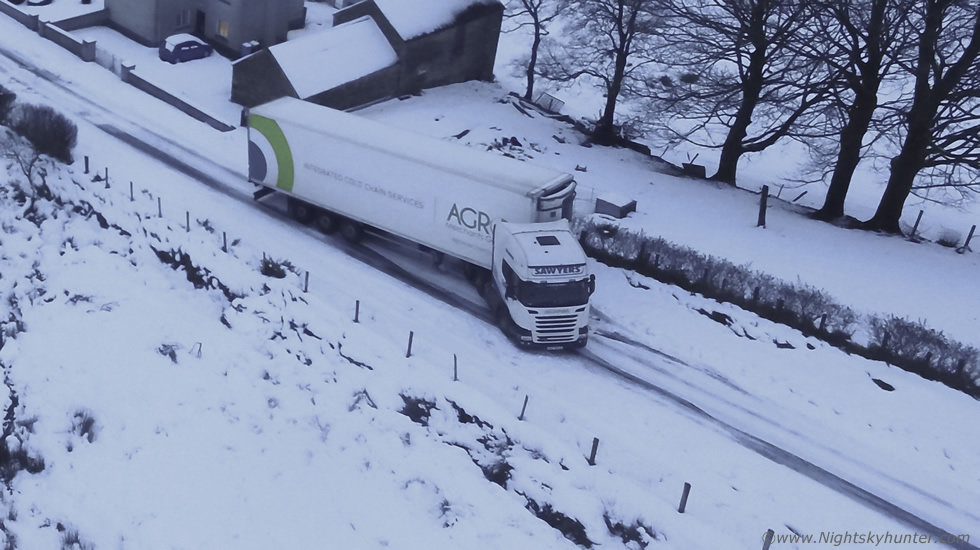 Deep crop from another aerial still, I had to brighten this and warm up the WB to subdue the enhanced blue tones of dusk. I maintained my CAA regulated 50m distance from the truck while Dad acted as spotter using eyes and binoculars. The sky suddenly darkened then opened up, I flew the drone back through a heavy shower of hail stones, I landed and we took shelter. Moments later the hail stopped and the sky cleared so we got in a second flight, suddenly GPS was lost and the drone blew away backwards over the tree tops in the 12mph wind, I immediately stopped its movement and brought it back manually in ATTI mode, then once GPS returned I flew back out to the truck again, this time the footage was dark, a tractor had appeared on the scene and would hellp straighten out the cab, it was some sight from the drone, truck and tractor with red lights in the atmospheric blue darkness of twilight, the crescent moon was visible aloft and the snow seemed to glow below, it's not often you see stars around the phantom when you are hand catching, quite a memorable end to the day, who would have thought we would have ended up seeing this on what is arguably one of the quietest roads in the area. I don't know how the truck got out, he couldn't go forward, or back without an escort and the road being closed, but in either case I hope he did get out.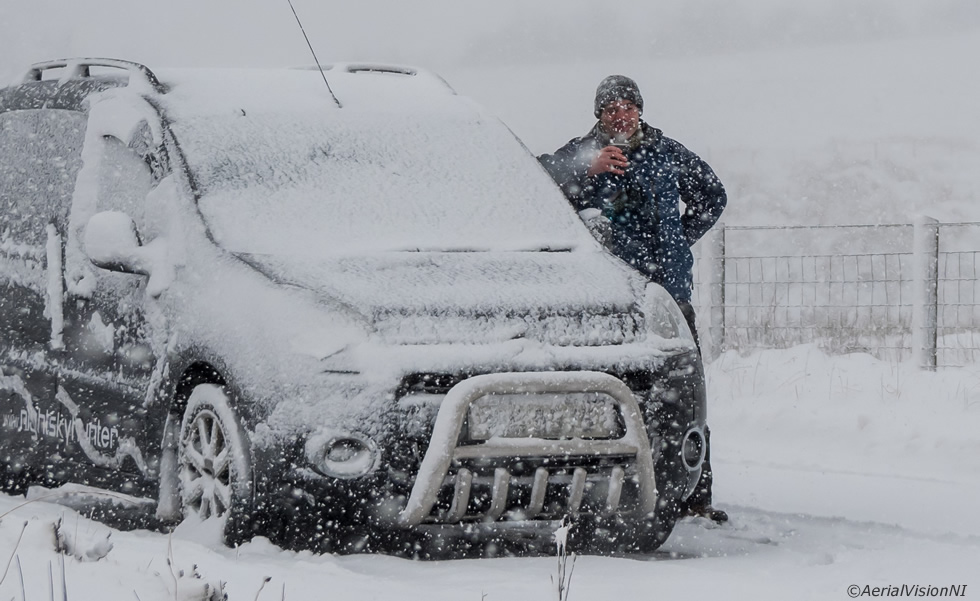 Day six produced some of the greatest photo potential I had seen all week, sunshine, clean blue skies, the light on the snow covering the Cairn was jaw dropping however I was more than content with my week, I was ready for a break, it had been a great adventure. AerialVisionNI took this image of me during the week on Glenshane, it really captures the moment, me enjoying a warm brew in the midst of a heavy snow shower, a happy moment captured on camera to look back on.
Footage from January 16th and 17th 2018, traffic scenes then incredible blizzard before midnight on Glenshane Pass, snow speed was incredible, visually it looked like it was being blown from a jet engine, sustained high speed airborne snow, shaking the van and causing white outs while forming snow drifts in front of us. Filmed with Canon 600D and 50mm F/1.8 lens hand held through windscreen, I had to get out in it for a short blast to experience the moment and test out my wind speed anemometer. There's some cursing at times from my chase partner and myself so beware if there are children nearby, footage is raw to capture the moment.
Drone Flight 621. January 18th 2018, chase day three during the recent week long cold spell. This time drone flights from the Birren mountain road area between Glenshane Pass and Draperstown, this area is high elevation with an abundance of snow, we managed to get breaks in the snow showers to get two flights in this day. This footage shows the road itself, the surrounding snowscape, you can make out a farmer feeding sheep, then a view of the summit and a very low level flight across the frozen snow skipping across the drifts and windswept winter landscape in magical light. Drone within VLOS, max height 120m, max range 502, min height less than 1m, spotter assisted.
Drone Flight 623. January 19th 2018, we were shocked to see a large truck appear on the snow covered Birren road, this mountain road would be a challenge for a truck even on a summer's day but to see it approach with this snow we knew there would be trouble. We pulled over to let it pass (barely enough room for two cars) and just as it passed the truck jack knifed and spun out. I quickly got the drone set up and flew out for a look, the light was extremely low pushing the camera to it's limits however I got a few short clips for the record. As I was flying back a big cell approached and the P3A had to fly through heavy hail stones. Once the shower passed the sky cleared and I got another flight in, suddenly GPS was lost, and the drone got blown away over the trees in a 12mph wind, I had to take manual control, bring it in, switch all off then on again and suddenly gps was found so I flew out for another look, it was dusk, twilight sky over snow, crescent moon out, freezing, however the spun out truck made for a dramatic sight, it would have looked even cooler had the lights been on. Range 500m, distance from truck 50m, drone VLOS, my Dad was spotting for me.
Martin McKenna